By learning how to get documents signed faster, you can avoid failed transactions due to delays. Any delays in document signing could stall you from moving to the next step. In business, this could lead to losing valuable deals and missed sales. Unsigned documents could also mean failure to establish legality, especially for professionals seeking project approvals. The good news is there's no need to fret. Given today's modern and fast-paced technology, there are ways to get your documents signed quickly and without any hassle.
If you want to learn how to get documents signed faster, then you better check out this three-step guide.
Table of Contents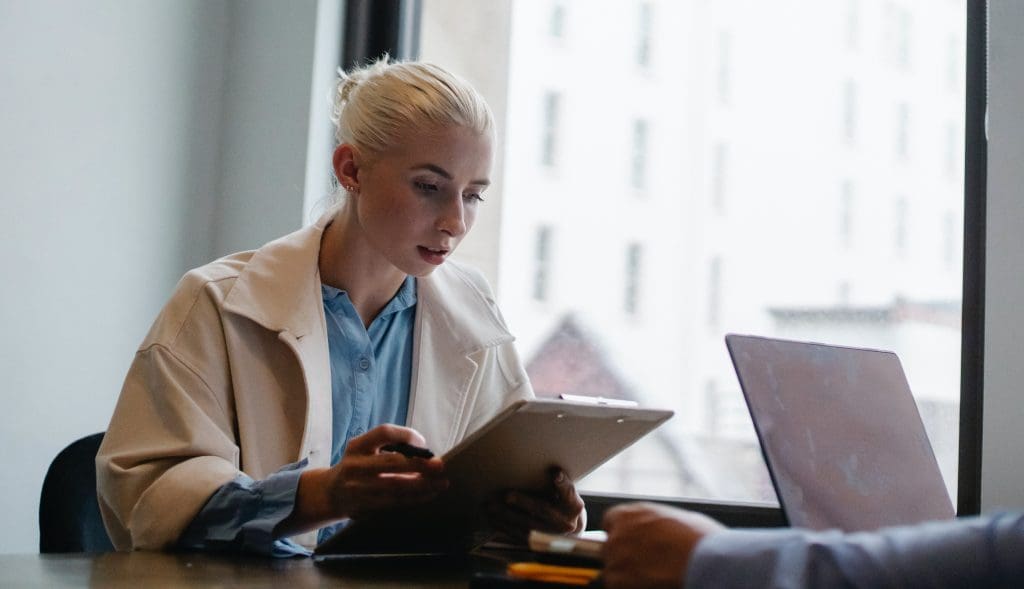 The first step to getting your documents signed on time is to switch to electronic document signing. Choosing to get your documents signed online eliminates the need to go through several time-wasting tasks such as printing and signing contracts on paper.
What Is the Easiest Way to Sign Documents Online?
Of course, signing documents online can get tricky for those who do not exactly know what to do. One easy way to get your documents signed online without the hassle of printing or scanning is to use an electronic signature app. 
An electronic signature app enables you to automate your document signing tasks and process agreements faster. It is also more efficient than traditional document signing since the signatories do not need to meet in person. You can just get the document signed remotely. Besides, using a digital signature is far more secure and compliant as it uses advanced encryption to prevent document tampering and signature fraud.
Is Digitally Signing a Document Legal?
Now that you know how to get documents signed faster, you can already move on to the next step. Since digital signatures are legally valid and enforceable, you can finalize the transaction by imposing the terms stated in agreement. As long as you ensure that you are using a reputable digital signature app, you can always ensure the authenticity of your contracts and duly signed forms.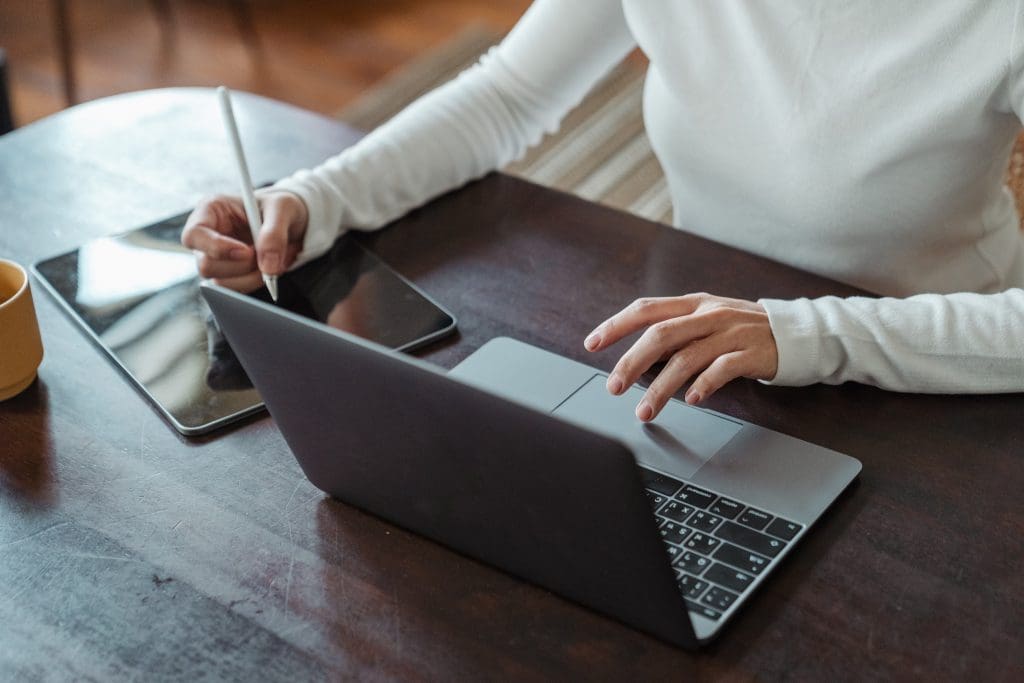 Proven Tips on How to Get Documents Signed Faster
If you want to get your documents signed quickly, here are three important things that you need to do to prevent further delays:
1.) Sort out any potential cause of disagreement or setbacks
To get documents signed faster, make sure to sort out everything first before sending that request to get your documents signed. Verify every bit of information and do not skip any vital information, especially those details about the signatories involved. Furthermore, you need to discuss the contents of the documents with all parties involved. Make sure that they've fully understood the meaning or intent of the document. 
When your signatories know fully well the content of the document that they're signing, they're less likely to ask questions. This way, you can minimize the possibility of receiving unsigned agreements and unfilled forms.
2.) Set clear deadlines
By setting deadlines, you are making it clear that the document will only be valid and acceptable as long as it gets signed within the specified timeframe. This way, you can hold your signees accountable for failing to return a duly signed document on time. A deadline also helps create a sense of urgency, helping you achieve your goal of getting your documents signed faster. You can also focus on doing more productive tasks instead of wasting a lot of time waiting for your signees to finish signing your forms.
3.) Use a reliable electronic signature app 
Using a reliable electronic signature app for online document signing will save you a great deal of time, money, and effort. Apps like Fill can help simplify your document signing process, so you don't have to do everything manually. Fill makes it easy to request digital signatures from signees just by sharing a link.
What makes Fill even more distinctive is its ability to track the progress made with your document in real-time. You will get notified as soon as your signee opens and signs your document. There is also no need to worry about your signature getting tampered with or falsified. With Fill's revolutionary digital signature technology, it'll be impossible for anyone to modify your document once it's signed. 
Also, our app makes it easy for you to tell if someone has made any changes to your document without your permission. You can verify your document's authenticity by comparing its hash with your original file. Fill will also provide you with a detailed log showing every authorized transaction together with your signer's IP address and location.
With Fill, you can get your paperwork done and legally signed in the fastest way possible.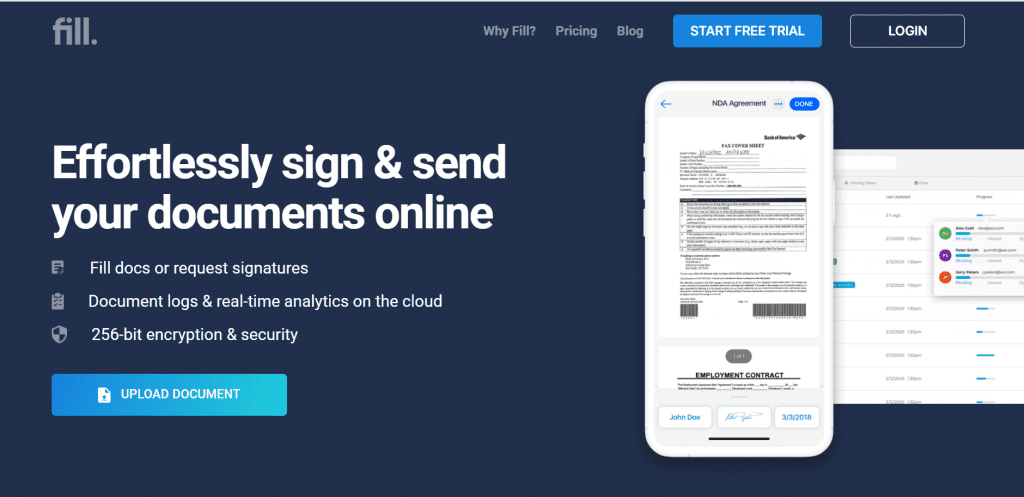 How to Pick the Best Document Signing App?
When you search the market for a document signing app, you'll surely stumble upon a plethora of choices. Even so, you must make sure that your app of choice is reliable and secure enough for you to use, especially if you intend to use it to sign legal documents and medical forms.
Thus, you need to choose the document signing app that is most suited for your needs and preferences. It should also provide you with multiple ways to e-sign and annotate documents without needing to use a separate tool. Furthermore, your app of choice should allow you to track your document's progress in real-time, making it easier for you to sort them out accordingly.
How Your Business Can Benefit from Using E-signature Apps?
With E-Signature apps, you can get your documents, such as contracts and sales order forms, signed faster. It eliminates paperwork, freeing you from tedious printing and scanning tasks. It also minimizes errors since there's no need to file each document manually. You also don't need to sign and stamp each file by hand. Most importantly, there's no need for your signers to be physically present during the signing process. They can sign the documents remotely. You also get to view and download the signed copy in real-time.
Final Thoughts
Learning how to get documents signed faster enables you to get ahead in your career or chosen business endeavor. It allows you to stay on top of your tasks and improve your document workflow by switching to a secure and seamless digital signing solution. With digital signature apps like Fill, you'll no longer have to seek ways to speed up your document signing process. You can even use Fill to request signatures and sign documents on the go. 
digital signature
document signing
document signing apps
electronic signing
sign contracts