Are you familiar with the term e-signature? Chances are you've encountered it at some point in your online life, but what does it mean?
An electronic signature, or e-signature, is legally binding to sign a document using technology. You can sign a document through an electronic device such as a computer, phone, or tablet.
There are many reasons you might need to request signature for your documents. Perhaps you need to get approval on a new project or sign a contract. Whatever the reason, it's easy to send a document for electronic signature with the right tools.
What's more, if you ever needed to send a signature request from multiple people but didn't have the time or resources to track everyone down and get them all in the same place? With electronic signatures, you can streamline the process!
We'll show you how to send a document for electronic signature in this post. We'll also give you some tips on making the process as smooth as possible. Let's get started.
Table of Contents
Send a Document via Email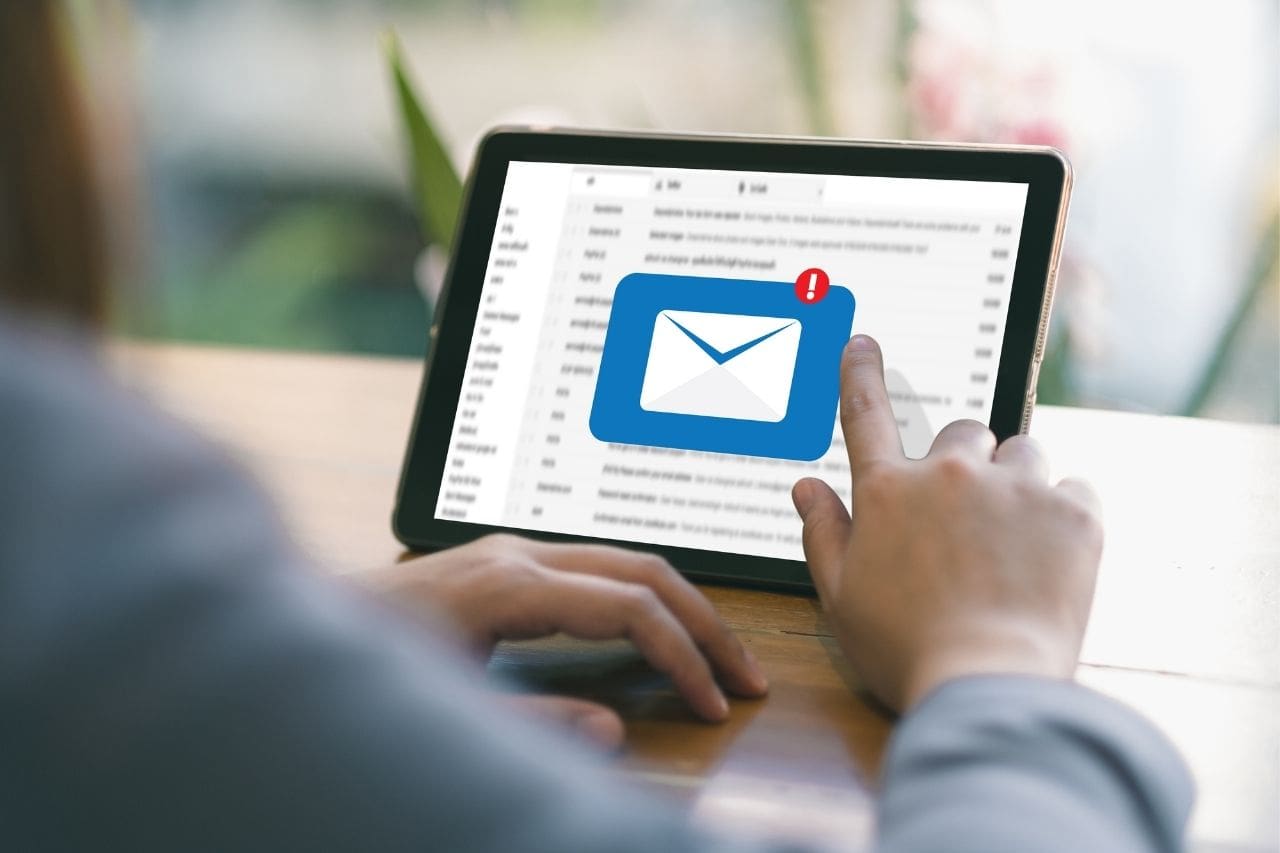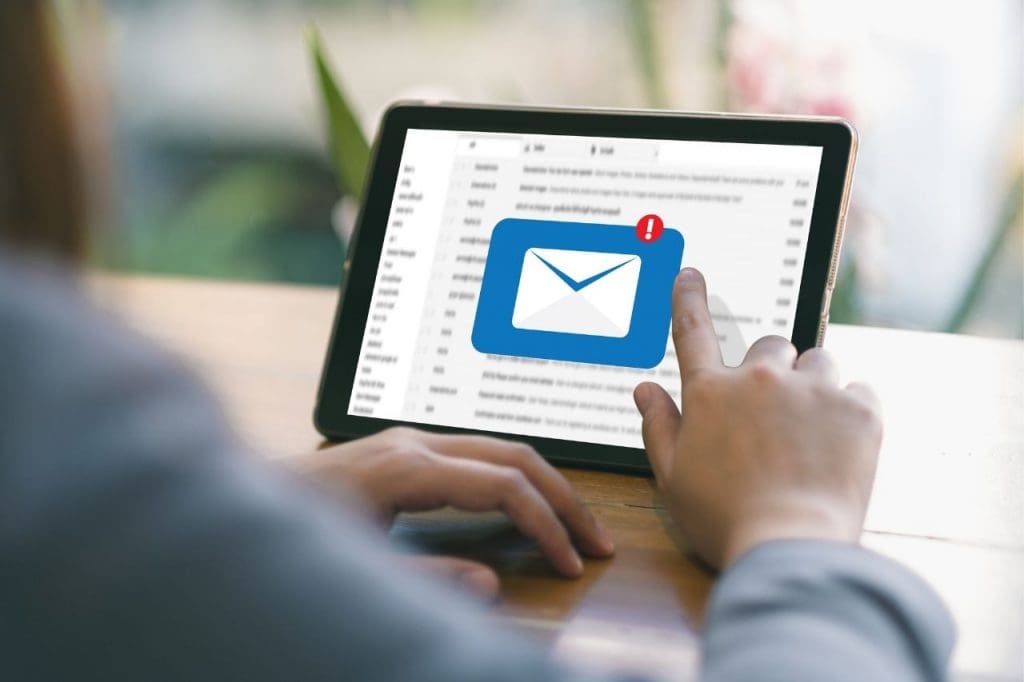 One of the quickest ways to send a document for electronic signature is by email. However, before sending it to the recipient, you must attach your digital signature, usually in a PDF file.
You can use different tools such as Adobe Acrobat, Microsoft Word, and Google Docs. If you choose this method, you want to make sure that you comply with the ESIGN Act to make your documents legally binding.
If you only send it via email, ensure that both email service providers have encryption and security measures since there's an exchange of data between parties. The disadvantage of this method is that you need to follow up with the recipients and other signatories.
It's even inconvenient for you to track the electronic signatures with multiple recipients. Therefore, if only two parties are involved, this is a viable option.
Send a Document via Mobile Apps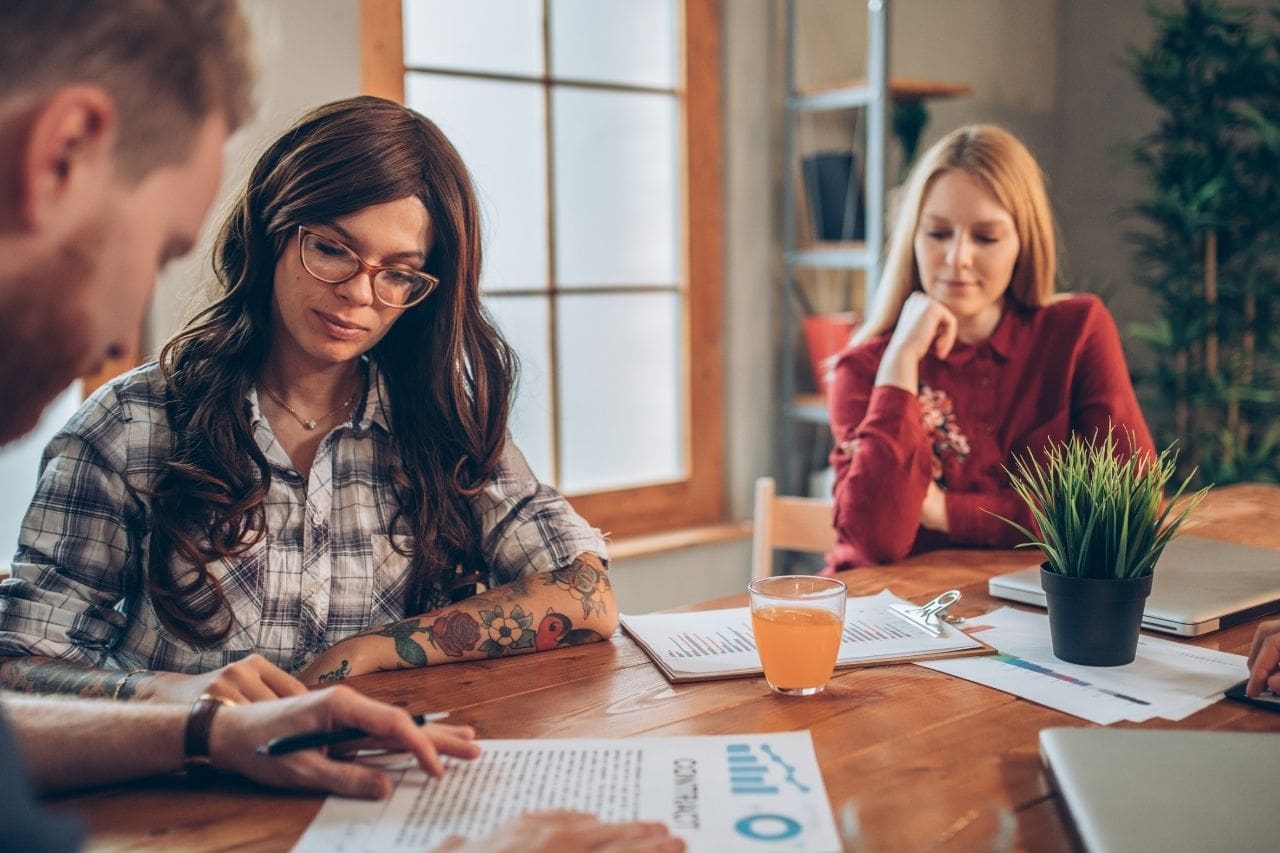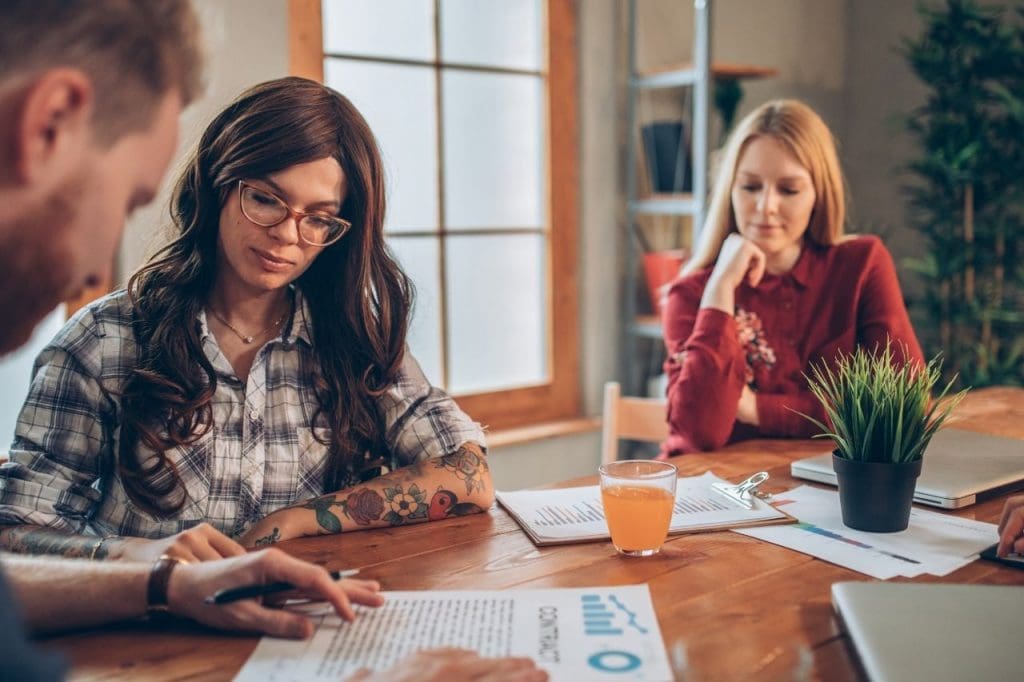 Another way to send contracts, agreements, or other documents for electronic signature is via mobile apps. Several digital signature or electronic signature apps are available for iOS and Android devices.
There are free and premium versions. The former features basic features ideal for personal use, whereas the latter has advanced features that businesses can use for their document management.
Some mobile apps also let you scan or capture a document using the mobile camera and then attach your electronic signature, whether you type it or draw it using your finger.
The advantage of using these apps is that they allow you to sign documents anytime. You don't need to go to the office to use a computer to attach your signature. If you have multiple recipients or signatories, you can track them quickly, and unlike email, you don't need to follow up with the recipients.
Send a Document for Electronic Signature via Fill
Last but not least, if you want to send a document for electronic signature, it is through Fill. It's an online service that lets you sign documents online effortlessly, whether using a mobile device or a web browser.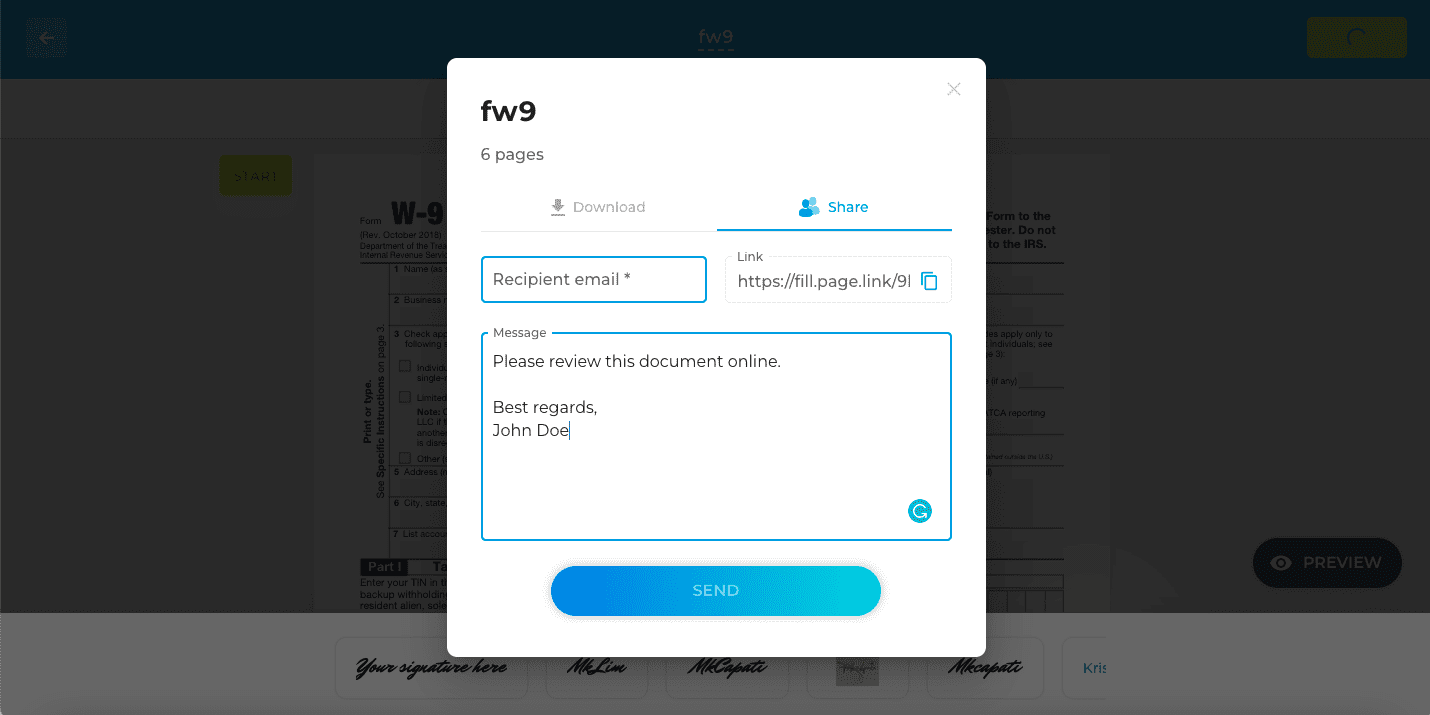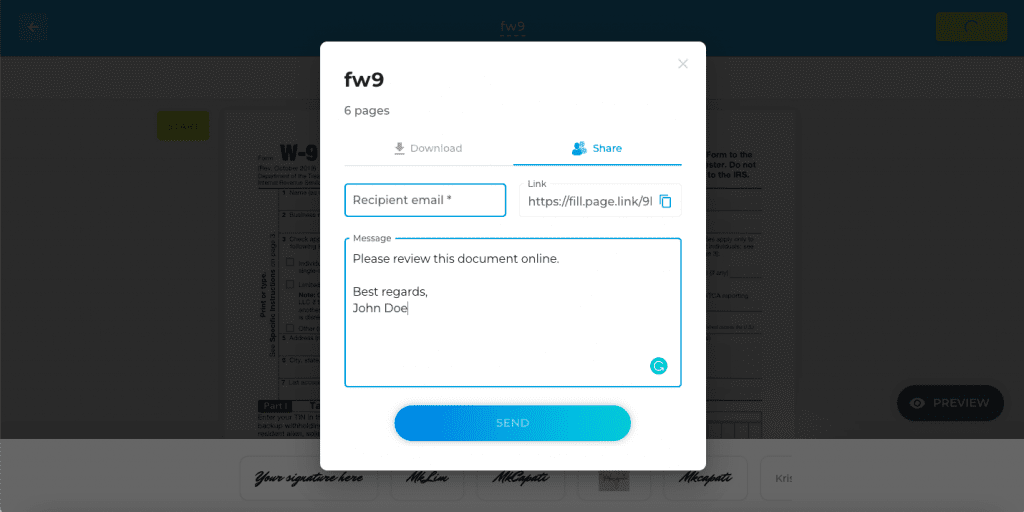 Fill has a free and premium version, and the subscription plans are undoubtedly affordable and one of the lowest being offered in the market, starting from $4.17 per month.
The good thing about using Fill is that you can track the signatories, and it reminds everyone – sender and recipients – of the document's progress. Whether there are single or multiple recipients, this is the best option.
Here's how to sign a document for electronic signature.
1. Visit Fill website and sign up for a free account. Enter your email address and password to create a new account.
2. Once you're done, you will see the dashboard. Go to the Settings located at the bottom-left corner of the screen.
3. Under Settings, click My Signatures. Create your new signatures or choose from Fill's generated signatures. You may also upload your image of a handwritten signature.
4. Click Create Now on the upper-right corner and choose Only You to upload a file you need to sign. You may click You and Others to upload a file or choose a document template.
5. You can then track the progress of the signature as you wish. Share the document or contract by filling in the email address of the recipients.
Why Use an Electronic Signature Service?
When you need to get a document signed, there's no need to print it out and track down a physical pen. You can sign documents electronically using an electronic signature service. Here are three reasons to use an electronic signature service:
Ease of Use – An electronic signature service is convenient because you may sign papers from anywhere, at any time. All you need is access to the internet. This is especially advantageous if you're traveling or if the person you're sending the document to lives in a different time zone.
Speed – An electronic signature service is also faster than mailing a document back and forth. You can usually get a document signed within minutes, which is ideal for working on a tight deadline.
Security – When you use an electronic signature service, your document is encrypted and stored securely. This means that your data is safe from cyberattacks and identity theft.
Final Thoughts
So there you have it – three different ways to send a document for electronic signature, each with its benefits and drawbacks.
Fill is your best bet if you're looking for a quick, easy way to get a document out into the world without worrying about printing, scanning, and faxing.
Furthermore, if you need more security or want to ensure that the recipient can't easily tamper with the document, using an electronic signature service like Fill is your best option.
We hope this article has helped you understand the basics of digital signatures and given you some food for thought about how you might be able to use them in your workflows. Have questions? Feel free to explore our website.