Construction companies rely heavily on paper-based documents for contracts and other paperwork. In fact, companies spend $27,000 annually to print and manage an average of 5,000 pages per month. That's a lot of paper.
This manual process can be a tad inefficient. Imagine, you need to print and scan documents, on top of physically signing them for approval. The cycle goes on. Thankfully, exploring the potential of eSignature in construction unlocks limitless possibilities of efficiencies in contract management. 
For sure, with eSignature in your transactions, you streamline the signing process, resulting in more efficient reviews and approvals. That said, let's delve deeper into why eSignatures are necessary for construction businesses.
The Construction Industry's Unique Challenges
The endless pile of paperwork still requires the physical printing of copies, like when you process a contract, building permit, blueprint, or order change. What's more cumbersome is that these documents also need the signatures of people involved in those projects.
That's just one example of the industry's challenge in general. But there are more of them in reality. Let's adjust our lenses for a more microscopic view. 
Manage complex projects and contracts
Complex projects and contracts require continuous monitoring and management. When there are changes and additional requests in the project, you must amend the contract as needed. This way, the project can be on track to ensure no issues will arise until its completion.
However, this can pose a struggle for larger firms since they have several ongoing projects. They either need to hire someone who will thoroughly manage these documents or invest in a software program that will do this for them.
Collaborate with multiple stakeholders
Another challenge construction companies face is collaborating with key individuals involved in a project. Since teams usually work in various locations, efficiently sharing and updating these documents can be challenging on site.
Can you imagine someone transporting large volumes of paperwork between offices, project sites, and regulatory authorities? Not only does this pose a challenge to keep up, but it can also be time-consuming.
You must ensure the involved parties are at the location. Otherwise, you waste valuable time.
Navigate strict regulations and compliance requirements
Construction companies should comply with various rules and industry standards involving safety, quality control, building codes, and environmental impact. To comply with these regulations, you must meticulously plan, monitor, and document all projects and activities.
This also means that every stage requires the appropriate individual to affix their signature to the contract and document. Without one, it can lead to legal dilemmas, project delays, and financial penalties.

Benefits of eSigning Construction Documents
Some tools help construction companies deal with these challenges. You can easily affix an electronic signature on construction documents without meeting in person.
How do eSignatures help the construction industry? Here are just some benefits that you can find:
Improve efficiency and reducing delays
In the construction field, time is gold. Project delays happen often, which can be costly for all parties involved. Sometimes, the wait is caused by problems in getting a document signed.
With the help of eSignatures, you no longer have to wait around for a document to be signed by a regulating agency, a project manager, a contractor, or anyone else involved in the process.
All you need to do is send the document to your recipient's email address, and you'll be ready. The signer can affix a signature from anywhere worldwide, as long as there's an internet connection.
Enhance collaboration and communication
Another advantage brought about by the ability to eSign construction contracts is that it makes it much easier to collaborate and communicate with everyone on the project.
This is because document management tools allow you to see the status of a contract at any time. You can check whether the recipient has viewed your document and if it has already been signed. This allows you to remind that person to review the paper so it can be processed immediately.
The document can even be signed immediately at the construction site. You do not need to carry around pages of the contract since everything has been saved digitally.
Ensure document security and compliance
Since we're dealing with legally-binding contracts on construction projects that could even cost millions of dollars, you need to ensure your platform is safe. Additionally, you need to make sure that eSignatures will legally be accepted.
The good news is that a document management platform collects digital information about the person on an eSignature. This includes a person's IP address, the timestamp when the signature was affixed, and even the signee's email address.
Regarding security, your documents are fully protected with SSL encryption, a unique code on your server that safeguards your online communications. This means only the intended recipient has access to your document.
Save time, money, and resources
The best part about using eSignatures on your construction documents is saving time, money, and resources.
We already mentioned that with an online document monitoring platform, you don't have to try to catch your recipient at his office, especially if he is also busy. This already saves you time, money, and resources to hire a person to get a document signed physically.
Practical Applications of Electronic Signature Solution For Construction
With the benefits of using eSignature in the construction industry, it's no surprise why many companies are making the shift. If you are ready to apply such practice in your firm, here are some areas that you can start with.
1. Contract and sub-contract agreements
You can upload a contract document to your platform of choice and identify the individuals who need to sign the document. Make sure to specify which areas need a signature before sending the document out.
2. Permits, licenses, and compliance documents
Similarly, you can upload a permit, license, or compliance document to the document management platform and send it to the regulatory authorities or licensing agencies involved. Once the document has been signed, you can proceed to the next step of the project.
3. Change orders and project modifications
A document management tool can help with change orders and project modifications since it provides a transparent solution for everyone. Every time a document is revised, it is shared with the relevant parties to review the changes.
The document can then be signed once the modifications are approved. This gives an auditable trail of the changes made to the documents.
4. Construction bonds and insurance documents
Construction companies can easily collaborate with an insurance provider or bond agency, as long as they already support eSignatures. By using a digital process, the issuance of bonds and insurance coverage can be expedited.
This simplifies the entire documentation process and reduces the need for paperwork.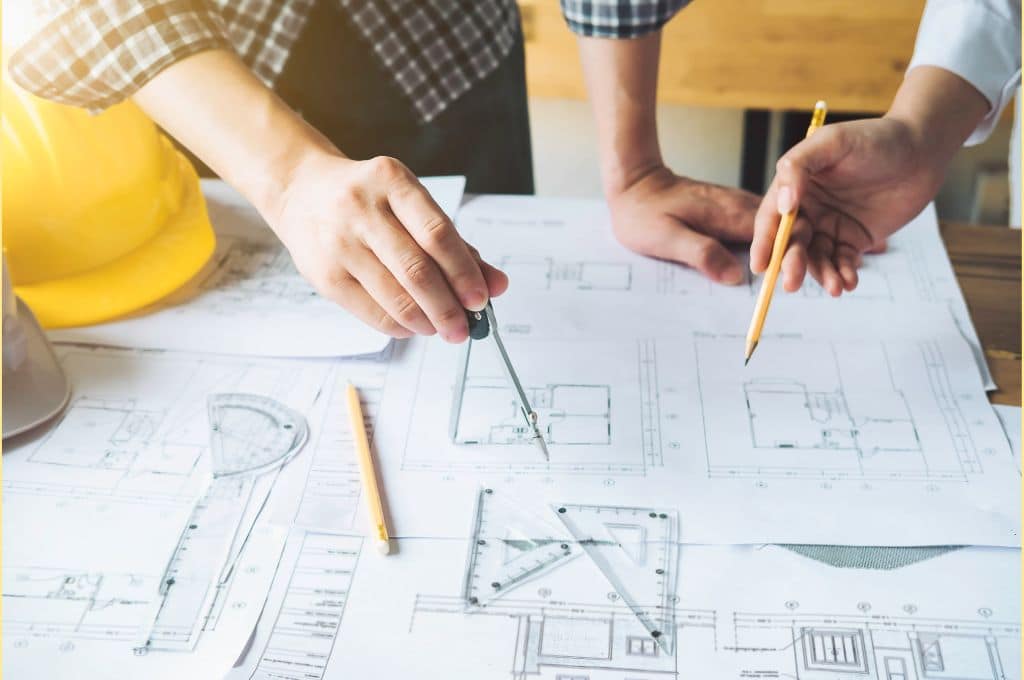 Expedite Document Process With Our eSignature Solution
The demand for paperwork in the construction industry can be overwhelming. The complexity and intensity of the documentation process can last for weeks and even months. 
Fortunately, eSignature solutions can shorten the turnaround time while streamlining your workflow. 
At Fill, we offer a comprehensive eSignature solution that meets the needs of modern construction professionals. Our platform is designed to simplify the signature process while maintaining an audit trail of all documents.
Some of our key features that make us an excellent choice for construction companies include:
Mobile-friendly – Our mobile app lets construction professionals sign and send important documents from anywhere, making it easy to keep the project moving forward.
Customizable templates – Choose from the templates gallery to draft a contract – in just minutes.
Real-time tracking – Our platform lets project managers and supervisors track the status of document processing in real time, providing greater visibility and control over the workflow, even when remotely located.
Advanced security features – We take security seriously and provide comprehensive features to secure sensitive information and protect user privacy. Our platform is protected with enterprise-grade encryption and multi-factor authentication to ensure that only authorized parties can access the documents.
If your construction business still needs to start using eSignature, you're missing out on the benefits it can bring you. Fill is a reliable platform that teams in the construction industry use to streamline their processes.
Sign up for free today and see how the workflow of your construction company can change significantly.