These days, organizations around the world make use of digital signatures as part of their day-to-day operations. And this eradicates the need to have a printed document sent back and forth across parties for a signature. In turn, this has helped simplify and lessen the costs of a business workflow.
If you are curious to know how a digital signature app can help your business, keep reading! This article will guide you through the benefits of using such an eSign app for your company.
Introduction To Digital Signatures
Fun fact: Did you know that eSignatures have helped save up to 2.5 billion trees in less than 20 years? The market for eSignatures reached $2.8 billion in 2020. This is projected to reach $14.1 billion by 2026. And more importantly, the number of people using digital signatures in their transactions has ballooned to 754 million from 89 million in just five years.
These numbers are pretty incredible for this start-up industry. So how can an app for digital signatures help your business? Here's how.
What is a digital signature app?
Just like its name suggests, a digital signature app is a tool that lets you create a signature electronically. Think of this as your electronic "fingerprint." When you create a digital signature, it includes a coded message that associates you with the document you signed.
By using an app, anyone can start signing a document with a signature. Anything you sign will be legally accepted and binding.
What is the importance of a digital signature in business?
Since your digital signature comes with a digital certificate for identity verification, it can be used to carry out business transactions faster and more securely. You can use your eSignature to complete transactions that you would otherwise have to process in person.

5 Benefits Of Using A Digital Signature App To Streamline Workflow
With so many people now opting for a digital signature, how does such an app help your business? Here are five benefits that you can get from using a digital signature application:
1. Eliminates paper-based processes – Going paperless produces positive effects on the environment and helps preserve trees. Aside from not having to use paper and ink, you also minimize the electricity needed for a printer.
2. Faster turnaround times – You no longer have to keep waiting for the signee to be in front of you to sign a document. With an app, you can just add his email address and he can sign it wherever he is.
3. Boosts efficiency and productivity – Since you no longer have to wait around for a document to get signed, you get to improve your workflow. You can move on to things that need to be taken care of while waiting for the signed document to be returned to you. Plus, these apps allow document tracking so you know if it has already been opened.
4. More secure – A digital signature includes embedded security capabilities to make sure the document does not get altered. There is no way to tamper with the document without leaving behind an audit trail.
5. Saves time and money – With all the benefits mentioned above, you get to save time and money, which is important for your business to thrive. Not to mention, you no longer have to worry about the expenses involved in document storage and exchange.
Features To Look For When Choosing The Right Digital Signature App
Now that you know the use of a digital signature and how it can help your business, it's time to start looking for a digital signature application where you can make your first eSignature.
While there are plenty of app options available online, you'll have to carefully assess each one to see whether they offer specific features that you need. Here are the important features to look for in a digital signature online app.
User-friendly interface
For starters, you'll need to use an application for digital signature that has a user-friendly interface, which means you don't need to have technical knowledge to operate it. You can quickly work your way around the app on your first try.
At the same time, the app should allow you to create, manage, and sign a document without any challenge. This will ensure that you have a smooth and hassle-free experience in making your first eSignature.
Integration with existing systems
Another feature you should look for in an app to create a digital signature is its ability to integrate with your existing systems. More importantly, it should be able to seamlessly integrate with your document management or project management tools. With this feature, you can easily streamline your workflow and automate the whole process.
Customization options
It's also important that you use an application for digital signatures that allows you to make customizations, such as adding a logo, personalizing an email template, and others.
With customization options, you can maintain consistency with your brand. It also lets you save time since you no longer have to repeat tasks.
Security features
Lastly, you need to look for an app that comes with the highest security features available. Make sure that the app you use follows industry-standard protocols and is compliant with security features like SSO and two-factor authentication.
The app you use for your eSignatures should be tamperproof so that the integrity of your document can be preserved.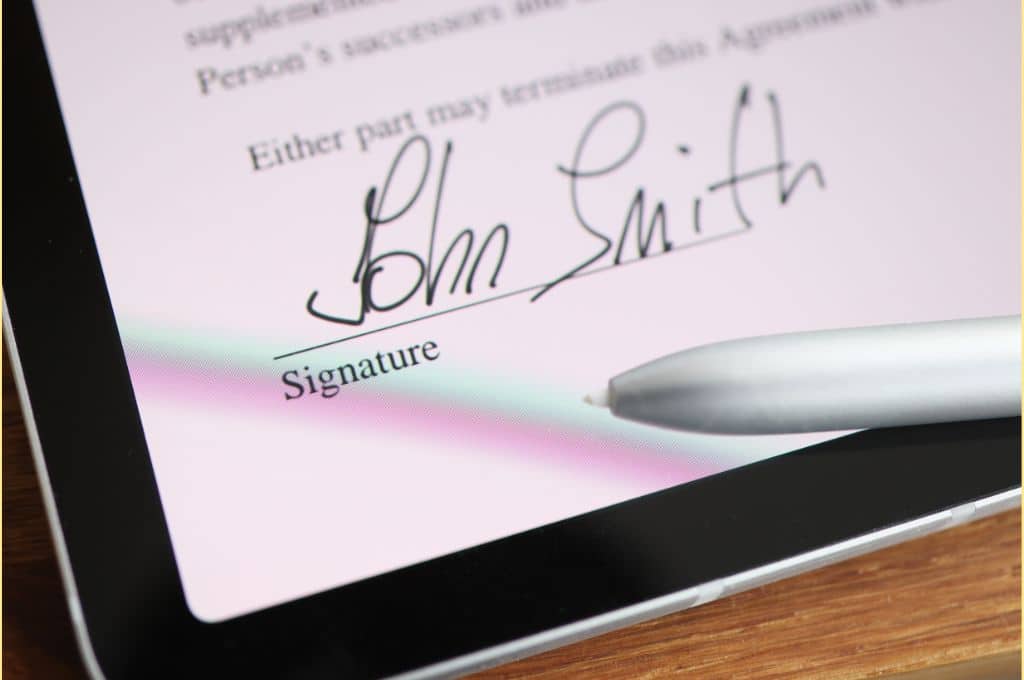 Why You Should Choose Fill As Your Go-to Digital Signature App?
Say goodbye to your little friend (a ballpoint pen) and hello to Fill, a digital signature application that helps you create an eSignature on the go.
Fill is HIPAA compliant, which ensures that your documents are always kept secure. Create an account for free to simplify your document signing process today!