Are you looking for ways to enhance your document workflow? Perhaps it's high time to adopt a more digital approach to managing your paperwork.
Back in the olden days, signing documents involved quite a lot of time and effort. Plus, it's also a bit costly. You had to print out multiple copies of the document, mail them to the other concerned parties, and have them mail the documents back to you. These days, you can simply request a signature online to get the paperwork signed and sealed.
Table of Contents
What are the benefits of a digital document workflow?
Before we go in-depth with learning how to request a signature online and transition to a more digital environment, let's get to know some of the benefits of this approach:
1. Enhanced workflow efficiency and productivity.
There is no doubt that a more digital workflow can help you and your team reach maximum efficiency and productivity levels. Ditching the traditional way of handling documents eliminates the need to do everything manually. With the right tools and software, you can automate many tasks, leaving more time to do other tasks.
2. Reduced overhead costs and operating expenses.
Manually handling documents is tedious and time-consuming, but it can also get quite expensive. You will have to allocate money for printing expenses, courier services, and consumables like papers and ink. Meanwhile, it is more cost-effective to request a signature online and do things paperless. Sure, you might have to pay for specific tools and software. But in the long run, you will save your organization a considerable amount of money.
3. Improved customer service experience.
Your clients and customers can also reap the benefits of a more digital way of handling documents. The faster you can process paperwork and documentation, the better your service. And thus, the happier your customers become. When you ask someone to sign a document online, it makes the signing process on your client's end a lot simpler.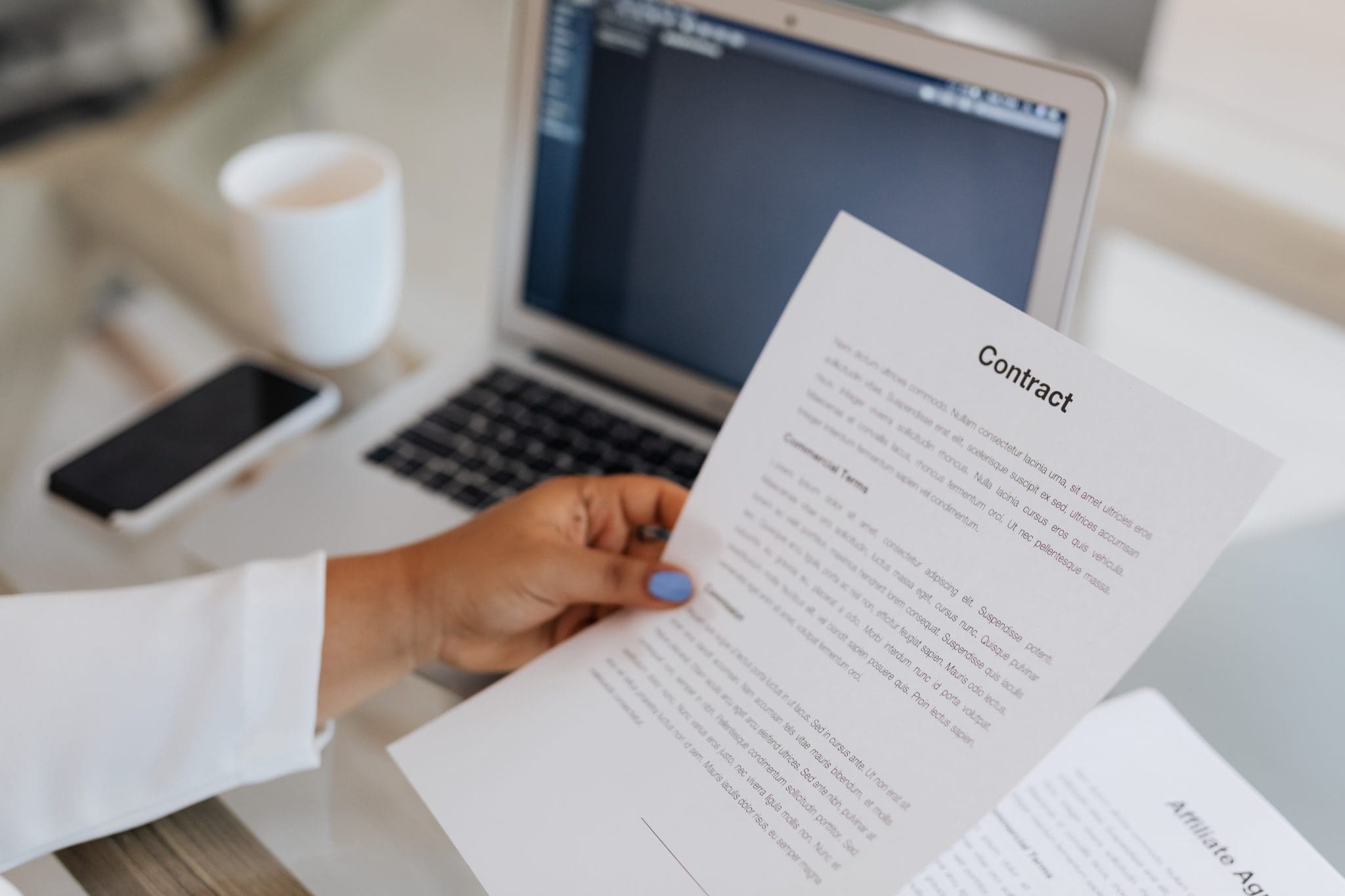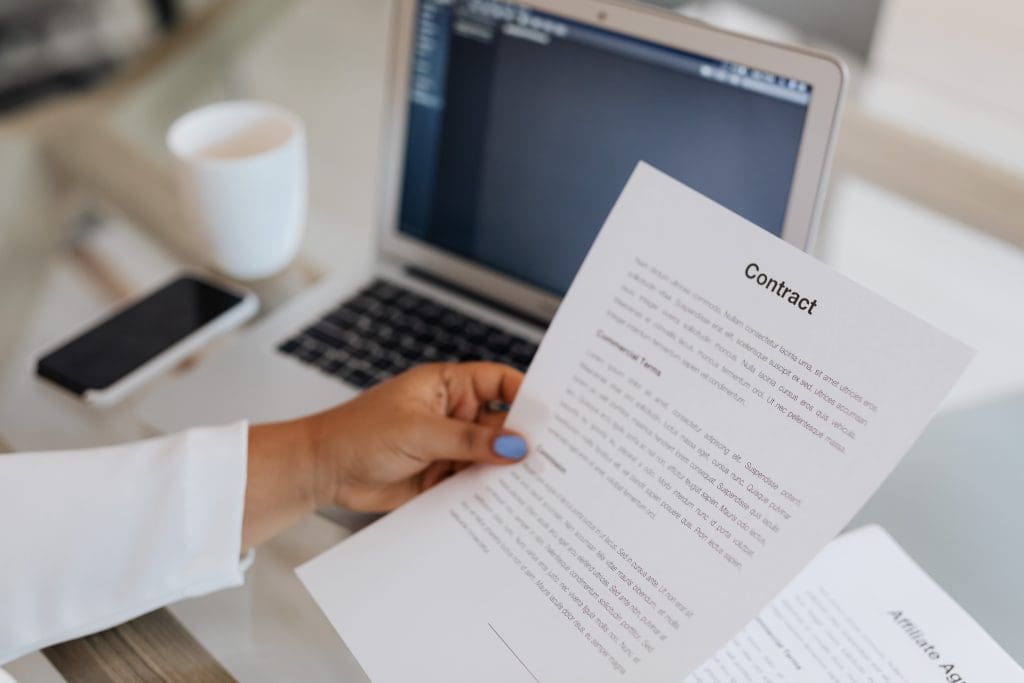 How to digitalize your document workflow?
So how do you exactly make the switch to a digital document workflow? Here are our top tips to make your transition more seamless:
Create a plan
The truth is digitalizing your document workflow takes a bit of time, and it's not a very straightforward process. You and your entire organization have to be prepared for such a transition. In this light, a great first step to this modern solution is to plan and create a roadmap. Identify the aspects in your document workflow that need the most attention and utmost priority.
Prepare your documents
Things can get overwhelming quite quickly if you do everything in such haste. Allow yourself enough time to prepare your documents for scanning. As much as possible, they should be organized according to how you prefer to categorize them. This also prevents anything from getting lost or misfiled. Also, part of the document preparation process is making sure that you dispose of any files or documents you do not need anymore. Purge your storage.
Take advantage of online tools
While the whole process might not be that straightforward, there are certainly a few tools available that you can use to make everything less daunting. For instance, an electronic signature application like Fill can help you request a signature online in a matter of minutes. Fill also features other helpful functionalities such as a real-time audit trail, electronic signature generator, built-in document scanner, and so much more. Tools like Fill are definitely a must-have when thinking of going paperless.
How to request a signature online?
As part of the transition, you no longer need to print actual documents to send to the concerned parties. You can simply request a signature online to accomplish any paperwork. Here's how you can do it with Fill:
Step 1. Sign up and create an account with Fill. For as low as $4.99 per month, you can enjoy many of its amazing features. You can also start their time-limited free trial.
Step 2. On the dashboard, select Request E-Signatures found. You may also click the + Start Now button on the upper right-hand corner of the screen, then select You & Others.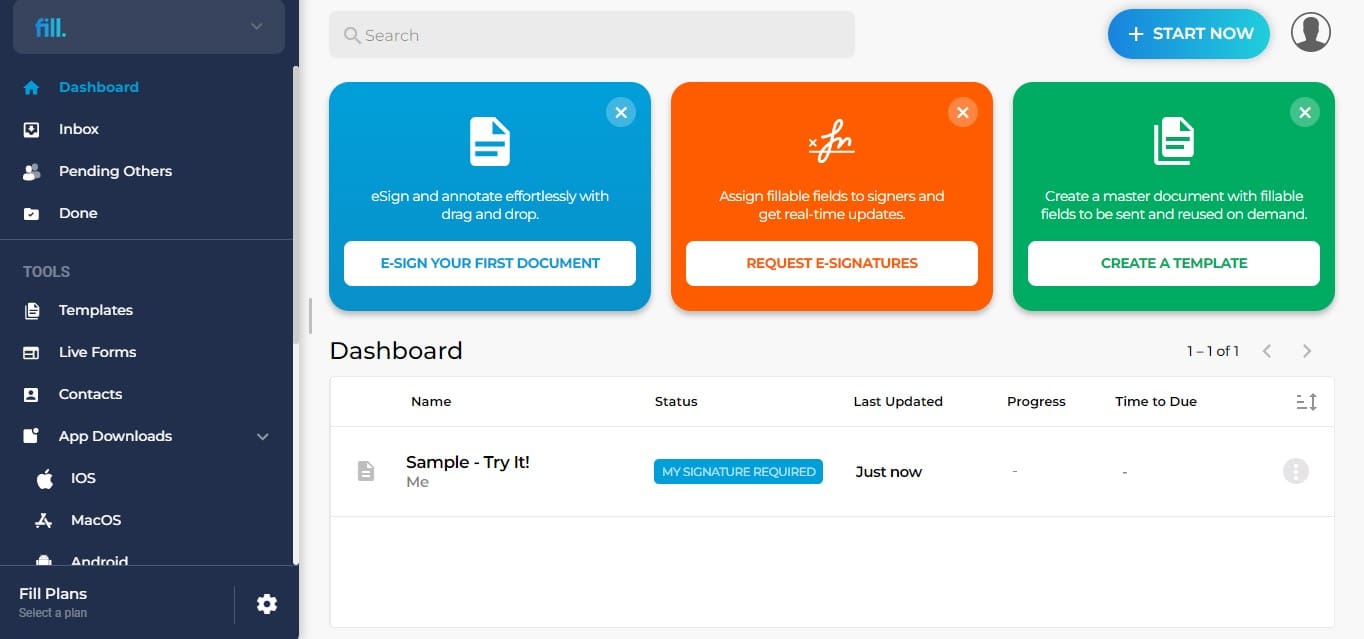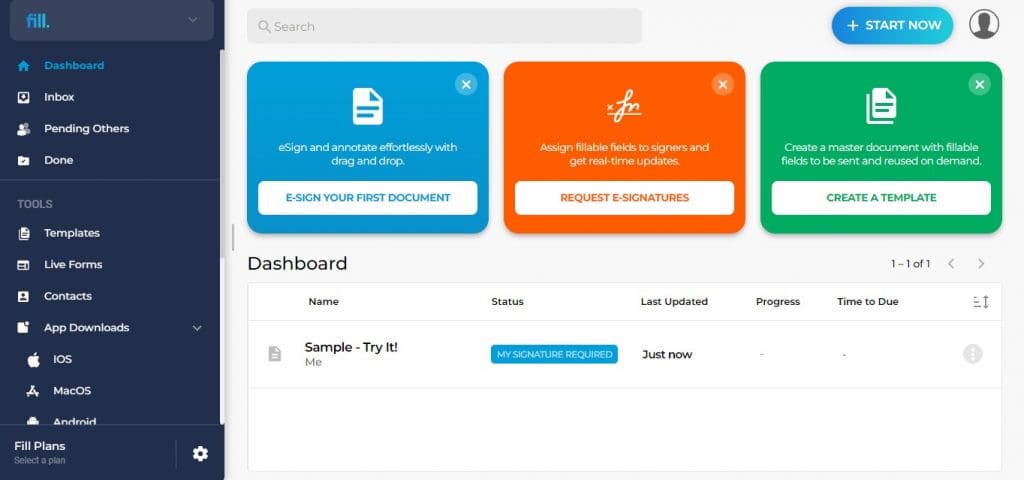 Step 3. Upload the file/s that need to be signed. You can drag and drop the file to the appropriate box.
Step 4. Type the Document Name and the Document Type, then click Next.
Step 5. Input the email address, first and last name of the signer, and the due date or required completion date. You may also customize the message. Click Continue.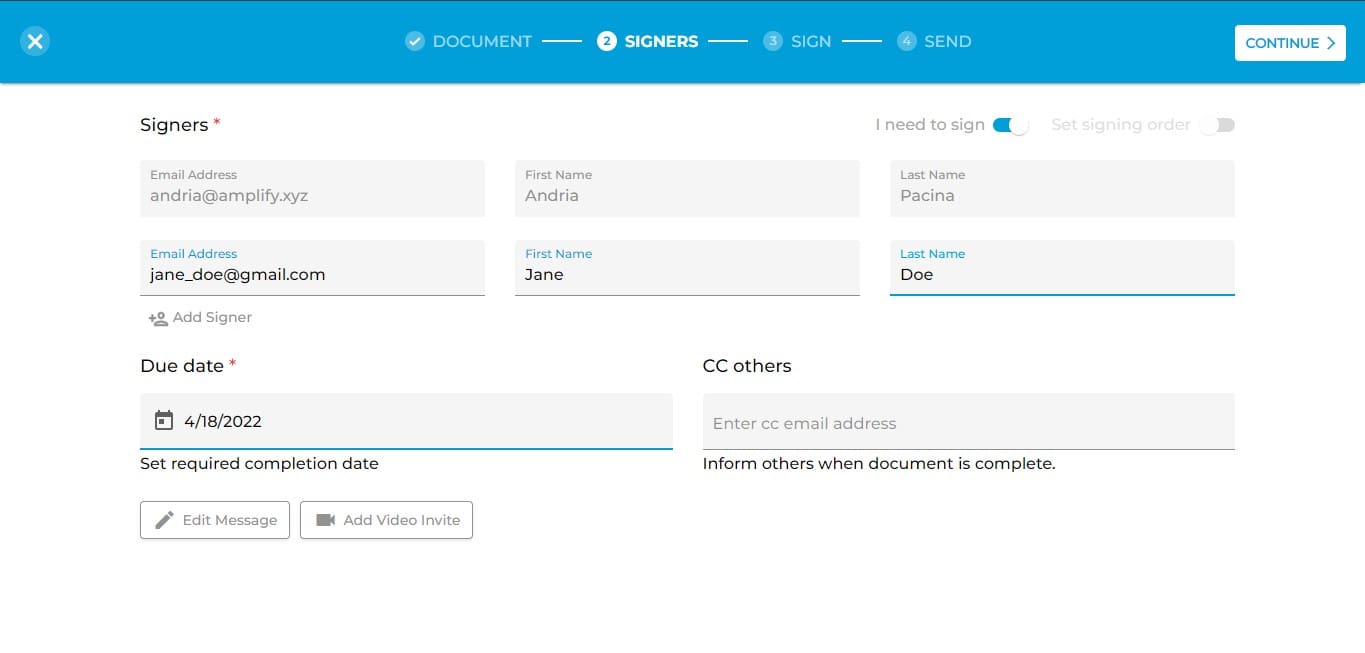 Step 6. Review and sign the document. You can add your signature in a couple of easy ways. Click here for a quick tutorial. Once you've signed the file, click Continue.
Step 7. Add Fillable Fields. Fill already has a selection of information fields that you can simply drag and drop into your document. This simplifies the process when you request a signature online.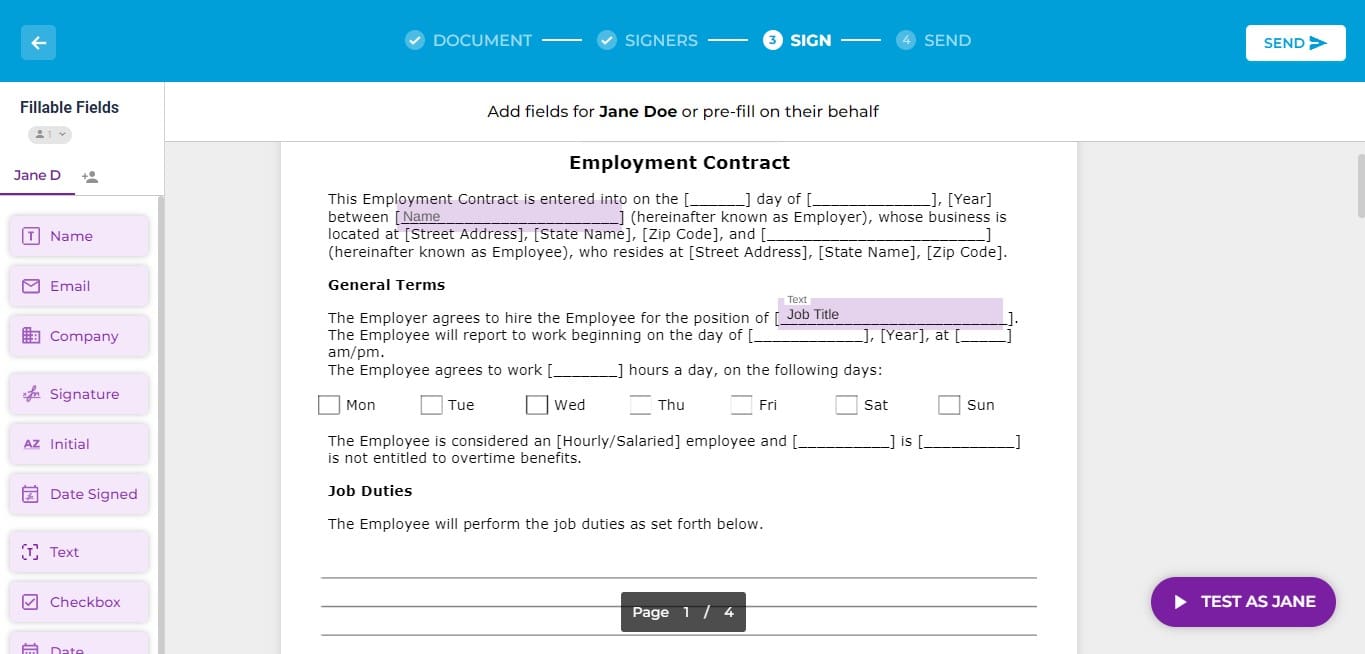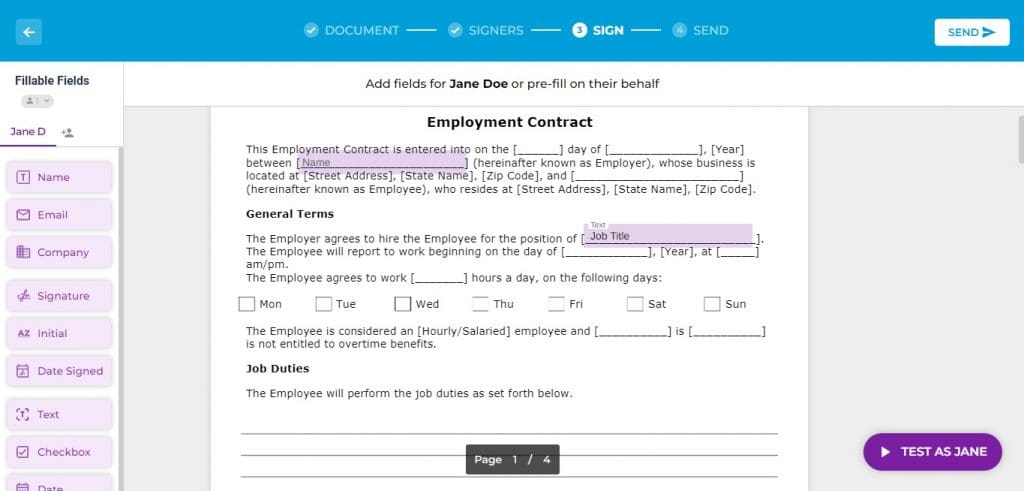 Step 8. Test the document from the perspective of the signer. Once everything looks good and ready to go, click Send. Your recipient should be able to receive the document through their email.
Using Fill to request a signature online makes the entire process quicker and easier. It wouldn't take you longer. One of the most outstanding features Fill has to offer is the ability to stay up-to-date with the progress of your file. You will get notified as soon as the other parties have signed the document.
Key Takeaway
Overall, adopting a more modern approach to document signing and management increases your and your team's efficiency and productivity. It also reduces bottlenecks caused by the handling of paperwork manually. Moreover, it significantly lessens the chances of human error as you can automate many tasks. Plus, it enhances your compliance with various regulations. This also proves to be a more cost-effective solution as you do not need to spend money on printers, papers, and courier services.
So what are you waiting for? Make the switch to a digital document workflow and start to request a signature online. Surely you won't regret it.