When it comes to signing documents, a few different options are available. You can use a pen and paper, sign online, or use a digital signature tool. You may have heard about Signable and SignWell, but aren't sure which one is right for you.
In this blog post, we'll compare the two services, Signable vs SignWell, and help you decide which one is best for your needs. Remember that these are just general guidelines, be sure to check out each service's website for specific pricing and features.
Table of Contents
What Are Signable and SignWell and What Do They Do?
Signable is an electronic signature tool that lets you to sign documents online. It's a good choice for businesses of all sizes, as it offers a free plan for small businesses and a paid plan for larger enterprises.
SignWell is also an online signing service that allows you to sign documents electronically. It's accessible through a web browser only, so it doesn't have a mobile app and PC version.
Both Signable and SignWell offer a variety of features that make them excellent choices for electronic signature software. However, there are some differences between the two that you should know before buying a subscription.
How Are Signable and SignWell Different From Each Other?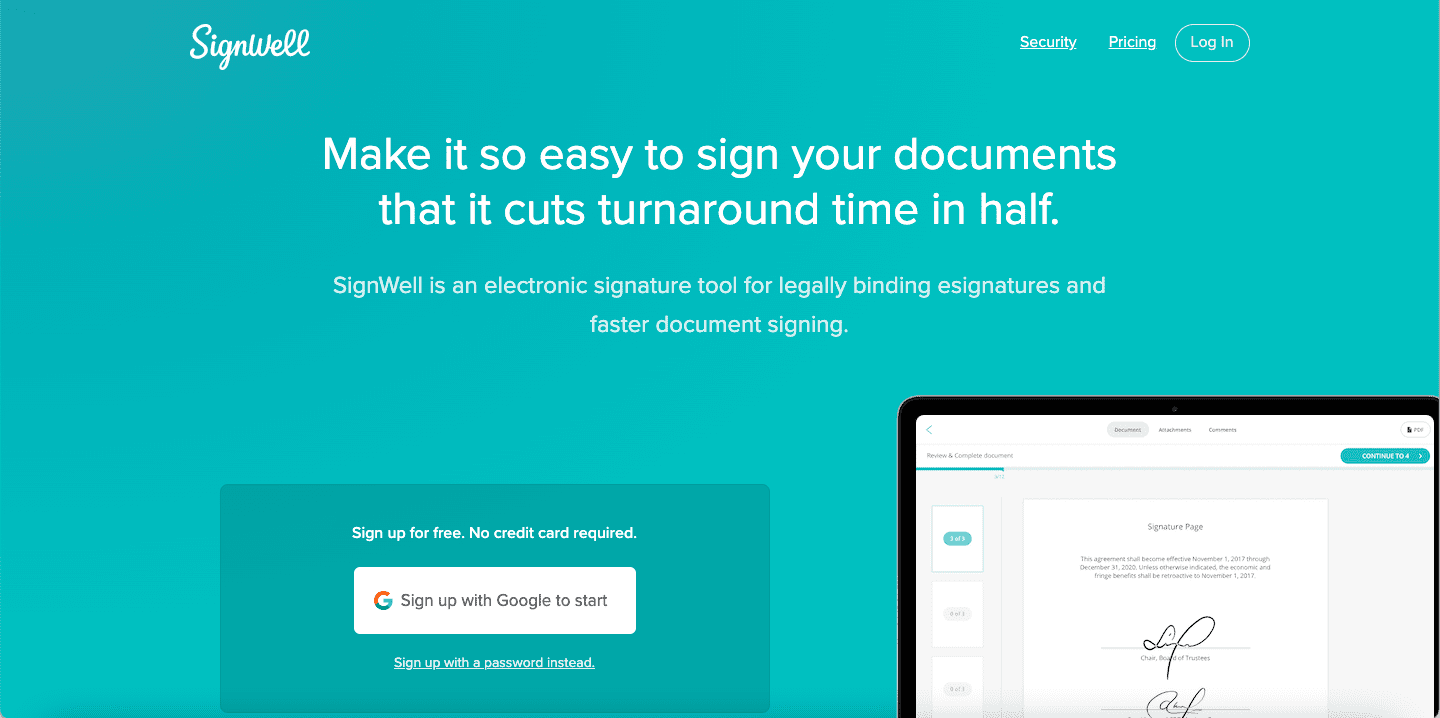 The difference between Signable and SignWell is that Signable has a mobile app, which means you can access the features on iOS and Android devices such as mobile phones and tablets.
On the other hand, SignWell is a cloud-based platform that you can access on a web browser. You don't need to download any application or software, so you can access your account and sign documents on the go. But you won't have the same level of functionality as with Signable's app.
As of this writing, Signable offers a pay-as-you-go plan. It's a good option for those who only need to send a file with an electronic signature once, and you only pay for the service whenever you need to use it.
On the other hand, SignWell has subscription-based pricing model, the cheapest is $10 per user billed monthly. The premium subscription includes five users, allows you to sign an unlimited number of documents, and offers you five templates.
SignWell offers a free account for one sender, one template, and three outbound documents per month. It's ideal for users who only need to occasionally send digital files with signatures.
When it comes to security, SignWell disclosed that it's compliant with the US and international laws such as ESIGN, E-Signature compliance (EU), SOC 2 Compliance, and HIPAA/GDPR Compliance.
Meanwhile, Signable is also compliant, just like SignWell, but it only shows on the website that follows the electronic signature laws in the UK and EU and is GDPR compliant.
When it comes to app integrations, Signable seamlessly lets you connect your account to Google Drive, Dropbox, Zapier, Taxcalc, and Integromat. SignWell lacks this feature, but the company provides API access if you would like to customize the integrations.
Which Features Are Most Important and Why?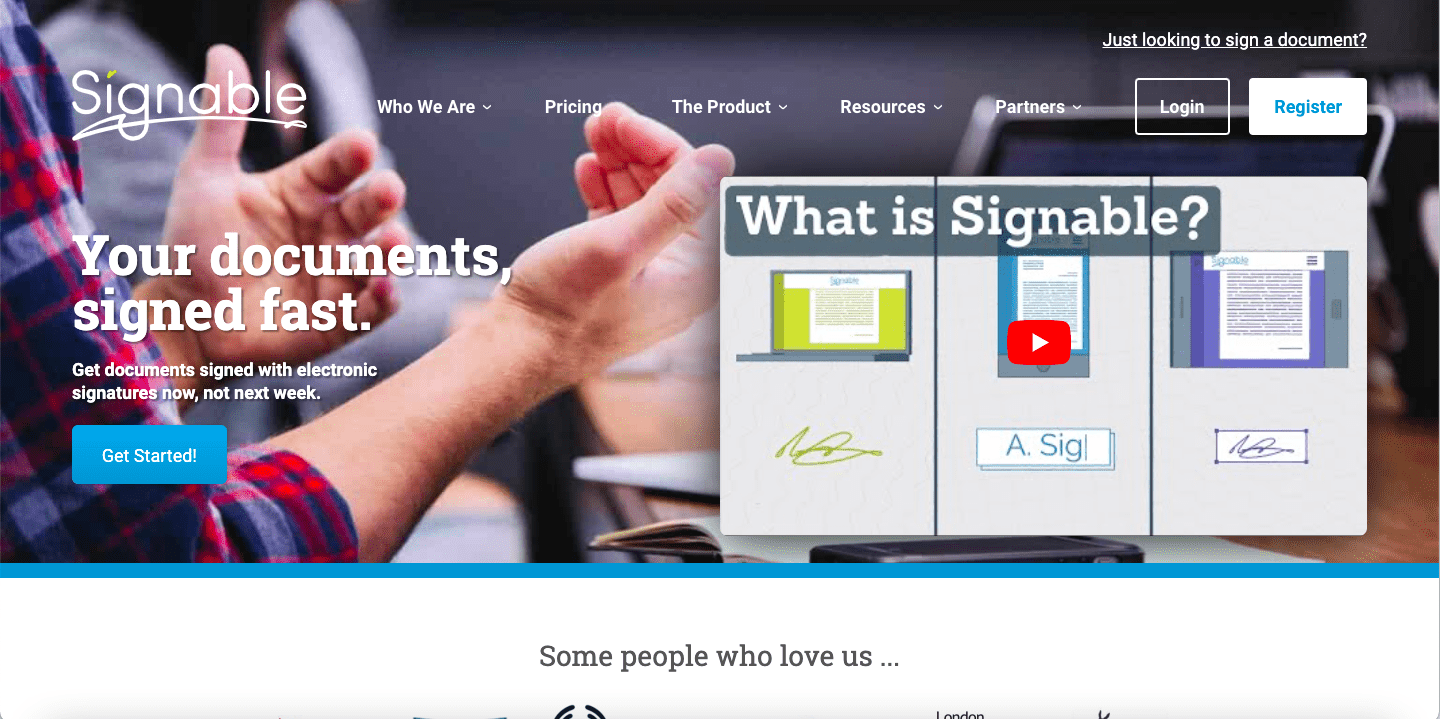 The features that are most important to you will depend on your needs. However, a few features are essential for all electronic signature software, including Signable and SignWell.
First, the software must be able to create legally binding signatures. It means that the signatures must be compliant with e-signature laws, such as the ESIGN Act in the United States.
Both Signable and SignWell meet this criterion and offer tamper-proof signatures backed by digital certificates.
Another essential feature is the ability to track document status. You can see who has signed the document and who has yet to sign it. This is a valuable feature because it allows you to follow up with those who have not yet signed the document.
Signable and SignWell have customer support to assist you through their knowledge-based pages/FAQs, forums, email, phone, and chat. You might want to consider another feature, especially if it's your first time using digital signature services.
You'll want to make sure that the software you choose offers a high level of security. It means that your documents and signatures are protected with encryption and that the software is compliant with data privacy laws, such as HIPAA and GDPR.
Signable and SignWell offer these essential features – both of these electronic signature apps offer audit trail, authentication for security, customized templates, document analytics, reminders, and more.
How Much Do Signable vs SignWell Cost?
Signable and SignWell both offer free trials plans that let you explore each service's features. However, the former's premium plan starts from $27 per month, whereas SignWell's plan only costs $10.
Both services offer a variety of features beyond just e-signatures. However, Signable's premium plan, which costs higher than SignWell, lets you have unlimited users and templates, branded emails and signing, and API access.
SignWell only allows one user and a limited number of templates, reminders, and template links on its Personal plan.
Which One Should You Choose – Signable vs SignWell?
The electronic signature software you choose will ultimately depend on your specific needs. If you need unlimited users and templates and API access, Signable is the better choice.
If you're looking for a more affordable solution with similar features, SignWell is the way to go. Moreover, it's a cloud-based or web-based service, so you can access it without downloading an app – just log in on your web browser.
Both services offer a free trial so you can try each service before committing to a paid plan. Signable vs SignWell – it's your call as to which one should you use for your personal or business needs.
But wait, there's more. If you're looking for another option with an excellent price point, you can also try Fill, a digital signature platform that works on mobile devices and web browsers.
The subscription is much more affordable than the two services mentioned above – it only costs $4.17 per month, billed annually.
Fill has a Plus plan ideal for small business owners that offers unlimited e-signature requests, document uploads, and smart document filling. It features an audit trail and logs to track all the activities and so much more.
If you want to explore it, feel free to create your free account and start signing documents like a pro.