While wet signatures are still widely used and accepted, electronic signatures offer more advantages to your organization. Embracing a more digital approach to document signing using electronic signatures can help increase overall efficiency and productivity by eliminating a few unnecessary steps. Using esignatures can also help your business significantly reduce operating costs and expenses as you no longer need to print and mail paperwork to your clients and colleagues.
In today's modern landscape, electronic signature software is well and truly an excellent investment you can make for your business. However, not all esign software is created equal, and some have a lot more to offer than others. To help you choose the right one, we made a comprehensive electronic signature software comparison.
Table of Contents
What Is Electronic Signature Software?
Before we get into the electronic signature software comparison, let us first define what an esign software is.
As the name suggests, electronic signature software is a tool or platform that you use to sign documents electronically. But more than that, it offers other functions that help streamline your document management workflow. While the features offered vary from different software, many of them allow you to edit PDF documents, add fillable fields, send electronic signature requests, and cloud-based document storage solutions.
How to Choose the Best Electronic Signature Software?
As electronic signatures are fast becoming the norm for document signing, there are now more than a handful of esign software available in the market today. Choosing the right one for your organization is not an easy task to undertake. To help you narrow down your choices, we've not only made an electronic signature software comparison but also devised for you a list of key features that you need to consider.
Let's go through each of them:
Cost
Although an electronic signature software is very well worth the investment, it does not mean it has to cost you an arm and a leg. A few software also comes with a reasonable price tag and still packs fantastic features. When making your own electronic signature software comparison, consider the costs involved.
It is also worth noting that just because a product or a service is expensive does not mean they are the cream of the crop. You also have to check the features they offer.
Safety and Security Features
Electronic signatures are mainly used to sign contracts and other highly sensitive and conditional documents. Thus, it is essential that you select a platform that offers the most robust and advanced safety and security measures. Always check whether the software uses encryption to ensure your data isn't vulnerable to breaches, unauthorized access, or document tampering.
Ease of Use
Signing documents using electronic signatures shouldn't be long and complicated. The whole point of this entire paperless process is to eliminate other unnecessary steps and procedures. So when choosing the best electronic signature software, go for the one that promises convenience and ease of use.
Luckily, many vendors now offer free trials or demos so that you can try their software out for a limited period. This would give you a first-hand experience of how well their platform performs.
Cross-platform Solution
The beauty of electronic signatures is that it allows you to process paperwork wherever you are. When making an electronic signature software comparison, check for the type of devices each option supports.
It's certainly ideal to choose software that works with multiple devices and is compatible with different operating systems. That way, you can use whatever device is readily available to you–no need to purchase new ones.
Moreover, an electronic signature solution that works on any device lets you become more mobile and on the go.
What is the Best Esign Software? Electronic Signature Software Comparison
As mentioned earlier, choosing the right esign software can be a bit daunting, especially with the number of choices you have to consider. To help you narrow down your options, we've made an electronic signature software comparison.
Here's a quick overview:
| | | | | |
| --- | --- | --- | --- | --- |
| | Fill | DocuSign | PandaDoc | Signaturely |
| Free Plan | Yes | No | Yes | Yes |
| Pricing Plan | $4.17/month | $10/month | $19/month | $20/month |
| Encrypted and Secure | Yes | Yes | Yes | Yes |
| Cross-platform signing (mobile and desktop) | Yes | Yes | Yes | Yes |
| Third-Party Integrations | Yes | Yes | Yes | Yes |
| Compliance | HIPAA and GLBA | HIPAA | HIPAA and GDPR | No |
| Live Support | Yes | No | No | No |
Fill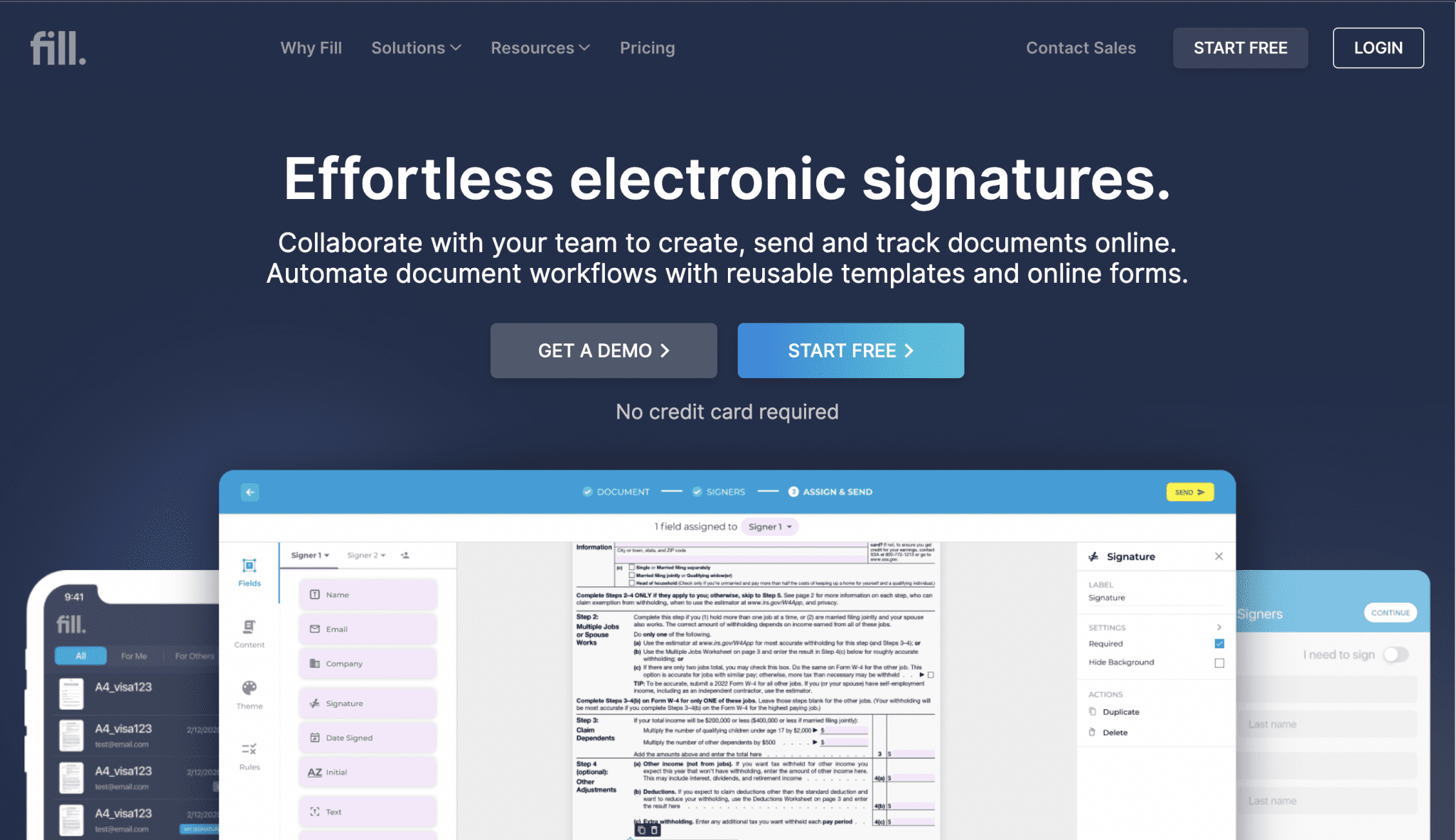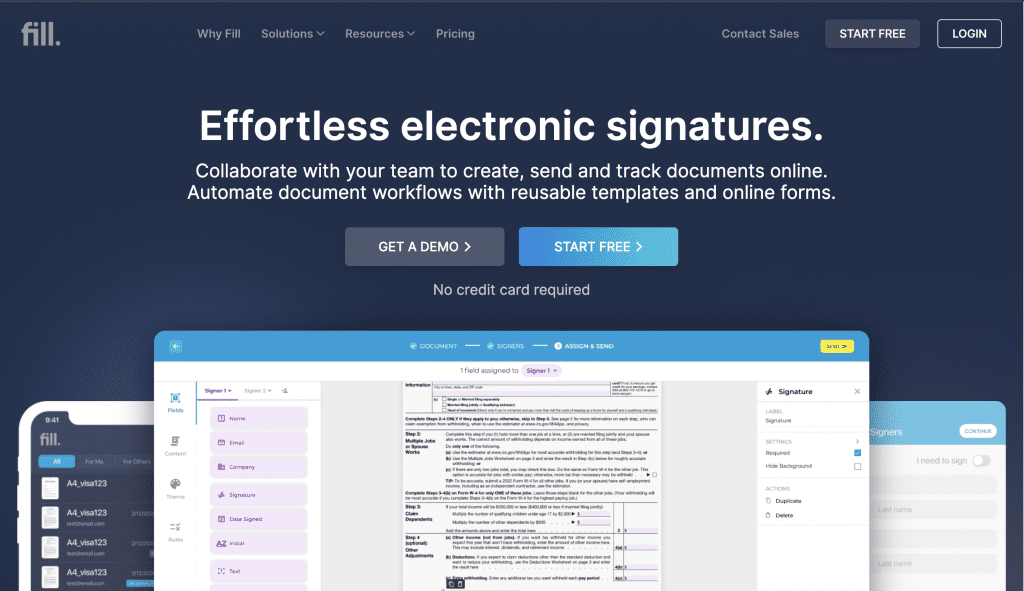 Not to toot our own horn, but Fill is among the most reliable document signing platform available in the market today. Based on our electronic signature software comparison, Fill offers the lowest cost of electronic signature services out of all the five options presented at $4.17 per user per month.
Our basic plan allows you to send unlimited signature requests, and you can enjoy unlimited document uploads and unlimited cloud data storage. Even better, we offer a free plan for occasional users.
Fill also allows you to integrate your favorite business tools with our electronic signature software for a more efficient workflow. It is also easier to keep track of all your paperwork with our real-time audit trail and log.
Fill is also ideal for those who wish to manage their document workflow outside their offices. Fills has a state-of-the-art application compatible with mobile devices and desktop computers.
Finally, our electronic signature software is 100% safe and secure. We only use the most robust security features to keep your documents safe and protected against threats. We also offer HIPAA and GLBA-compliant solutions to avoid incurring hefty fines.
DocuSign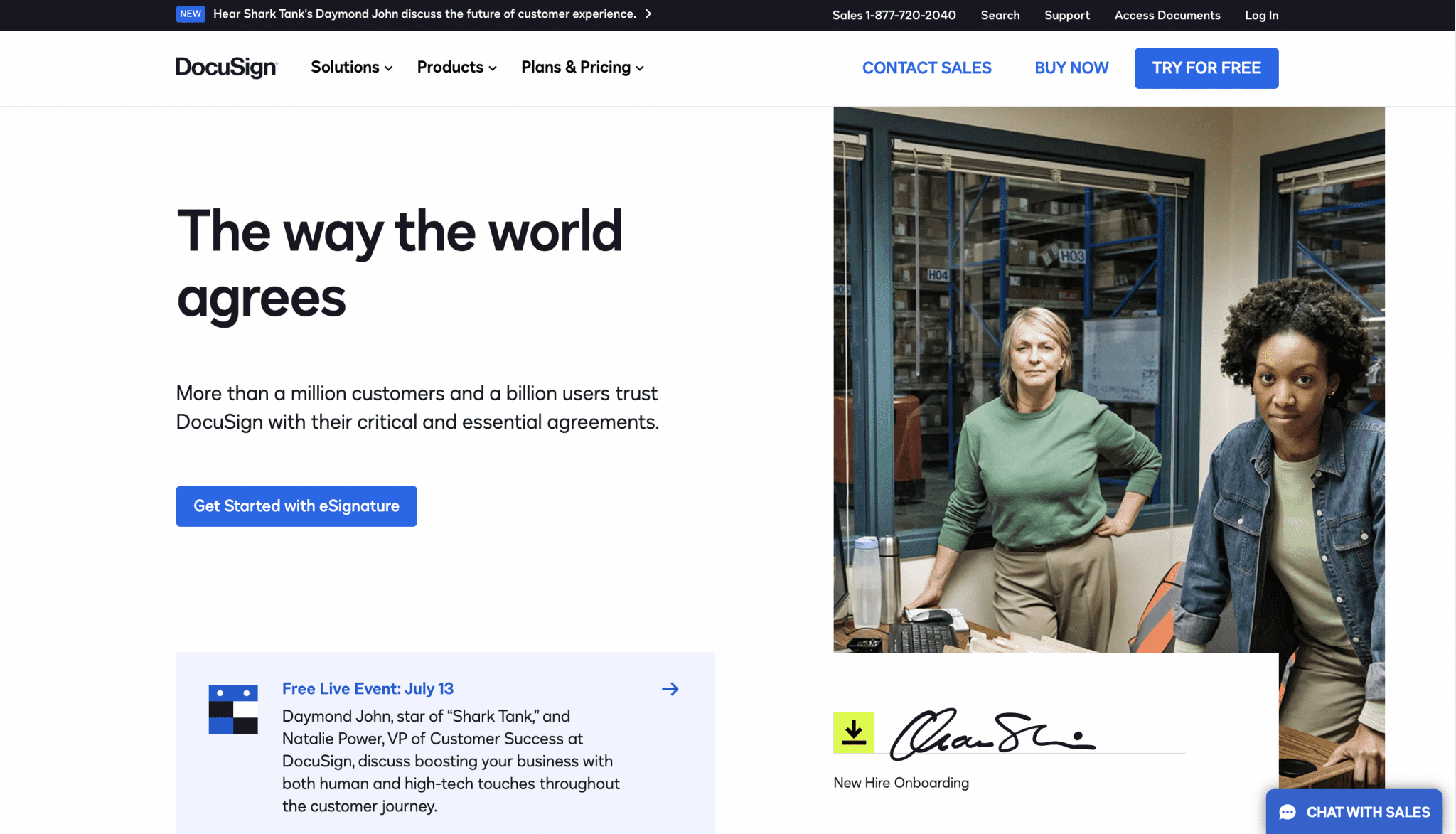 When it comes to electronic signature software comparison, there's no denying that DocuSign is one of the household names. The platform promises to speed up document turnaround time by providing more accessible ways to sign documents using multiple devices. Moreover, DocuSign also packs features that transcend electronic signing. It's a great tool if you want to transition to a completely paperless document workflow.
PandaDoc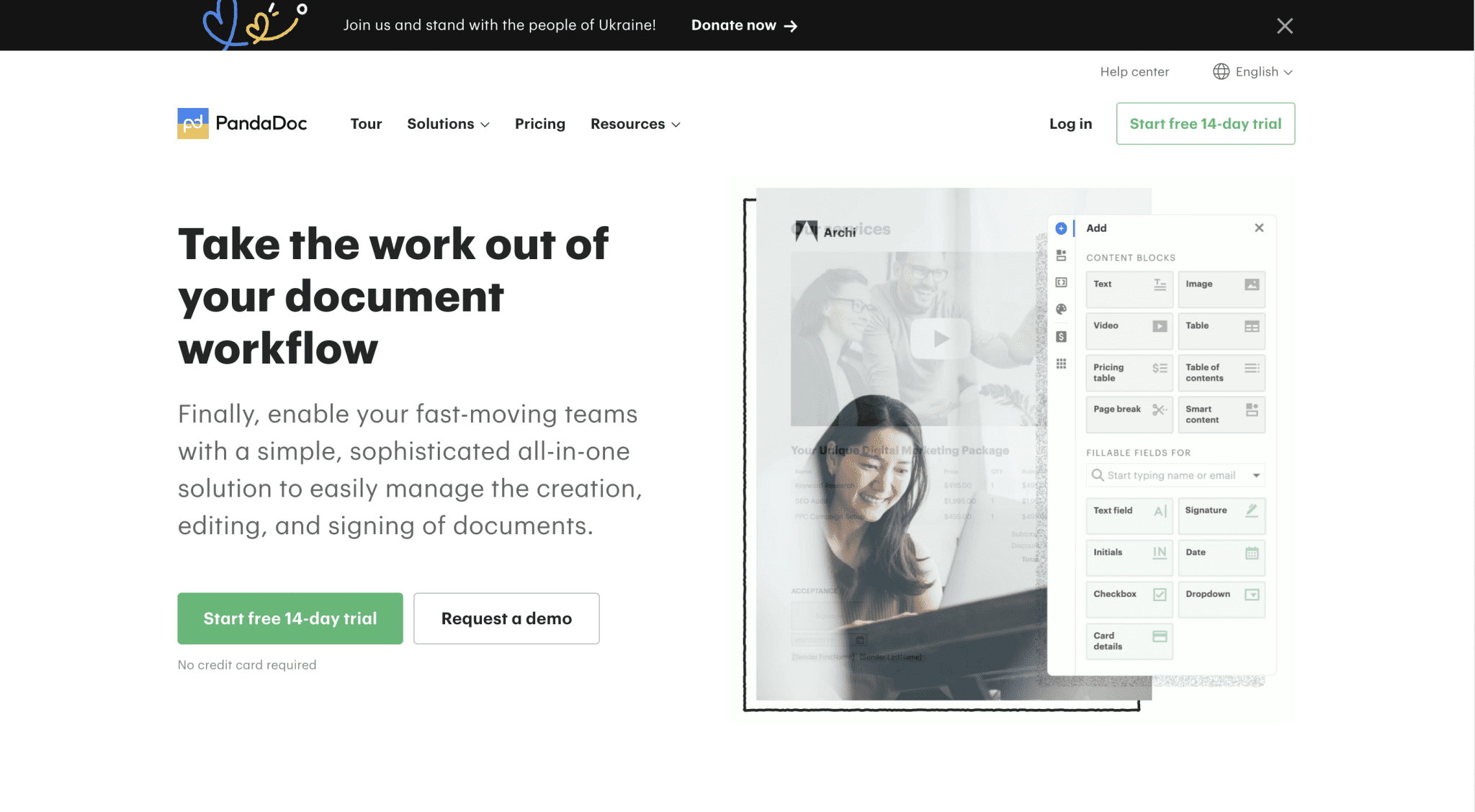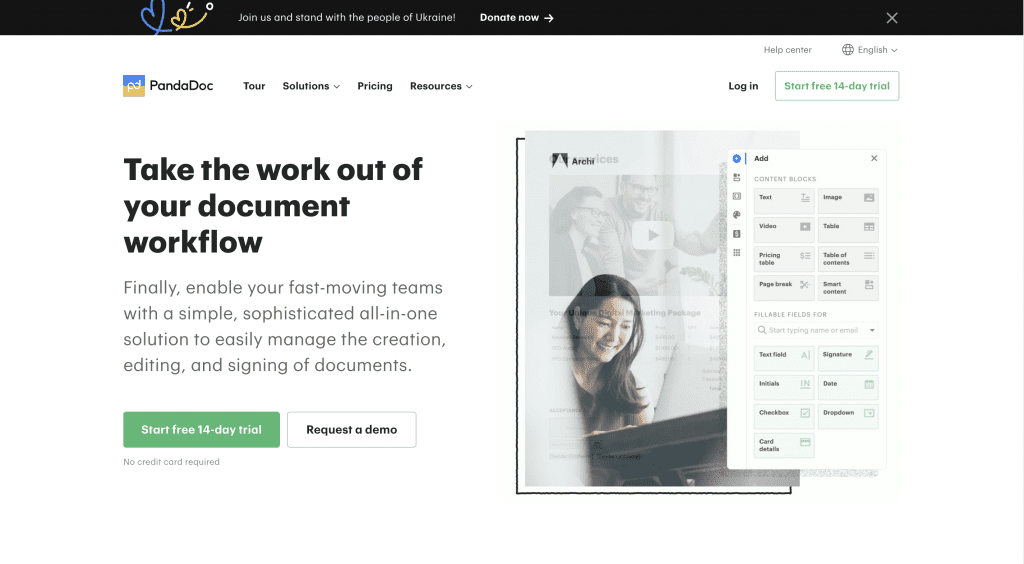 PandaDoc's main selling point is that it can help organizations of all sizes accelerate their document signing process. Their platform is easy to use and navigate, and even those with the least experience in electronic signing can get the hang of it within minutes of using their software. As with everything else on this electronic signature software comparison, PandaDoc is also cloud-based, which means better accessibility and more convenience.
Signaturely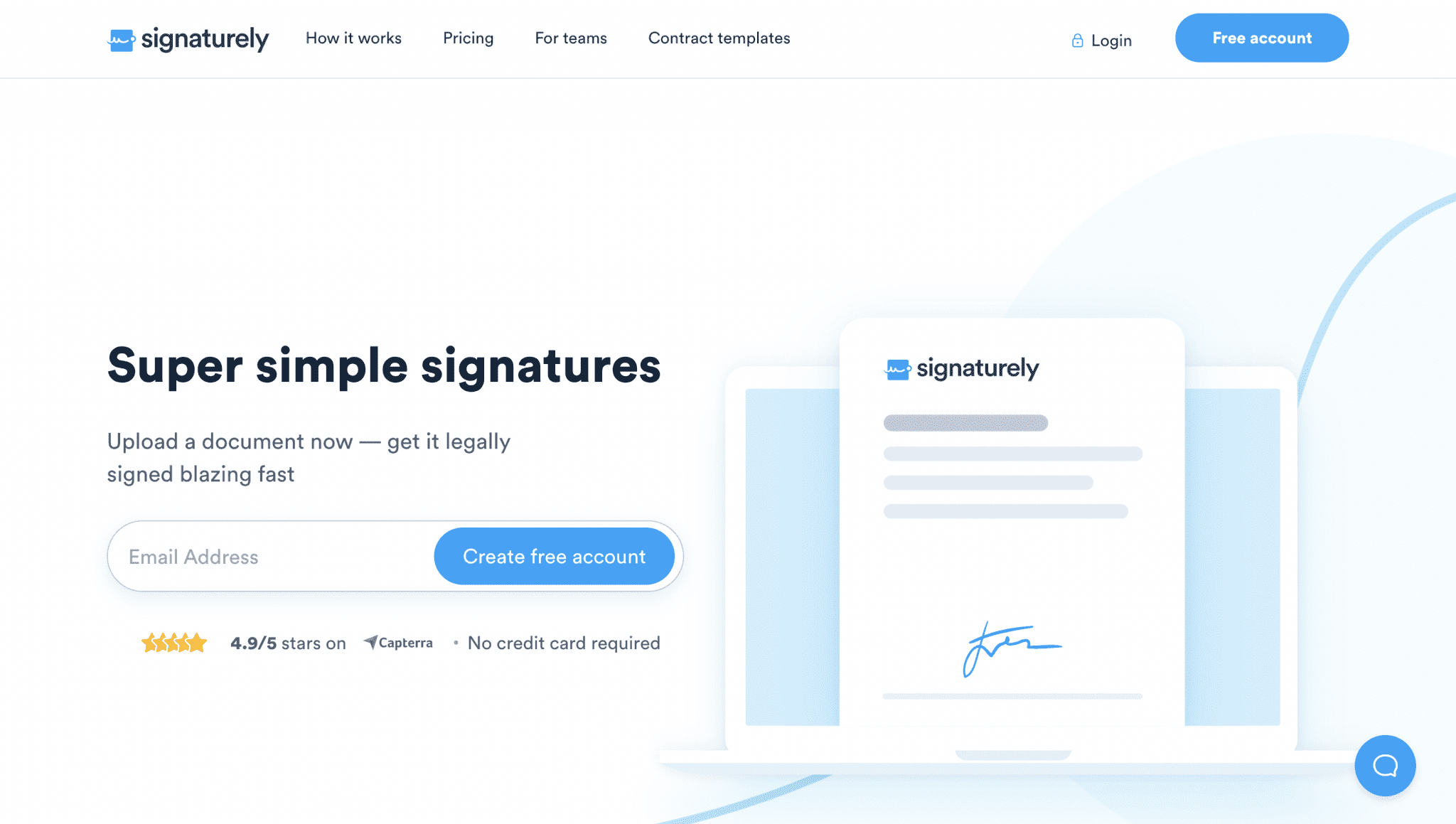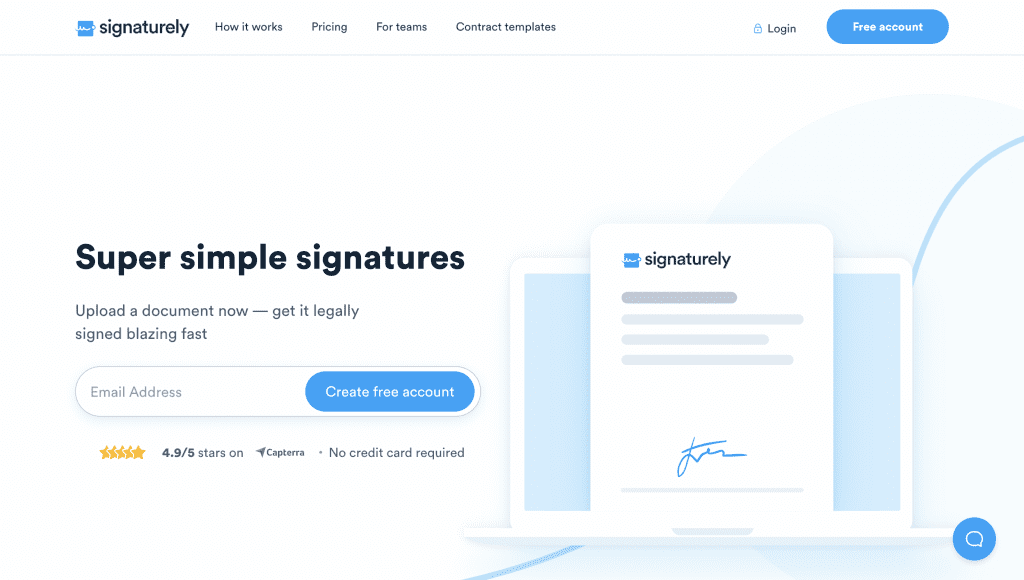 Signaturely is another top choice if you are on the market for the best esign software to help you streamline your document workflow and processes. It prides itself on offering a simple yet intuitive interface for easy navigation and usage. Although their pricing plan is steep compared to the other options found on this electronic signature software comparison, it packs many excellent features and functionalities to simplify your document signing processes. For instance, you can take advantage of its auto-reminding feature that automatically sends notifications to signers to ensure the timely completion of paperwork.
The Bottomline
Investing in electronic signature software indeed gives your business the competitive edge to set itself apart from the competition. It speeds up your entire process, allowing you more time to do other things like product development and market research. It also boosts customer satisfaction as you can get the paperwork done and dusted in just a short amount of time.
Hopefully, the electronic signature software comparison we made and a short review of each option can help you pick the right platform for your business.