While there are plenty of well-known benefits to working from home, there are also a few disadvantages that come with it. One of the most pressing issues employers face with this setup is ensuring that the operation remains efficient and productive. In this light, it's more important than ever to spare some money to invest in the right set of tools and software.
One tool that's a worthy investment is a document-sharing platform that allows seamless collaboration. Today we will take a look at two popular options for such a platform: DocSend vs DocuSign. Which one is the better option for your organization? We'll find out.
Table of Contents
What are the benefits of using a document-sharing platform?
If you are stuck in the non-digital era in today's modern landscape, it's high time that you jump the gun and get yourself a document-sharing platform. Before we compare DocSend vs DocuSign, let's explore the advantages of using a cloud-based document-sharing tool.
Agility
Yes, managing physical copies of your files and documents still work despite living in a highly digital environment. There are still a handful of businesses that haven't made the switch yet. Yes, it still works, but the more important question is how agile this method manages and shares documents.
By going digital and using a cloud-based platform as early as now, you will be able to make your organization more agile to future changes and improvements.
Cost-efficiency
It's no secret that switching to a more paperless approach helps your organization have a lower environmental impact. It also saves you quite a lot of money as you no longer have to spend so much on consumables such as papers and inks. Moreover, you can save money paying for couriers as you can easily send and share documents online. Finally, you can eliminate other expenses like printer maintenance and electric costs.
Overall Efficiency
Finally, before we discuss DocSend vs DocuSign, one of the most significant advantages of using a document-sharing platform that's entirely cloud-based is it reduces the inefficiencies in your organization. It can help you process files a lot faster and eliminate bottlenecks.
DocSend vs DocuSign: Which one is a better choice?
Now that you know some of the benefits of using a cloud-based document-sharing platform, we will now put DocSend vs DocuSign head to head with each other. Which of those two options offer more bang for your buck? Which one offers more features and functionalities.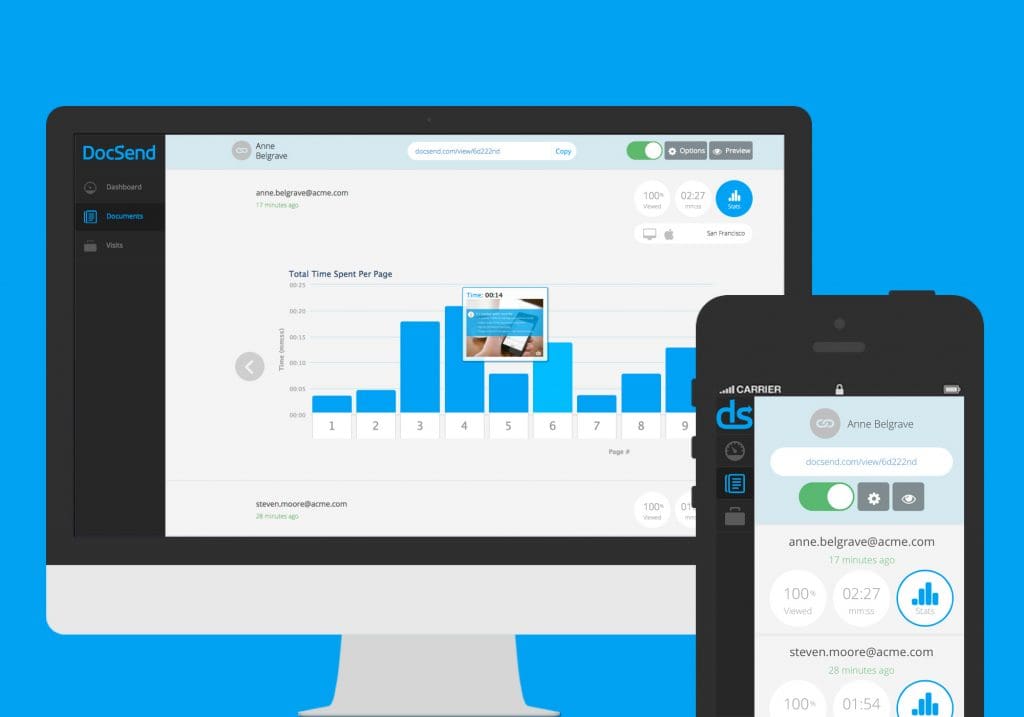 Price Point
The first round of the battle of DocSend vs DocuSign is a comparison of their prices. Both companies offer plans that start at $10 per user per month. However, it appears that DocSend's more premium plans are more expensive than DocSend with their Standard plan at $45 a month, while with DocuSign, it only costs $25. Additionally, the more advanced package in DocSend can cost you around $150 per month, which already allows three users. With DocuSign, on the other hand, you pay $135 a month for their Business Premium plan, but only one person can use it.
Both options offer a free trial that you can enjoy for fourteen days.
Features
Based on the price points alone, it's hard to determine which one is the better option between DocSend vs DocuSign. Their roster of features plays such a massive role in identifying which of these two is a better fit for your organization. Let's walk you through the features each one has to offer.
At first glance, it is apparent that DocSend has more features than DocuSign. Some of these features include:
Collaboration Tools
Data Storage Management
Content Delivery
Data Security
Presentation Tools
Proposal Management
Access Controls and Permissions
Audit Trail
On the other hand, these are some of the features that DocuSign offer:
Document Analysis
Authentication
Customizable Templates
Multi-Party Signing
Reminders
Mobile Signature Capture
Task Progress Tracking
Although it appears that DocSend offers more features, DocuSign also has functionalities that aren't found in the former. 
DocuSign proves to be more advantageous in terms of deployment and support as it has a desktop app for Mac and Windows and a mobile app for Android, iPhone, and iPad. Whereas DocuSend is entirely web-based.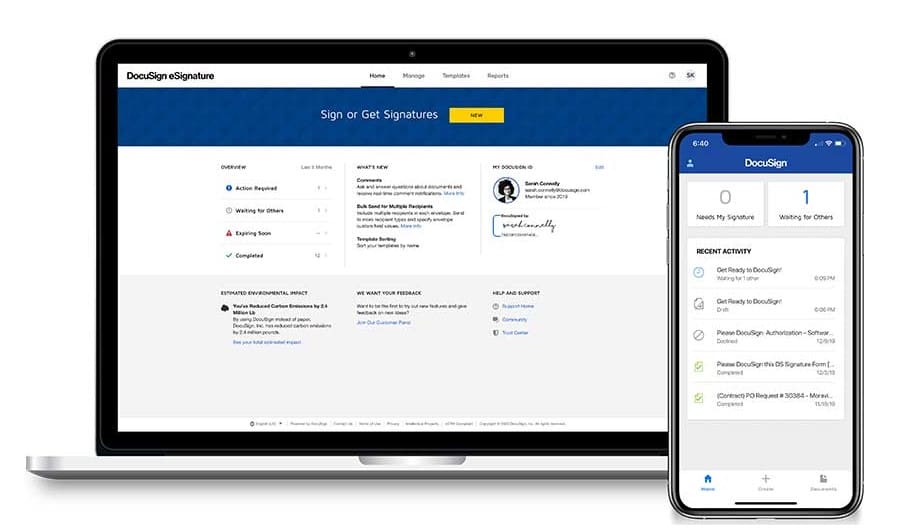 User Experience
It's a close fight between DocSend vs DocuSign when it comes to the overall user experience, as both are known to be extremely easy to use and navigate. Both options are top-rate in terms of ease of setup and ease of administration as well. However, DocSend is highly rated in terms of quality of support while DocuSign is a close second.
What are alternatives to DocSend and DocuSign?
If you can't decide between DocSend vs DocuSign, we will list down a few more alternatives to have more choices. Here are two of our top choices as DocSend and DocuSign alternative.
Paperflite
Paperflite is a user-friendly tool that helps ensure you produce and distribute the most relevant content for a particular time. It generates real-time engagement analytics to let you see the performance of your content. It's a great overall content management tool; however, it does come with quite a hefty price tag at $30 a month per user.
Fill
While Fill is one of the leading electronic signature apps, it does more than just allow you to sign documents on the go. Fill is definitely a must-have tool for a WFH setup as it lets you share documents at your fingertips. It's secure, fast, and efficient. This option is ideal if you want to process sales contracts, property agreements, letters of intent, wills, and so much more.
Key Takeaway
When it comes to selecting the better option between DocSend vs DocuSign, both have so much value to offer to your organization. Each has its advantages and disadvantages. Ultimately, you need to dive deep into your organisation's needs to determine which of the two great options best suits your company.