The secret to an effective and efficient document management system is continuous improvement. While having a solid foundation is integral, you also need to invest ample time and effort to further optimize your processes.
But you don't have to rely on gut feel or guesswork.
Document analytics can provide you with relevant insights that will help you identify the areas in your system that need enhancing. It also allows you to evaluate the performance of your system based on signer interactions and conversion rates.
With Fill, you can easily access important data about your document workflow with just a few clicks.
The Importance of Document Analytics
Document analytics is the process of collecting and analyzing data in contracts, forms, and other administrative content. It provides insights into how documents are being used and accessed within an organization.
Here's why it's important to your business:
1. Improved efficiency
By analyzing document interaction data, businesses can identify bottlenecks and inefficiencies and make improvements. You'll have a report backed by actual data that shows which aspects of your system requires the most attention.
2. Better decision-making
No matter the size of your business, you must make data-drive decisions to lessen risks and prepare for possible issues. Document analysis can provide insights into how different departments and individuals interact with documents, helping businesses make informed and strategic business choices.
3. Increased collaboration
By tracking the activities done on your document, you can identify opportunities for increased collaboration and facilitate better communication between teams. You'll have a better understanding on how documents are being shared and accessed within the organization. Plus, it helps promote better accountability as document analytics can show insights on who's working on what.
4. Enhanced security
Analyzing and tracking document interaction can help businesses identify potential security risks and implement measures to protect sensitive information. This ensures compliance with relevant laws and regulations, such as the E-Sign Act.
5. Improved customer experience
Analyzing document interaction data can help businesses identify opportunities to improve the customer experience and address any pain points.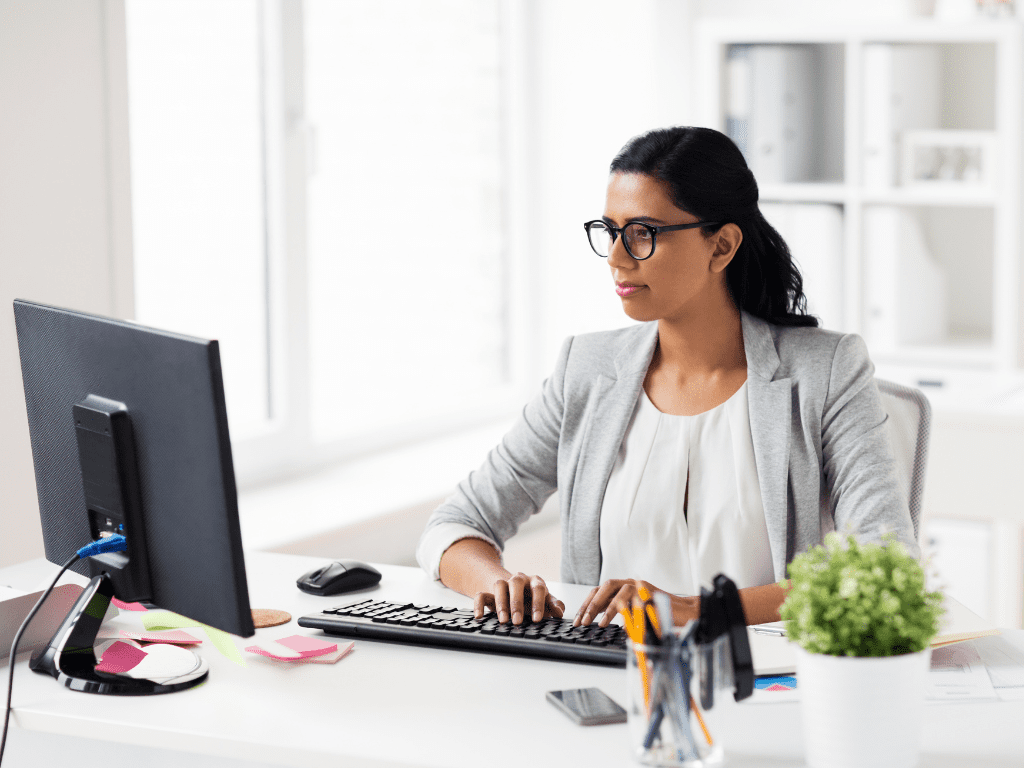 Key Ways to Use Document Analytics in Your Business
Document management tools like Fill already come with a built-in feature that allows you to generate document analytics with just a few clicks. It is important that you leverage this feature to improve your business processes.
Here are some ways you can use document analytics:
Contract analysis
You can use this feature to extract key information from contracts, such as pricing, terms, and conditions. Having these vital details can help you negotiate better deals and identify potential risks.
Market research
When you switch to a more digital approach, it is much easier to analyze large volumes of research reports. You can quickly extract insights on market trends, competitor analysis, and other valuable data points that will help you better understand your market.
Internal communication
Document analytics can be used to look into the communication within your organization, including the frequency of communication between departments and the sentiment of emails. This can help businesses improve internal communication and mitigate potential issues.
Fraud detection
One great thing about using digital document management tools is that it keeps your data safe against cyber threats. Moreover, with document analytics, you can analyze patterns and anomalies that may be signs offraudulent activity.
How to Access Document Analytics on Fill
Fill is an electronic signature application designed to simplify the way you handle documents. Instead of printing files and sending them for signing, you can simply do it digitally. Not only will you save time, but you'll also cut down your operating costs.
Aside from digital signing capabilities, you can also enjoy our document analytics feature. This allows you to evaluate the performance of your document workflow, giving you insights on how to improve your processes.
Here's how you can access it:
1. Log in to your account on Fill.
2. On your dashboard, select the document whose document analytics you wish to view.
3. Click Analytics to see certain information, such as Opened, Completed, Average Completion Rate and Time, Conversion Funnel, and Pages.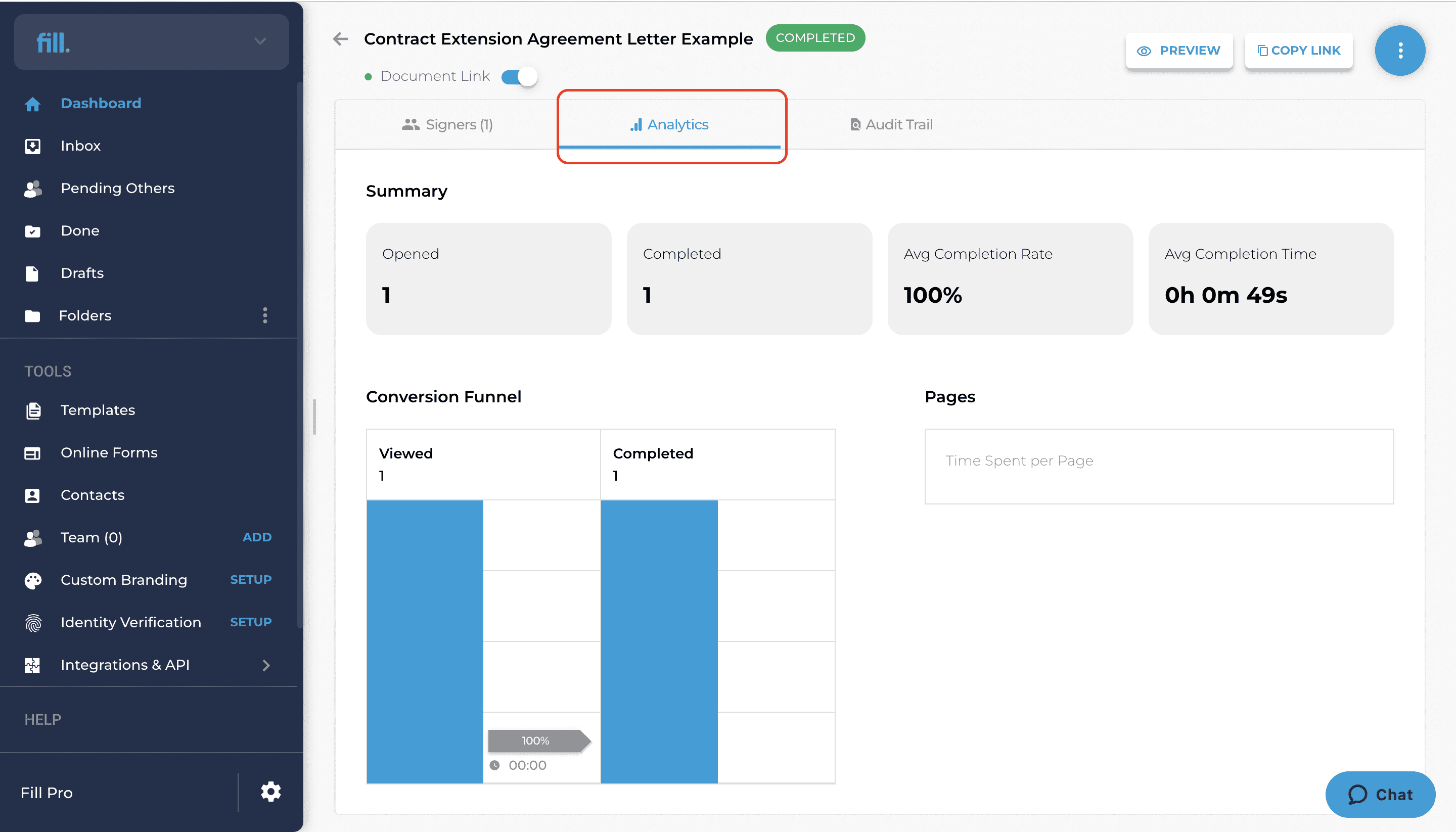 Our document analytics is sort of a preview to the activites done on a particular file. You'll see the number of people who have received and opened it, as well as those who have already signed the document. Moreover, the average completion time provides you with the data of how much time it took for the signers to complete the document.
If you really wish to get into more details, you can go to Audit Trail where you can see who exactly has opened it and what time they did. You'll also view the exact time they've signed and completed an online form or contract. This feature comes in handy if you want to track the progress of your document.
Easily Track Document Interaction With Fill
Are you tired of spending hours sifting through contracts, reports, and other important business files to extract key information? Do you want to make data-driven decisions that drive your business forward while improving your document management system? Look no further than Fill.
Fill is a powerful electronic signature tool that helps businesses organize, store, and access their documents quickly and easily. With Fill, you can:
Store all your documents in one secure, centralized location.
Access your documents from anywhere, at any time, on any device.
Collaborate with team members in real time with annotation tools and audit trail.
Track document interaction, including who is working on what and when tasks are completed.
Secure your documents with advanced encryption and user authentication.
What makes Fill truly a standout tool among businesses is that it complies with various industry standards and international regulations, such as HIPAA, GLBA, and GDPR. When you use Fill, you never have to worry about non-compliance and other legal implications. It's completely safe and easy to use.
Don't waste any more time struggling to keep track of your documents. Try Fill today and streamline document tracking, reporting, and analysis.