In today's digital landscape, signing documents online is fast becoming the norm. Gone are the days when you have to print copies of your files and send them over to the signers. Nowadays, you can easily process all your paperwork with the help of your smartphone.
To transform your phone into the ultimate productivity tool, you first need to download an Android document-signing app. There are quite a few in the market today, so picking the right one might be confusing.
This article will help you compare features and find the best electronic signature app for Android.
Table of Contents
Key Benefits of Using an Android Document-Signing App
No matter the size of your organization, shifting to using electronic signatures can take your business to the next level. To fully maximize its advantages, you must equip yourself to make the transition much smoother.
Here are a few reasons why you need a document-signing app for Android:
1. Saves time
Using your phone to sign documents online increases the efficiency and productivity of your team. Rather than spending time arranging in-person meetings, your colleagues can use their mobile phones to close deals and process paperwork. You no longer need to print out forms and contracts and mail them to the signer. You can sort them out with just a few taps of a button.
The best part of using an Android document-signing app is that you don't need to be in the confines of your office to perform these tasks. Even when faced with a deadline, you don't have to worry. You can sign contracts and forms on the go.
2. Protects data
Paper-based document signing is not only time-consuming but is also less secure. It's easy for unauthorized parties to access printed forms and tamper with them. Moreover, you run the risk of documents getting lost in the mail, which can compromise your entire organization.
However, using a document-signing app for Android provides you with layers of protection. Electronic signature solutions use encryption and robust security features to ensure the safety and integrity of your data.
3. Reduces costs
Sticking to the more traditional way of managing documents can be pretty expensive. You have to spend considerable money on printing equipment and office supplies. Paying for courier services to deliver documents to your clients can also be quite costly. You also need to allocate funds for document storage.
Using your mobile phone to take care of paperwork can significantly slash your operational expenses. You only need to pay a monthly or annual fee to enjoy the benefits of an electronic signature solution. Some vendors even offer free plans or trial periods to let you experience their apps without any strings.

What to Look For in a Digital Signature App
Due to the increasing popularity of online document signing, the current mobile app market is quite saturated. To help you make the perfect choice, we've devised a list of the qualities that you should prioritize. Let's explore each of them.
Safety and security
You must use tools with robust security features if you handle documents containing highly sensitive information like health records and contracts. Pick an Android document-signing app that uses advanced encryption to ensure your data is safe against malicious threats. Also, check if they comply with federal and international regulations like HIPAA, GLBA, and GDPR, to name a few.
Ease of use
Signing documents online should be straightforward. When choosing an Android app to sign PDF documents, you need to ensure that it's user-friendly. The setup should not be complicated and time-consuming. It shouldn't take you and your team that long to get the hang of using the application. The signing process should also be a seamless experience.
Comprehensive features
Apart from being able to sign documents on the go conveniently, take a look at other features your options offer. Ask yourself, "How else can this document signing app for Android help my workflow?" Some features to prioritize are third-party integration, API documentation, cloud-based data storage, and a built-in document scanner.
The Best Android Document-Signing App: Our Top Pick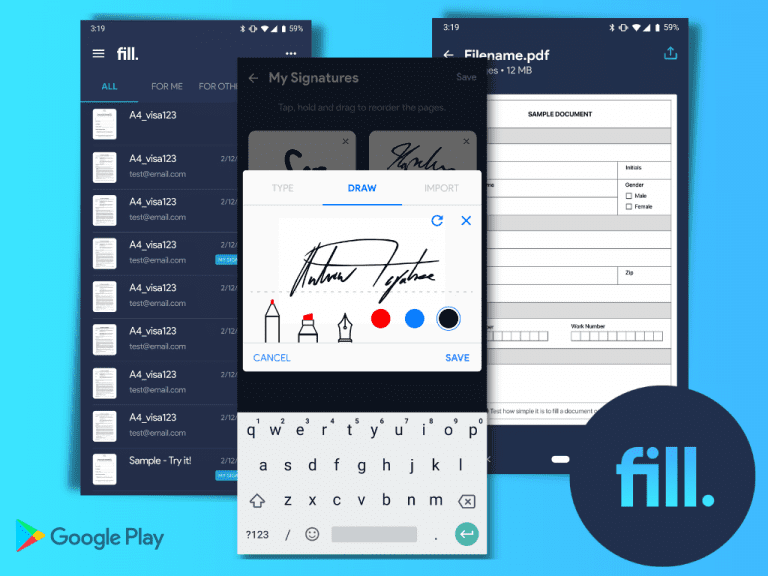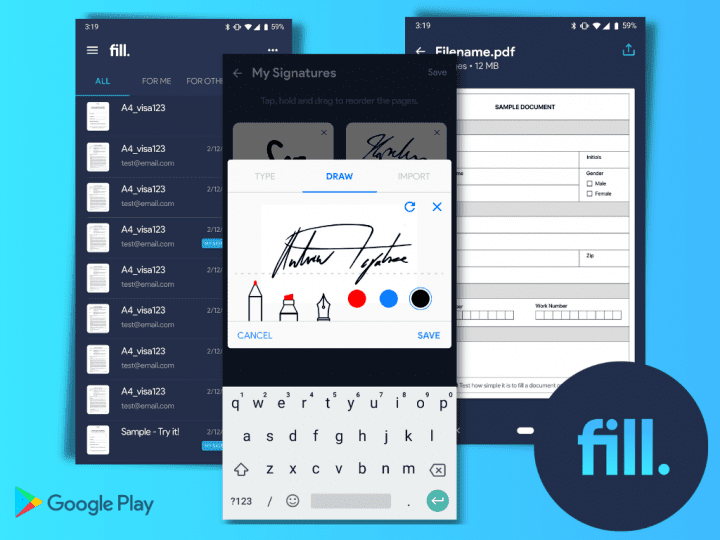 Not to grandstand, but one of the best Android document-signing apps you can find today is Fill. Our feature-rich electronic signature solution simplifies your document workflow, allowing you to sign documents straight from your mobile phone. You can also use our app to send a signature request so you can close deals faster.
Fill uses military-grade encryption so that your documents do not fall into the wrong hands. We make sure that your data is protected against privacy breaches and data loss. We also comply with HIPAA, GLBA, and GDPR regulations, so you can manage the most confidential files using our platform.
Our developer-friendly API lets you seamlessly integrate Fill into your favorite business tools. You can also use our prebuilt connector for a faster and smoother process.
You won't need a dedicated scanner to convert physical documents to digital copies. With our Android app, you can scan documents using your smartphone's camera.
Best of all, you can enjoy our Android app when you sign up for our paid plans, which start at $8.33 per user per month.
So what are you waiting for? Create an account with Fill and book a free demo.
Conclusion
You can practically do everything with your Android phone, from doing bank transactions and sending emails to staying on top of your tasks. While the smartphone is a pretty great device, you need to equip it with cutting-edge and reliable mobile applications to maximize its use. And when it comes to signing forms and contracts online, you must have the best Android document-signing app in your arsenal.