E-commerce companies are always looking for ways to make the buying process more straightforward and satisfying for customers. They will leave your website and look elsewhere if the user experience is tedious or complicated. One way to ensure customer satisfaction is to provide user-friendly order forms.
Creating order forms doesn't require technical skills, thanks to specialized software and platforms. You don't even need to create one from scratch; just customize the details on the form according to your needs.
Learn how to make order forms that will help boost your sales in no time.
What Is an Order Form?
An order form is a document that is used to collect a buyer's information and transaction details. It includes the following fields:
The customer's name
Contact information
Shipping address
Billing address
Product SKU or code
Quantity of items ordered
Payment information
Order forms are a convenient way for companies to acquire orders. They are often issued in conjunction with invoices and packing slips. Once the customer has filled out the form, they submit it to the business. The latter processes the order and ships the products or gives full access to the service.
The best part is that you can customize online forms to fit specific products and business needs. These digital documents typically include fields that look like small rectangular boxes.
When Do You Use an Order Form?
Businesses use order forms to let customers buy products online.
Streamline the ordering process
Track inventory
Ensure the accuracy of customer information
Update information on existing customers
Collect payments
Why should you use order forms?
Boost overall revenue
By clearly listing the products or services available for purchase, order forms help to increase conversions. They make it easy for customers to find what they're looking for and buy it with just a few clicks.
Furthermore, order forms can also help to increase average order values by upselling and cross-selling related products. For example, if a customer buys a shirt, you may suggest a matching tie or an embroidered name patch.
Automate the order process
Order forms allow customers to request items and track their purchase history. When an order form is received, it can be automatically entered into the system and sent to the appropriate department.
This can save a considerable amount of time and effort, particularly for businesses that process a large number of orders. Additionally, order forms can be used to track customer purchase history, which can help identify trends and predict future demand.
Create a broader customer base
A well-designed order form can help you get more people to buy your product or use your service. You can attract both budget-conscious and more affluent customers by offering a wide range of options for every price point.
By making it easy to find the right product or service, you'll encourage more people to complete the purchase.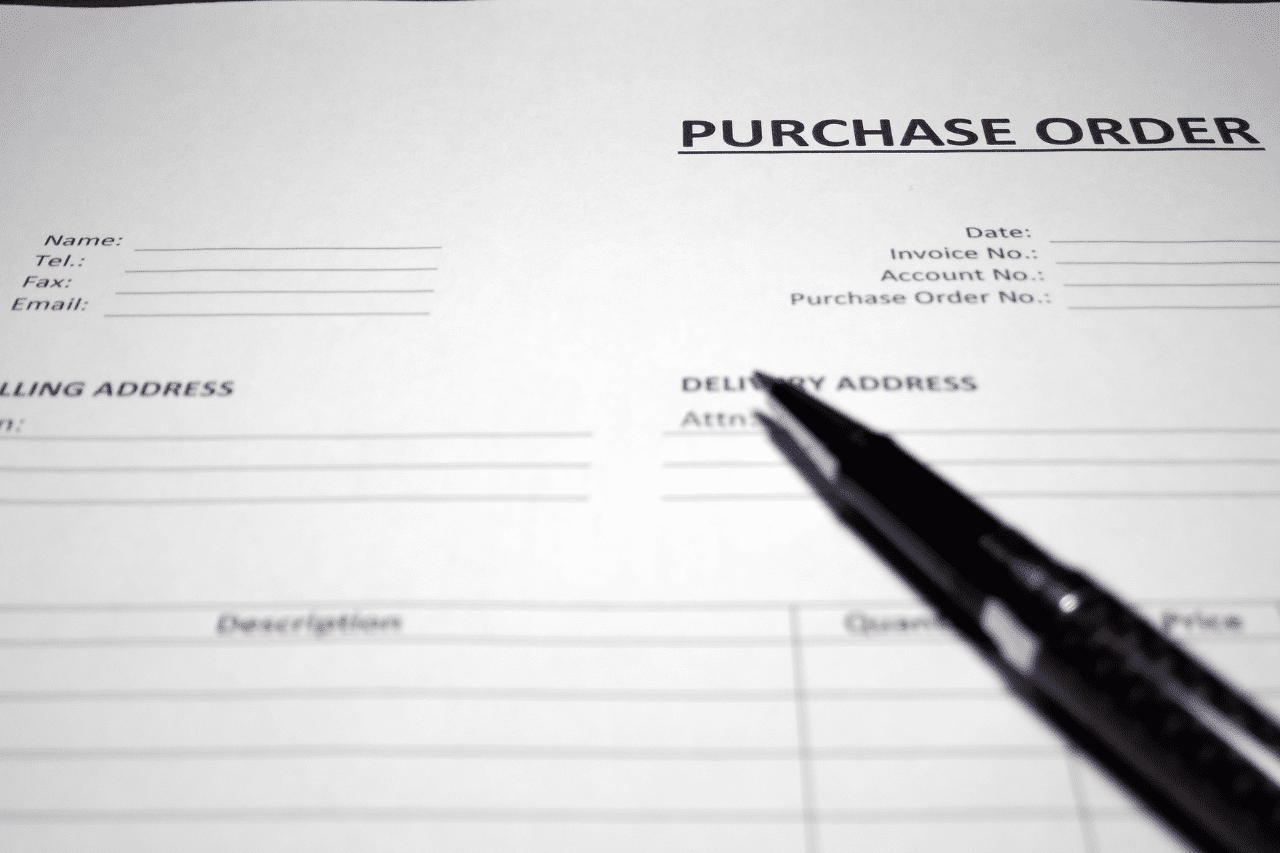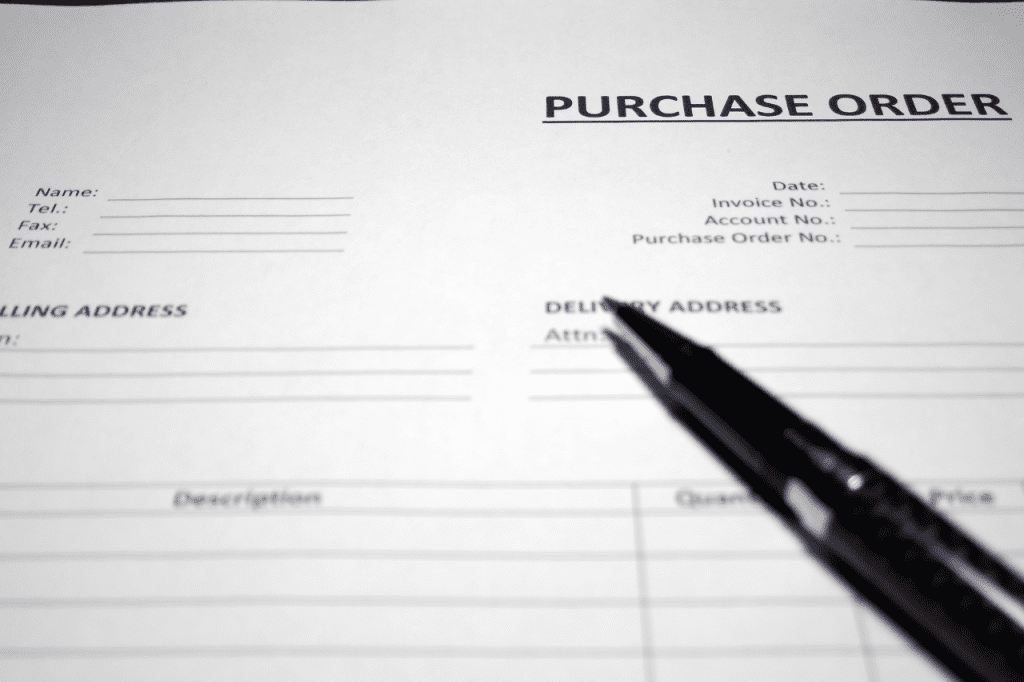 Tips for Making Order Forms Online
1. Keep it simple
Use clear and concise language. The first rule of thumb for creating an online order form is to make it easy for customers to find what they're looking for. Ensure you don't bombard the customers with a lot of steps or requirements. As much as possible, customers should only tick boxes instead of typing in a lot of details.
2. Make sure the form is secure
Choose a reputable payment processor and include security features such as SSL encryption on your form. Online shoppers want to know that their credit card details and personal information are safe from hackers. That's why you must deploy safeguards like identity verification and two-factor authentication.
3. Test, test, test
Before you launch your online order form, test it thoroughly. Ensure all the fields are functioning correctly and the form is easy to understand. This helps you identify any potential glitches so that you can fix them before going live. Otherwise, you risk frustrating customers and losing potential sales.
You may invite a few beta testers outside your organization. This is also your chance to get feedback from external sources on improving the forms.
Note: Your order form should always include shipping costs, taxes, and a link to your return policy page. This helps prevent confusion and complaints later on.
How to Make an Order Form Using Google Forms
Google Docs is a great way to create and share documents, but it's not the best tool for creating order forms. That's where Google Forms comes in.
You can benefit from the following features:
Create multiple-choice questions.
Use drop-down menus to provide a list of options.
Add images to make your form more visually appealing.
Forms integrates with other Google products like Sheets and Calendar, so you can easily keep track of your orders.
Google's order form template
You don't need to insert columns and tables manually when you use Google Forms. Instead, just follow these steps:
1. On the Google Forms homepage, you will see several templates available for customization.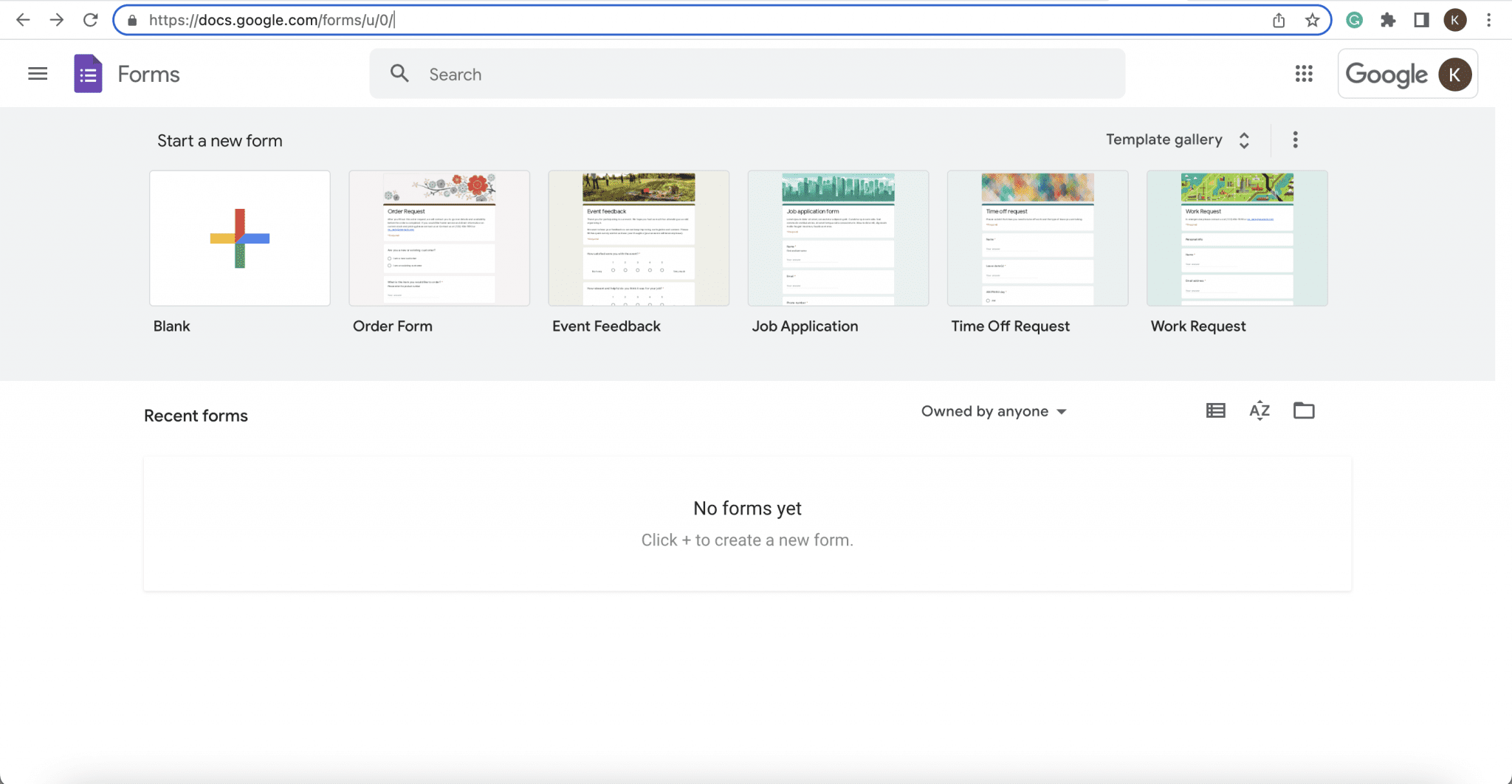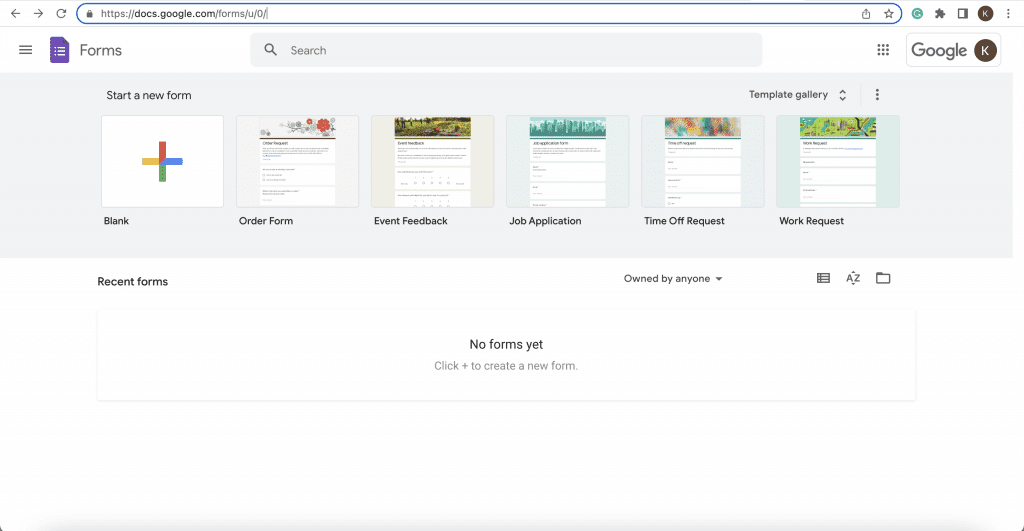 2. Select the Order Form template from the gallery.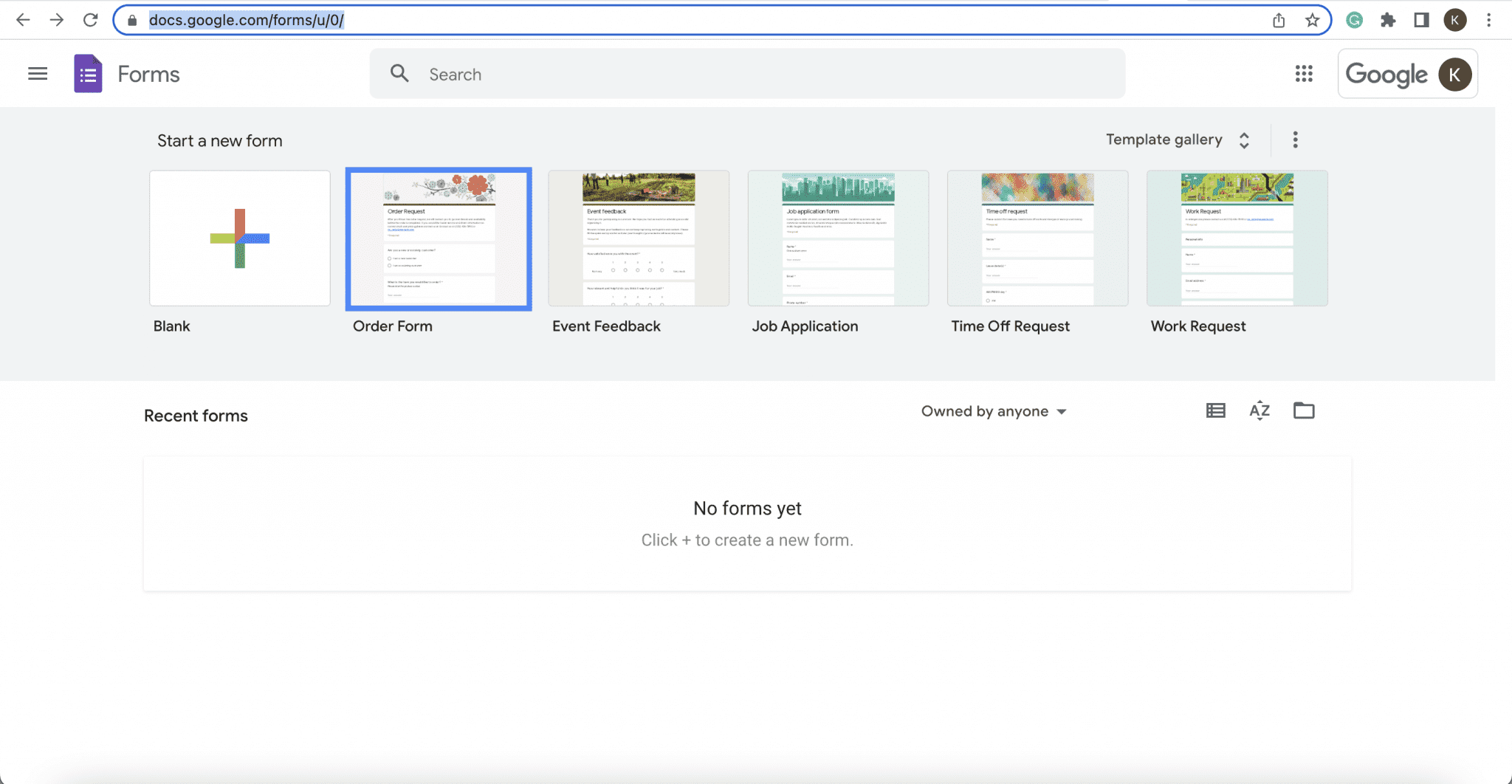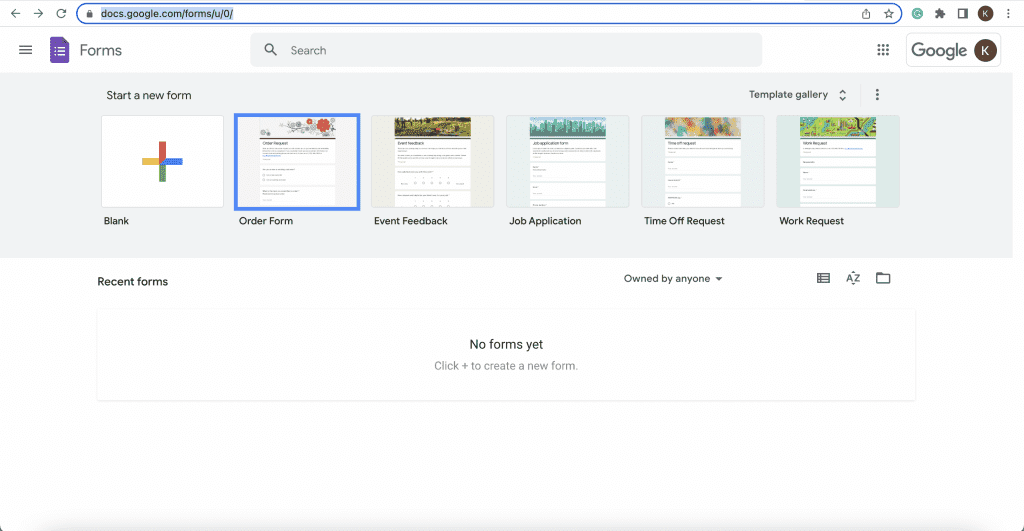 3. Edit the form's title or leave it as it is. Change the text under the title according to your brand's information. Make sure to include your contact details.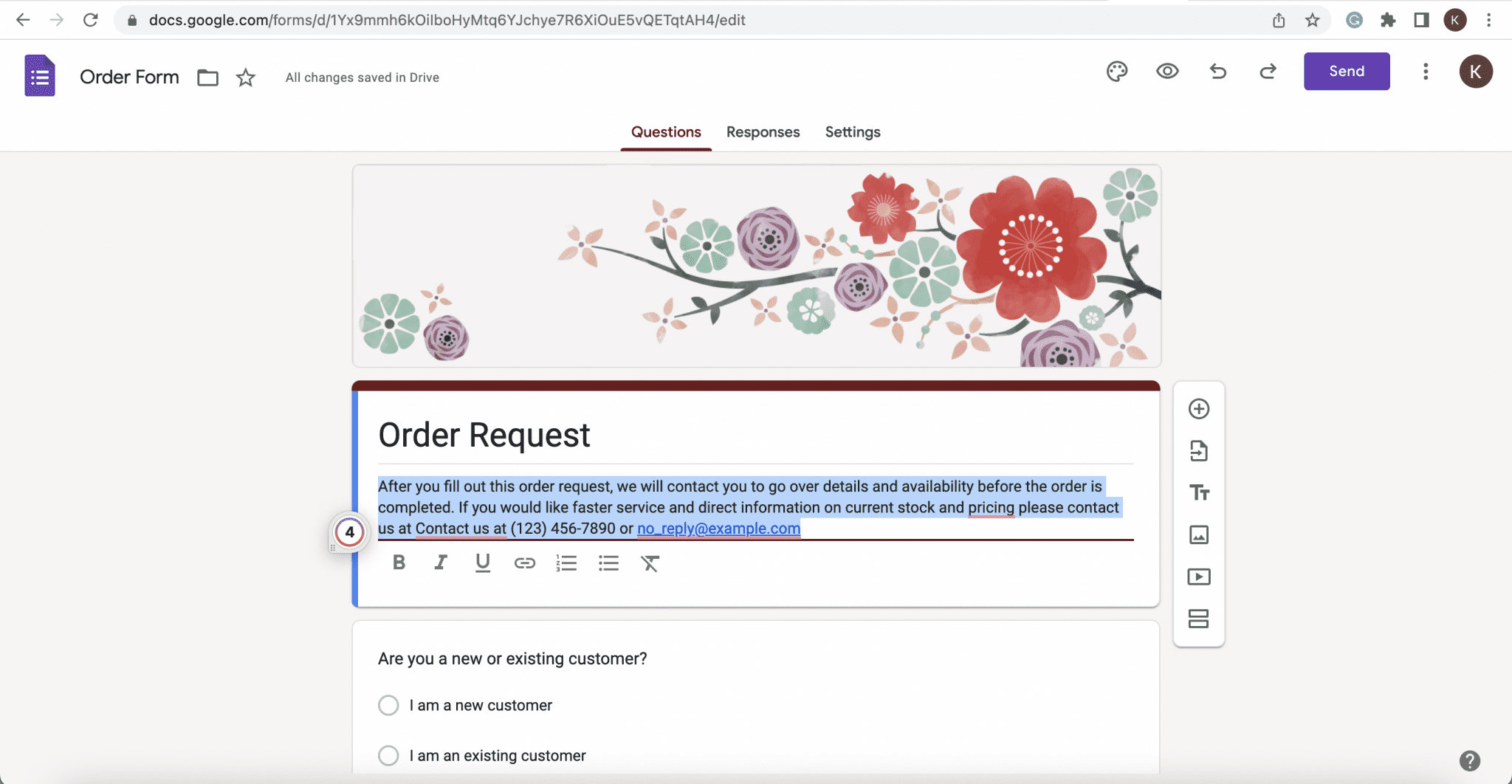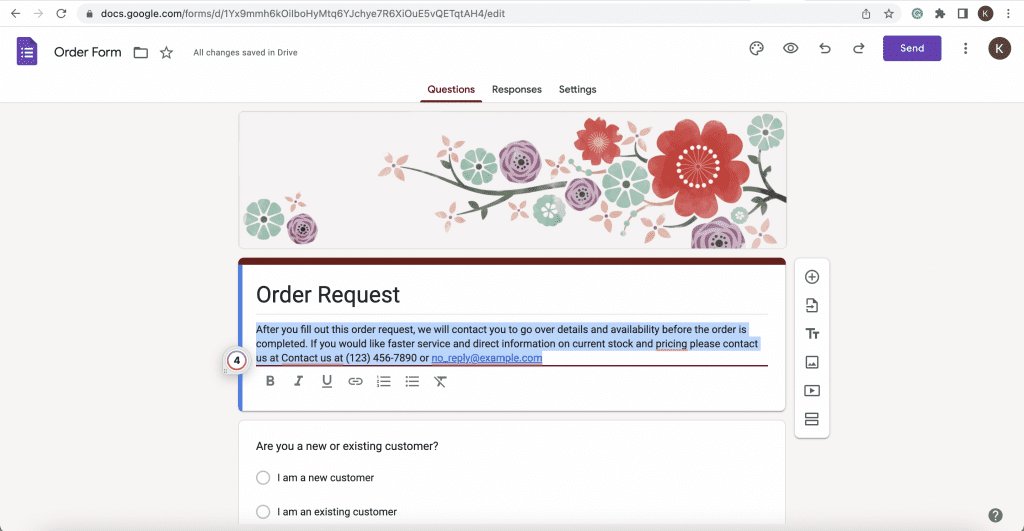 4. Click the question element you wish to edit. It will automatically show a drop-down menu that features the first question. Choose the functions you wish to add to the field.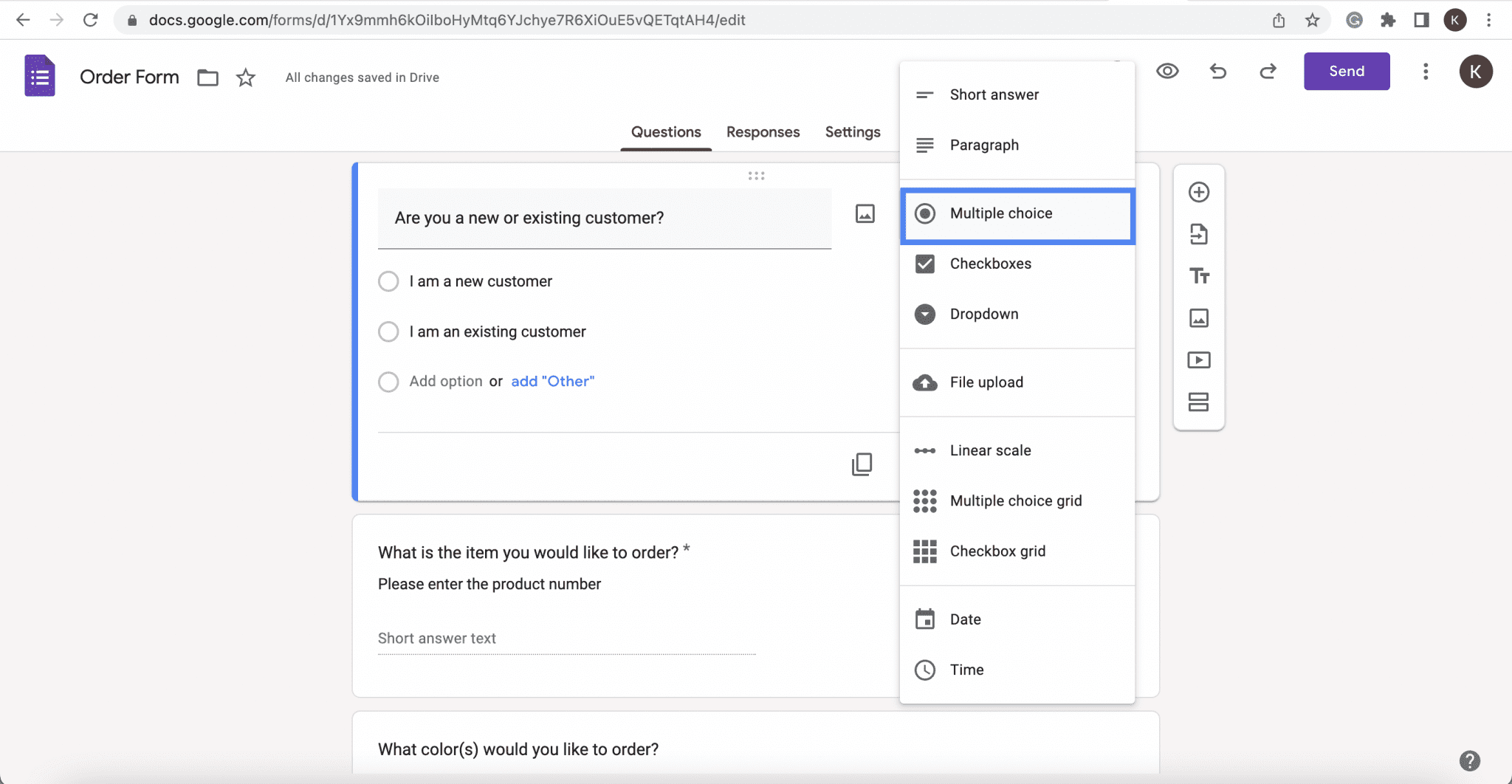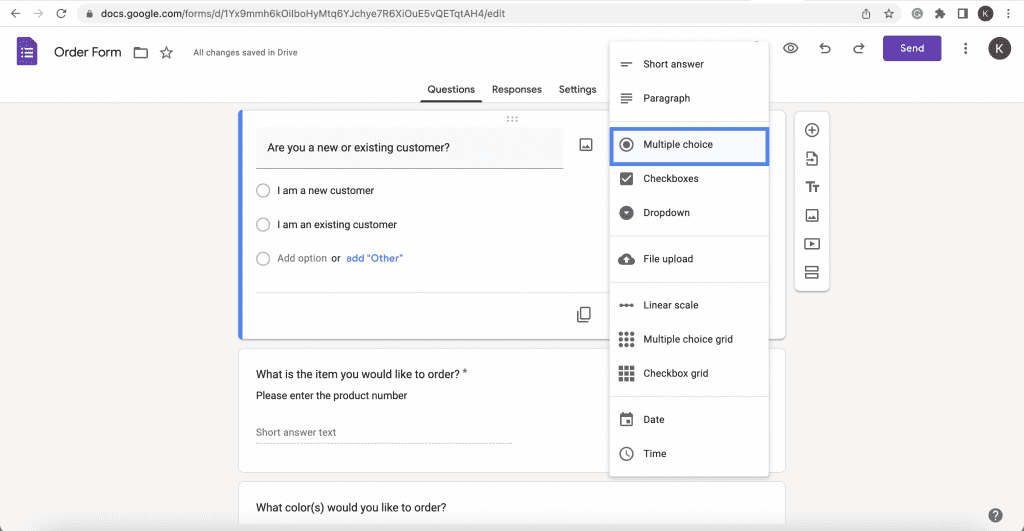 5. Type in the first question and select the answer type you expect from the respondent: short answer, multiple choice, or paragraph. In this example, the customer needs to type in a short answer, specifically the product number.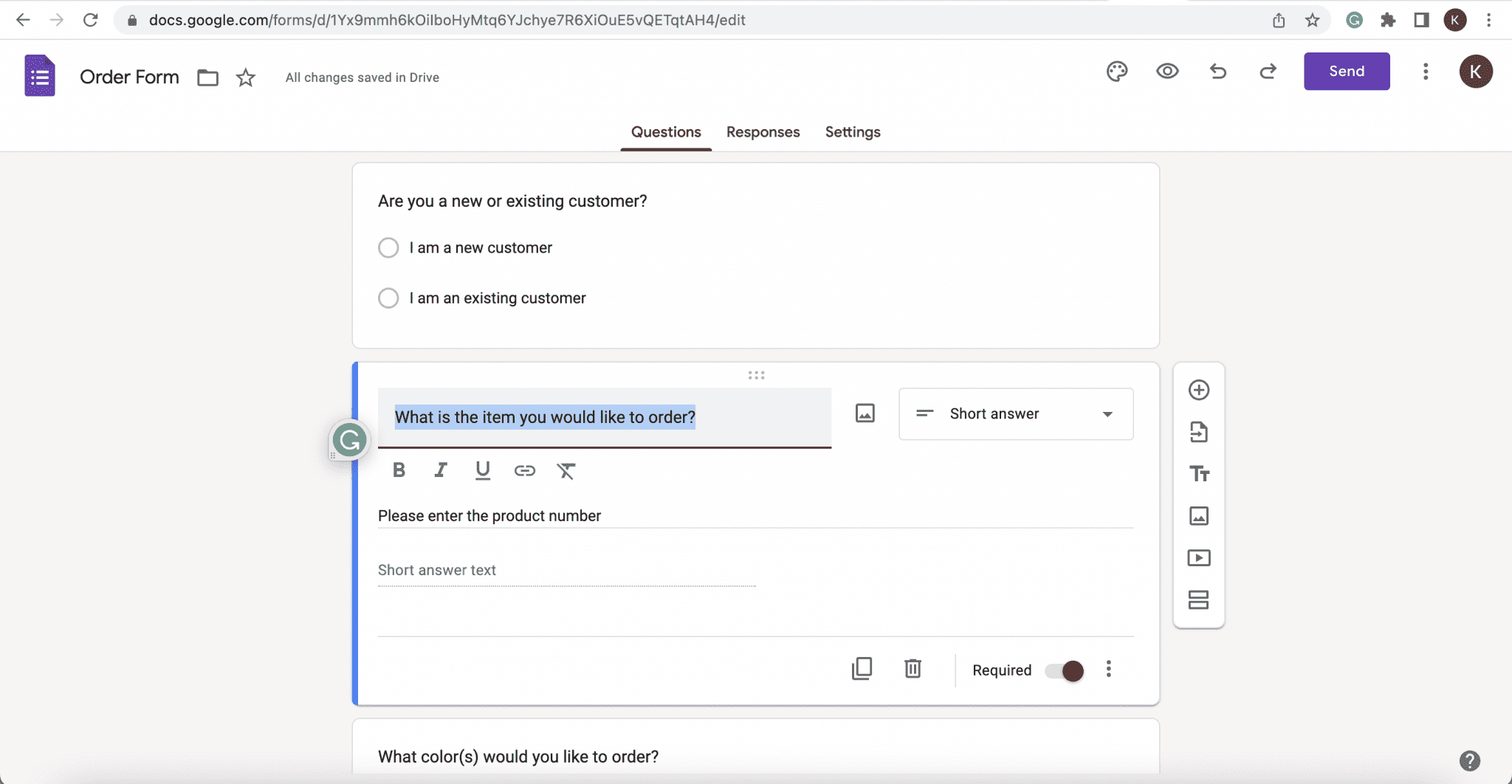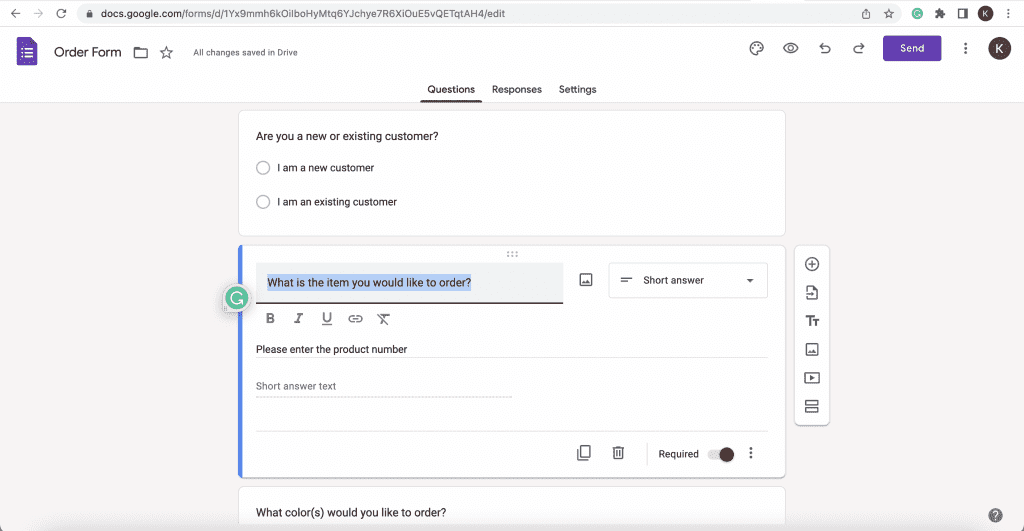 6. Scroll down the template and add or delete the fields as you see fit.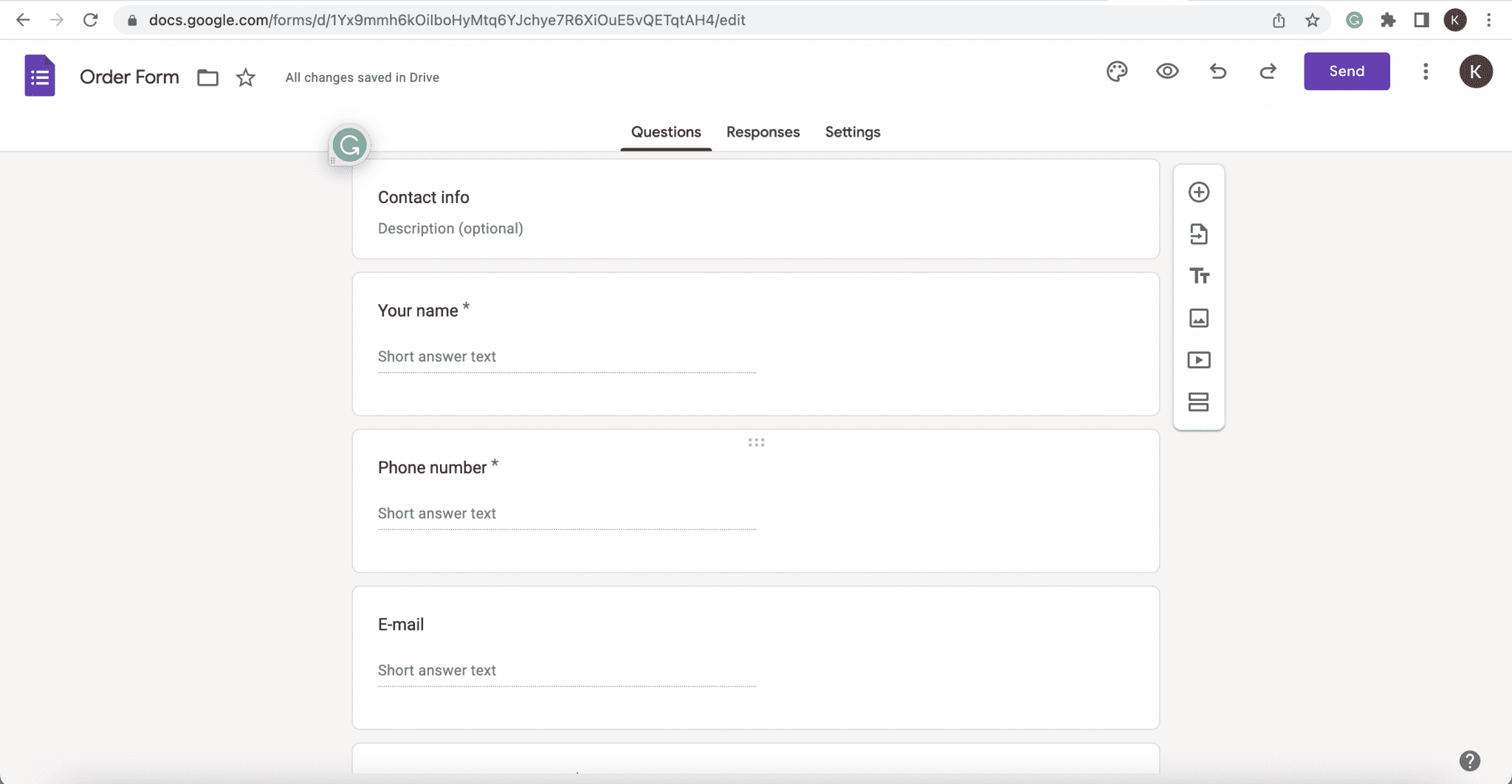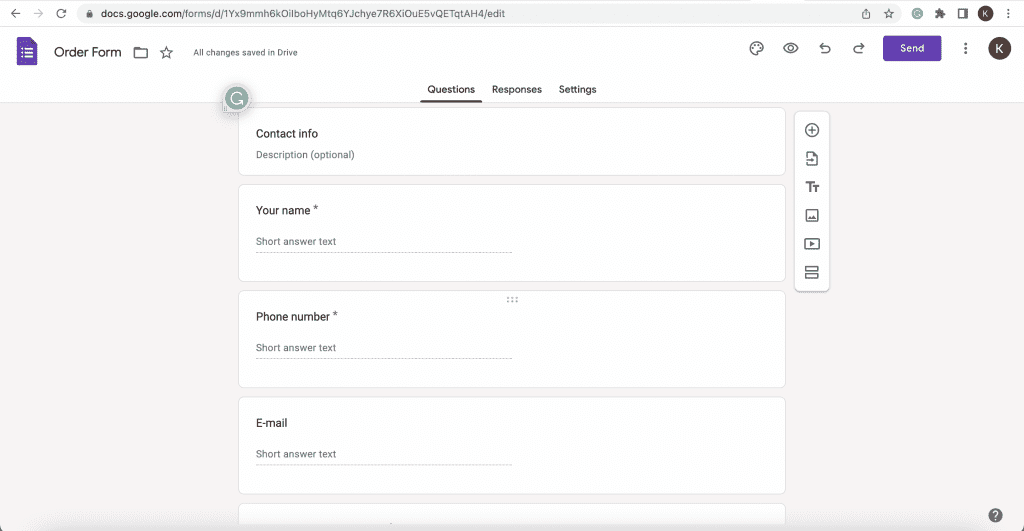 7. You can also set mandatory and optional fields. A field with a red asterisk means that an answer is required to complete the form. For example, toggle the Require function for the respondent's name.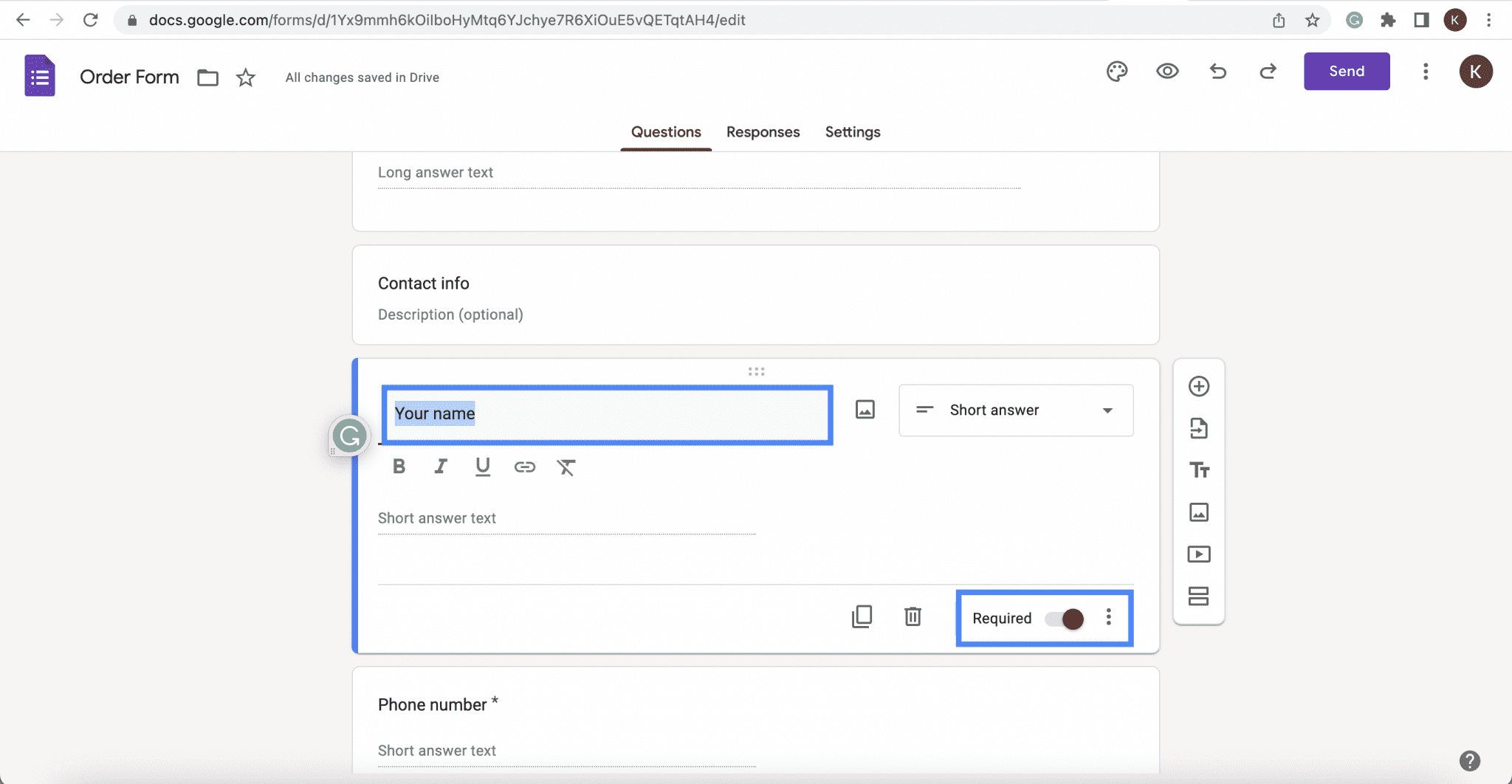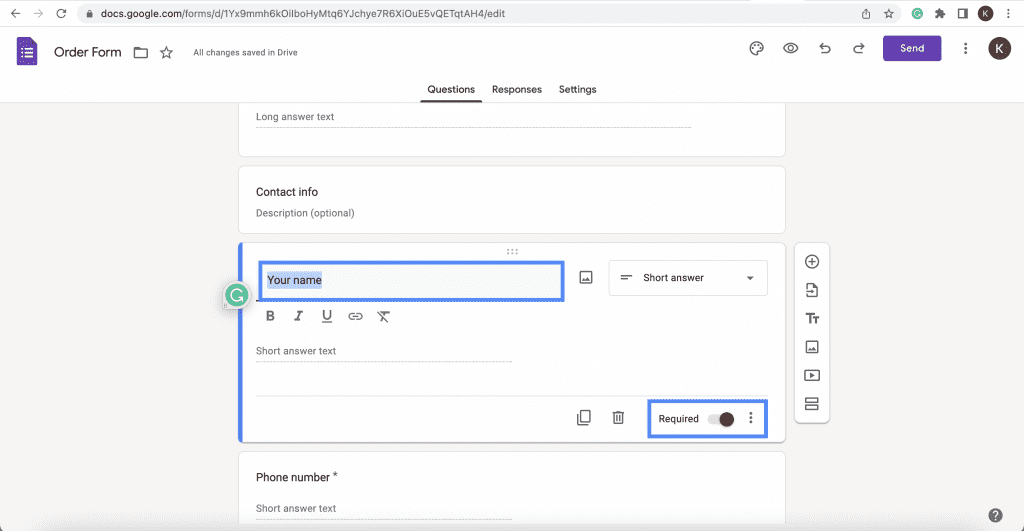 8. All changes are automatically saved in your Google Drive. Once you are happy with the order form, click Send.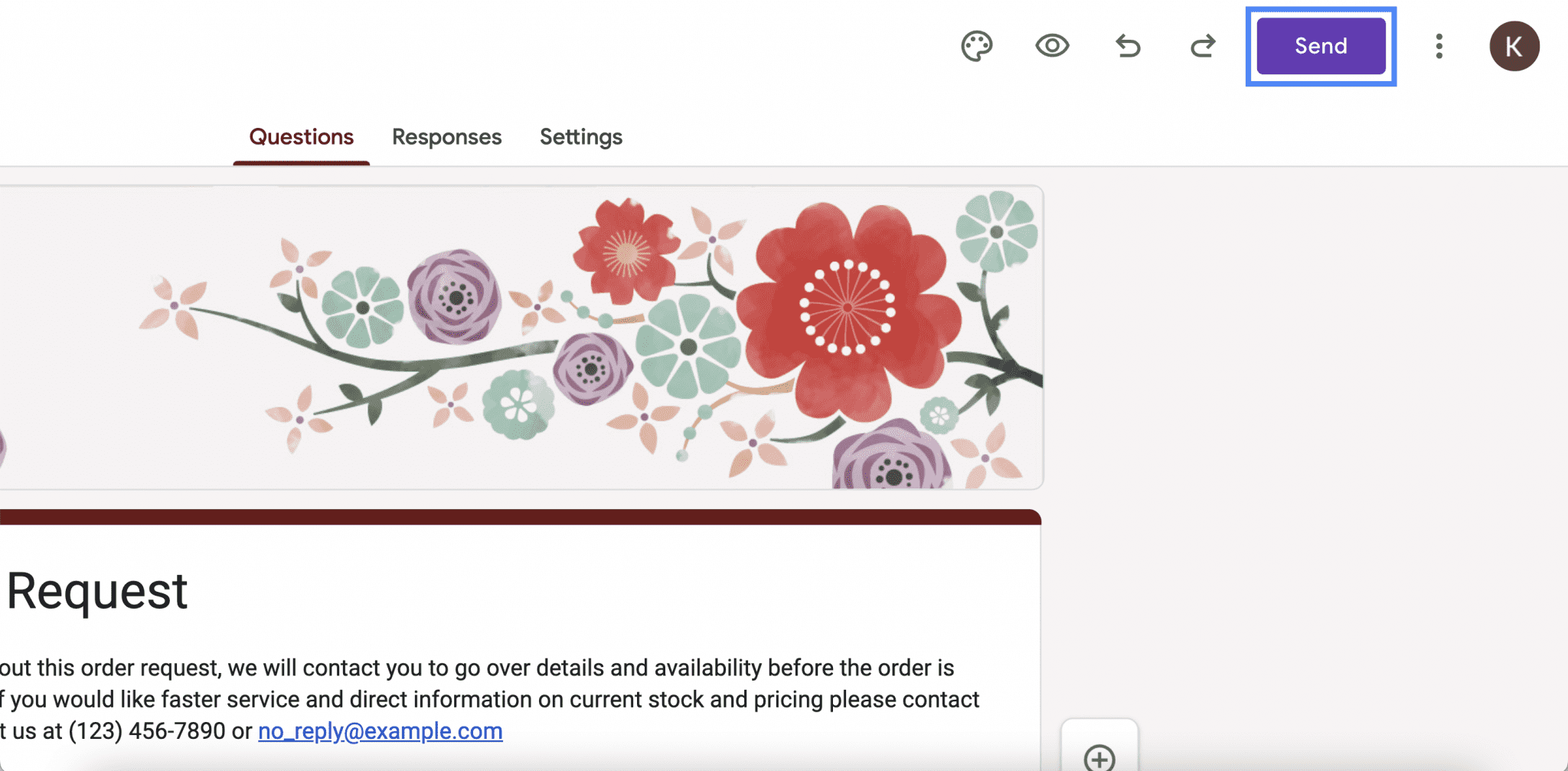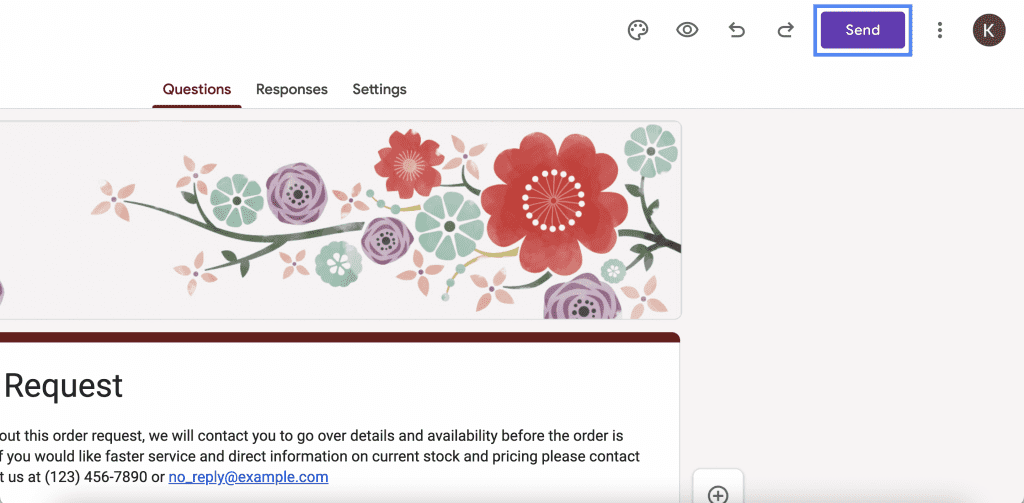 Types of responses in Google Forms
Short answer: Here are examples of questions that would require a short answer:
Name
Contact number
Email address
Location
Multiple choice: Instead of typing in their answer, a respondent can select from a range of options. This is ideal for choosing:
Color
Dimensions
Model
Payment method
Quantity
Shipping option
Paragraph: You can use this in an order form if you want a customer to leave additional instructions or give feedback. As of this writing, Google has no character count limit for this type of response.
How to share a Google Form
1. Email: You can send a link to an order form straight to your customer's inbox.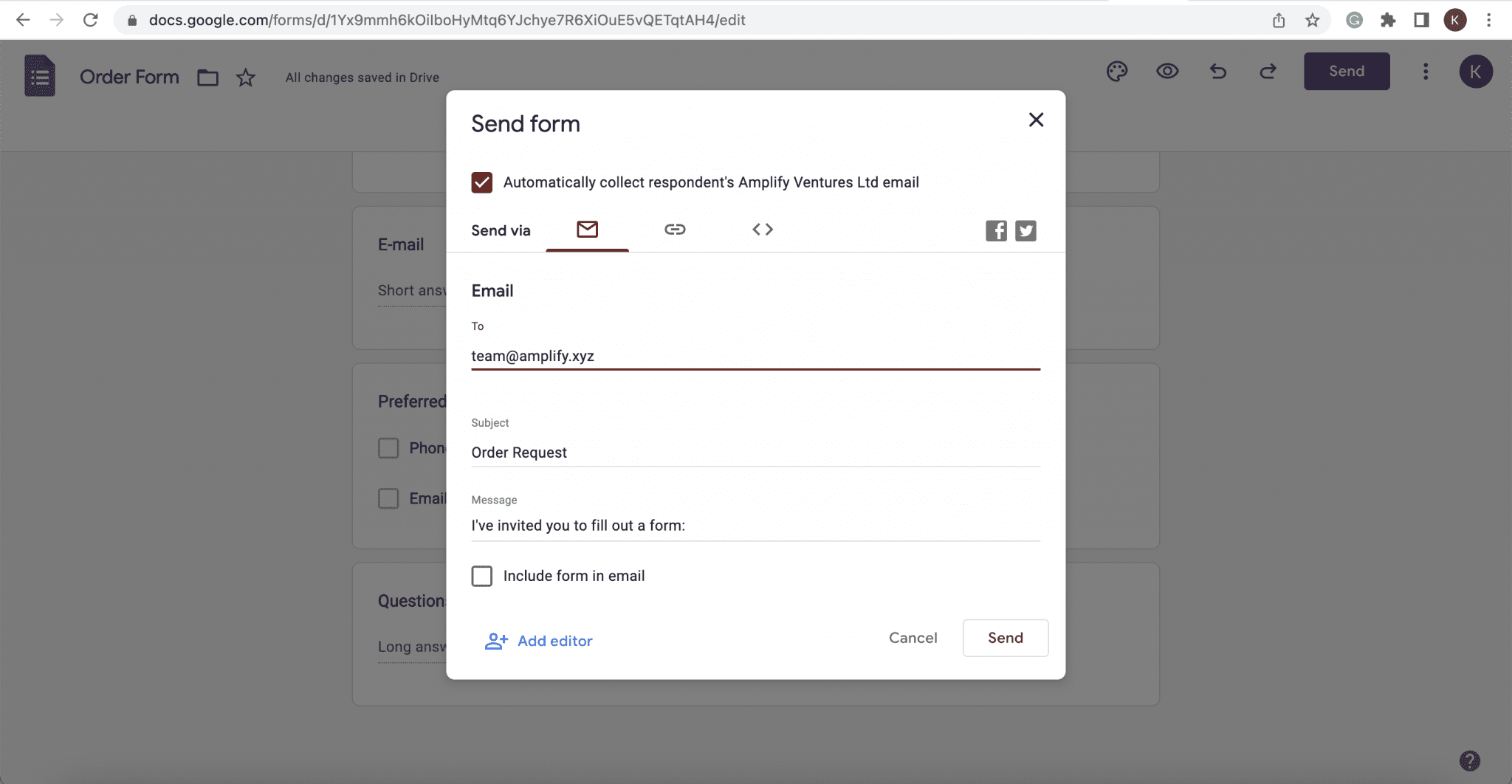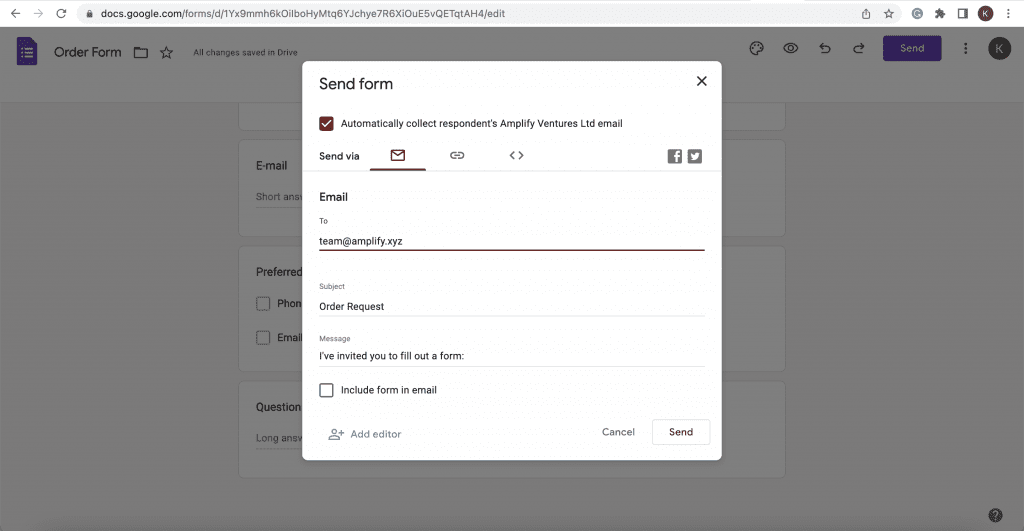 2. Shareable URL: Google will provide a link that you can share on social media, SMS, chat, and so on.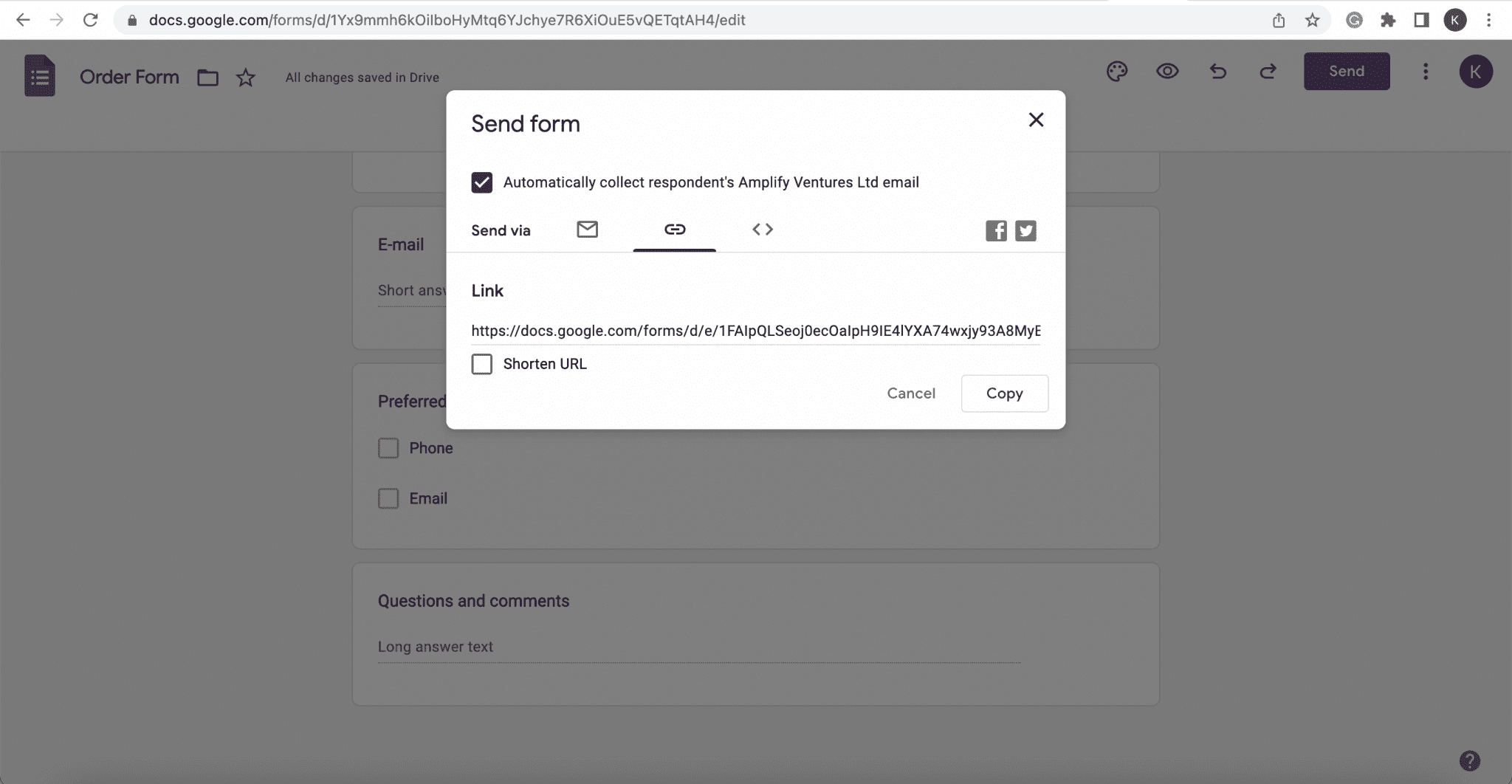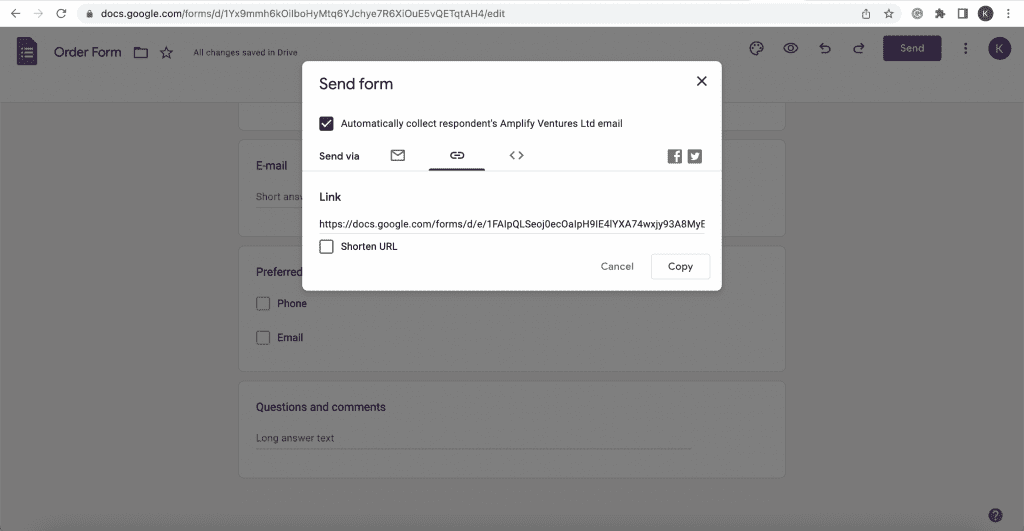 3. Embedded link: You can also copy and paste an HTML code and put it on your website or landing page.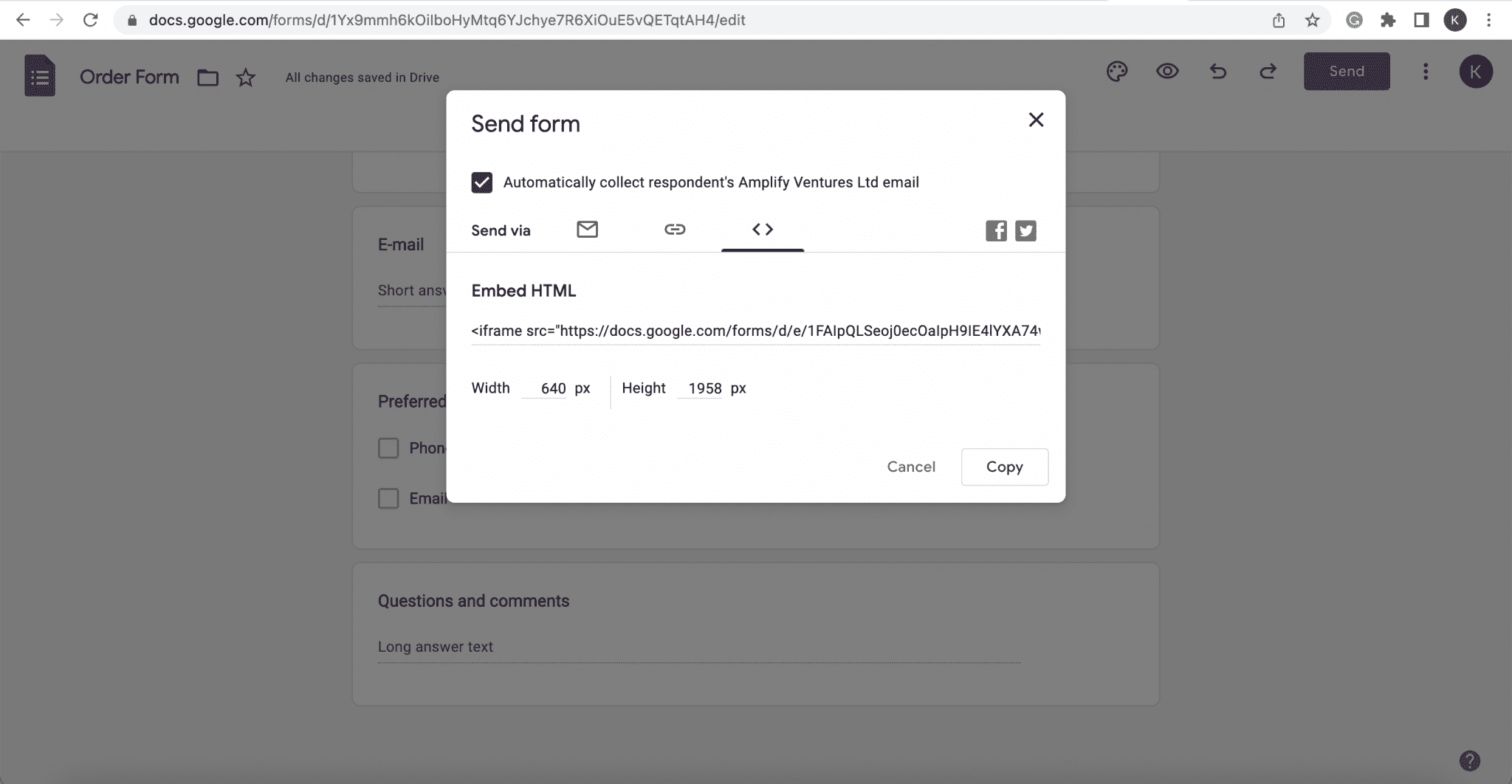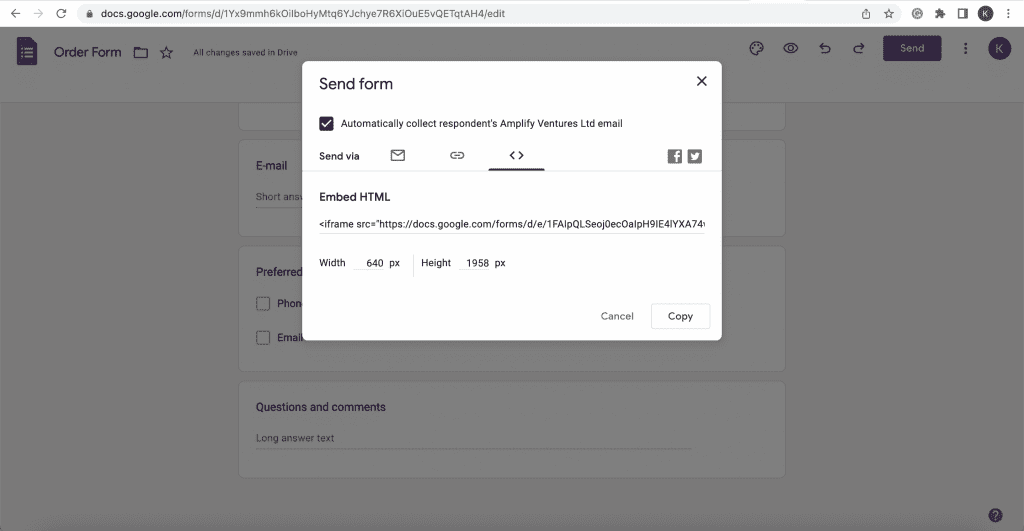 How to Create Order Forms With Fill
Fill is a powerful esignature solution that lets you create small business order forms using a mobile device or computer.
To start with, visit Fill and register for a free account. Once you have completed this step, you will be directed to the main dashboard. You will then have the following options for creating an order form online.
Use a template
1. Click Templates under Tools. You can see this in the left panel.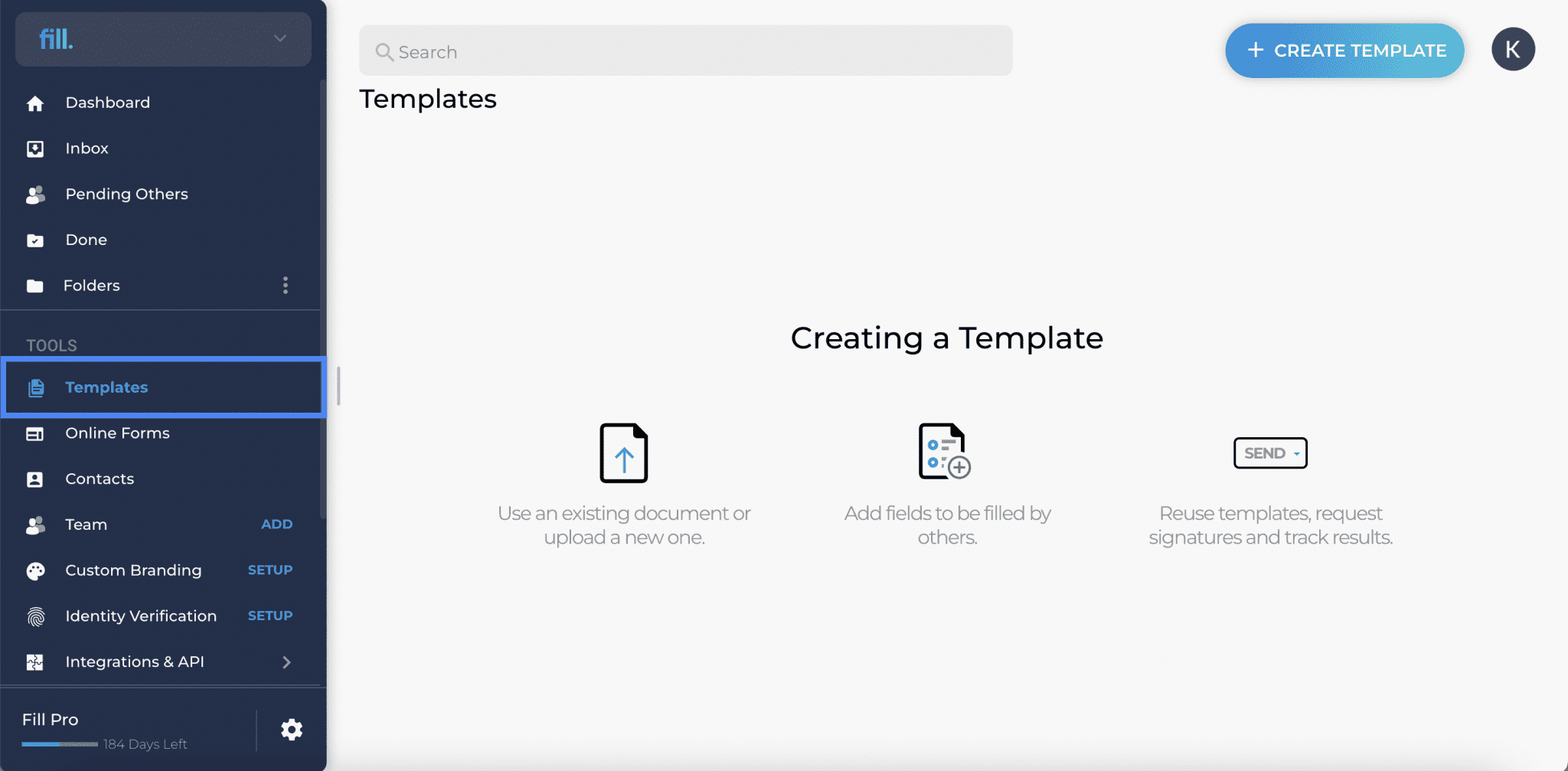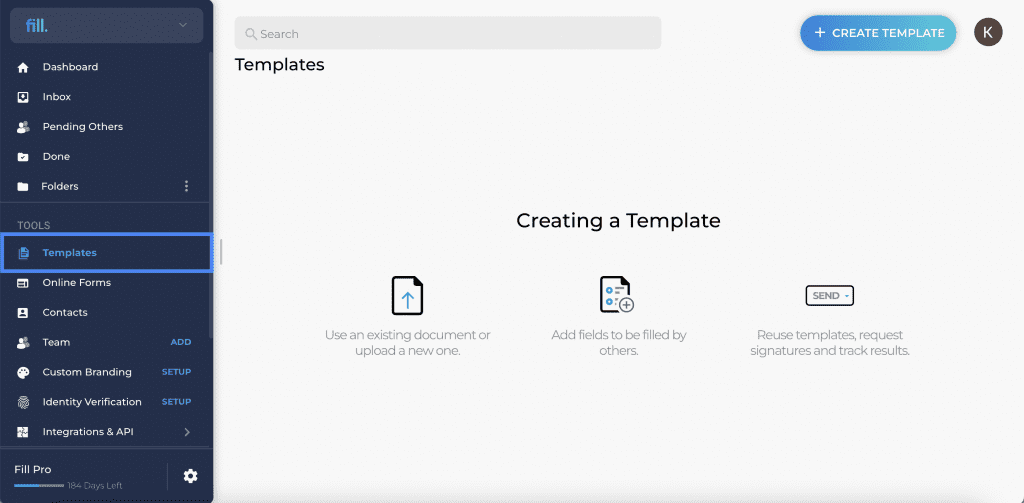 2. Click Create Template on the upper-right of the dashboard. A drop-down menu will appear. Select From Template Gallery.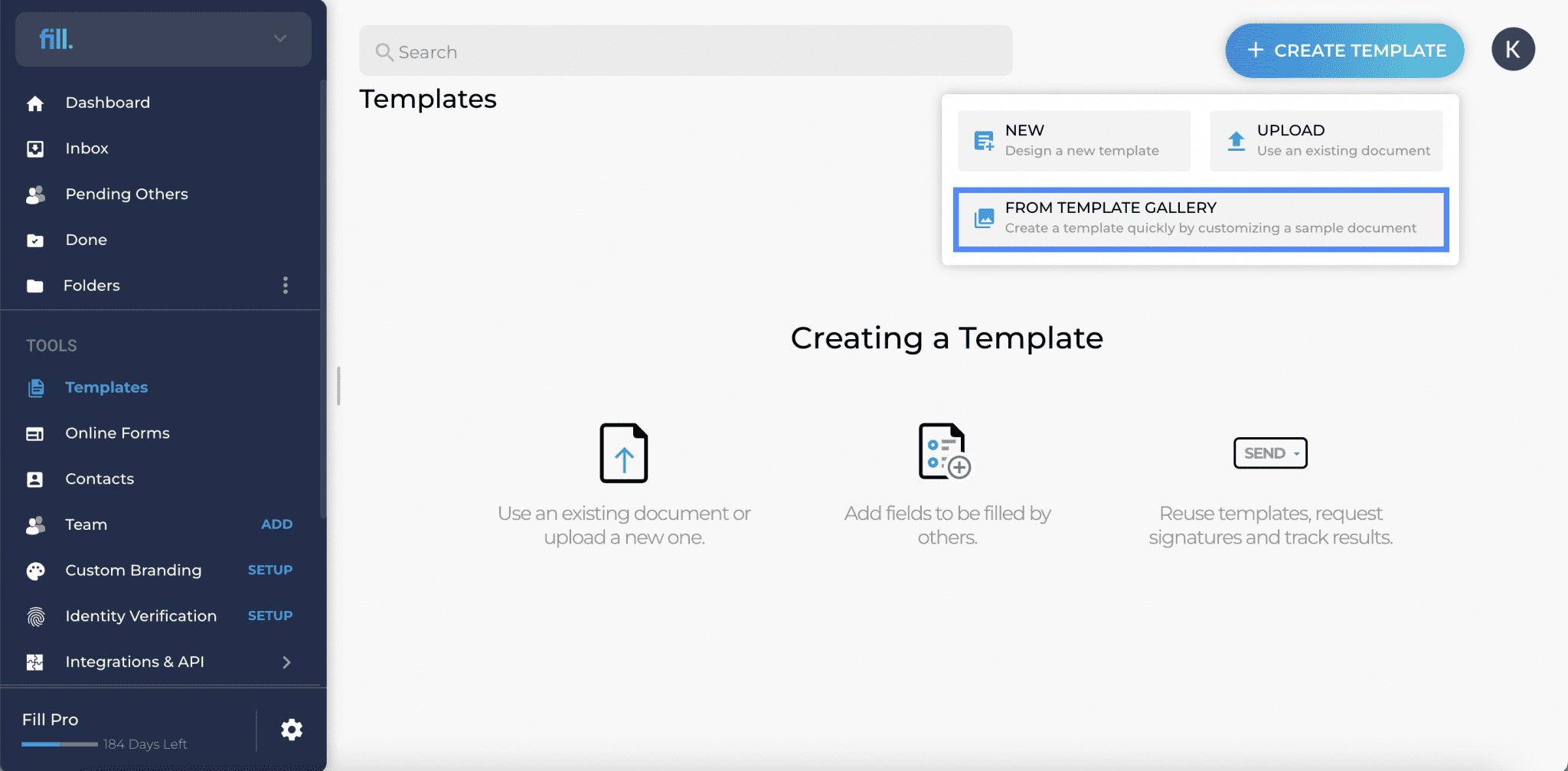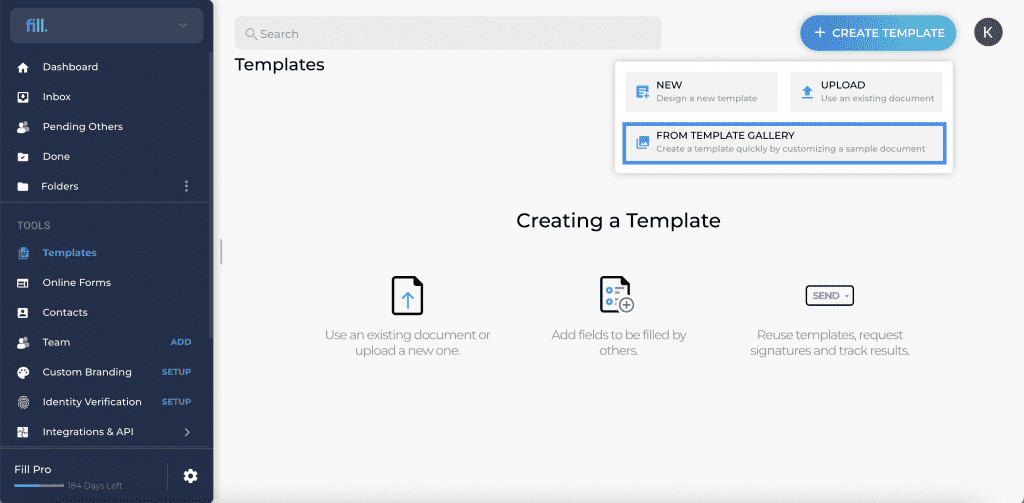 3. A window will show up displaying the available templates in the gallery. Type Order Form.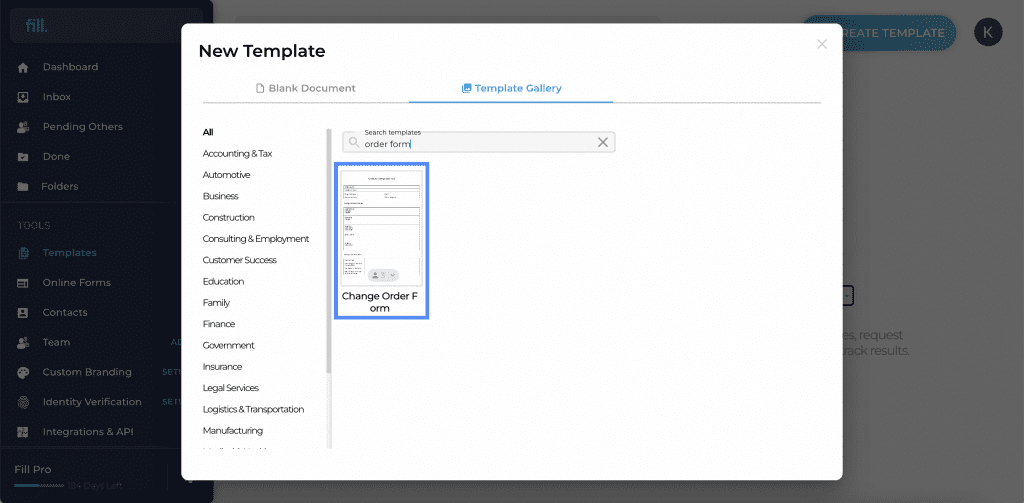 4. Click Change Order Form to edit the fields. You can change the text or move the fields on the template according to your needs.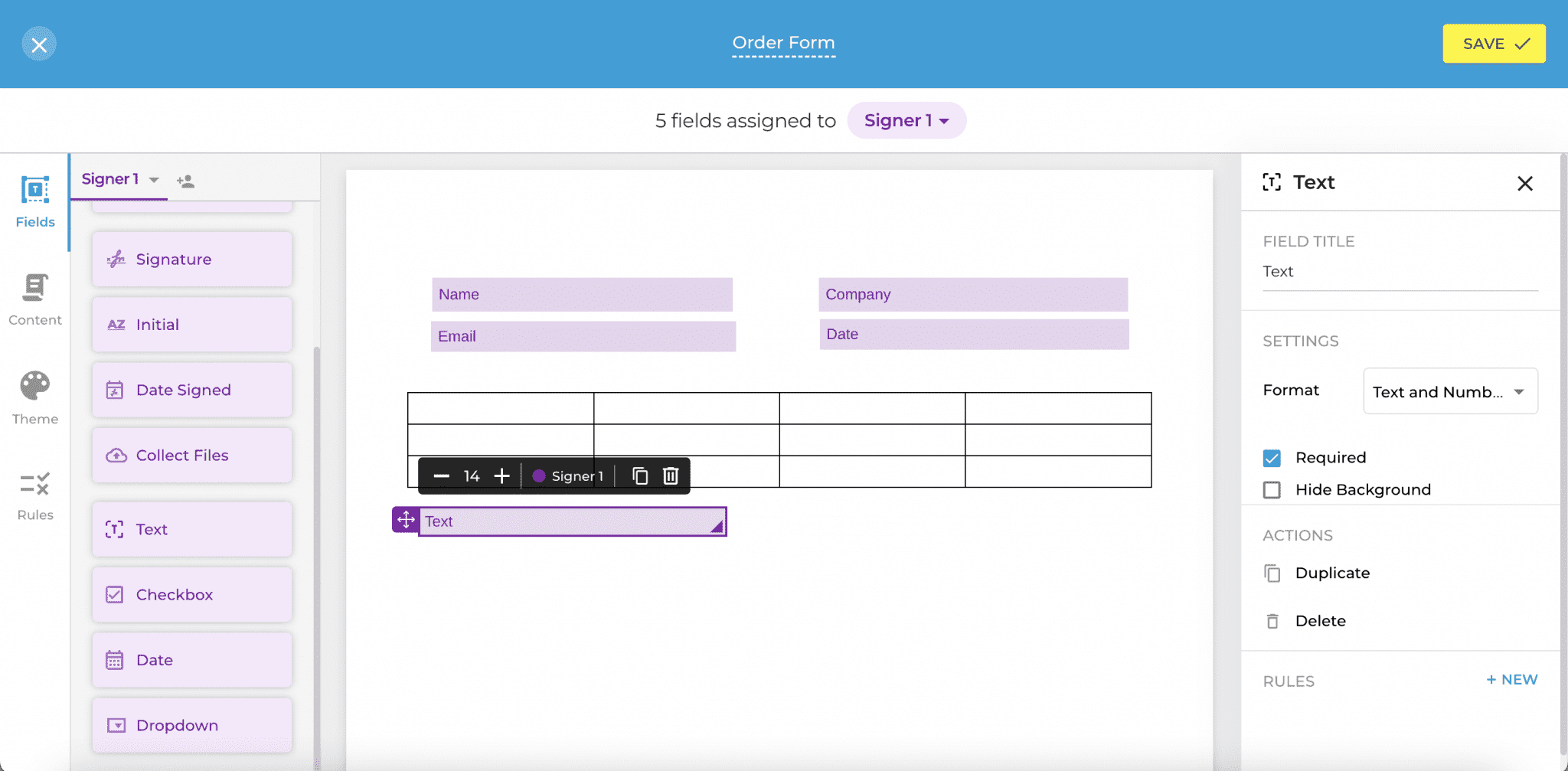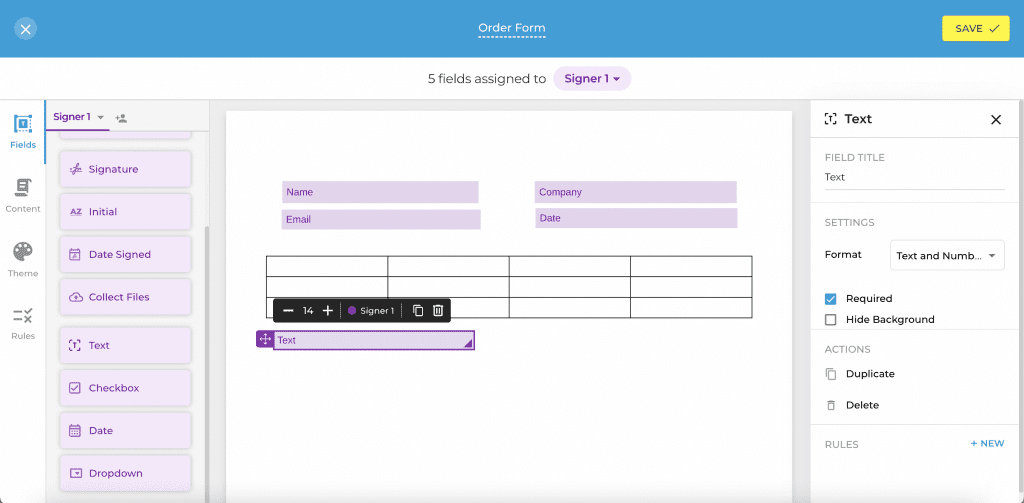 5. Once you're done, click Save.
Use a blank page
Fill allows you to create an order form from scratch. You don't have to worry about formatting or coding, as Fill lets you drag and drop elements into the form.
1. Click Online Forms under Tools, located on the left panel.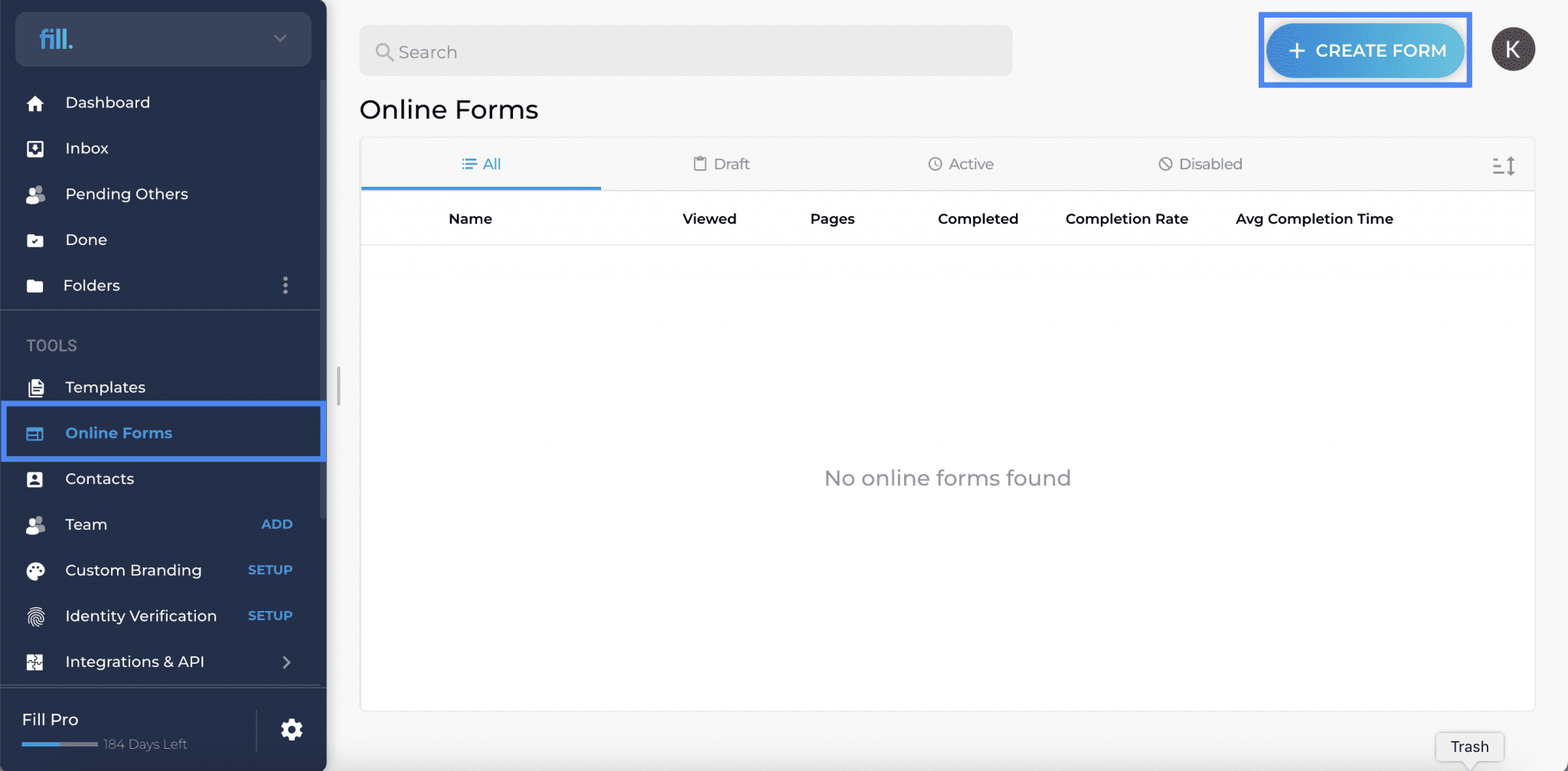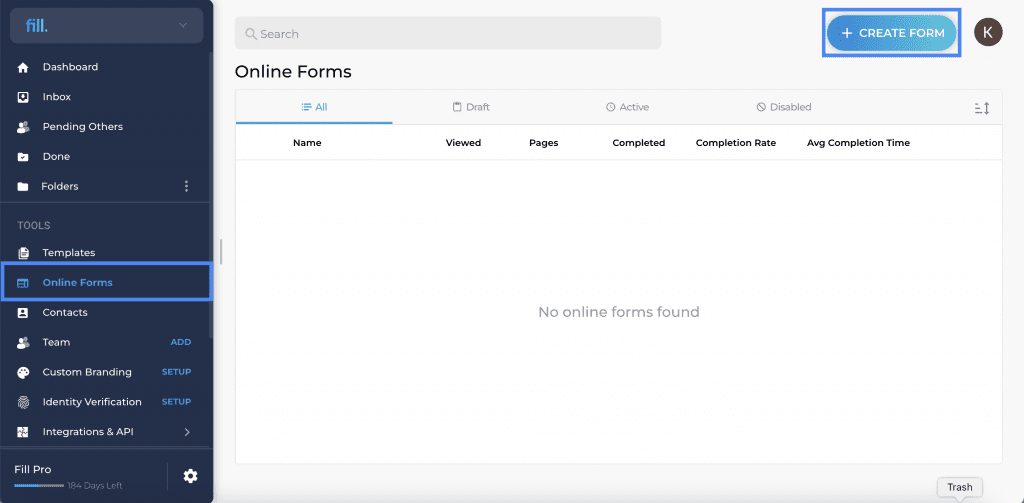 2. Click Create Form, then select New.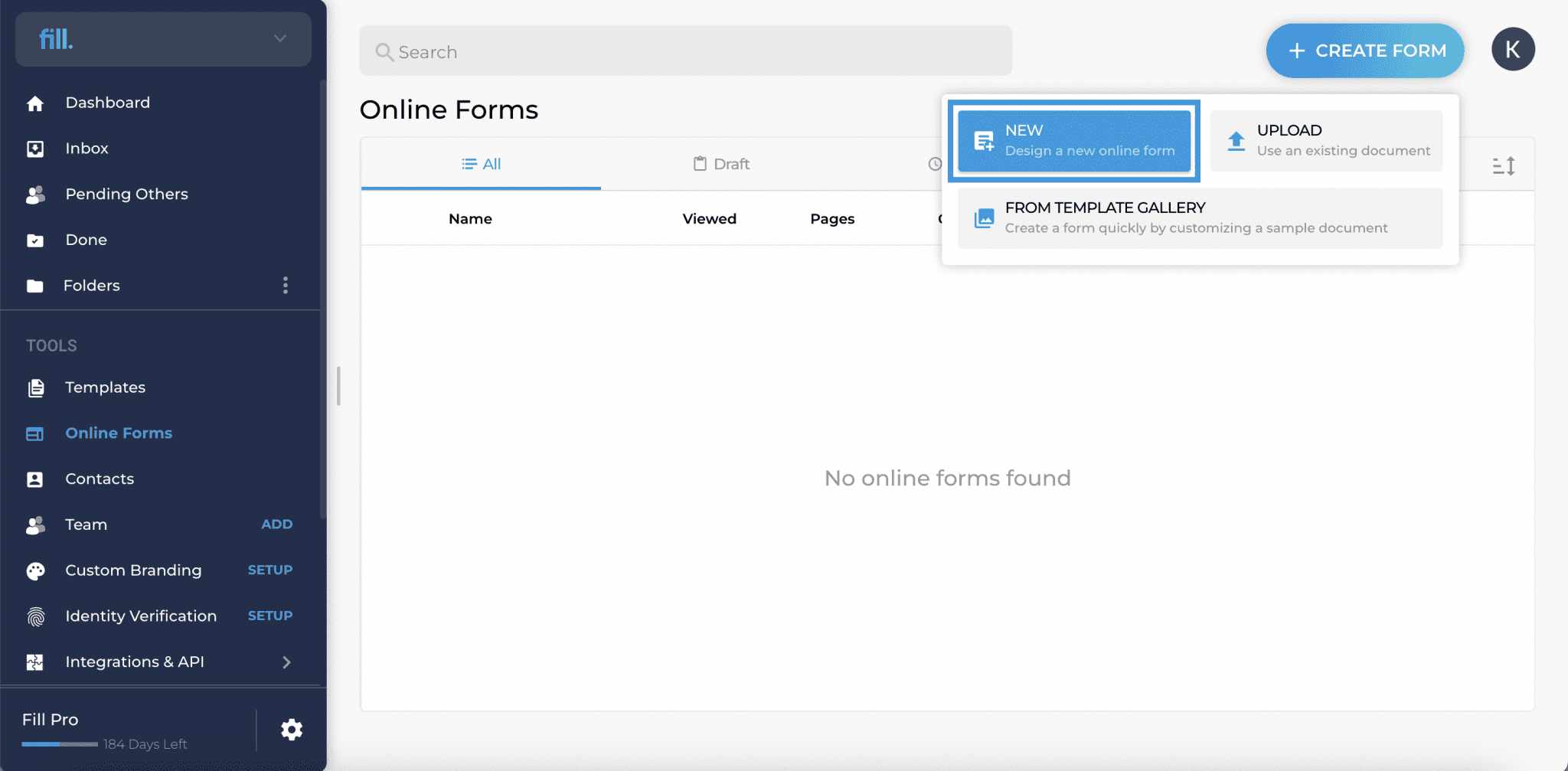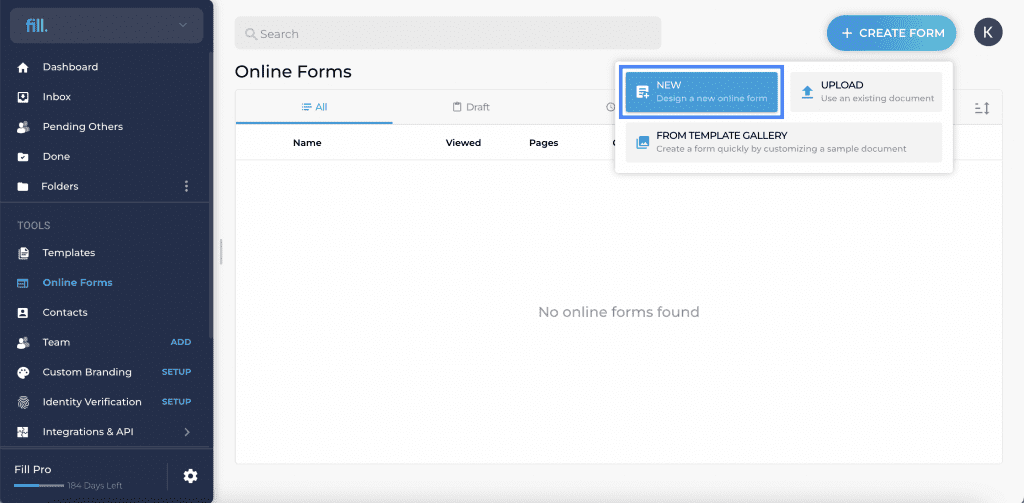 3. The New Online Form window will pop out. Label the order form and click Next.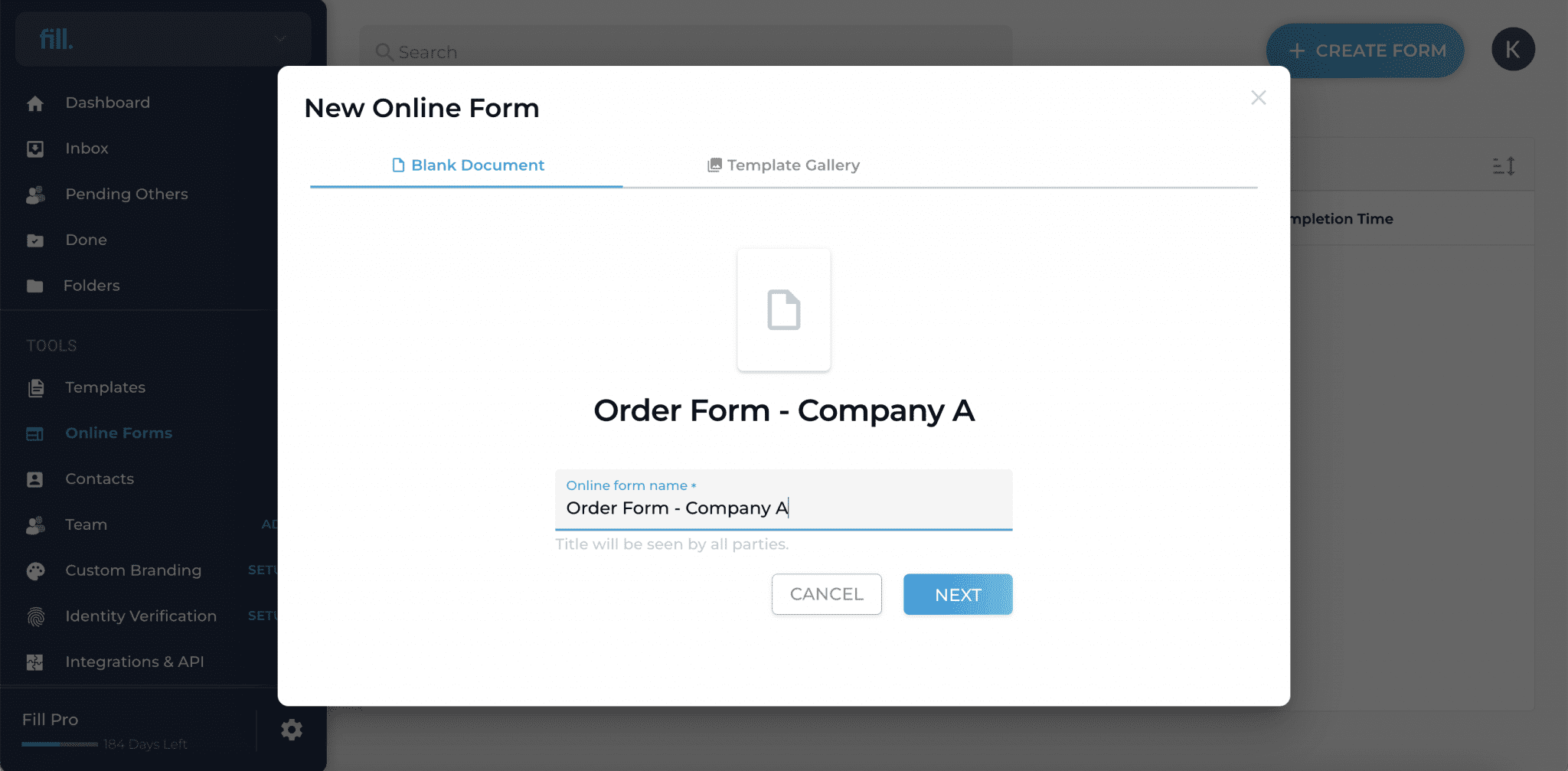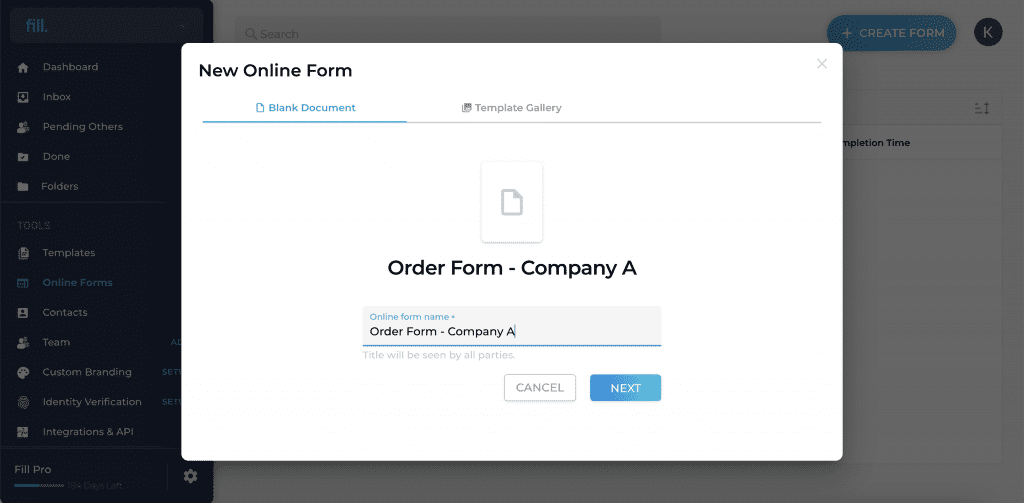 4. You will be directed to a blank form. Choose from the elements on the left panel. Drag and drop the fields you wish to include in the order form.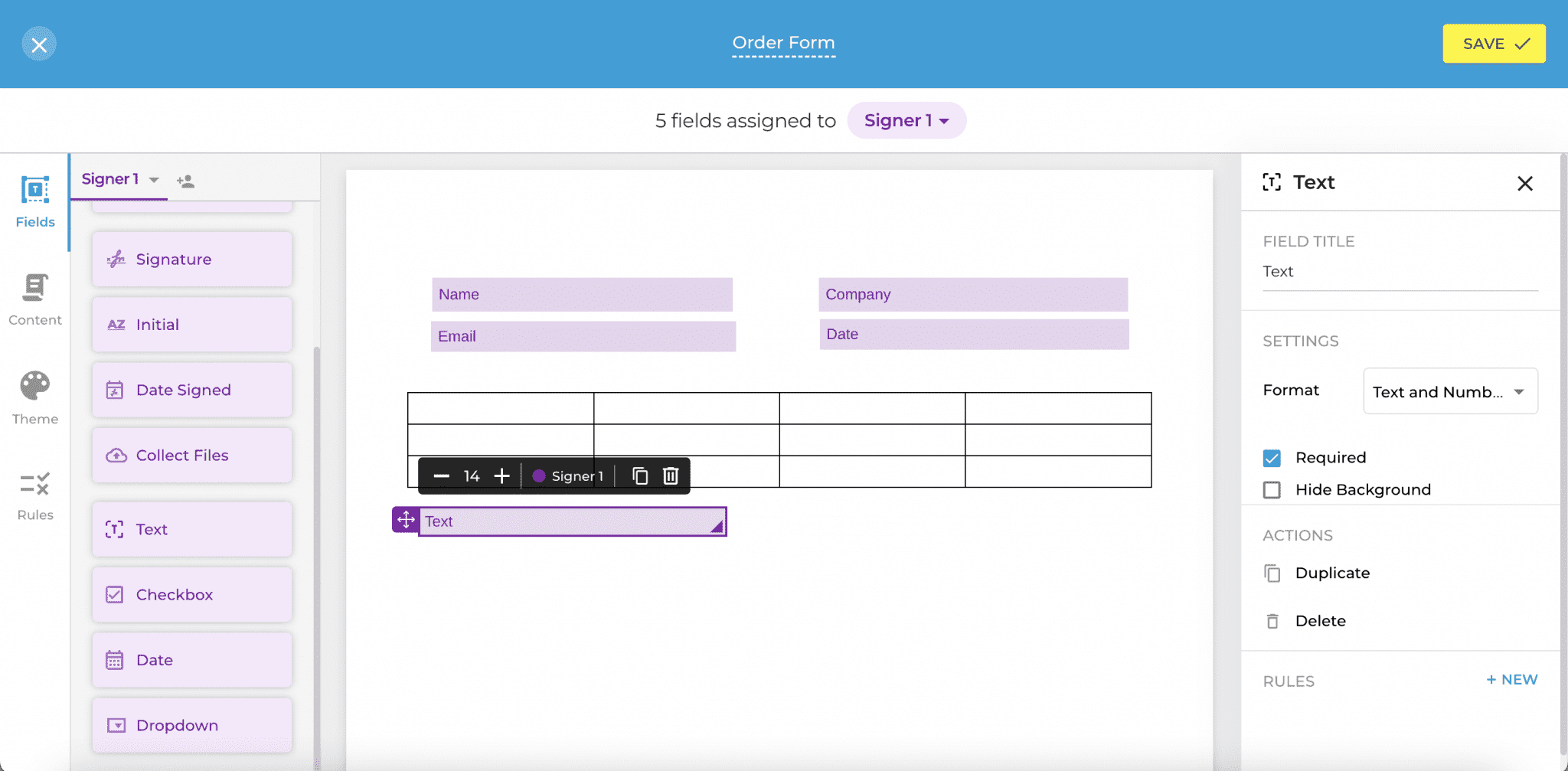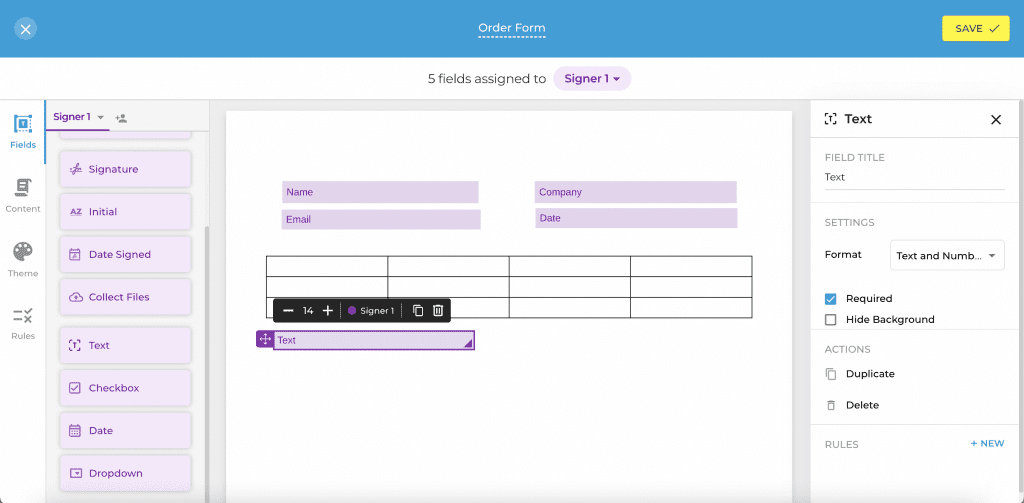 5. Once you are satisfied with the layout, click Save. You will be directed to the main dashboard, where a pop-up box will appear. Click Got it!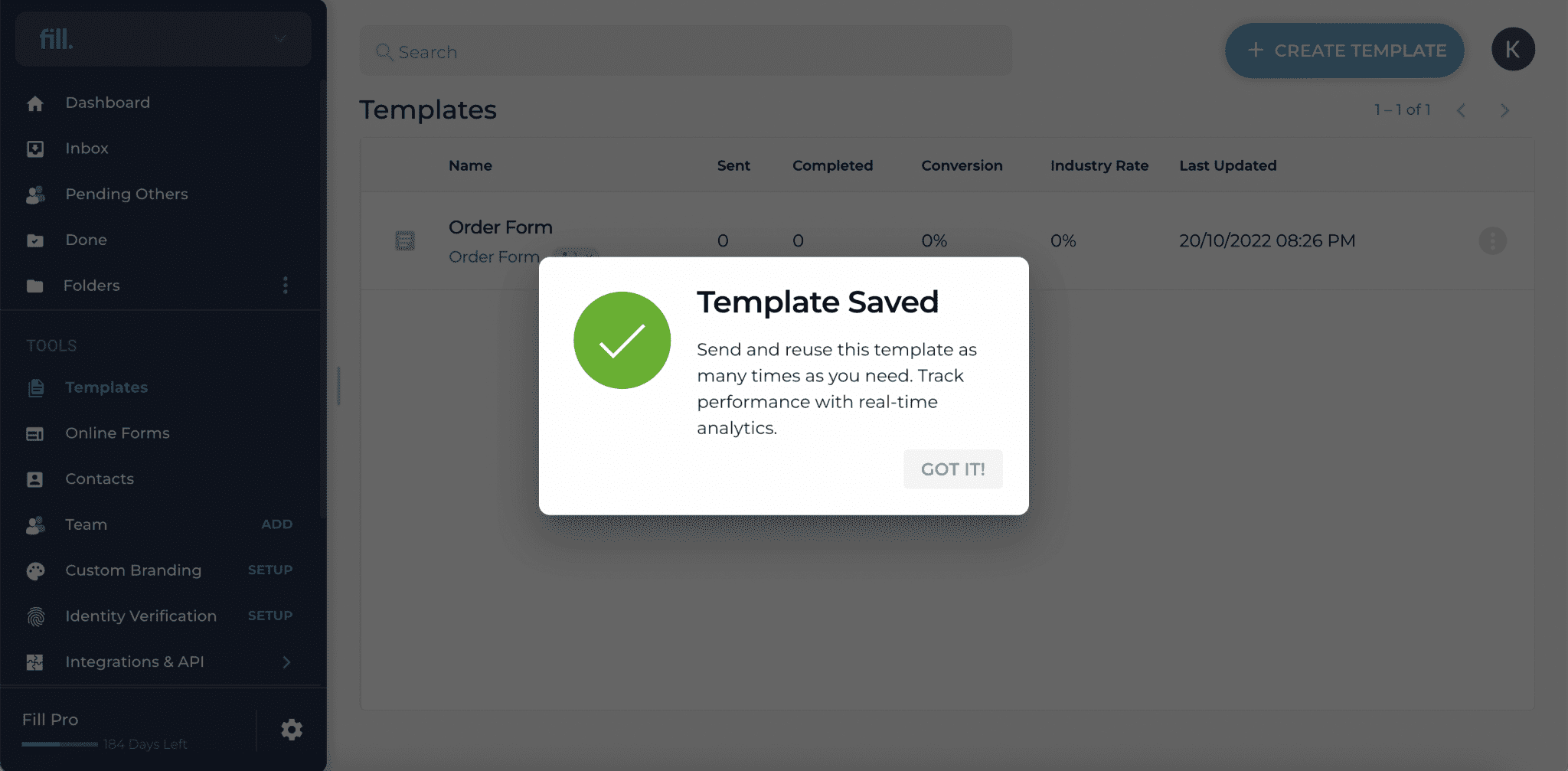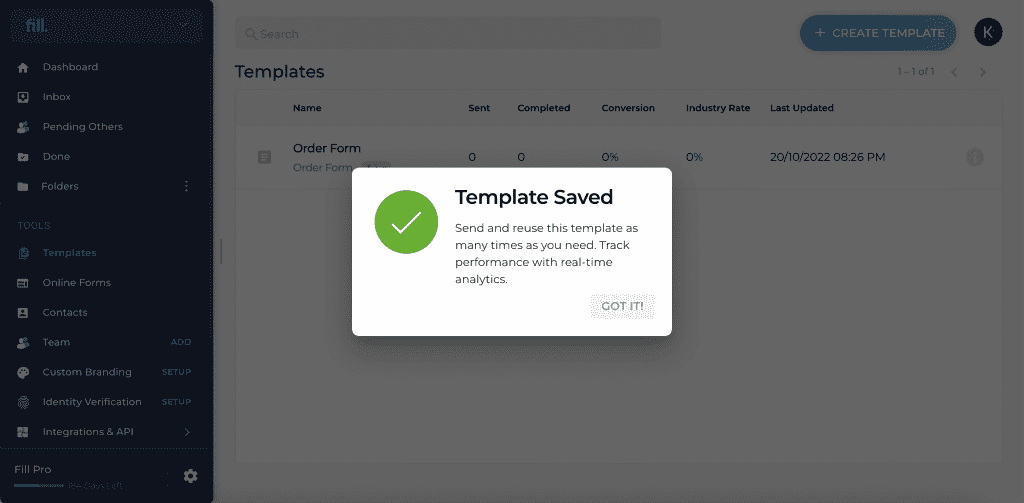 The online forms you create are automatically saved as templates. The great thing about this is that you can reuse a template as many times as you wish. Just edit and customize the text and fields, save, and share your updated order form.
Fill: Create Order Forms In Minutes
With Fill templates, you can create online order forms in seconds. This platform has prebuilt layouts and elements, making it possible to design a form for any purpose.
Once you are finished, you can test the order form to see how it will look from the recipient's perspective.
Thinking about how you can integrate the forms into other platforms? No worries. Did you know Fill's developer API can connect more than 6,000 apps via Zapier? Create online forms on your favorite e-commerce apps, including Shopify, WooCommerce, Kajabi, and eBay.
Register for a free account and create forms like a pro. Join millions of users who are satisfied with using Fill every day.