Online forms are a straightforward way to collect data for your business, allowing you to develop effective strategies and find high-quality leads. They also allow customers or clients to interact with you and give you valuable information.
Learning how to create online forms is easy with tools like Fill. The good news is that most form builders do not require any coding or design skills. All you need to do is drag and drop the fields you want.
Before you choose a form builder, let's take a closer look at why you need one and how you can use this tool to your advantage.
How to Create an Online Form Using Fill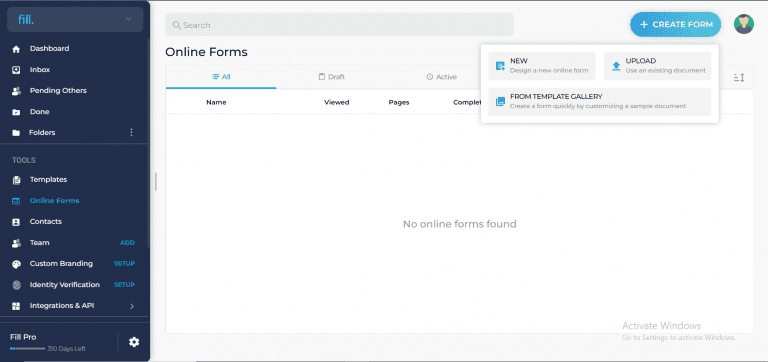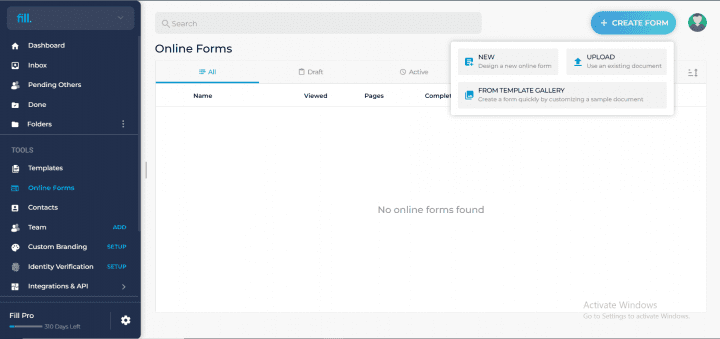 Figuring out how to create forms online takes only a few minutes with this intuitive platform.
Here's how to get started using Fill:
Sign in to your Fill account. If you don't have one, go to fillhq.com and create an account. You can do this for free.
Open your web dashboard and go to the Tools section. Under Tools, select Online Forms.
Click the Create Form button in the upper-right corner where you can choose to create your form in three ways.
Here are the three ways you can create forms using Fill:
Create from scratch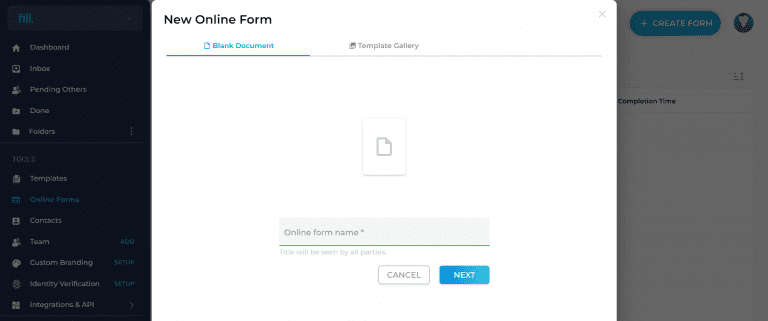 Click the Create Form button, then choose New to start a new form.
A window will open where you need to name your new form.
Click Next.
Upload an existing document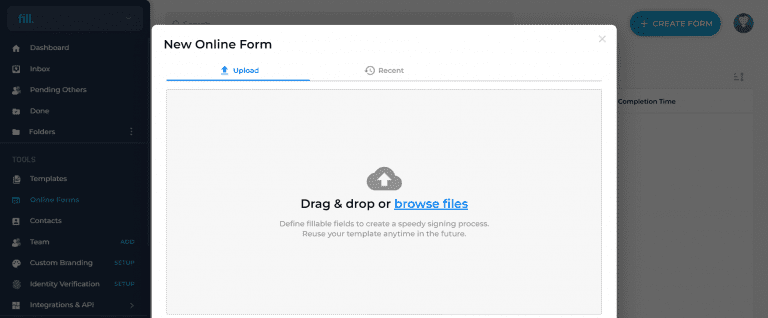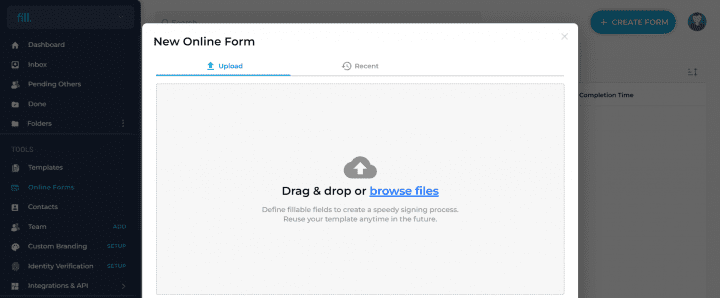 Click the Create Form button, then choose Upload.
Upload the PDF or DOC file from your device or cloud storage.
Name your document, and wait for it to be uploaded. The platform will automatically convert the existing file into a fillable online form.
Customize a template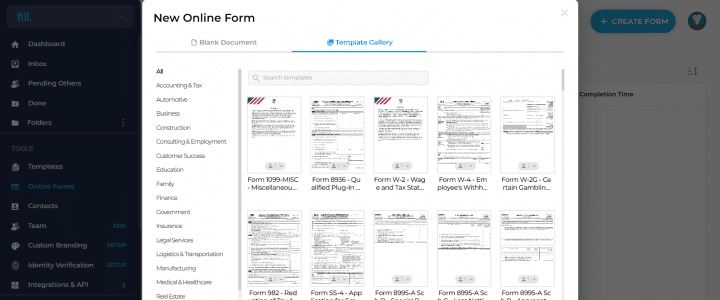 To create your form using a template, follow these steps:
Click on the From Template Gallery option after you click Create Form.
A window will appear with the template gallery. You can also type in the name of your preferred template.
Choose one and adjust fields as needed.
Whatever option you choose, you can then add fields by dragging the option from the left panel to the desired position. After you're done creating your form, click on the publish button. You can now ask your respondents to fill out your online form by sending them a shareable link.
How to Make a Form Online
Whatever builder you choose, you can create a digital form in just a few steps. Creating one is generally the same even when using different tools. While there may be some variation in the layout, features, and process, expect to go through the following steps:
1. Choose a form builder
Create an account on your chosen platform. When you log in, you will be able to choose from a variety of templates or create your form from scratch. Your plan or subscription will determine the features you can access online.
2. Build a new form
You can also start with a blank sheet and add the fields you need. If you're starting from scratch, you'll need to add the input fields for each information you want to collect. For example, if you want to gather leads for your business, you'll need to add fields for the person's name, email address, and phone number.
Form builders also offer a variety of templates for you to choose from. Some form builders allow you to upload existing documents and convert them into fillable forms.
3. Format and customize your form
The next step is to edit and design your form. It includes:
adding input fields
setting up notifications
customizing the layout of the document
setting conditions or rules for certain fields
using autofill or autopopulate to automatically provide answers
adding placeholder or sample text
adding drop-down options for selection
4. Test your form
After you have edited and checked your form, test it to ensure everything is working correctly. A critical aspect is compatibility with multiple web browsers and devices. Test it by filling out and submitting the form through different browsers and phones to see if the responses go through. Make sure the forms are easy to use, clear, and responsive.
5. Publish and Share Your Form
Publishing makes your form accessible to the public. You will need to provide a web address or link to your form so that people can access it. Publish it as a web page or include it in a marketing campaign. After your respondents hit submit, their responses are sent to servers for processing, analysis, and evaluation. Some apps allow you to keep track of who's filling out your form after publishing it.
What Are Online Forms?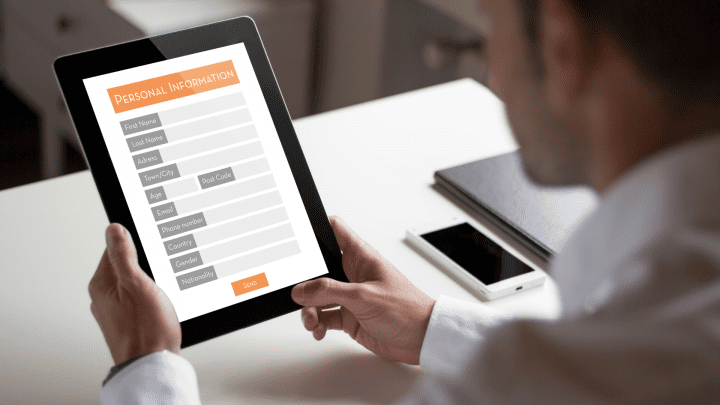 An online form is a web-based interface allowing visitors to fill in and submit information. After gathering the data, you can use it for various purposes:
collecting leads
taking registrations
conducting surveys
gathering feedback
evaluating applications
Forms usually consist of input fields requiring the user to fill in their name, email address, phone number, and other relevant information. The data collected is then stored in a database you can access later.
Experience the convenience of online forms today. Sign up with Fill and build your first form in minutes.