As a business, finding ways to speed up the processes involved in document creation is crucial. One surefire way to achieve this is by using reusable templates. Not only does this reduce the time and effort required to create new documents, but it also helps minimize errors.

Plus, you can cut the time needed to create new agreements, forms, and contracts. With Fill, you can access a library of professionally designed templates. All you need to do is choose a template and reuse it as often as you like.
Say Goodbye to the Hassle of Creating New Documents From Scratch
With reusable templates, you can create professional-looking documents way faster than it would take to start from scratch. It helps ensure consistency across all your documents. It is also crucial for maintaining a professional image and establishing a solid brand identity.
There's no time and effort wasted on redundant tasks like copying and pasting content from one form to another. Additionally, you can customize these templates to fit your specific needs and preferences. You can also add your own branding elements, such as logos and color schemes.
How to Use Fill's Reusable Templates
Our platform offers templates for various documents, such as business plans, resumes, marketing proposals, and invoices. There are also reusable templates for commonly used healthcare and legal documents, like partnership agreements and insurance claim forms.
To preview these templates, you can head directly to the template gallery.
Or, you can follow this detailed guide and learn how to create documents using reusable templates:
Go to the Fill website and log in to your account.
On the web dashboard, navigate to Tools > Templates.
To modify and send a reusable template to intended recipients, here's what you need to do:
Use the search bar to browse your shared templates list. For example, if you need a proposal template, simply type "proposal" in the search field.
Hover over the template you want, then click Use Template. Doing so will automatically load the template wizard.
Add the email addresses of the signers who will receive the document. Set your preferred signing order if needed.
4. Once done, click Setup. Doing so will automatically take you to the template editor.
5. Next, you must rename the template by clicking the name at the top of the window. Type the new name you want for the document, then click anywhere outside the title field to save your changes.
6. From the left menu, select and drag an element into the document. You may modify the reusable template based on your needs and preferences.
7. After modifying the template, click Review.
8. Set your desired options like due date and expiry date. You may also apply custom branding or change the default message for the signer invitation.
9. Once done, click Send. You can keep track of your document's status in the dashboard.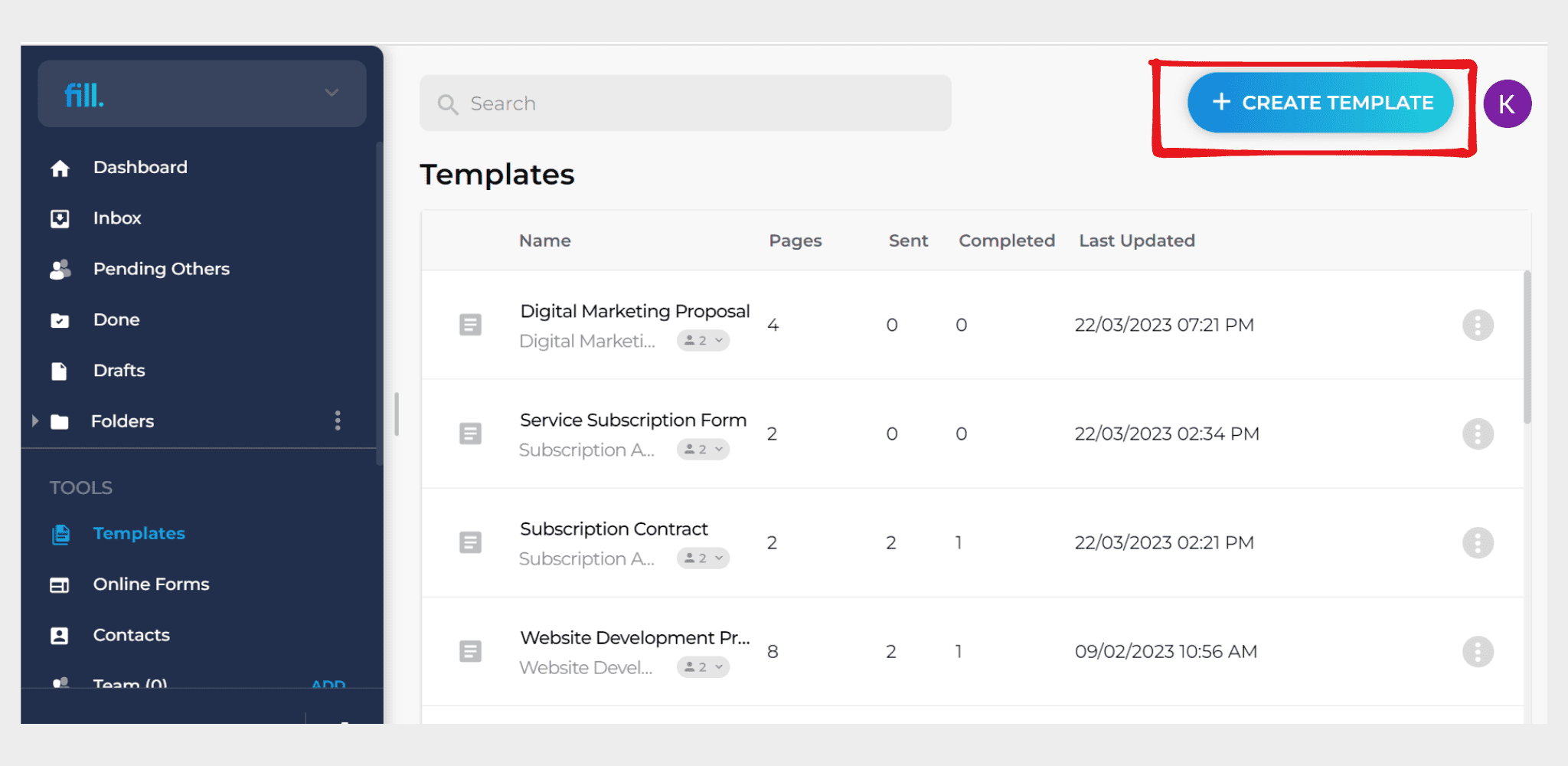 To create your own reusable template, follow the steps listed below:
Navigate to Tools > Templates.
Select Create Template.
You can use any of the templates in the Fill gallery or upload an existing file from your local folder.
If you want to start with a blank template, click Create New.
Add and define at least one signer role (e.g., Property Owner).
Click Setup, then wait for the template editor to load.
Enter your desired document name, and set its document type.
To add text, click on your desired area, then type the text you want. You can also add custom tables, videos, and images.
Next, click the Signer Fields tab to drag and drop your selected elements into the document.
Click Save.
That's it. You should see your newly created reusable template appear on your templates list. You can reuse the template as often as you like or modify it over time.
What Are the Different Templates Available on Fill?
Here are a few examples of reusable templates that you can find on Fill:
Business contracts
Business contracts legally describe the rules and details of a specific agreement between two or more parties. These contracts may cover various topics, such as partnerships, sales, and employment.
Below is a sample reusable contract template for sales:
Finance documents
Finance documents detail a company's or organization's financial transactions and activities. Such documents include invoices, income statements, and balance sheets.
Legal documents
Legal documents are written records that establish and enforce legal rights and obligations. They can include contracts, deeds, wills, and demand letters.
Real estate documents
Real estate documents are legal documents used to transfer property ownership from one person to another. With Fill, you can create reusable templates for various real estate purposes, including property sales contracts and commercial lease agreements.
Marketing proposals
The purpose of marketing proposals is to outline a company's strategies and tactics for promoting products or services. These documents may include sales proposals, branding proposals, and marketing plans.
Government documents
Government documents contain essential information about laws and policies made by various government agencies and departments. These documents are necessary for citizens to understand their rights and obligations.
Healthcare forms
Healthcare forms refer to the documents used to collect and record important patient information, such as medications and treatment plans. These forms must comply with strict privacy laws like HIPAA to maintain patient trust and comply with legal requirements.
Automate Your Workflows With Reusable Templates
Leverage the power of reusable templates to your advantage. Improve team collaboration and enhance workflows by automating your document creation process. Save time and effort while improving efficiency and business outcomes.
With Fill, you can close transactions faster and focus on projects that truly matter. Our intuitive platform has all the tools you need to gain valuable document insights. You can also integrate our platform with Google Workspace, Zapier, and HubSpot, making it easier to work with others anywhere, anytime.
Try Fill today and discover why it's the best solution for streamlining document creation.