Having a system in place for tracking and monitoring contracts will not only benefit the big organizations. It can also help those with small businesses as it can efficiently carry out deals while minimizing costs. With the best contract management software for small businesses, you can double down on your efforts to maximize profitability while streamlining your business transactions.
Table of Contents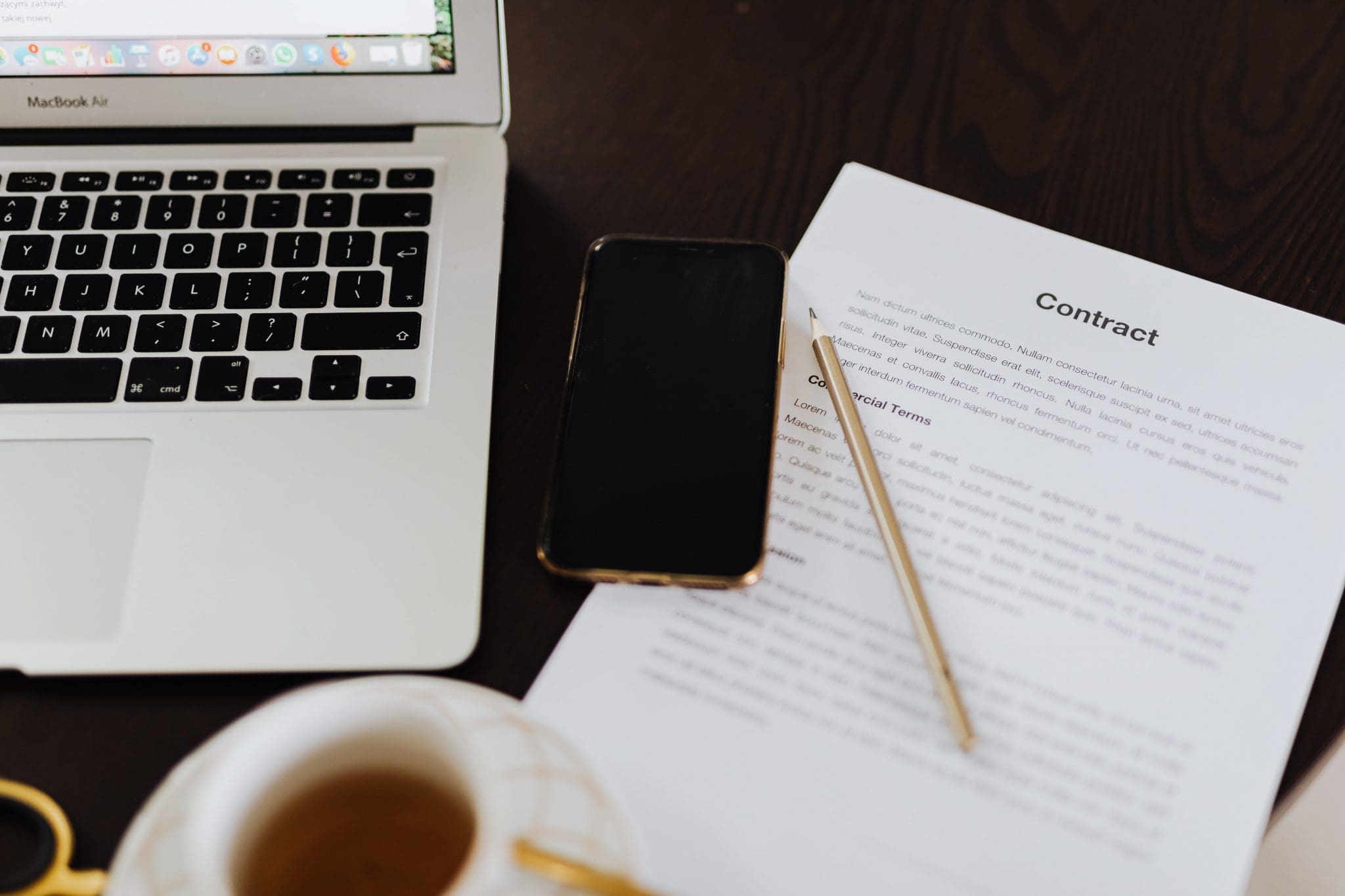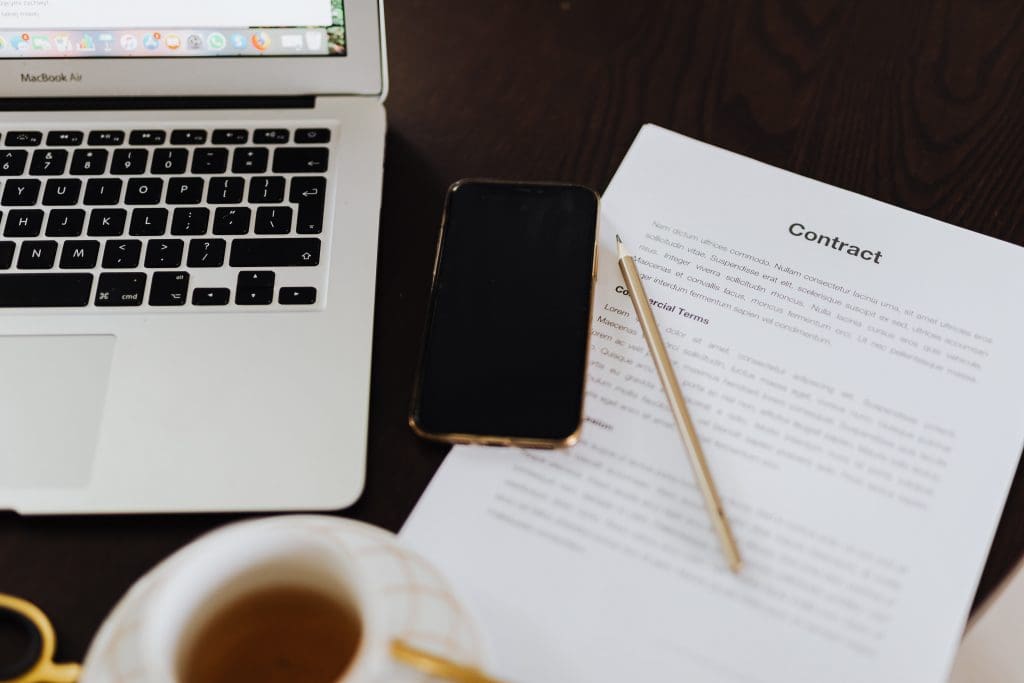 Level up your sales closing techniques by automating each step of your contract lifecycle. With Fill, you can effortlessly sign digital contracts while minimizing delays and human errors.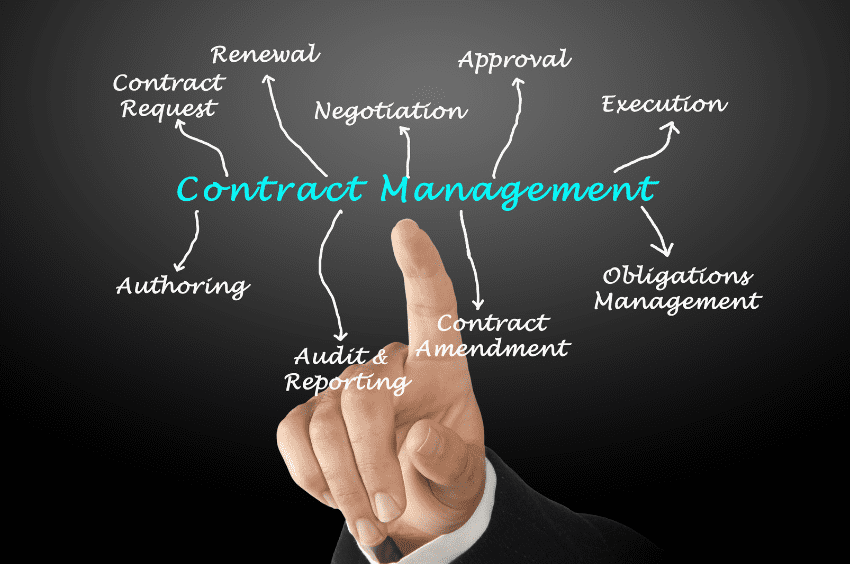 Our Top Picks: The Best Contract Management Software for Small Businesses
Fill eSignature

Gatekeeper

Odoo

Trackado

Intellect

HoneyBook

ContractSafe

Juro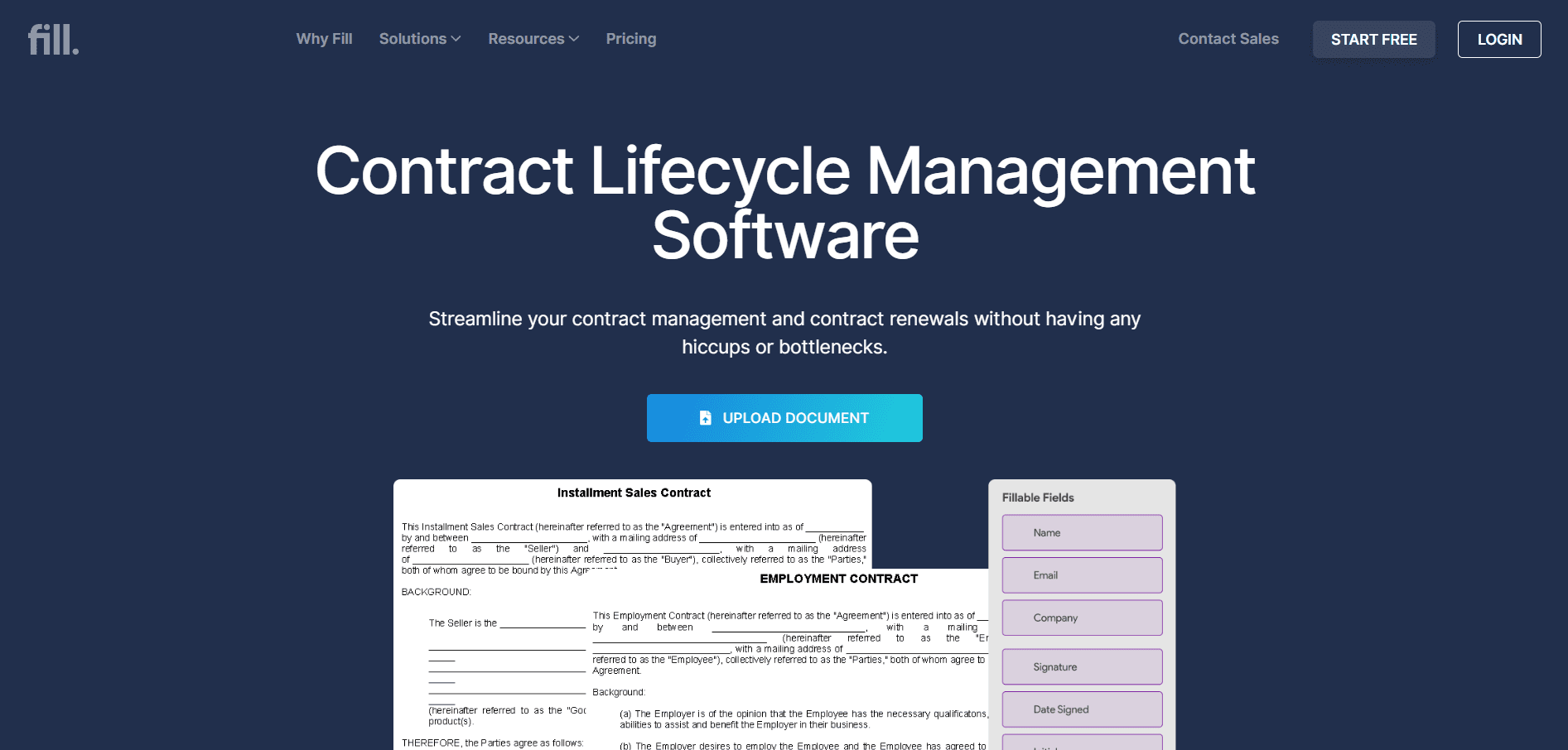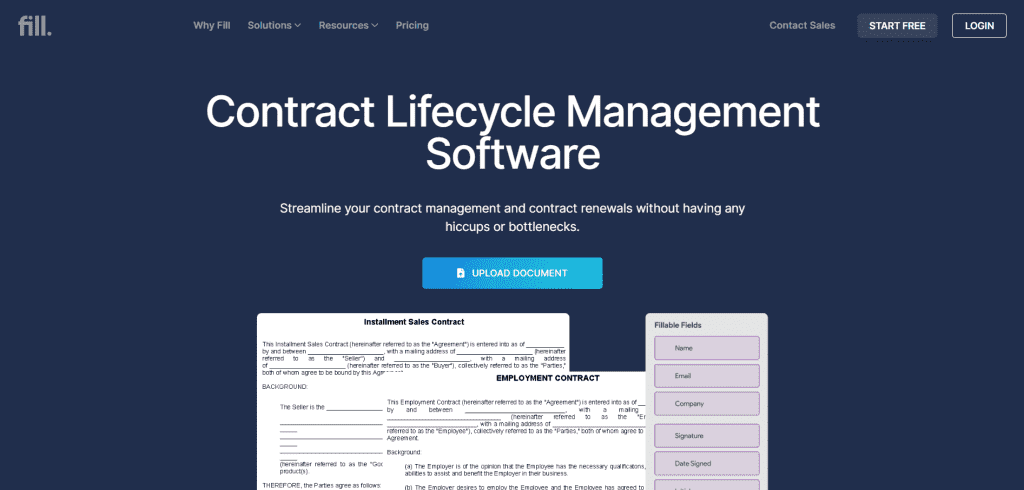 Fill eSignature
Fill eSignature is a cloud-based contract management software for small businesses. With it, you can instantly convert paper files into digital contracts. It also features an intuitive platform that can automate each stage of your contract lifecycle. From creating drafts to signing contracts, you can rely on Fill to help you accomplish these tasks without wasting time and effort. It can also secure your documents using military-grade encryption, so you're sure to comply with the strictest industry and privacy guidelines.
With Fill, you can:
Effortlessly manage and sign contracts from practically anywhere, using any device

Streamline your contract executions and contract renewals

Draft contracts using pre-approved and reusable templates

Verify and track every transaction using public key certificates and audit logs

Monitor the status of your contracts in real-time

Securely share and request signatures from multiple signers
Gatekeeper
Gatekeeper describes itself as a next-generation contract management solution. It's a cloud-based software that can digitize and automate your contract processes. It's also an AI-driven platform that can automatically generate legally binding contracts using external data feeds. With Gatekeeper, you can acquire unlimited eSignature licenses that are fully compliant with eIDAS, ESIGN, and UETA.
Odoo
Odoo is a well-established contract management solution. It's ideal for small-business owners looking for affordable pricing options that they can tailor according to their needs. With Odoo, you can quickly sign and approve documents online. You can also prepare contracts by dragging and dropping fields.
Trackado
Trackado is a contract management platform where you can sign and sort all your contracts in one place. With it, you can access and monitor your signature requests without installing any complicated program or software. It can effortlessly manage your contracts from your web browser. With Trackado, you can send recurring reminders to authorized signatories and designated signers.
Intellect
Intellect turns complex business processes into simple automated tasks. While it is primarily DCM software, you can use it for contract management and create flexible workflows. You can also customize the platform to meet your business needs. It also has document cancellation options that allow you to cancel a contract at any stage.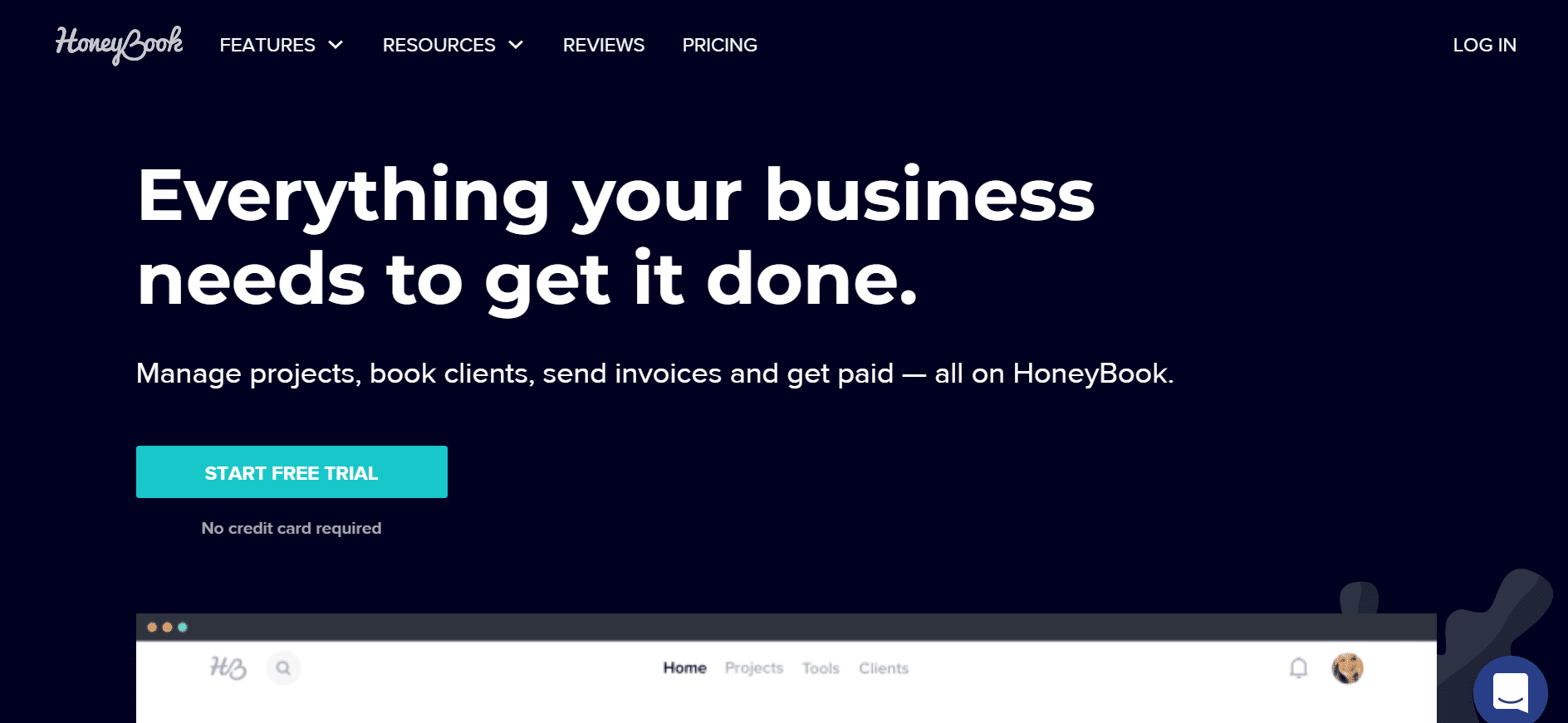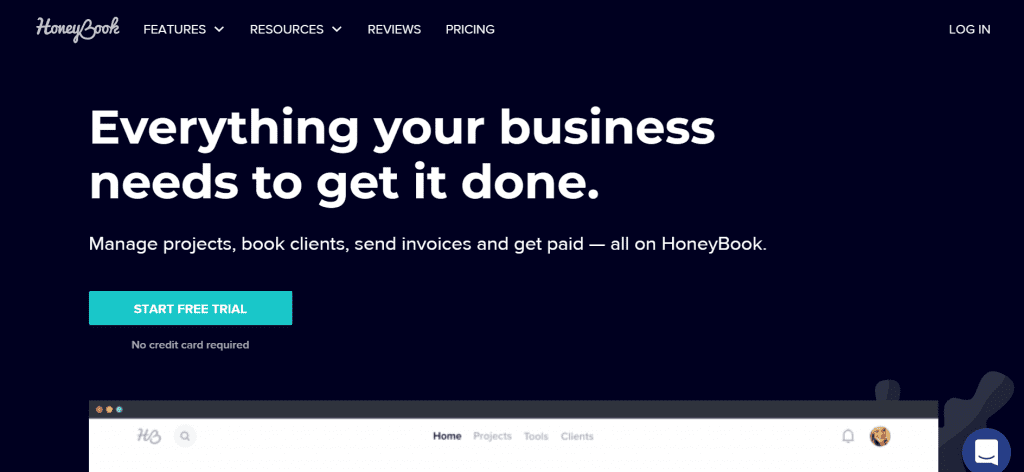 HoneyBook
HoneyBook is an all-in-one client management software that helps small businesses kickstart their contract relationships using ready-to-use templates and smart fields. With HoneyBook, you can let clients sign contracts using any device. You can also create legally binding initials and e-signatures.
ContractSafe
ContractSafe is a cloud-based contract management software that can store and manage contracts for unlimited users using simple permissions. Its features include speed searching with automatic OCR, bulk edits, amendment tracking, and instant email alerts. ContractSafe also uses bank-level security and SOC2 audit to safeguard your sensitive documents from unauthorized users.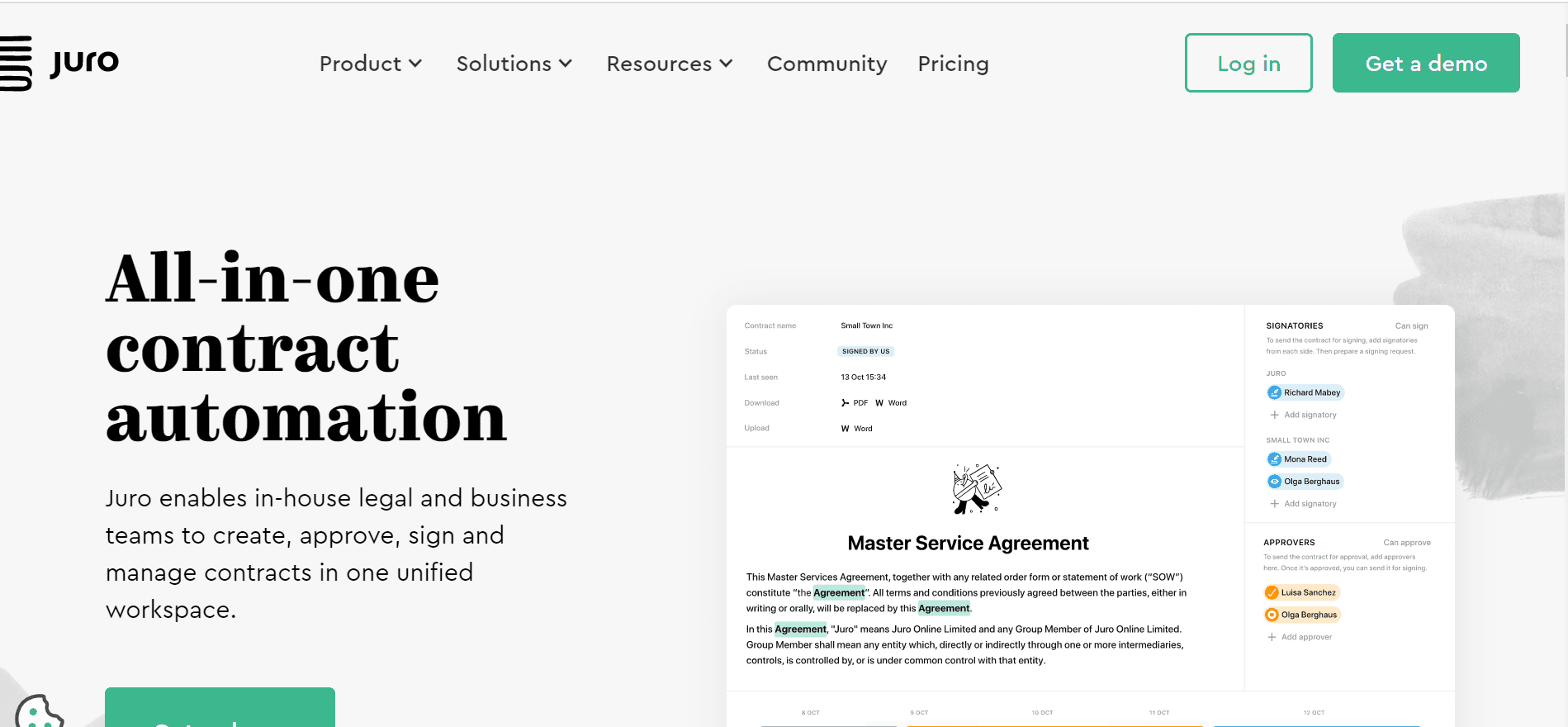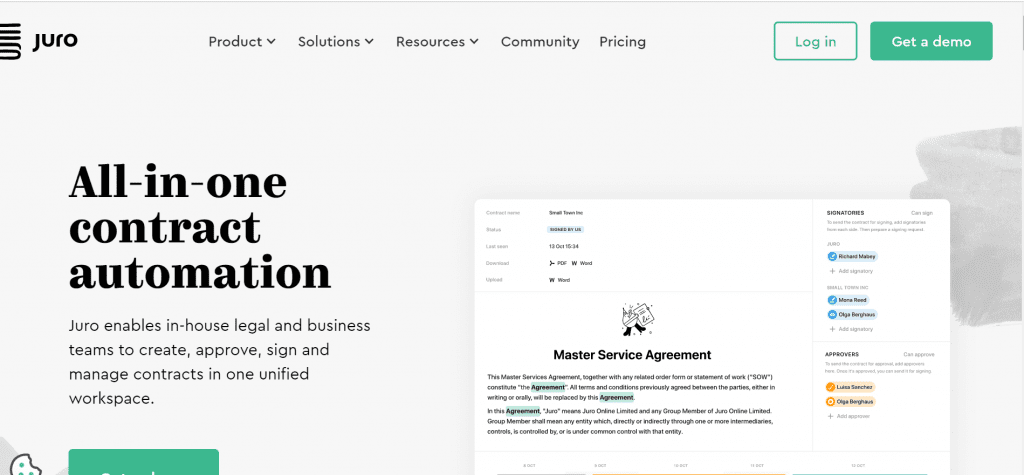 Juro
Juro is an all-in-one contract management platform that offers flexible pricing plans for businesses of all sizes. It's ideal for running a small business since there's no need for complicated setups and software installations. With Juro, you can access and manage your contracts right within your web browser. With its no-code workflow builder, you can automate your approval processes. It provides a straightforward solution that can help get your contracts approved quickly, so you can quickly move from one transaction to another.
How to Choose the Right CLM Software for Your Small Business?
Choosing the right CLM (contract lifecycle management) software requires careful consideration. Take all the time you need to make a deliberate decision. Weigh your options carefully and ensure that the software has all the necessary features that your business needs. It should also be secure enough to help prevent errors and unapproved changes, keeping your data safe and well-protected. It should also offer flexible pricing options, which will make it easier for you to scale your business without breaking the bank.
Thoughts
By choosing the best contract management software for small businesses, small-business owners can successfully close more deals without spending too much time, money, and effort. It's a cost-efficient way to track and manage contracts. It also ensures that your business stays industry-compliant. Being haphazard with your choices could only lead to costly upgrades and system changes. 
Will Fill, you can efficiently manage your contracts while speeding up your business transactions. You can even track the status of your contract requests in real-time via email and app notifications. Start with a free account today, or contact our sales team to book a demo.