In a predominantly mobile-first world, the need to sign documents on the go has never been more apparent. Tablet computers such as the Apple iPad have been a force in mobile productivity for over a decade. Today, many use tablets as portable business devices for getting work done wherever they may be.
Signing a document on an iPad is not only possible, but it could also become a suitable fit for your workflow. Here, we present you with convenient ways to sign documents on an iPad.
Table of Contents
Can I Sign Documents on an iPad?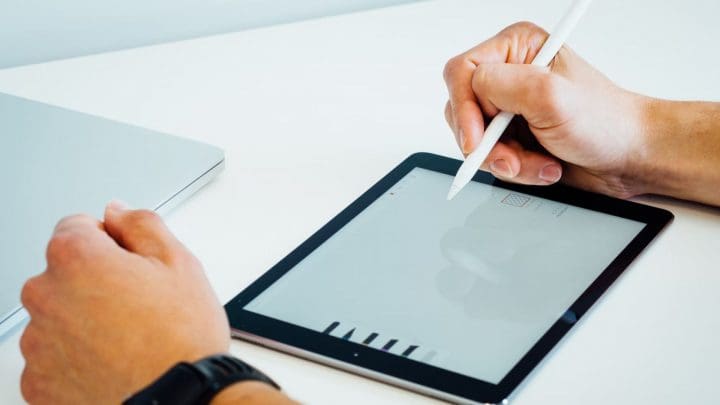 Yes, you can use your iPad to sign PDF files or other digital documents. This involves creating an electronic signature and affixing it to the designated spot.
As you'll find out later in this guide, it can be incredibly easy to sign and send documents on your tablet. It's only a matter of figuring out which esignature tool best suits your needs.
There are multiple tools that let you sign documents on an iPad. These include Apple's proprietary solution, Markup, and third-party apps like Fill.
Can I Sign Documents in an Email With My iPad?
Yes, you can sign documents in your email using an iPad.
If you own a model running on iOS 10 or later, you already have a way to use digital signatures with Apple's Mail and Files apps. You'd only have to open the document in the app to start creating your electronic signature.
How Do I Use Apple Markup to Sign Digital Forms?
Markup is a built-in iOS feature, so you can also use it to sign documents on your iPhone or iPad. It contains a set of tools that allow you to add text, drawings, and even esignatures to a PDF document.
Follow these steps to create and apply your digital signature to any document on your Apple tablet.
Start by opening a PDF file preview on the Mail app. Alternatively, if you have the file saved on your device, you can access it through the Files app.
With the file open, you'll see the Markup icon that looks like a pen tip. Tap on it to enter markup mode and see the available annotating options.
To create an esignature, tap the plus icon on the bottom and select Signature. You will then see an option to create a new digital signature.
Draw your signature on the allotted space using your finger or an Apple Pencil, if available. You're free to repeat the process until you're satisfied with the signature.
Tap on Done. Your signature should appear inside a box. You may enlarge, shrink, and drag your signature anywhere on the document.
You can create and save multiple signatures on your tablet. The next time you have to sign a document, your digital signature will appear as an option inside the Markup interface.
How Do I Use the Fill Esignature App on an iPad?
While the Markup feature on iPads might seem enough for most people, it won't always be the right solution for managing documents.
Here's the thing:
There are cases when you might need something more secure and comprehensive.
A dedicated electronic signature app just might be what meets that need.
The Apple App Store houses many esignature apps, each with different pros and cons. Among these is Fill, one of the leading apps in the mobile market. It provides an elevated experience through a host of powerful enterprise features.
The benefits of using the app include cross-platform accessibility, a robust selection of third-party app integrations, military-grade encryption, and more.
To get started with Fill on your iPad, download the app on the Apple App Store.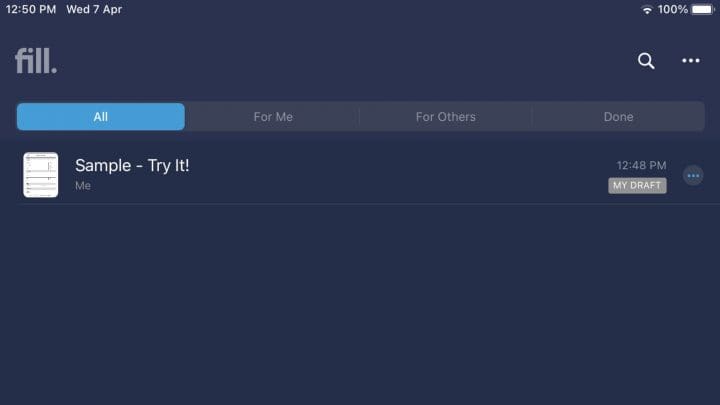 Open the app and create an account. You can choose to log in with your Google account, Apple ID, or email address.

Once you're logged in, you'll be taken to the app's dashboard. Open the sample document or import your own from your device or the cloud. You can even scan a physical document or create a new one from scratch.
With the document open, tap on the Sign button to create a new electronic signature. You can draw, type, or import your signature using Fill's built-in tools.
Drag your new esignature from the toolbar to anywhere on the document. Then, finish things off by adding the date or a unique stamp.
Export the document as a PDF file or send it directly through email.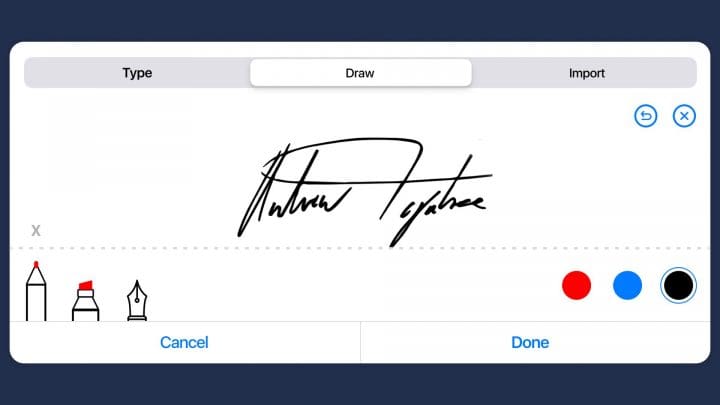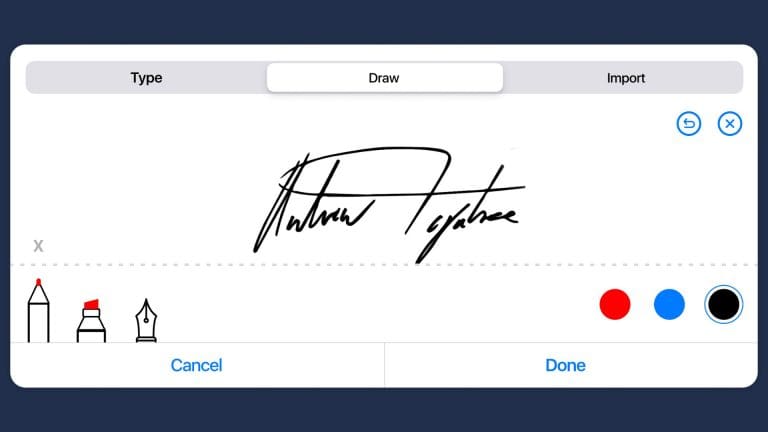 That's how simple it is to sign and send a document with Fill. You can also use the app to send esignature requests for documents that require multiple signatures.
So, the next time you're on the go, you can use the app as a trusted esignature companion.
Top 3 Reasons to Sign on an iPad
1. You can sign documents anywhere
When you're traveling for business, it can be cumbersome to reach for a laptop or look for a desktop computer just to sign a document.
That's why having a tablet handy is a popular choice among businesspeople today. An iPad's ultra-portability makes it the perfect tool for creating and using digital signatures.
Unlike a laptop, you don't have to open a tablet and find a steady surface to start using it. You can simply hold it in your hands, whether you're in a moving car or out in the field.
2. Tablets are built for writing
Tablets feature touch screen displays that are suited for writing. It can be even more convenient if you have a stylus pen like the Apple Pencil to go along with your iPad. This tool makes it easy to write on the tablet as you would on paper.
With a stylus, you can create an electronic signature that best mirrors your physical signature. You could also use it to fill out other document fields with relative ease.
On the other hand, if you don't have a stylus, using your finger to sign with a tablet still provides a comfortable experience.
3. You can use it with your favorite apps
As mentioned before, you can use your tablet to sign documents in your email. You can also send, receive, and sign documents all in one place.
With Fill, for example, you can import documents from Google Drive and start signing immediately. It's also possible to send out a document to other signatories by sending an email.
Why You Should Use Fill
Effortless and secure experience
Fill is simple to use but powerful enough for business applications.
The app can convert image files and Microsoft Word documents to PDF and even detect fillable fields. You can edit, annotate, or add your digital signature within minutes.
This type of encryption is used by governments and businesses alike, and it's nearly impossible to crack without the right key. Each document you sign or send out for a signature is always secure with Fill.
Cross-platform compatibility
Another advantage of using Fill is fast document accessibility.
Whether you're using Windows, macOS, Android, iOS, or iPadOS, your documents are synced to every device through your account. You'd never have to go through the hassle of emailing documents back and forth to access them on a particular device.
You can also import and export documents with Fill. It integrates seamlessly with apps such as Google Drive, iCloud, and Dropbox.
Download Fill for iOS
Are you ready to transform your document-signing experience on your iPad?
Download Fill for iOS today and start uploading documents and requesting unlimited signatures with our Free plan.
Plus, you can get a free 7-day trial on any of our paid plans.
Fill is available on iPad models running iPadOS 13.0 or later.