DocuSign offers unparalleled contract management tools that can simplify and streamline workflows. However, it can be a bit expensive, especially for those who want to maximize their savings and reduce costs. If you are looking for a DocuSign contract management alternative that suits your needs and budget, you might want to look into the suggestions we've listed below. 
5 DocuSign Alternatives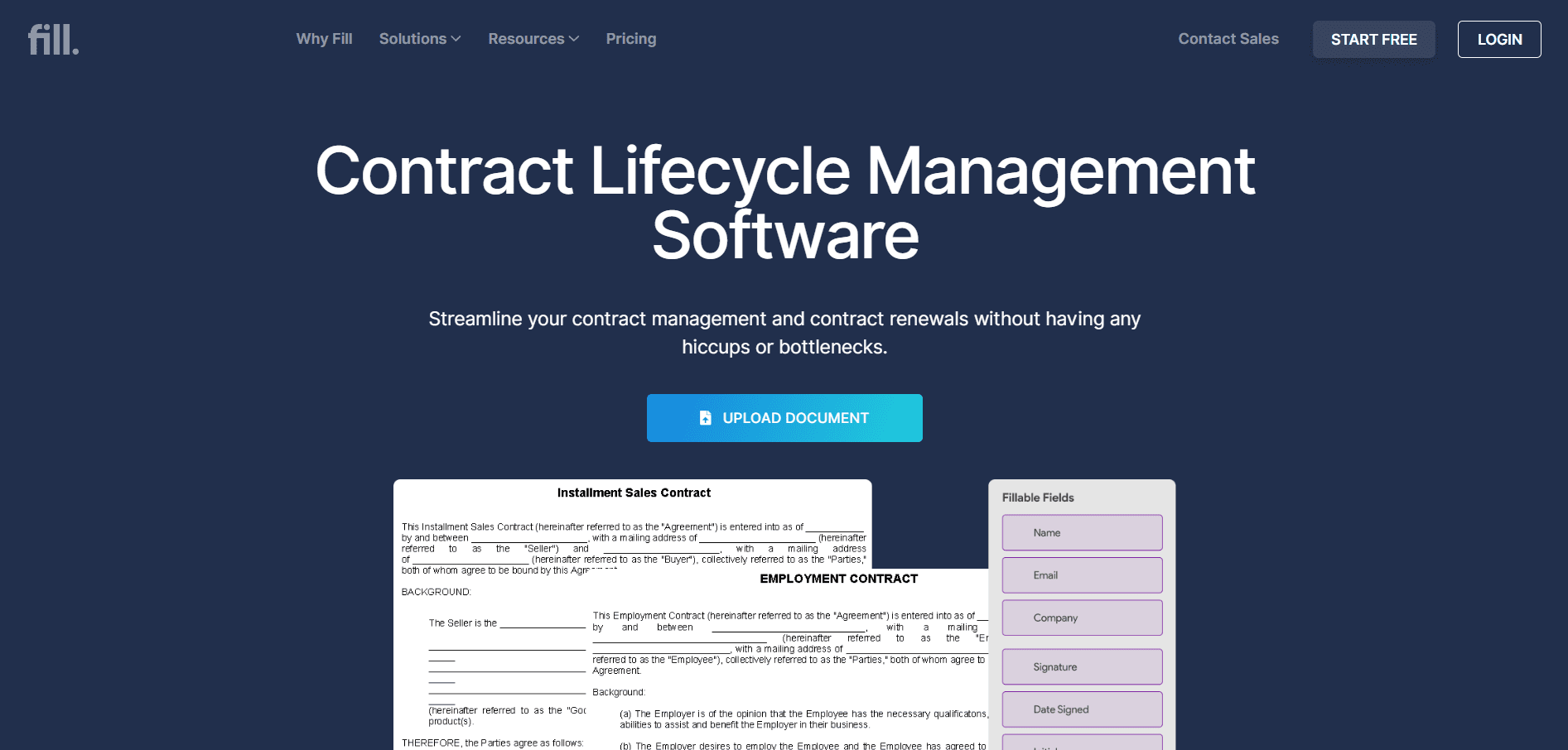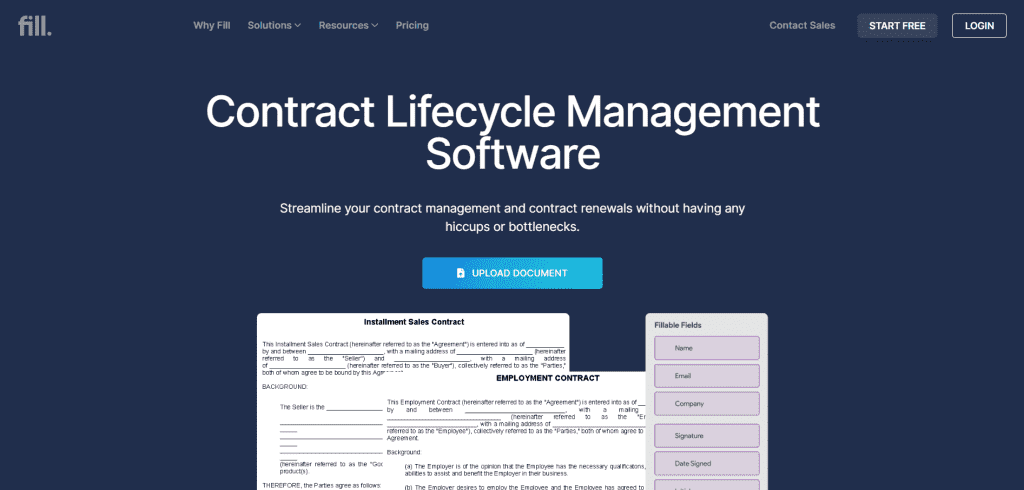 Best Alternatives to DocuSign Contract Management
DocuSign may be a front runner in providing a reliable CLM solution, but it also has some downsides that may push you to look for an alternative solution. For one, its platform may not be as intuitive. You may encounter some difficulties navigating through tasks. There's also the matter of sending limits for initial plans. 
If you are looking for an equally reliable contract management solution, the following are some of the best alternatives to DocuSign contract management:
Fill eSignature
Fill is an all-in-one eSignature and contract management solution that can store, track, and manage contracts. You can also use it to collect signatures and sign contracts quickly. Instead of the traditional pen and paper signing, you can have your signers sign your contracts online, using any device. 
Fill also features a clean and user-friendly interface. Users can efficiently navigate the platform without feeling perplexed about the different settings and options. You can also track the status of your contract requests in real-time and maintain data integrity via digital certificates and audit logs. 
Take a look at the other features of Fill that go beyond collecting and creating e-signatures:
Smart document filling

Conversion analytics

Template funnels

256-bit encryption

Conditional fields and task automation

Developer-friendly API

Zapier integration
CobbleStone Contract Insight
CobbleStone Contract Insight is a configurable contract management software. With it, you can expedite your contract approvals and seamlessly progress through each phase of the contract lifecycle. It also offers unlimited storage and version tracking. CobbleStone Contract Insight also makes it easier for you to draft industry-specific contracts in a breeze. You also get to decide whether to use it as a cloud-based or on-premise solution. 
Icertis Suite
Icertis Suite, as its name suggests, is a full suite of contract management solutions that enables you to proactively comply with the ever-changing requirements of your business or industry. With it, you can save yourself the hassle of manually managing each phase of your contract process. You can use it to leverage automation and accomplish various tasks with speed and accuracy. You can also use Icertis Suite to modernize your business approach. 
Conga CLM
Conga CLM provides end-to-end contract lifecycle management. It can streamline your contract processes from start to finish. It also allows seamless integration with Salesforce. With Conga CLM, you can create a centralized contract database, which helps you gain better control of your data while minimizing the risks of mishandling and fraud. It provides you with a cost-efficient solution to drive more sales while keeping your business expenses to a minimum.
See also: The Ultimate Contract Management Guide: A Cheat Sheet
Ready to take your business to the next level? With Fill, you can streamline your contract management processes and close more deals by staying ahead of the competition.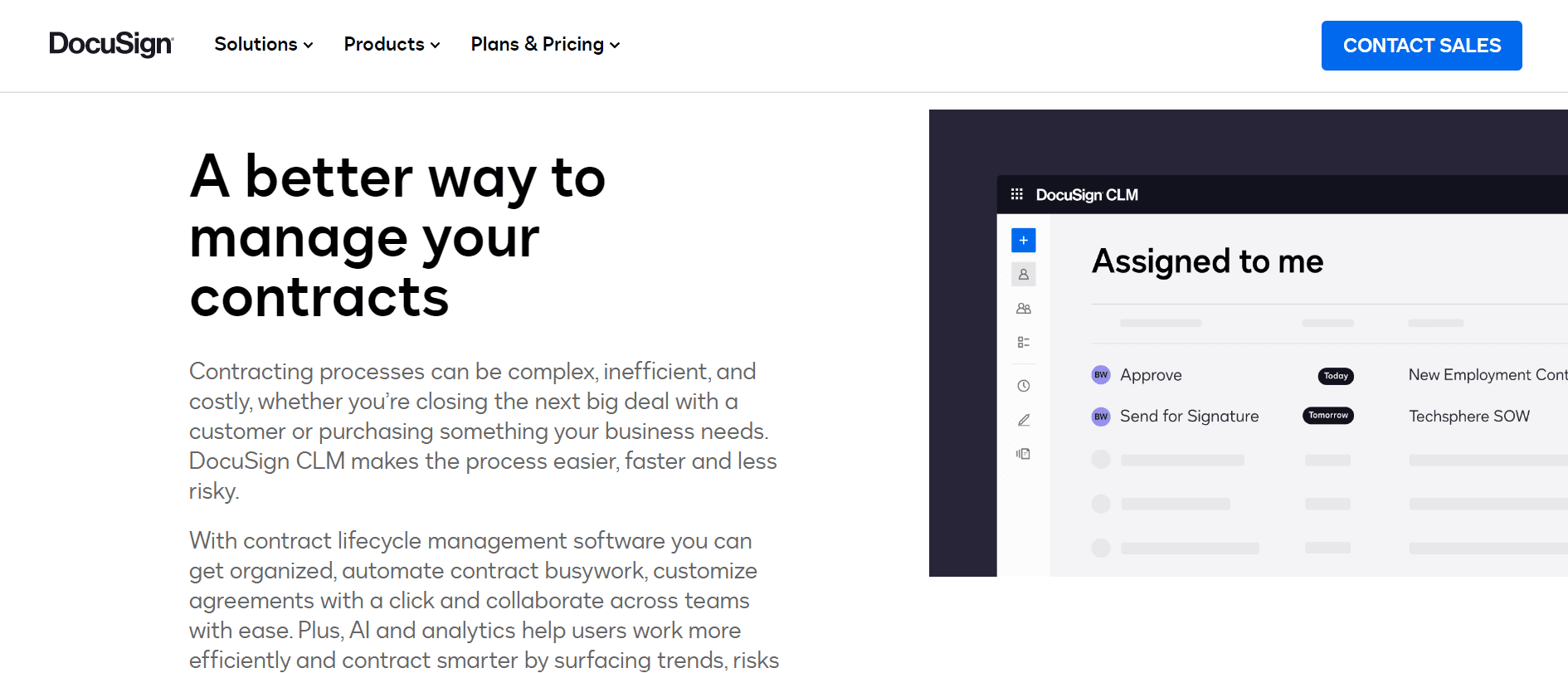 Can DocuSign Manage Contracts?
Yes. DocuSign offers a CLM solution that you can use to manage and sign contracts. It's more than just a document signing app. It's an all-in-one solution for companies and businesses. With DocuSign contract management, you can organize agreements and automate tasks in just a few clicks of a button. It also offers the flexibility to collect signatures regardless of time or location. You can also create legally binding contracts quickly and immediately proceed to the next phase of the contract lifecycle.
While DocuSign contract management is ideal for many companies and businesses, it may not be something that fits your needs and budget. To begin with, DocuSign offers its CLM software as part of its enhanced plans. DocuSign CLM is not included in the lineup of features you can access upon purchasing a Standard or Business Pro plan. Meanwhile, pricing for it starts at $15 per month. 
See also: Contract Management 101: Best Tips and Practices
By subscribing to DocuSign CLM, you gain access to its enhanced platform with tools and features that allow you to track, sign, and manage contracts. 
Here are some of the features that you can get out of DocuSign CLM:
Contract lifecycle management

AI analytics and data reporting

Centralized cloud-based repository

Advanced search and filter functions (e.g., search by keyword, concept, and meta-data)

Drag-and-drop document editor

100+ pre-configured workflow steps for various contract processes

CLM API for seamless integrations

AI-assisted negotiations

Automate contract routing with detailed version controls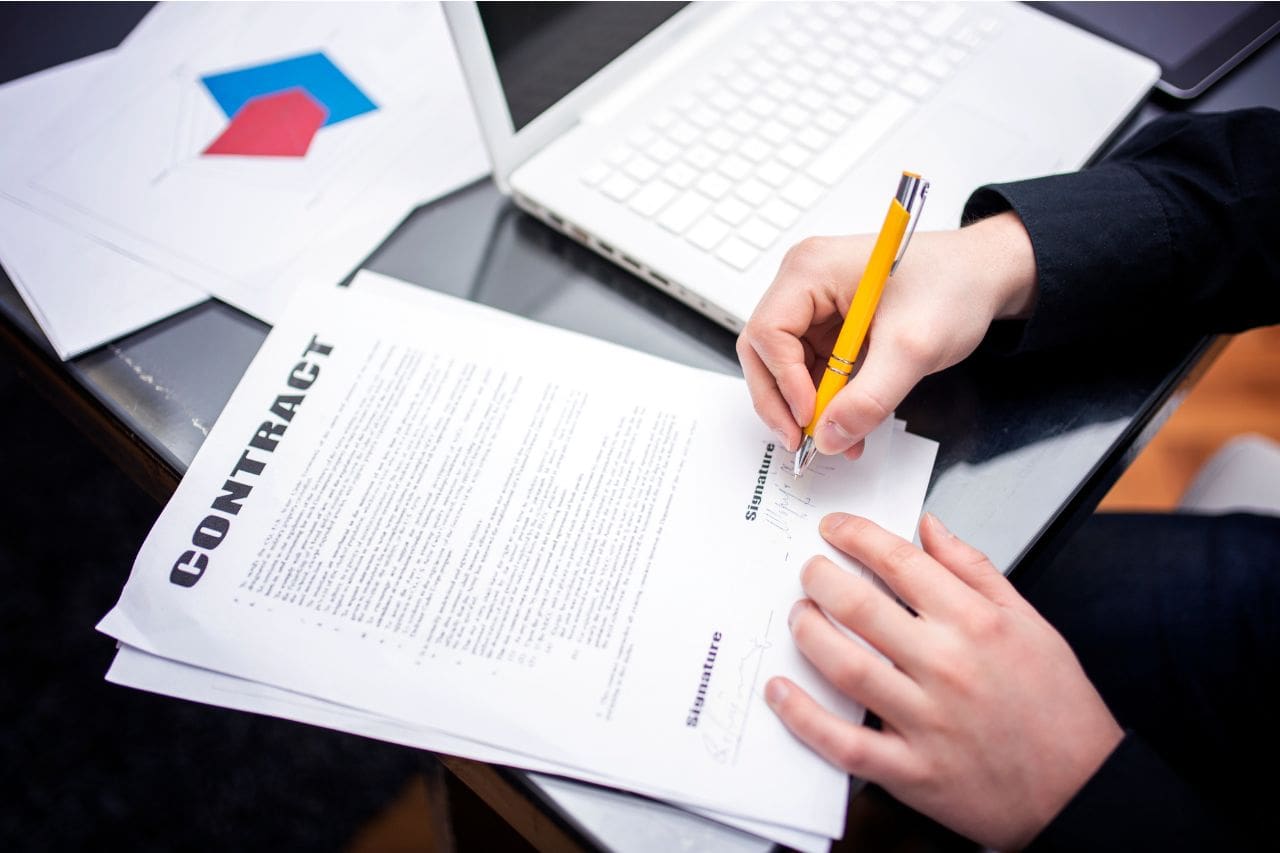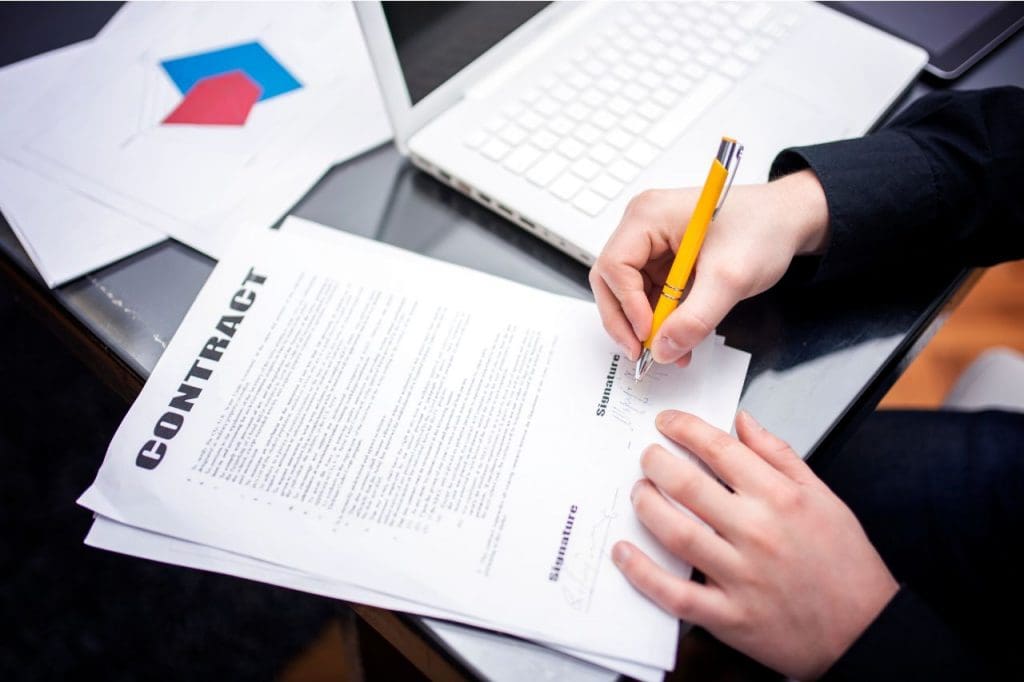 An Easier Way to Streamline Your Contract Lifecycle
Staying on top of everything requires a well-structured workflow. When handling contracts, you need to welcome the idea of modernization. Instead of managing everything manually, you can leverage the benefits of AI contracting and task automation. With task automation, you can implement an effective contract management system while drastically minimizing the risks of delays and errors.
With Fill, you can streamline your contract management and achieve desired outcomes without the slowdowns and bottlenecks. You may also integrate our software into your existing DMS. This way, you can work on your documents and agreements while cutting down on business costs.