Experience digital signing with Fill's free electronic signature trial. We are providing a free digital signature trials for individuals and businesses to try out digital signing through one of the world's most trusted digital signature platforms. Fill has been internationally recognized for providing a super optimized signing experience that helps you approve documents within seconds. Sign documents with a click of a button and send documents digitally to take workplace productivity to the next level.
What is a digital signature?
Digital signature makers are currently one of the most preferred tools for signing and verifying documents among organizations all over the world. It has replaced traditional ways of signing and approving documents with handwritten signatures and stamps. Digital signature makers utilizes an electronic device with access to the internet such as a smartphone, tablet or computer to execute signatures on soft copies of documents. They have made remote approval of important documents a possibility while being compliant with every official regulation.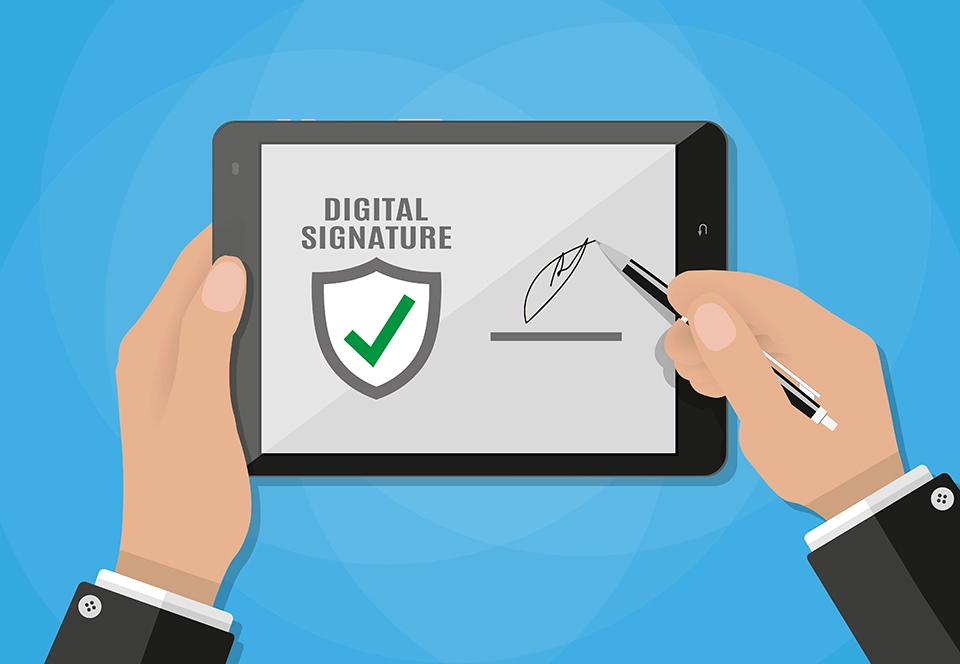 Legally compliant
Fill digital signature maker is suitable to be used for signing documents of utmost importance.
The use of digital signature makers has been approved by International laws for documents of official as well as legal importance. The documents you sign with Fill are admissible in a court of law as Fill is compliant with every digital signing regulation that signers are required to follow.
How to use Fill for free digital signature trial?
Fill has an excellent interface that makes the process of digital signing highly accessible for anyone. Signing with Fill requires you to follow a few basic steps through which you can sign any document within minutes or even seconds.
Step 1: Log in to your free digital signature trial account with your sign up details.
Step 2: Upload the file you wish to sign to Fill's cloud
Step 3: Add signature fields and invite signers to your document which will provide them access to the document for signing.
Step 4: Choose the Add Signature option to digitally print your signature onto a document.
Just in four simple steps, you have made a digital signature on a document using Fill.
Things you will need to make a free digital signature with Fill
You will need only two things to make a digital signature with Fill:
An electronic device with access to the internet such as a smartphone, tab, laptop or desktop.
Log in to your free digital signature trial account at Fill.

Advantages of Using Fill's Digital Signature Maker
Invite signers to your document
Fill allows you to invite as many signers as you want. Inviting signers to your document allows them access to sign documents and helps you get ahead in the process much faster than the traditional approach. Use Fill and make work easier for both yourself and your clients.
Signing has never been easier
Although signing constitutes a huge chunk of official responsibilities in an organization and signed agreements are what business associations are formed of, signing does not have to be a time-consuming act anymore. Fill makes it possible for signers to access important documents remotely and sign them from any place and at any time they want.
Important deals do not need to wait for long meetings with signers and everything can be handled online with just a click of a few buttons.
Paperwork is not an issue anymore
It is a consensus among office workers that paperwork can be incredibly dull and stressful to handle. Arranging and going through a huge pile of papers is not how most employees want to spend all their time.
Fill makes it easy to handle paperwork in an efficient manner and greatly reduces the workload of employees in every organization. Fill makes it possible to handle business only through soft copies of documents making the pile of papers on top of your desk disappear for good. Locate and access files easily and get your work done in a neat paperless fashion.
Digital encryption
Fill is convenient and safe at the same time. We use digital encryption to make sure that the files you sign and send through us are safe from malicious hands. Digital encryption allows only authorized personnel to access documents and sign them making sure you are conducting business in a confidential manner.
A faster way to handle work
Using Fill makes you approximately 80% faster when it comes to closing deals. Using digital signatures takes out a lot of steps from the usual signing process such as printing documents, commuting and setting up meetings with signers. Get the documents signed at a moment's notice and get the workflow going.
Reduce costs
Using Fill's digital signatures allow you to cut a lot of costs that are usually incurred when digital signing is not a part of your work process. A lot of costs are incurred in accumulating paperwork, storing them and not to mention the man-hours squandered locating files among a huge pile of paperwork. You can get rid of all of them with Fill digital signatures at your disposal helps you to take care of work without tapping into your valuable financial resources.
A more efficient approach to work
Fill makes it possible to sign documents within a matter of minutes from any place and at any time you want. It helps you handle the paperwork at a much faster pace which means a lot of work will be done within the same working hours as before.
Curb risks
Fill provides a super safe approach to handling paperwork. All the documents signed and sent over through Fill are digitally encrypted. This means that only authorized individuals can have access to those files and documents keeping them safe from unwanted hands.
Multiple device access
Fill's digital signature app is accessible through various devices such as smartphones, tablets, laptops and computers. This makes it possible to take care of business on the go. It allows a bit more breathing room for employees and associates.
Instant verification
Sweating over missing signatures when there is a deadline to meet is no longer a big deal. With fill digital signatures it becomes easy to take care of urgent signatures instantly. Simply invite signers, send over the documents to them and meet deadlines without breaking a sweat.