Google Docs has not been around for a very long time, but it has become one of the most popular word processing programs. In fact, it just recently amassed two billion active users worldwide. And what's not to love about Google Docs? It's free to use, and more importantly, it has a host of amazing features that make document processing a breeze.
Can you sign a document in Google Docs? What are some of the other benefits of using it? In this article, we will explore all the ways Google Docs can help improve your overall workflow.
Table of Contents
Why use Google Docs?
Despite being a newcomer to the world of word processing, many people are making the switch to Google Docs, ditching its older and more seasoned contemporaries. If you are still on the fence, here are a few awesome reasons why you need to start using Google Docs.
1. It's completely free.
Other word processing software comes with quite a hefty price tag with some companies charging hundreds (sometimes even thousands) of dollars per user. On the other hand, you can use Google Docs at no cost at all. What makes this even better is you get 15 gigabytes of cloud storage for free! You only need your Gmail account to enjoy all these perks.
2. It autosaves your progress.
Have you ever had the unfortunate instance where the word processing program suddenly crashed, causing you to lose all the progress and changes you made to your document? With Google Docs's autosave feature, you don't have to worry about losing anything! Google Docs automatically saves all the changes you make to your documents. It does it so seamlessly that you won't even notice that something's happening.
3. It's easily accessible.
You can create, modify, and sign a document in Google Docs no matter where you are and without needing a laptop. As long as you have an internet connection, you can access any files using your smartphone or tablet. This word processing program is definitely designed for people who are always on the go.
4. It makes collaboration easy.
One of the most outstanding features Google Docs has over its competitors is the ability to collaborate with other people in real-time. You can easily share your documents with others and allow them to make any changes or add more content. Of course, you can also modify their access to "View Only" if you don't want anyone to make any revisions.
5. It allows you to download files in multiple formats.
With Google Docs, you do not have to worry about compatibility issues. Although it is cloud-based, you can download any of your files in multiple formats to ensure that everyone you share your files with can open them.
Can you sign a document in Google Docs?
As we are in a highly digital environment nowadays, it's important that you choose a word processing software that lets you affix electronic or digital signatures. You may ask, Can you sign a document in Google Docs?
The short and simple answer is YES, you absolutely can! Google Docs is one of the ultimate tools to have if you want to switch to a more digital and paperless approach to document management and processing. Aside from the ability to sign a document in Google Docs, this application has a few other features that you can use to your advantage and improve the overall efficiency of your workflow and processes.
How to add electronic signatures in Google Docs?
There are multiple ways to go sign a document in Google Docs. We will walk you through two of the simplest and quickest ways to go about it.
Method 1: Using Google Doc's Drawing Tool
Step 1. On your Google Docs' menu bar, click Insert.
Step 2. Select Drawing, then select + New. A drawing canvas will pop up.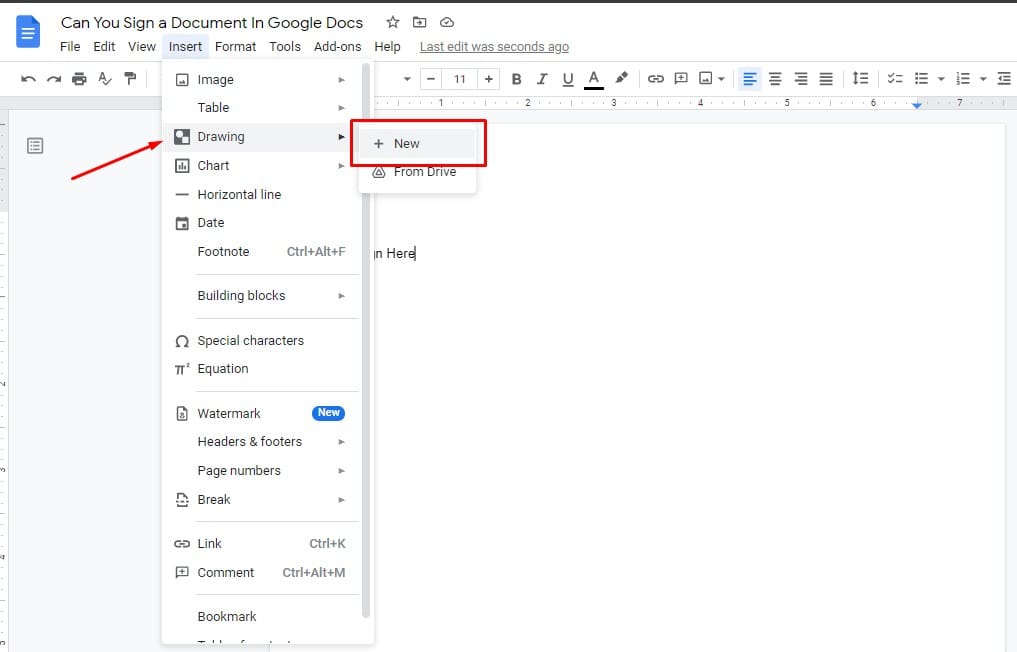 Step 3. Click the Line button, then select Scribble.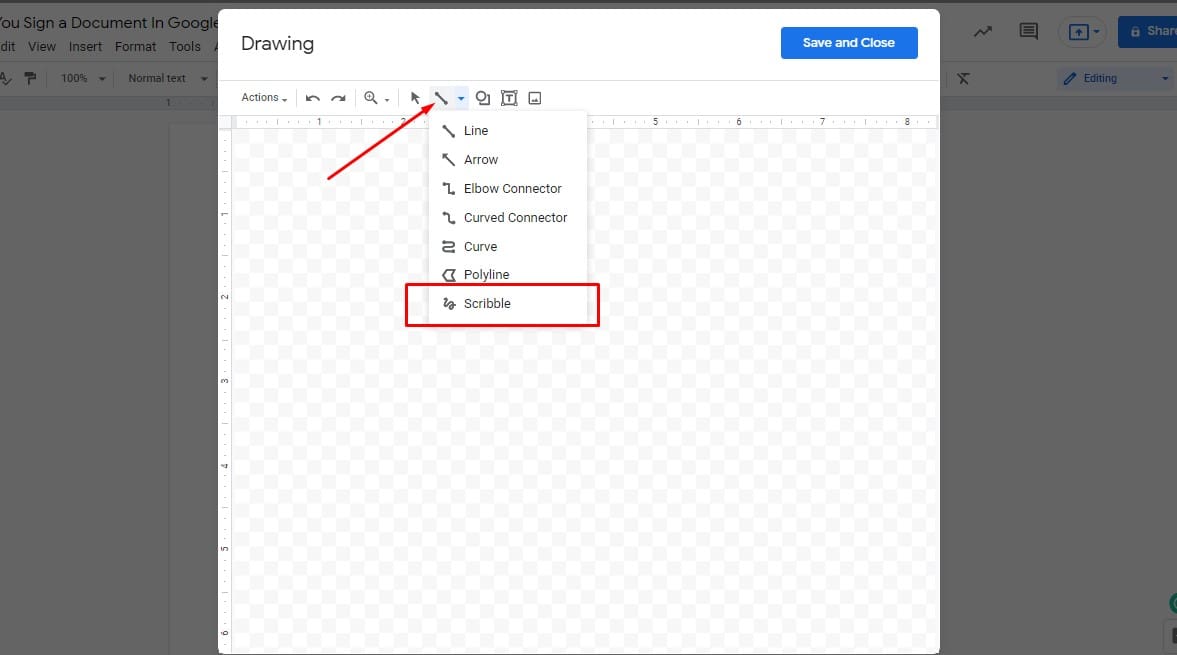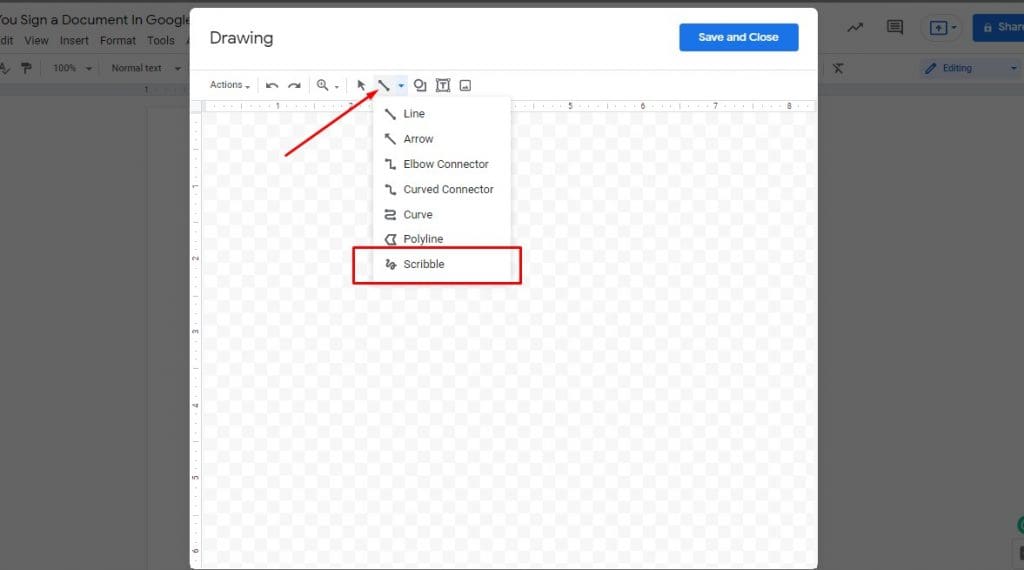 Step 4. To sign a document in Google Docs, draw your signature on the canvas, then click Save and Close.
Step 5. Make the necessary changes to the image and place it in the appropriate space.
Admittedly, drawing your signature using your mouse can be a bit tricky. It's hard to gain total control of the drawing tool. Luckily, there is another quick and easy way to sign a document in Google Docs. Let's have a look.
Method 2: Using Fill
Fill is an electronic signature application that lets you sign documents online. You can create your own electronic signature on Fill. It also features a myriad of tools that streamlines your document workflow. It also promotes better collaboration by simplifying the way you share your documents with your clients and colleagues.
To sign a document in Google Docs using Fill, you need to create your own account first. There are a few features that you can use for free. But if you want to enjoy everything that Fill has to offer, you can subscribe to their plans for as low as $4.99 per month. You can also integrate Fill into other applications such as Google Workspace, Gmail, Google Drive, and Dropbox.
With Fill, you do not have to worry about the privacy and security of your paperwork. The company uses high-level encryption and other security measures to significantly reduce any threats. Moreover, you can fully customize the accessibility you can grant to other parties who wish to work on or view your document.
You can also receive a real-time audit log and trail so you can keep track and stay up-to-date on the progress of your paperwork.
Final Thoughts
There's a reason why Google Docs has seen a massive increase in its number of users in the last few years. It's an extremely useful tool to have, especially if you are thinking about going paperless in your organization. It packs a ton of amazing features. You can also install add-on tools to further maximize its use. Best of all, you can sign a document in Google Docs without having to print any files or paperwork.