Google Workspace offers a suite of apps that can help simplify your document management processes. Now, imagine having the option to electronically sign documents directly on Google Docs, Sheets, and Drive. That would make your work a whole lot easier. There's no need to print files and affix signatures by hand.
Thankfully, you can now integrate Google Workspace eSignatures into your document workflow. With Fill, you can execute agreements and fill out forms without switching in between apps or tabs. Go ahead and find out how it works.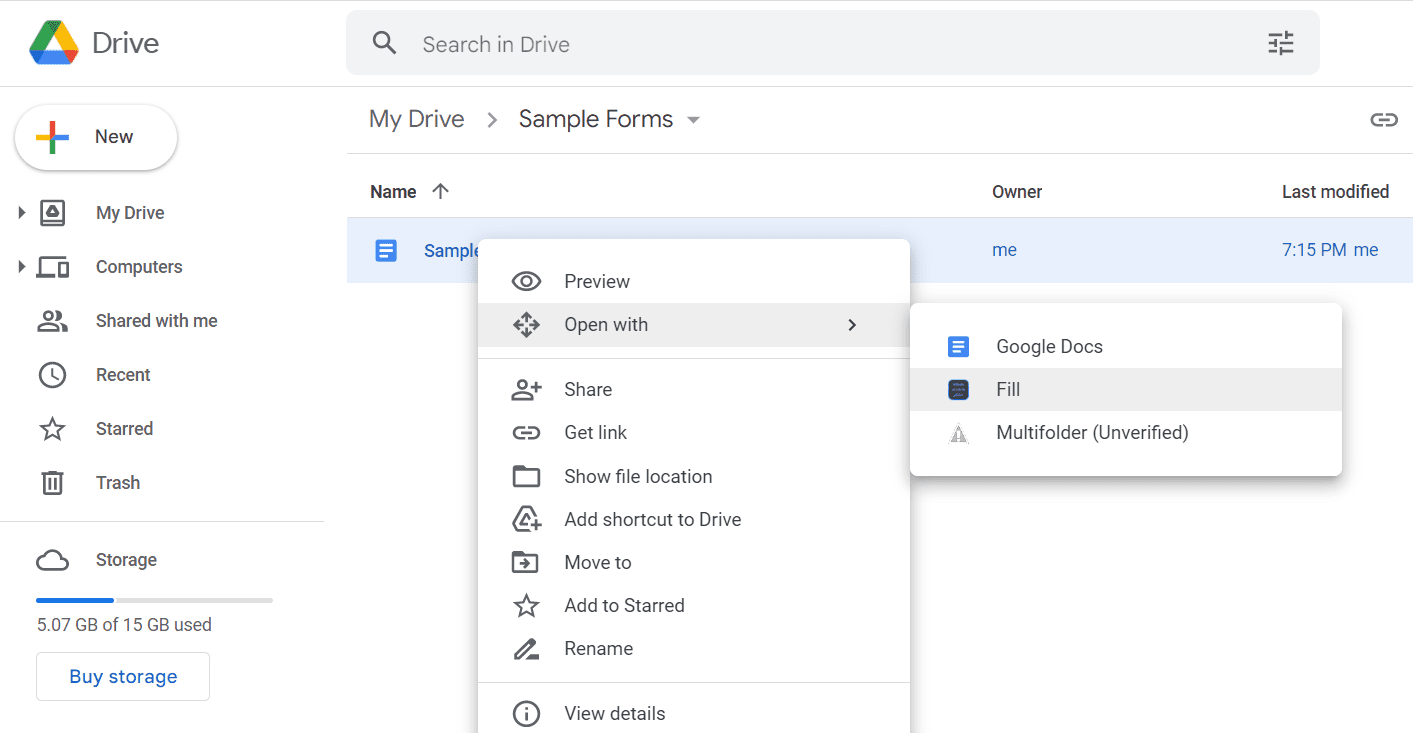 What Is Google Workspace?
Google Workspace makes working as a team easier. Formerly called G Suite, it's a set of business apps that allows you to create, manage, and share documents. It has everything you need to automate administrative tasks with plenty of customization options.
But what if you need to sign a document in Google Workspace? There's no need to switch between two or more independent apps and go through the trouble of transferring files back and forth. All you need is a Google business account.
How to Add Signatures in Google Docs, Sheets, and Drive
Using the apps in Google Workspace, you can sign and send documents online by following these steps: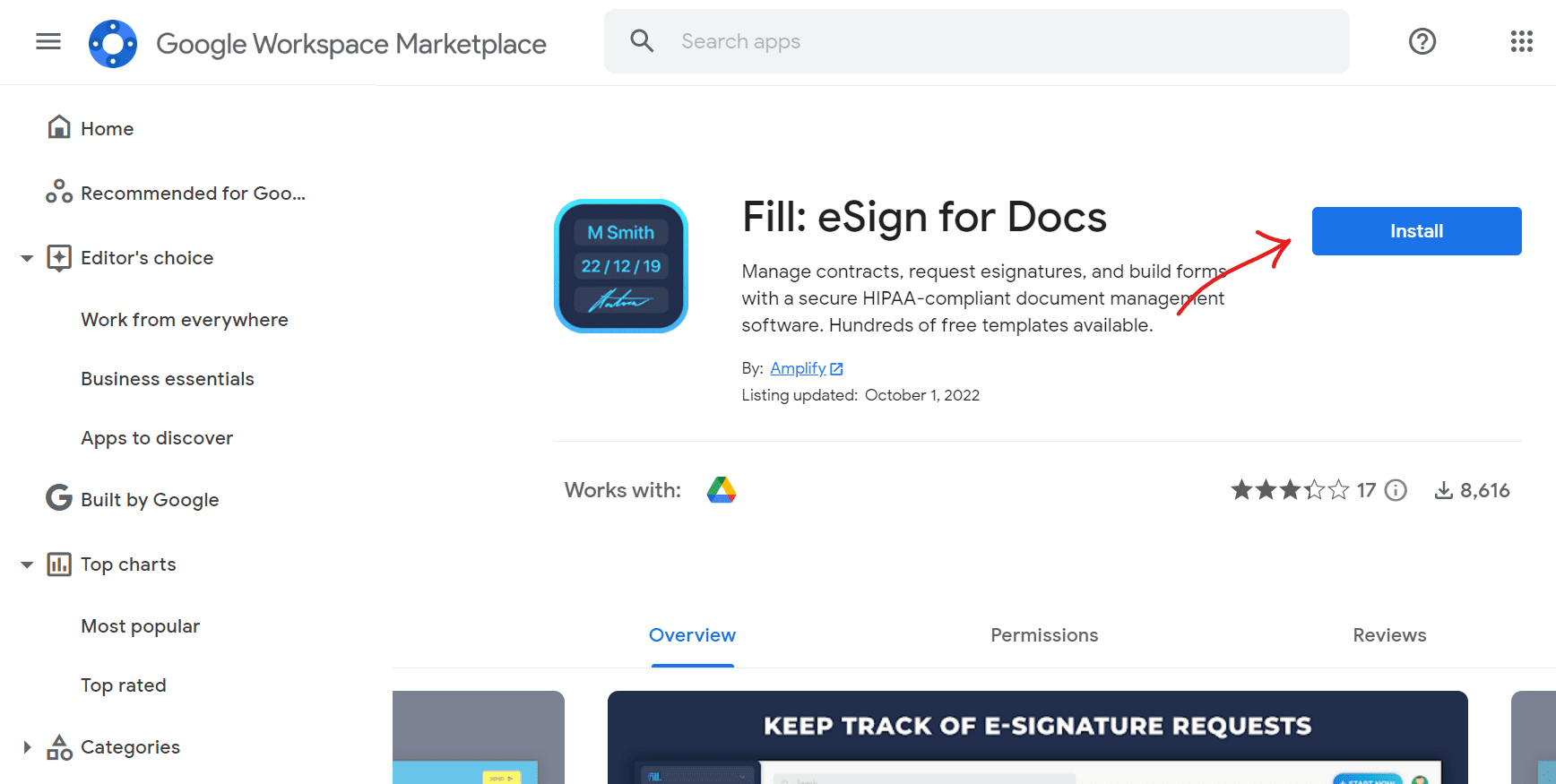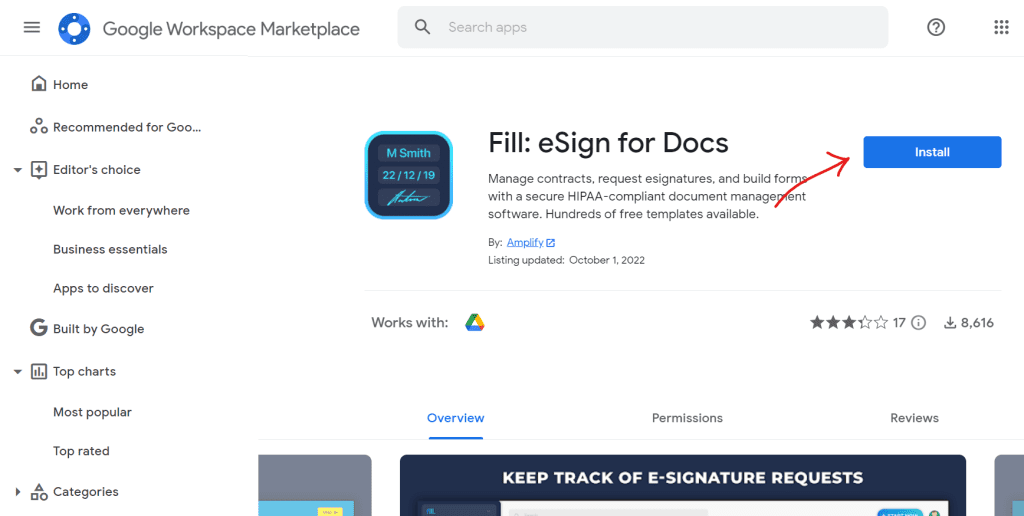 Install Fill for Google Workspace eSignature add-on
Option 1
Log in to your Fill account. Go to your web dashboard.
Go to Tool > Integrations & API.
Click Google Workspace. The option should direct you to Fill's listing page on Google Workspace Marketplace.
Click Install.
Click Allow to enable access permissions.
Option 2
Log in to your Google account and launch Google Drive, Sheets, or Docs.
From the side panel, click + Get add-ons.
Type "Fill: eSign for Docs" on the search bar and hit enter.
Click the add-on to view the listing page.
Click Install > Continue.
Once you see a dialog asking for permissions, click Allow.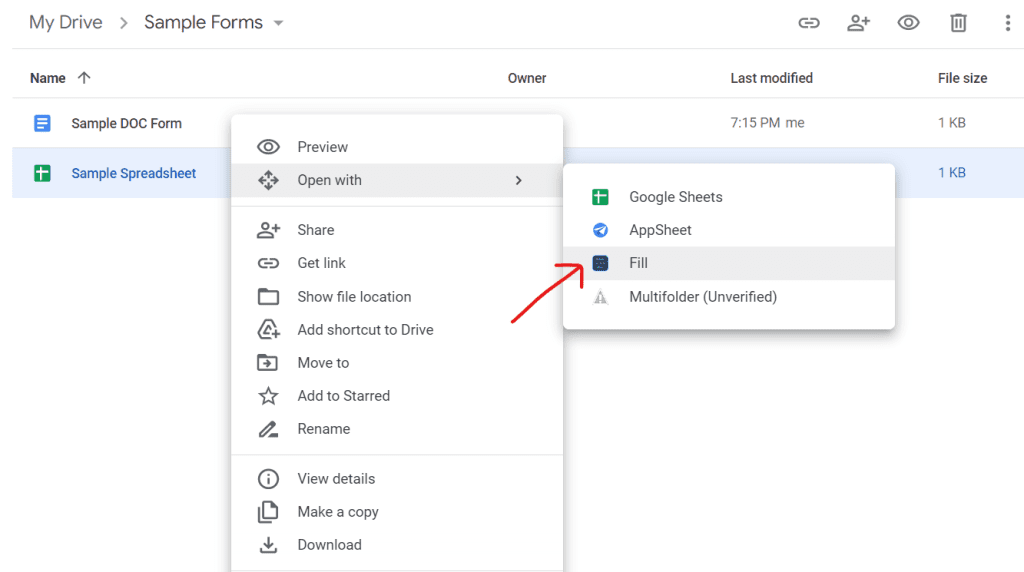 Use Fill to sign documents in Google Drive
Open Google Drive.
Scroll through your list of files.
Select a document that you wish to sign. It can be any document that you can open on Google Docs or
Sheets. You can also sign fillable forms and agreements in PDF format.
Right-click on the document you selected.
Select Open With, then choose Fill.
Note: Selecting the Fill option will automatically take you to our web dashboard. You can use the same Google account to sign in.
Benefits of Google Workspace Document Signing
Signing documents directly on Google Workspace offers plenty of advantages. Here are some of them.
Enjoy unlimited access
You can view and revise all your documents in the cloud regardless of your device or browser. As long as you can access Google Workspace, you can effortlessly affix your signature to any form or agreement. You can also have signatories sign your documents on their PC, Mac, Android, or iOS devices.
Since you can do business round the clock, it's possible to close deals ahead of schedule. Plus, there's no need to be physically present to sign legally binding contracts. You can also share signature requests via email or have your recipients download a copy via the link.
Share and migrate data securely
Google uses robust measures to safeguard data against cyber attacks. Aside from two-factor authentication, Google Workspace apps can intelligently detect unusual login activity and data-sharing behavior. This way, you immediately block potential threats and ensure a smooth signing experience.
Besides, by integrating Fill, you can implement additional security measures like signer identity verification and 256-bit encryption. You won't have to go to great lengths to ensure the safety and privacy of your legally signed forms.
Save time, effort, and money
As Google Workspace apps are available online, you don't need to sign forms and agreements by hand. Not only does it save you time, but you can also cut down on operating costs. You can completely go paperless and offer a more sustainable document-signing solution.
With less time spent signing, you can focus on completing projects with profitable returns.
Make Google Workspace eSignature Work For You
Skip the paperwork and get your documents signed directly on Google Drive, Docs, and Sheets. With Fill, you can add signatures to forms, agreements, and PDFs quickly and effortlessly. It's a convenient way to formalize transactions and ensure the legitimacy of a deal.
With our intuitive eSignature app, you can:
Convert scanned signatures into digital signatures.
Request for signatures remotely.
Edit, manage, and eSign documents as a team.
Prefill a signature field automatically.
Monitor signing progress in real time.
Want to approve documents on time without being tied to a physical office? Download Fill from the Google Workspace Marketplace and experience the convenience of eSigning documents without boundaries.
Need help setting this feature up? Complete this form, and a member of our support team will get back to you.