A contract is the written form of an agreement between two parties. Every deal or transaction involves some form of documentation, whether it's a vendor contract or a complicated merger agreement.
Clear and concise contracts for business are essential to the success of any venture or partnership. This beginner's guide will show you how to write business contracts that are legally binding.
Business Contracts 101
What Is a Business Contract?
A business contract is an agreement between two or more individuals or organizations in which each party agrees to do something in exchange for something else of value. The purpose of a business contract is to establish clear and mutually beneficial terms that can be enforceable in a court of law.
Contracts can be used for a wide variety of purposes:
buying or selling goods or services
hiring employees
leasing property
forming partnerships
It is always best to have a written contract that clearly sets forth all the terms and conditions of the agreement. Having a well-drafted contract can help avoid misunderstandings and disputes down the road.
Key Elements of a Business Contract
To make a strong and enforceable contract, these key elements must be present.
1. Offer
The offer identifies what the first party is willing to provide — a product or service — to the other party. For example, if you are hiring a web design agency, the offer would include the components of the website and the price.
2. Consideration
Each party must receive something of value for a contract to be binding. In legal terms, they call this bargained-for-exchange. To continue with our example of a web design contract, the designer would receive payment for their services. Meanwhile, the client would get a new website designed to their specifications.
3. Details
These are essential to any contract. The details should spell out exactly what is expected of each party and what will happen if the contract terms are not met. For example, the contract for web design must include:
timeline for completion
milestones for payment
penalties for late delivery
Competency
Both parties must be legally capable of entering into a contract. Specifically, they must be of legal age and sound mind.
A contract is invalid in these circumstances:
One of the parties is a minor (someone under the age of consent)
An individual is intoxicated at the time of signing the contract
A signatory lacks the mental capacity to enter into a legal agreement
Acceptance
It means that both parties agree to all the terms and are willing to be bound by them. Each party is prepared to do whatever is expected based on the responsibilities outlined in the contract. Each party also voluntarily accepts the terms and conditions.
Once both parties have signed the contract, it is considered valid and legally binding.
Types of Business Contracts
There are five primary types of business contracts. Each type of contract serves a specific purpose and should be tailored to the needs of the parties involved.
Non-disclosure agreement (NDA)
NDAs are common in business relationships where one party may have access to trade secrets or proprietary data. Here, two parties agree not to share confidential information about a project or venture.
Partnership agreement
Partnership agreements typically outline the roles and responsibilities of each partner, as well as how profits and losses will be divided. These usually involve equals. However, there are situations where a subordination agreement is necessary, when one party is superior to another.
Indemnity agreement
Here, one party promises to compensate the other for any losses incurred due to their actions. Indemnity agreements are often used in business relationships where one party may be liable for damages caused by the other party.
Property and equipment lease agreement
It's a contract in which one party agrees to lease a space like office or machinery such as trucks from the other party. Leases are common in businesses that require specialized equipment, such as restaurants or construction companies.
Employment contract
Employment contracts typically specify the duties of the employee, the salary, and the length of the employment term. An independent contractor agreement can also fall in this category as the contractor will render service to a company or employer.
How to Write a Business Contract
Writing a contract requires using clear and unambiguous language to describe legal matters. People often consult lawyers when executing this document.
Sounds intimidating? Don't worry.
Fill makes it convenient to write an effective contract with its platform. You don't need to create one from scratch. Instead, you can customize a template from the Fill gallery.
To get started, visit Fill to register for a free account. Upon completing this step, you will see the main dashboard. You'll be asked to choose from the following options:
Use a template
1. Click Templates under Tools. It's in the left panel of the dashboard.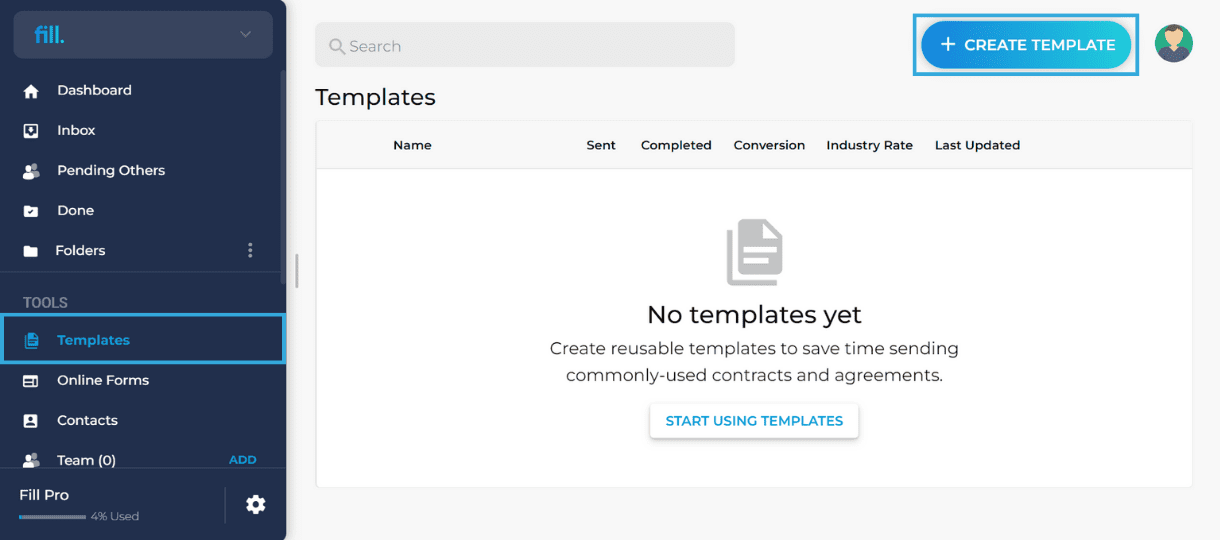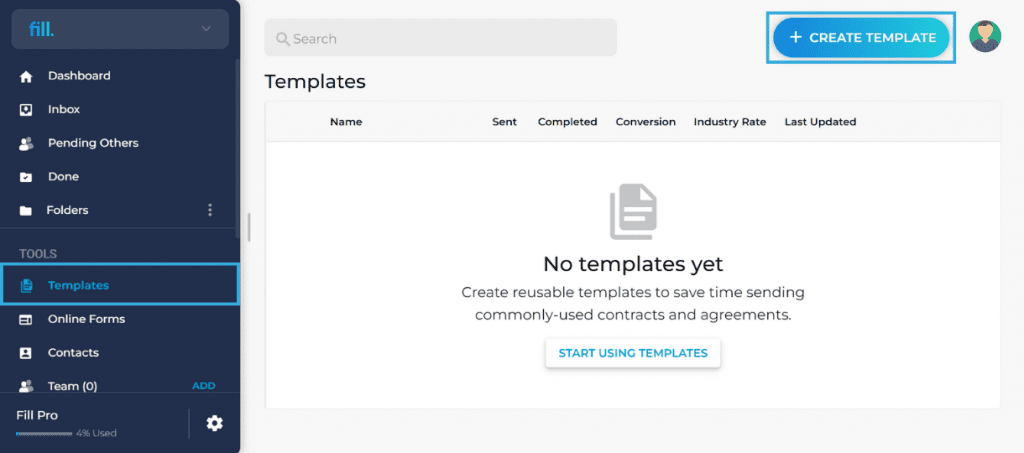 2. Click Create Template on the upper-right of the dashboard. A drop-down menu will appear. Select From Template Gallery.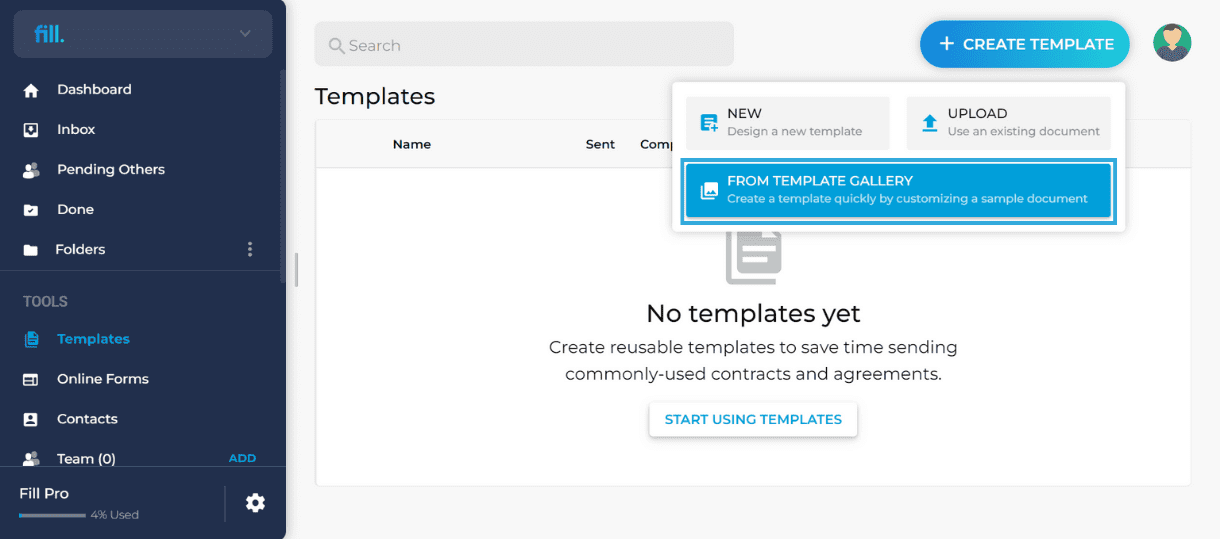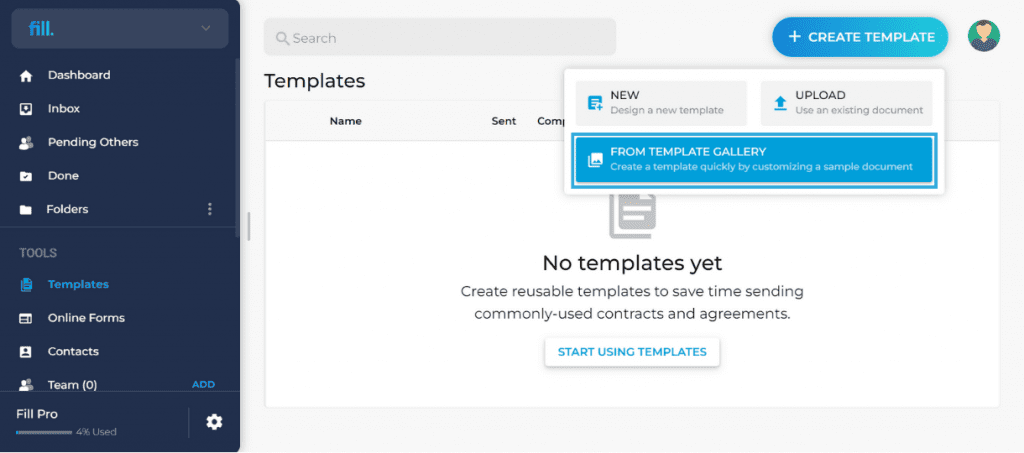 3. A window will display the available templates in the gallery. Choose the Business category and select the agreement you want to edit.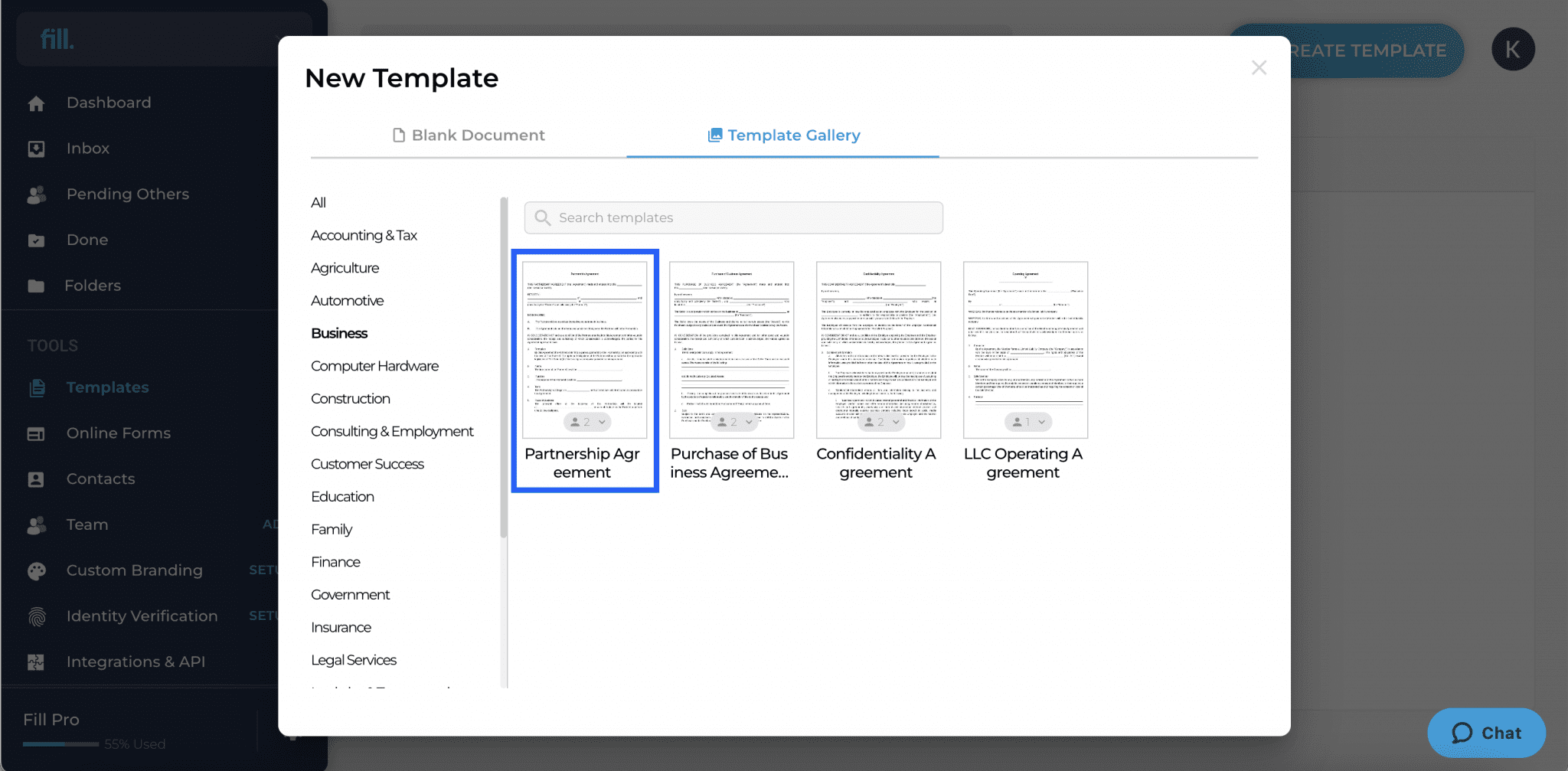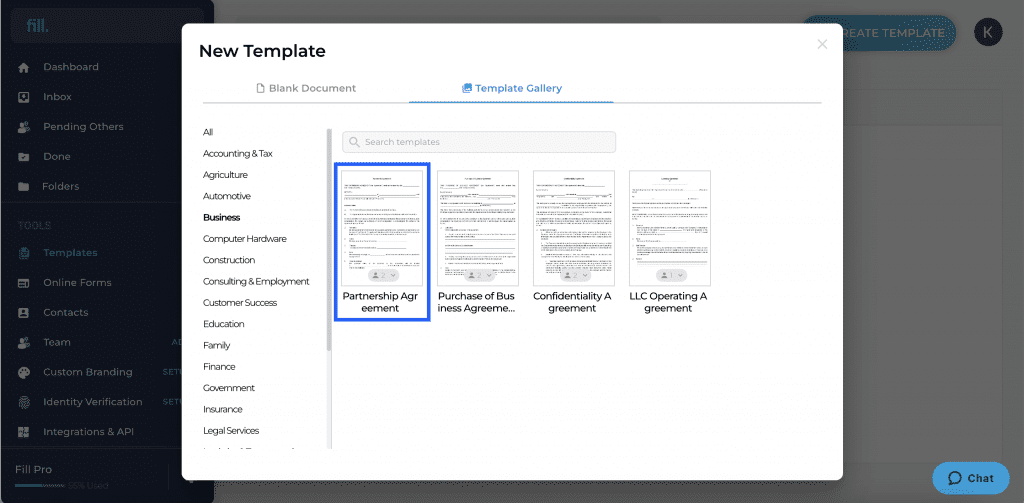 4. Let's use one template as an example. Click Partnership Agreement, then edit the fields. You can change the text or move the fields in the template according to your needs.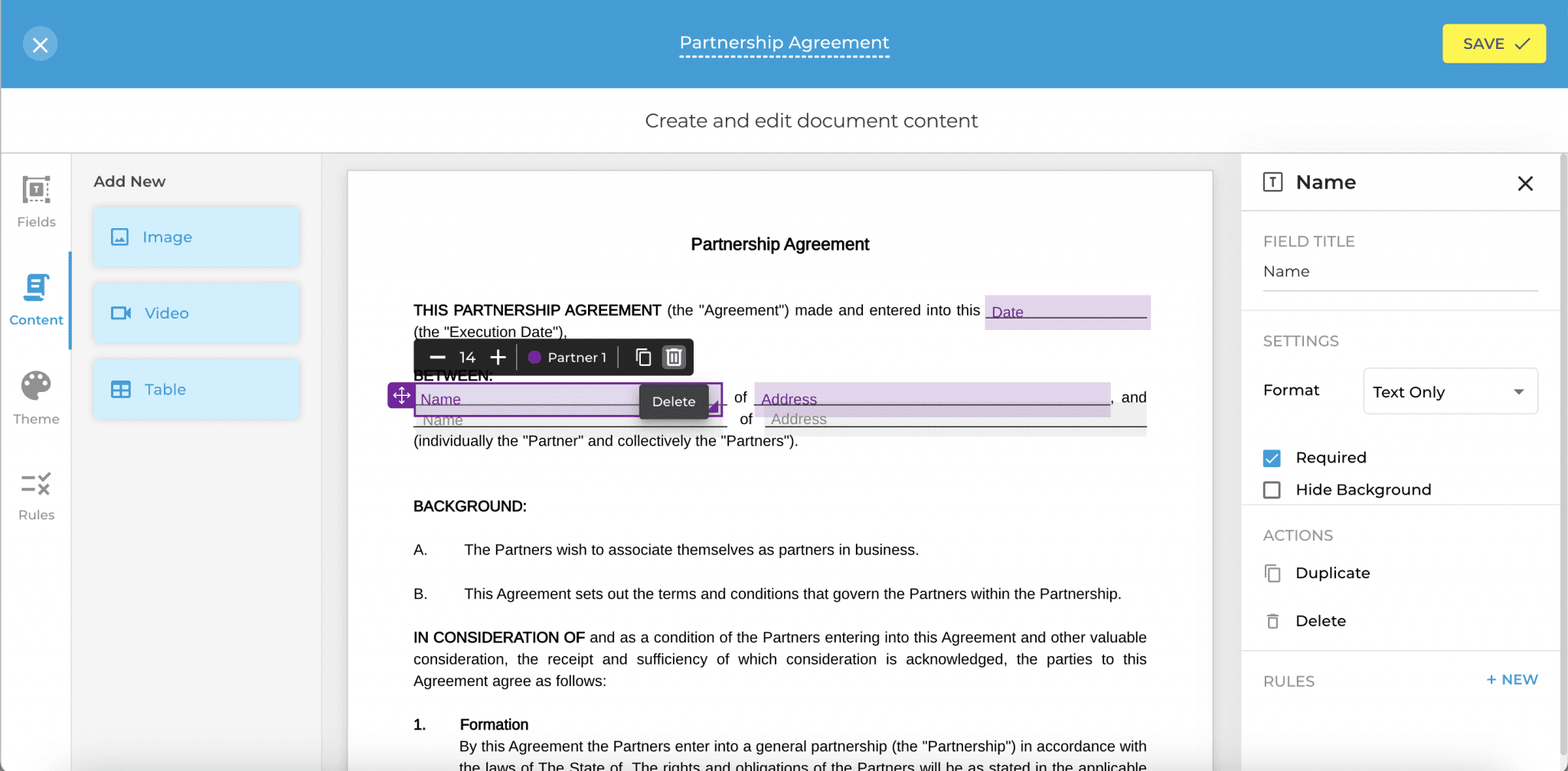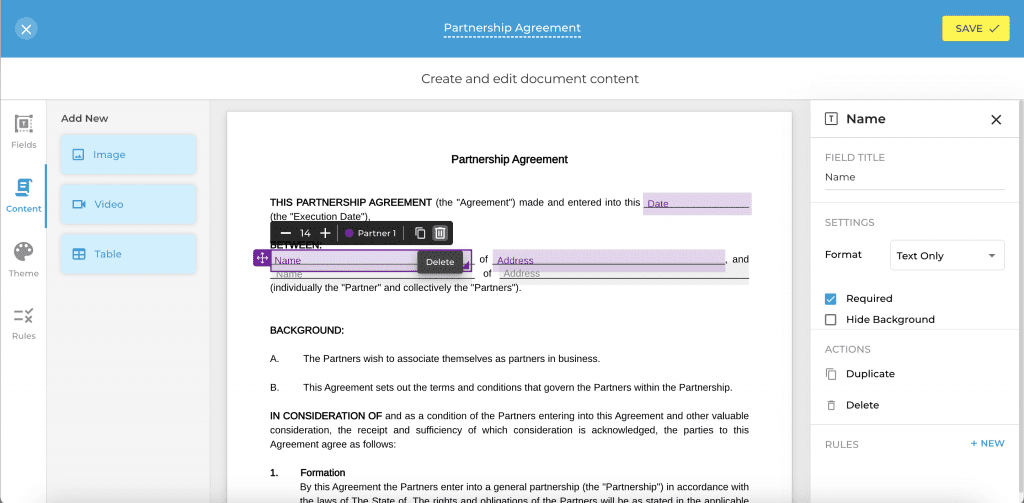 5. Once you're done, click Save.
Create a new contract from scratch
If you want to create a business contract from scratch, Fill makes it easier for you to do so without the coding and formatting. Just drag and drop elements or type in the blank page.
Follow these steps:
1. Click Online Forms under Tools, located in the left panel.
2. Click Template, then select New.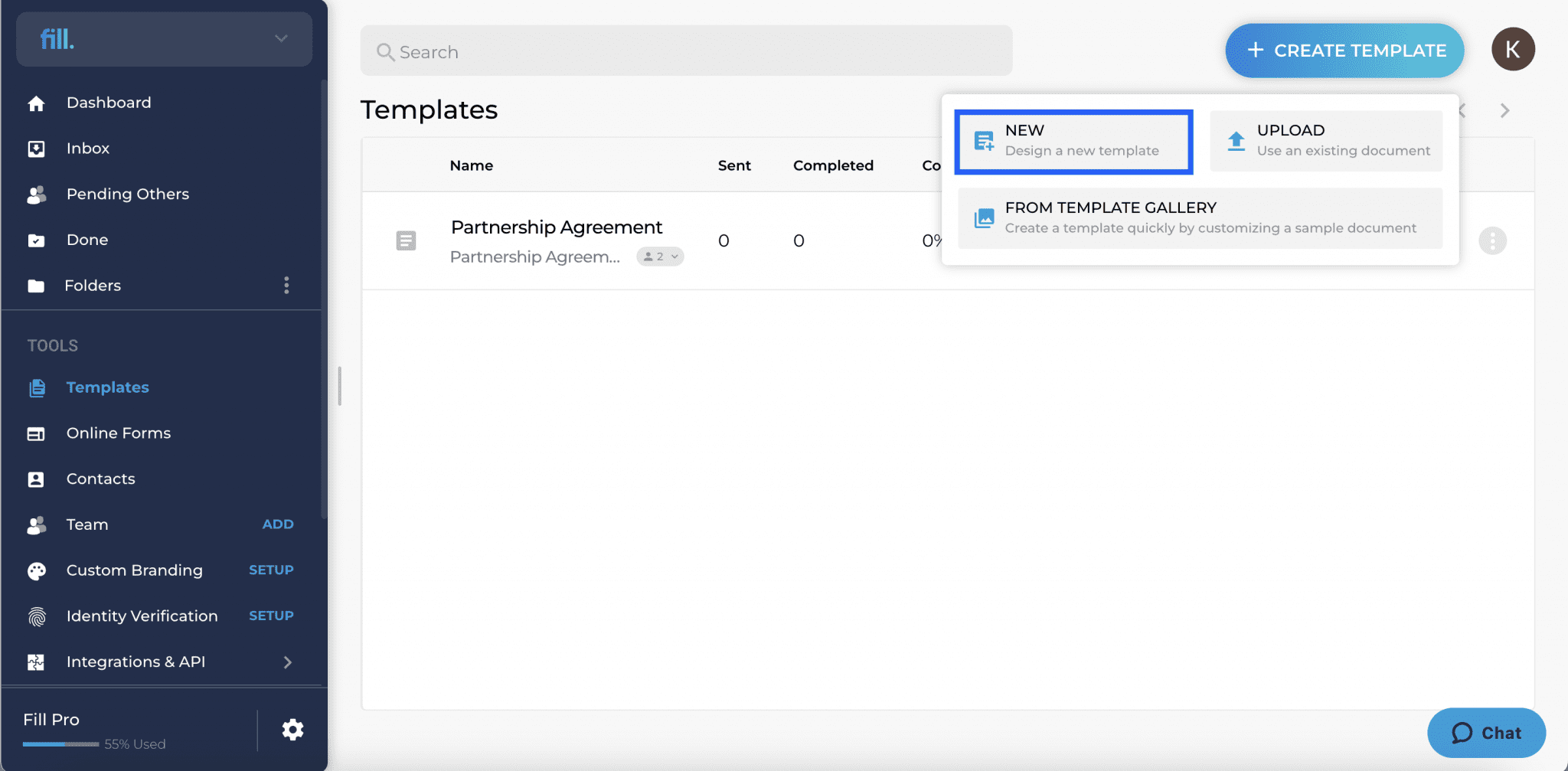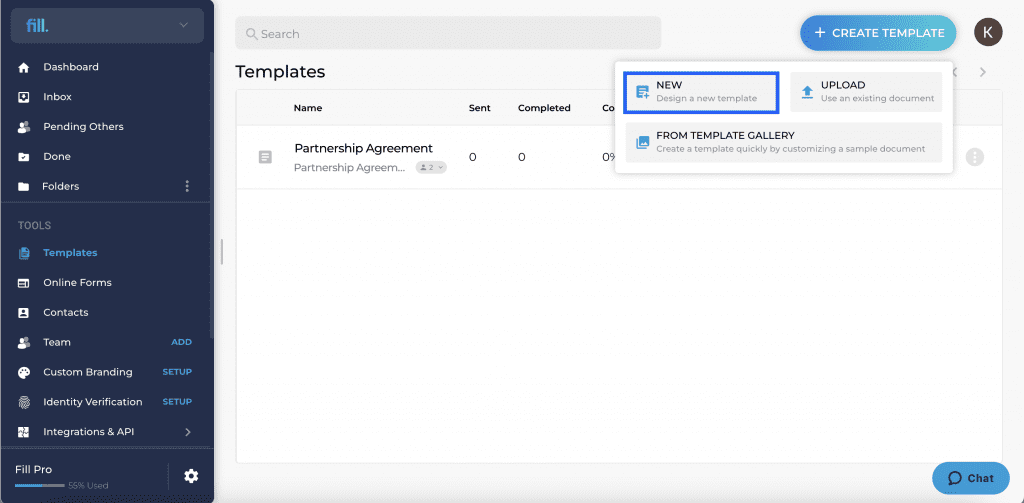 3. Type "business contract" in the New template window. Label the template and click Next. You will be directed to a blank template.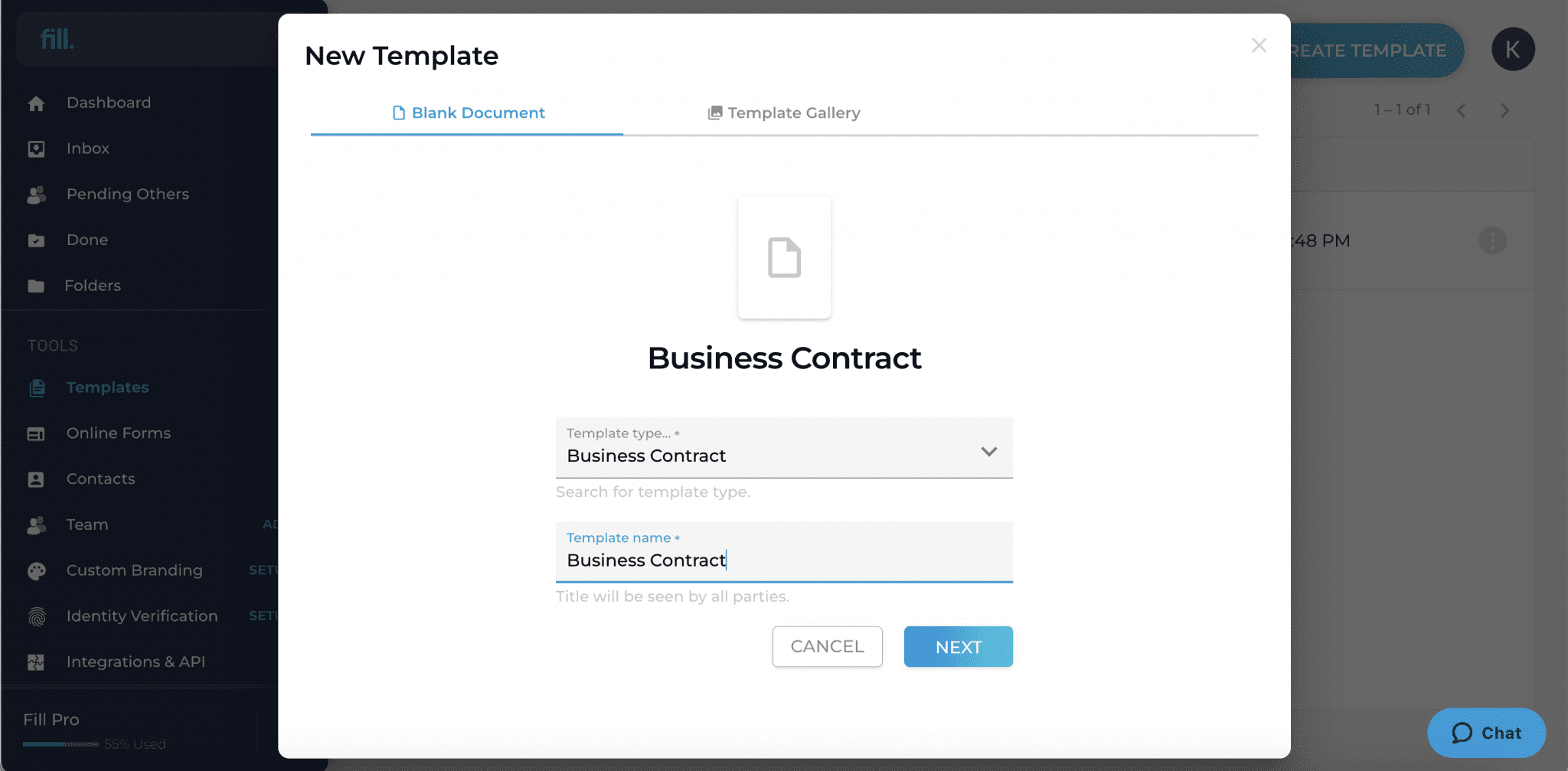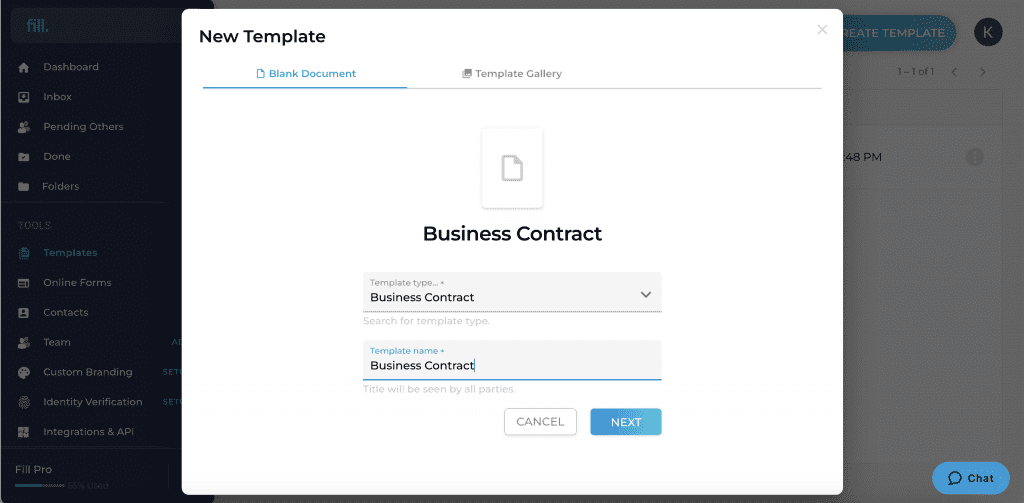 4. Choose from the elements on the left panel. Drag and drop the fields you wish to include in the template.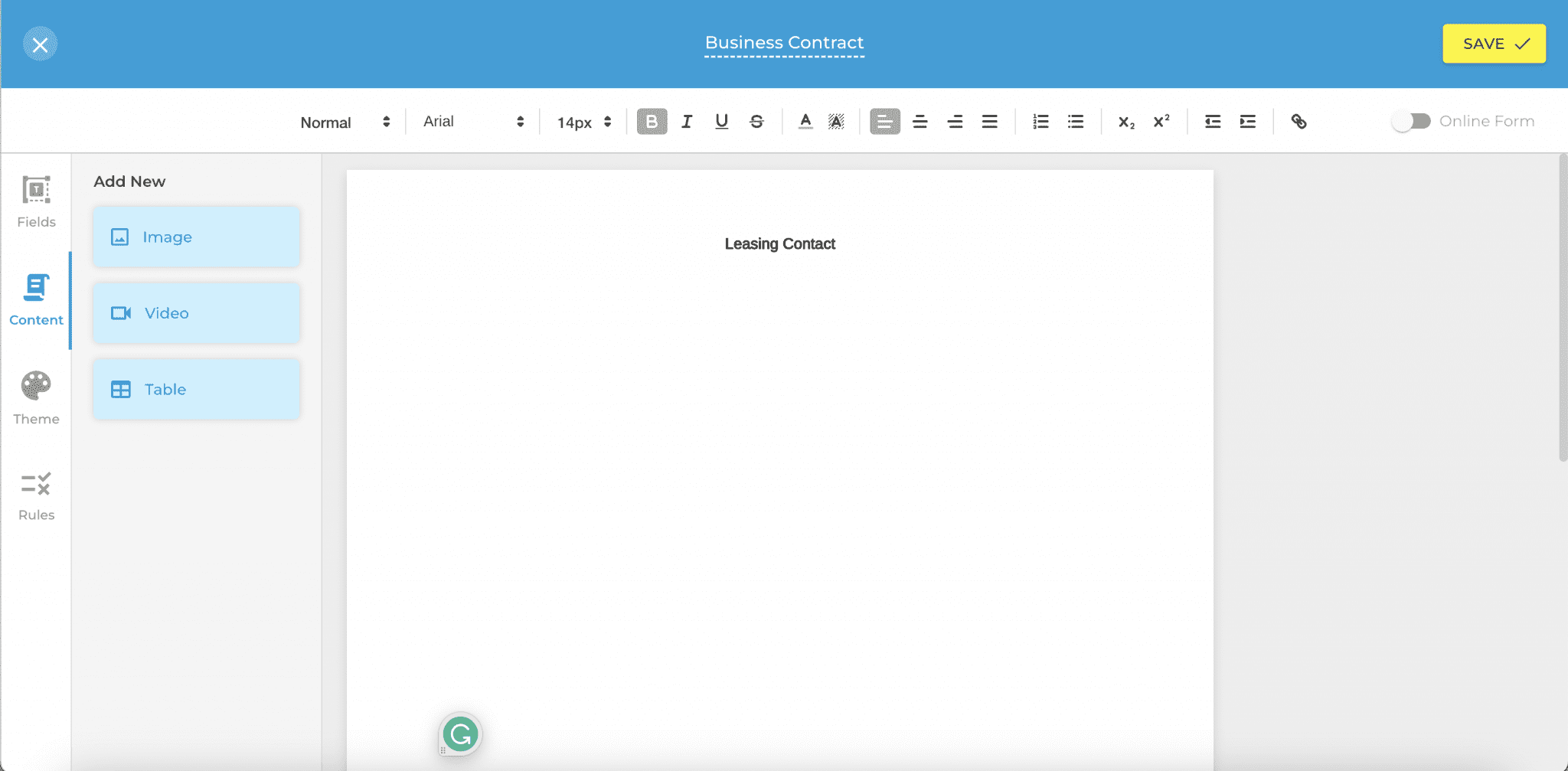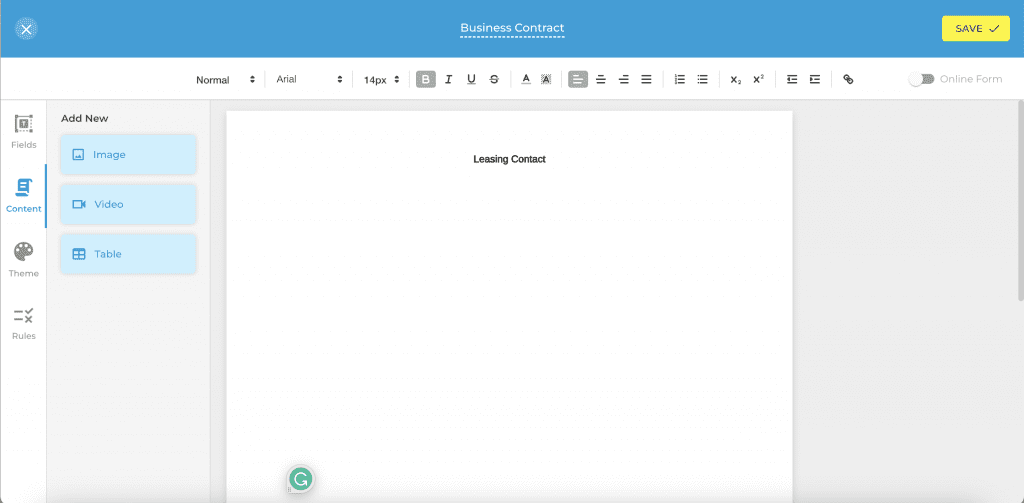 5. Once you are satisfied with the contents of your contract, click Save. You will be directed to the main dashboard, where a pop-up box will appear. Click Got it!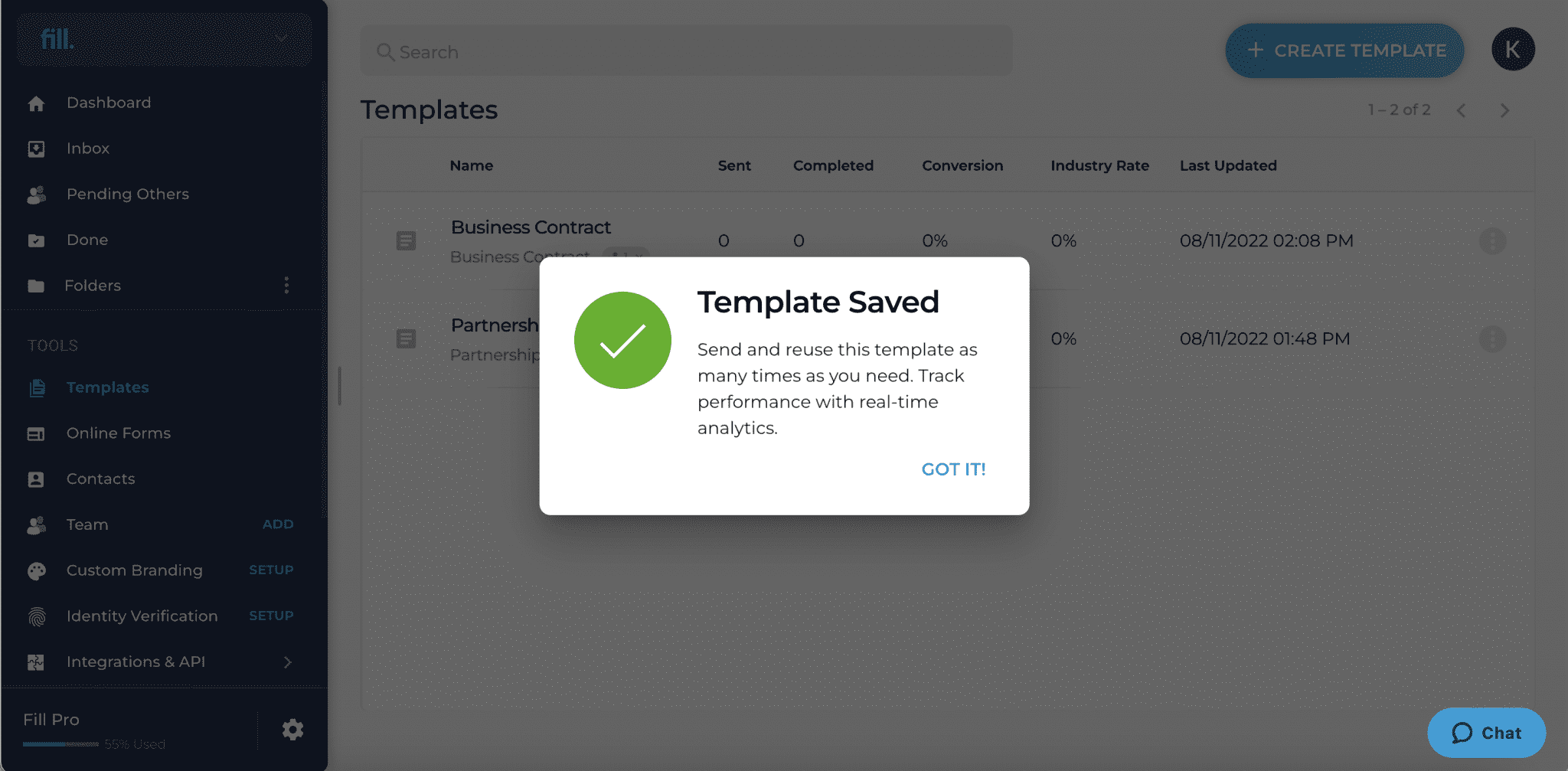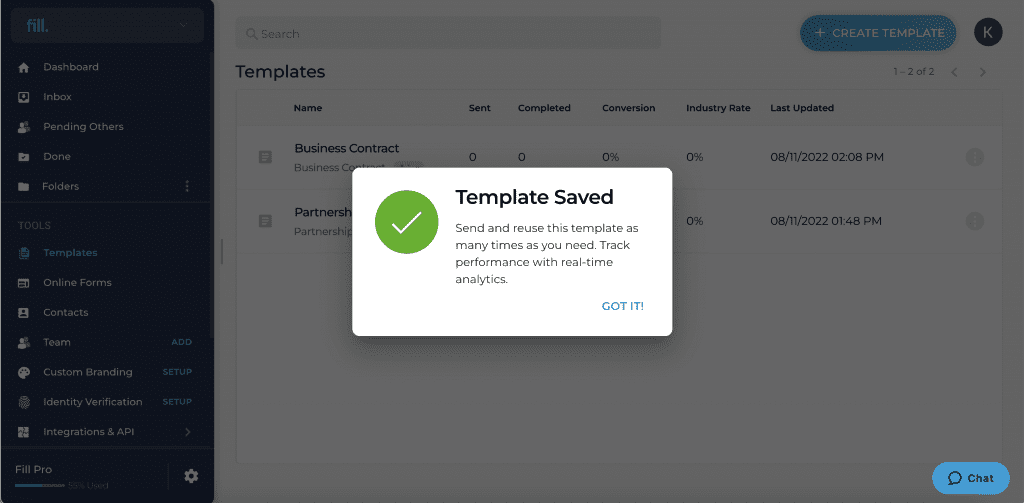 The contracts you create are automatically saved as templates. Whenever you need to send another one, simply reuse the template.
Expedite Contract Signing With Fill
Fill isn't just a contract generator. Once you have completed creating contracts for clients, you can also request signatures online from up to three signers. Send the shareable URL via email to the recipients, and they can sign the contract without creating a Fill account. That's how simple it is.
You can also set due dates for the recipients to make sure they sign it on time. The recipients will see this immediately once they open the email notification from Fill.
Try Fill today and be amazed at how easy it is to create a contract, attach your electronic signature, or request one from other signers. Account setup is totally free.
Millions of entrepreneurs are already using it. See for yourself why Fill is a must-have tool for your business.