Confidentiality is a crucial aspect of doing business. Not only does it keep your trade practices safe, but it also fosters customer trust and loyalty. If you need to share proprietary information with a business partner, supplier, or employee, you need to ensure that you are protected.
There are legal steps you can take to maintain business confidentiality. One is signing a non disclosure agreement or NDA.
This article will cover the entire process for both the NDA issuer and signer. You will also learn how to sign an NDA using electronic signatures. Let's dive in.
Table of Contents
What Is a Non disclosure Agreement?
A non disclosure agreement is a legally binding document between two or more parties to keep specific information private. Also called a confidentiality agreement, this contract ensures that all parties do not misuse proprietary information. For example, this contract prevents ideas from being copied or stolen by competitors.
NDAs can cover:
Trade secrets Business ideas
Ongoing developments
Product designs
Customer lists
Anyone who wishes to maintain secrecy can enforce an NDA. Disclosing details about business deals as well as the nature of the association can lead to legal consequences, including hefty fines and even jail time.
What Are the Types of NDAs?
While you may use non disclosure agreements for a variety of reasons, they would usually fall under these categories:
Mutual non disclosure agreements
This type of agreement states that all contracting parties intend to share private information with each other. It is also called multilateral NDAs.
Non-mutual non disclosure agreements
Unilateral NDAs state that only one of the contracting parties will disclose details. The other party agrees to keep the information about their dealings confidential.
When Do You Need to Execute an NDA?
Generally speaking, you need a confidentiality agreement whenever you share valuable information. The document ensures that nothing gets leaked or used without permission.
There are countless instances where it's crucial to learn how to sign an NDA, such as:
Presenting a product or technology to potential customers or investors
Hiring employees whose responsibilities involve handling confidential data
Sending a product design for manufacturing or distribution
Receiving services from contractors who need access to protected information
What Do You Need to Include in an NDA?
Like any contract, a non disclosure agreement needs to include certain elements to make it valid. It's critical to specify the following details:
The parties involved in the agreement
Duration of the NDA
Key information you want to protect
How the information can be used
Restrictions on the use of the data provided
Statements that stipulate you retain ownership of intellectual property
Compensation or legal consequences if the contract is breached
Non disclosure agreements can be quite tricky to write. Make sure you use clear, unambiguous language to avoid confusion. You need to be precise to ensure that you are protected in the event someone divulges sensitive information.
Here's a sample NDA for your reference.
With Fill, you have the option to create contracts from scratch or use a non disclosure agreement template.
Here's how to use one of them:
1. On your dashboard, click Start Now.
2. Select New Template.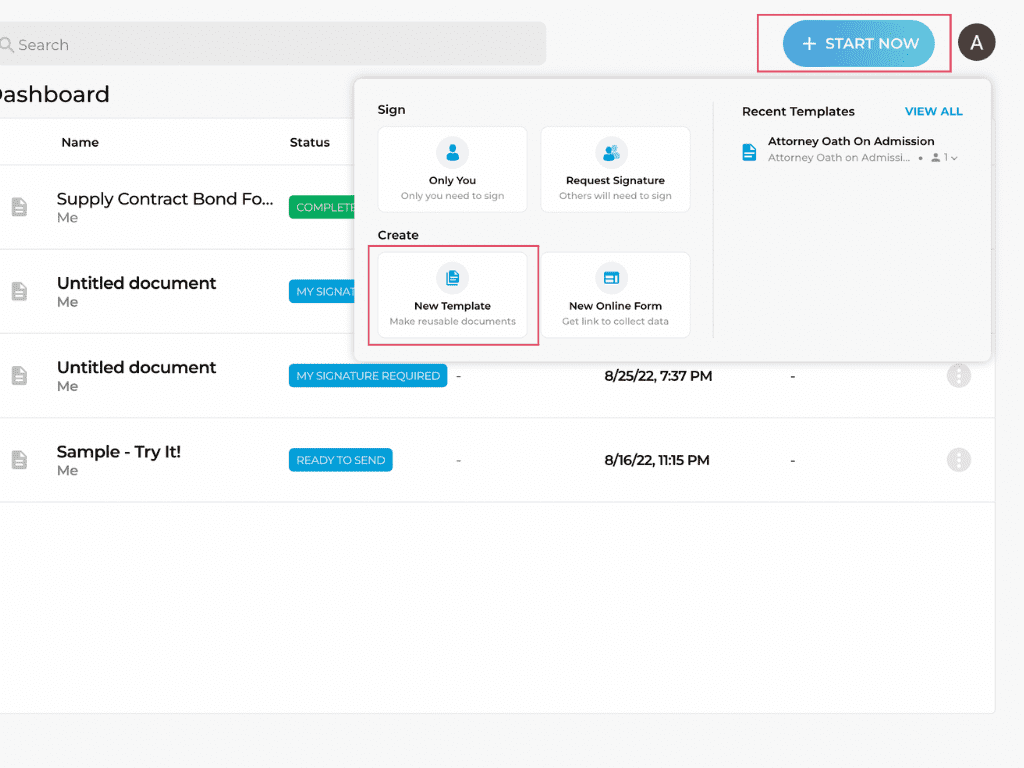 3. Go to the Template Gallery.
4. Type in Non Disclosure Agreement on the search bar.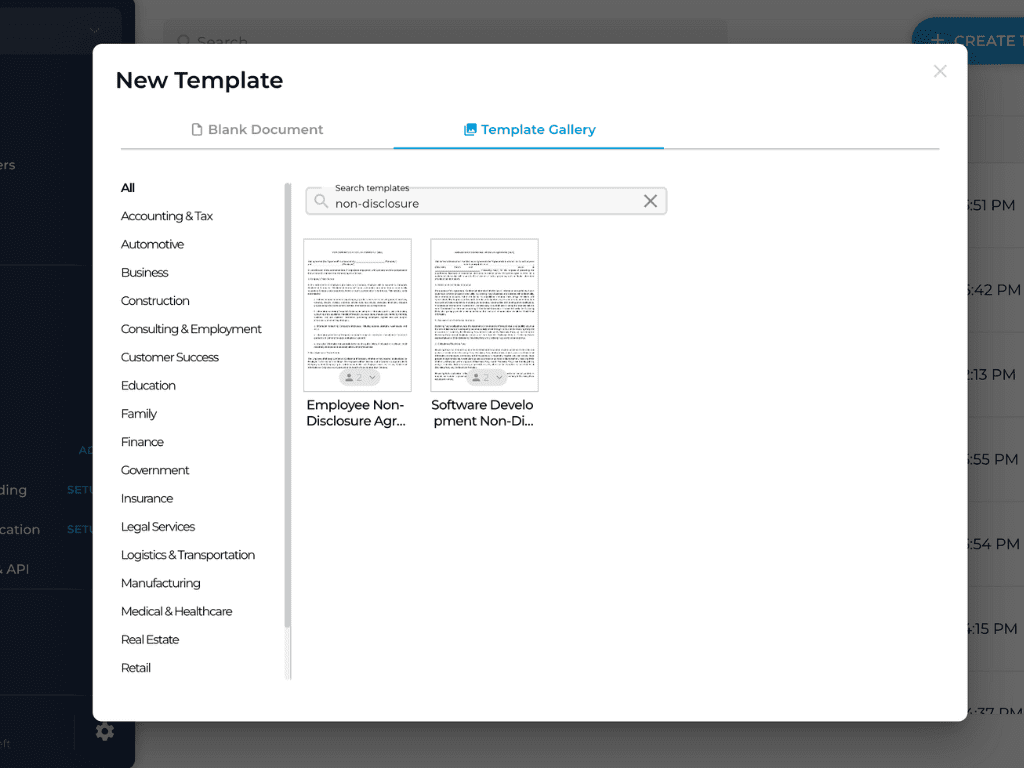 5. Choose from any of the options, then click Use Template.
6. Our templates are customizable. You can move the fillable fields around and change the field title.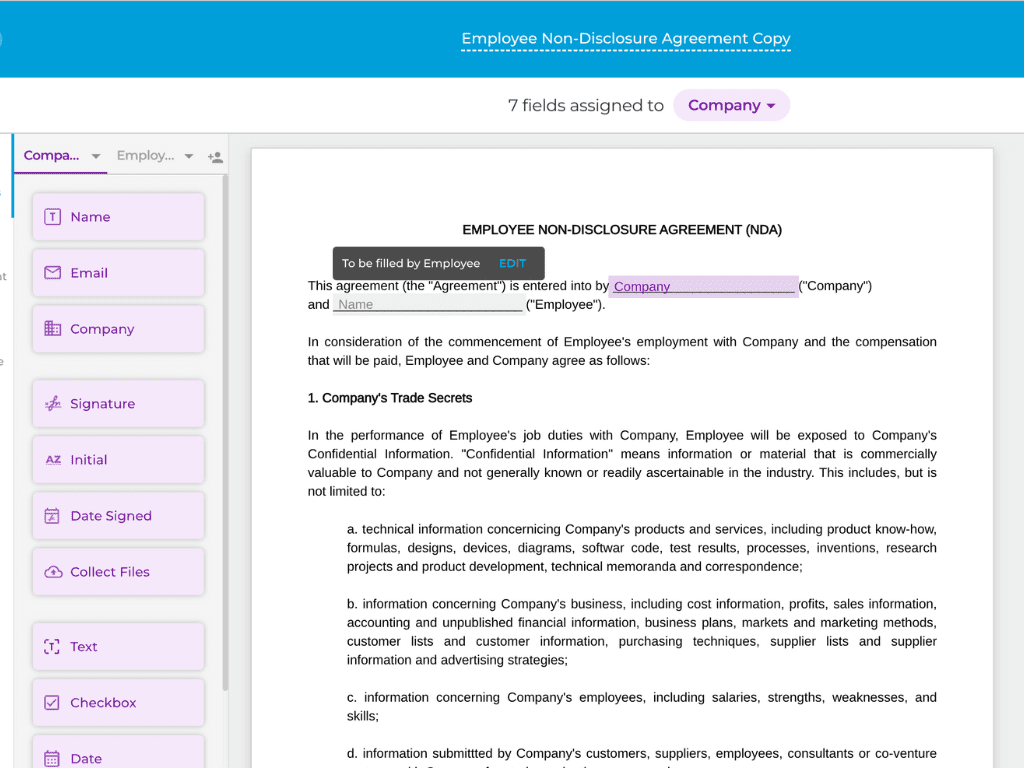 7. Once you're done, click Save.
What You Need to Consider Before Signing an NDA
What if you're the one being required to sign an NDA? Keep these considerations in mind before signing:
Read the agreement thoroughly. Make sure that there aren't any vague or ambiguous terms. If there are any, clarify it with the party enforcing the contract before you sign.
Understand the NDA's scope. The document should clearly indicate what information should be kept private and how to use it properly.
Determine the consequences if the NDA is breached. See to it that the corresponding punishments are fair and just.
Consider the timing of the NDA signing. Ideally, you should sign the agreement before the start of your service. If it's enforced late, there should be considerations to make.
NDAs do not apply to illegal activities, which you are obliged to report to law enforcement.
How to Sign an NDA Using an Electronic Signature
Back when paper-based contracts were the norm, signing an NDA involved multiple steps. Companies used to seek assistance from legal offices to facilitate the process. It could take a few weeks, especially if the parties were in separate locations. Documents had to be sent by mail, which was an added expense for everyone involved.
To speed things up and eliminate inconveniences, you can use electronic signatures to completely digitalize the process.
Here's how to sign an NDA using an electronic signature app. Let's use Fill as an example.
1. Log in to your account. If you don't have one yet, sign up for free.
2. On your dashboard, click Start Now.
3. Select Only Me. You may also select Request Signature if there are other parties who need to sign the NDA.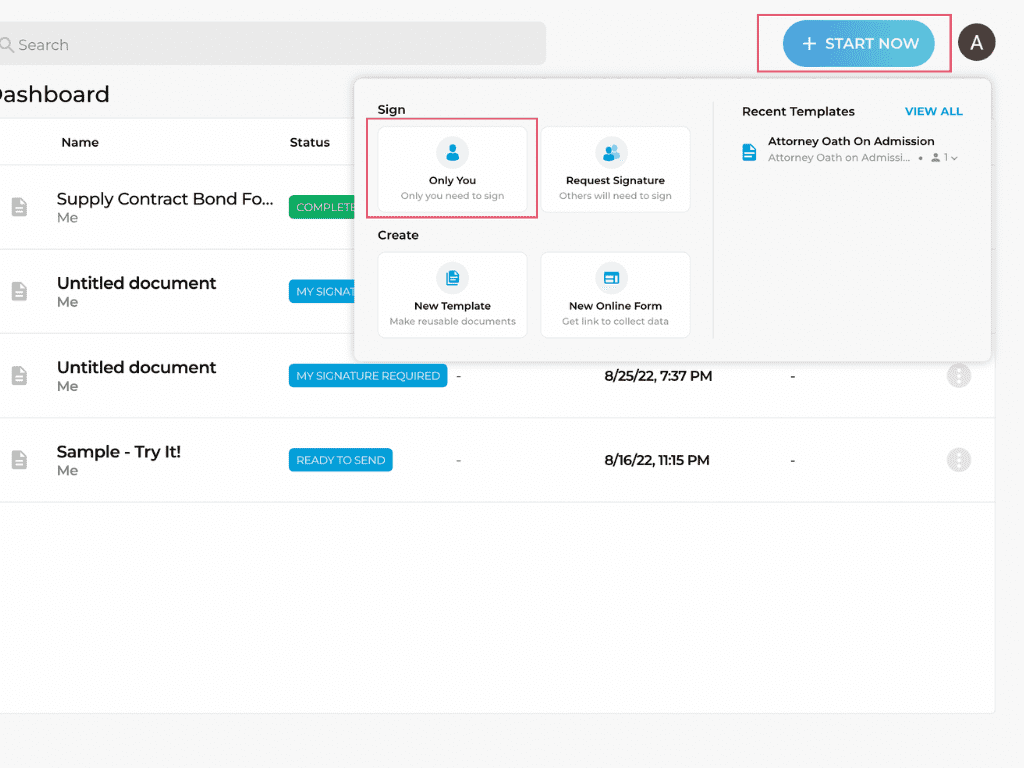 4. Upload the NDA to Fill. Simply drag and drop the document you wish to sign.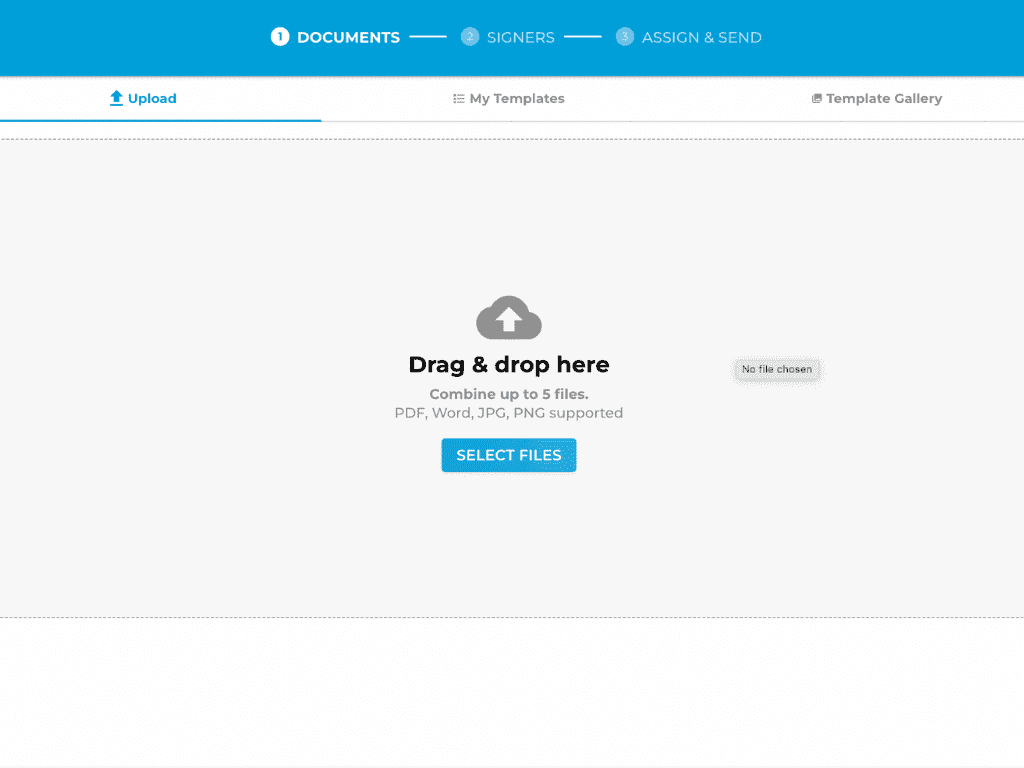 5. Click Insert Signature.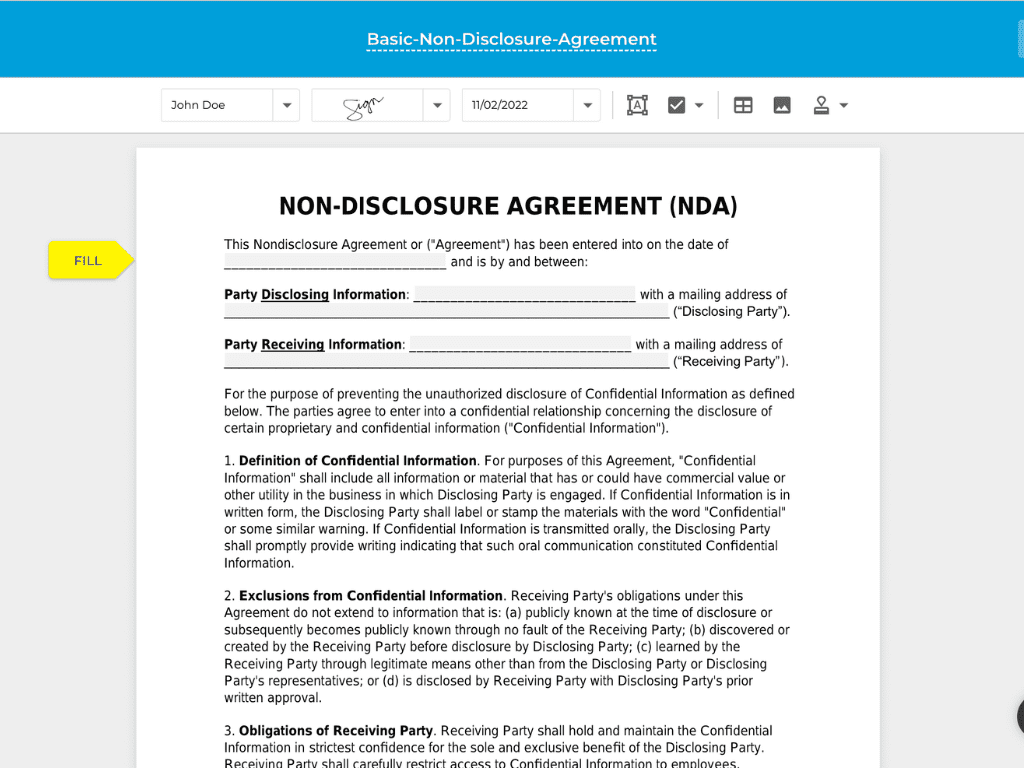 6. You can sign the NDA in three different ways: typing, drawing, and uploading a digital copy of your signature. Select the option that's the most convenient for you.
7. Move the signature to its appropriate place. You may also resize it if you wish.
8. Once you're done, click Save.
9. To download the signed copy, simply go back to the dashboard and click the hamburger icon found on the right side of the document. Select Download PDF.
It is perfectly safe for you to use electronic signatures when signing NDAs. Many countries deem electronic signatures legally binding and enforceable. But of course, you need to ensure that all requirements are met.
Protect Your Intellectual Property With Fill
Fill can make a dramatic difference when it comes to the way you manage documents, including how you execute NDAs.
Our intuitive platform makes it more convenient to access and sign documents online using any device. You will also have an easier time reviewing the terms and clarifying details. Thanks to our free customizable templates, it takes a fraction of the time to prepare agreements for online signing.
Fill also allows you to send signature requests within minutes. You may even customize the email notifications your signatories will receive with our custom branding feature. Simply add your logo or change the color scheme to match your branding.
Our real-time notifications and audit trail let you to track the progress of your non disclosure agreements. You'll be able to see who has signed it and who hasn't. Fill also complies with various standards and regulations, like HIPAA, GLBA, and GDPR. We use robust security measures such as encryption and signer ID verification to ensure the safety of your data.
Download our mobile app today. It's available on iOS and Android for free.