Launching a new design project is always exciting. Whether you're working as a freelancer or part of an agency, make sure you don't miss this key step: creating a graphic design proposal.
A good design proposal will give your client all the information they need to make a decision about working with you. It should outline your process, showcase your previous work, and detail your costs.
In this article, we'll show you how to write a persuasive graphic design proposal that will get you the job.
Table of Contents
What Is a Graphic Design Proposal?
A graphic design proposal is a document that outlines the timeline, budget, and services needed for a project. It is created by a designer or an agency for a client.
Proposals can vary significantly in length and complexity. However, they usually include:
an overview of the project
an explanation of the design process
timeline
estimated costs
contact information
work samples
Why Do You Need a Graphic Design Proposal?
Professional graphic designers and agencies use proposals to win new clients and projects. The goal is to persuade the client that your services are the best option for their needs.
A well-crafted proposal can make the difference between winning a project and losing out to another designer. When creating a proposal, it's essential to be clear and concise while still providing enough details to give the client confidence in your abilities.
How to Make a Graphic Design Proposal Online
Fill provides a convenient way to create a proposal online with your laptop or PC. It's compatible with any browser and computer running Windows and iOS. You no longer have to write one from scratch because there are templates available in Fill's gallery.
Customize a proposal template
1. Click Templates under Tools. You can see this in the left panel.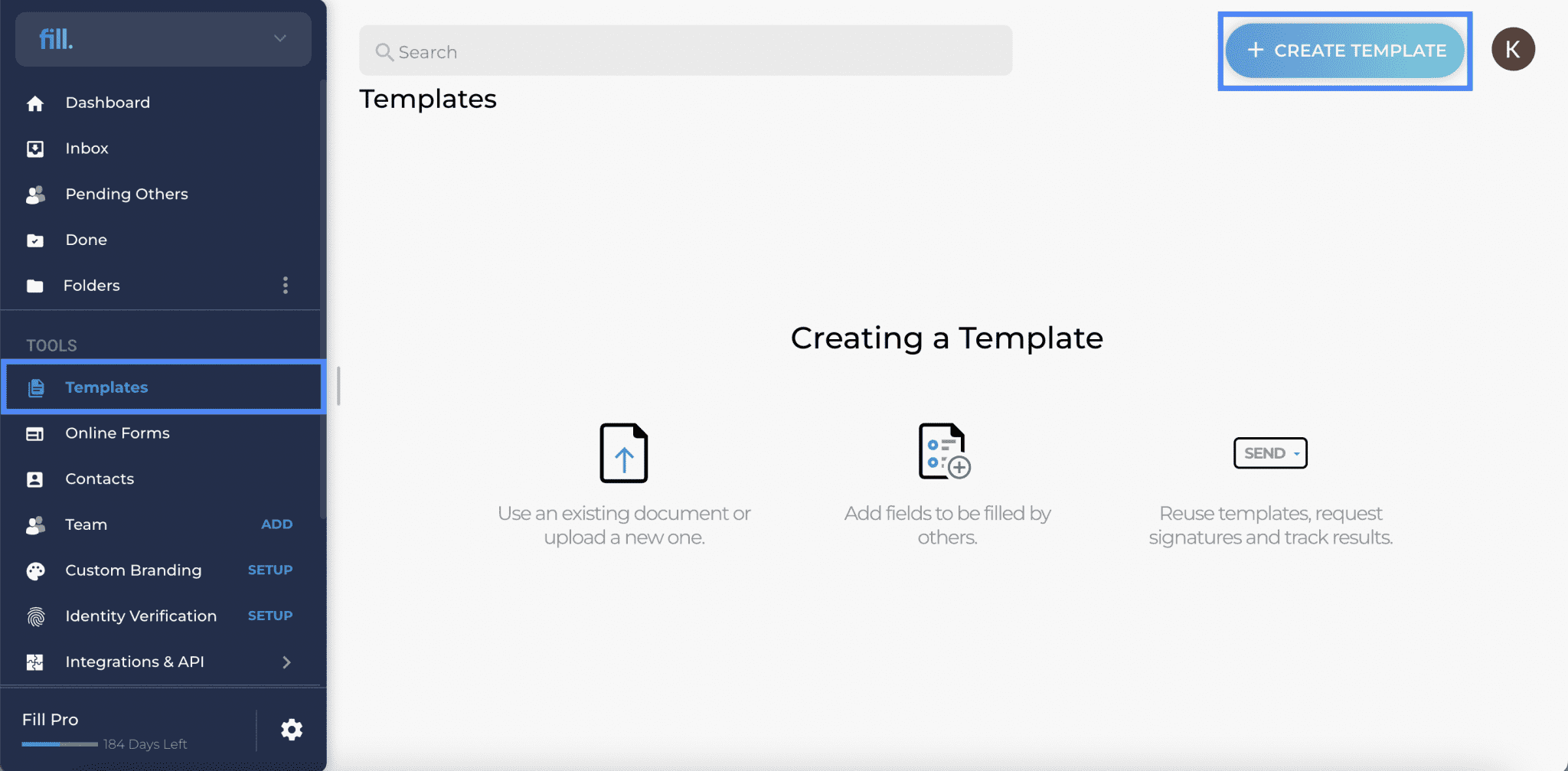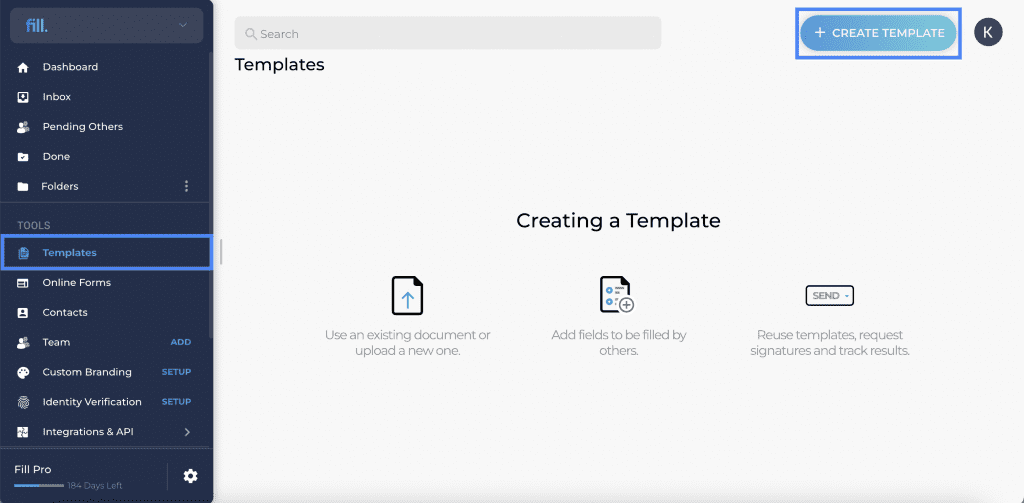 2. Click Create Template on the upper-right of the dashboard. A drop-down menu will appear. Select From Template Gallery.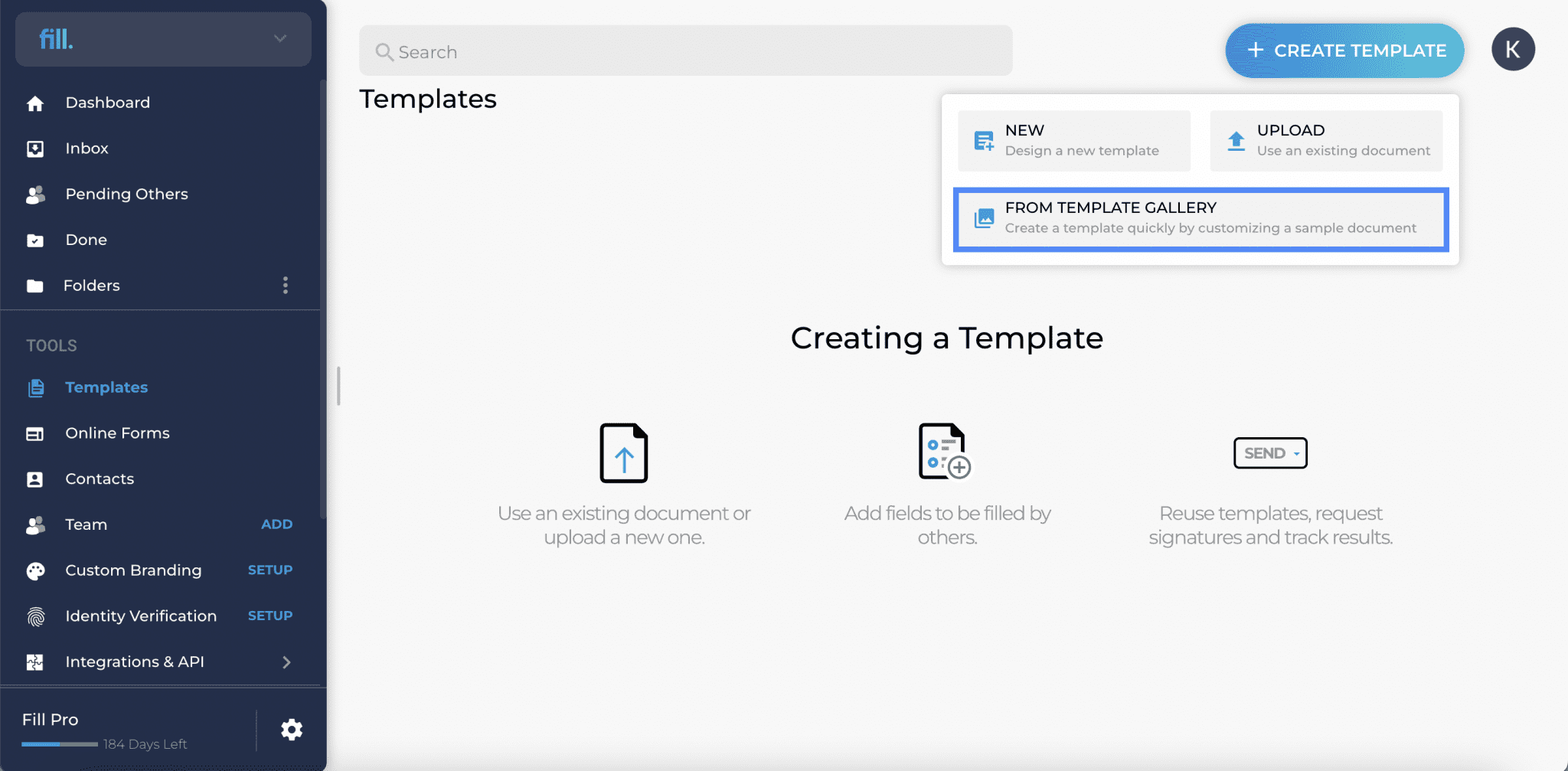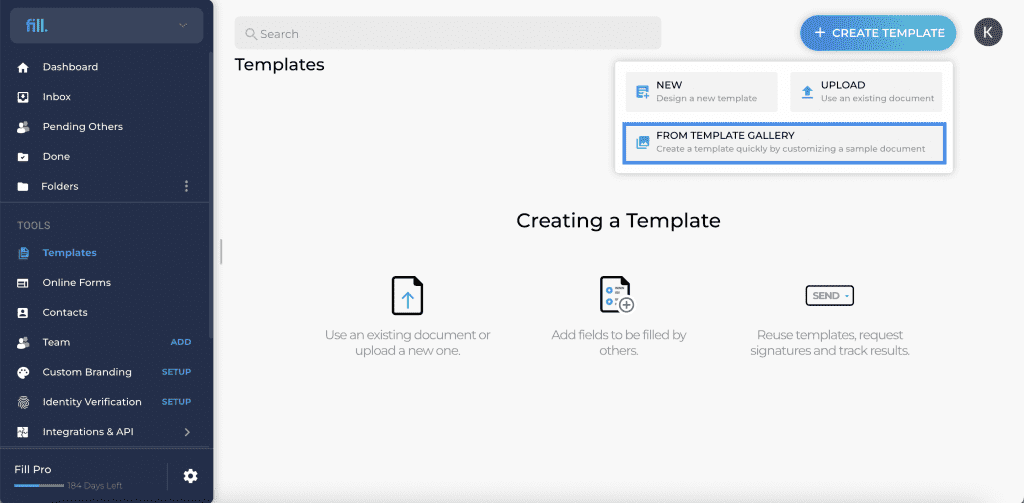 3. A window will show up displaying the available templates in the gallery. Type Graphic Design.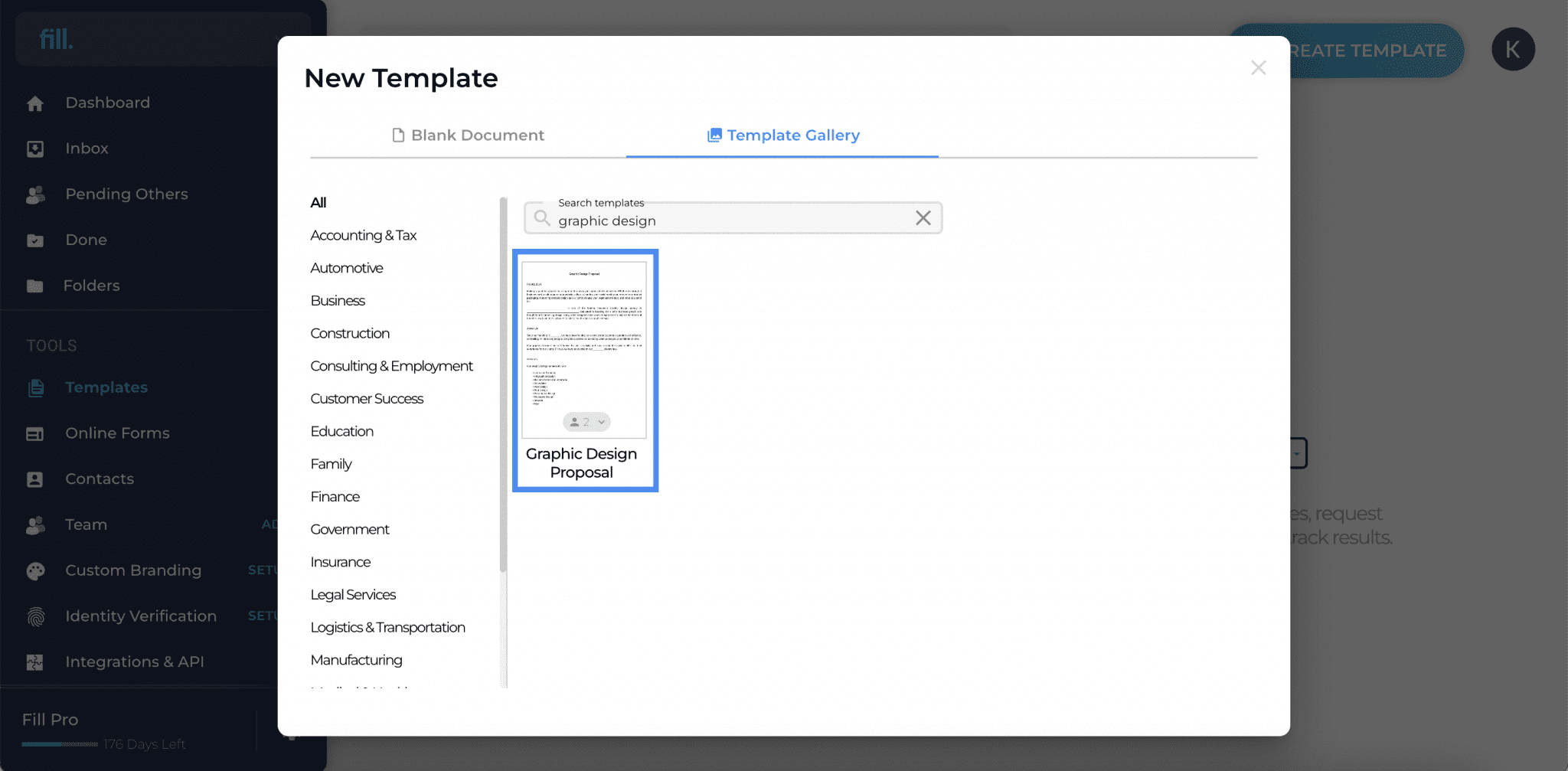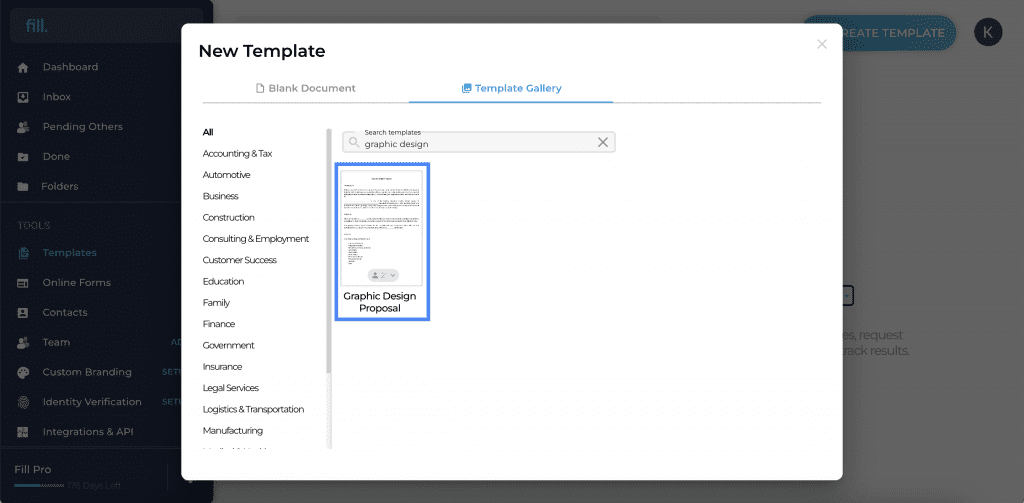 4. Click on the Graphic Design Proposal, then select Use Template.
5. Click to edit the fields such as company name, location, year, and date. You can change the text or move the fields on the template according to your needs.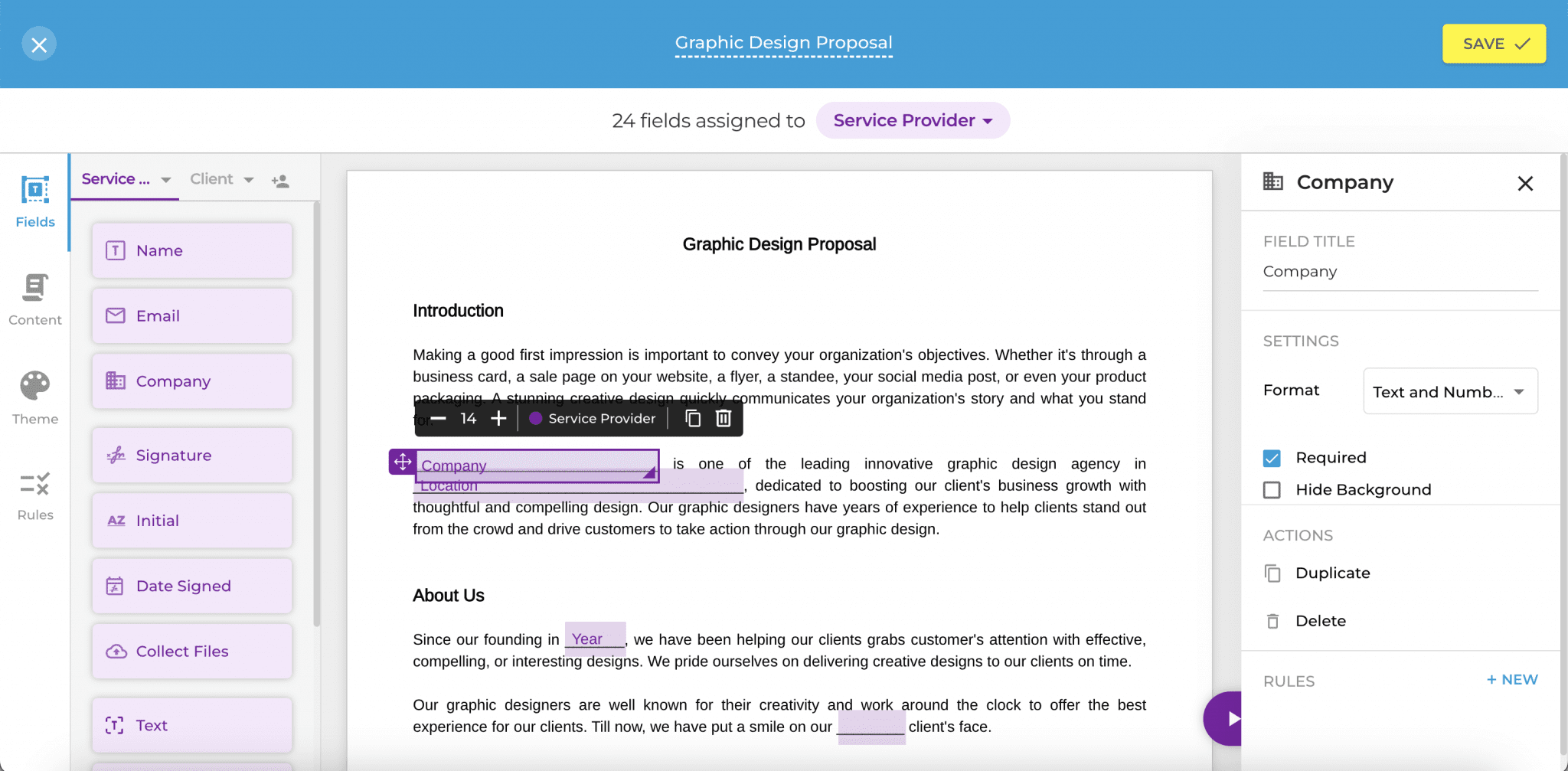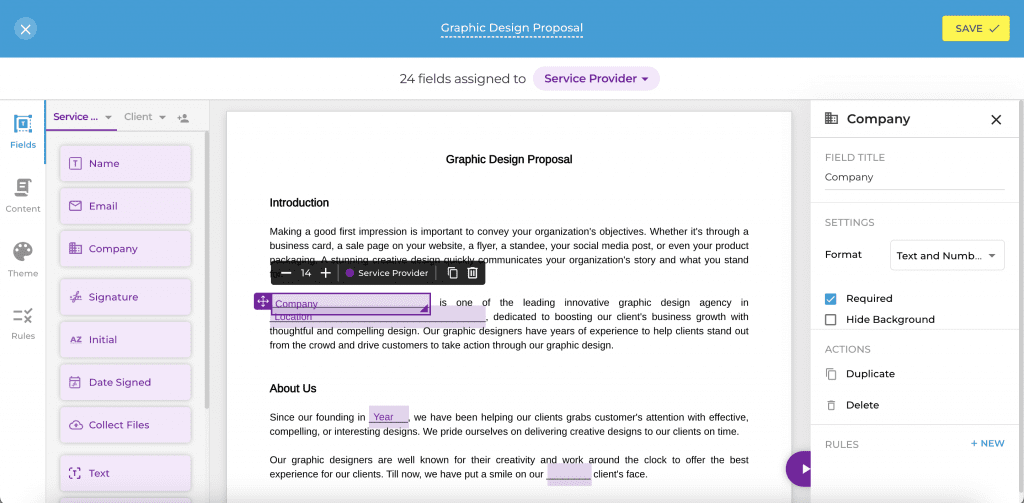 6. Once you're done, click Save. Click the Test as Service Provider if you wish to see how it would look from the recipient's perspective.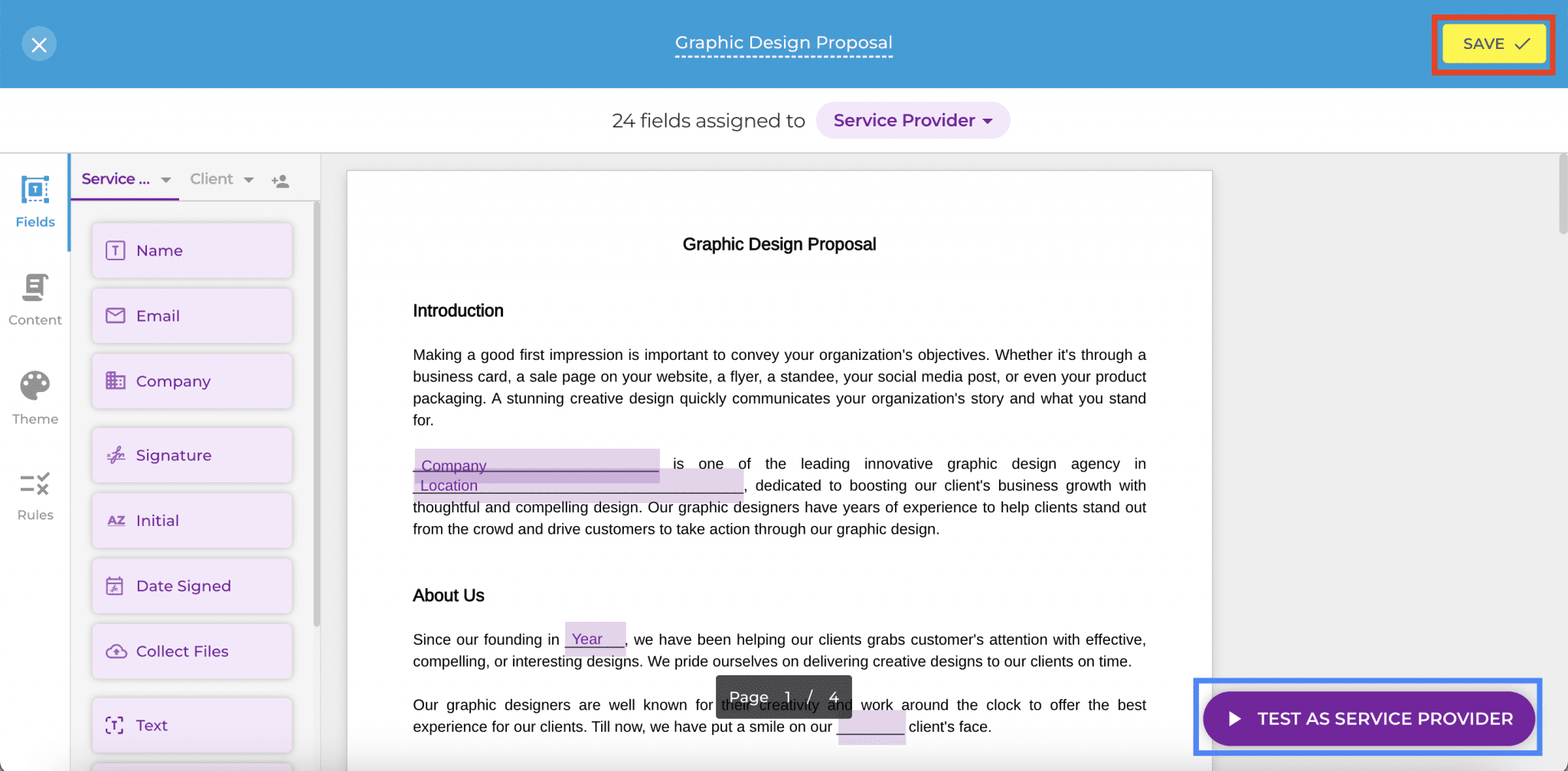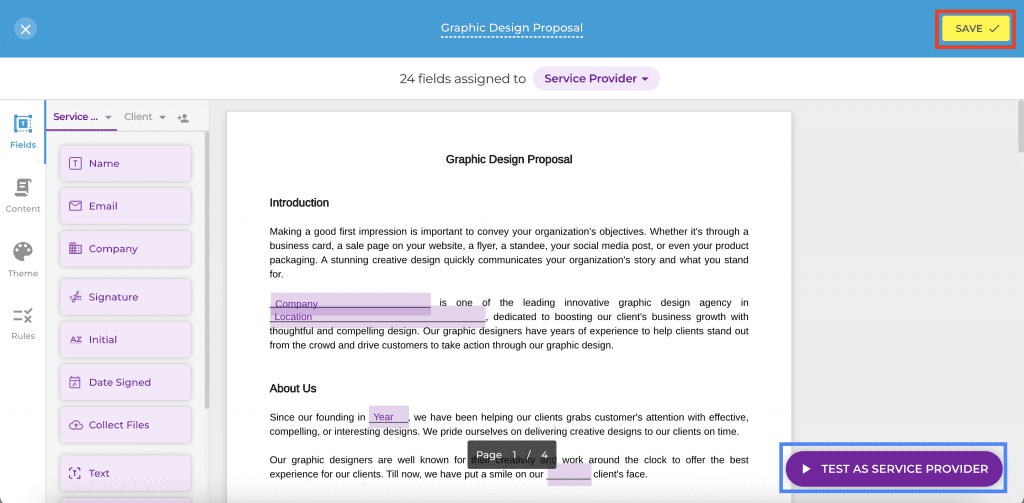 Create a proposal from scratch
Fill allows you to write a proposal from scratch with its drag-and-drop functionality.
1. Click Templates under Tools, located on the left panel.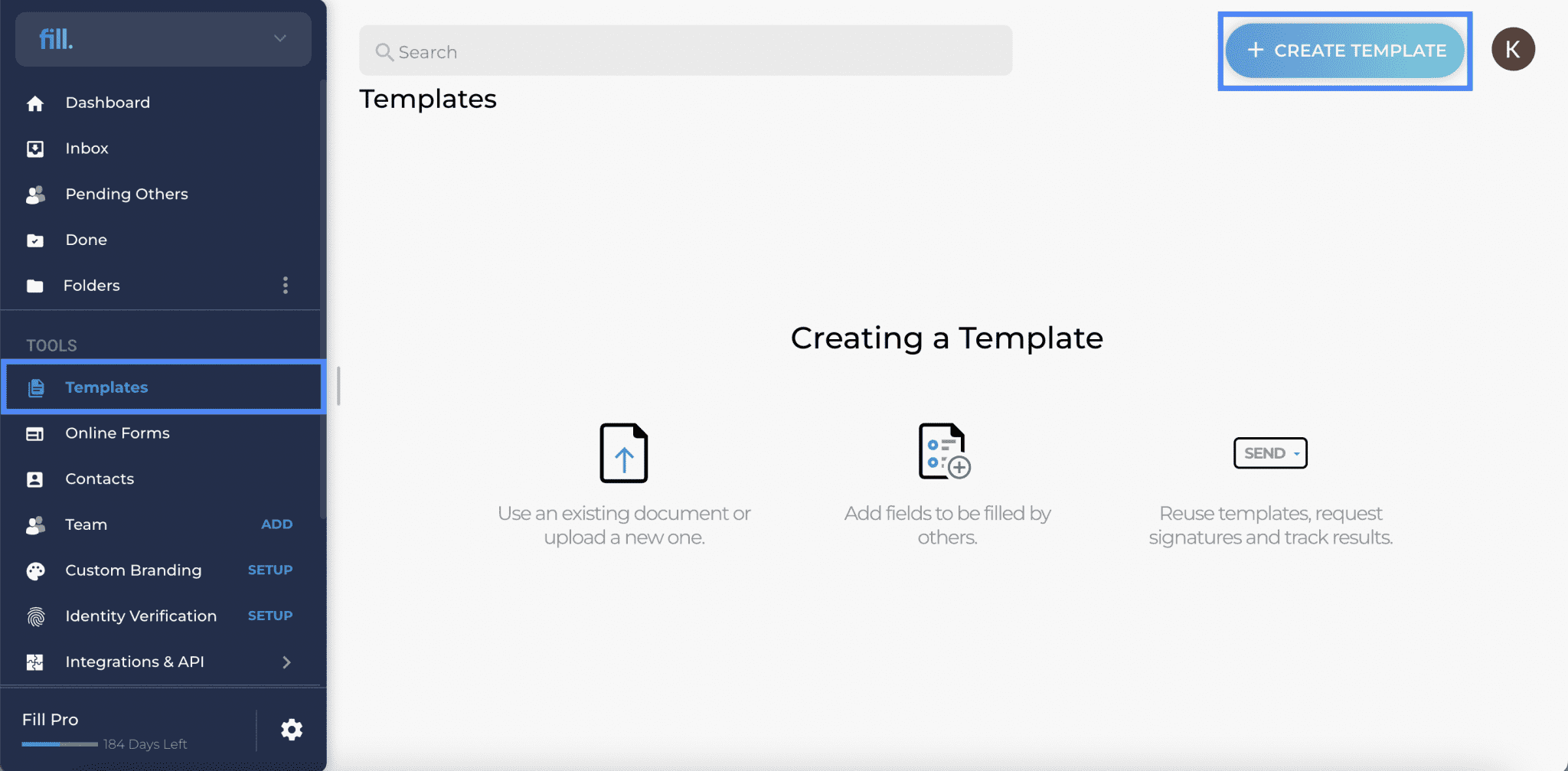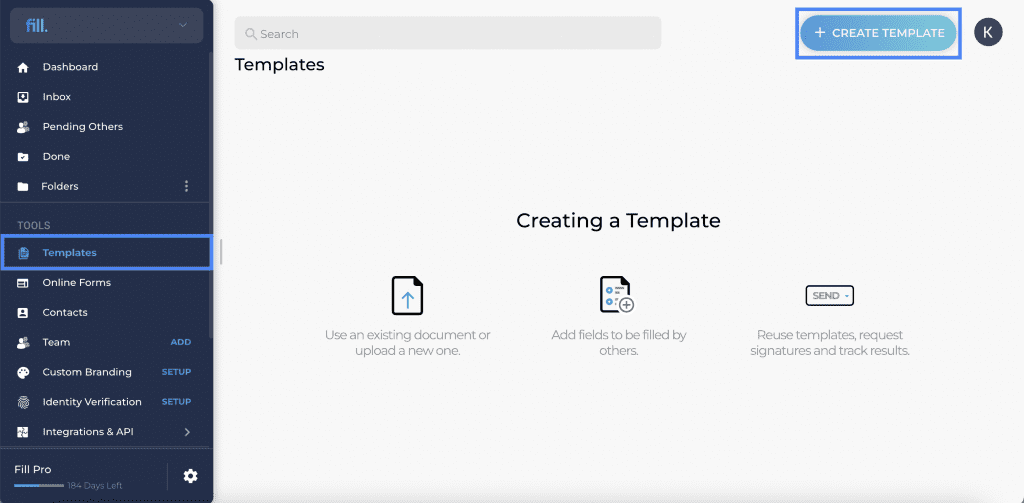 2. Click Create Template, then select New.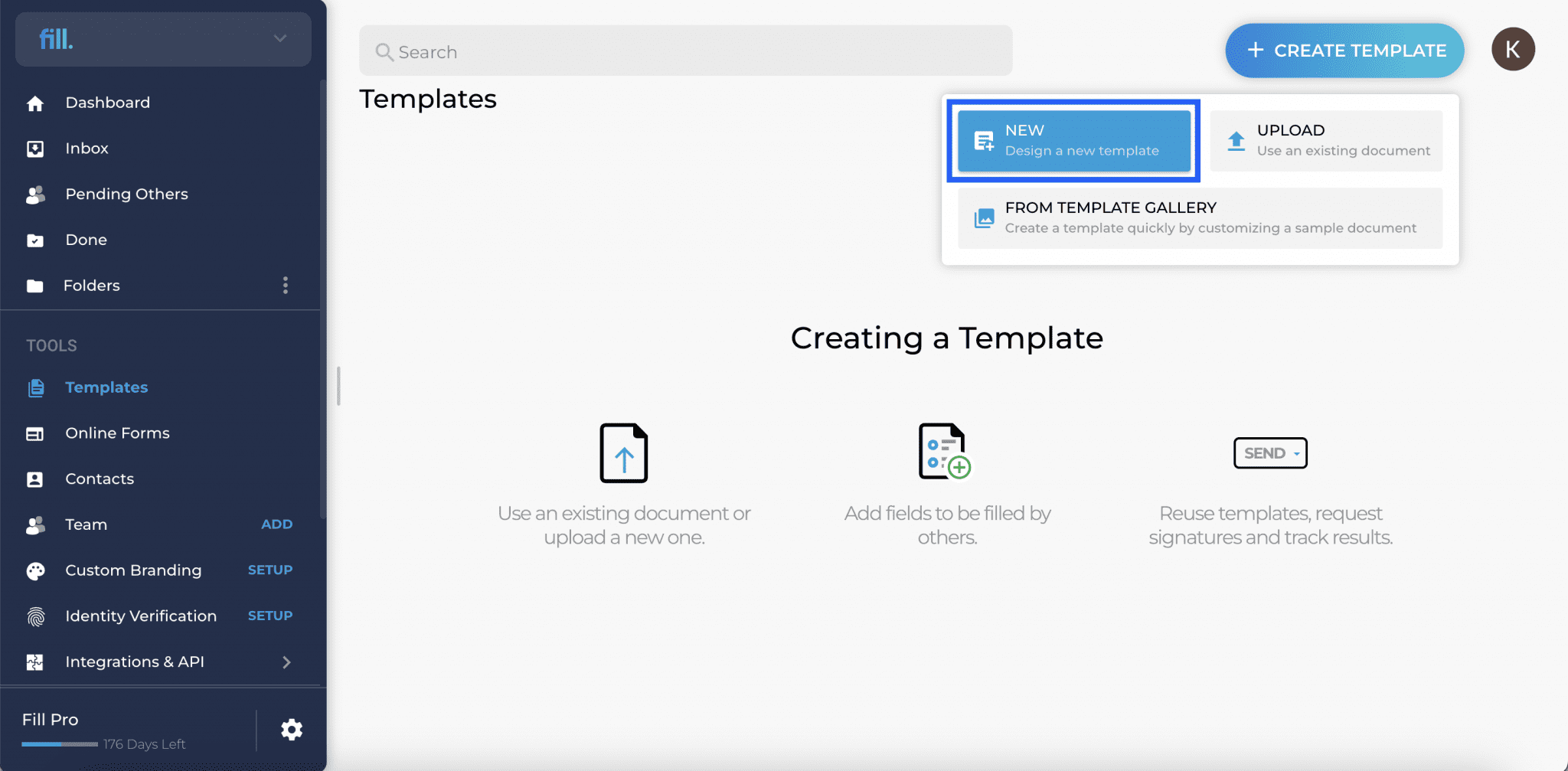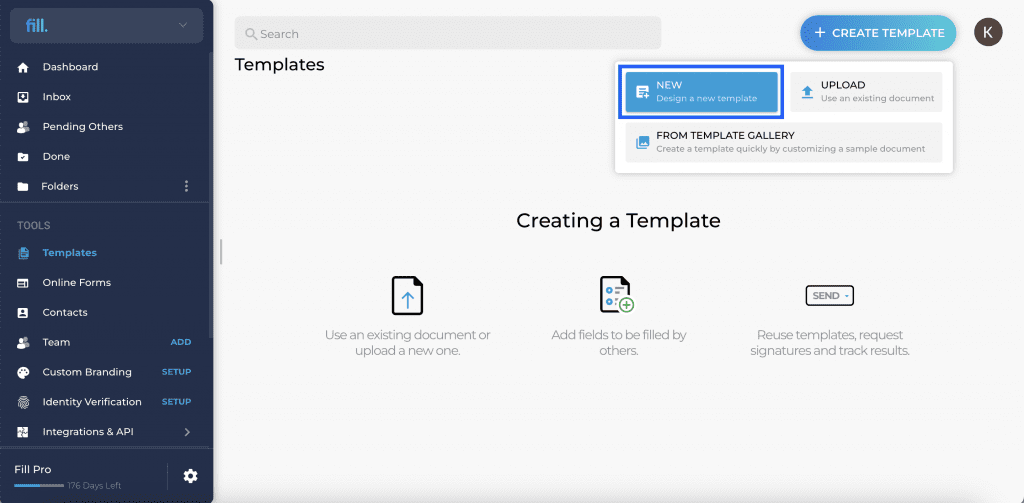 3. The New Template window will pop out. Label the proposal and click Next.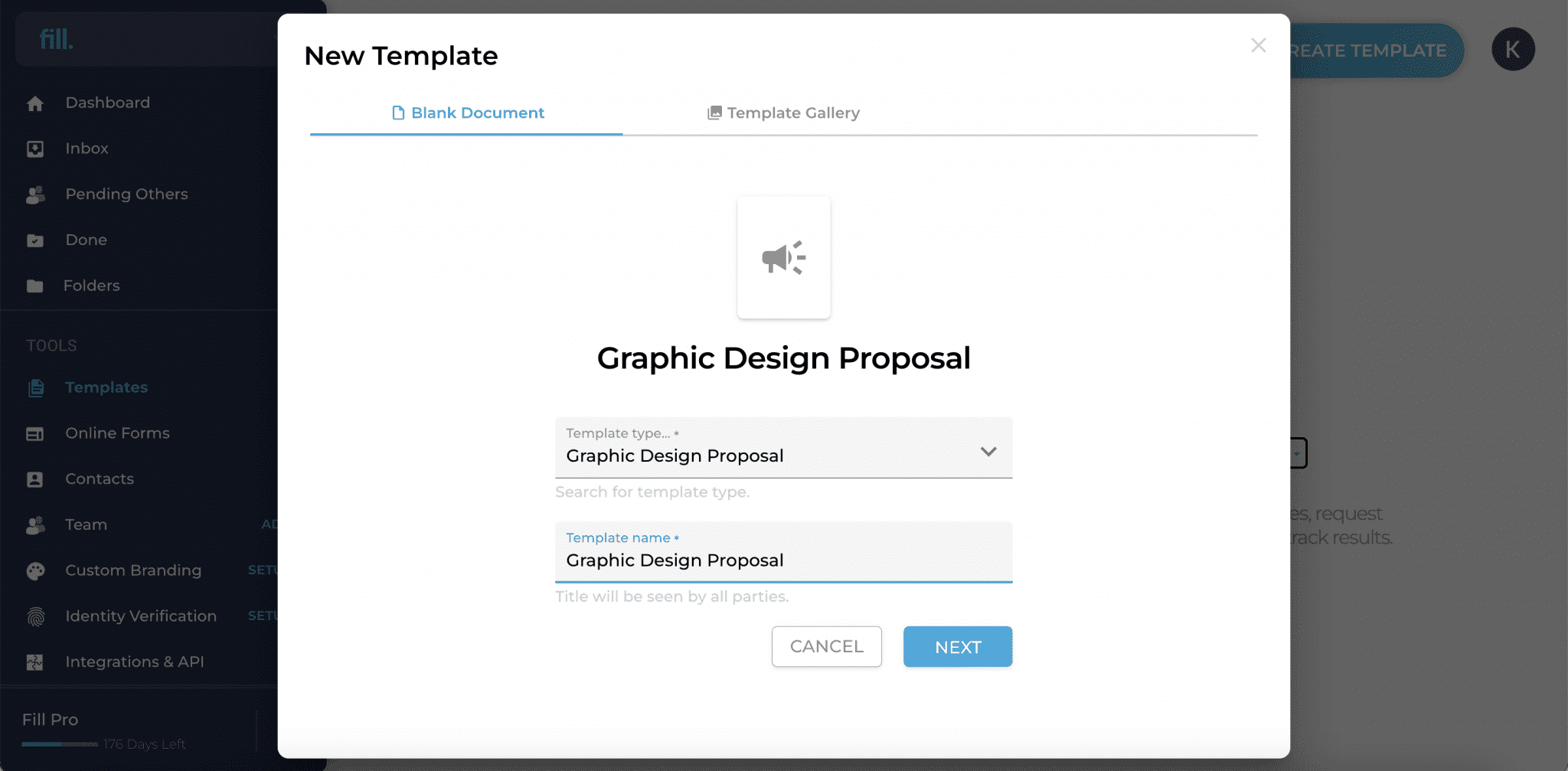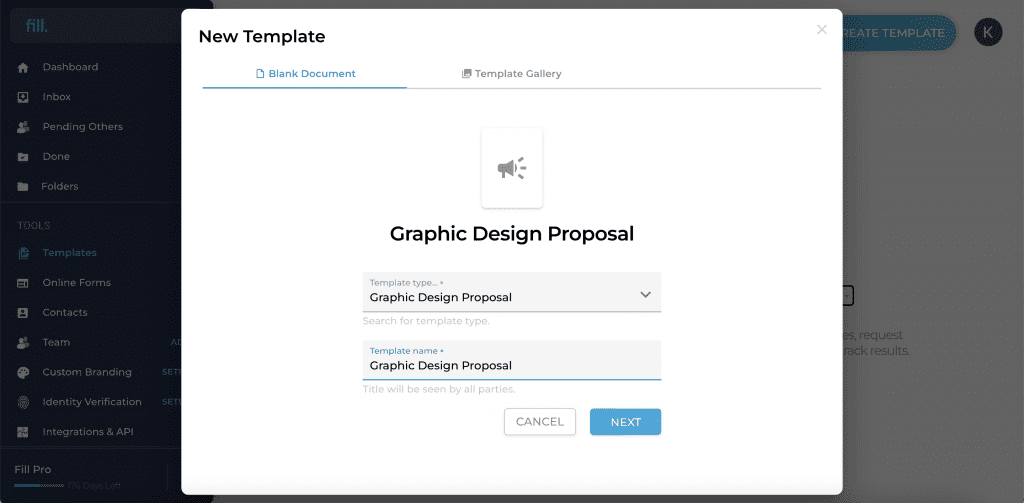 4. You will be directed to a blank template. Choose from the elements on the left panel. Drag and drop the fields you wish to include in the proposal or type the text.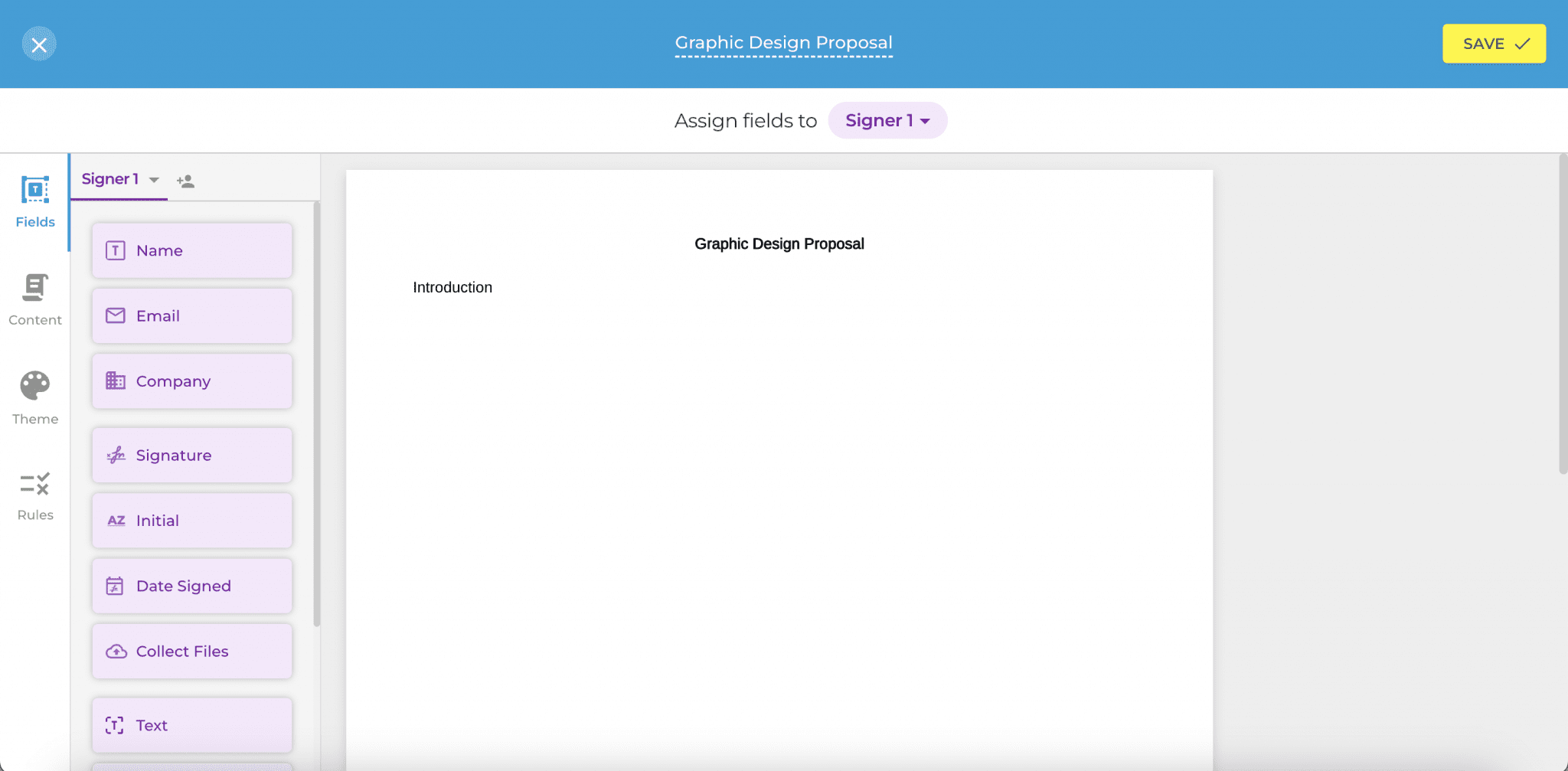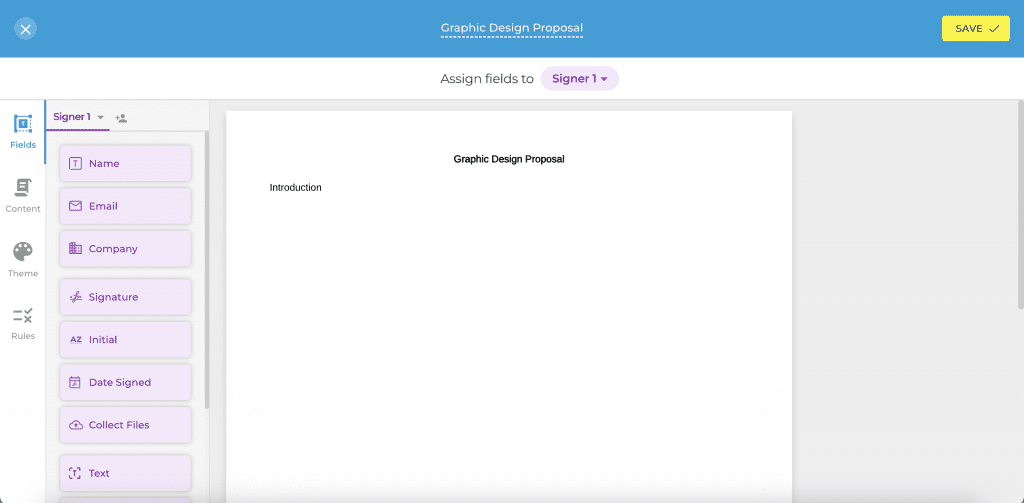 5. Once you are satisfied with the layout, click Save. You will be directed to the main dashboard, where a pop-up box will appear. Click Got it!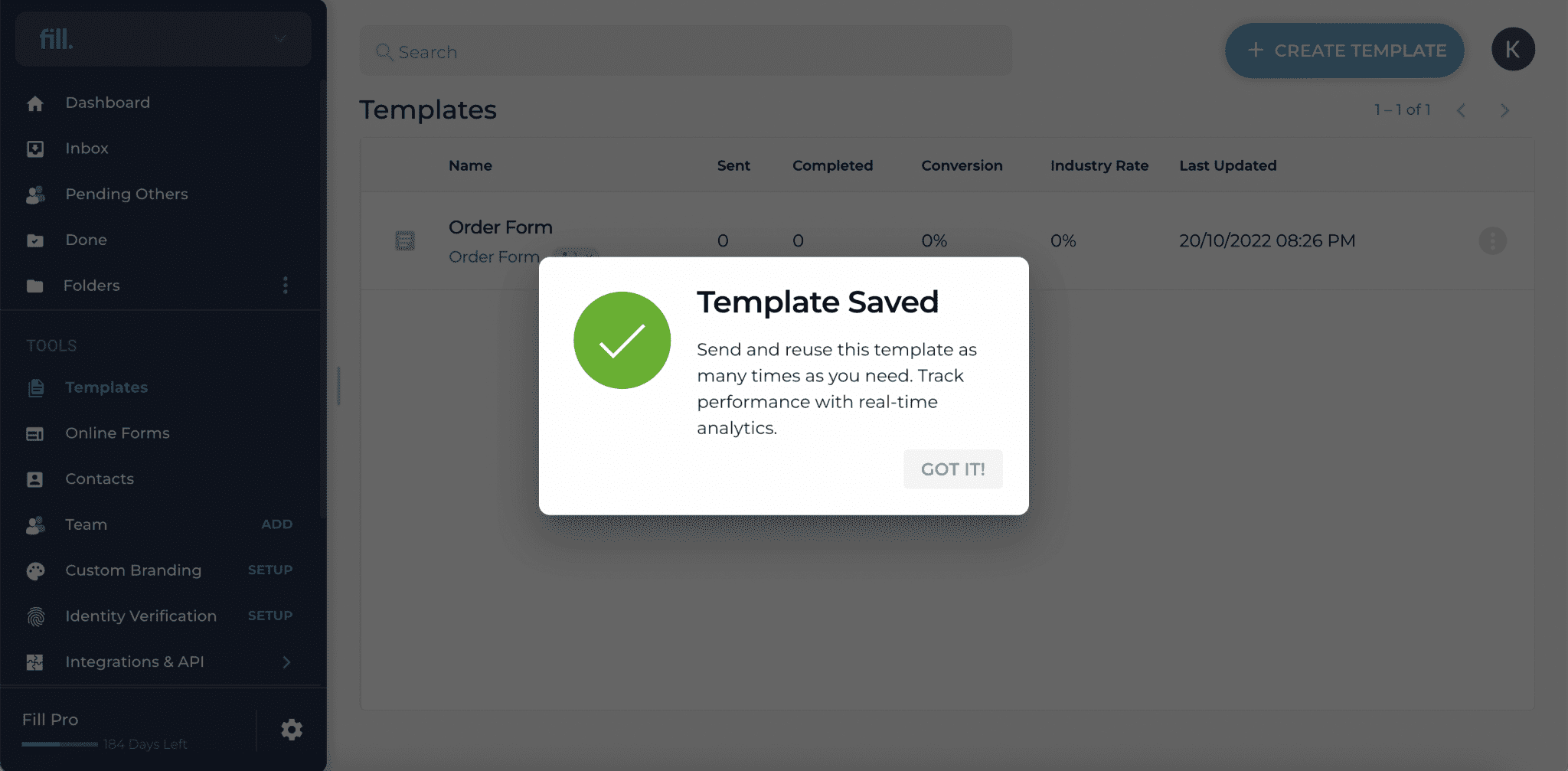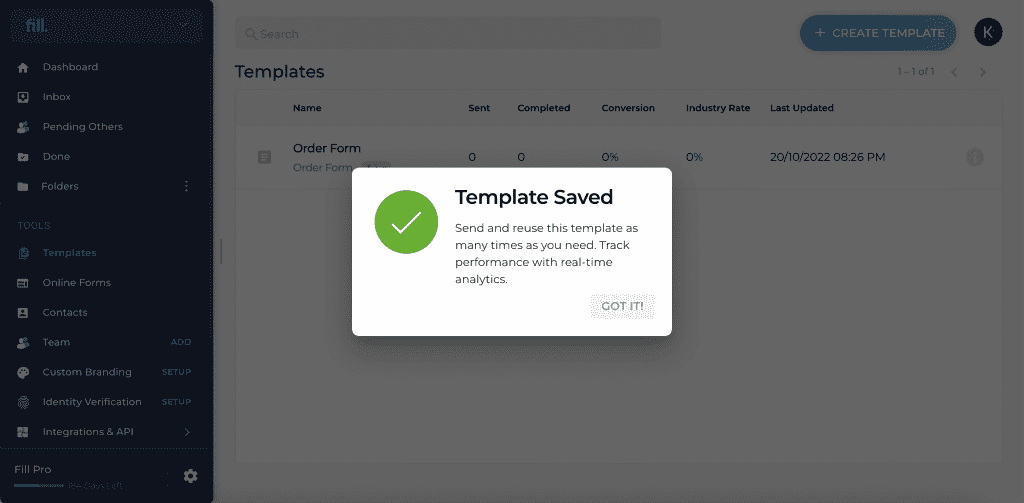 What to Include in a Graphic Design Proposal
There's no one-size-fits-all proposal. However, these essential elements should be present.
1. Introduction
Your proposal should start with an introduction that briefly explains who you are and what your business does. Use a writing tone that's appropriate for your audience. Strike a balance between sounding credible and approachable.
Think of your introduction as your elevator pitch. You only have this much space available to introduce yourself, your company, and what you have to offer.
2. Proposed workflow
This is where you'll get into the nitty-gritty of the project, including the workflow and deliverables. You may answer the following questions:
What are the specific ways of approaching projects?
When is the deadline for each deliverable?
What are the particular tools or software you use?
Let the client know what they can expect from working with you.
3. Project goals
Before you start working on a project, you need to understand what the client wants to achieve. What are their objectives? Include this information in your proposal so that your work aligns with their expectations.
4. Team members and roles
If you're part of a team, introduce them here. Let the client know who they'll work with, each person's role, and their qualifications. If you're working alone, skip this section.
5. Pricing and payment method
No proposal would be complete without pricing information. Include a breakdown of your fees, so the client knows how much they'll be paying for your services.
6. Timeline and milestones
Give the client an idea of how long the project will take by including an estimated timeline in your proposal. It will help them to set expectations and plan accordingly.
You may also want to break down big projects into milestones to help you stay on track. A good rule of thumb is to underpromise and overdeliver when it comes to deadlines.
7. Work samples and testimonials
This optional part will help impress clients. Show that you have what it takes to deliver results by including examples of your previous work. This way, the client can see your style and approach.
If you don't have any previous work to show, consider including mockups or concept art instead. You may also include testimonials as they are similar to word-of-mouth promotion about your services.
8. Call to action
Finally, end your proposal with a call to action. Tell the client what you need from them to get started on the project.
Signed contract
Initial deposit (usually a percentage of the total project cost)
Email address and phone number where they can reach you
Other communication channels like social media or messaging apps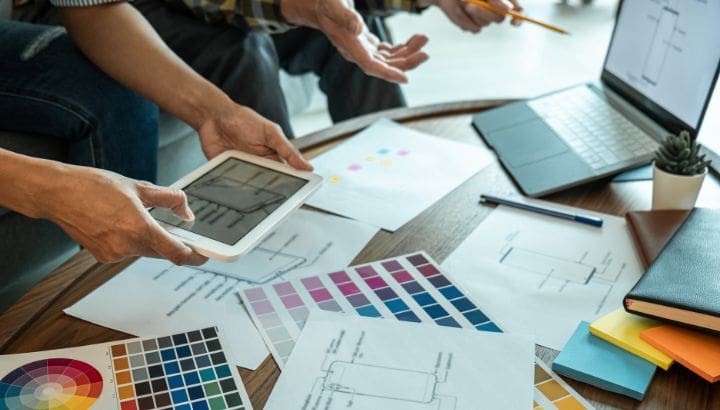 4 Tips for a Compelling Design Proposal
What makes a proposal stand out from the competition? Here are four tips that would help you make this happen:
1. Do your research
The better you understand your client's needs, the easier you can create a proposal that addresses those needs. Take time to learn about their business, target audience, and goals. Browse their website and social media channels. Check their company's profile and observe how they present themselves.
2. Be clear and concise
Your proposal should be simple enough to understand, even for nondesigners. Also, get straight to the point. Avoid using industry jargon or technical terms that your client may not be familiar with. Make your proposal easy to read by breaking down concepts into bullets or short descriptions.
3. Use striking visual elements
A well-designed proposal is more likely to grab your client's attention and make a lasting impression. Use images, infographics, and other visual elements to communicate your ideas.
However, don't overload your proposal with graphics as it may bloat the file size. You may save your proposal as a PDF file. It's the most commonly used format, so it's likely to be compatible with your client's computer.
4. Follow up after submission
Once you've submitted your proposal, don't just sit back and wait for a response. Follow up with your client in a few days to see if they have any questions or feedback. This will show you're serious about winning the business and keep you top of mind.
Write a Graphic Design Proposal in Minutes With Fill
Fill is an easy-to-use electronic signature and document management platform in one. It lets you create a graphic design proposal fast with its customizable templates and digital samples.
Whether you need to write a proposal, create a contract, or send an invoice, Fill has a template for you in our online gallery.
Here are the other things you can do with Fill:
Request signatures from one or multiple recipients
Set the signing order when requesting signatures
Require signer ID verification for all signatories
Create feedback forms from scratch or use customizable templates
Receive real-time notifications about your contract
Share unique links to online forms and contracts
Apply custom branding to email notifications
Sign up for a free account — no credit card information required.