Online document signing offers a plethora of benefits, but what if you can't afford a paid app or service? You're not alone. After all, most small businesses and startups are constantly looking for ways to stretch a limited budget.
Good thing that there are free signing apps that let you validate online forms with electronic signatures. The best part? These cost-efficient platforms also meet legal requirements. They provide an inexpensive way to close deals that help your business grow.
In this post, you'll learn how to sign documents online for free using a variety of software. Let's take a closer look at our top picks.
How to Sign PDF and Word Documents Using the Fill App
Fill is an app that allows you to digitally sign PDF and Word documents on any device or platform. You can start with a complimentary account, which will enable you to sign any document at no extra charge.
Using our app to sign documents online without payment is easy. All you need is to follow these steps:
Go to fillhq.com and sign up for an account. If you're an existing user, simply log in using your email or Google account.
On your dashboard, click Start Now.
Select Only You if you are the only one who needs to sign the document. Choose Request Signature to request a signature from other signatories.
Upload your PDF or Word document.
Wait for it to load. Once you see the actual document window, click Insert Signature from the top menu. Create a new signature or select an existing item from your gallery.
Next, drag the signature to its respective position. Adjust its size if needed.
Review the changes made and click Save. You may then share the digitally signed document or download a copy to your computer. You may also fax the signed document directly from our web dashboard. There's no need to use a fax machine or connect to a wired telephone network.
That's it. What's great about our app is that it's scalable. You can easily upgrade it to match the growing needs of your business or organization.
Note: iFax is Fill's official app for faxing online forms and documents. You need to sign up or log in to your existing iFax account to fax your signed document.
Can You Sign PDFs for Free Using Adobe Reader?
Yes, Adobe Reader lets you sign PDF documents for free. To use it, here's what you need to do:
On desktop
Download and install Adobe Acrobat Reader. Launch it, then go to Files > Open.
Select and upload the PDF document you wish to sign.
In the right panel, scroll down and select Fill and Sign.
Click Sign yourself > Add signature. Create a new signature by typing or drawing. Once done, click Apply.
Drag the signature to the appropriate section and resize it.
Click Save and choose your desired document settings.
On mobile
Download and install the Adobe Reader app on your device. Once installed, open the app and sign in using your Adobe ID.
Go to the main screen and look for the left or bottom navigation. From there, select the Files option next to Home.
Next, upload or import your document from Google Drive, OneDrive, or Dropbox. You can also import it directly from your local file directory.
After importing your file, tap Edit, then choose Fill and Sign.
Click on the pen nib icon, then select Create Signature.
Draw your signature in the Sign Here box. You can also upload an existing signature image or take a photo of your wet signature using your device's built-in camera.
Once your signature is ready, click Done.
Tap the document section where you want your online signature to appear.
Repeat the previous step until you've signed all of the required signature fields.
After signing the document, tap the check icon.
Note that the free version of Adobe Reader has limitations. For example, you cannot use it to compress or combine files. You are also not allowed to sign documents in other formats, such as DOC and DOCX.
See also: How to Sign a PDF Without Adobe Acrobat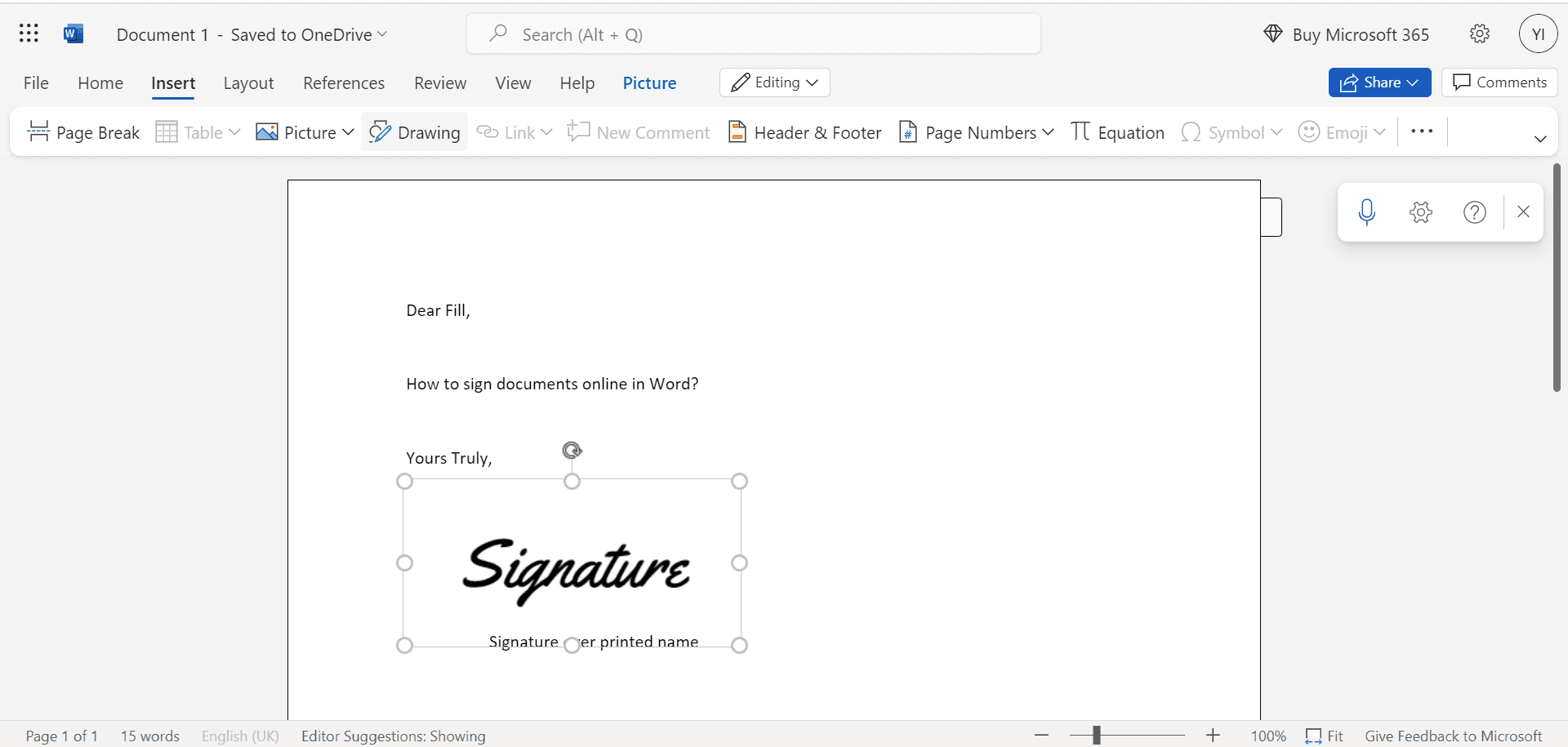 Can You Sign Documents for Free Using MS Word?
Yes, you either use Office Online or an alternative document signing tool like Fill.
Office Online is the free version of MS Office that you can readily access on the web. With it, you can sign Word documents without paying for the full suite of Office applications.
Here's how to use Office Online to sign documents at no extra charge:
Go to office.com and log in using your existing Outlook account.
From the left panel, select Word and upload your DOC or DOCX file. Your file should load automatically.
From the ribbon tabs, select Insert > Drawing. You may then upload an image copy of your handwritten signature or use the drawing tool to create it from scratch. Once done, click Save and Close.
Drag and resize the signature accordingly.
After signing all the required fields, click File > Save or Save As. You may also download an offline copy and save it to your computer.
While it's possible to use Office Online to sign documents at no extra cost, you won't have the option to add digital certificates that prove the identity of the signer. The said option is only available if you purchase a paid license for Microsoft 365 or MS Word.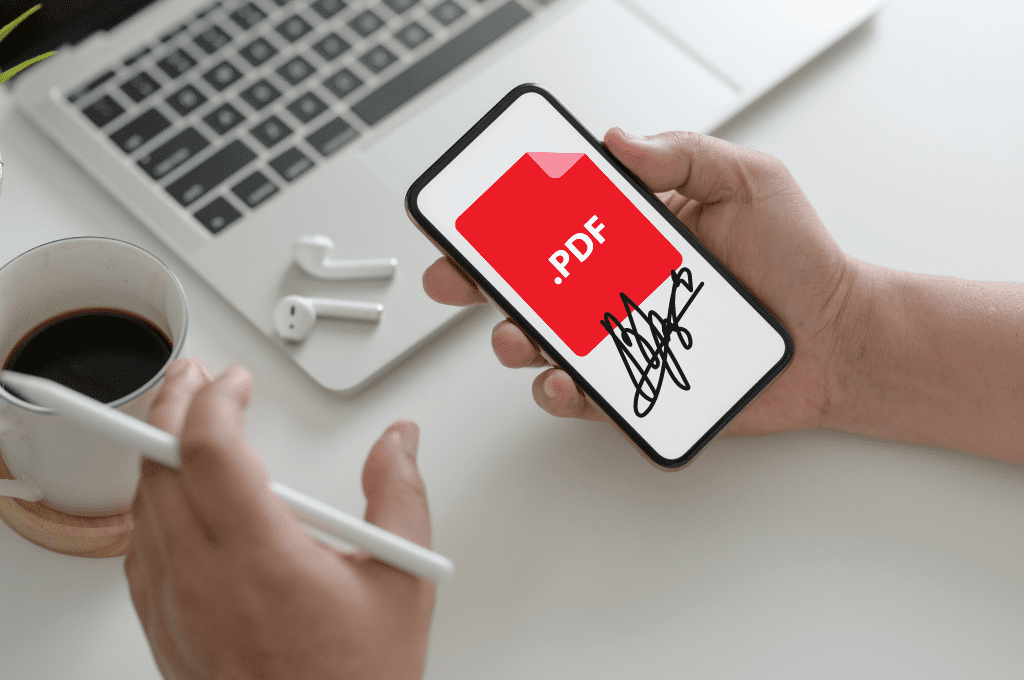 The Most Affordable Way to Sign Documents
Now that you've learned how to sign documents online for free, why not make the most of this opportunity? With Fill, you can finalize your contracts from anywhere. Now, you can stay on track with your plans without missing an important deal.
Here's how Fill can help minimize the costs associated with signing documents online:
It eliminates the need to print and scan documents.
It makes contract signing easier while drastically increasing your chances of closing a potential sale.
You can get your documents signed remotely, eliminating the need to commute and affix your signature in person.
You don't have to spend on expensive fire-resistant cabinets and costly courier services.
You can track and follow up requests in real time, which helps ensure the success of your business transactions.
Fill offers the best way to kickstart your business journey. Create an account today to get a firsthand experience of how it works.