If you're like most people, you probably have a few documents that you need to email regularly. Maybe it's a report for work or an invoice from a vendor. Whatever the case may be, scanning these documents and sending them as attachments can save you a lot of time.
Most people think of their smartphones as a way to take pictures or make phone calls. However, your smartphone can also be used as a mobile scanner. This article will walk you through four different ways – using four different platforms – how to scan a document to email and tips when scanning documents. Let's get started.
Table of Contents
5 Tips on How to Scan a Document To Email
Would you like to have a high-quality scanned document? Here are five tips to ensure you have one whenever you scan a document to email.
1. Make sure your scanner is clean and free of dust or dirt
When using a scanner, the glass bed must be clean. Any dust or dirt in the scan can affect the quality of the scanned image. You might not notice the dirt when you look at the scanner, but it will be visible in the final scan.
There are a few ways to clean your scanner. You can use a microfiber cloth to dust it off. If there's any dried-on dirt, you can use a damp cloth to wipe it away. After that, use a dry cloth to ensure all the moisture is gone.
2. Remove any binding materials such as Staples or paperclips
When scanning documents, remove any binding materials such as staples or paperclips. Otherwise, these objects can damage the scanner's delicate components, especially the glass, and cause scanning errors.
Additionally, binding materials can create wrinkles in the document, resulting in a poor-quality scan. So, before scanning, clear away any staples or paperclips, and your documents will thank you.
3. Use a resolution of at least 300 DPI
The capturing device reads and records the information as pixels when scanning a document. The scanner translates these tiny dots of color into an image that can be displayed on a monitor or printed on paper.
The quality of this image depends on two factors: the number of pixels captured and the size of each pixel. Resolution is a measure of these factors and is typically expressed in DPI (dots per inch).
For example, a resolution of 300 DPI means that the scanner captured 300 tiny dots of color for every document inch. Generally speaking, the higher the resolution, the better the quality of the image.
This is why it's essential to use a scanner with a high resolution when scanning documents. A high-resolution image will be sharper and more detailed, making it easier to read.
4. Try to keep the documents as flat as possible while scanning
When scanning a document, you want to keep it as flat as possible. That's because if the document isn't flat, the scanner's optics can get distorted, resulting in a poor scan.
This is especially true for large documents; if you're scanning a legal-sized document and it's not flat, you're likely to see some significant distortion in the resulting scan.
So, how do you keep a document flat while scanning it? The best way is to use a document feeder – these are designed to keep documents flat while they're being scanned. If you don't have a document feeder, you can try placing some weight on top of the document to help keep it flat.
Whatever you do, avoid folding or creasing the document, as it will only make the problem worse. By following these simple tips, you can ensure that your scans are of the highest quality.
5. Use a software to improve the image quality 
Most people know they need to use a scanner to digitize their documents and images. But many don't realize they need to use scan software to get the best results.
Scan software provides several essential features that can help improve the clarity of your scanned images. For example, most scan software includes an optical character recognition (OCR) feature.
It allows you to convert your scanned images into editable text files. It can be beneficial if you need to edit or search for specific information in your scanned documents.
In addition, scan software often includes features that can help to reduce the amount of background noise in your scanned images.
I can be particularly helpful if you're scanning old, faded documents. By using scan software, you can ensure that your scanned images are clear and easy to read.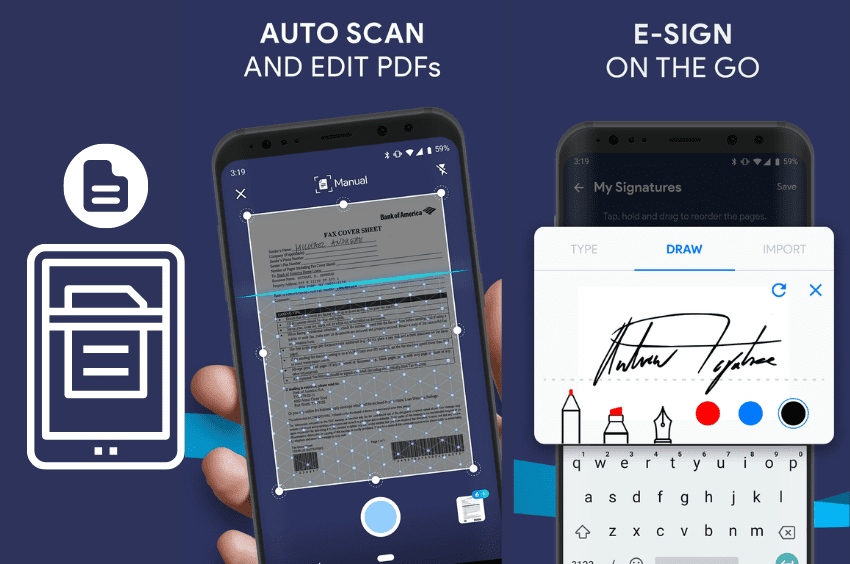 Scan and Email a Document on iOS Phone
Here are the steps on how to scan a document to email using your iOS device.
1. Open the Notes app on your iPhone. If you don't have it, download it free from the App Store.
2. Tap the Write icon in the bottom-right corner of the screen to create a new note.
3. Tap the Camera icon at the bottom of the screen. Tap the Scan Documents option.
4. Point the camera at the document you want to scan. Try to keep the document as flat as possible and ensure all four corners are visible in the frame.
5. Once the document is positioned correctly, tap the shutter button to take a photo.
6. After taking the photo, tap Keep Scan, the Save.
7. Tap the Arrow icon on the upper right and choose the Mail app. Then, a new email draft will be created with your scanned document attached.
Scan and Email a Document on Android Phone
Here are the steps on how to scan a document to email using your Android device.
1. Open the Camera app on your Android phone. This is usually the best place to start if you don't have a dedicated scanning app.
2. Point the camera at the document you want to scan. Make sure the entire document is included in the frame and is in focus. If you're scanning multiple pages, make sure to keep them in order.
3. Tap the button to take a photo of the document. In most cases, this will be a white circle with a camera icon in the center. Once you've taken the image, it will appear in your camera roll.
4. Open the photo of the document in your preferred email app. When composing a new email, look for an option to attach files from your camera roll or gallery. Select the photo of the document you just took and add it to the email.
5. Enter the email address you want to send the document and hit send. Your recipient will now have a digital copy of the document you scanned.
Scan and Email a Document on Mac OS
Here are the steps on how to scan a document to email using your Mac OS computer.
1. Connect your scanner to your computer and ensure both devices are turned on.
2. Go to System Preferences and click Printers and Scanners. Select the scanner you will use, and then set your scanner options.
3. Select the location folder you wish to save your scanned images.
4. Open the scanned documents, and you can tap right-click to send them directly using your Mail app. If you use an email client on the web browser, attach the document to your email.
Scan and Email a Document on Windows
Here are the steps on how to scan a document to email using your Windows computer.
1. Connect your scanner to your Windows computer and turn on both devices. Ensure they are properly connected.
2. In general, the scanner will automatically scan documents if you previously configured it. Follow the steps and save them in your preferred folder.
3. Right-click the scanned document and click Send to and select the Windows Mail app to open a new email draft, including the scanned file.
4. If you want to send this using an email client on the web browser, drag and drop the scanned document as an attachment.
A powerful mobile scanner in your pocket
Whether you're on an iPhone, Android phone, Mac, or Windows computer, you can scan and email a document easily while on the go.
With just a few taps or clicks, you can have your document scanned and in your recipient's inbox in seconds.
If you need to scan something quickly but don't have access to your scanner, the Fill app has you covered with its built-in mobile scanner.
So the next time you need to send a signed contract or share meeting notes with your team, try using the Fill app to make the process quick and easy.