How to digitally sign a PDF? Adding your signature to a PDF is one thing, but the rules are stricter with digital signing. When it comes to signing PDFs, inserting a digitized copy of your wet signature might not suffice. You need to make sure that it's legally binding.
In this post, you'll learn how to digitally sign a PDF document without the hassle of printing and then scanning it back to your computer. Follow these steps, and you'll be surprised at how easy it is to get your PDFs digitally signed using only your laptop or smartphone.
Table of Contents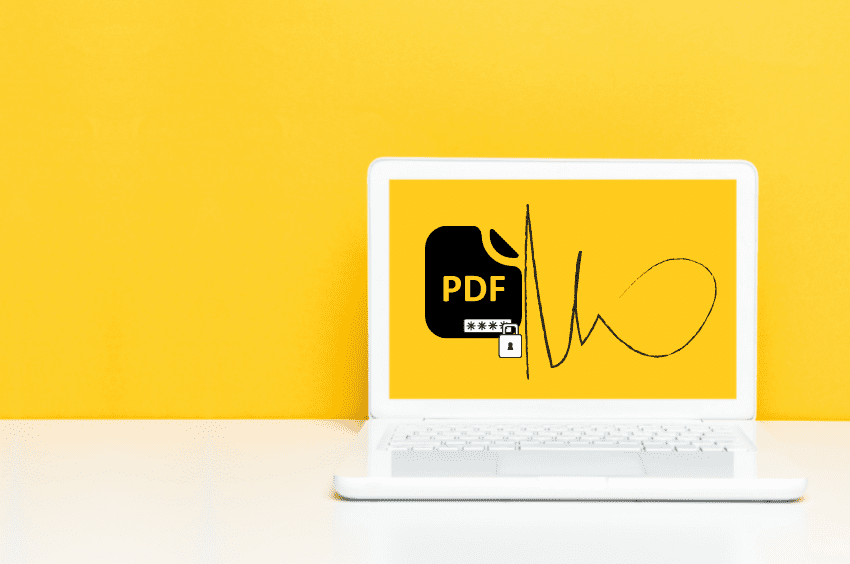 Need a secure and legal way to sign PDFs? Find out how you can digitally sign a PDF with real-time document tracking and instant email reports.
What Is a Digital Signature?
A digital signature is a more secure form of electronic signature. When used for signing legal documents (such as agreements and contracts), a digital signature uses advanced encryption to help preserve a document's integrity, keeping each signature unique and immutable.
Digital signatures also help maintain the transparency between two legal transactions. With it, you have a way to validate the authenticity of a document, which helps build trust among consumers, businesses, and employees.
Some of the benefits of using a digital signature include:
Faster and smoother transactions (reduced lead times)

Improved user experience

Improved productivity and workflow

Security and compliance

Data preservation

(ensures data integrity)

Increased profitability (minimizes operating costs)

Better time management (with the help of document automation)
Is a PDF Signature a Digital Signature?
Not all PDF signatures are digital signatures. If the signature you've inserted into your PDF lacks the fundamental components of a digital signature, then it can only be regarded as an electronic signature. It doesn't hold any legal weight, especially if there's no record or proof of intent between the parties involved. By using a digital signature, you'll be able to provide a full audit log of your document transactions. You can also protect the contents of your documents and avoid the possibility of tampering and fraud.
How to Digitally Sign a PDF without Adobe Reader?
Even now, Adobe Reader remains a go-to tool for digitally signing PDFs. To digitally sign a PDF without Adobe Reader, you have to resort to finding some alternative options. For that, you have Fill.
Fill is a secure and reliable mobile and web-based app for digitally signing PDFs. With our modern and intuitive app, you have the flexibility to sign PDFs wherever and whenever. You get to sign documents on the go and keep track of all the legal documents you've signed and executed. It also offers a more convenient method for document signing since you can quickly sign PDFs using only your laptop or cell phone.
With Fill, you can:
Create a digital signature out of a scanned image

Keep track of your documents in real-time

Download a full copy of your audit logs

Securely sign and share sensitive documents in a fully encrypted network.

Automatically convert paper documents into PDFs

Edit and annotate PDFs

Create PDF forms and publish them live with real-time analytics and notifications

Secure documents using military-grade encryption
How to Digitally Sign a PDF Using Fill?
By knowing how to digitally sign a PDF, you'll be able to seamlessly process your business transactions and get your agreements signed without fail. With Fill, you can do this in six easy steps. All you need to do is follow our guide below.
1.) To digitally sign a PDF, you need to sign up for a Fill account and go to your web dashboard. You can access your web dashboard on your web or mobile browser.
2.) On your web dashboard, click Start Now. When asked to choose who is signing, you may select Only You or You and Others.
3.) As soon as you see the upload window, drag and drop your PDF into it. Note that you can only upload one PDF file at a time. You can also manually upload the file by clicking the Select Document button.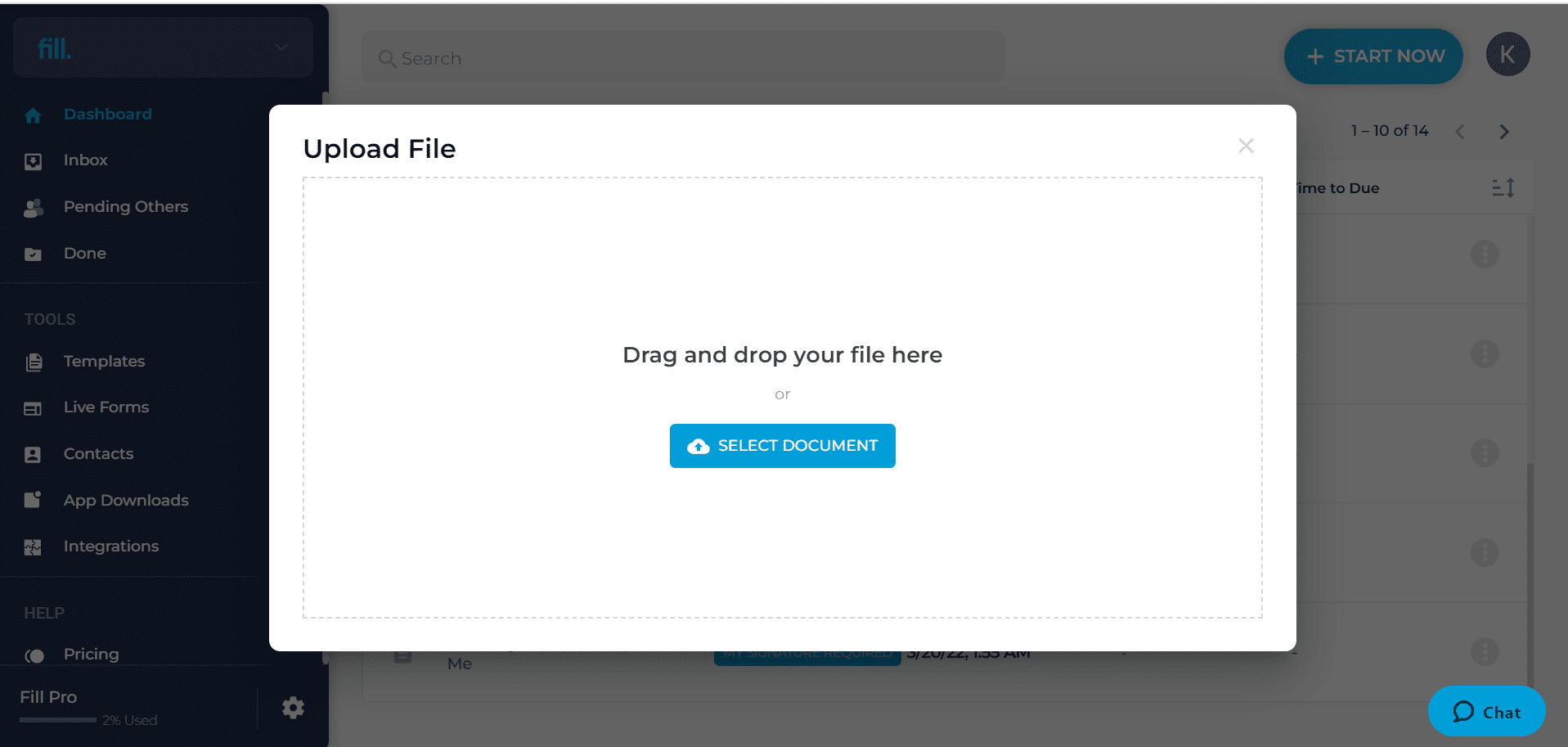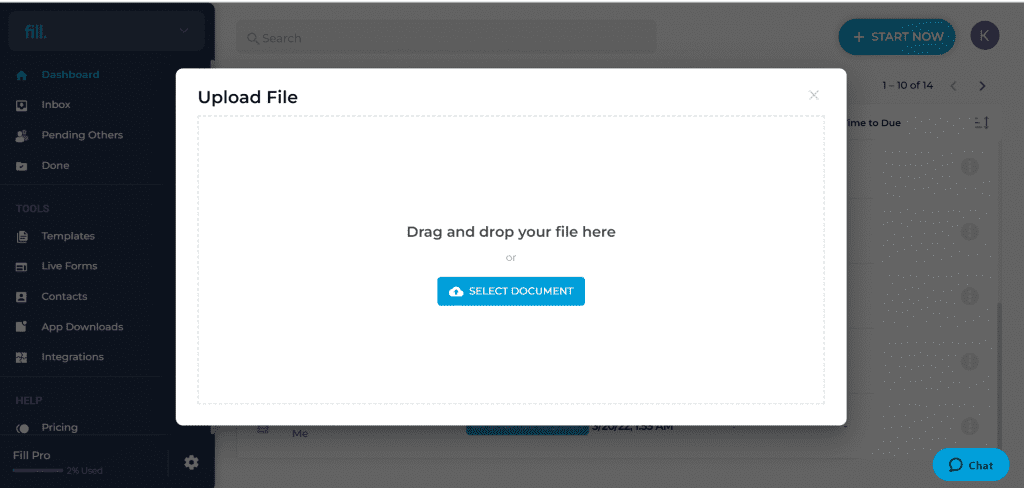 4.) Once your PDF shows up on the workspace window, hover over the options in the top menu and select Insert Signature. Since you still don't have any signature saved, you need to create a new signature by either typing or drawing. After doing so, click Save. Move your signature using your mouse. You can also resize it to fit the signature field.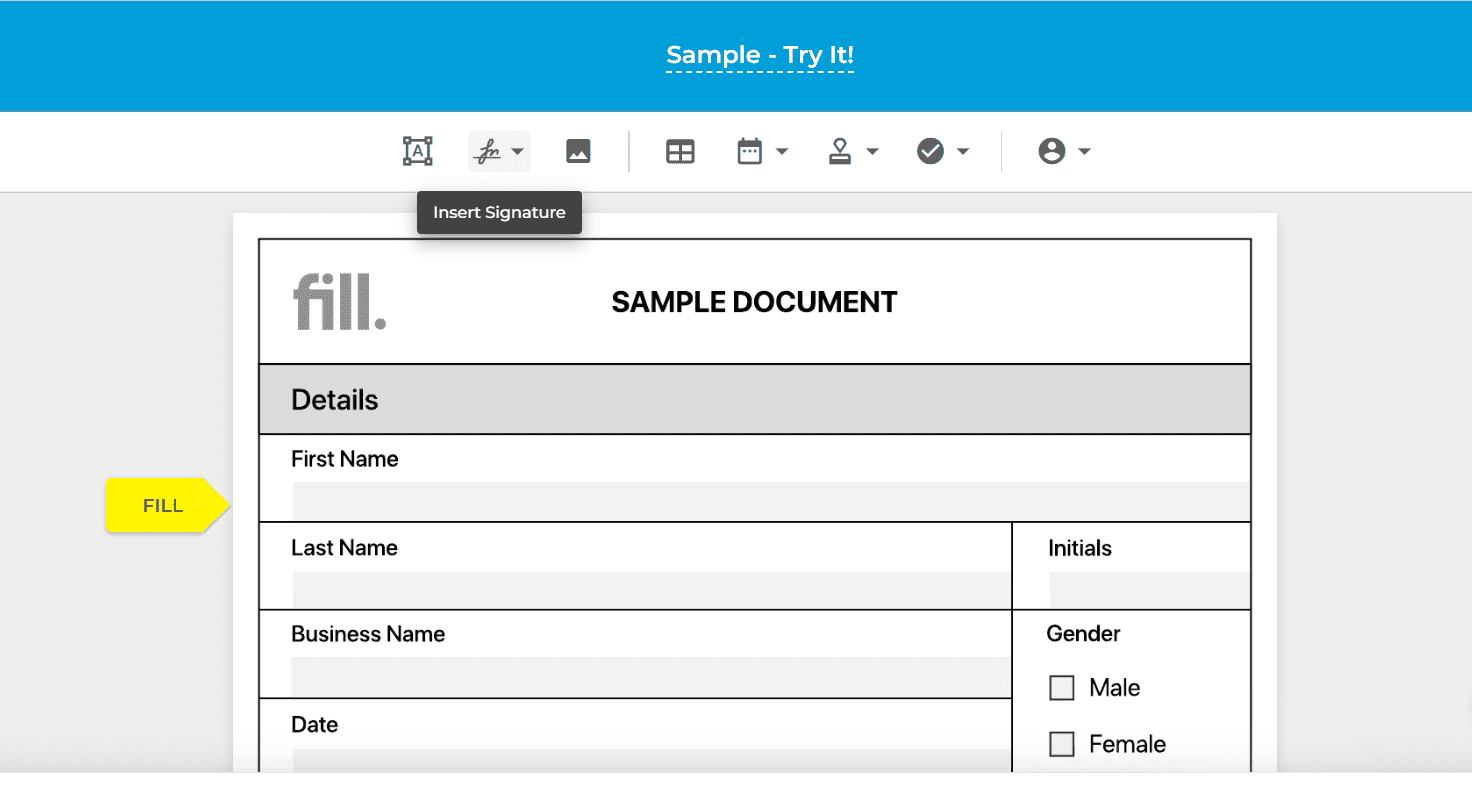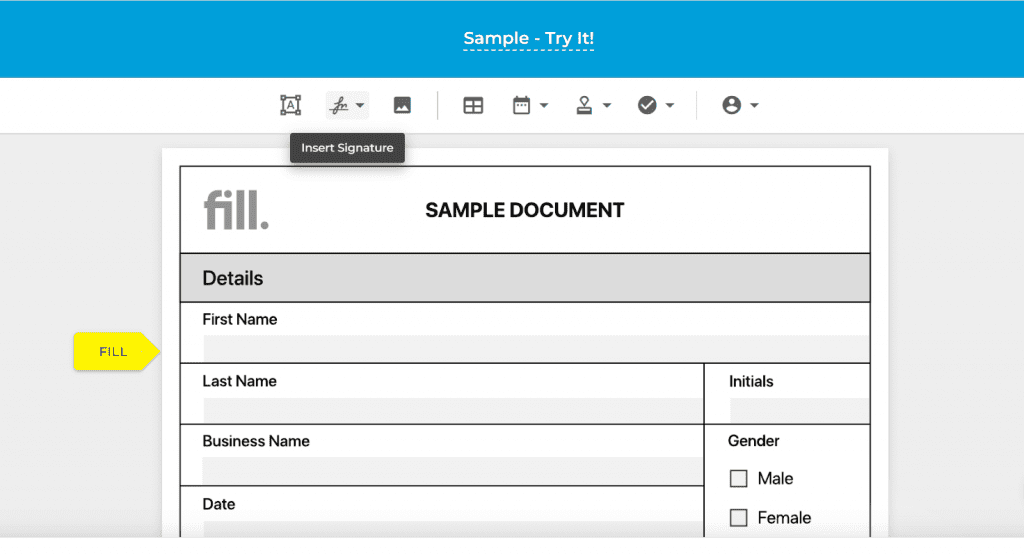 5.) Sign all required fields and click Done once you're finished. Download or share your signed document via email or link.
6.) Go back to your dashboard and preview your signed document. You'll know if you've digitally signed it because there will be a long string of characters at the bottom of each page.
The long string of characters is your document's unique hash code. Once signed, your form or contract will automatically switch to view-only mode. This way, you can prevent any further changes and preserve the integrity of your information. If you notice any change with your document's hash code, you should look into your audit log. It is possible that someone accessed your document and made some changes without your permission.
Final Thoughts on How to Digitally Sign a PDF
Using a digital signature to sign PDFs online helps protect your identity. With it being immutable, it'll be difficult for other people to misuse your signature for any form of fraud. Thus, it's crucial for you to learn how to digitally sign a document. It'll definitely come in handy when you need to sign a legal agreement or online form.
If you're all set to create a digital signature but do not know where to start, you can take our free tour or sign up for a trial account.