Android has been the most popular smartphone operating system for the past decade. In 2021, the Google-backed OS controlled over 70 percent of the market. It has effectively changed the way many of us use mobile devices.
There's a good chance you're reading this right now on an Android device. If that's the case, you're probably trying to figure out how to sign documents on Android phone or tablet.
If you're worried about leaving a pile of unsigned documents behind while you go on an overseas trip, it's time to think of an efficient workaround. While you may not be able to take your entire office with you, you can always bring your phone. Yes, that small device you're holding right now can help solve your worries.
Even if you do not have your computer or laptop with you, you can still get your forms and contracts signed on time. Keep reading, and you'll be using esignatures like a pro in no time.
Table of Contents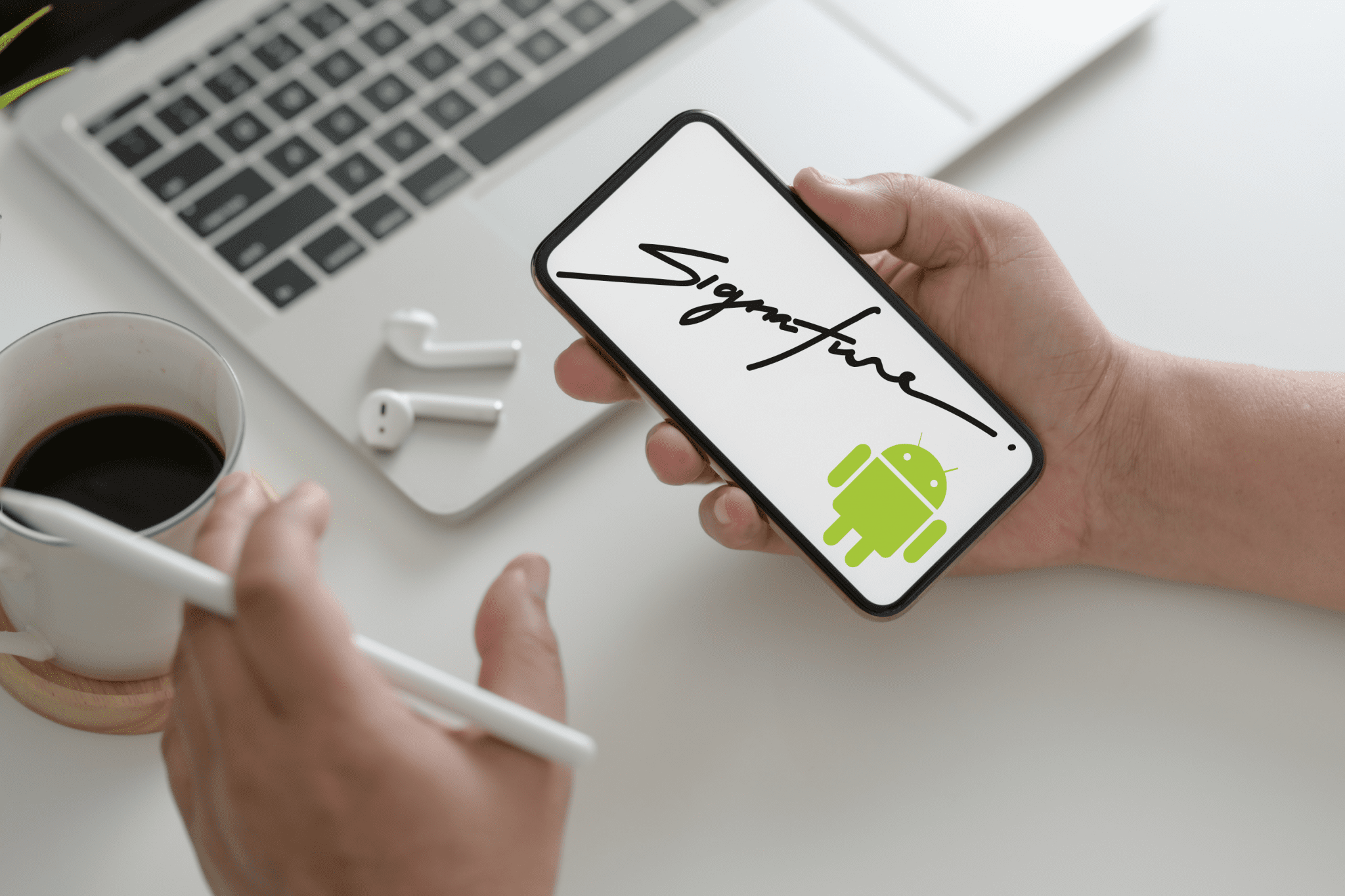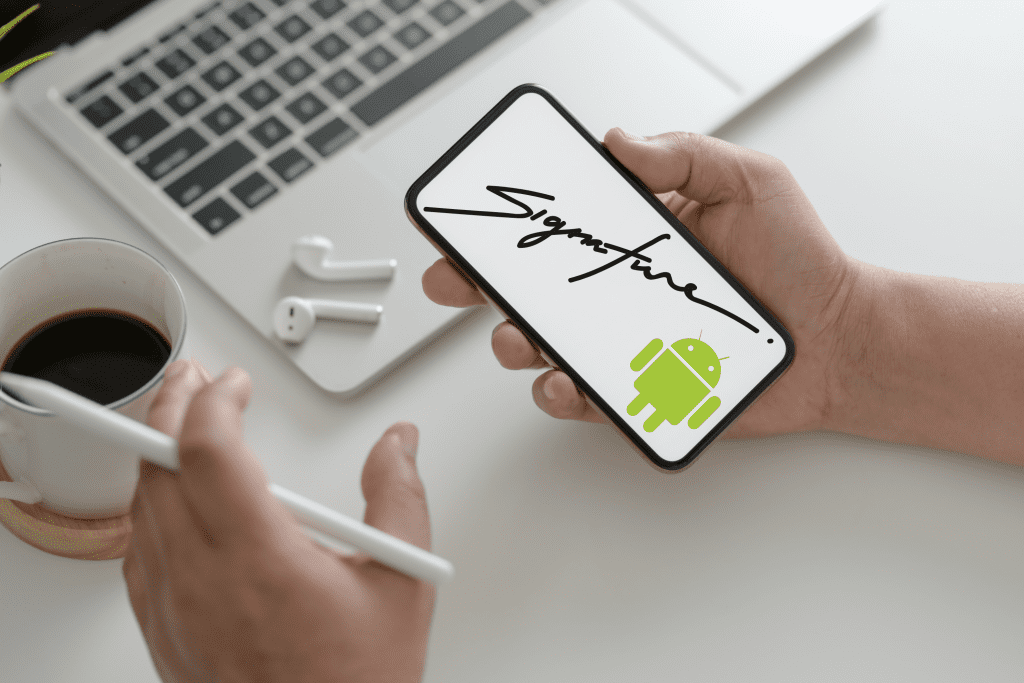 Can You Fill and Sign PDF Documents on Android?
Yes. Using your mobile phone to fill and sign PDF documents is possible, provided that you have an electronic signature app with a built-in PDF editor. If you search the Play Store and type "signature app," you'll find app offerings ranging from free to paid to freemium. It's only a matter of choosing which app is best suited for your needs.
A good example is Fill. With this app, you can fill and sign PDFs from anywhere, at any time. It also uses bank-grade encryption to safeguard documents stored in the cloud. With the help of this app, you can sign contracts without printing them on paper.
How to Use Esignatures on Your Android Phone or Tablet
With this no-frills guide, you'll learn how to use our esignature app, Fill, to sign documents on your Android phone or tablet.
How to sign documents using Fill:
Download and install Fill on your Android phone or tablet.

Open the app and click Get Started. Follow the on-screen directions.

On the app's home screen, tap the plus icon (+) at the bottom right. Select whether to create a new document or import an existing document from your cloud storage or local drive.


Since you're the one who needs to sign the document, you need to choose Sign Yourself when prompted. Tap the Sign and Fill Document button to proceed.

At the bottom portion of the document viewer, select the option for Sign, then tap + to create a new signature.


Create a new electronic signature by either typing or drawing on your Android screen. You may also upload an image of your handwritten signature. Don't forget to tap Save as soon as you're finished.

Once saved, your new esignature will show up on your signatures list. Tap the esignature to add it to your document.

Once added, tap the esignature on your document and then hold and drag it to the area where you need to sign. You can also use the resize slider to adjust the size of your esignature.

Click Done right after signing to save your work.
After signing your document, you can choose to download it to your device or send it to others.
Once signed, you can no longer make changes to your document. If you preview the document, you can also see a string of characters at the bottom of every page. This string of characters represents a hash. Any change in the hash code means that your document has been modified, which nullifies the validity of the electronic signature you attached.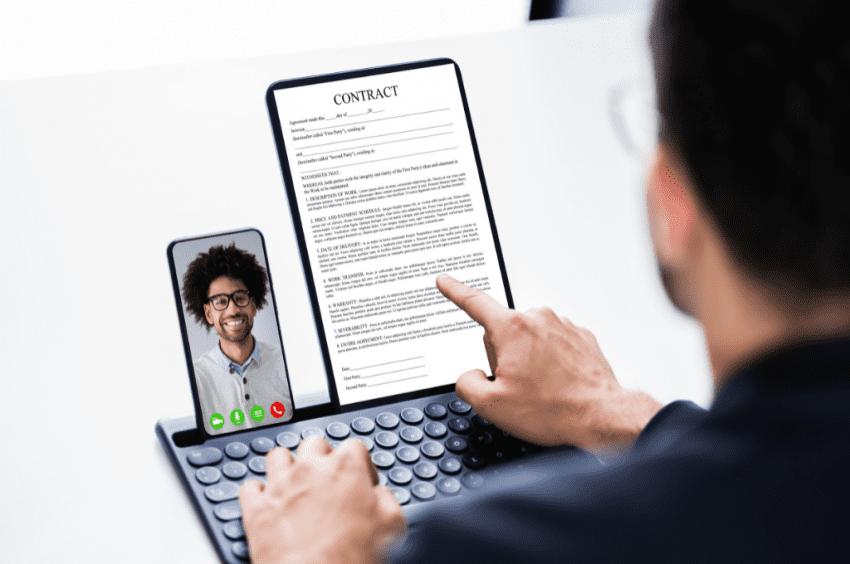 How to sign documents on Microsoft Word mobile
You can also use Fill to sign a DOC or DOCX file on your Android phone or tablet.
Follow the steps below:
Open the Microsoft Word document you want to sign on your Android device.

Navigate to the toolbar and select File.

Save the document in the format of your choosing. Take note of the file's location on your device.

Next, open the Fill app and import your document.

At this point, you can follow steps 4 to 9 from the previous section to finish creating and applying your esignature.
As you can see, Fill can be a valuable addition to your workflow. With this feature-rich app, all you need to do is create and edit a document on Word, then open the file on Fill to finish the signing process. It's effortless and could take hours off your usual routine.
How to sign documents with Google Docs on Android
Google Docs is another word processing software similar to Microsoft Word. It is an increasingly popular solution for creating and sharing documents. It also integrates with other Google apps like Drive, Sheets, and more.
Follow the steps below to sign documents on Google Docs with Fill.
Open Google Docs, and find the document you want to sign.

Make your final edits and ensure the file is good to go.

As Google automatically syncs your files, the document will appear on your Google Drive. Open the app and select the three-dot symbol beside the file name.

Next, select Open In. Choose Fill from the list of the available apps.

Fill should open on your device. You can now create a digital signature and request esignatures from other parties.

To start signing on your Android device, follow the steps outlined in the short Fill guide above.
Fill features powerful third-party integrations with cloud-based services. You already know about Google Drive, but it also connects with apps like Dropbox, OneDrive, and iCloud. With Fill, you can be sure that you can sign documents electronically wherever you are.
Why Use Your Android to Sign Documents on the Go?
Using your Android phone to sign documents is advantageous, especially for people who live a busy lifestyle. Instead of making that long commute to the office, you can use your phone to fill out and sign a form that you've forgotten. You can also go on trips while dealing with urgent business transactions. It also helps improve your level of productivity since you're able to accomplish tasks despite being away from your work desk.
By having the flexibility and the freedom to sign documents on your Android phone or tablet, you can take control of your time while minimizing the risk of work-related stress.
Can You Sign Documents on Android Using an Existing App or Email?
To sign documents on your Android phone using an existing app or your email, you need to look for esignature apps that support third-party integrations. It's good that with Fill, you can easily connect to Gmail, Google Workspace, and Google Drive.
Integrating our esignature solution with Google Drive or Gmail allows you to sign your documents without leaving the app. You can also fill out forms and send signature requests without switching back and forth between two separate platforms.
Once you've learned how to sign documents on your Android phone or tablet, you'll never worry about leaving urgent documents unsigned. Stay on top of your work and get deals closed on time with our mobile and cloud-based app. Use Fill to keep track of your files and receive activity updates via push notifications.
Start using Fill for Android today. Download it for free on Google Play.