Custom forms are a must, especially if you want to collect data that fits the needs of your business. You can also customize forms to suit the preference or interests of your target recipients.
Plus, you can design them to include your brand logo and fonts. It's a great way to attract more customers and improve brand recall.
If you know how to create custom forms, you'll be able to grow your customer base more quickly while saving time and money.
Let's get started.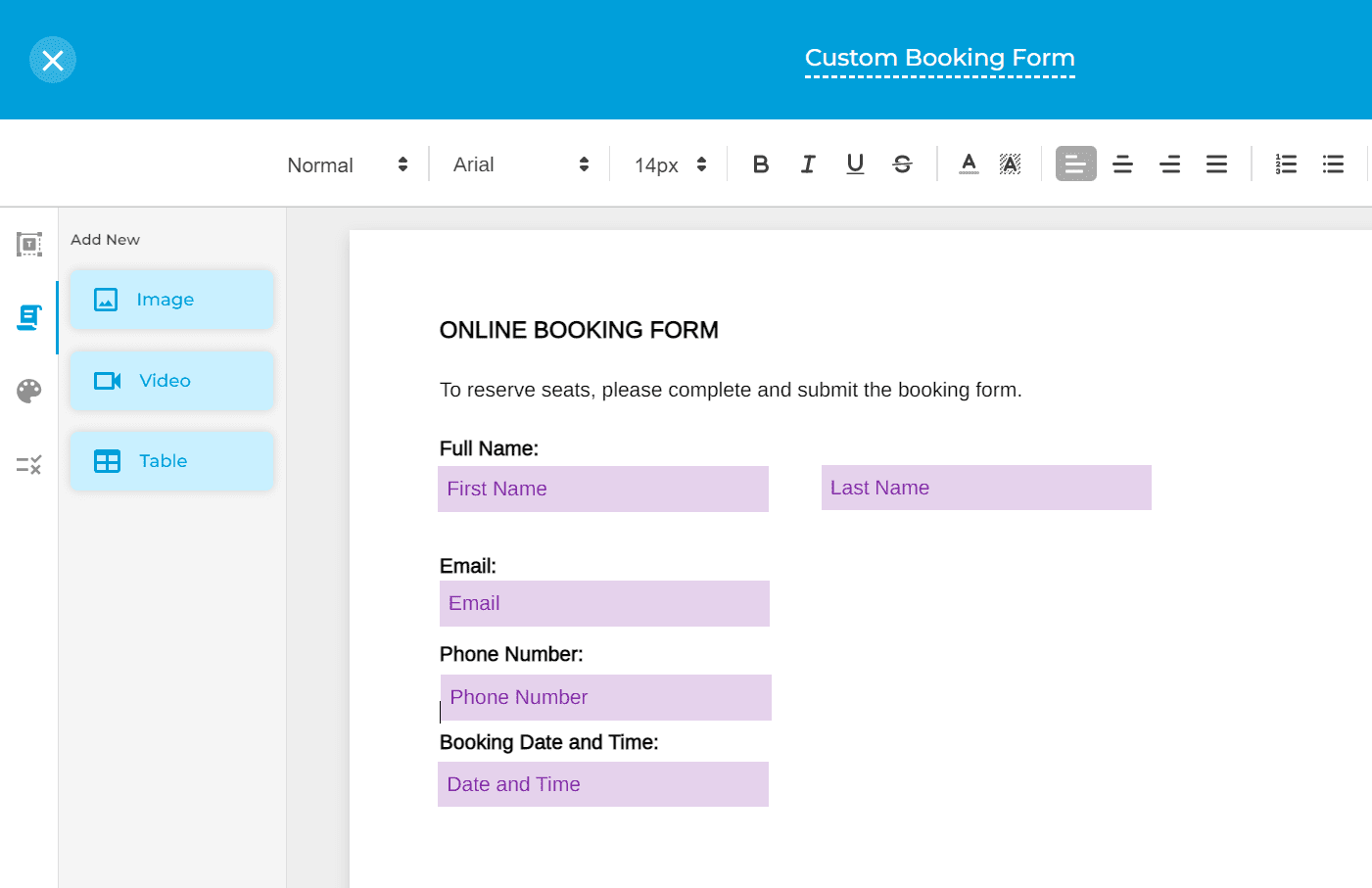 What Are Custom Forms?
Custom forms are a step beyond generic fillable documents or templates. You have the ability to add dynamic fields, checkboxes, number sliders, and drop-down menus.
Custom forms not only allow you to collect the exact information that you need, but they also improve user experience. This in turn ensures that your respondents will complete the form and give accurate answers.
By adding dynamic fields, you can eliminate the hassle of repetitive data entries. Users can also fill out empty fields automatically using previously entered values like their name, contact number, email, and shipping address.
Since you have complete control over your form's appearance, you can personalize the layout and design to suit your brand's image.
When to Use Custom Forms
There are so many things you can do with custom forms. Here are some of them:
Accept orders. Selling something? You can use custom forms to process orders and payments.
Accept donations. Make it easy for donors to contribute to fundraising efforts.
Accept registrations. Run exclusive events and invite participants to register online with just a few clicks.
Schedule events. Ask invited guests and participants to respond by clicking accept or decline.
Gather user feedback. Gain insights from customers on how you can further improve your service or product.
Run contests. Effortlessly accept submissions for photo or trivia contests.
Benefits of Using Custom Forms
Creating custom forms offers many benefits that can boost sales and productivity.
Accurate data entry
You can reduce errors due to typos or poorly designed questionnaires. Gathering personal details is also easier since you can autopopulate forms based on the user's previously entered information. You can also add rules to prevent users from entering the wrong answer.
Secure data handling
Creating custom forms for data gathering is way safer than asking users to write their answers on paper. Aside from using encryption to safeguard sensitive data, you can also ask respondents to verify their identities by undergoing a biometric check or solving a captcha.
Enhanced user experience
You can create questions and draft responses that are relevant to your target respondents. Not only does this help speed up the form-filling process, but it also encourages users to answer each question with enthusiasm.
Improved brand recall
Aside from designing forms that fit your branding, you can also boost customer retention and loyalty. The moment they see your custom form, they can immediately associate it with your business or company. It raises your chances to stand out against competitors. Plus, it's a subtle way to imprint your brand in your customer's memory.
How to Create and Customize a Document in Microsoft Forms
Customizing a document in Microsoft Forms is easy. All you need to do is follow these simple steps:
Go to forms.office.com and log in using your existing Microsoft account.
From the dashboard, click New Form.
Give your form a good title. To add a custom field, click Add New.
Select the type of field that you want to add. You can also customize it by adding an image or video.
Repeat the previous step until you've included all the necessary questions and sections. You can also add optional fields for ratings and comments.
Select a theme from the design gallery and preview your customized form.
Once you're already satisfied with the outcome, click Send. You may then share your form via a direct link or by emailing it directly to your respondent.
How to Create a Custom Form With Fill
Our online form-building tool offers three ways to create custom forms without a hassle. There's no coding necessary.
Upload an existing document
Go to app.fillhq.com and log in using your existing account. You can also sign up for free using your email or Google account.
From your dashboard, navigate to Tools > Online Forms.
Click Create Form > Upload.
Select an existing document from your local folder.
Enter your desired form name and click Next.
From the left menu, select a custom field then drag and drop it into the document. Click on the field to change its default settings.
Repeat this process until you've achieved your desired outcome.
Click Save. You can now send the final output via a shareable link.
Use Fill's drag-and-drop builder
Go to Tools > Online Forms.
Click Create Form, then select New.
Name your document and click Next.
Using the drag-and-drop builder, select a custom field from the left menu. Drag and drop it into the blank document, then modify its settings according to your preference.
Double-click on the document to insert text, links, videos, and images.
Set your preferred document layout and theme.
Click Save to apply all the changes.
To share your form, click Activate, then select Copy Link. Send the link via email or direct message. You can also insert the link in another document.
Customize an online form template
Pressed for time? Instead of creating a form from scratch, you can modify an existing template from Fill's gallery. All you need to do is follow these steps.
Go to app.fillhq.com.
From your web dashboard, go to Tools > Templates.
Click Create Template, then select From Template Gallery.
Using the search bar, scroll through the vast list of templates and choose the one that's best suited for your business transaction.
Since the template is preformatted, all you need to do is customize the fields until you achieve the layout you want.
Click Save.
Now that your customized form is ready, you can easily send it to your recipient. They can complete the form and add an electronic signature using any device. You can also edit the template's default branding to show your company's name and logo.
Create Custom Forms Quickly With Fill
Customizing forms according to your needs and preferences gives you a competitive edge. You can stand out from the competition by offering users a faster way to submit their responses. Plus, you avoid getting incomplete or inaccurate answers.
With Fill, you can effortlessly create and customize forms that suit your business needs and customer preferences. Our intuitive form-building tool and professionally-designed templates lets you create and send surveys, orders, and other business forms. There's no need to print out sheets in bulk.
So why waste time on paper questionnaires when you can collect data online?
Sign up for a Fill account today. It's free.