The FDA has established rules to ensure the safety and effectiveness of each product or equipment sold. However, meeting the FDA's regulatory requirements isn't just limited to this aspect. It has also set some guidelines for proper document handling to protect public health.
Below, you'll find a quick rundown on the guidelines set by the FDA, specifically under 21 CFR Part 11, which pertains to electronic signatures and electronic records.
Table of Contents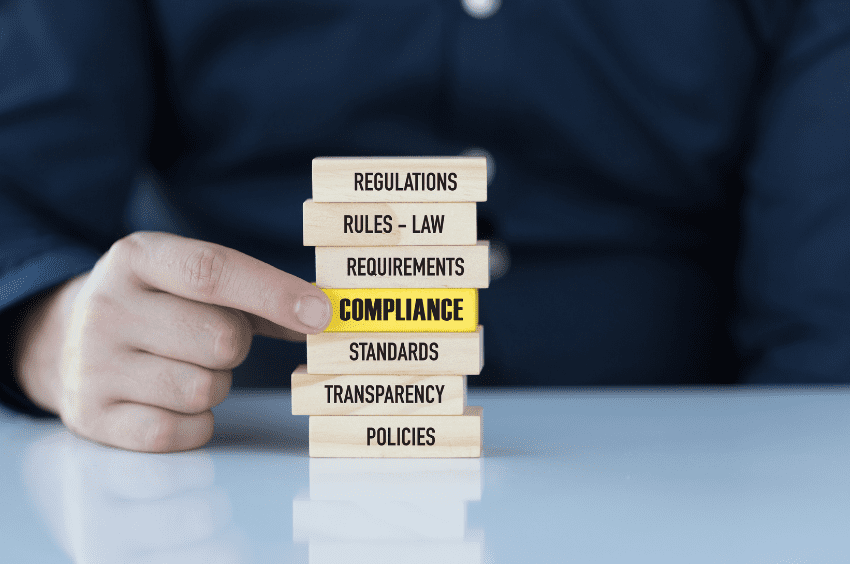 Ensure 21 CFR Part 11 Compliance with Fill's eSignature Solutions.
Take a free tour today to learn more about how our document signing service can help meet your regulatory requirements.
What Is 21 CFR Part 11?
The CFR (Code of Federal Regulations) has several titles outlining the best practices and guidelines for a specific topic or subject matter. 21 CFR Part 11 refers to a section under Title 21, which outlines the FDA standards for using electronic signatures and electronic records. It also guides people and covered entities on how to protect public health by ensuring that each electronic document is created, stored, and maintained safely and securely.
Who Needs Part 11 Compliance?
Any business or entity that operates as part of the FDA-regulated industry must comply with the guidelines listed under 21 CFR Part 11, including drug makers and medical device companies. If your FDA-regulated business processes electronic data in any form, then you must adhere to the rules and guidelines for electronic signatures and electronic records. You are also required to implement and maintain a data processing system that is secure and reliable.
Tips to Comply with FDA 21 CFR Part 11
In maintaining regulatory compliance, you must thoroughly examine each rule to avoid misunderstanding or confusion. Failing to comply with the guidelines could lead to penalties and fines. You are also at risk of losing your permit or license to operate. Below, you'll find some tips to help you comply with Part 11 of the FDA guidelines.
Whether you're a company or small business owner, you need to:
Double-check whether the guidelines in 21 CFR Part 11 apply to your business or company.

Implement and maintain the best practices for electronic records management, such as restricting user access and document archiving.

Ensure that your e-signatures are secure and legally binding by choosing a reliable eSignature solution.

Consider the Part 11 compliance when choosing a CRM or ERP.

Have a secure system for creating document backups and audit logs.

Have a standard operating procedure for handling records that require strict implementation and monitoring.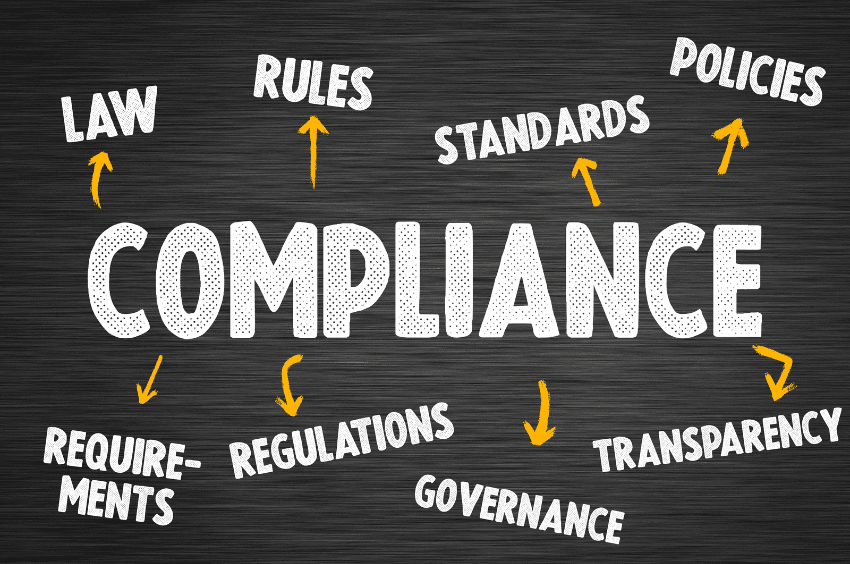 Compliance Checklist for E-Signature Use and Electronic Records
Having to deal with multi-part guidelines can be tedious and time-consuming. By having a compliance checklist, you can organize and visualize each rule properly. With it, you can list every important aspect without missing any crucial guideline or step. You can also keep track of your progress and prioritize tasks while reducing the likelihood of confusion.
The compliance checklist below will help you determine whether a system or software complies with the 21 CFR Part 11 standards for e-signatures and electronic records.
Disclaimer: The following checklist does not, and is not intended to, constitute any form of legal advice.
System or Software Validation
Ensure that your software meets the standard requirements of CFR Part 11 and is fully compliant with other industry regulations like HIPAA, GLBA, and more.
Access Control and User Authorization
Your software or application should be able to implement access control either by biometric scans, PINs, or passwords. There should also be an option to restrict user access to minimize the risks of intentional or accidental data breaches.
Audit Logs
By having a detailed record of your system processes, you can monitor and identify any suspicious activity and prevent further damage by restricting access. With audit logs, you can further protect your business from facing any possible penalty by presenting it as legal proof in court.
Tamper Detection and Tamper Prevention
Another way to ensure compliance with 21 CFR Part 11 and other privacy regulations is to have a way to detect any form of document tampering, especially with electronic records. There should also be a way for you to tamper-proof your documents to avoid forgeries or fraud.
21 CFR Part 11 Compliant E-Signatures
Since the guidelines outlined in the CFR Part 11 also apply to e-signatures, it is crucial to ensure a secure way for electronic records to be legally signed using digital signatures. In this case, you'll need a reliable document signing solution that you can easily integrate into your existing business platform or CRM.
With Fill eSignature, you have a stress-free way to create compliant signatures. There's also no need for you to worry about complicated document signing processes. Our electronic signature software can automate tedious tasks so you can focus on doing meaningful work.
Secure Data Storage and Transmission
The software or app must be secure enough to store and process electronic documents. Ensure that your document management system uses encrypted file transfer protocols to safeguard your data while in transit. There should also be a way for you to prevent unwanted access from any third-party app or device that fails to meet the industry standards in secure data transmission.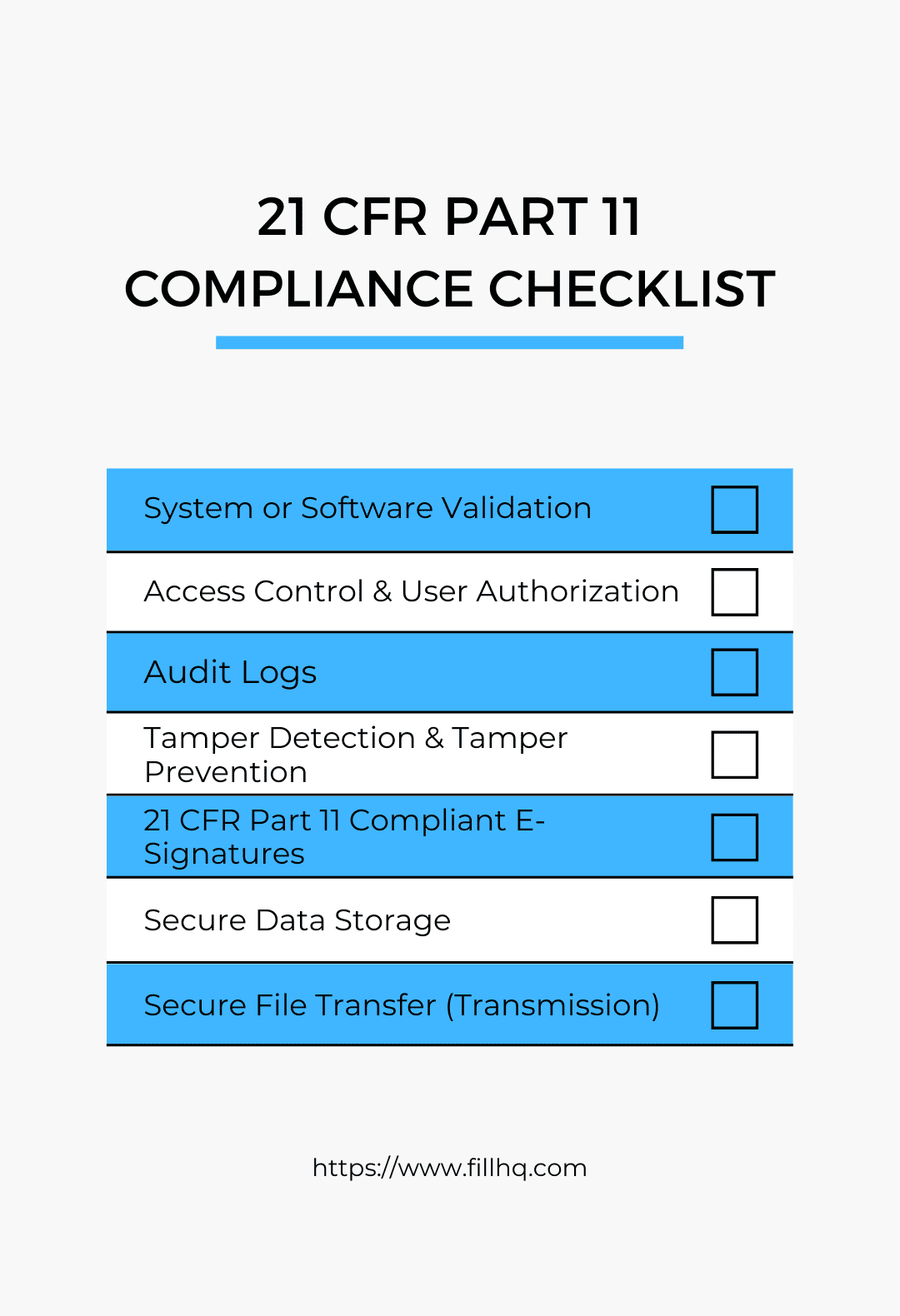 Final Thoughts
Ensuring FDA compliance, particularly with 21 CFR Part 11, is necessary for any person or entity that intends to do business while maintaining quality standards. It also shows that aside from having products that are "FDA approved," you also value and protect the privacy of your customers. It also helps protect your business from losing money due to cybersecurity threats like phishing and malware attacks.
With Fill eSignature, you can ensure compliance with our secure cloud-based platform. Create legally binding signatures and sign documents while meeting various industry guidelines and regulations. Start with a free account or upgrade to your preferred plan today.