Release Date: January 23, 2023
Sending documents for digital signatures should be a breeze.
With our digital signature wizard, you can easily upload documents and create signing tasks with just a few clicks. And now that Fill Web 3.4.1 is live, we've added improvements that can significantly enhance your signature workflow.
Let's dive deeper into what this update has to offer.
What's New With Fill Web 3.4.1?
Fill Web's latest update brings with it several improvements to help you get your documents signed faster.
Here's everything we've included in the 3.4.1 update:
Digital signature wizard enhancements
Draft status for unfinished requests
Pop-ups for feature upgrades
Template editor and wizard updates
Online form editor and wizard updates
Digital Signature Wizard Enhancements
The request signature wizard runs automatically the moment you create a request. There are also significant changes in how it works, but the aim is simple — to make your overall experience more intuitive.
Given the added enhancements, you are now able to: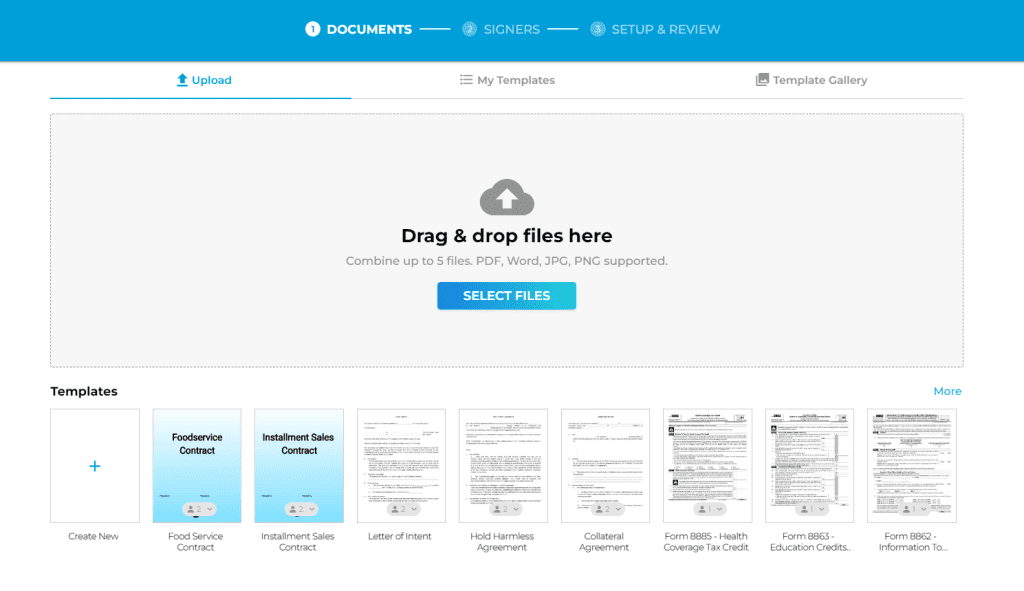 Select templates below drag-and-drop
Upon creating a new request, you can immediately choose a template in the same window where you upload files. There's now a template carousel right below the drag-and-drop box, so simply click the one you want to use.
Like in the template gallery, you also have the option to preview a document first before using it. You can also create your own by clicking Create New.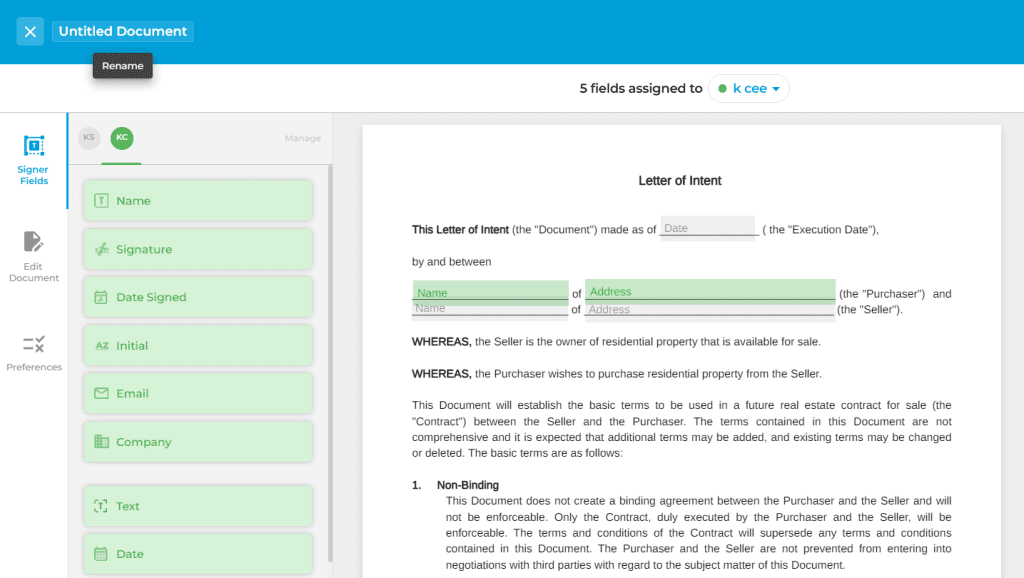 Rename a document using the editor
We've also moved things a bit. To rename a document, you must do the following:
Upload a new file or choose a template from the gallery.
Wait for the editor to load. Once you see the document, click its existing title, then highlight it.
Enter a new title. That's it.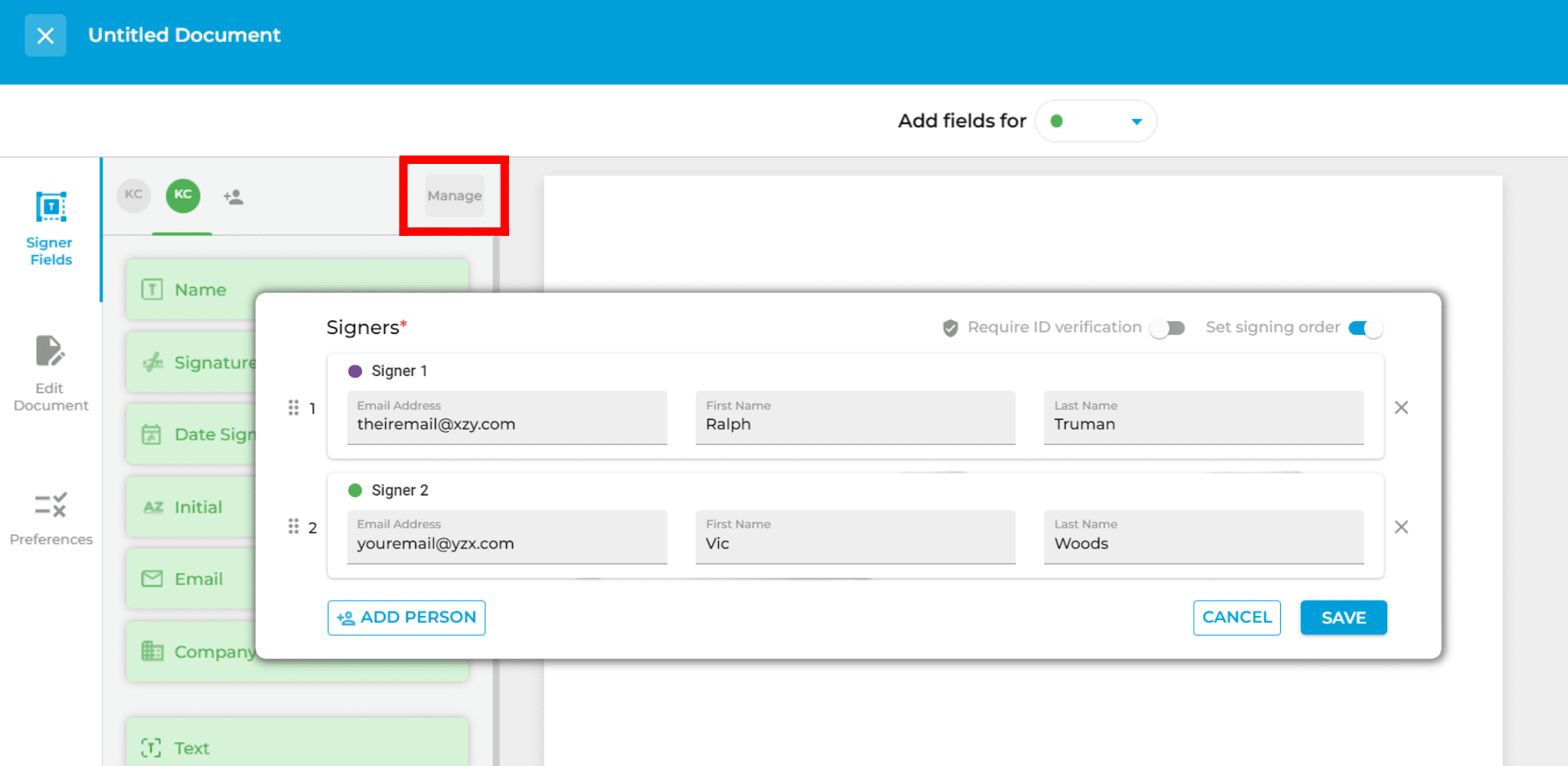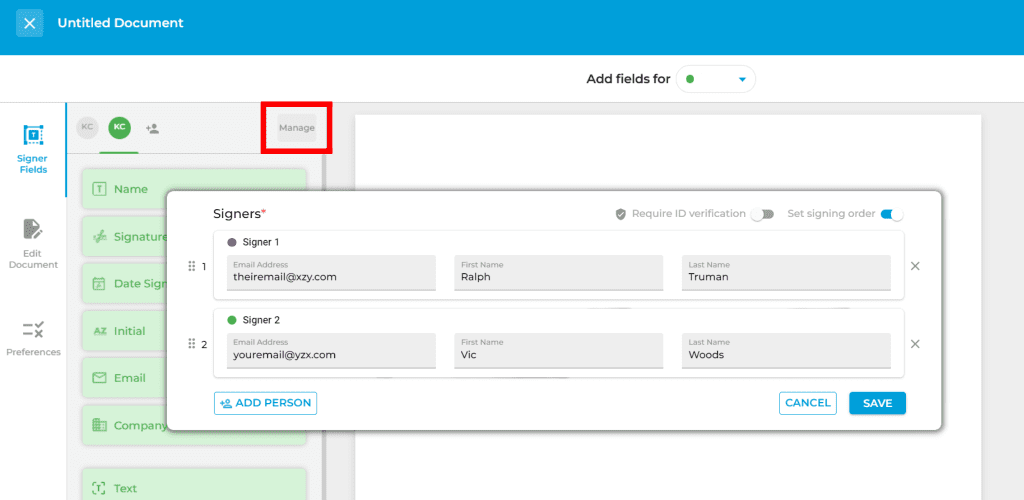 Add or remove recipients right within the editor
You don't have to leave the editor to add or remove signers. Instead, you can use the request signature wizard to edit your recipient list, request ID verification, and update the current signing order.
Here's how it works:
From the editor, click Signer Fields on the left navigation panel.
Click Manage.
Change your signer preferences. You can add, remove, or update your existing signer details.
Click Save.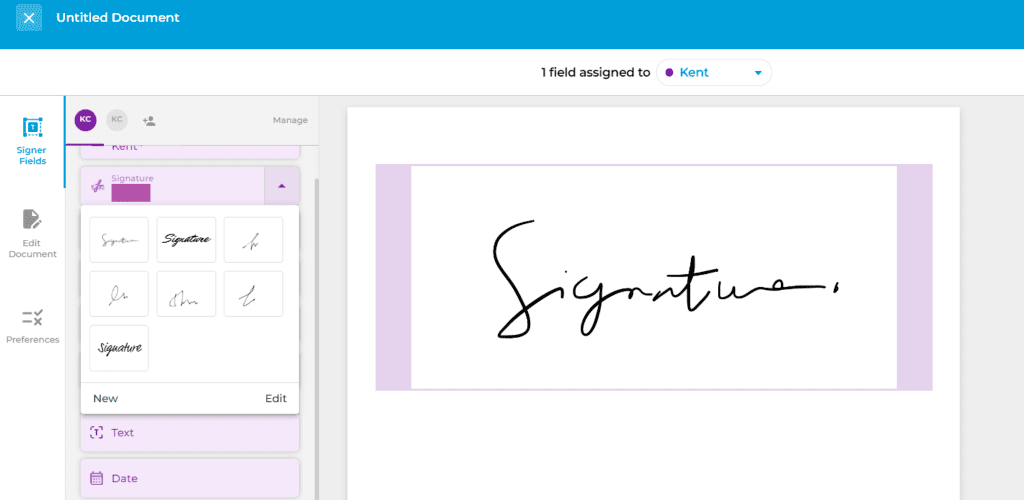 View more options when adding a signature field
There's no need to waste time when it's your turn to add signatures. Before sending the request, you can pre-fill the document to speed up the completion process.
The updated signature field now displays your saved signatures upon selection. This makes it easier to choose a signature that best reflects your document's purpose or intention. You can also type, draw, or upload a wet signature image for a more personalized look.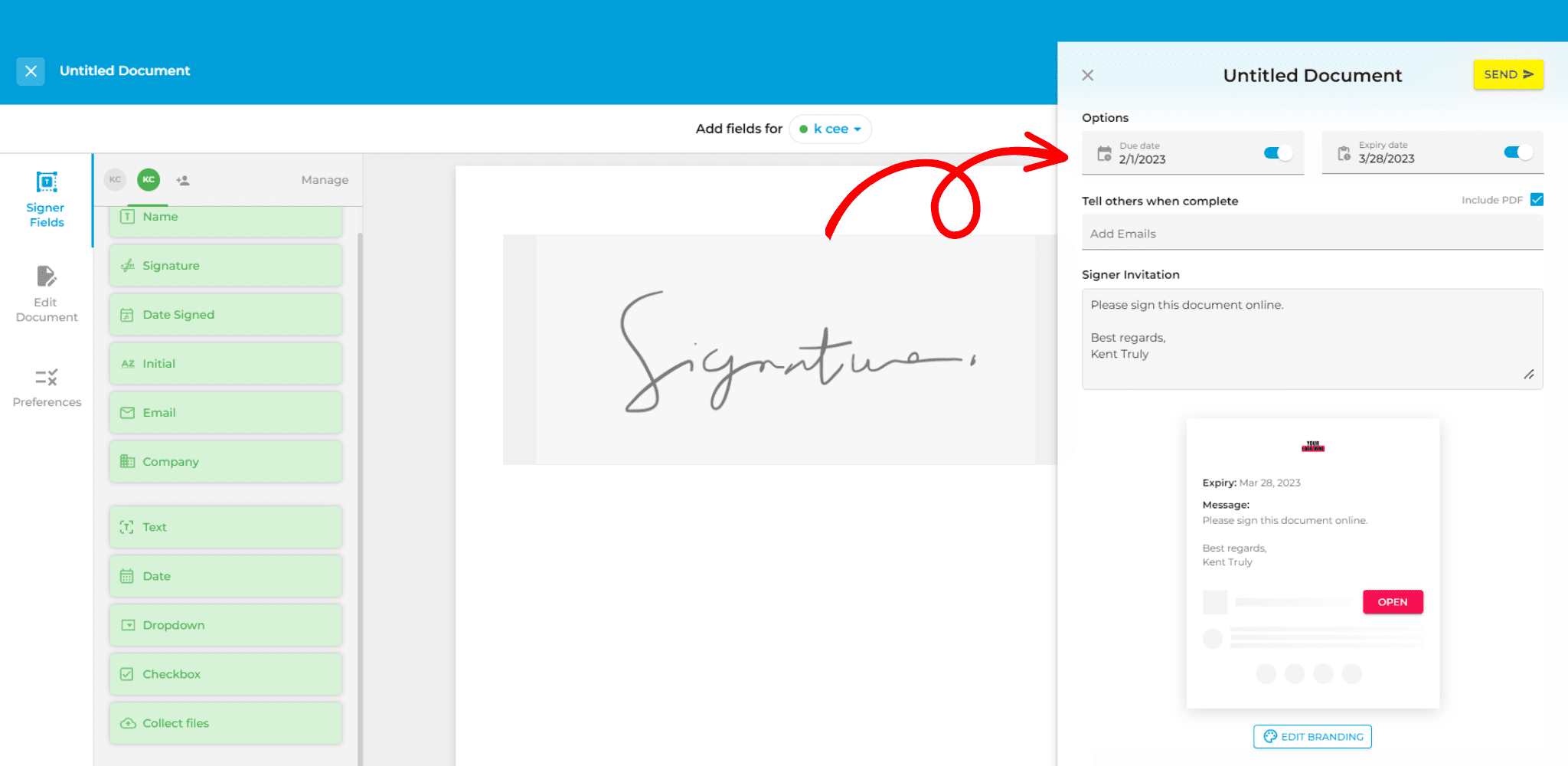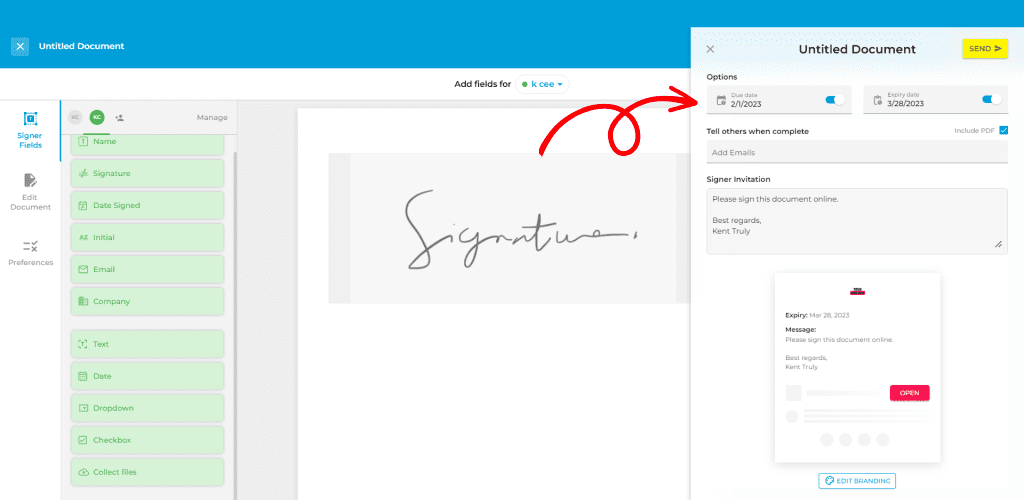 Modify your sending options upon preview
Your sending preferences can significantly affect how your eSignature requests are received. With the updated preview dialog, you can modify your sending options to ensure the best possible outcomes.
Here's how it works:
Check the accuracy of the information entered in both the required and optional fields, and make any necessary corrections.
Remember to add at least one required field for each signer. After doing so, click Review.
On the preview dialog, you can set your request's due date and expiry date.
Although optional, you can also add the emails of your stakeholders to keep them in the loop.
Click the Edit Branding button below the email message preview to update your current branding.
Once everything is in place, click Send.
Note that these updates are now live in Fill's Web app. You are also free to explore and take advantage of all the other enhancements included in this version.
Draft Status for Unfinished Requests
Incomplete or unfinished requests will be automatically saved as a draft. You don't have to do it manually. The digital signature wizard already knows what to do.
You will also see the "Draft" status show up on your dashboard. This way, you will be able to keep all of the progress made. You can also resume working on the request from where you left off.
Pop-Ups for Feature Upgrades
All paid features now display a pop-up, making it easier to upgrade or purchase credit to access the functionalities you need. This eliminates the hassle of navigating through multiple menus.
Template Editor and Wizard Updates
Like the digital signature wizard, we've also made enhancements to our template wizard and editor.
You will notice the following changes every time you create a new template:
Signer roles
Convert to online form option (for single singers)
Advanced page and design options, such as adding background colors and adjusting the background image opacity
CC fields for secondary recipients
Online Form Editor and Wizard Updates
The improvements made to the template wizard have also been carried over to the online form wizard. So whatever changes you see when creating templates can also be applied when making forms.
Obtaining Signatures on Documents Has Never Been This Easy
Fill Web 3.4.1 offers the enhancements you need to create and process signature requests quickly and securely. Not only that, but it also gives you the freedom to do business and close deals from anywhere. It makes collecting signatures more manageable, eliminating the need to send documents back and forth.
All set to explore the features we've recently released? Try Fill today and see how you can leverage these options to streamline your digital signing experience.
Create an account now. It's free.