Knowing how to scan and send a document on your phone enables you to work from anywhere. Instead of being glued to your desk for eight straight hours, you can do your job remotely while maintaining the same level of productivity. And yes, you can finally live that fantasy of having your dream vacation without constantly feeling overwhelmed with paperwork.
In this post, you'll learn how to scan and send a document on your phone, so you won't have to bring your paper files while on vacation. 
How to Scan and Send a Document on Your Phone with Fill
Some phones, like the iPhone, have a built-in scanner tool that you can readily use to scan, annotate, and sign documents. If your phone doesn't happen to have any built-in scanner tool, you can install a third-party app like Fill for iOS and Android. With eSignature and mobile scanning app, you can scan and send a document from anywhere, using only your tablet or smartphone. You can do so while feeling assured that your files will be kept safe and encrypted with 256-bit encryption.
To scan and send a document on your phone, you need to do the following:
1. Download and install the Fill app on your iOS or Android device.
2. Sign up for an account. With Fill, you can start with a free account and later upgrade to a Plus or Pro plan, depending on your growing demands.
3. Click the + icon at the lower part of your screen and select Scan Document. Similar to how you would take a photo, scan the paper document and tap on the checkmark to confirm.
4. Make the necessary adjustments to your scanned document. You can either crop it or set it to appear in black and white or greyscale. Tap on the checkmark again once you're satisfied with the results.
5. Save your scanned document and choose whether to sign it yourself or have others sign it via direct link or email. You can also save the scanned file as a draft.
How to Scan a Document and Email It as a PDF?
To scan a document and email it as a PDF, you can try this alternative option:
1.) Using Google Drive, open the app on your Android or iPhone. Tap the

+

icon at the bottom-right of your home screen.

2.) Select

Scan

.

3.) Press the

shutter icon

to scan the document. Confirm and save.

4.) By default, Google Drive will let you save the scanned document as a PDF to your "My Drive" folder. You can change the destination folder if you want.

5.) Once saved, long-press the uploaded document. Select the hamburger icon (three vertical dots) to view its list of options. Select

Send a copy

and from the list of apps, choose Gmail. Doing so will automatically launch the compose tool with your file already attached.
That's it! You're all set to email your document to your intended recipient.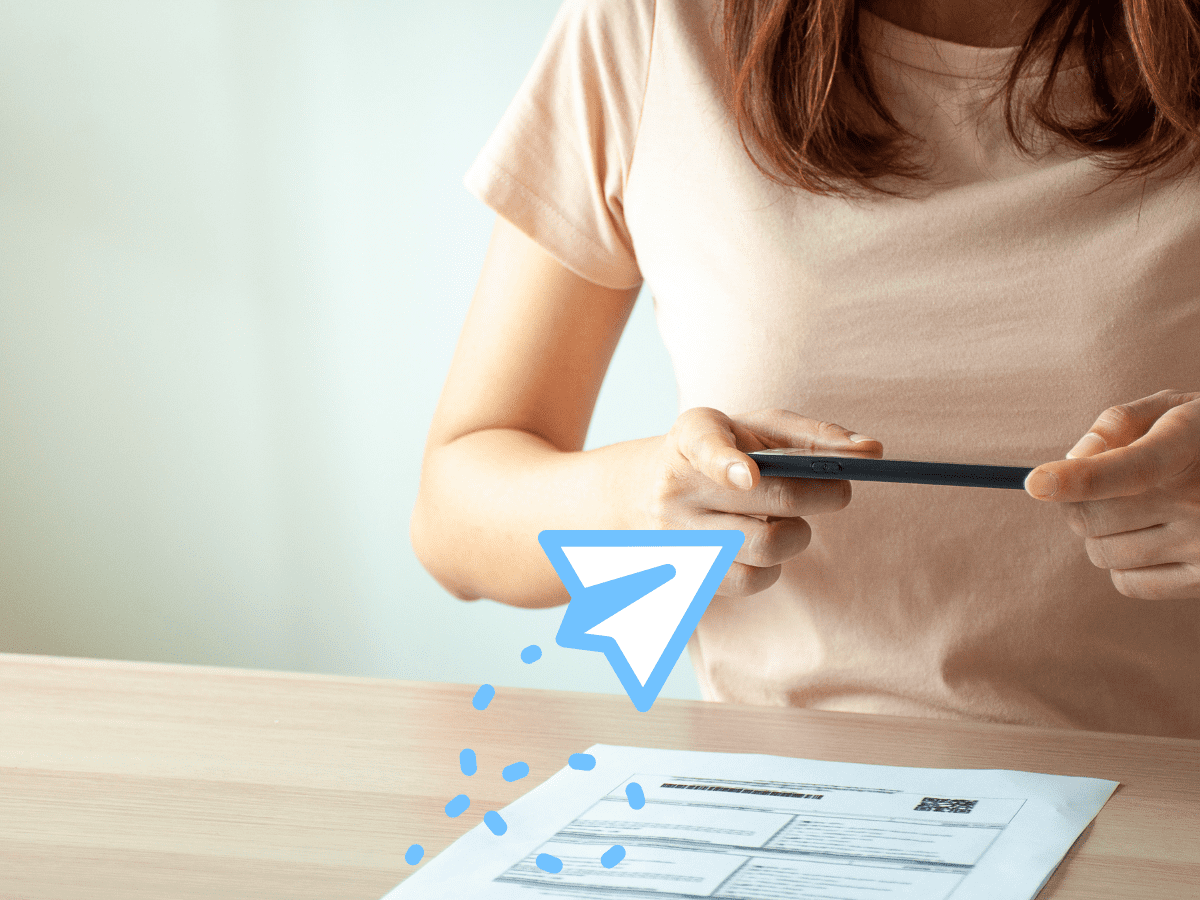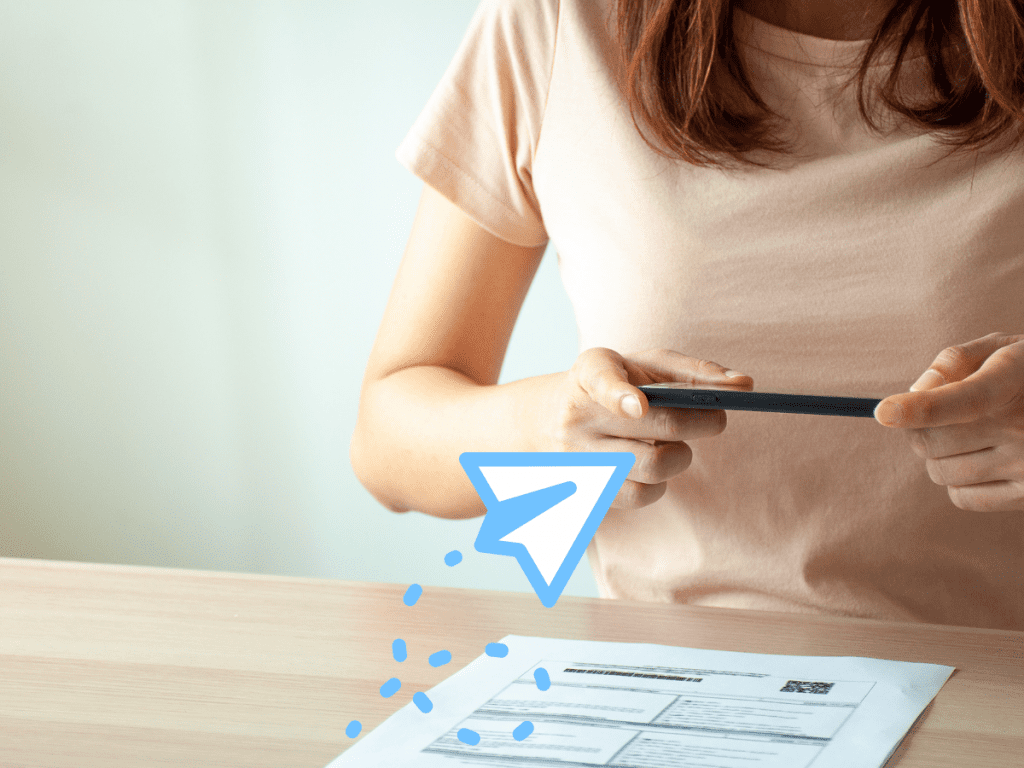 If you want to keep track of each file you share, our app will let you do so in a sophisticated and safe approach. Every time you scan and send a document on your phone using Fill, you'll get instantly notified every time your message gets delivered. You can also keep track of your document's activity via detailed logs and email alerts.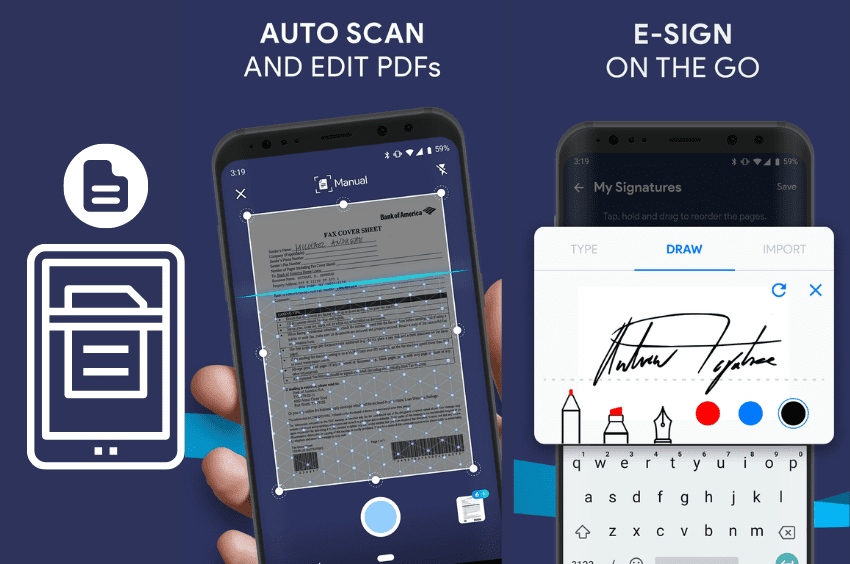 What Is the Best Mobile Scanning App?
There are a lot of reliable apps for scanning documents on your phone, but if you get the chance to choose, you might as well go for the best mobile scanning app for Android and iOS devices. With Fill, you do not only get to scan and send a document on your phone, but you also get to sign documents securely with your legally binding electronic signature.
Our mobile app offers a seamless way to streamline your document workflows, so you won't need to look for other ways to manage, edit, and share your files. Everything you need to ensure a secure and hassle-free document process is already within the app. You can also integrate our app into other software, making it one of the most cost-efficient ways to scale and manage data.
On top of this, Fill also uses OCR technology to extract text from scanned documents automatically.
Final Thoughts
By knowing how to scan and send a document on your phone, you can eliminate the need to transfer and input data manually. It enables you to digitize any paper document and store it in the cloud. It also eliminates the risks of mishandling data due to human error or corrupted USB drives. When you scan and send a document, it goes straight to your device. It offers a practical solution, especially if you're in a hurry without immediate access to a flatbed or overhead scanner.
If you need a secure and compliant app to help simplify your document processes, consider using Fill. Our app offers the flexibility to access and sign documents from anywhere. It's the ideal app for individuals and businesses looking for a reliable eSignature tool with a built-in scanner for scanning and annotating forms and agreements.