Electronic signature forms have turned into a widely used way to connect signatures online. Technology has brought in a lot of positive changes to our everyday lives and its influence can be seen both in homes as well as the workplace. this has led to a lot of changes in the way we handle our duties and responsibilities. As a result, people have turned to be more efficient and productive on a daily basis.
eSignature is one of the many perks of technological advancement that has made our lives easier. eSignatures is short for electronic signatures which is an online alternative to signing and approving documents in a handwritten form. eSignatures nullify the requirements that are usually linked with signing a document offline and make it convenient for us to access and sign important documents from any place and at any time.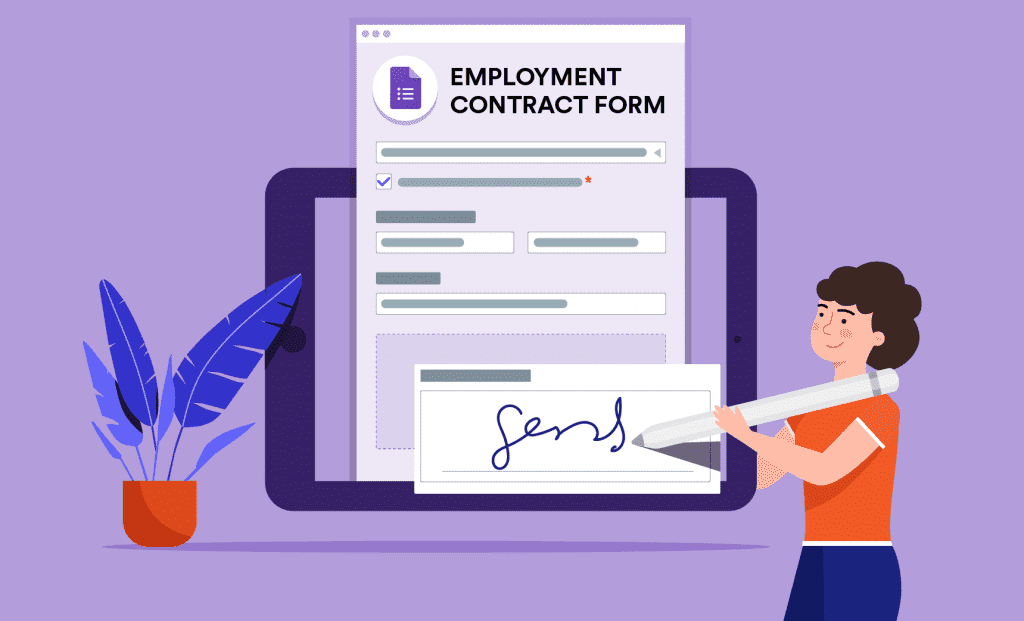 How Do eSignatures and Electronic Signature Forms Work
In order for you to use eSignatures for a document, you will need these two things with you:
A device with internet access and access to your database of files and documents.
A subscription to an eSignature service like Fill makes it easy for you to integrate your files and sign them with eSignatures.
Once you have subscribed to an eSignature service, you will be able to integrate your database with the provisions that are made by the software they have in place. You can then proceed to create your signature and apply it to whichever document you want to sign online. You can simply send over the documents to the concerned person and you can also keep track of any further activity on those documents. 
How to create an electronic signature format using fill
In order to avail the option for your associates to electronically sign documents, you will first need to go through a few steps that will allow you to have the provision to get them electronically signed by anyone who is required to do so. Here are the steps that you need to follow to make that happen. 
Once you have subscribed to fill's services, you can simply log in with your id to start creating electronic signature form
Upload the required documents into the cloud which will only take a few seconds.
You can also use the integrated cloud feature which allows you to have access to all your important documents from any device upon integration.
Fill comes with an advanced PDF editor that allows you to make changes to the document before preparing them for signing or sending them over to the signers.
There is an add signature button that will help you to accomplish two things. You can either use it to imprint your signatures on the document, or you can use it to add signature fields which can then be used by the signers you will be sending over the documents to.
You can mark the document as done and proceed to send over the documents to the signers which they can now sign using their devices on the fields that you have provided in the electronic signature form.
The Upsides of using Electronic Signature format for your work
There is a reason that eSignatures have garnered such popularity in different sectors in such a short time. There are a lot of benefits that come with the use of e signatures to get your job done. Here are some of the benefits that you can reap from the use of eSignature for getting important documents signed.
Electronic Signature Forms Work Faster than the traditional approach
Using eSignatures provides you with a faster experience of getting your documents signed and approved. This makes sure that you get work done at a fraction of the time that it used to take. A faster rate of work translates towards a lot of other changes that boost the productivity of a workplace.
Electronic Signature Forms Promotes Higher productivity
You can exclude a lot of steps from the process of signing and approving documents. This means that you can get more things done at the same time you used to take to get a single document verified. You can optimize your work process much better with eSignature services. 
Electronic Signature Forms Allows A Secure approach to documentation
eSignature services make sure that the documents that you are uploading to the cloud are all safely encrypted. This makes sure that the people who are gaining access to the documents are all authorized to do so. Besides. Physical copies of documents can be a lot to deal with when a large number of clients are involved. Handling them through an electronic process can be much easier for you to deal with them.
Electronic Signature Forms Promotes Cost-cutting 
Cost-cutting is one of the pivotal reasons why people approach eSignature solutions in the first place. Getting documents verified through the physical process requires a storage area for papers, processing costs, commuting and in most cases a lot of waiting for clients. All this adds up to a lot of costs incurred overall. Using an electronic process excludes all of the things mentioned above from the process. This can save you and your company a lot of money as well as time.
Electronic Signature Forms Promote A Paperless process
Using eSignature services gives you an opportunity to contribute to your environment as well. eSignatures can limit the amount of paper required for your company to function by a lot.  You can make great strides ahead in your company's growth and at the same time do a great service to your environment as well.
Electronic signature format is the present as well as the future of documentation. As you have already read, there are numerous benefits to following this approach and it is pretty simple to adopt as well. Choose the best and the latest that technology has to provide and watch yourself and your company grow.