Release dates:
V3.3.1 – November 28, 2022
V3.3.2 – December 5, 2022
Fill 3.3 has rolled out for web users worldwide.
The recent updates allow users to protect sensitive document data with a new field masking feature. Additionally, improvements to the custom branding feature let businesses create effective marketing materials. Other notable updates include a more user-friendly Profile dashboard screen and more convenient access to signer ID verification.
Let's dive deeper and explore how Fill 3.3 elevates document management for every user.
What's New With Fill Web 3.3?
While field masking tops the list of improvements for this release, there are several more additions worth mentioning.
Here's everything we've added to Fill version 3.3.
Field masking
Custom branding V1.2
Identity verification pop-up
New Profile view
Field Masking
In a massive effort to provide users with more security features, Fill has now added support for field masking sensitive fields in online forms.
What is this feature, and what does it enable?
Also known as data masking, this new addition allows Fill users to create masks over specific fillable areas to hide sensitive information. If you're an admin user or authorized subuser, you can still view the data in masked fields.
With data masking, you can:
Add a layer of privacy to your documents
Mask text fields with one click
Request sensitive information without exposing user data
Replace text with hidden data in the form of dots
Users who can access the file but do not have permission to view the masked fields will not be able to see the hidden data. Additionally, any exported PDF will not include masked field data regardless of who downloads it.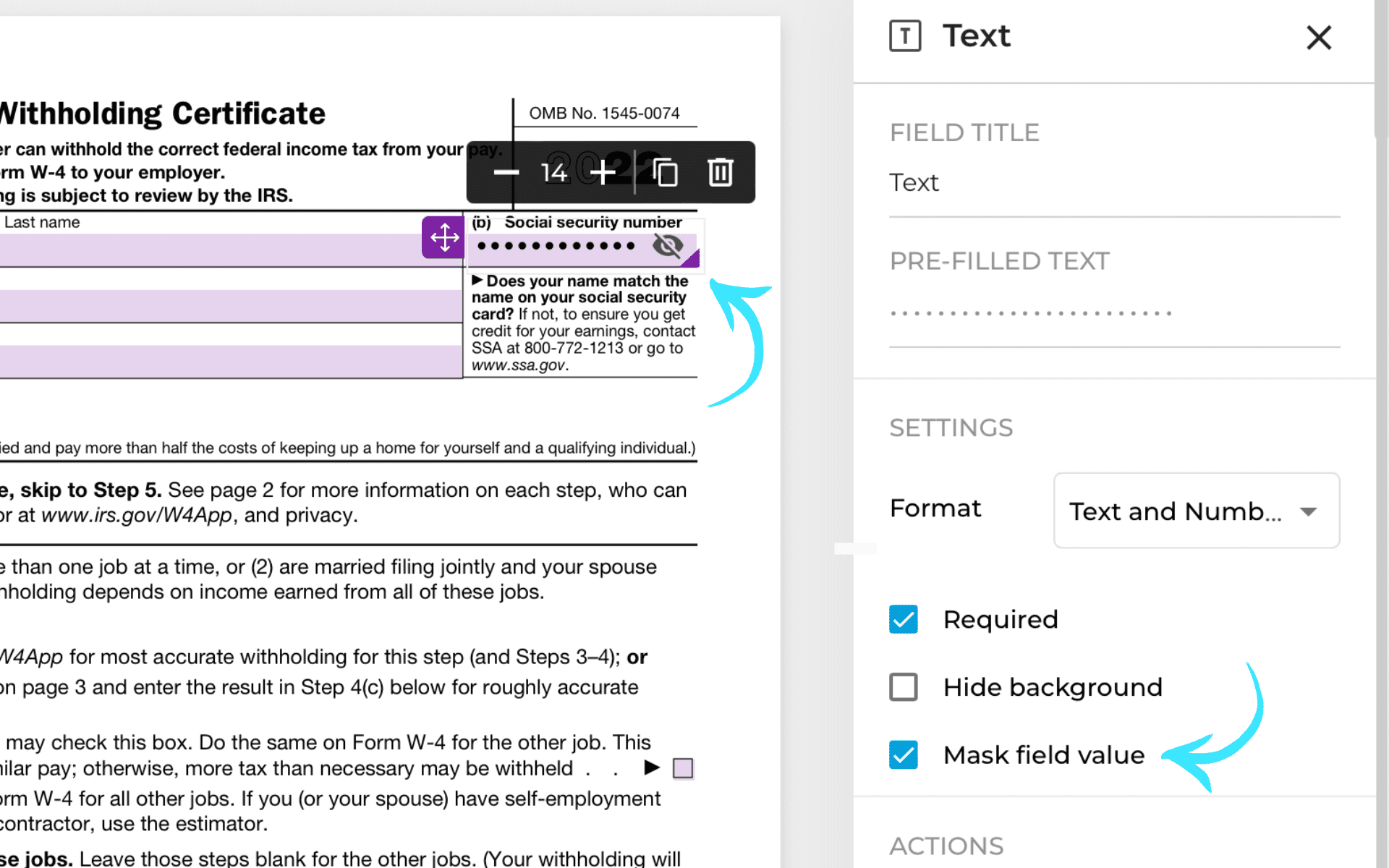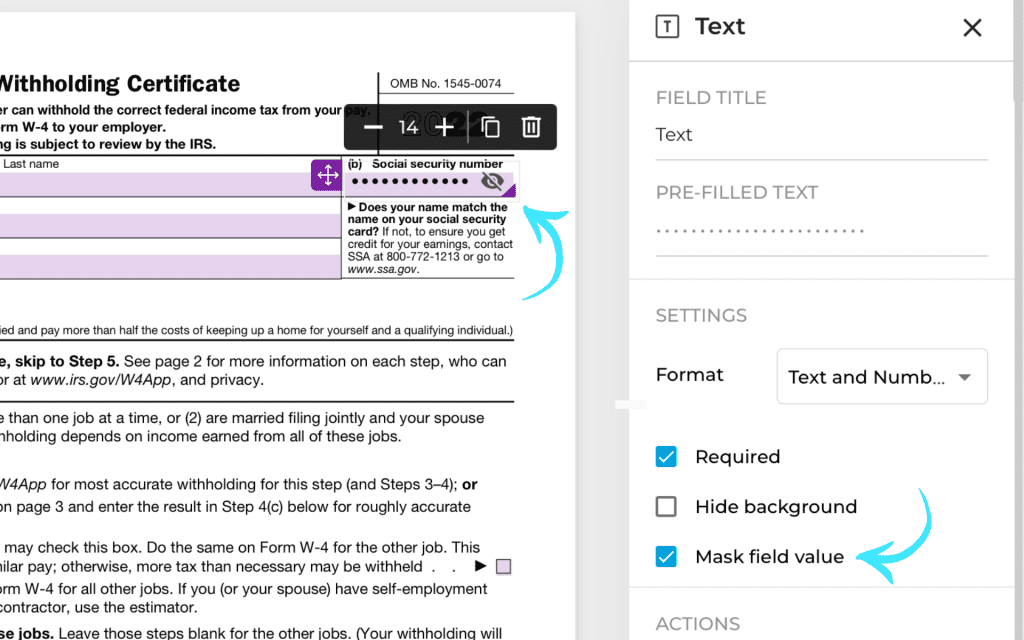 How to mask fields in a document with Fill
Follow the steps below to use the new field masking feature on Fill.
Visit fillhq.com on a desktop browser and log in.
Enter the dashboard. Click Request Signature and upload or select a template.
Next, create a text field or select an existing one.
The Settings panel should pop up on the right-hand section.
You can tick or untick the Mask field value option.
Repeat this process for all sensitive fields you want to hide.
This much-requested feature will help countless users take form field masking in a new direction. Try it for yourself to experience how convenient it can be.
Note that this feature currently only works with the Request Signature feature. We're still working on adding this functionality to online forms.
Custom Branding V1.2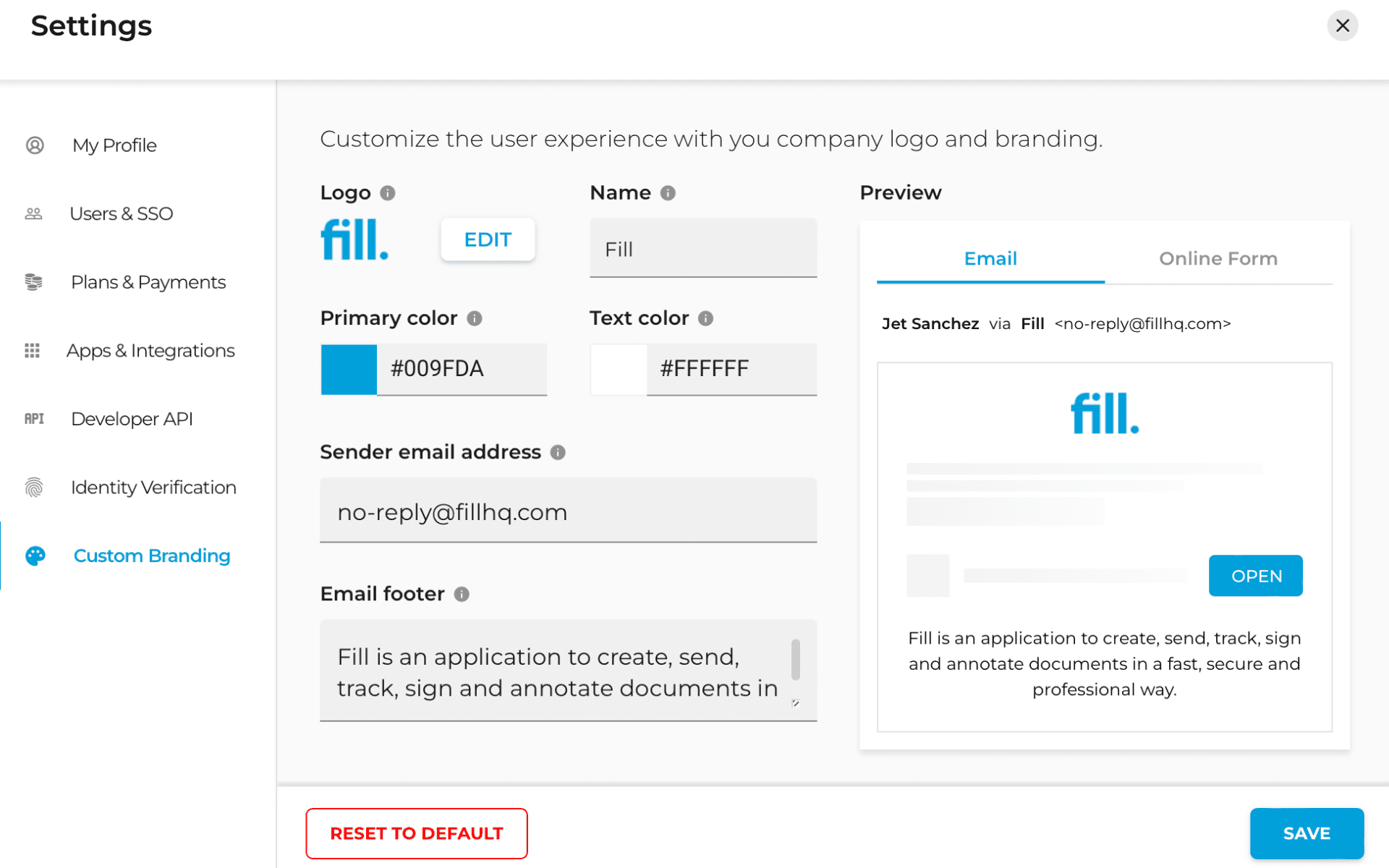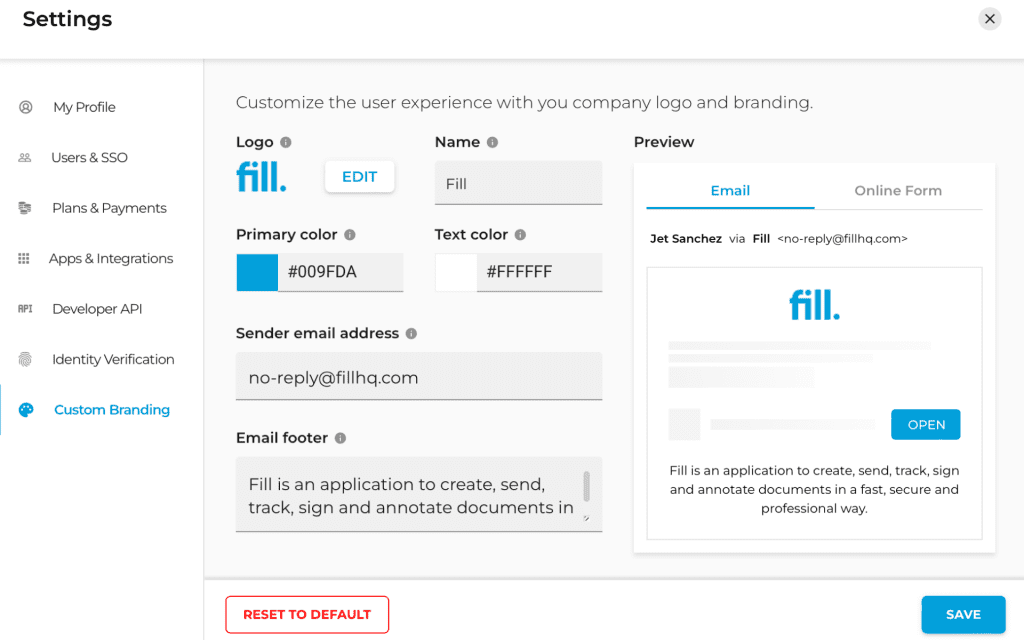 The new iteration of custom branding is next on the list. Introduced in Fill Web 3.2, this feature enables Pro users to use their logos and select color themes for forms, custom contracts, and esignature requests.
This release allows users to add a company name and email domain through the custom branding settings submenu. Document branding and email notifications can now include the business name, logo, email address, and selected color themes.
We fully expect these more robust customization options to augment your brand recognition efforts.
Identity Verification Pop-Up
As the highlight of our previous release, the signer identity verification feature enables biometric face matching for enhanced security.
Identity verification benefits everyone involved in a document. Fill 3.3 now includes a new pop-up window design in the Settings menu. This window highlights the advantages of using identity verification.
You will see the following when opening the identity verification panel:
Signer ID Verification Benefits
Know Your Customer (KYC)
Show proof of identity from any device
Ensure the enforceability and validity of signatures
Reduce the risk of fraud, identity theft, and fines for non-compliance
Furthermore, the redesigned pop-up window shows available credits for signer ID verification. Users also have the option of purchasing credits for $1.99 per verification.
New Profile View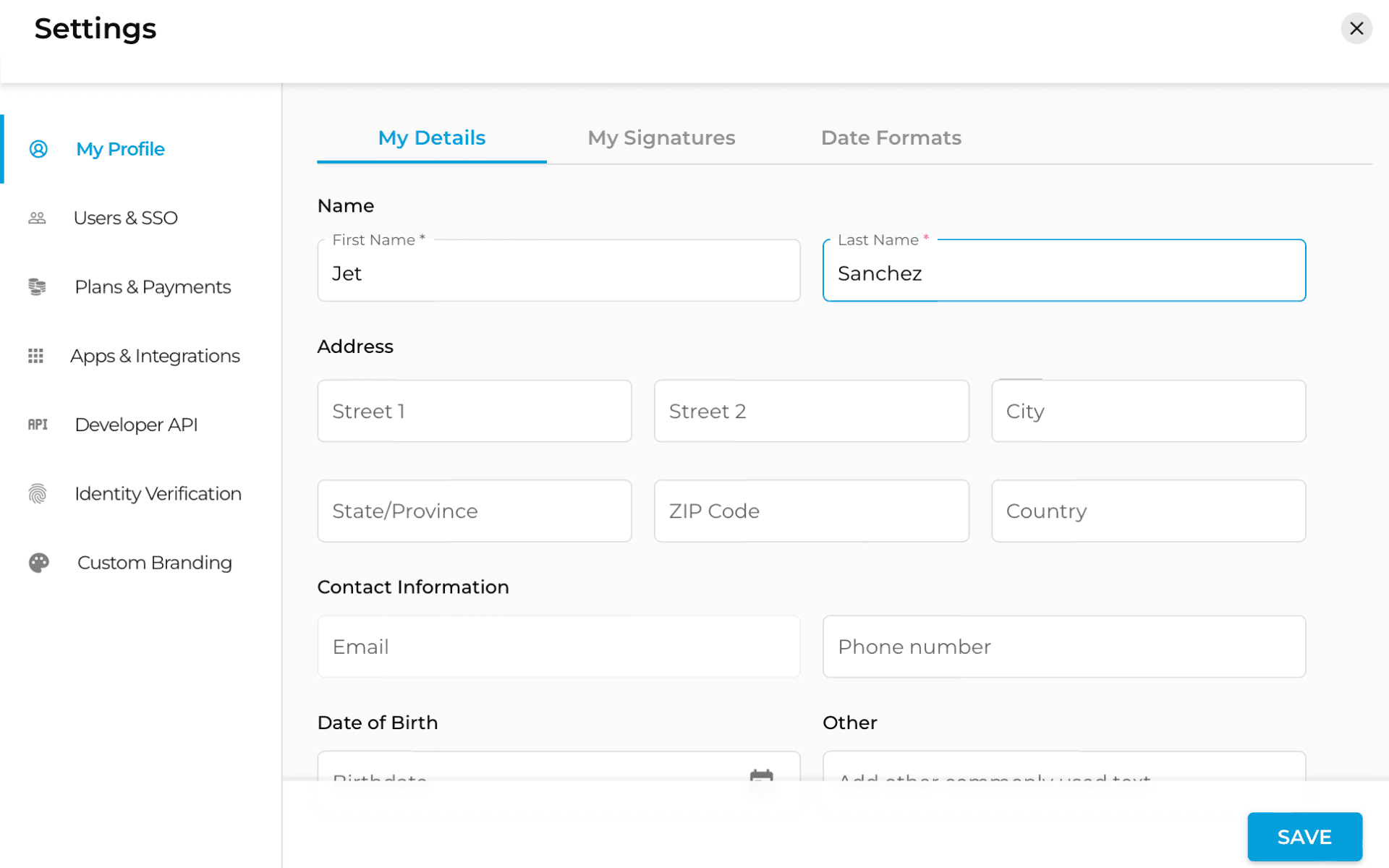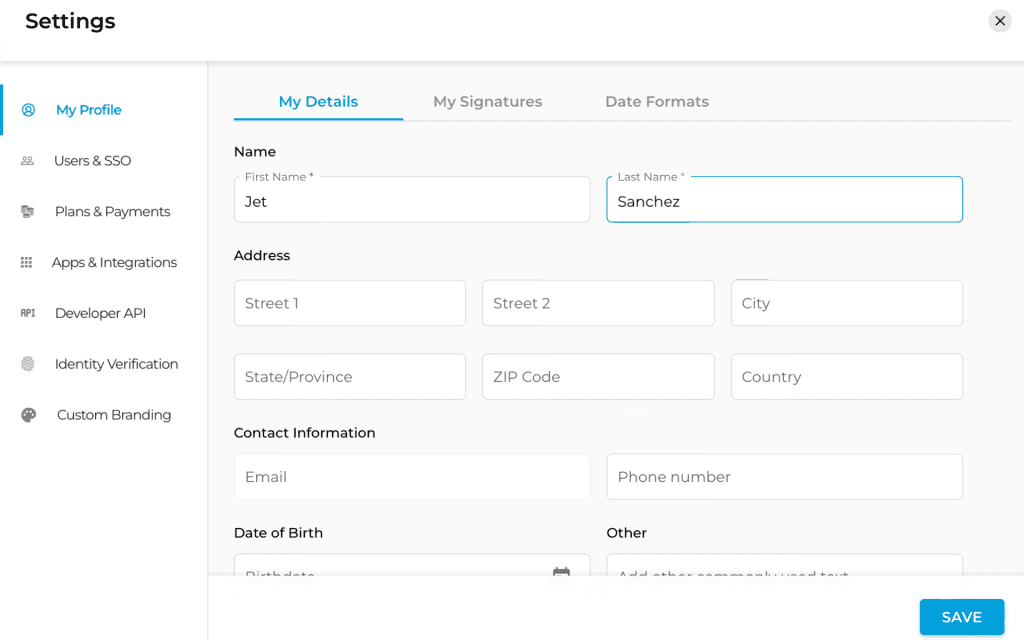 The Fill Profile screen helps users glean valuable information at a glance. A redesigned user interface gives users a cleaner and more organized view of their dashboard profiles.
The My Profile panel contains personal information such as the user's full name, address, contact information, and other relevant details. It also includes all the saved esignatures and date formats.
This welcome redesign will help users access and change their information more conveniently.
A Secure Esignature Solution for All
Fill Web 3.3 adds minute improvements that, when combined, make the service an even more powerful esignature solution.
With Fill, you can now protect sensitive fields with data masking. You can also experience an enhanced custom branding experience with more personalization options. More than that, the new signer identity verification pop-up and redesigned profile dashboard give you a better user experience.
Are you ready to Try Fill? Sign up now and get started for free.