As a business owner, having the right data makes a world of difference. Accurate data provides you with insights into market trends and customer behaviors, helping you make more informed decisions. It also identifies key areas for improvement and helps optimize your internal processes.
However, collecting important information can be challenging, especially when you rely on paper-based methods. This is where Fill comes in. Our form builder feature offers a simple yet powerful way to gather relevant data tailored to your specific needs.
How to Use Fill's Form Builder
One of the best things about using Fill to build online forms is that our platform is quite easy to use. You don't need extensive technical experience or coding background to create functional forms.
Here's how to use our digital form builder:
1. Go to our website, and log in to your account. If you don't have one yet, sign up.
2. On your dashboard, click Start Now.
3. Select New Online Form.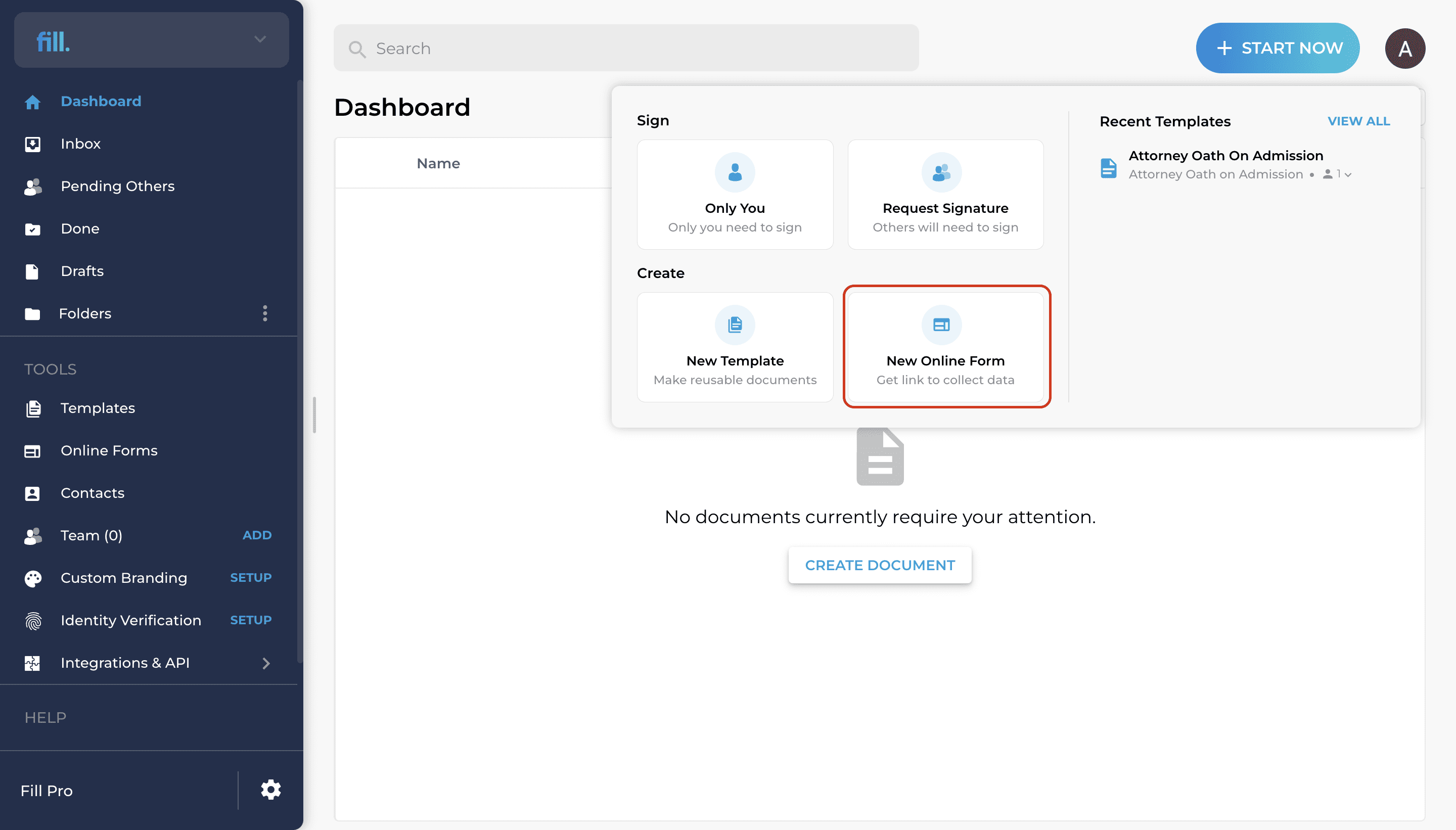 4. There are three ways to create an online form using Fill. You can either: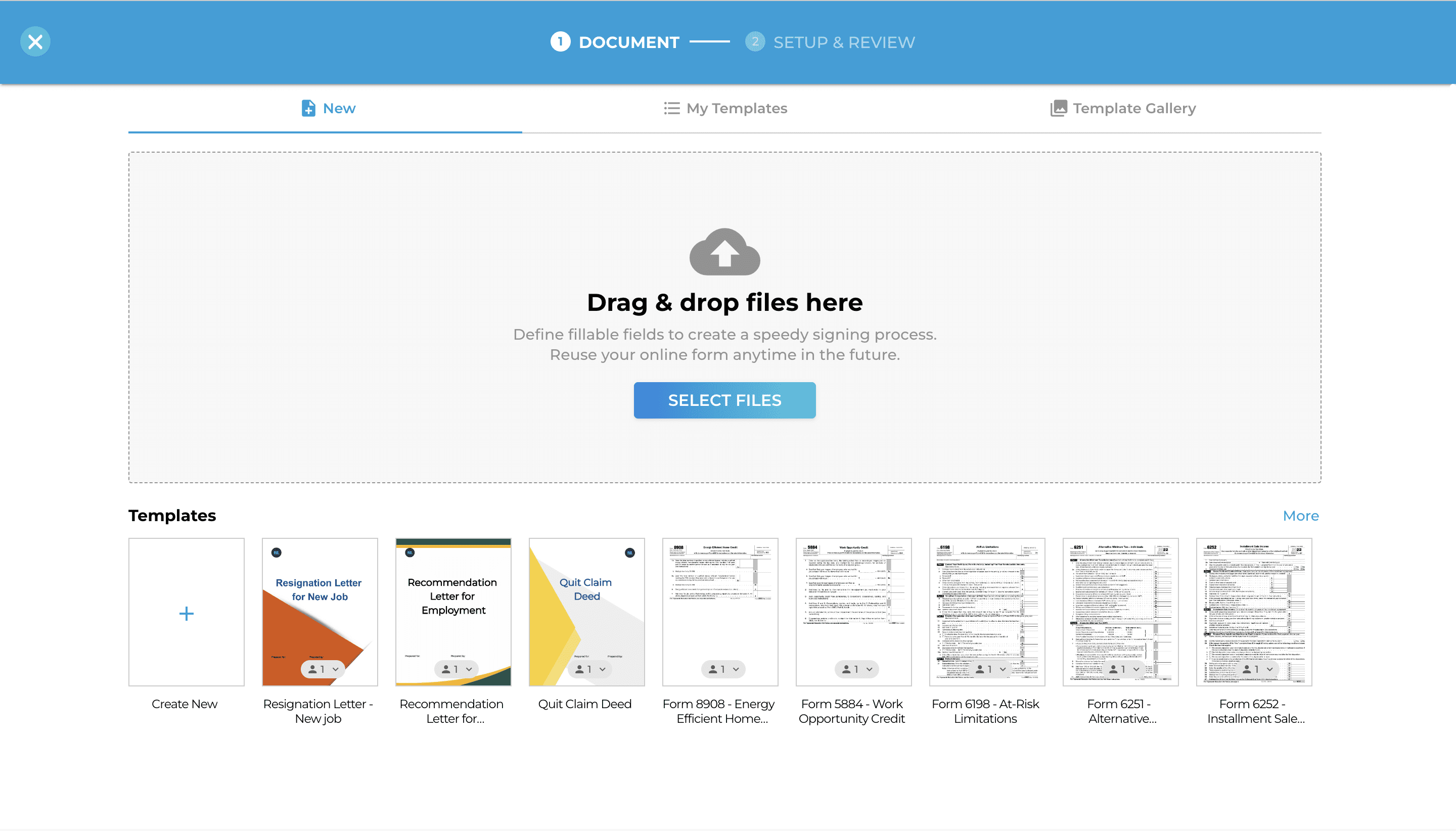 5. Drag and drop the fillable fields required onto the form. You can choose from a variety of field types, including text boxes, drop-down menus, checkboxes, eSignature, and more.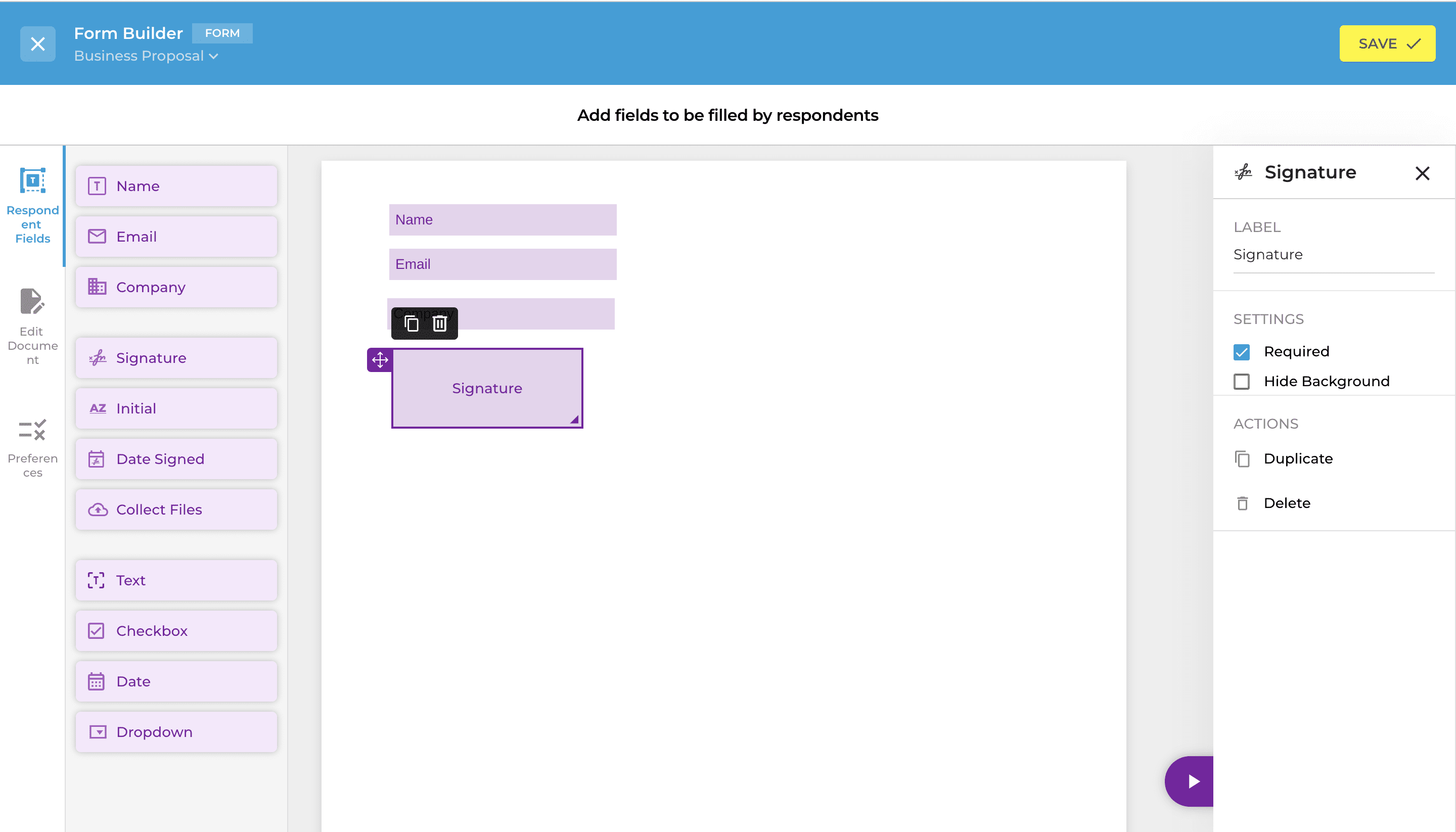 6. Set up any additional form settings you need, such as autoresponders, confirmation messages, and notifications. You may also add validation rules.
7. Preview your form to make sure it looks and functions as intended.
8. Click Save.
9. Save and publish your form. Fill automatically generates a link for your online form for easy sharing.
Why Fill's Form Builder Is a Valuable Tool for Your Business
In today's data-driven world, businesses must collect and manage large amounts of data to establish a competitive edge. However, doing it manually can be an excruciating and time-consuming process. Not to mention that it can also be quite prone to error and accuracy issues.
Using Fill's form builder can simplify the data collection process and provide numerous benefits for businesses of all sizes. The benefits include:
Time savings
With manual processes, your team may spend hours, sometimes even days, gathering and tabulating data. Such is not the case when you use Fill's form builder. When you switch to digital forms, you can automate your data collection process, saving your business significant time.
By using Fill's form builder, you can set up online forms that automatically capture and store your data. Additionally, you can enable our platform to send automated notifications or alerts every time new data is submitted. This can save businesses even more time and make it easier to track data collection progress.
Increased accuracy
Fill's form builder allows you to include validation rules, which helps ensure the users provide accurate and complete information. You can customize these rules according to your specific needs. Some examples of validation rules include mandatory fields, email address and date formatting, and number ranges.
Furthermore, you also have the option to include elements like drop-down menus, checklists, and eSignature fields, to name a few. This helps standardize the data collected, reducing the risk of errors caused by data being entered in different formats.
Improved data organization
Collecting data from paper forms can be such a headache. Not only is it labor-intensive, but it can also be extremely difficult to organize the information gathered. By using our form builder, you can completely eliminate the clutter that comes with paper-based methods while simplifying the data entry process.
With online forms, all information collected will be automatically saved in a secure yet easy-to-access database. As everything's digital, you can easily search, sort, and filter your data. This speeds up the data analysis process.
Enhanced customer experience
Aside from improving your internal processes, Fill's form builder also enhances the customer experience by making it easier for them to provide feedback or suggestions. When you offer an accessible avenue for your customers to share their thoughts and opinions, it shows that you are committed to improving your service.
In addition, this feature provides you with the ability to automate responses to customer feedback. This helps improve response times and ensure that the concerns are addressed promptly. Being responsive builds customer trust and loyalty, as customers feel that their thoughts and feedback are being valued.
Cost savings
For businesses that have a limited budget, the cost savings associated with using Fill's form builder feature can be especially beneficial. You do not need to have a dedicated team to handle data collection. Moreover, online forms also completely eliminate the need for resources and consumables like paper and ink.
Fill offers a range of pricing plans that can surely cater to any budget. This makes it easy for businesses to get started with using digital forms without a significant upfront investment.
The Different Ways You Can Use Our Form Builder
Regardless of your line of business or the industry you're in, you will surely find multiple ways to leverage our form builder feature.
Healthcare
1. Patient forms
Electronically collect patient information such as medical history, personal details, and other relevant data using online forms. This can streamline the registration process and improve the patient experience.
2. Waivers and consent forms
Create electronic waiver and consent forms that patients can sign digitally. This allows you to save time while also reducing paperwork.
3. Appointment sheets
Build secure forms that your patients can use to schedule their own appointments. This eliminates long wait times and administrative overhead.
4. Prescription refill forms
Create forms your patients can use to request prescription refills. This makes it easier for them to manage their healthcare needs and get their prescribed medication promptly.
5. Patient feedback
Collect patient feedback and improve patient satisfaction. This can help you enhance the quality of care they provide and identify areas for improvement.
Human resources
1. Job applications
Build custom job application forms to streamline your hiring process and collect important candidate information such as work experience, education, and other relevant data.
2. Employee feedback forms
Create customized forms your employees can use to provide feedback on their work environment, management, and other aspects of their job. This can help your HR team identify areas for improvement and address employee concerns.
3. Performance reviews
Use Fill's form builders to create performance review forms that can be easily filled out by managers and employees. This simplifies the review process and improves accuracy.
4. Training and development forms
Provide a digital form that your employees can use to request training or professional development opportunities. This makes it easier for you to identify and address employee needs.
5. Benefits enrollment
Use online forms to create benefits enrollment forms that your employees can use to select their benefits options. This makes the enrollment process more efficient while eliminating unnecessary paperwork.
Sales and marketing
1. Lead capture forms
Create customized forms to capture leads and potential customers. This can help you collect important contact information and other relevant data to start your sales process.
2. Customer surveys
Build customized surveys to collect feedback from customers about their experience with your product or service. This can help you identify areas for improvement and increase customer satisfaction.
3. Order forms
Use form builders to create customized order forms for your products or services. This can help streamline your sales process and reduce errors.
4. Event registration
Create customized forms to collect registration information for events such as webinars, seminars, and conferences. This simplifies the registration process for attendees and helps you manage event logistics more efficiently.
5. Market research
Build customized forms to collect market research data such as customer demographics, interests, and preferences. This can help you make informed marketing decisions and improve your overall marketing strategy.
Simplify Your Data Collection Process with Fill
Fill offers the perfect solution for all your data collection needs. Our simple yet intuitive platform allows you to build customized online forms for a wide range of purposes, from customer surveys and intake forms to recruitment and school forms.
With our simple drag-and-drop interface and a variety of customizable templates, you can create digital forms tailored to your specific needs in just a few clicks. Our form builder feature comes with a range of different functionalities to ensure that you'll get the most accurate and relevant data.
And when it comes to managing your forms, Fill has you covered. Our platform offers powerful analytics and reporting tools, so you can track form submissions and analyze data without difficulty. Plus, our secure cloud-based storage ensures that your data is always safe and easily accessible.