Have you ever dreaded following up on signatories who may have missed the eSignature request you sent? It's as if you are afraid to seem pushy or aggressive. With Fill, you can effortlessly remind signatories to eSign your documents with a professional flair.
The best part? You don't have to constantly stress over the fact that your reminders might be in vain.
All you need to do is use our electronic signature app to send automated eSignature reminders. With this nifty feature from Fill, you can improve turnaround times and close deals faster.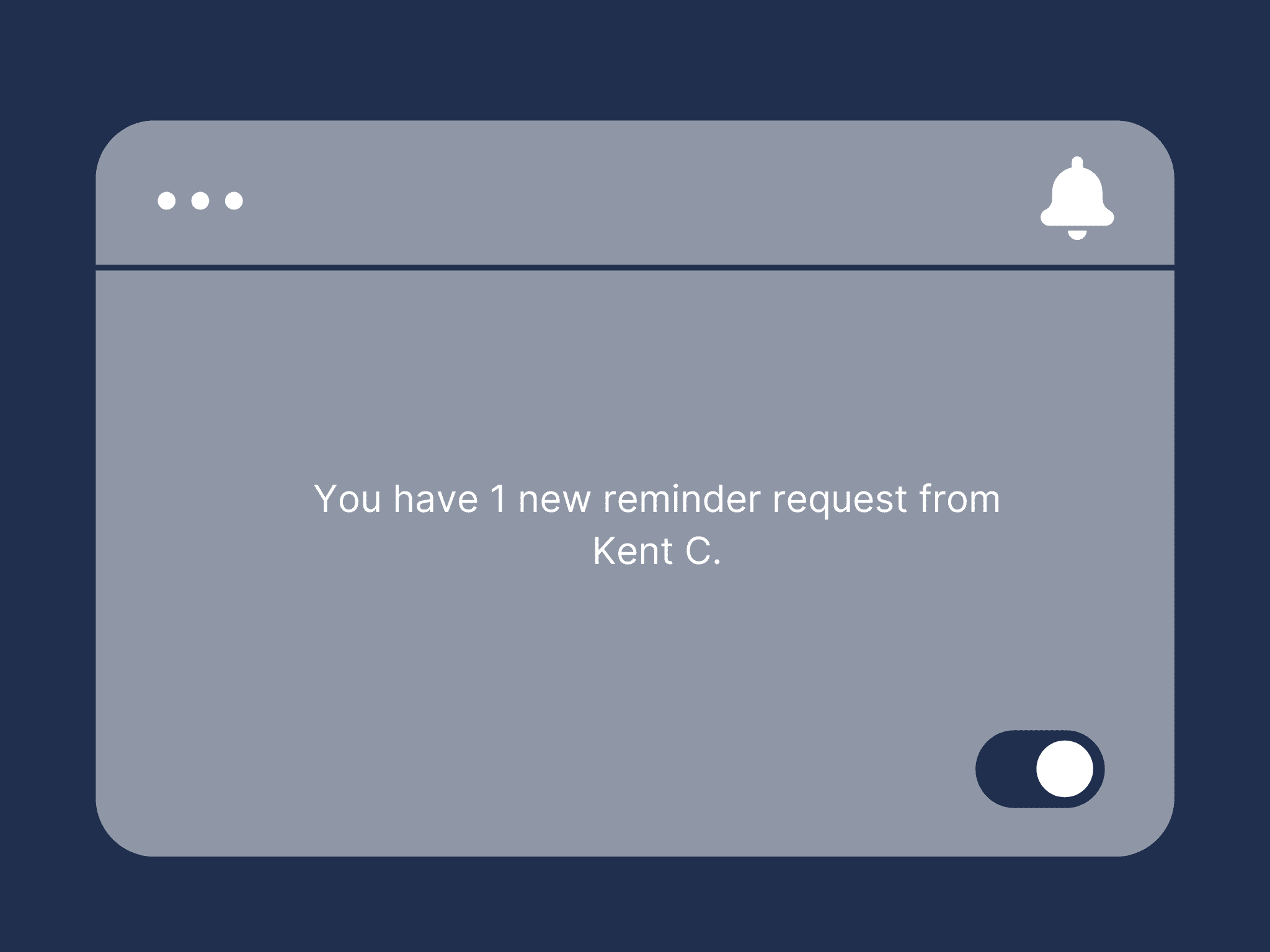 Shorten the Sales Cycle With Auto-Reminders
Fill offers a way for you to collect signatures without having to remind your signatories repeatedly. After sending a signature request, your recipient would first get an email notification. You can check the progress bar in your Fill web dashboard to monitor the status of your request in real time.
Now, there's no guarantee that your recipient will get the notification the moment it arrives. It's also likely that a signatory will forget about your request despite being fully aware of the deadline. At times like these, you can rely on our eSignature app to send the follow-up messages on your behalf.
There's no need to configure a setting to automate your reminders. Our system-generated reminders work by default. All you need to do is sit back and relax while awaiting your document's completion.
Send Reminders at the Best Times and Frequency
Our advanced algorithm ensures that your automated follow-ups will arrive in your recipient's inbox at the best time possible. There's no need for complex setups or manual configuration. It's the perfect "set and forget" way to politely remind signatories about your pending request.
That's not all. Our app will automatically adjust the frequency of reminders, so you don't have to reach out on your own. That's one less task off your to-do list.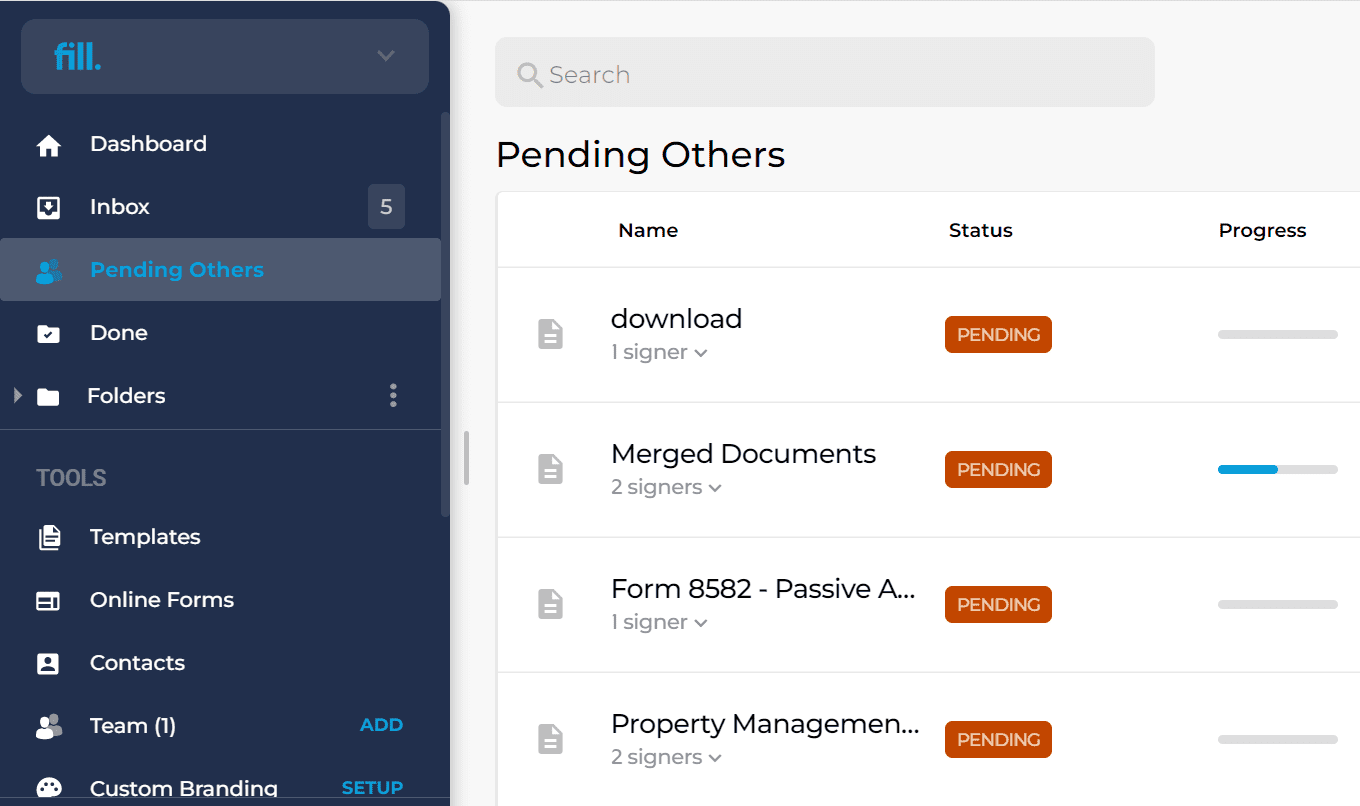 How to Set Up Automated Signature Reminders
What's great about Fill is that you don't have to manually update your reminder settings. The notifications will automatically arrive in your recipient's inbox.
Instead, you can keep track of your pending requests using your iOS or Android device. This means you can stay on top of your contracts from anywhere, as long as there's an internet connection.
To track your pending requests, you simply need to follow these steps:
Go to app.fillhq.com, then sign in to your Fill account.
From your web dashboard, go to Pending Others. This way, you can view all your pending requests and have them sorted by the due date.
Hover over the request with the nearest due date. Check the logs to see if there are any notable updates.
The ones tagged as "Pending" do not require any manual intervention. Our app will automatically remind recipients to view and sign your forms.
If the request is overdue, you have the option to delete it. You can also update the document to extend the due date.
3 Practical Benefits of Sending Auto-Reminders
Aside from not needing to do everything yourself, here are some key reasons why you should consider eSignature reminders as a more efficient way to avoid lapsed deadlines.
Save time and money
Reaching out to multiple recipients via email or chat requires time. If you are doing it manually, chances are it will slow down your progress. With eSignature reminders, you can improve your outreach attempts and boost conversions without the grunt work.
Improve workflow
Tracking pending requests using an automated system is way easier than logging each document activity on paper. This way, you won't have to go the extra mile just to set up an efficient process for sending follow-ups. You can simultaneously track requests and prioritize those requiring immediate action.
Boost productivity
There's more time for you to do other tasks. You don't have to sit all day in front of your computer to remind clients to affix their signatures on the document you sent. It also helps make your client's journey smoother since they will be constantly reminded of their upcoming deadlines.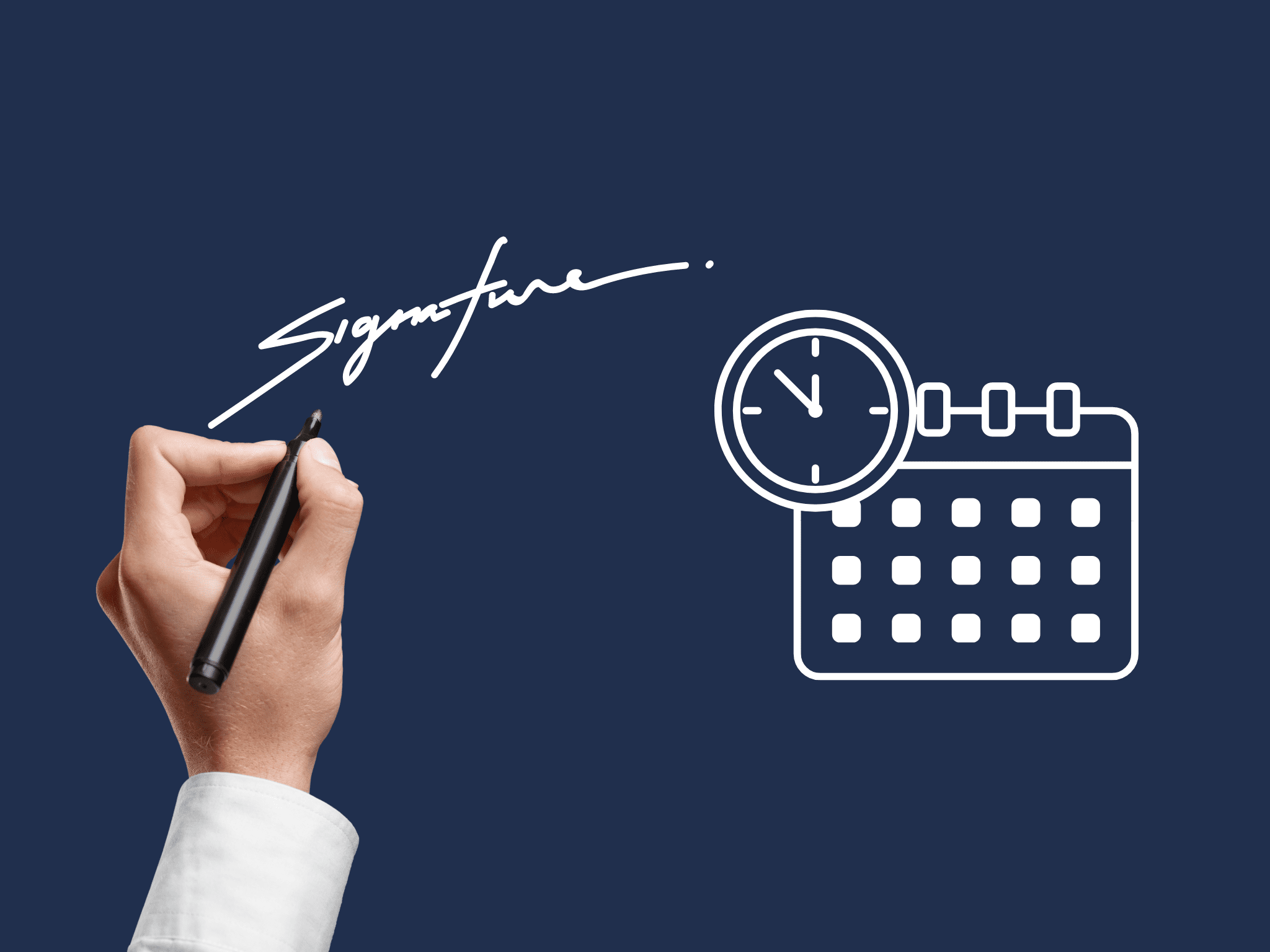 Why Should You Get Electronic Contracts Signed on Time?
Missing a deadline can be costly, especially if it involves a high-value transaction. You could lose out on important deals. Or worse, you may even be required to pay some hefty penalties. As a business, this could make you lose profit.
Another thing to consider is whether the request is urgent. If the appropriate stakeholders fail to review and approve the document, it could hinder your team's progress. There will be delays that could lead to damages or loss of productivity.
By sending timely signature reminders, you can create seamless signing workflows. Not only would this set your business up for success, but would also ensure customer satisfaction.
Ensure the Success of Every eSignature Request With Fill
Make sending reminders an integral part of your document-signing process. Will Fill, your recipients will no longer have to worry about remembering deadlines. Our electronic signature app offers a streamlined experience that makes document signing hassle-free and effortless.
It doesn't stop there. As we continue to roll out new features, you can expect some exciting improvements coming your way. In the meantime, feel free to explore our app's other time-saving features.
Sign in to your account to get a firsthand experience of how it works.