No matter the size of your business, you are bound to deal with a large and growing number of contacts from customers, suppliers, partners, employees, and other key stakeholders. Without an effective contacts management system, your business can lose valuable business relationships and miss new opportunities.
It might seem like a challenging feat, but keeping your network organized is actually easy, particularly if you use an intuitive platform like Fill. In this article, we will walk you through the process of creating and sorting your contacts using our eSignature solution.
How to Use Fill's Contact Management Feature
Fill is a powerful business tool that can add tremendous value to your business. Aside from having the ability to sign and manage documents electronically, you can also use our platform to create a centralized system for storing and organizing your contacts.
Here's how to use our contact management feature:
1. Go to Fill's website and create an account. If you already have one, log in.
2. On your dashboard, in the Tools section, select Contacts.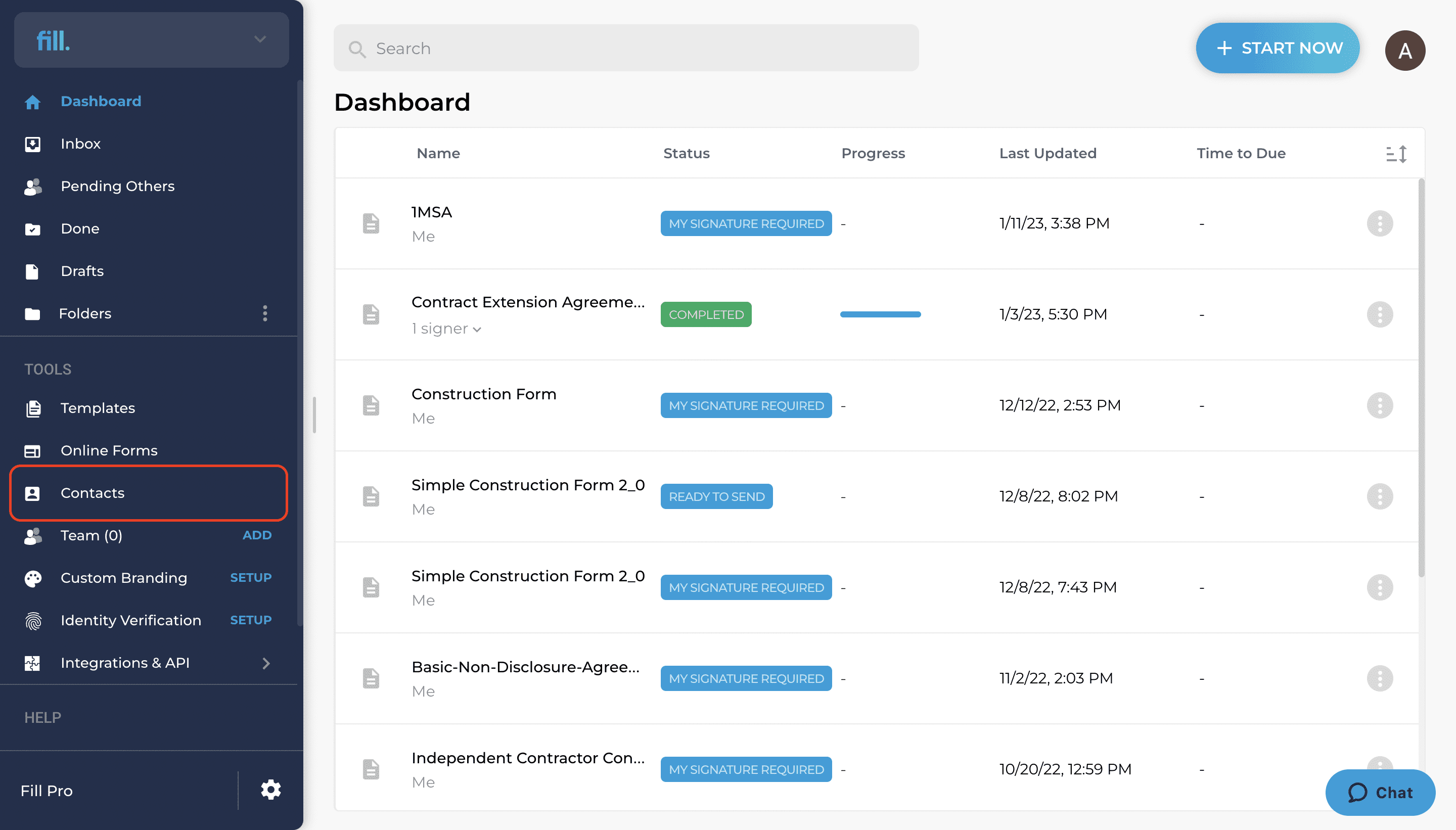 3. Click New Contact to add a new entry.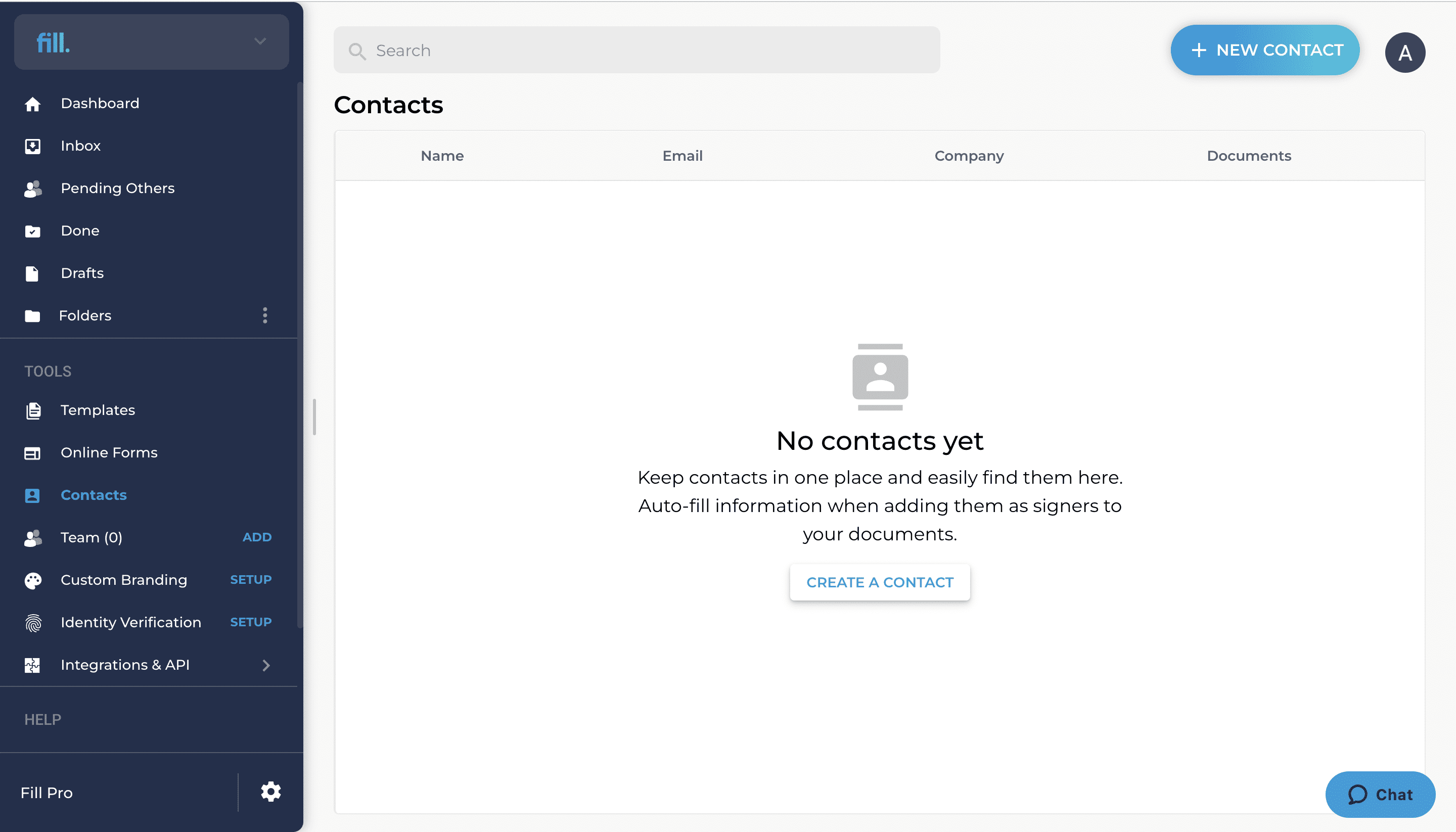 4. Fill out the form with all the necessary information, including the following information from your contacts:
First and last name
The name of the company they're affiliated with
Their job title
Email address
Phone number
5. Once you're done, click Save.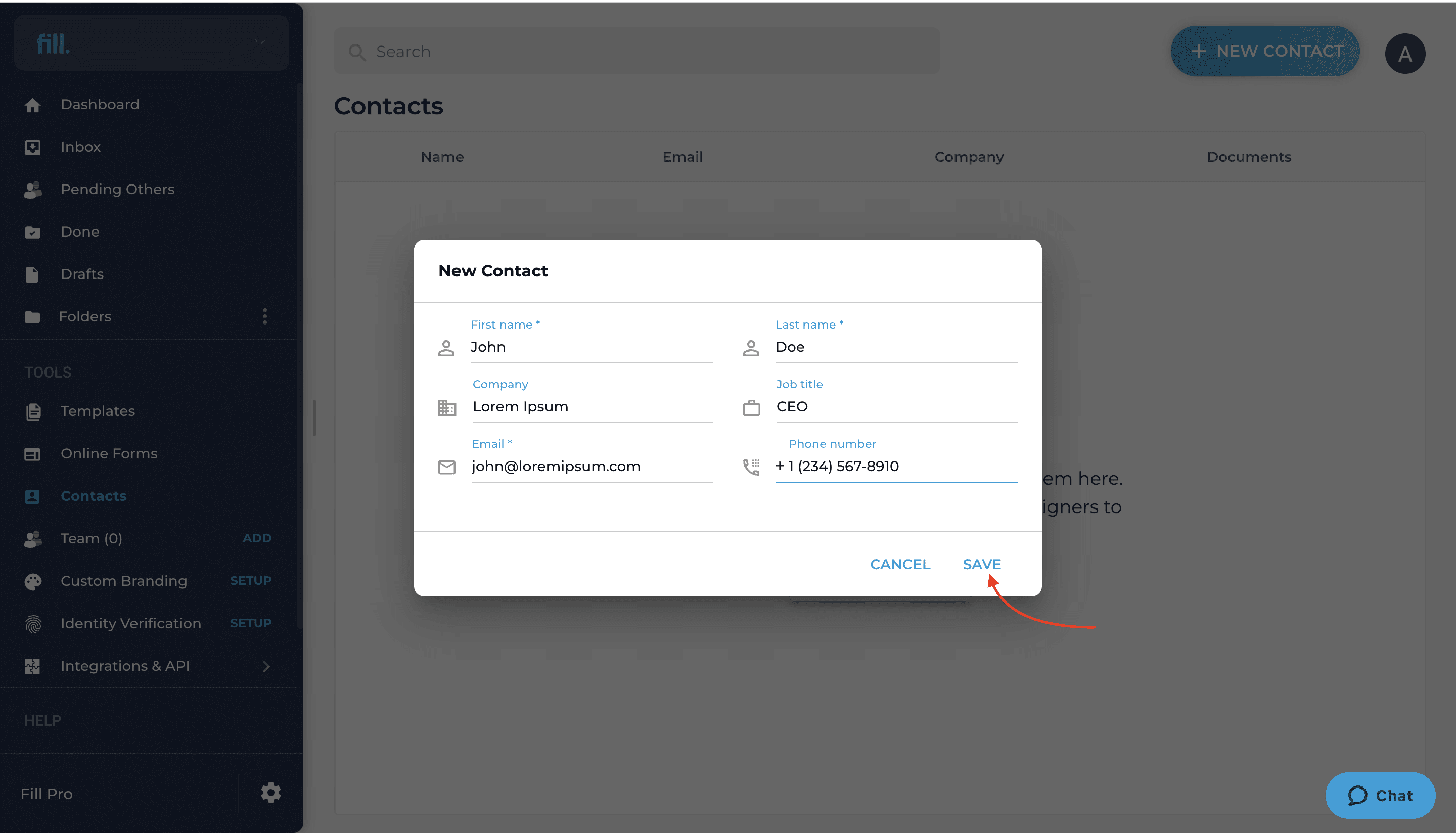 The beauty of adding contacts to Fill is that it simplifies your document-sharing and signature request processes and allows you to send files directly from your contact book.
The Benefits of Effectively Managing Your Contacts
Effective contact management is critical for the success of any business. Whether you're a startup with less than a hundred contacts or a multinational corporation with an intricate network, you can surely benefit from managing your contacts in a comprehensive and organized manner.
Here are some of the key advantages:
Improved business relationships
By maintaining up-to-date and accurate contact information for your stakeholders, you can provide them with better service and personalized communication. This helps build stronger relationships and increase customer loyalty.
Increased efficiency
When your contacts are properly organized and easily accessible, you don't have to waste a lot of time finding the correct information and contacting the right people. It allows you to make better use of your time and do other more important tasks.
Better sales performance
Effective contact management can help you target the right prospects and tailor your sales messaging to meet their specific needs and interests. By segmenting your contacts and targeting your marketing messaging to specific groups, you can increase the effectiveness of your marketing campaigns and drive better results.
Enhanced collaboration
Keeping your network organized can facilitate better collaboration and communication among team members, which can improve the overall business performance.
Tips and Best Practices for Successful Contact Management
Building a practicaland accessible contact management system requires time, effort, and attention to detail. You must ensure that each contact is properly tracked, engaged, and maintained over time.
Here are some tips and best practices that can make managing contacts a breeze:
Keep your contacts organized
The first step in effective contact management is to ensure that all your information is sorted in an organized manner. You can use a single system to store and manage all your contacts' data, such as a Fill, which can help you access and manage the information quickly and efficiently.
Use a standardized naming convention
If you have a large number of contacts, it can be challenging and even confusing to keep track of them all. Using a standardized naming convention allows you to find the contacts you need quickly.. Decide among your organization what format you're going to use. It's crucial that everyone follows the same convention to maintain consistency.
Segment your contacts
Aside from naming conventions, you may also segment your contacts according to their demographics, interests, behavior, or other relevant factors. Doing so can help you target specific groups of people with clear messages or promotions. Personalized and more targeted messaging can increase the effectiveness of your marketing efforts.
Use tags or labels
Tags or labels can help you categorize your contacts based on specific attributes. For example, you can use tags to identify high-value customers, prospects, or suppliers. This can help you prioritize your outreach efforts and focus on building relationships with the most important contacts. This also makes searching for a specific connection a lot easier.
Keep track of interactions
Keeping track of your interactions with each contact is critical for successful contact management. You can use your contact management tool to log phone calls, emails, meetings, and any other relevant interactions. This can help you stay on top of your communications and ensure that you don't miss any critical follow-up actions.
Clean up your contacts regularly
It's essential to clean up your contacts regularly to ensure that your database stays up-to-date and accurate. You can remove duplicates, update contact information, and delete inactive contacts. This can help you maintain the quality of your database and prevent issues with bounce rates or email deliverability.
Enhance Your Contact Management With Fill
Gone are the days of manually sending documents back and forth for signatures. With Fill, you can sign and send documents in just a few clicks. Simply upload your document, add the necessary signatures, and send it off for approval. You can also store all your signed documents securely in Fill, so you never have to worry about losing an important document again.
But Fill isn't just a document-signing tool. It's also a powerful contact management system that allows you to easily organize, segment, and keep track of all your contacts in one place. Whether it's customers, prospects, or partners, Fill makes it easy to keep track of all your interactions with each contact.
Plus, with Fill's seamless integration with other tools, such as Google Drive or your CRM, you can streamline your workflow and save time.
Sign up for Fill today and experience the power of streamlined document signing and contact management!