It's always a wise decision to set out any type of work you do in an official and formal document. This way, you can protect yourself from any future disagreements. For example, a company reached out to you for a potential collaboration. You have to make sure that you will be paid when the collaboration is over.
If you are wondering how to create memorandum of understanding, this article will teach you how. Through this document, you can take the first step towards a partnership. A more formal and legal agreement will then be drafted. Here's what you need to know.

How to Write a Memorandum of Understanding
Most of the time, people refer to this document as an MoU. It is being drawn up between individuals before entering a partnership. Some of the parties that commonly use this document include the following:
Corporations
Government organizations
Charities
Non-government organizations
It's important to know that an MoU is not a legally binding contract. Instead, it is a preliminary agreement that outlines the partnership terms. You can think of it as one of the documents you need to prepare during negotiations. 
Once all parties are on the same page, a formal and legally binding document will be drawn up. Here are the steps on how to draft a memorandum of understanding:
1. Indicate the organizations involved
The first step you have to do is to address the different organizations that will be part of the agreement. Write your name and the names of the other parties who have gotten in touch with you regarding the collaboration. 
2. Write the start and end dates
The document you prepare should have the start and end dates of the agreement. Be specific about when you started to work on the collaboration. Also, include details on when the agreement is expected to end. 
You can also include other information related to the dates. For example, will there be a new agreement if the end date is completed?
3. State the reason behind the agreement
You can be as detailed as possible in writing the memorandum of agreement. Be clear about the reason behind the agreement and the responsibilities expected from you. 
Another reason for doing this is so you can protect yourself from disappointments. Once the information has been jotted down in an agreement, both parties know what to expect from it. 
4. Include the names and contact details
The names and contact details of the key people involved in the agreement should be written in the document. This way, you have someone to address when there are any disagreements or questions. 
You can write the name of the person who got in touch with you and their position in the company.
5. List down the expectations
Basically, when you enter into an agreement with someone, there will be expectations involved. Are you expected to complete a certain project in a given timeframe? Do you need to provide a certain amount of materials before a specific date?
By listing down your deliverables, everyone involved in the agreement knows what to expect from each other. 
6. Discuss other relevant terms
Lastly, your document needs to include any other terms that are relevant to the agreement. Make sure to go into specifics so that you won't have to explain anything in the future. 
Free Memorandum of Understanding Template
Memorandum of understanding documents slightly differ from each other. But if you use a template, you'll be able to include the key elements to protect your interests. 

Memorandum of Understanding
What Do You Need to Include in a Memorandum of Understanding?
Since these documents aren't the same all the time, drafting a memorandum of understanding isn't too complicated. You simply need to include these details:
Title. A basic title for the document will suffice. Something like "Memorandum of understanding between (your organization's name) and (organization's name)."
Date. This is the date when the agreement was made and when it will take effect.
Parties involved. The full legal names, addresses, and contact information of key individuas in the agreement are included. The intent to form a relationship should also be stated.
Scope and objectives. This section discusses the purpose of the agreement in more detail. It clearly outlines the boundaries and limitations of the agreement. The objectives and goals of the collaboration can also be written here.
Terms of agreement. This part of the document defines what is expected from each party. It discusses the responsibilities, deliverables, and timelines.
Other terms and conditions. The other clauses of the agreement should be added in this section. This includes things like the termination method, non-disclosure agreement, steps for dispute resolution, etc.
Signature. Lastly, the document should include your signature.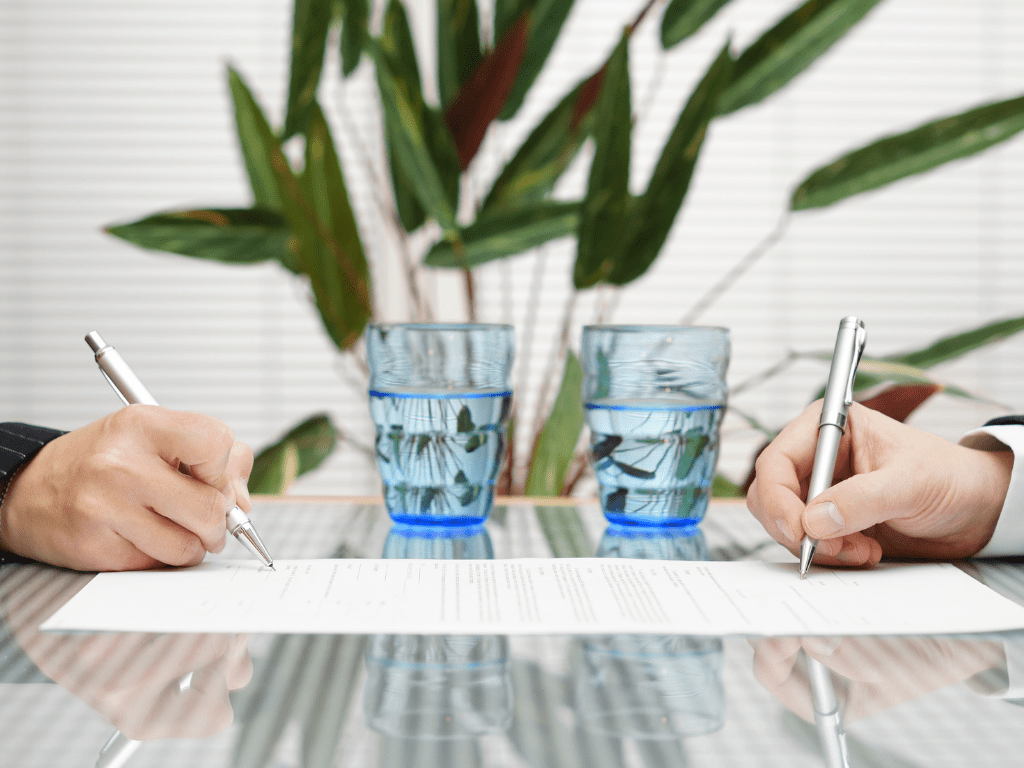 How Fill Can Help Write a Memorandum of Understanding
To help with your memorandum of understanding creation process, you can start by using a template from Fill. And when you're done customizing it, you can simply send it to your recipient for online signing. 
Create an account at Fill today so you can start drafting your documents.