Entrepreneurs and companies need to get critical information about their industry or specific market landscape to help ensure their business becomes a success.
This is where market research plays a role. But to be effective, proper steps must be outlined through a market research proposal.
If you're a business owner or a marketer, you must learn how to write a market research proposal correctly. So here's a handy step-by-step guide on how to do just that. Plus, we'll throw in a free template to help you get started.
How To Write a Market Research Proposal
When drafting a market research proposal, you can adopt various styles depending on the industry or business. But to put forth a more organized proposal, it helps to adhere to proven structures and follow these steps.
1. Start with an overview
It's always wise to open with an overview to give the readers of the proposal a general idea of what the market research is all about, as well as set their expectations. If you don't want to use the term overview, you can also go with an executive summary or an introduction.
You can do a simple overview consisting of one to three paragraphs. Or if the situation calls for it, you can also present your executive summary with supporting information that may include any or all of the following:
Definition of terms. List the terms that will be used in the market research proposal. Make sure to define them properly.
Market conditions. Give an overall picture of the current market conditions. Explain the industry's state and the competition level, as well as mention relevant economic or even political factors.
Strengths, weaknesses, opportunities, and threats (SWOT) analysis. You can also present market conditions through a SWOT diagram, which summarizes everything neatly.
Feasibility. If you want to cut to the chase, state the overall feasibility. You can also consider including the potential ROI (return on investment).
2. Define the objectives
When writing a market research proposal, define the project's goals as clearly as possible. You can begin with a larger, encompassing objective and then break it up with its corresponding parts. 
If you are dealing with multiple goals, make sure to explain how each separate objective relates to or affects one another.
Remember that clearly defined goals will guide the execution of the market research project – from the budget to the types of surveys or questions you will use.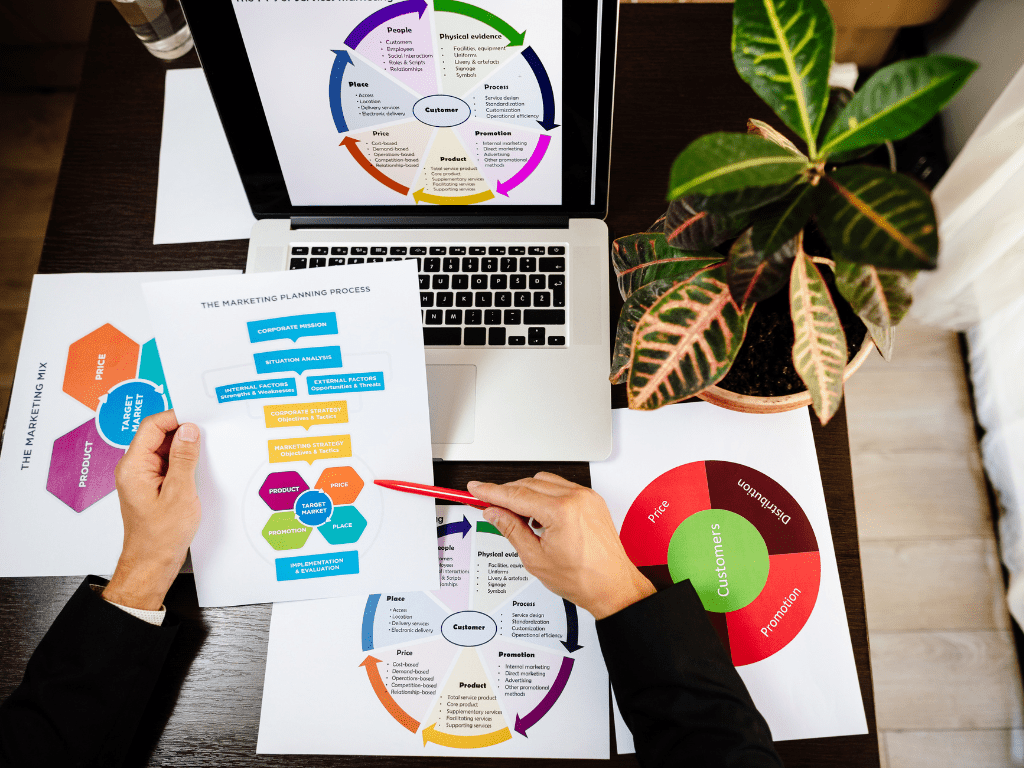 3. Outline the execution
Market research can be accomplished in various ways, but there needs to be a clear plan for executing it.
Outline your methodology and approach to getting the information you need. As far as methods are concerned, you can choose from options like organizing focus groups, deploying online surveys, or holding interviews over the phone or face-to-face.
You should also consider if your approach is multi-faceted. Will the surveys be done once or through a series of batches? Will you follow up on the first wave of interviews with email surveys? 
Never forget to include the rationale for choosing your methodology. Factors to remember include costs, logistics, and timeline.
4. Explain how the results will be analyzed and reported
Market research proposal creation would be incomplete without including the mechanics for analyzing and reporting the results.
You must present a concrete plan for how the market research data will be collected and safely stored. 
Next on your list is to explain how the data will be analyzed. Of course, what comes after is the reporting part. It's more than just presenting the facts. You should also include your interpretations and, more importantly, your recommendations.
5. Discuss the timeline, costs, and conditions
Market research takes time and isn't free. So, you'll need to define your timeline and expected costs clearly.
It's also important to tackle the terms and conditions of the market research project. The more transparent you are, the more you can prevent misunderstandings in the future.
Download the Market Research Proposal Template
When drafting a market research proposal, you can accomplish things faster using a reliable template. 
Sign up now for a free account at Fill to get a market research proposal template. It's just one of several templates that we offer for free.

Market Research Proposal
Common Mistakes to Avoid When Writing a Market Research Proposal
It's not enough to know how to draft a market research proposal. You also have to be aware of common mistakes people commit when preparing these proposals.
Lack of details. When you already know how to create market research proposals, you use certain structures and templates repeatedly. But sometimes, you forget to add elements that make your proposal look legit instead of being an apparent copy of another.
There is not enough review and fact-checking. We're not talking about simple spelling and grammar errors. We're referring to the information you included in your market research proposal. Are they up-to-date? Are the sources considered trustworthy?
There is too much hype. Be careful not to get caught up in the excitement of your proposal. Remember that you are dealing with business people. Be realistic and be clear about the goals. The last thing you need is to promise something you can't deliver.
Disorganized presentation. You can follow a decent structure when writing your market research proposal. But if you don't organize the information you present in each section, you will you're lose your reader's interest.
Underestimating visuals and diagrams. Yes, it's showing real data is important, but you can be more persuasive by strategically using visuals, graphs, charts, and tables in your proposal. 
Using Fill to Create Your Market Research Proposal
Now that you know how to write a market research proposal, it's time to put your learnings into practice immediately.
Create an account at Fill and grab a free market research proposal template today.