These days, many businesses and organizations are starting to adopt a more paperless approach, especially in terms of document management. Eliminating, or at least reducing, the use of paper has endless benefits. Aside from the apparent environmental benefits and a relative reduction in operating costs, going the digital route allows your organization to function more smoothly and efficiently.
One of the first things you must have is an electronic signature to get you started on your paperless journey. You can create one using an electronic signature generator if you don't have one yet. We will walk you through the process.
Table of Contents
What is an electronic signature generator?
Let's orient ourselves to an electronic signature generator before we get into the nitty-gritty of creating your electronic signature.
To put it simply, it is an online tool that allows you to input your handwritten signature and convert it into an electronic one. In some generators, you can also use certain characters and even images to be converted into an electronic signature.
Generally speaking, electronic signature generators are relatively easy to use. As to the costs involved, there are a lot of electronic signature applications that offer a free trial for a limited period, while others require outright payment to use their services.
What are the best electronic signature generators?
Electronic signatures are valid and legally binding, which is why they have become indispensable in a myriad of processes and transactions like banking, real estate, and construction, to name a few. Given their rise in popularity, there is an apparent increase in the number of electronic signature generators online. Finding the right one for your esignature needs can be a bit confusing.
Don't fret. We have devised a short list to help you narrow down your choices. Here are our top choices:
Fill
Fill is more than just an electronic signature generator. It's an all-around tool designed to help you manage your paperwork easier and more efficiently. With features like a real-time audit trail and log, you can stay on top of your document-related tasks. You can stay up-to-date with how the progress of your paperwork. There's no more guessing whether the other party has signed or received the files because Fill will automatically send you all the information you may need for document tracking.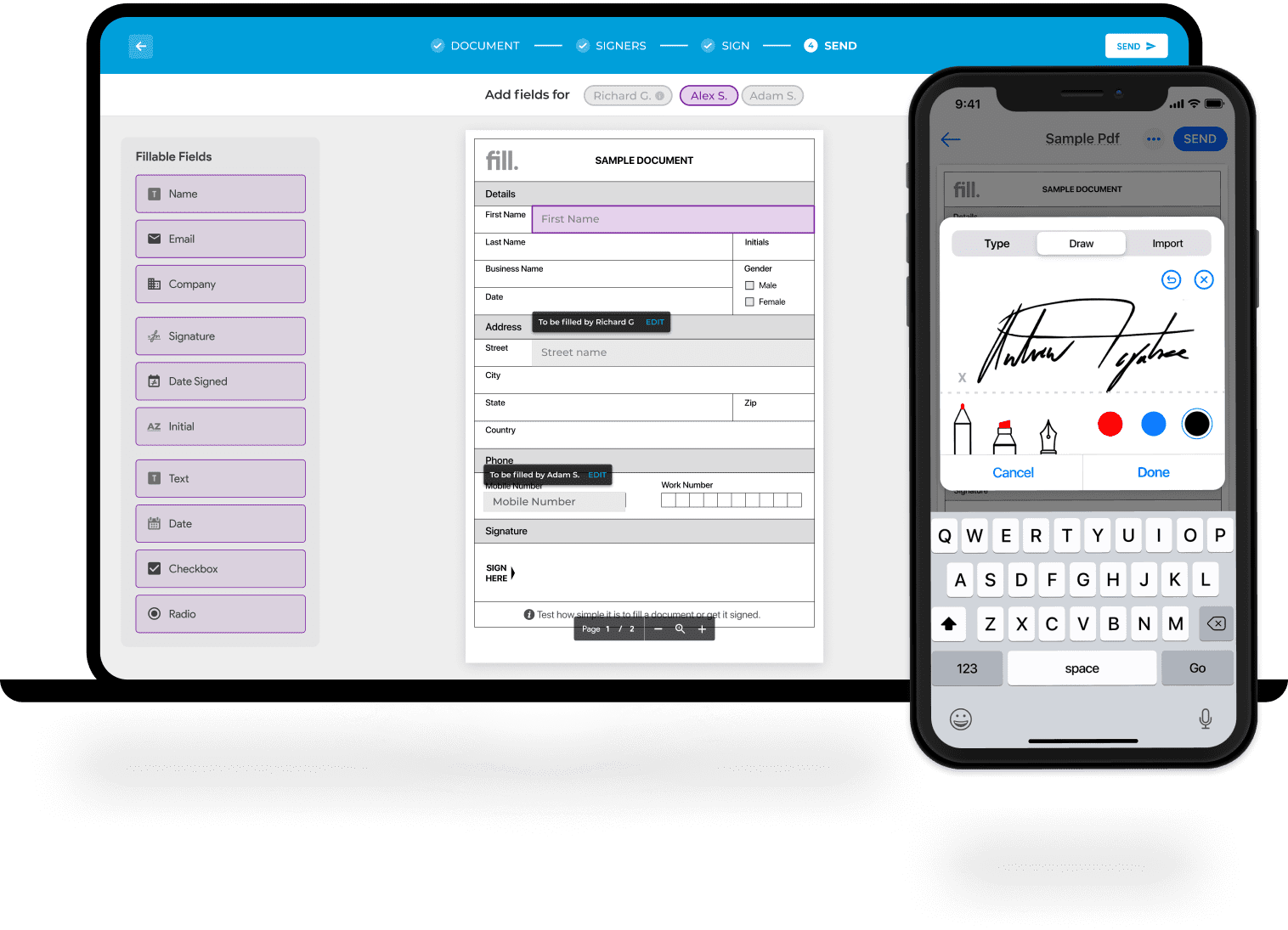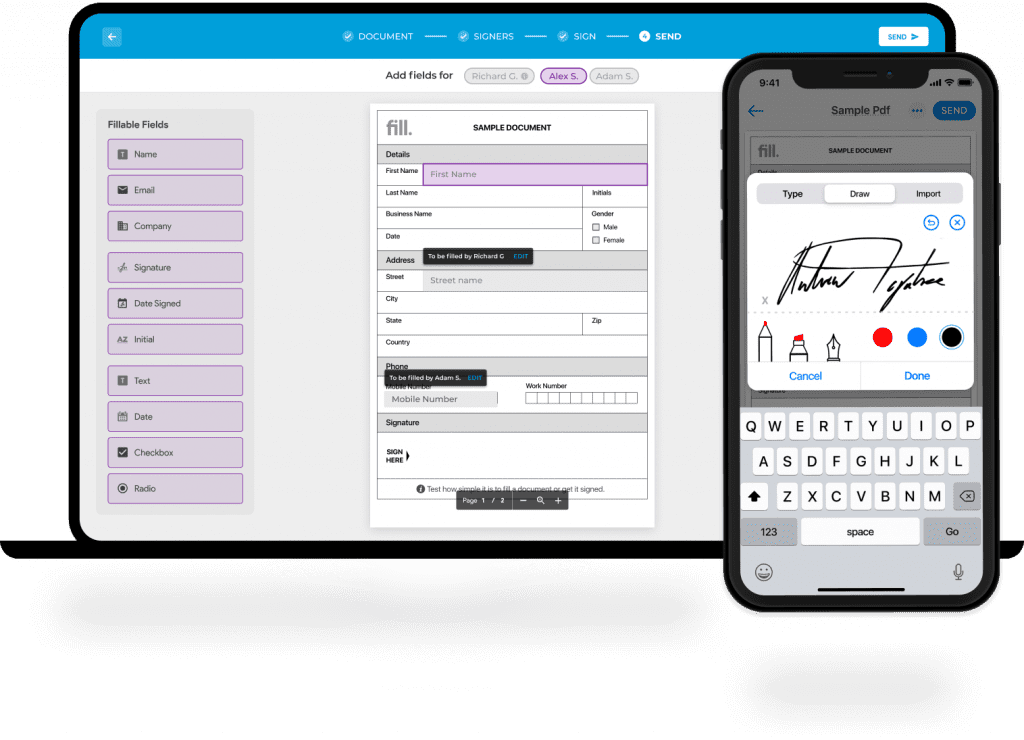 Sharing documents for signing is also made easier with Fill. You do not have to worry about the size of your file, as sharing can be as simple as sending a link to any of the concerned parties. While sharing can be done in a matter of seconds, you are rest assured that Fill didn't compromise the safety and security of your data. They use high-level encryption and security measures to protect your files against unauthorized access and manipulation.
Fill tops our list of the best electronic signature generator because it is easy to create your esignature. You can also use any of your mobile devices with ease. Regardless if you're an iOS user or Android, their mobile app can run smoothly. The same goes for their desktop application. It's compatible with both Mac and Windows. This feature allows you to sign any documents anywhere, anytime.
eversign
Next on our list for the top electronic signature generator is eversign. Just like Fill, this electronic signature simplifies your document management process.
Eversign boasts a few notable features, such as document storage, a library of customizable templates, and a document editor, to name a few. But one of their most standout features is their contact management, as it allows organizations to keep a record of document signer without the need for a separate CRM.
The downside of this electronic signature tool is that it's not yet available on mobile.
Smallpdf
If your organization is on the smaller side and you don't necessarily need an electronic signature tool with a comprehensive list of features, perhaps Smallpdf might be the right one for you.
What makes this a standout tool among others is its ease of use. You don't even have to sign up to enjoy its basic features. You can simply drag and drop the files and affix your signature to the appropriate place.
Smallpdf has no fancy features. It's a straightforward tool to use for basic document signing needs. It's also available on mobile, making this quite a handy application.
How to create an electronic signature using Fill?
One of the main reasons Fill took the top spot for the best electronic signature generator is its ease of use, especially in creating electronic signatures. Let us walk through the simple process.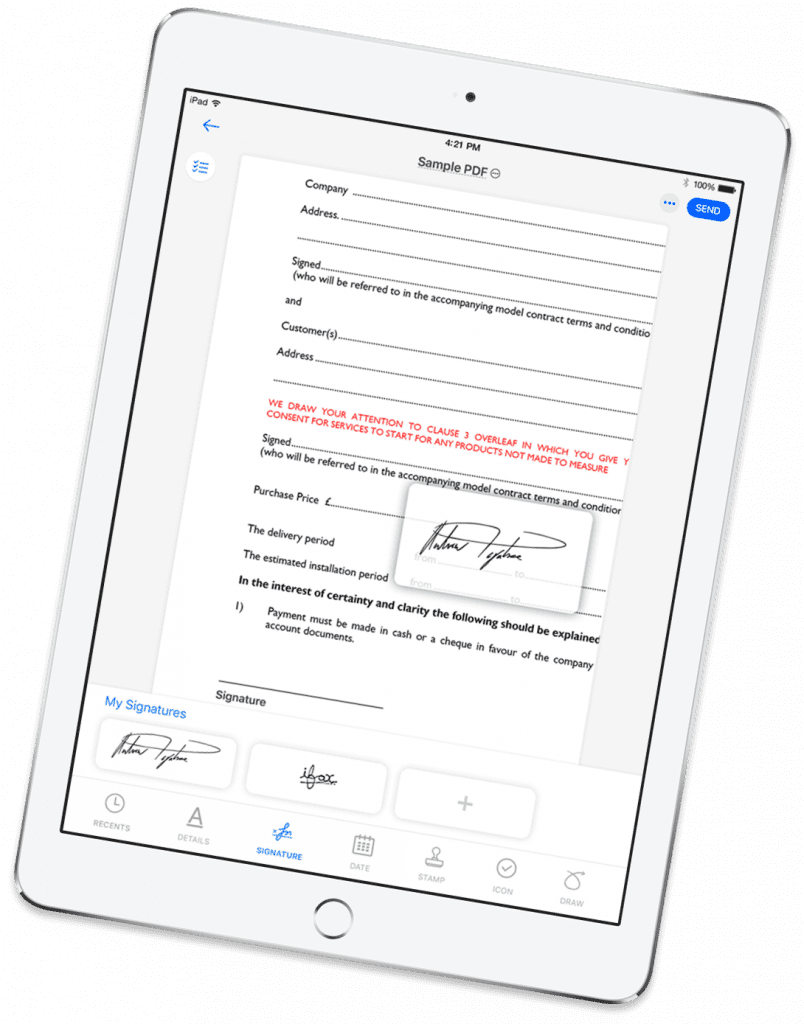 First and foremost, you need to create your own account in Fill. The sign-in process is relatively straightforward. You just need to input your email address and create a password, and you should be good to go.
Once you have logged into your account, there are four ways you can go about creating your own electronic signature.
1. Draw your signature.
Fill lets you access their on-screen canvass so you can draw your signature on the screen. This method is ideal for those using their mobile phones or tablets.
2. Use your mouse to draw.
If you are using your laptop or computer, you may still directly draw your signature on Fill by using your mouse.
3. Upload an image of your signature.
You can opt for this method for those who already have an electronic image of their written signature. Simply upload the image on Fill, and you can easily attach it to any documents that need signing.
4. Type your signature.
Fill also lets you type your initials or any characters you wish as your electronic signature. There are a few font options you can choose from to suit your liking.
Key Takeaway
Creating your own electronic signature with the help of an electronic signature generator is one of the first steps you must take to adopt a more digital, paperless environment in your organization. Having your electronic signature allows you to sign any documents without printing any paperwork. Hopefully, this guide has imparted some of the most essential things you must know about electronic signatures.