Entrepreneurship is being idealized through social media and business coaches which has encouraged the rise in the number of small businesses. A lot of people are starting to embark in a journey of self-employment and start-ups and a lot of them have been successfully running small businesses. Internet marketing has proved to be a very useful industry in the pursuit of small businesses to establish their place among the plethora of companies that are selling goods and services. But it is just a small example of how modern means and a certain technological upper hand have proved beneficial for small businesses.
Technology has helped us be more efficient at everything we do. People can't seem to stop coming up with newer and more effective ways of doing things that either used to take a lot more time or a bit of extra effort by them. This relentless tendency to continually make the best out of the situation has proved to be really helpful for small businesses as they too have benefited from this nature of us humans to get better over time.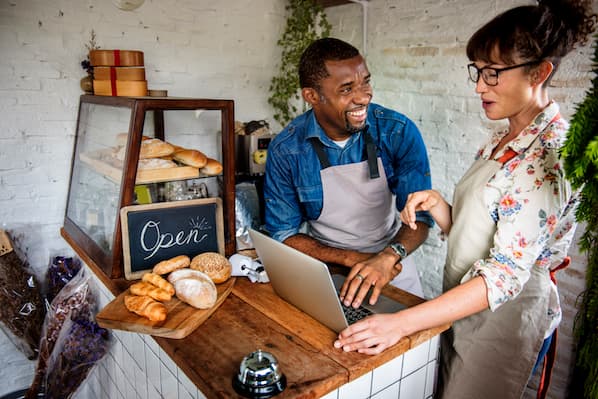 eSignature For Small Businesses
One of the tools that has recently proved to be utilitarian for small businesses is the esignature. eSignature is the online/digital alternative of signing documents. Wet signatures are traditionally opted for as the default way of authorizing documents or signing agreements. eSignatures are a faster, safer and a much more convenient way of doing so. eSignatures do not require paperwork and pen and relies simply on an electronic device with an internet connection. Documents and agreements that are to be signed can be sent over online to the signers who can sign those documents remotely and send them back to the concerned individual or a business body. 
eSignature Services And Its Various Features
eSignature services are not simply limited to the provision of signing documents electronically. They have a lot more to offer than just electronic signatures which will surely prove beneficial for small businesses.
Cloud Storage from eSignature For Small Businesses
They provide cloud storage which is a safe place for all your important files and documents. Small businesses can save up a lot of office space used up for storage of documents.
Real-time Updates with eSignature For Small Businesses
eSignature services allows users to view the activities performed on their documents.  It provides a greater visibility to the management which can be beneficial for planning future growth.
Digital Encryption with eSignature For Small Businesses
All the files that are stored or shared through eSignature software are digitally encrypted. This means they cannot be accessed by any unwanted individual. Only authorized individuals can access the files and sign them if required.
How eSignature For Small Businesses Can Benefit small businesses?
Sign Contracts And Agreements Electronically With eSignature For Small Businesses
Small businesses need to sign a bunch of agreements and contracts with vendors, suppliers and even clients when dealing with specific kinds of services. It is especially hard for them to manage everything with utmost efficiency as unlike big companies, they are quite limited when it comes to their workforce and more often than not they have to assign numerous tasks to every employee which can get really overwhelming. The difficulties are doubled when you are stuck with an orthodox way of getting documents and agreements verified by handling hard copies and getting them signed in person by each and every signer.
eSignature services can be the solution to take care of these issues of small businesses. eSignatures can make it easier for employees to handle documents, agreements and get signatures. eSignatures services comes with an organized cloud storage for all your documents which can save up a lot of time squandered on organizing paperwork and going through a heap of files every time. Agreements can be signed in no time with the use of eSignatures and there is no need to go from office to office and wait hours to get an appointment to acquire signatures.
Signup for electronic signature for small businesses now.
Sell Products And Services At A Faster Rate with eSignature For Small Businesses
Small businesses are always in the lookout to find ways that will help them sell their products and services at a quicker rate to enable further growth as soon as possible. There is no better way to ensure that businesses are on a fast track towards success than to incorporate eSignatures in their work structure. Using eSignatures to sign deals and agreements with clients will lead to much faster closing of deals for small businesses. On top of that, the additional features that eSignatures provide can come handy for effective management which saves up a lot of time to concentrate on other aspects that will help with sales.
Save Up A Lot Of Funds On Paperwork with eSignature For Small Businesses
Paperwork is definitely an important part of small businesses but it is also a hassle and a major financial burden on them. A lot of cost is incurred on paperwork which includes printing, storing and processing them as per the needs of the establishment. With eSignatures one can adopt a completely paperless process as documents can be created, stored and signed through electronic devices. The funds that are spared can be used for other utilities to support your small business.
A More Secure Approach with eSignature For Small Businesses
One of the things that may make small business owners sceptical about using eSignature for their businesses is a concern for security. However, we would like to point out that files that are stored and shared through eSignature software are digitally encrypted and do not allow any unauthorized access. Physical handling of paperwork is actually much more unsafe as they run the risk of being misplaced or damaged while handling. This will surely not be the case with eSignatures as your documents will be stored in an organized manner in the cloud storage. 
Centralized System To Manage Proceedings with eSignature For Small Businesses
Small businesses can have a better visibility of their workflow with the use of eSignature software. They can have real time updates about all the proceedings that are taking place in the workplace. They can view which documents were accessed and signed to keep track of the work that is being done and the tasks that are yet to be completed.
eSignatures come in with a complete package of useful items that will prove to be beneficial for small businesses in numerous ways. Make sure you are giving yourself and your business all the right tools to grow exponentially and make a name for yourself as a brand. Signup for electronic signature for small businesses today.