DocHub vs Lumin PDF
With the rise of remote work and digital documents, the need for digital document management and collaboration tools has become more important than ever before. DocHub and Lumin PDF are two of the most popular tools available in the market that allow users to work with digital documents.
Both DocHub and Lumin PDF have a lot to offer, but which one is the best for your needs? In this article, we will compare DocHub vs Lumin PDF based on various features and functionalities to help you make an informed decision.
Table of Contents
How to Find the Best PDF Program
Before we do a comprehensive review of DocHub vs Lumin PDF, we will first examine the key factors you need to consider when in the market for the best PDF program or software.
1. What do you need from PDF software?
One of the first things you need to do is figure out what your organization requires from PDF software.
To help you with this, here are a few questions to ask:
Do you deal with a high volume of PDF documents regularly?
Does your organization heavily rely on PDF documents?
Do you or your colleagues use other tools to view or alter PDF files?
If you answered all these questions with a resounding yes, you might need a professional PDF program with a comprehensive list of features. But if you mostly answered no, you probably won't need an expensive program that offers advanced functionalities.
2. How much is your budget?
The cost plays a huge role when making a thorough comparison of DocHub vs Lumin PDF. You don't want to break the bank, but at the same time, you also do not want to settle for a subpar tool.
Determine how much you are willing to invest in this kind of software or program. If your current budget is tight, remember that you can always upgrade to a better plan once you have additional funds.
3. Which features are essential?
Of course, the suite of features is an important key factor to help you find the best option. Since you already have an idea of the kind of processes you do with your PDF documents, it's easy to come up with a shortlist of non-negotiable features, including:
Editing or annotation functionalities
Protection against cyber threats
Compliance with legalities like HIPAA
Advanced features might be worth the added expense if you really need them. If you deal with a large volume of documents, then you'll need a tool that automates some of the work.
DocHub vs Lumin PDF: Who Is the Winner?
You might be wondering which one is the best tool for you–DocHub or Lumin PDF? Let's take a closer look at the pros and cons of these popular PDF solutions.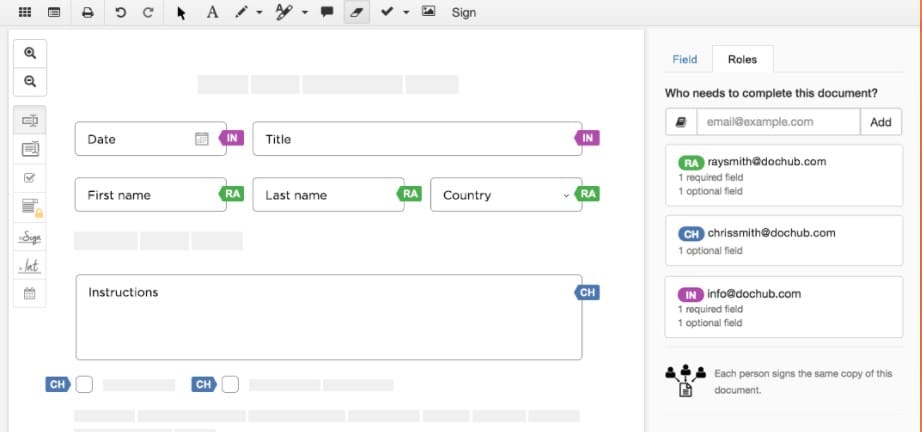 DocHub
DocHub is a cloud-based PDF software that enables you to easily edit, sign, and share PDF files with your clients or colleagues. It offers a plethora of features such as access controls for better security, collaboration tools, electronic and digital signature functionality, forms management, and a document editor that allows you to convert other file formats to PDF.
DocHub is a budget-friendly option for PDF software, with plans starting at $6.99 a month. If you want to do a test run to see if you like their software, you can take advantage of their free trial or free version.
Lumin
Lumin also lets you edit, annotate, and share PDF documents. Like DocHub, it is also completely cloud-based. But does Lumin compare favorably with all DocHub has to offer?
In some ways, yes. Both these options have similar functionality and features. However, a defining feature of Lumin that sets it apart from DocHub is its interface. Lumin boasts a more modern and engaging user interface that is easy to navigate.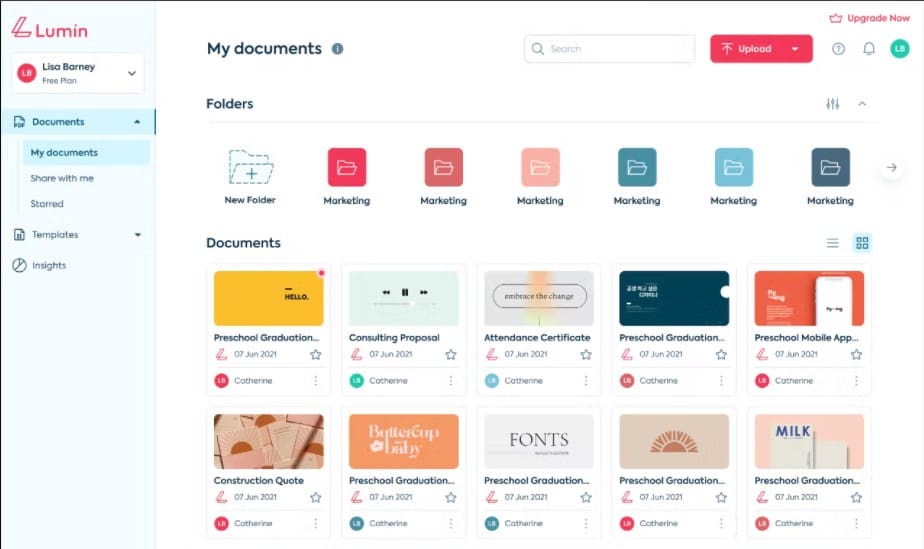 Our Pick: DocHub
When it comes to pricing, it's evident that DocHub wins on these factors by a mile. Lumin's pricing plan starts at $10 per month per user, which is slightly more expensive than its counterpart. Keep in mind that Lumin does provide a free trial if you don't want to commit to a long-term subscription.
How do these tools compare in terms of functionality? Lumin has a striking and intuitive interface, but its suite of features is underwhelming. As of today, only collaboration and conversion tools are available on the platform. It simply doesn't have a lot of functionalities when you compare it with DocHub.
What Are Alternative PDF Tools?
If you prefer to use other tools, here are some options that are worth considering.
1. ABBYY FineReader PDF
This option is ideal for small to medium-sized businesses that deal with bulk PDF document processing. With a one-time payment of $129, you will surely get your money's worth as it packs a ton of top-rated features.
It has everything you need: collaboration tools, encryption, document generation, electronic and digital signatures, archiving and retention, batch processing, and so much more.
2. PDFTron SDK
PDFTron prides itself on being a premier global provider of high-performance document processing technology. The company has thousands of clients spanning different industries and sectors.
Just like the tools mentioned above, PDFTron offers an impressive roster of features, including watermarking, document conversion tools, PDF reader, compliance tracking, file recovery, and full-text search.
3. Fill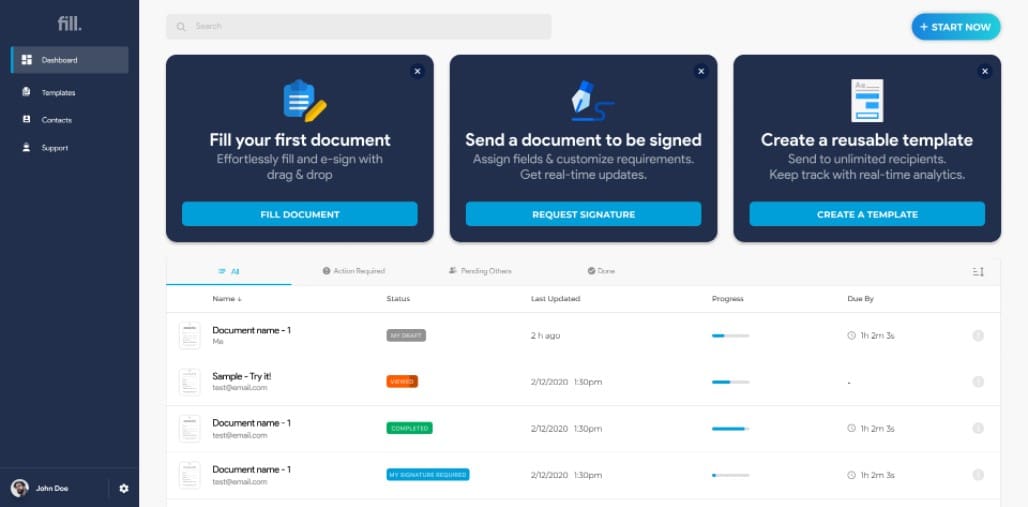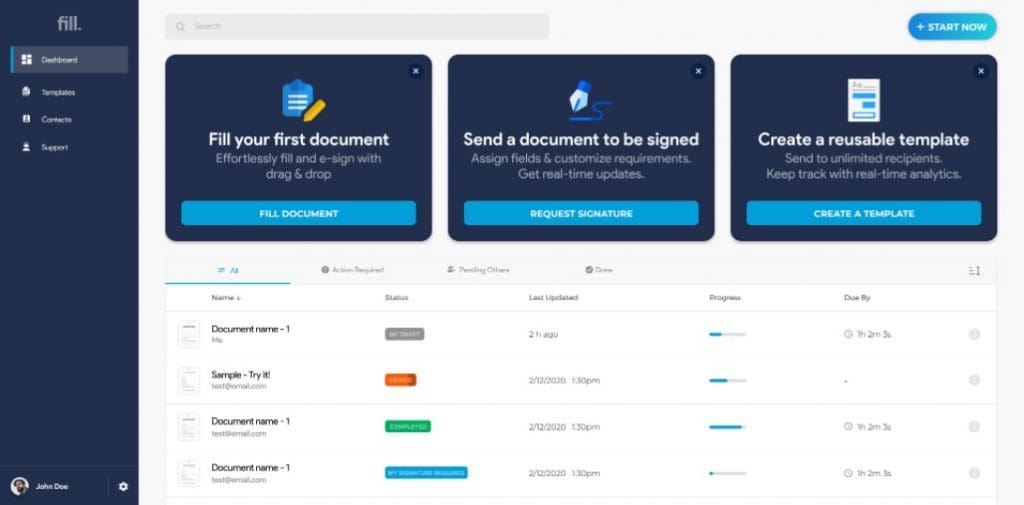 If you want a straightforward PDF signing tool, consider Fill. It allows you to process PDF documents, including signing and form filling, without the hassle. It's a must-have tool for businesses of all sizes in the digital age.
You can use Fill to process the following documents:
Wills
Letters of Intent
Leases
Purchase orders
Property agreements
Fill allows you to monitor the progress of your documents in real time. Users can generate audit trails and logs for better transparency and accountability. Not only that, but you can also set notifications so you'll be up-to-date on a PDF file's status.
You can even create surveys, allowing you to collect information without the inconvenience of printed forms.
Conclusion
To put it simply, the clear winner is DocHub. But as you can see from this comparison guide, Lumin PDF still has lots to offer.
Again, the determining factor in choosing between these document-signing systems is to examine your organization's current and future needs. Once you know what those are, you will make informed choices that will help you achieve your business goals.