Have you ever tried signing an online document in cursive? It's more challenging than it sounds. You must be extremely good at making it look like a handwritten signature. Otherwise, your signature will appear sloppy and inconsistent.
With a signature generator, you don't need to fret. You can effortlessly create professional-looking electronic signatures for your emails and documents. It's a simple yet powerful way to leave a positive impression. Plus, you can save money and time.
In this post, you will learn how to use a cursive signature generator for your business (and why it's important).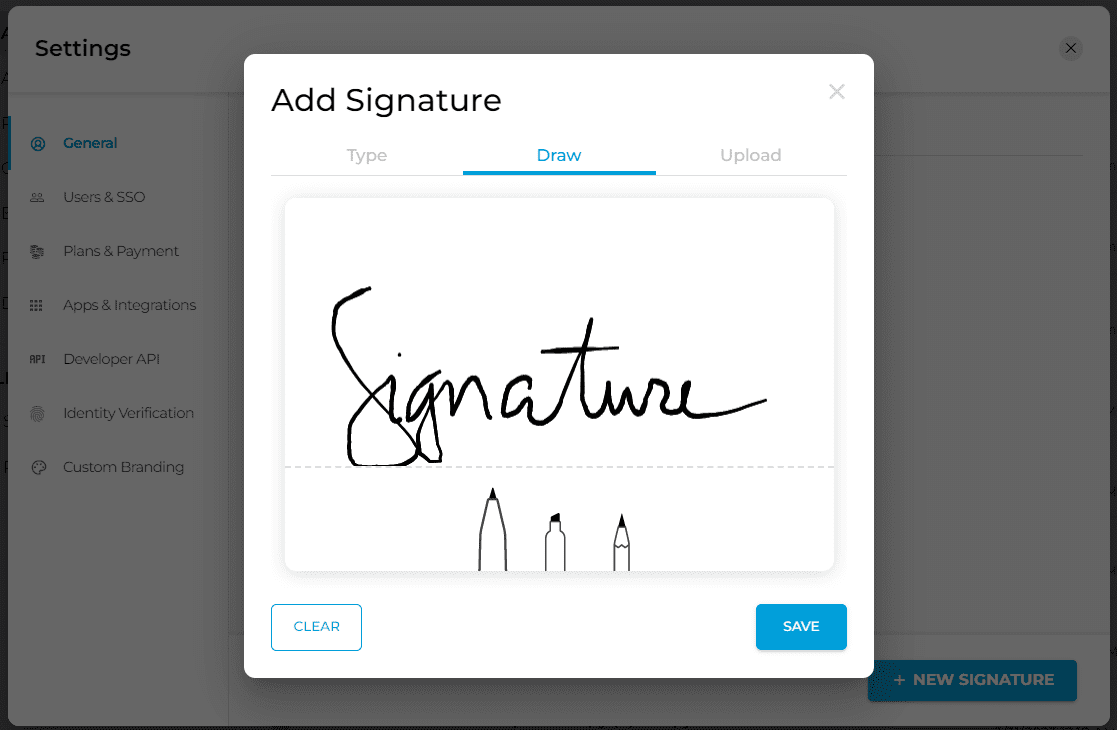 What Is a Cursive Signature Generator?
A signature maker or cursive signature generator is an online tool that lets you create a digital signature in cursive style. After generating a cursive signature, you may download and use it however you want. The outcome will resemble your handwriting. It's as if you are signing the document in person. It comes in handy at times when you cannot physically close a deal.
On top of being a valuable tool for remote signing, it helps make your signatures stand out. The more unique your signatures are, the more difficult it is for fraudsters to replicate them. Plus, you can easily succeed at leaving a lasting impression.
Examples and use cases
Here are some examples of cursive electronic signatures that you can take inspiration from:
Also, with a signature cursive generator, you can do the following:
Create personalized signatures for your emails
Affix custom signatures to digital documents
Insert a stylish handwritten signature to PDFs and Word documents
Give your signed agreements an authentic and personal feel
Make your contracts look more professional and visually appealing
Add handwritten signatures to forms without using a scanner
Importance of Having a Cursive Signature
Using a cursive signature generator to create signatures can give your business a competitive edge. Not only will it make your business stand out, but it will also help you establish a professional image. It will give your signed documents a certain level of uniqueness and legitimacy. And unlike typed signatures, cursive signatures are more difficult to forge.
Fraudsters may attempt to replicate the signature, but you can implement various security measures to keep them from doing so. Even if they copy the cursive image, you can quickly verify whether the signed document is authentic or forged.
On top of this, having a digital version of your handwritten signature frees you from the hassle of signing multiple copies. You only need to write your signature once to sign various forms. It's an efficient way to get your contracts and agreements signed.

Do eSignatures Have to Be In Cursive?
No, you can type the signatures instead of writing them in cursive. Still, a cursive signature can help set you apart from the rest. You can think of it as your unique identifier. Consider it a form of branding. Whenever clients and customers see your signature, they can immediately associate it with your brand.
How to Create and Add a Cursive eSignature
First things first, you will need a cursive signature generator. Take Fill, for example. Our intuitive tool lets you create a digital signature using only a tablet or phone. You don't even need to use a stylus to sign. As long as you know the basics, you can quickly sign any document in cursive.
Try our free eSignature generator with your mouse, finger, or touchpad.
SIGN HERE

Here are two simple ways to get it done:
Method 1: Using a free online signature maker
Select your preferred online cursive signature maker.
Some tools will ask you to create an account, while others won't require any login or registration.
Load the signature cursive generator on your default browser.
Select your pen type, size, and color.
Use your finger, stylus, or mouse to draw on the empty canvas.
Edit or delete as necessary.
Click Download to save a copy of your preferred outcome.
Method 2: Using Fill's cursive eSignature generator
Go to the Fill website and sign up for an account.
Log in to your web dashboard. You can instantly log in via email or single sign-on (SSO).
From the left panel, click the settings icon.
Go to General > My Signatures. Click New Signature.
Once you see a white box, select Draw.
Select your desired pen style, then draw your signature in cursive using a stylus pen or mouse. You can also use your laptop's trackpad.
Clear the canvas to correct your mistakes or if you want to start over.
Once you are done, click Save.
Adding a cursive eSignature to a Word document or PDF
To add a cursive signature to any Word or PDF document, all you need is to follow these steps:
Load the Fill app on your web browser.
Click Start Now, then navigate to Sign > Only You.
Upload the document you want to sign.
Click the Insert Signature option from the top menu. The app will automatically add your default signature to the document.

Alternatively, you can select a different style by clicking the dropdown arrow next to Insert Signature.

Drag and resize the newly added signature according to your preference.
Click Save to apply the changes. Once done, you may download a copy of the signed document.
There you have it. The process for generating and adding a cursive eSignature is pretty straightforward. You can easily do it on your own without asking for help.
Tips for Choosing the Best Signature Generator
When choosing the best cursive signature generator, always consider what suits your needs and whether it fits your business requirements.
Here are some tips on how to choose a signature make that can live up to your standards:
Check for platform compatibility. Some signature makers will only work for a specific platform, which limits your options. It would be best to choose an eSignature generator that you can use anywhere, regardless if your device is running on Windows, Mac, Android, or iOS.
See if the interface is user-friendly. Figuring out how an eSignature generator works should take little to no time. If the interface looks too complicated, you are better off finding another that can offer a more intuitive experience.
Check for additional features. Nothing beats having a cursive signature generator that allows customizations to suit your needs and preference. It should also let you convert your handwritten wet signatures into digital format.
Make Your Documents Stand Out With Cursive eSignatures
Let Fill streamline your document signing and management process. With our online tool, you can ensure the legitimacy of each signature while making your forms and documents stand out. Plus, you can cut your work time in half.
With Fill, you can finally say goodbye to the tedious signature conversion process. There's no need to write your cursive signature and scan it. Everything takes place electronically, making the process simpler and more efficient. Additionally, you will have more time to focus on completing urgent business transactions.
Sign up for a Fill account today and see how easy it is to generate legally binding cursive signatures in a snap.