When buying or selling any asset, it's a must to have a bill of sale. This document provides clear, legally binding evidence of the transaction. It should include all pertinent information about the buyer and the seller and a detailed description of the asset.
If you've never issued one before, don't worry. You can find plenty of bill of sale templates online for any transaction. These premade forms help ensure that all the necessary information is in the document.
Before you use a template, make sure you learn the essentials of a bill of sale. We've also included links to free downloadable templates for your convenience.
Printable Bill of Sale Templates
What Is a Bill of Sale?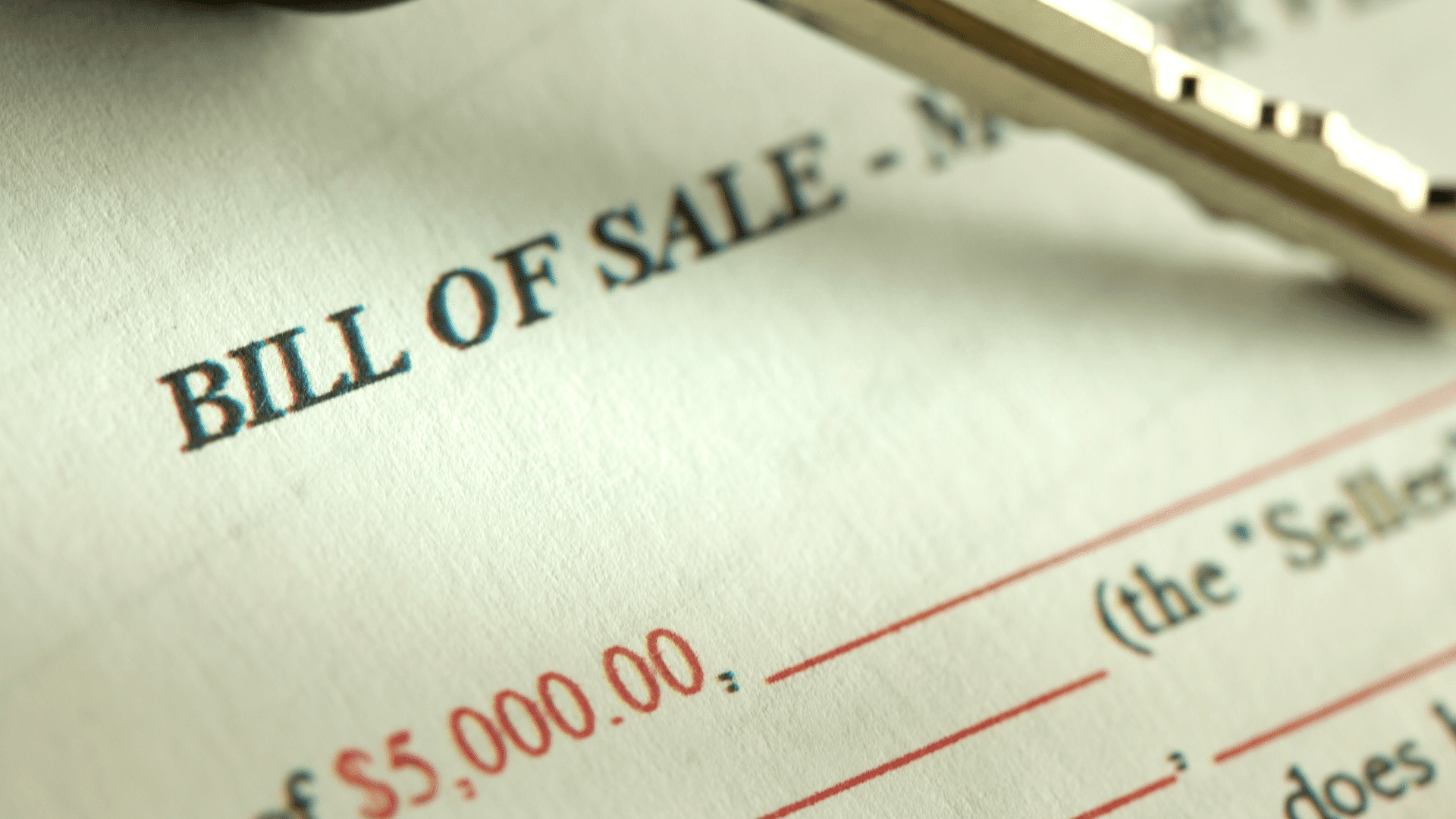 Imagine you're purchasing an asset, say a vehicle. The bill of sale is the document that records the transaction between you and the seller. The key purpose of a bill of sale is to provide evidence that a seller transferred the ownership and to establish a clear record of the transaction.
It is also known as a:
proof of purchase
proof of payment
sales slip
sales receipt
sales stub
A bill of sale is typically used for items associated with transportation. However, it can also be a record of the transfer of personal property such as furniture, electronics, or livestock.
If there's a dispute, the bill of sale will be the evidence in court to show who bought or sold the item. Without a bill of sale, proving ownership is more difficult.
Do you need to have a bill of sale notarized?
While it does not need to be notarized to be valid, it is a good idea to do so. Notarizing the document adds extra protection and may be required by your state.
What are the different types of bills of sale?
Absolute bill of sale
Here, the seller agrees that they have no more rights or interest in the sold property. When you sell a car, the bill of sale states that the vehicle is now the buyer's property. The buyer will not be held liable for anything that happens to it.
Conditional bill of sale
In this transaction, the seller retains some rights to the sold property. For example, the bill of sale for a car may stipulate that the seller still has the right to the registration certificate. The buyer cannot drive the vehicle until the transfer of registration is complete.
What Is Included in a Bill of Sale?
The contents of a bill of sale may vary depending on the type of goods you're selling, but it typically includes the following:
names and addresses of the buyer and seller
description of the item(s) you're selling or buying
date of purchase
purchase price
payment details
warranties or conditions of the sale
Common terminologies in a bill of sale
You will probably encounter the following legal terms in this document:
As-is – the item is being sold in its current condition, and the seller is not responsible for any repairs
Delivery – the date on which the buyer will receive the item
Disclosure – any material information about the item that could impact the buyer's decision to purchase
Guarantee – a warranty that the item is free from defects
Notary – a person authorized by the government to certify the authenticity of documents
Obligations – responsibilities of the buyer or seller under the bill of sale
Terms of sale – the conditions of the deal, such as the purchase price, method of payment, and date of delivery
Trade-in – an item that the buyer gives to the seller as partial payment for the item
Transfer of ownership – the turn-over of ownership of the item from the seller to the buyer
Vehicle identification number (VIN) – the serial number of a car (the bill of sale is invalid if you don't indicate the VIN)
Warranty – guarantee that the item will be free from defects for a certain period
When Do You Need a Bill of Sale?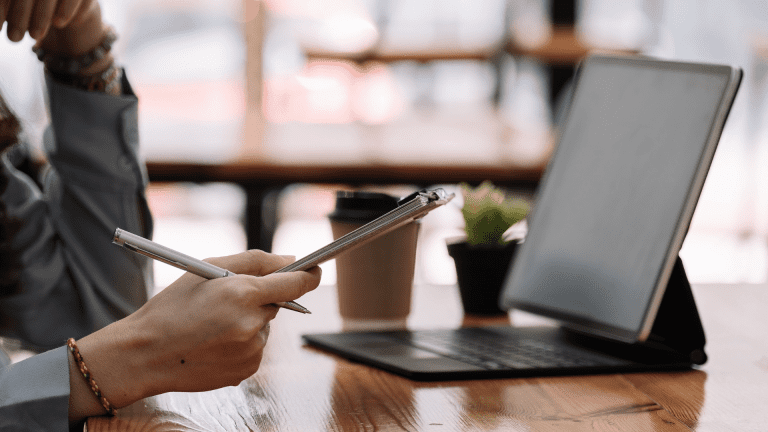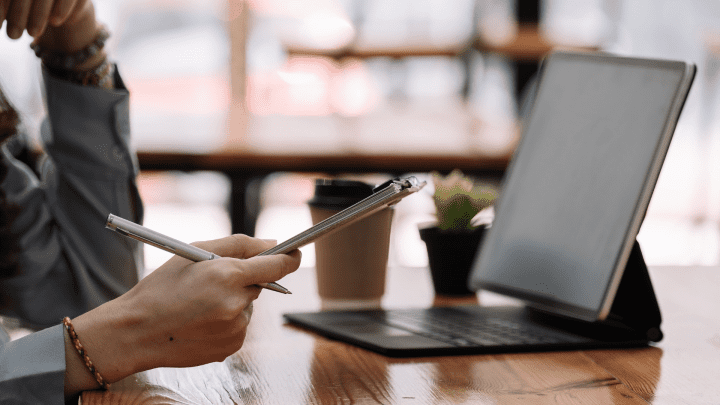 There are several instances where it is best to issue a bill of sale.
High-value items
A bill of sale provides documentation of the purchase price of an expensive item, which can be necessary for tax or insurance purposes. The value of items such as jewelry, art, or collectibles appreciates over time, so it's necessary to have a record of the original purchase price.
Vehicles
In most states, a bill of sale is a requirement for vehicle registration. The document should include the vehicle identification number (VIN), make, model, and year. You must take it to the Department of Motor Vehicles (DMV) and pay the sales tax to complete the purchase.
Gifts
A bill of sale can be evidence that someone gave or received an item as a present. This document proves that the receiver holds the right to it. It can be necessary for tax or estate planning purposes.
As-is items
This means that the new owner accepts the item in its current condition. The bill of sale usually states that the seller is not liable for any repair or damage. You must include a disclaimer of liability if you are selling an item as is.
When Is a Bill of Sale Not Required?
Keep in mind that a bill of sale is not accepted for the following:
Real estate
Real estate transactions are considerably more complicated, so they often require more documentation. Property sales also involve laws that protect both the buyer and the seller. For this reason, you cannot use a bill of sale to transfer ownership of land or other real estate.
Low-value items
The time and effort needed to draw up the document may not be worth it for low-value items. Many believe preparing a bill of sale for inexpensive items is unnecessary, but it's a personal preference.
Services
While a bill of sale does represent the transfer of ownership of an item, it does not represent the transfer of services. Suppose you provide or obtain a service, such as business consulting or babysitting. In that case, you should use a general contract for these services.
5 Bill of Sale Templates for Your Next Transaction
Accomplish your transactions with the help of Fill's customizable and printable templates.
1. General bill of sale template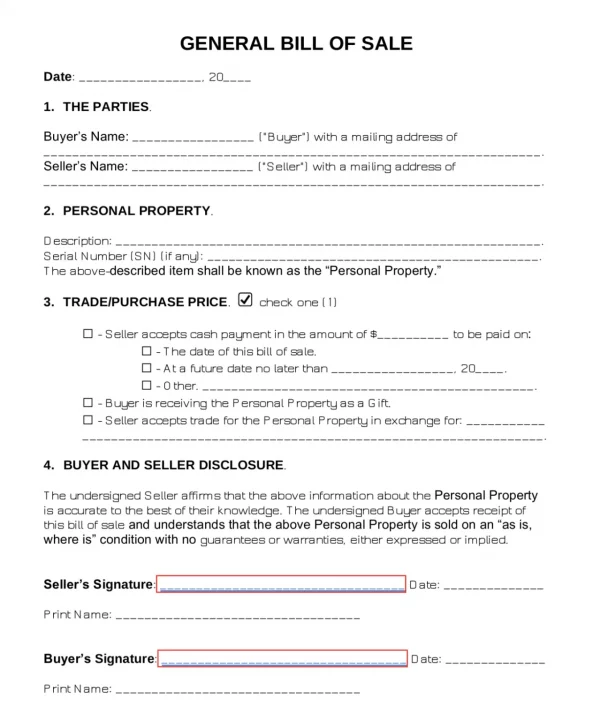 The general bill of sale is a legal document proving the transfer of ownership of any property between two parties. You can use it for various items, including vehicles, watercraft, personal property, animals, and equipment.
2. Vehicle bill of sale template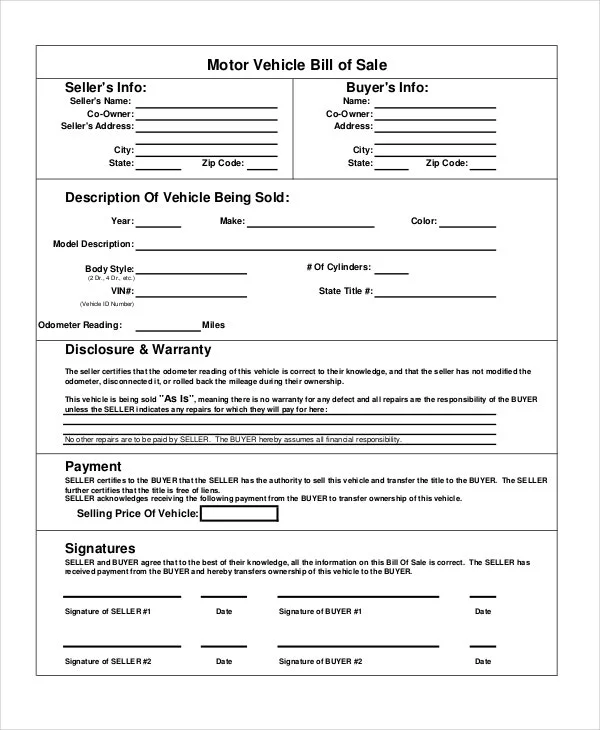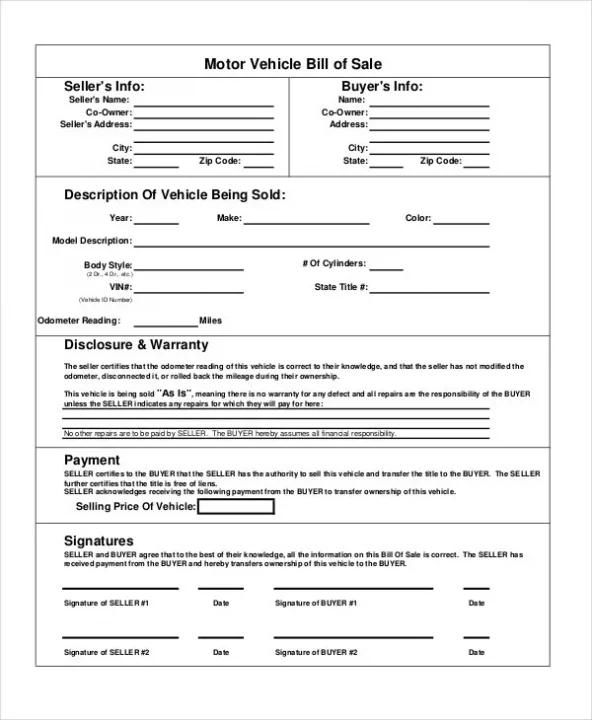 The vehicle bill of sale outlines the terms of a vehicle sale between two parties. It includes the buyer's and seller's information and a description of the item. Use this template to help you with your vehicle purchase agreement.
If you are selling a vehicle, you can get a bill of sale form from your state's Department of Motor Vehicles (DMV). You'll need to provide the following information:
a description of the item, including make, model, year, color, VIN, and distinguishing features
license plate number
vehicle registration number
odometer reading
3. Motorcycle bill of sale template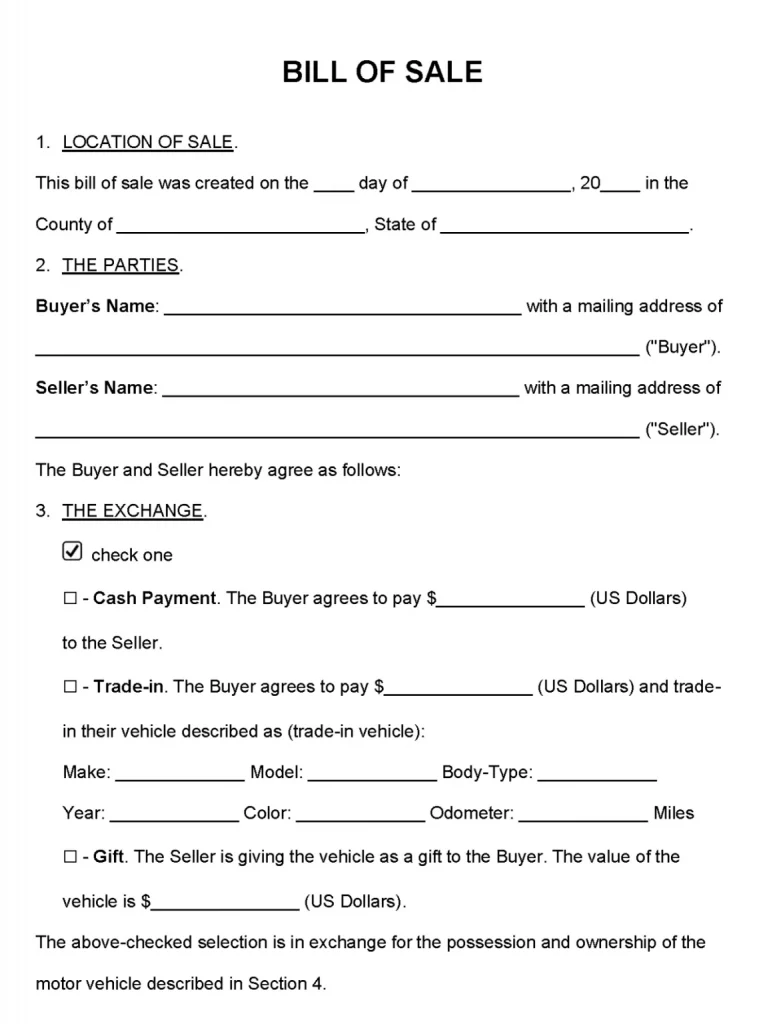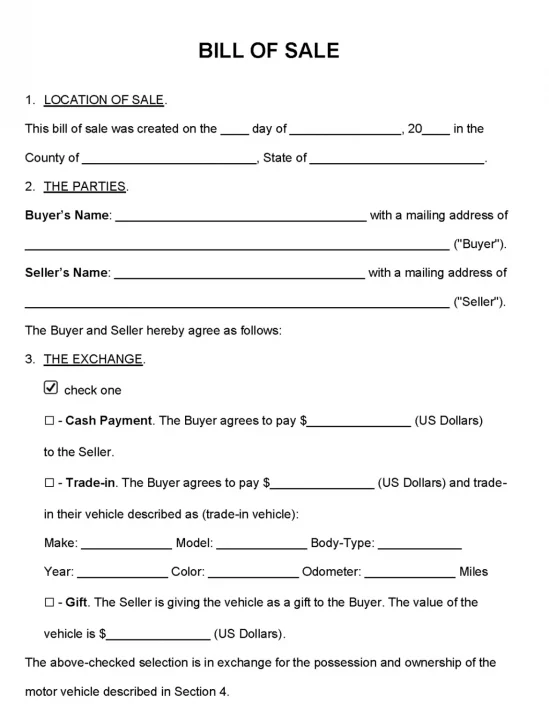 It is essential to have a motorcycle bill of sale to prove the transfer of ownership of the vehicle and prevent any misunderstanding between the seller and buyer. This document serves as evidence of the purchase price for tax purposes.
4. Boat bill of sale template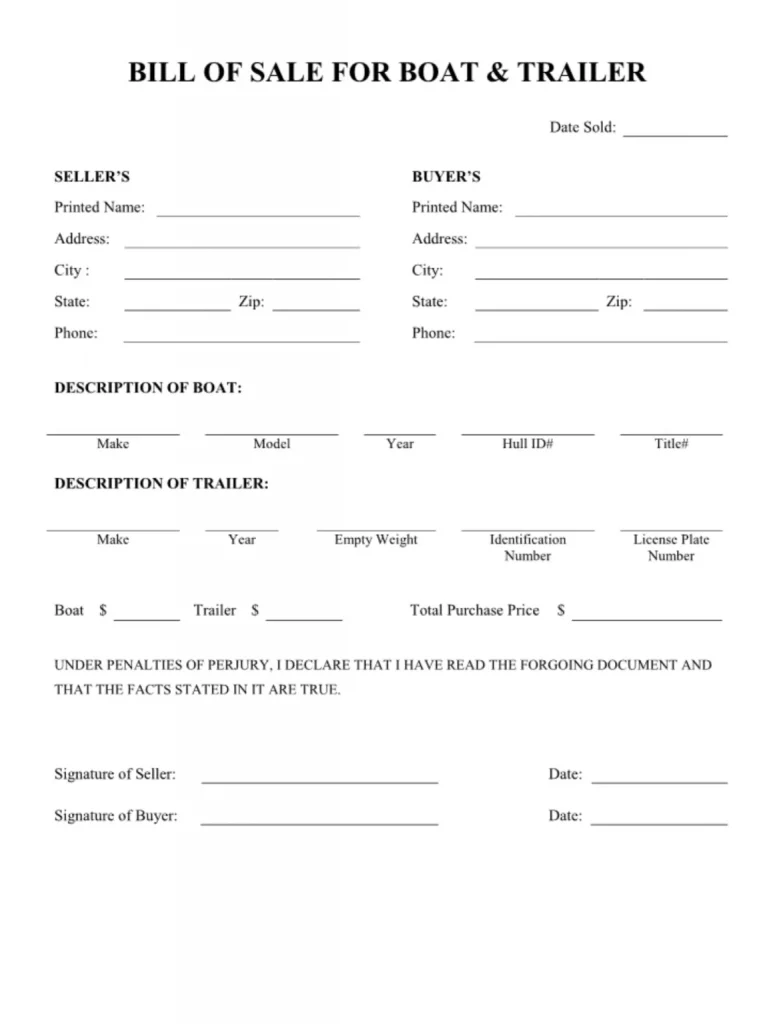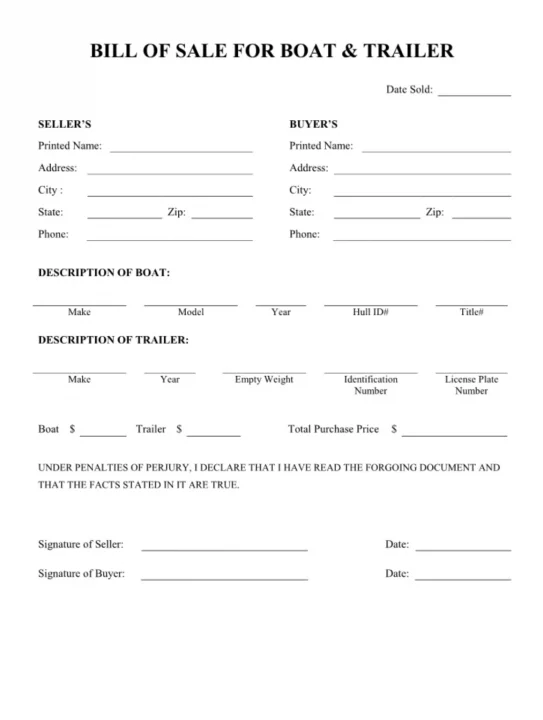 A boat bill of sale is a legal document that records the transfer of ownership of watercraft. This is typically used for motorized vessels such as powerboats and sailboats. You can also use it for nonmotorized crafts such as canoes and kayaks.
5. Asset acquisition statement
The asset acquisition statement sets out the terms of selling or buying tangible personal properties, such as machinery, vehicles, or equipment. This template includes buyer and seller information and a description of the asset. It also includes warranties and covenants in the transaction.
Tips for Writing a Bill of Sale
Preparing a bill of sale can be challenging for some. Here are a few tips that can help you accomplish this fast while still meeting legal standards.
Know your state's requirements
Each state has different laws regarding the bill of sale. For example, some require the bill of sale to be notarized, while others do not. If the seller and buyer are from different locations, you need to decide which local laws to follow.
Provide accurate information
Ensure that the bill of sale's information is up-to-date and complete. You need to be as specific as possible. When writing the bill of sale, use clear and unambiguous concise language. For example, the bill of sale should state that the item is being sold "as is" to avoid liability on the seller's part.
If any of these bill of sale requirements are not met, the bill of sale may be considered invalid.
Use a template
It is best to use a template to ensure that you include all the required information according to the law. It will help you avoid mistakes that could invalidate the bill of sale. You can find a bill of sale template for different transactions in contract management platforms like Fill.
Manage Your Transactions With Fill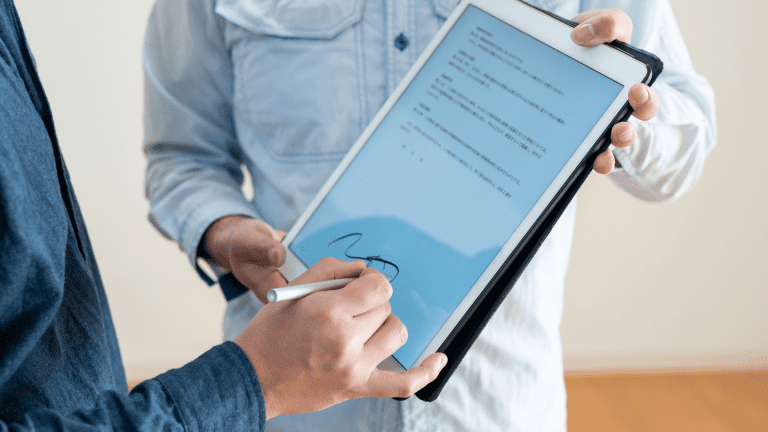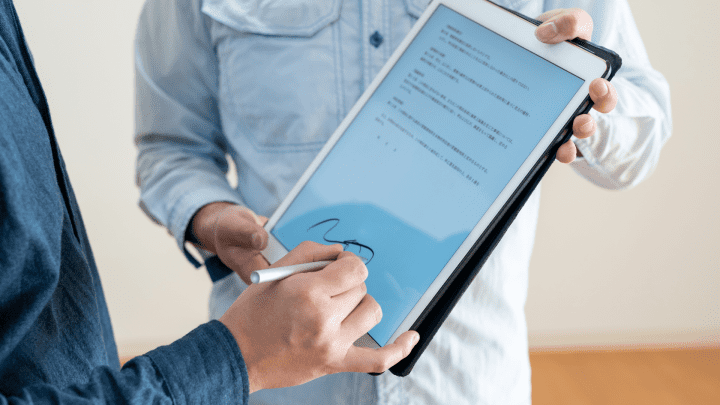 Overwhelmed by paperwork? You can quickly organize and retrieve relevant information using the Fill app. Simplify contract management for all your contracts, invoices, and other legal documents.
With Fill, you can:
Create legally binding contracts
Affix valid electronic signatures
Send signature requests with custom branding
Attach PDF files seamlessly
Track the progress of documents
Verify a signer's identity
Receive real-time notifications
It is also the easiest way to create and sign a bill of sale. Prevent any mistakes that could invalidate the bill of sale by using a template. We provide a wide range of contract templates for different transactions.
Managing contracts is simple with Fill. Sign up to get access to our templates. Get a free demo today.