It's that time of year again when the dreaded tax forms surface. Whether you're an individual or small business owner, understanding and completing the appropriate forms can be overwhelming.
Fortunately, there are plenty of resources available to help, such as this quick guide on how to sign W9 online for free. With just a few simple steps, you'll be ready to submit your taxes.
In this article, aside from learning how to sign W9 online for free, you will have additional resources about the W9 form, tips when signing it online, and how online signing can protect you from tax fraud risks. Let's get started.
Table of Contents
What Is a W9 Form?
A W-9 form is a piece of paper that businesses use to inquire about tax identification information from contractors or vendors. It's used to report income to the IRS and creates 1099-MISC forms for contractors.
The W9 is a tax form that self-employed and freelancers use. Individuals working as freelancers may use it to provide tax identification information to businesses or clients they collaborate with.
W9 forms allow enterprises and customers to submit taxes on the income earned by the individual correctly.
Individuals required to complete a W9 form must provide their name, address, and social security number or taxpayer identification number on the form.
Who Should Sign and File a W9 Form?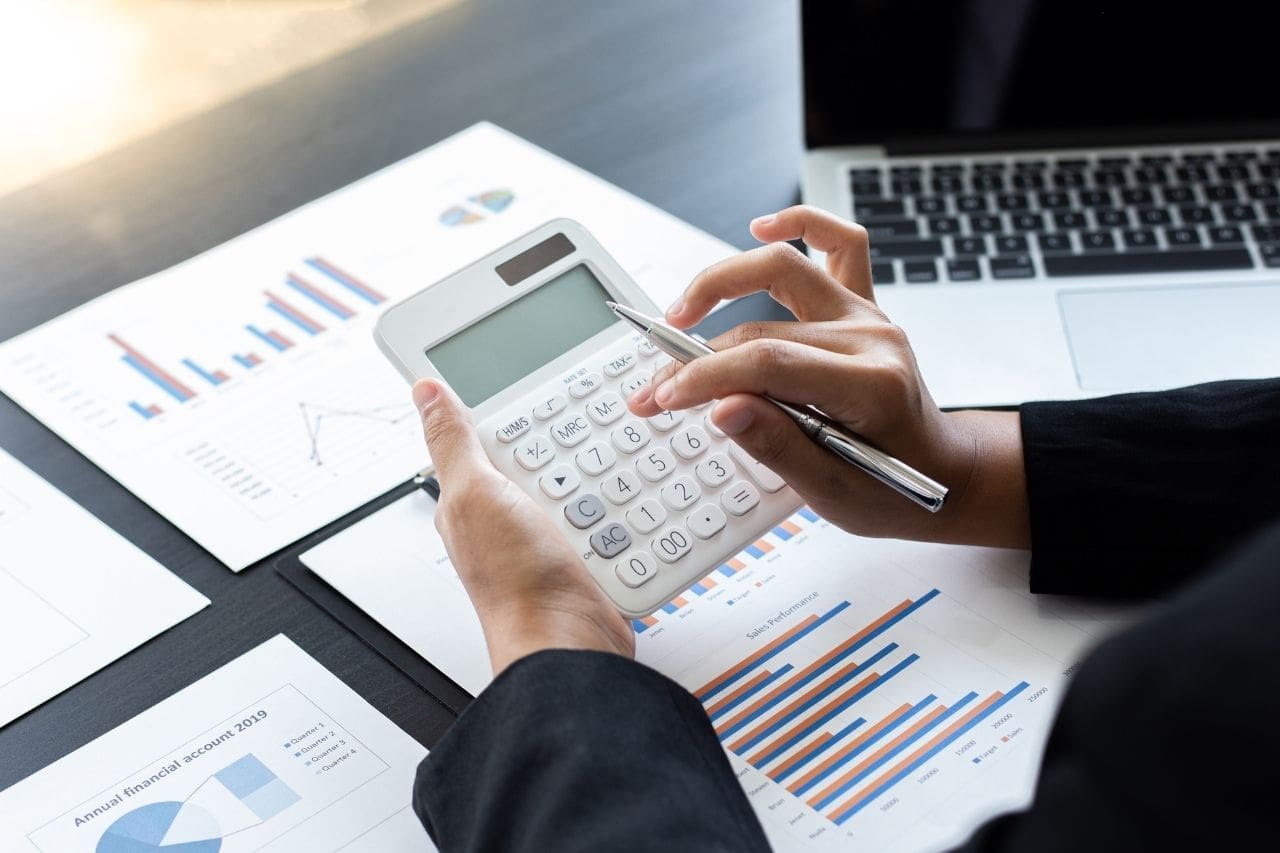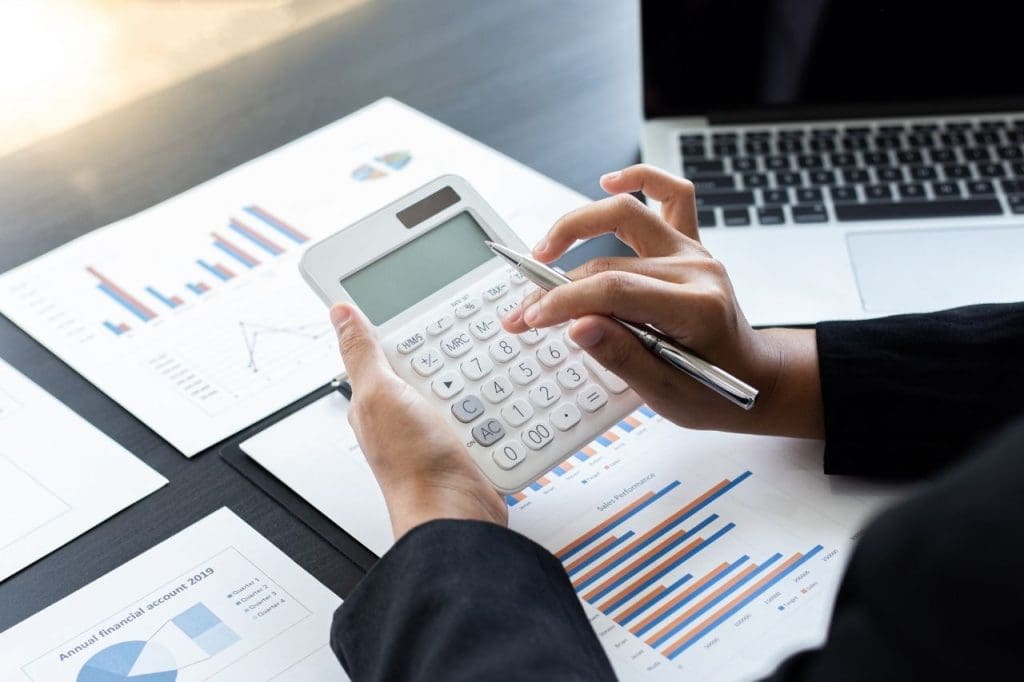 As a general rule, any business or organization that makes payments to individuals or other entities for services rendered should request a W9 form.
Businesses and organizations that make certain interest payments, dividends, and rent also use the form.
The recipient of the payment is responsible for completing the W9 form and providing it to the payer.
Once the form is completed, the payer will use the information on the form to generate a 1099-MISC tax form, which they will then send to the IRS.
W9 forms are also used by firms that invest in partnerships and LLCs. The W9 obtains tax identification information from the entity for accurate tax reporting in these cases.
It's important to note that the W9 form is not filed with the IRS. Instead, it's used to collect information that the taxpayer will use to prepare tax forms filed with the IRS. 1099-MISC forms, filed with the IRS, are generated using data from the W9 form.
Does IRS Accept Electronic Signatures for W9?
The IRS does accept electronic signatures for W9 forms. In order to use an electronic signature, you must be using a secure electronic signature service that complies with the IRS's requirements. This service must include a secure method of signing documents, as well as a way to validate the identity of the signer. Additionally, the service must provide an audit trail that can be used to prove the signature was valid.
This is a convenient way to sign and submit your W9, and it can help you avoid any delays in getting your tax refund or other payments from the IRS.
However, it's important to note that not all electronic signatures services are created equal. Make sure you choose a reputable service that will ensure your signature is legally binding.
How To Sign W9 Online for Free With Fill
Fill lets you sign W9 online for free and securely through its 256-bit end-to-end encryption.
It's also a combination of document management and an electronic signature app, making it easier for taxpayers to sign documents online and save the files in the cloud.
Here's how to sign W9 online for free with Fill. Make sure you have downloaded a copy of your W9 form.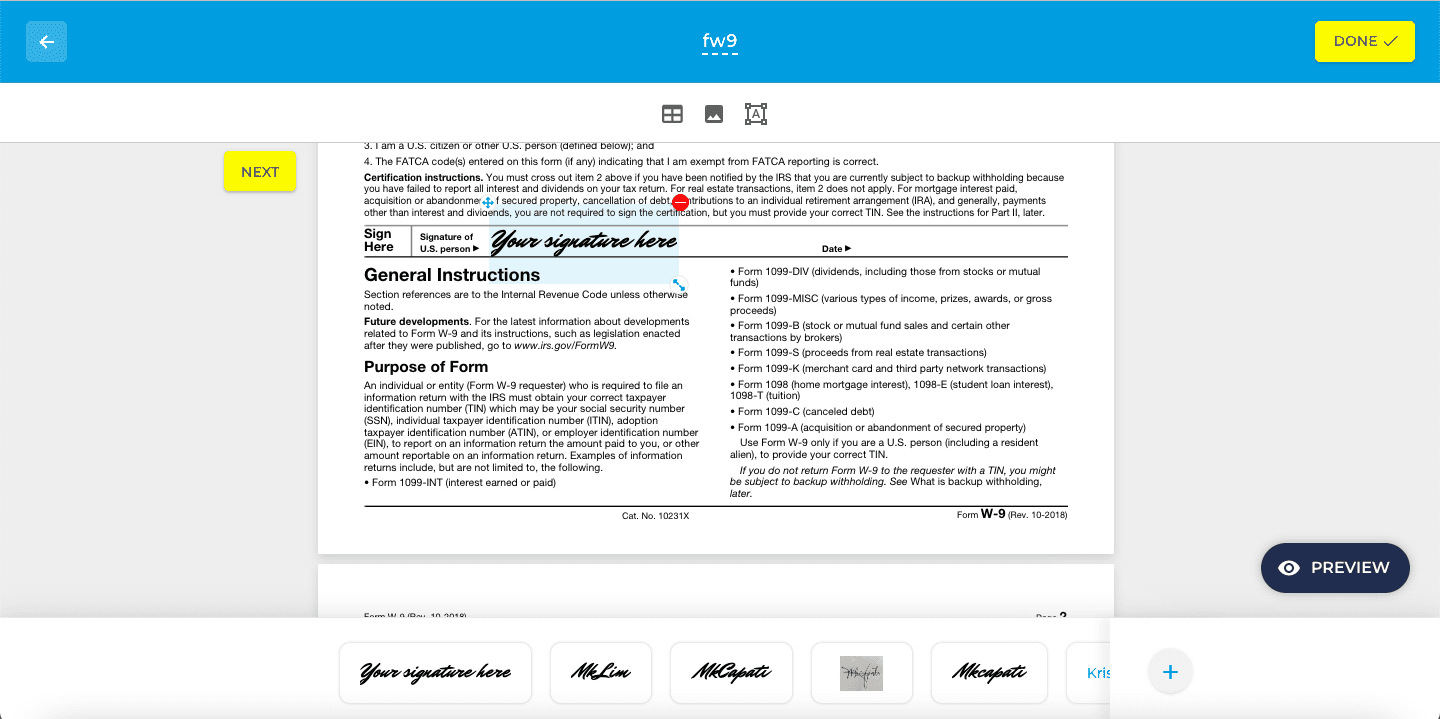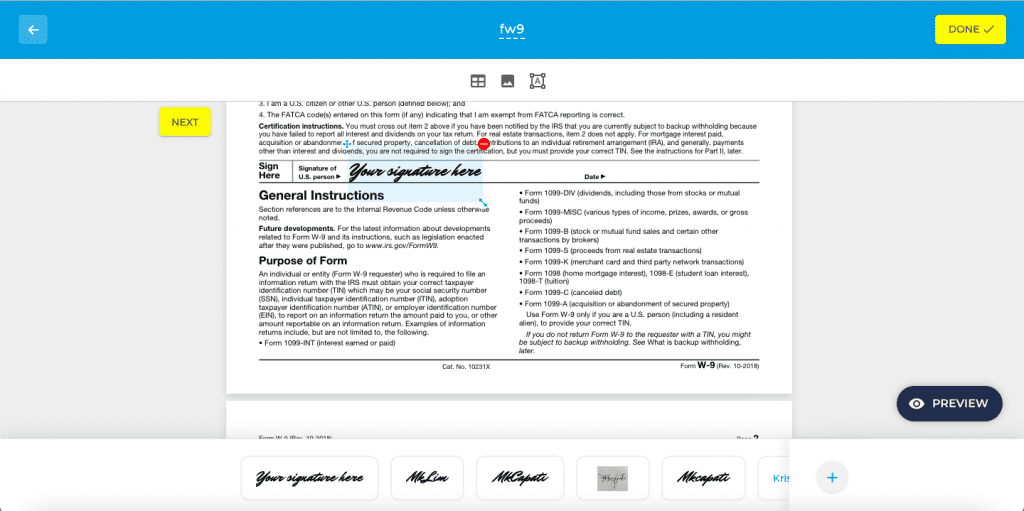 1. Go to Fill website to register a free account. You may also sign up for a 7-day free trial to explore the advanced features.
2. After creating an account, click Start Now at the upper-right corner of the main dashboard.
3. If you're going to sign on your own, click Only You to upload the W9 form.
4. Fill will show you the W9 form on your screen. There are 22 fields you need to fill, so use the suggestions to save time. After this, you can just sign it by choosing any of the generated signatures, or you may also upload an image of your handwritten signature.
That's it! If you have been searching for how to sign w9 online for free, we hope that this quick guide has provided you with the answer. It's that simple.
How Will Signing Your W9 Form Online Protect You From Potential Tax Fraud Risks?
There are a few main advantages to using an online W9 form signing service. First, by using an electronic signature solution such as Fill, you can be confident that your signature is valid.
It means that if someone attempts to forge your signature on the form to commit tax fraud, they will not be able to do so.
Another key way that signing your W9 online can help protect you from potential tax fraud risks is by ensuring that your form is submitted promptly.
By submitting your W9 online, you can avoid any delays in processing that could occur if you were to mail in your form. The prompt submission can help reduce the chances of someone else trying to submit a fake form in your name.
Finally, by signing your W9 form online, you can also take advantage of our free storage and secure backup features.
Even if your computer crashes or is lost or stolen, your W9 form will still be safely stored and can be easily accessed when needed.
Tips When You Sign W9 Online for Free
1. Read the Instructions Carefully – Be sure to read the instructions on the IRS W9 form carefully before proceeding. In particular, make sure you understand what information is required in each section.
2. Check Your Taxpayer Identification Number – One of the most important information on the W9 form is your taxpayer identification number. Be sure to enter this correctly to avoid any issues down the road.
3. Use a Valid Email Address – When you sign up for an account with fill, you'll be asked to provide a valid email address. Be sure to use an actual email address that you have access to retrieve your signed document when needed quickly.
4. Keep Your Signed Document Safe – Once you've signed your W9 form, keep it in a safe place. We recommend storing it electronically in a folder on your computer or in a cloud-based storage service such as Dropbox or Google Drive.
By following these tips, you can be confident that when you sign W9 online for free, you will be filled out correctly and that your signature will be valid.
Final Thoughts
That's it! You now know everything you need to know about W9 forms and tips on how to sign w9 online for free. Remember, a W9 form is essential for both individuals and businesses so that the IRS has all the information they need about your tax status.
Don't hesitate to reach out to us at Fill if you have any questions. We want to make sure you stay informed and compliant with tax-related.
In the meantime, check out our other helpful articles and explore our signature app, Fill.
With Fill, you can quickly sign documents online without printing or scanning anything. Plus, our app is secure and easy to use – perfect for busy professionals like you! Thanks for reading, and happy filing!