A smooth hospital workflow is critical to providing positive patient outcomes. When everything runs smoothly, patients receive the care they need on time. But if the workflow is poorly managed, it can have a negative effect on both the quality of patient care and employee well-being.
What are the ways to get better outcomes with your hospital workflow, especially during a pandemic? In this post, we'll explore how to improve your hospital's workflow management.
Table of Contents
What Is a Hospital Workflow?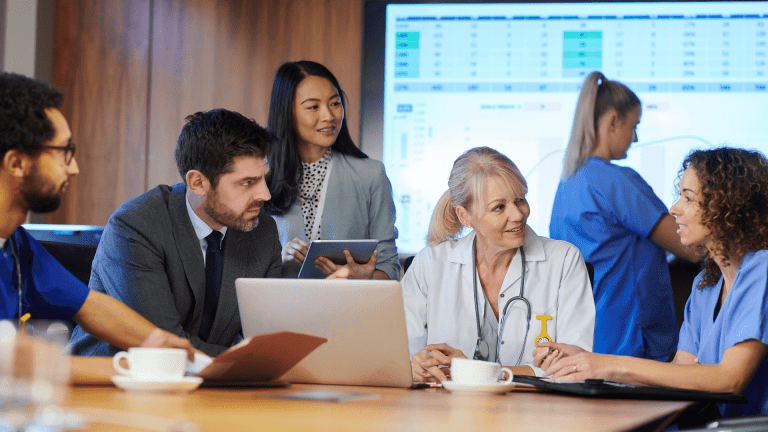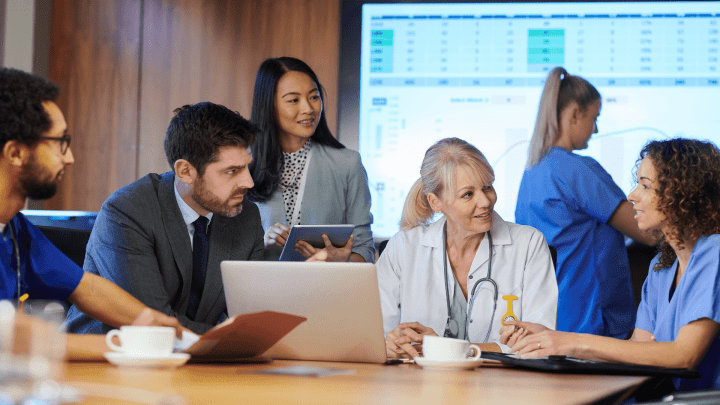 A workflow refers to the set of tasks that need to be accomplished in a specific order to achieve a goal. Aside from processes, it also includes people, resources, and the interactions among these elements.
Hospital workflows are all about how processes are performed in both administrative and operational ways. It's a series of interconnected events in the clinical environment, performed by different professionals at multiple levels working simultaneously.
To offer patients the best health experience possible, healthcare systems need a functional and efficient hospital workflow. A good workflow helps minimize mistakes and conveniently access the patient's clinical history.
Patient flow is just one aspect of a successful hospital operation. Various factors can impact patient flow, such as the number of staff on duty, bed availability, and the time required for procedures.
To provide quality care, the workflow design should ensure that patients can move through the facility smoothly and efficiently.
Modern Hospital Workflow Processes
Technology plays a vital role in enhancing the workflow in hospitals, clinics, and other medical facilities. Some of the new processes that healthcare providers can adapt include:
Online patient pre-registration
Patients can now register for appointments online. This not only saves time but also limits the amount of exposure for both the patient and hospital staff. By scheduling their visit via a mobile app or online calendar, patients can complete their registration from the comfort of their own homes.
Pre-registration helps create a good first impression of a healthcare organization by collecting patient intake materials ahead of the appointment. This also ensures that physicians and healthcare staff get timely and accurate information.
Digitization of forms
There's now a wide variety of software solutions that allow for the digitization of forms. Some even allow you to input data using a tablet or mobile phone.
By digitizing forms, patients can fill them out electronically before their appointment. This way, the hospital staff can avoid handling paper forms and lower the risk of infection.
This is also more efficient for the hospital as it reduces the time spent on data entry. Aside from being more efficient, it also helps to reduce the errors caused by manual encoding.
The forms can be stored electronically and easily accessed when needed. There's no need to organize or search through tons of paperwork to find medical records.
Remote triage
With traditional triage, nurses ask questions and take vitals in emergency rooms. But now, many hospitals are conducting triage remotely due to transmission risk.
This process helps clinicians determine if patients need to go to the ER or if they need to be admitted for observation. Usually, physicians would use video conferencing apps and mobile devices to do this.
Some hospitals have evaluation tents in the parking lot or garage. This also prevents patients from coming into contact with sick people. These changes to the triage process are essential for protecting patients and healthcare workers, especially during a pandemic.
Telehealth
Telehealth or telemedicine is useful for various purposes such as consultation, diagnosis, treatment, and education. What makes it possible is the rapid advancement in portable electronics, mobile apps, and information and communication technologies.
The use of telehealth is a patient-centered approach that has many benefits for patients, physicians, and other healthcare professionals. It has improved access to care, increased patient satisfaction, and decreased costs.
Doctors can now use a smartphone or webcam to communicate with patients. For example, a psychiatrist can do counseling sessions via Zoom or Skype. Telehealth can also reduce infection risk and save time on transportation.
Virtual rounds
Another innovation is "remote rounds" or "virtual rounds." This approach allows doctors and nurses to remain outside the patient's room while still seeing and talking to them.
In addition, remote rounds can also be used for follow-up visits after a procedure. This technology can help reduce the risk of exposure for patients and healthcare workers.
It may also offer psychological benefits by allowing patients to remain connected with their loved ones during their hospital stay.
The use of technology is critical for the success of these processes. The right mix of technology and people can help create a positive difference in patient care and safety.
These innovations adapted to the new hospital workflow processes can only be effective with the right methods and tools.
Hospital Workflow During a Pandemic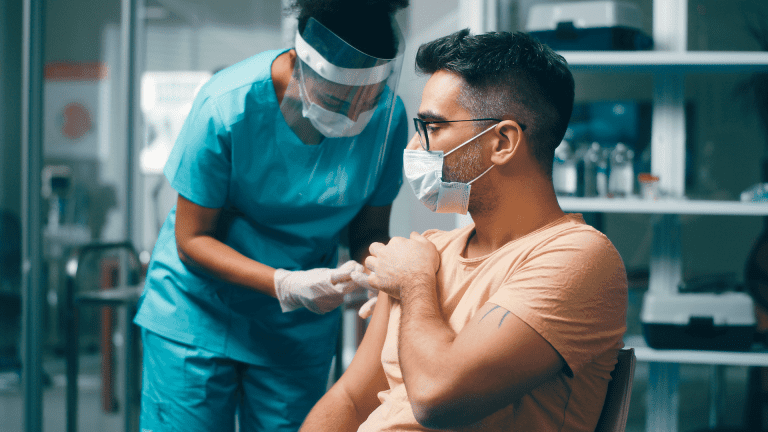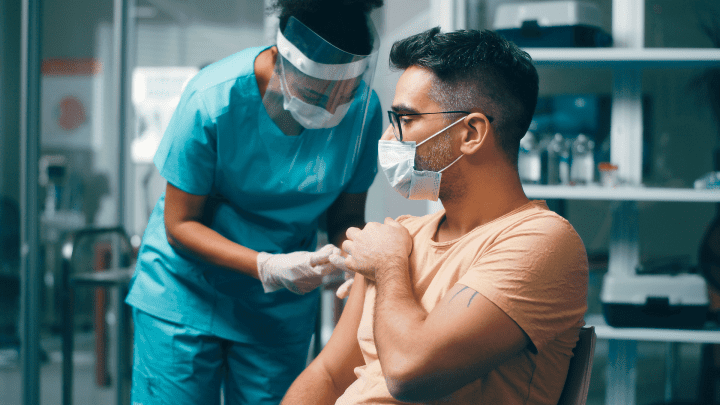 When hit by a pandemic like COVID-19, the healthcare industry was forced to adapt rapidly to meet changing demands. Medical staff had to deal with an influx of cases that soon overloaded emergency rooms and intensive care units.
According to the results of a national pulse survey of hospital experiences responding to the COVID-19 pandemic, some of the initial challenges were:
Shortages in medical supplies
Lack of logistic support
Insufficient staffing
Inefficient patient flow processes
Ensuring staff and patient safety
Through innovation and creativity, hospitals soon adapted procedures to meet these challenges. A lot of them were mentioned in the previous section.
These technological advancements offer new options for serving patient care while minimizing direct person-to-person exposure.
Benefits of Efficient Workflows in Healthcare
Efficient hospital workflow processes can lead to positive outcomes for patients and hospital management. When done correctly, efficient workflow processes can:
Enhanced patient-doctor communication
When patients are moved quickly and efficiently through a hospital, doctors have more time to spend with each of them. This can lead to better communication and a deeper understanding of the patient's condition.
Why is communication between a physician and a patient necessary for positive patient outcomes? Patients who feel comfortable communicating with their doctors are more likely to provide accurate information and follow treatment plans.
Fewer medical errors
Medical errors can occur at any stage of the patient journey. However, they are more likely to occur when patients are moved through the hospital without following a good workflow.
Efficient patient flow can help reduce the chances of errors by ensuring that patients are seen on time and that their records are up-to-date.
A smooth workflow usually means less stress for medical staff, so they are also less prone to making mistakes or overlooking important details.
Improved compliance
Another benefit is improved compliance with regulations and standards such as Health Insurance Portability and Accountability Act (HIPAA).
When all staff members are aware of their roles and responsibilities, it helps ensure that everyone works together to follow rules that ensure the safety and privacy of patients.
Increased productivity and morale
In the healthcare industry, productivity is often defined as the effective use of staff and resources to provide quality patient care. A streamlined workflow can help to increase productivity by optimizing the use of staff and resources.
When staff members can work at their full potential, they perform better and feel good about their jobs. In addition, improved patient care and better health outcomes are often direct results of increased productivity in the healthcare setting.
Fill: A Solution for Improving Hospital Workflow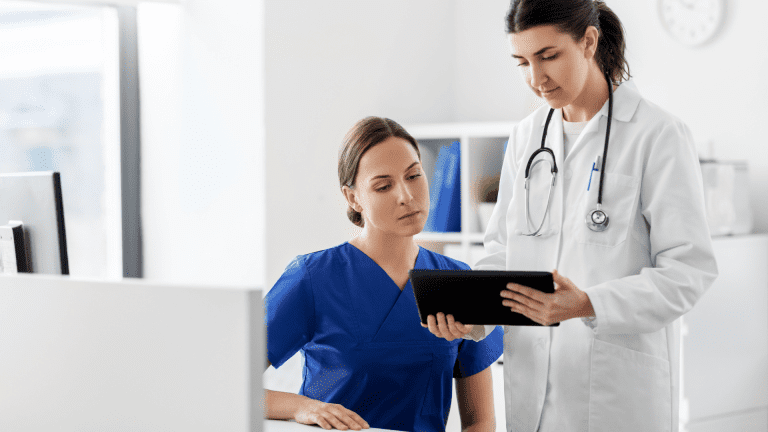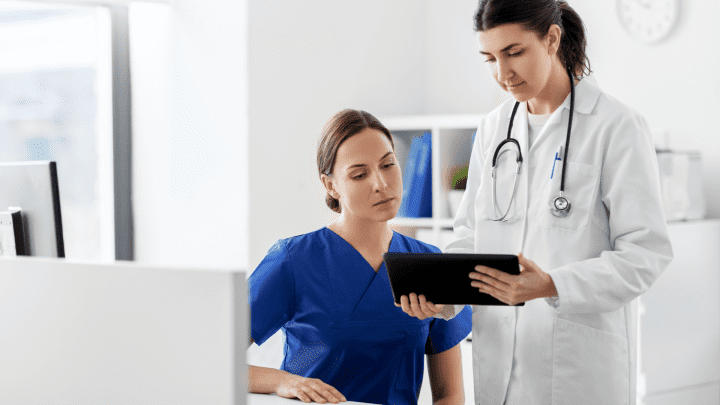 Fill may be the solution you need if your hospital is struggling with inefficient workflow. With Fill, you can securely sign, track, and manage healthcare information in a centralized database.
You can use Fill during pre-registration of patients as well as telehealth, consents, forms, and much more.
Automated signature requests and cloud-based data collection can help you avoid human errors. Get a free consultation and start experiencing smooth and productive workflows today.