As the healthcare industry shifts to a more digital approach to document management, it is becoming increasingly common for providers and patients to sign paperwork online, from patient authorization, business agreements, and insurance policies to patient forms. Using electronic signatures just makes the entire process flow more smoothly and efficiently. Plus, it's convenient for all parties involved and saves you a lot of money. The advantages are practically boundless.
When you decide to adopt this digital solution to your practice, you must invest in HIPAA compliant electronic signature software to ensure that you do not violate any of the rules and regulations. Any violation or infraction can result in serious and costly penalties and repercussions; you must avoid that at all costs.
This article will walk you through some basic things you need to know about selecting the best HIPAA compliant electronic signature software. Here's what we will discuss:
Table of Contents
What are the HIPAA Electronic Signature Requirements?
The healthcare industry is notorious for handling documents containing highly sensitive information and PHI (protected health information), which is why a federal law implements rules and guidelines to maintain the confidentiality of these data.
The Health Insurance Portability and Accountability Act of 1996, widely known as HIPAA, primarily covers how to share files safely and securely. As of writing, there are no specific rule or regulations under HIPAA that covers the use of electronic signatures in healthcare-related documents. Proposals for using e-signatures were made during the initial draft of the 2003 Security Rule, but none of them made it when the legislation was enacted.
The US Department of Health and Human Services states, "No standards exist under HIPAA for electronic signatures. In the absence of specific standards, covered entities must ensure any electronic signature used will result in a legally binding contract under applicable State or other law."
So when using electronic signatures in documents like patient authorization and business associate agreements (BAA), here are the conditions you need to bear in mind:
Legal Compliance
While electronic signatures are generally considered legally binding and enforceable, the ESIGN Act has specific guidelines and requirements you need to comply with. For instance, the terms of the document should be clearly stated. Both signers should also consent to use electronic signatures. It is also best to use HIPAA compliant electronic signature software.
User Authentication
One of the main advantages of using HIPAA compliant electronic signature software is that it allows all concerned parties to validate their identities. User authentication is vital to avoid misrepresentation. Some of the best tools have a two-step verification process, while others can password-protect the document. A higher level of user authentication can sometimes be in the form of a phone call.
Message Integrity
You must ensure that no one can tamper with your document after signing it. You need to preserve your files' integrity, especially those containing confidential information or data. To ensure HIPAA compliance, ensure that you use software or tool that prevents unauthorized tampering or editing of the document.
How to Find the Right HIPAA Compliant Electronic Signature Vendor?
As signing documents online has steadily become a norm for many industries, plenty of vendors now offer HIPAA compliant electronic signature software. So how do you exactly choose the right one?
You first need to consider their software's safety and security measures. Are they using military-grade encryption? What sort of verification do they use? A vendor to offer HIPAA compliant electronic signature software should be able to sign and provide a business associate agreement.
Of course, you also need to look at the features they offer. What do they offer that other vendors do not? Can these features make your document management workflow easier? Will they help you avoid incurring infractions against HIPAA?
Lastly, you need to consider the cost of the HIPAA compliant electronic signature software. Although they are worth the investment, they should not cost you an arm and a leg.
What is the Best HIPAA Compliant Electronic Signature Software?
To help narrow your choices, we've listed three of the best HIPAA compliant electronic signature software you can find in the market today. Let's take a look at each one of them:
Fill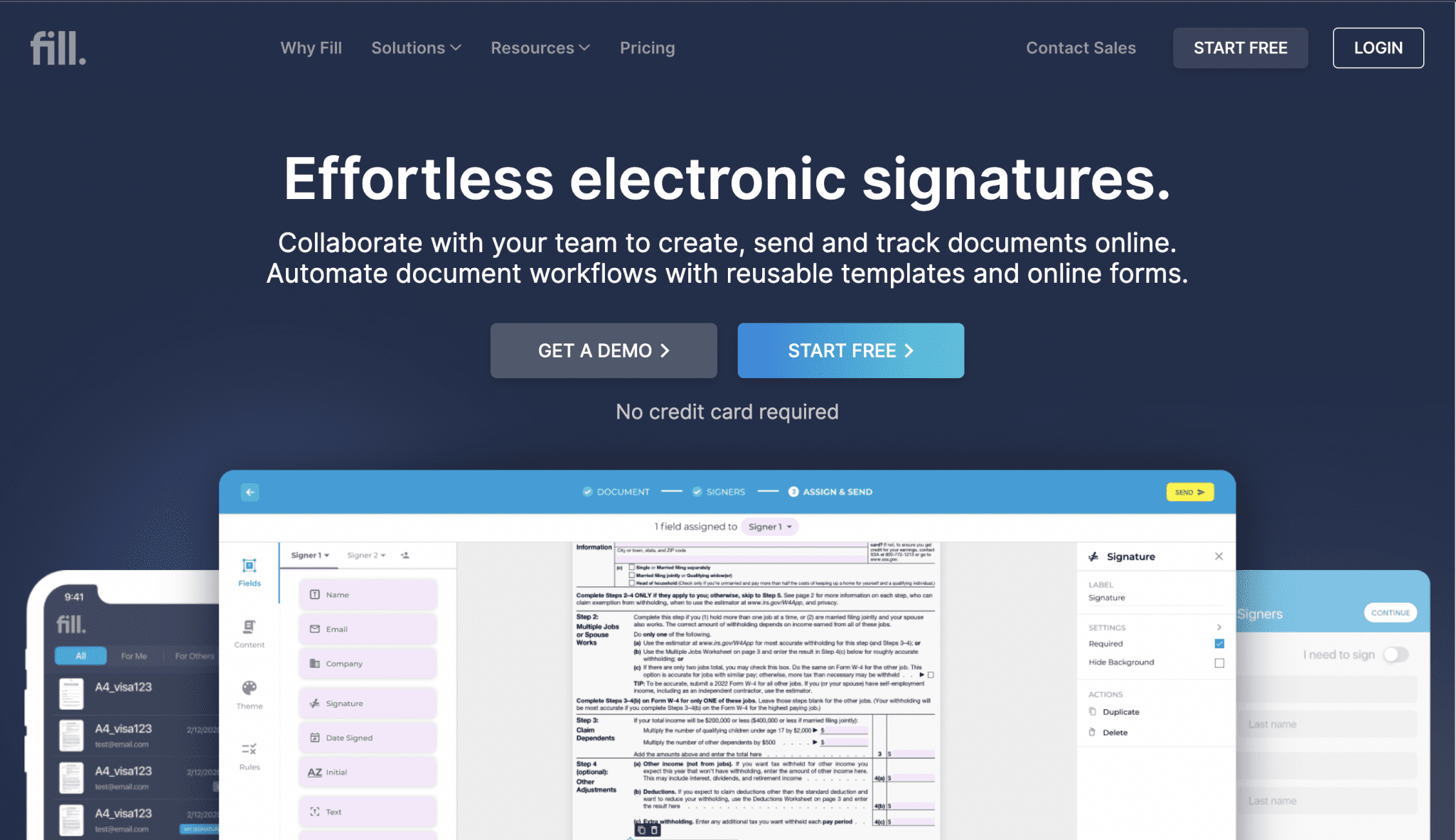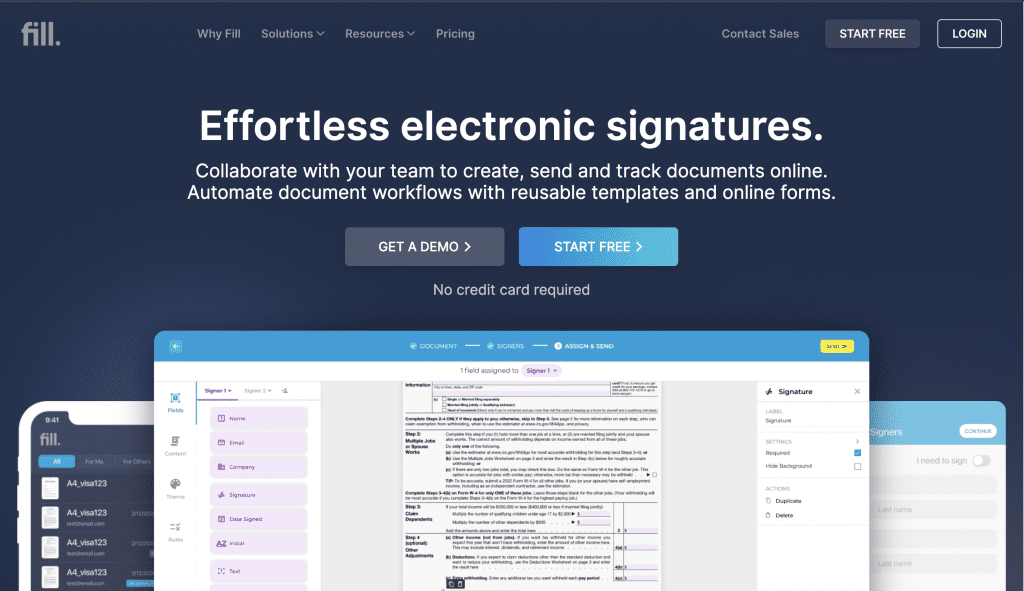 Fill is a secure and HIPAA compliant electronic signature software designed to simplify your document signing process. For as low as $4.17 per user per month, you can gain access to many of our unique features, including a real-time audit trail and log that's truly helpful to maintaining HIPAA compliance. You can also seamlessly integrate Fill with other office and business tools for maximum efficiency and productivity.
Most importantly, Fill only uses the highest level of safety and security measures. Our military-grade encryption thwarts any attempts of unauthorized access, breaches, and document tampering. Your documents are safe with us, and we guarantee HIPAA compliance.
DocuSign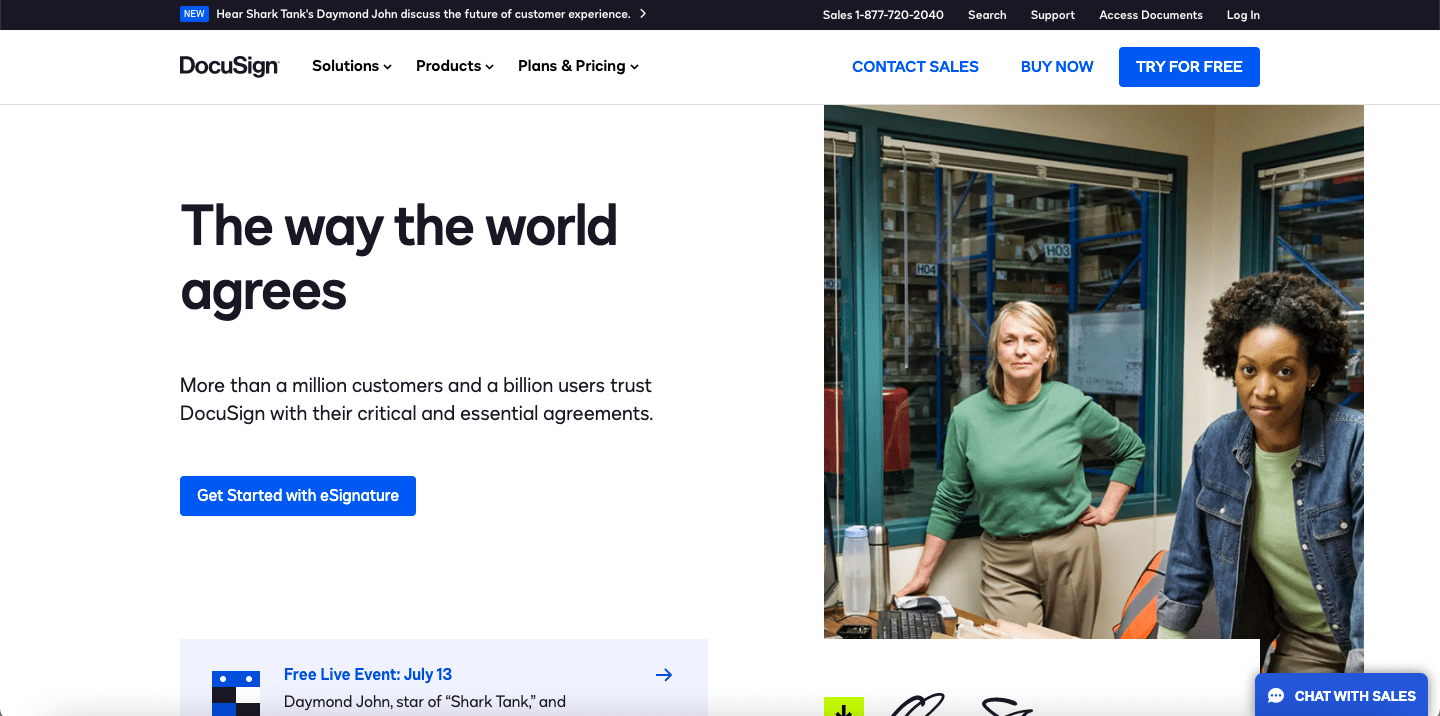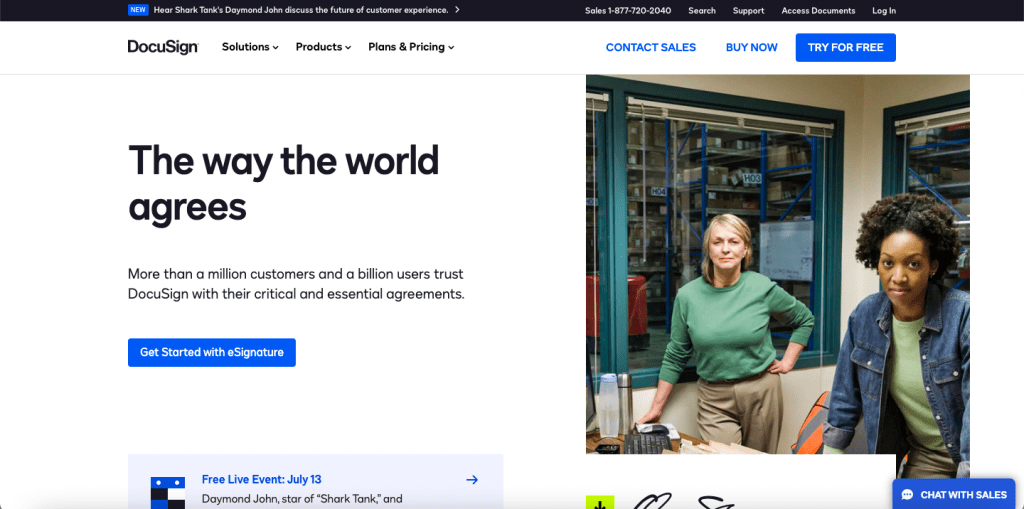 The next on our list of the best HIPAA compliant electronic signature software is DocuSign. It allows you to sign documents on the go with its cross-platform document signing solution. DocuSign is also cloud-based, which means you can access your files anytime, anywhere, just as long as you have internet access.
DocuSign features a simple yet intuitive interface that's easy to use. You do not need to spend a lot of time familiarizing its functionalities as they're pretty straightforward.
PandaDoc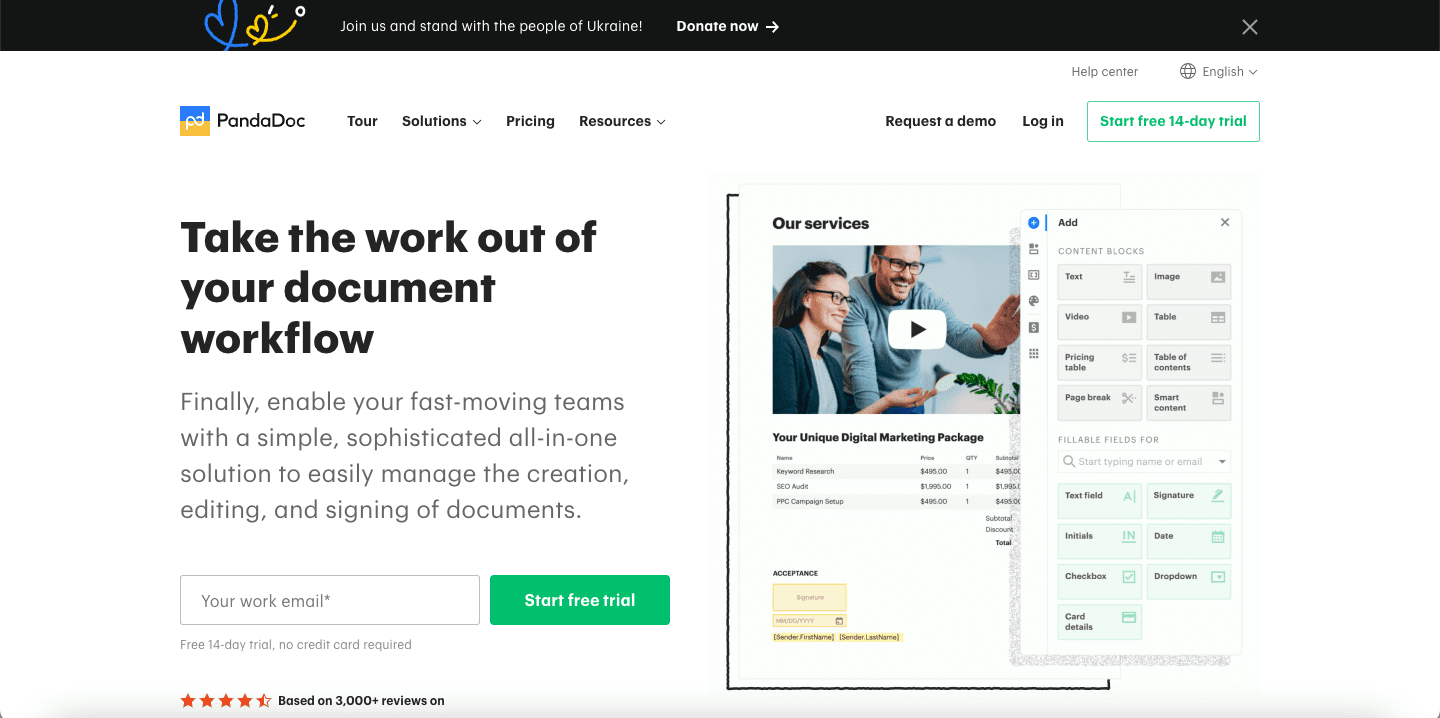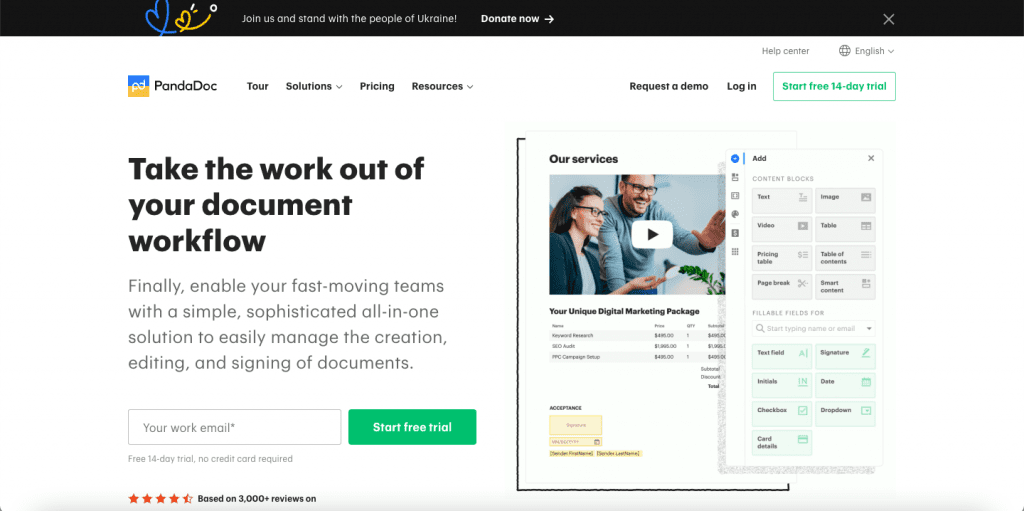 Last but certainly not least on our list of the best HIPAA compliant electronic signature software is PandaDoc. PandaDoc is one of the main players when it comes to esign software. Its easy-to-use platform promises to speed up your document paperwork workflow. 
Since PandaDoc is HIPAA compliant software, you are guaranteed safe and secure transactions always. You can easily send and request signatures for important documents like patient authorization or insurance policies.
Key Takeaway
Handling and managing healthcare-related documents is not a walk in the park. You need to keep the files safe, secure, and confidential to avoid any HIPAA violations. To help simplify this daunting task, you can invest in getting HIPAA compliant electronic signature software. Not only does it help you prevent committing any costly infractions against HIPAA but it can also streamline your overall document management workflow.