Paper-based methods for document signing are fast becoming a thing of the past. Not only are they outdated, but they are also time-consuming and labor-intensive. With Fill, you can transition to digital and automated document management workflow, which takes half the time and resources.
Our signature request wizard is designed specifically to simplify your document-signing processes. You can prepare your documents and get them ready for submission within minutes. In this article, we will explore how you can fully maximize this feature.
An Introduction to Our Signature Request Wizard
Fill's signature request wizard is a powerful eSignature tool that enables you to easily create, send, track, and store your documents, making your document signing process more efficient, secure, and convenient.
This tool reduces the time you spend preparing your documents for signing. All functionalities are easily accessible, and you don't need an extensive technical background to navigate. It's great for beginners as well as advanced users.
How to Use Fill's Signature Request Wizard
1. When you sign in to your Fill account, you can immediately access your dashboard.
2. From here, click Start Now, then select Request Signature.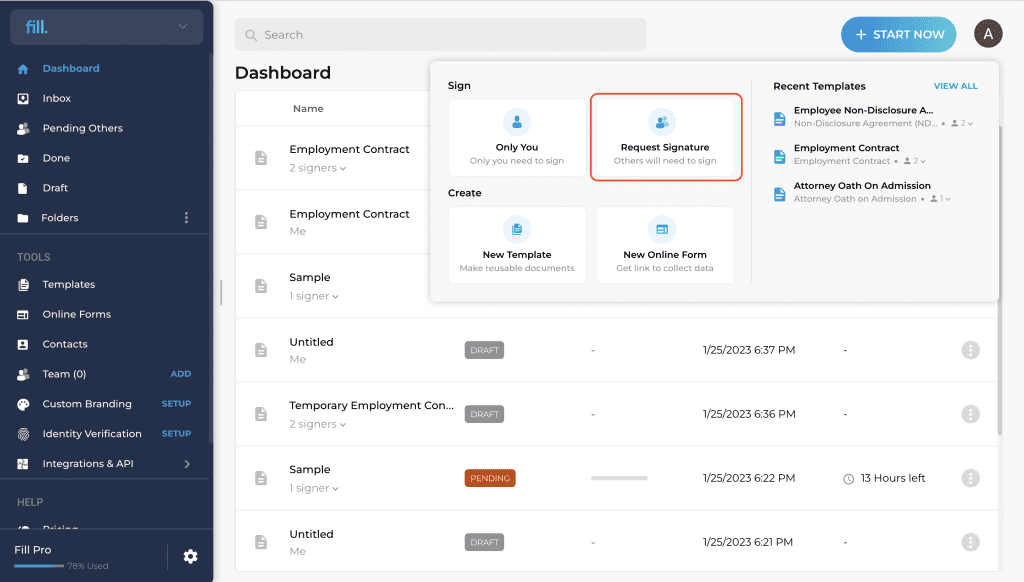 3. Upload the document you wish to be signed. Our platform supports various file formats, including PDF, PNG, JPG, and Word. Alternatively, you can use any of our templates. We have a wide array of documents you can customize according to your needs and preferences. You also have the option to create your file from scratch.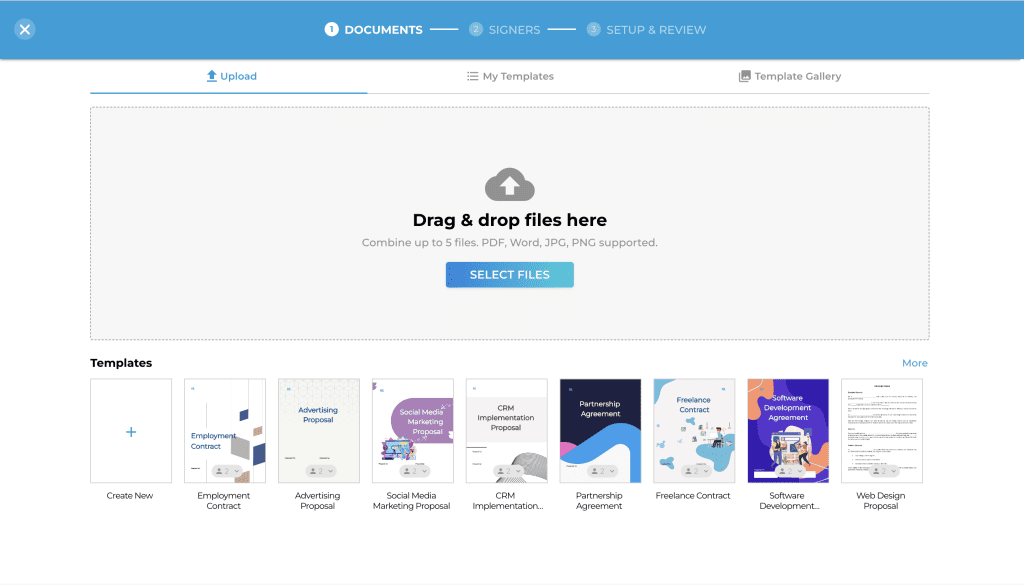 4. Add your signatories' basic information, including their first and last names and email addresses. You can also enable our signer identity verification feature and set a signing order here. Click Setup once you're done.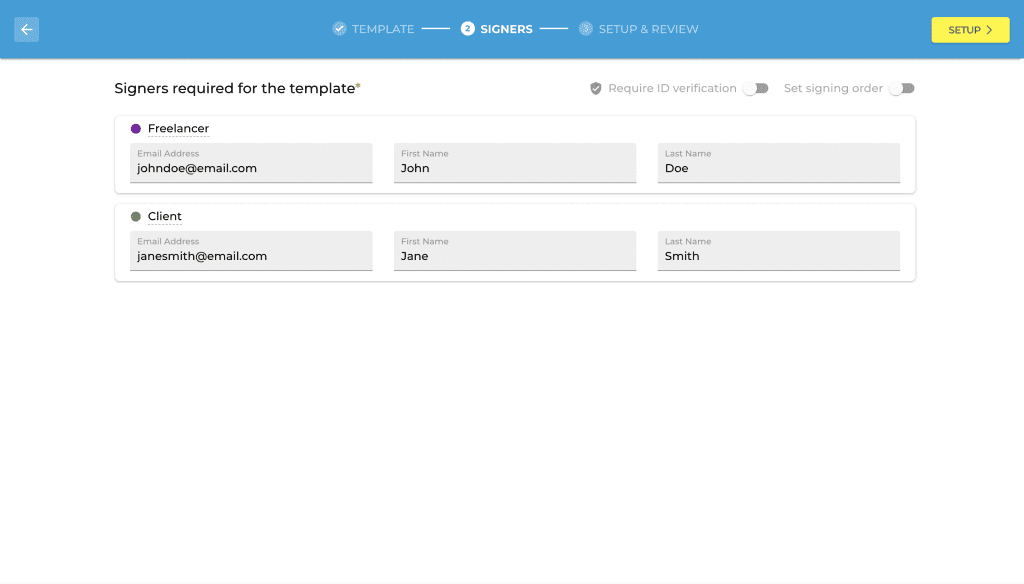 5. Drag and drop relevant fillable fields to the document. To assign specific fields to certain signers, click the signatory's initials found on the left side of the screen, next to Signer Fields.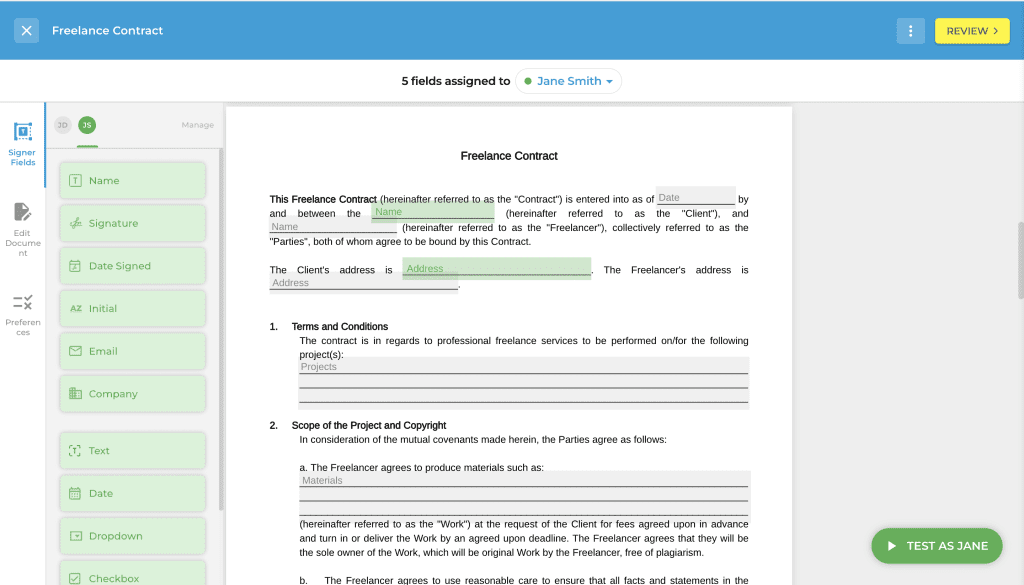 6. You can also add more text, images, tables, and videos to your document. Simply click Edit Document, then drag and drop whatever elements you want.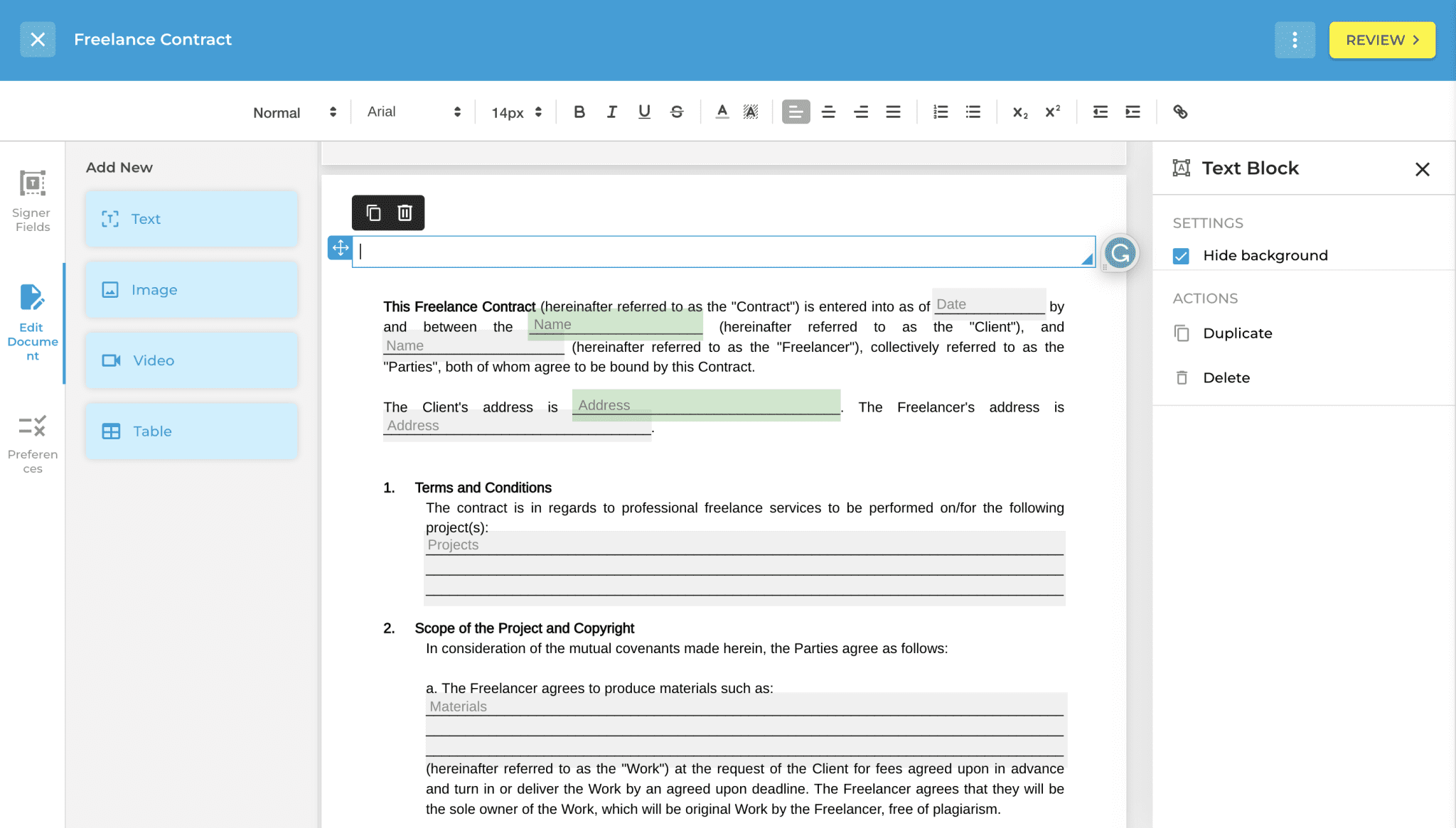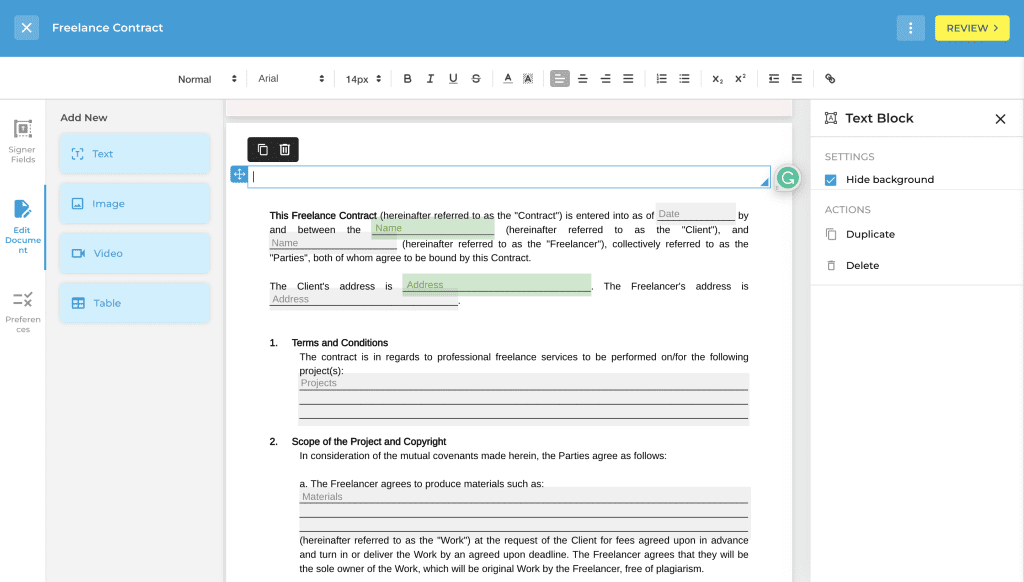 7. To set the due date when you wish to accomplish the document, go to Preferences, then General. You may also add the email address of the parties you wish to be notified of once the signing process is completed.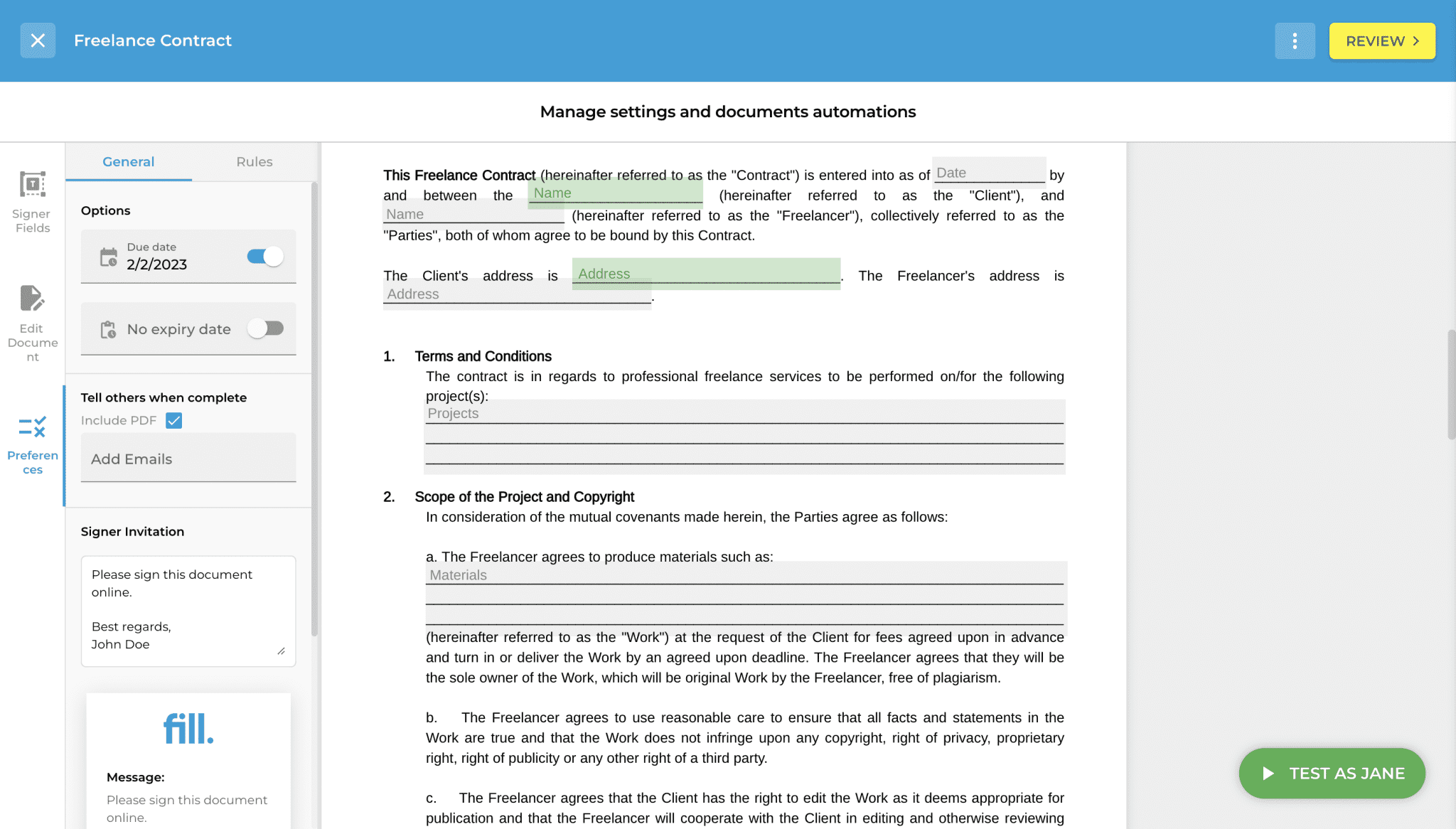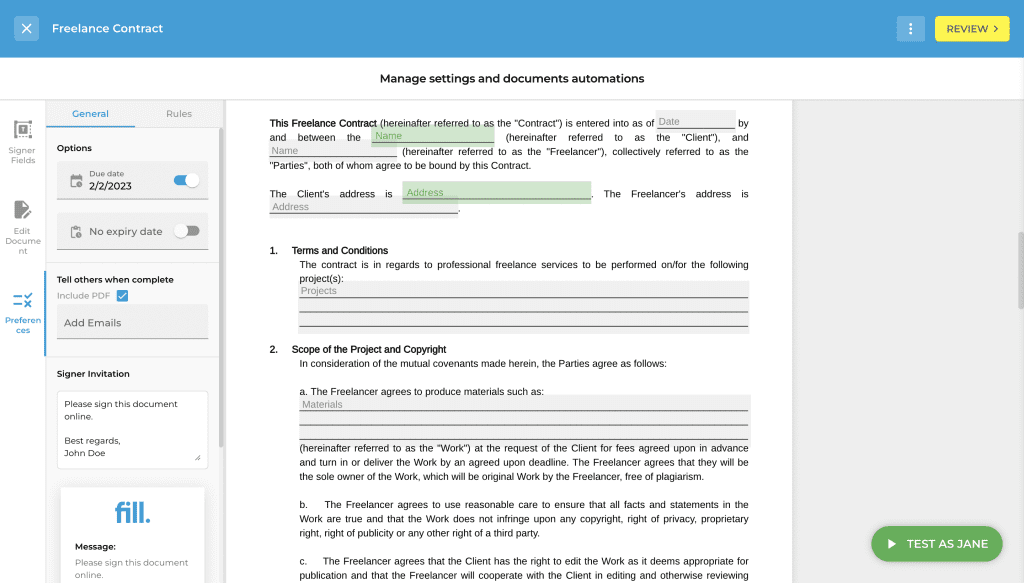 8. You can add rules and conditioning to the document by clicking on Rules on Preferences.
9. Make sure to check the document to ensure that everything is good and ready to go. Once everything looks good, click Review.
10. Click Send. The signers will receive a notification email with a corresponding link to the document.
Benefits of Using Signature Request Wizard
Using a signature request wizard as a feature of e-signature software can provide several benefits when it comes to contract management, including:
Streamlined signature process
Fill's signature request wizard ensures that the process of creating, sending, and tracking documents for eSignature goes smoothly. This tool helps reduce administrative burden and allows for a more efficient and organized approach to document signing. You don't need to spend much time preparing your document for signing.
A streamlined signature process can also include the automation of certain tasks. For instance, you do not have to personally follow up on your signatories to make sure they accomplish the documents promptly. Our signature request wizard automatical sends reminders to signers. You will also receive notifications once the document is completed.
Improved security and compliance
Electronic signatures are considered more secure than traditional paper-based signatures. Fill's signature request wizard can provide secure, encrypted communication and storage of documents. This helps to protect sensitive information and ensure compliance with legal and regulatory requirements.
Our electronic signature app provides a way to verify the signer's identity and ensure the document's integrity. You can find this feature when you add signatories using our signature request wizard.
Additionally, our platform can provide a tamper-proof audit trail of the signing process, which can be useful for compliance and legal purposes.
Customizable signature field
Our signature request wizard allows you to add custom fields, like drop-down lists, checkboxes, and text input fields, during the document signing process. This feature allows for more flexibility and control over the signing process. This enables you to gather additional information from the signer.
A great example of maximizing this feature is by including a checkbox for "acknowledgment of company policies" when sending a signature request for contracts. By clicking the checkbox, the signatory confirms that they have read and agreed to the company policies before signing the contract.
The Different Ways You Can Use Signature Request Wizard
There are many different ways that you can use a signature request wizard, as it can be applied to a wide range of industries and use cases. Some of the most common ways that it is used include:
1. Human resources
You can use our eSignature tool to automate the process of sending and tracking employee-related files, such as employment contracts, tax forms, payroll, and job applications. This helps your HR department handle operations more efficiently and accurately.
2. Sales and marketing
This eSignature tool can also help you automate your sales and marketing document workflow. This includes sending out contracts, proposals, and non-disclosure agreements. Your sales and marketing team can do away with paper-based approaches to help them save time and resources.
3. Legal
Your legal department can surely benefit from our signature request wizard seeing as they handle mountains of paperwork from contracts to files for other legal proceedings. Using this tool allows them to spend less time doing manual processes and focus more on compliance.
4. Education
If your organization is in the education sector, you can also benefit from our signature request wizard. As this tool can help automate document processing, you can take advantage of it to sort out registration forms, consent forms, and financial aid forms.
5. Healthcare
The healthcare industry is notorious for handling mountains of paperwork from patient intake forms and medical history forms to insurance claims. Having a tool that can help speed up the processing of all these documents.
6. Real estate
You can use Fill's request wizard to streamline your real estate transactions. You can easily prepare purchase agreements, rental agreements, and mortgage documents and send them out for signing.
7. Banking and finance
Finally, our signature request wizard helps you simplify your banking and finance transactions. With our eSignature tool, you can conveniently process loan applications, credit applications, and account openings.
Get Your Documents Signed Faster with Our Signature Request Wizard
Signing documents can be a slow and tedious process, but with Fill's Signature Request Wizard, you can get your documents signed faster than ever!
With Fill's Signature Request Wizard, you can say goodbye to delays and hello to fast and efficient document signing. This eSignature tool makes it easy to create, send, and track documents for electronic signature. You can easily customize signature fields, add signers, and set reminders, so you never have to worry about missing a signature again.
Our wizard also offers improved security and compliance, ensuring that your documents are signed in accordance with legal and regulatory requirements. Plus, with our intuitive user interface, the process is quick and easy for both you and your signers.
Don't waste any more time and resources on printing, mailing, and chasing down signatures. With Fill's Signature Request Wizard, you can get your documents signed faster and move on to the next task.