Create partnership agreements with Fill partnership agreement templates for a much easier experience. Fill provides its customers with a ton of features that help them create effective partnership agreements in no time. It is easy to use and does not require any sort of guidance to be used.
Importance of using modern means for partnership agreements
Businesses these days are getting more competitive by the day and they constantly look for ways to make their work process more efficient.
The use of modern means to take one's business to the next level is the norm these days. Using services like Fill is one of the ways that businesses are taking the next step to prospering in their fields.
Taking advantage of the best that technology has to offer is the smartest step that any business owner can take to boost productivity and profits. Not doing so may result in watching your competitors take that edge off of your business.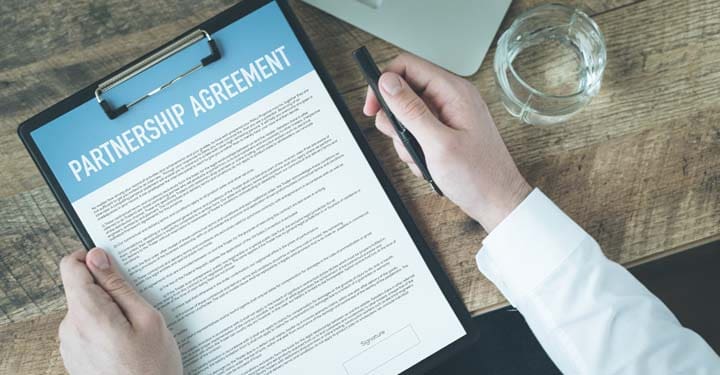 Fill for partnership agreement templates
Fill provides you with all the features required for you to create partnership agreements in the most comfortable way possible. You can create agreements much faster which will lead to maximum productivity.
Fill comes with an easy-to-use interface which you can navigate through quite easily. You don't need to have a ton of technical knowledge for using Fill as it only requires you to go through a few basic steps after which you can get your partnership agreement template ready to be signed and sent online. Fill is the best option for you to take your business partnership to the next level.
Things you need to use Fill for partnership agreement templates
You don't need to replace the existing system in your workplace to use Fill for your partnership agreement templates. All you will need is a device that has access to the internet. You can sign in to your Fill account using your smartphone or your computer depending on your convenience.
How to use fill for partnership agreement templates
You simply need to follow a few simple steps to start creating agreements with Fill. These steps are very basic and Fill makes sure that they have set up the procedure to be a convenient one for their users.
Step 1: Sign up for a Fill account. You can do this by simply providing a few details about yourself and subscribe to one of the affordable packages that Fill is offering.
Step 2: Sign in with your credentials
Step 3: You will see an upload document button on the screen after you sign in. Choose the template or the document you want to edit which will then be opened in a PDF editor.
Step 4: You can Fill out all the details in the PDF editor and make all the necessary changes in the template wherever required.
Step 5: After you are done editing the document, you can add fields wherever necessary to seek any information from a viewer or to request signatures from them.
Step 6: You can add your signature at the end by selecting the Add Signature button in the document.
Step 7: Click on the Done button and you are ready to send the document to your partners.
Why you should choose Fill
Fill provides you with all the features in one package to create partnership agreements in the most convenient way possible. Fill is not a simple document creator where the range of things you can do is limited. You can not only create agreements but also add signatures, request signatures, integrate it with different apps to get the best experience of handling paperwork.
Fill has been trusted by millions of customers worldwide and has been consistently providing quality services for them. You can make a lot of improvements to the way you do business with your partners by using Fill.
Advantages of using Fill for partnership agreement templates
There are a lot of advantages of using Fill for creating partnership agreement templates. It is one of the reasons that the number of people who have placed their trust in Fill is increasing consistently. Here are some of the ways Fill has proven advantageous for business partnerships.
Legally valid
You can create and sign documents in a legally valid manner using Fill. Fill allows you to sign documents electronically which is a legally accepted way to sign documents. Documents created and signed with Fill are admissible in a court of law.
Insight into further activity
You can have insights into the agreements you have created with Fill. You can stay updated with the actions made on your documents with Fill. Any activity on the document will be notified to you letting you know whether the documents have been signed or not.
Better negotiation
You will have a much better time negotiating with your business partners with Fill. There is no need to set up meetings to discuss the particulars of the agreement. You can send over the agreement online and you and your partner can review the agreement in the comfort of your office or home and respond accordingly.
Quick access to important files
You can have quick access to your files from anywhere and at any time. Simply log in to your account using any device that has an internet connection and you are good to go.
Easy integration
Fill is very easy to integrate with any system that you may be working with. It is highly versatile and can be accessed through multiple platforms without any issue. Fill is built to be versatile and cater to a large group of users.
Fill is the best thing you can integrate into your business agreements. Use Fill and take your documentation experience to the next level as you and your partners deserve the best convenience that technology has to offer.