In today's fast-paced business environment, you must find ways to speed up the completion time while ensuring accuracy and consistency. Besides, no one would want to waste precious time filling out lengthy forms.
Thus, having a tool that supports Smart Document Filling can make a big difference. That is where Fill comes in.
With Fill, you can automate the process of filling out forms and documents, resulting in higher output and a better bottom line.
The Key to Faster and More Accurate Document Completion
With Smart Document Filling, you can eliminate the need to input repetitive information manually. Instead of spending hours copying and pasting the same data, this feature can automatically populate fields with the necessary information. It significantly reduces the risk of errors, resulting in more accurate and reliable information.
For example, a business might use Smart Document Filling to populate the fields in a customer information sheet. The data will come from an existing customer database or previous form submissions.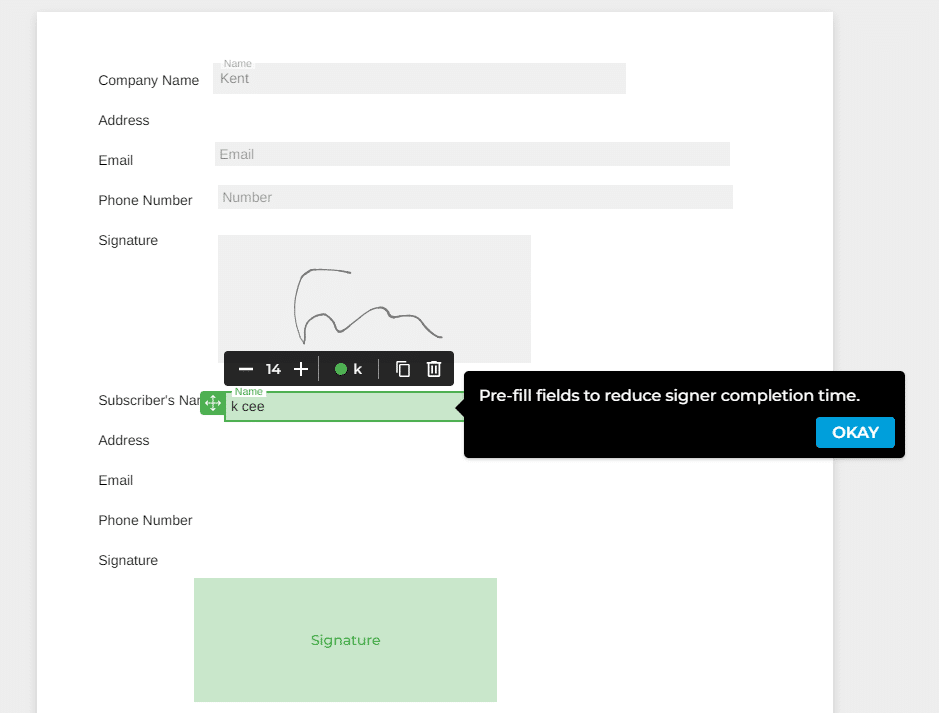 Using this feature offers several advantages, including:
Increased efficiency: You and your clients can complete forms and documents in less time and with minimal effort.
Faster transactions: Less time is needed to submit a form or complete an application, leading to better outcomes.
Enhanced accuracy: There is a lesser risk of errors and typos since the data will come from a previously verified entry.
Improved customer experience: It's easier for clients or customers to complete forms with a few clicks.
Lower operating costs: Smart Document Filling can help businesses save on costs associated with manual data entry.
How to Use Fill's Smart Document Filling Feature
Getting started with Fill's autofill feature is easy. These steps will guide you through the process.
Go to the Fill website and log in to your account.
Navigate to the main dashboard, then click Start Now.
Under Sign, select Request Signature.
Once you see the prompt to upload a file, click Select Document, or drag and drop the file into the upload area. Note that for the Smart Document Filling feature to work, you must upload the file as a PDF, DOC, DOCX, PNG, or JPG. You can also combine up to 5 files.
Set your desired signers. These are the people who need to fill out and sign your document.
6. Wait for the document to load on the editor. Once you see it, click the Signer Fields tab on the left.
7. Select a signer profile, then hold and drag a smart field into the document using your mouse.
8. Place the field into your desired section.
9. By default, the fields will autofill or auto-populate. There is no need to type the required information manually.
10. If there is no previously typed data or submitted entry, you can prefill a field by clicking it. Type the appropriate information and click away from the area once you're done.
11. Repeat steps eight to ten until you've added all the necessary fields. Do not forget to review the document to see if you've missed anything.
12. Clicking on a field will also display additional options. It's already up to you to set your desired field settings.
13. Once you are done, click Review.
14. Set your desired document options, including the due date, expiry date, and custom invitation message.
15. Click Send.
Filling in documents
Say, you've received a document that needs to be signed and filled out. Right after opening the request, you will see the fields prefilled. You don't need to type the requested information, saving you a great deal of time and effort.
To edit or replace the autofill data, simply click on the field and then delete the existing information. Enter the new data, then save by clicking outside the text area.
Simply put, filling out documents using the Smart Document Filling feature is way faster. It benefits professionals and businesses, especially those dealing with a high volume of paperwork.
Boosting Efficiency With Autofill: Practical Use Cases
Employee onboarding forms
You can autofill the fields for employee onboarding forms and easily customize them to fit your company's specific needs.
Digitized legal documents
You can reduce the time needed to fill out legal documents like contracts and agreements.
Online medical forms
You can effortlessly collect healthcare information without repeatedly asking patients to enter their names, birth dates, and other vital details.
Loan application forms
Less time is needed to submit and process loan applications as clients can simply review their previously entered information.
Real estate documents
You can process real estate transactions faster since clients can complete the necessary paperwork more quickly than doing it traditionally.
Enrollment documents
You can efficiently process enrollment documents while ensuring the accuracy of the information provided.
Effortlessly Fill Out Documents With Fill
With Fill, completing forms and documents is now a breeze. Plus, it frees you from the hassle of repeatedly typing the same information. Whatever your purpose is, you can count on our tool to help simplify your data entry tasks. You will have more time to focus on other important aspects of your business.
On top of that, our tool also offers a simple yet intuitive interface that makes it easy for you to add, modify, or delete any existing data. So if you want to streamline your data entry process and achieve your goals faster, better look no further.
Sign up for a Fill account today and see how easy it is to auto-populate your documents with accurate information.