Staying organized and maintaining secure records of completed documents becomes much simpler with a proper document management system in place. As the legal and financial consequences of mismanaging signed documents can be far-reaching, having a reliable contract management solution is indeed essential.
From creating new contracts to enforcing agreement terms during disputes, Fill is the platform that can help you. It keeps documents safe and accessible when needed. Find out how to use Fill to manage your contracts with ease.
How to Manage Completed Documents on Fill
A document is complete when all the parties have finished all of the required steps for a contract: signing, filling out fields, and any other necessary information. It can be either signed by one person or by multiple parties. You can view and manage all your contracts on the dashboard by clicking on the following:
Dashboard
Inbox
Pending others
Done
Folders
Dashboard
You can see the status of every document right on the dashboard. Each file is labeled as Pending, Completed, Overdue, or Ready to send.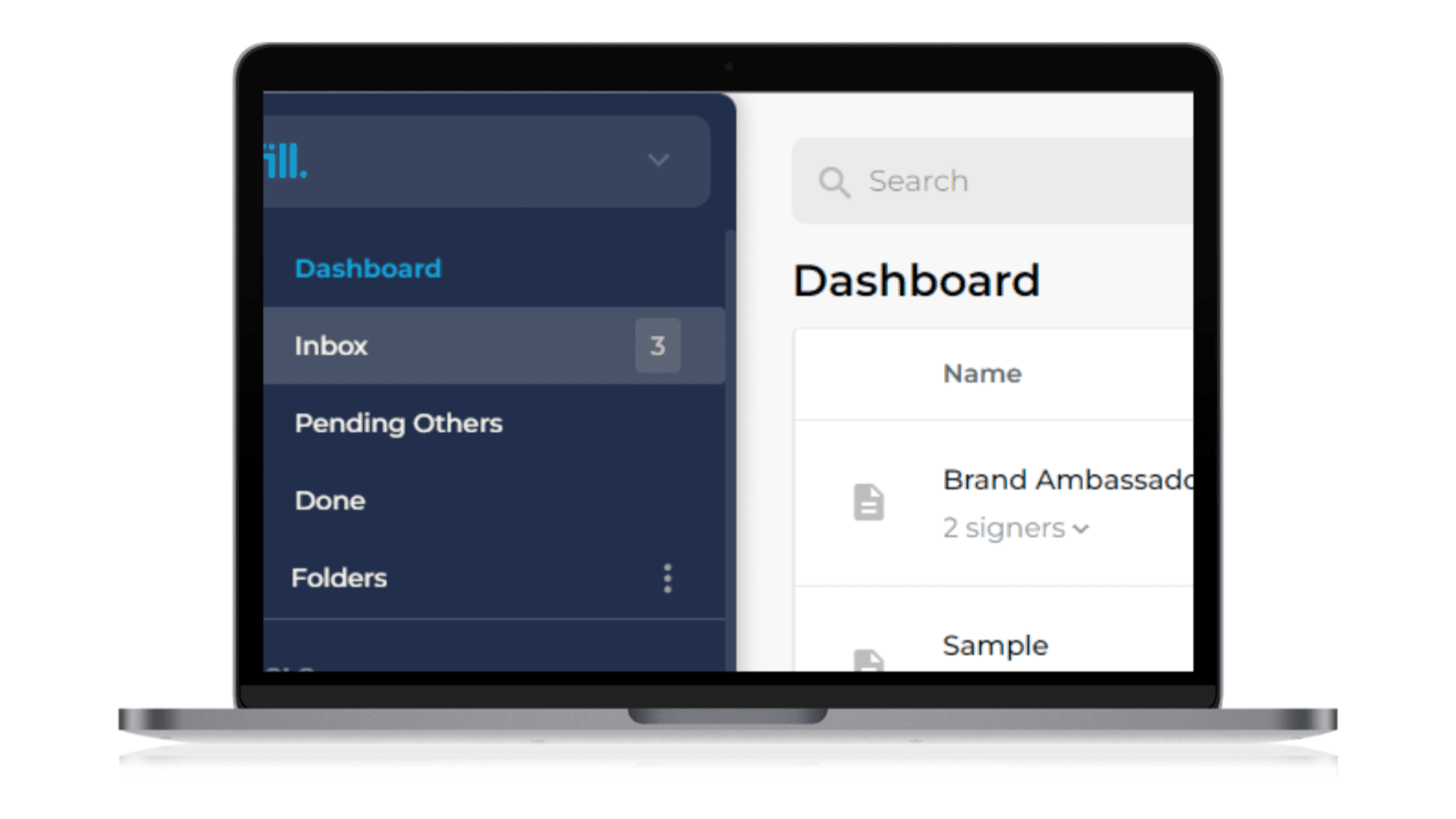 1. Hover over any document on your dashboard, and the Logs and Preview buttons will appear: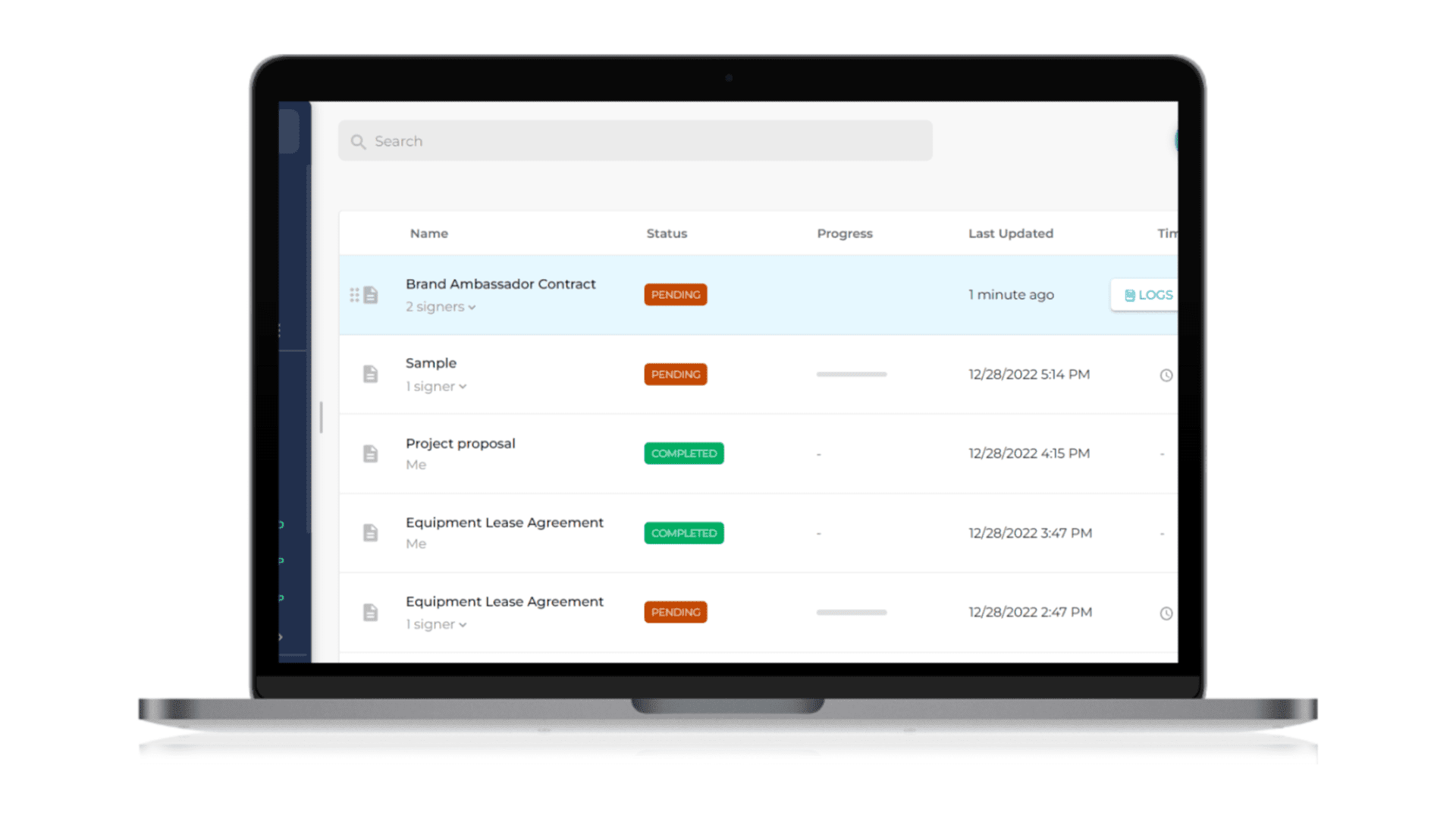 Click on Logs to view the document's activity, such as when and where the document was signed. You can also get a copy of the completed document by clicking the download icon at the top of the activity log.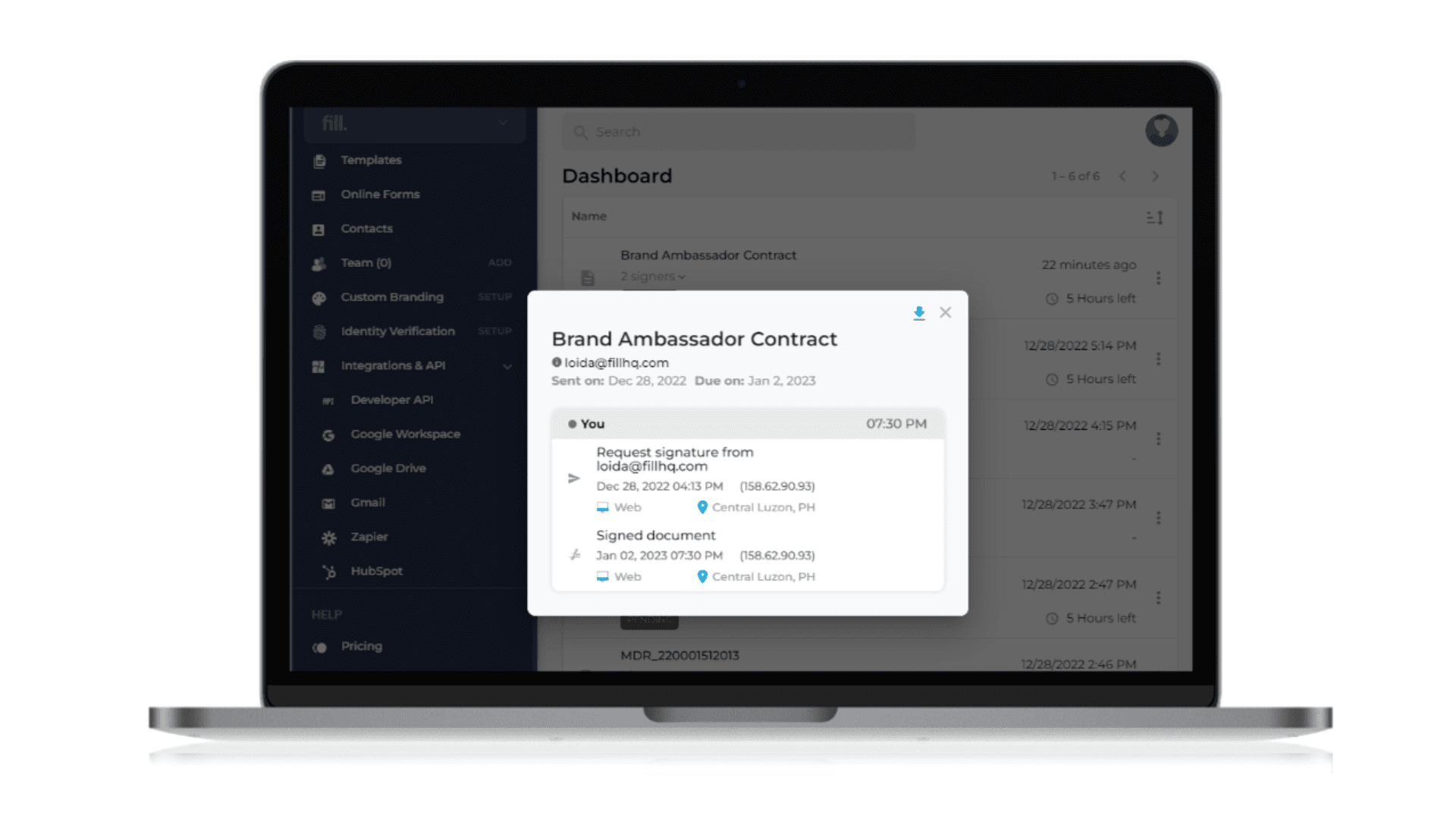 Click on Preview if you want to view the document with all the information filled in.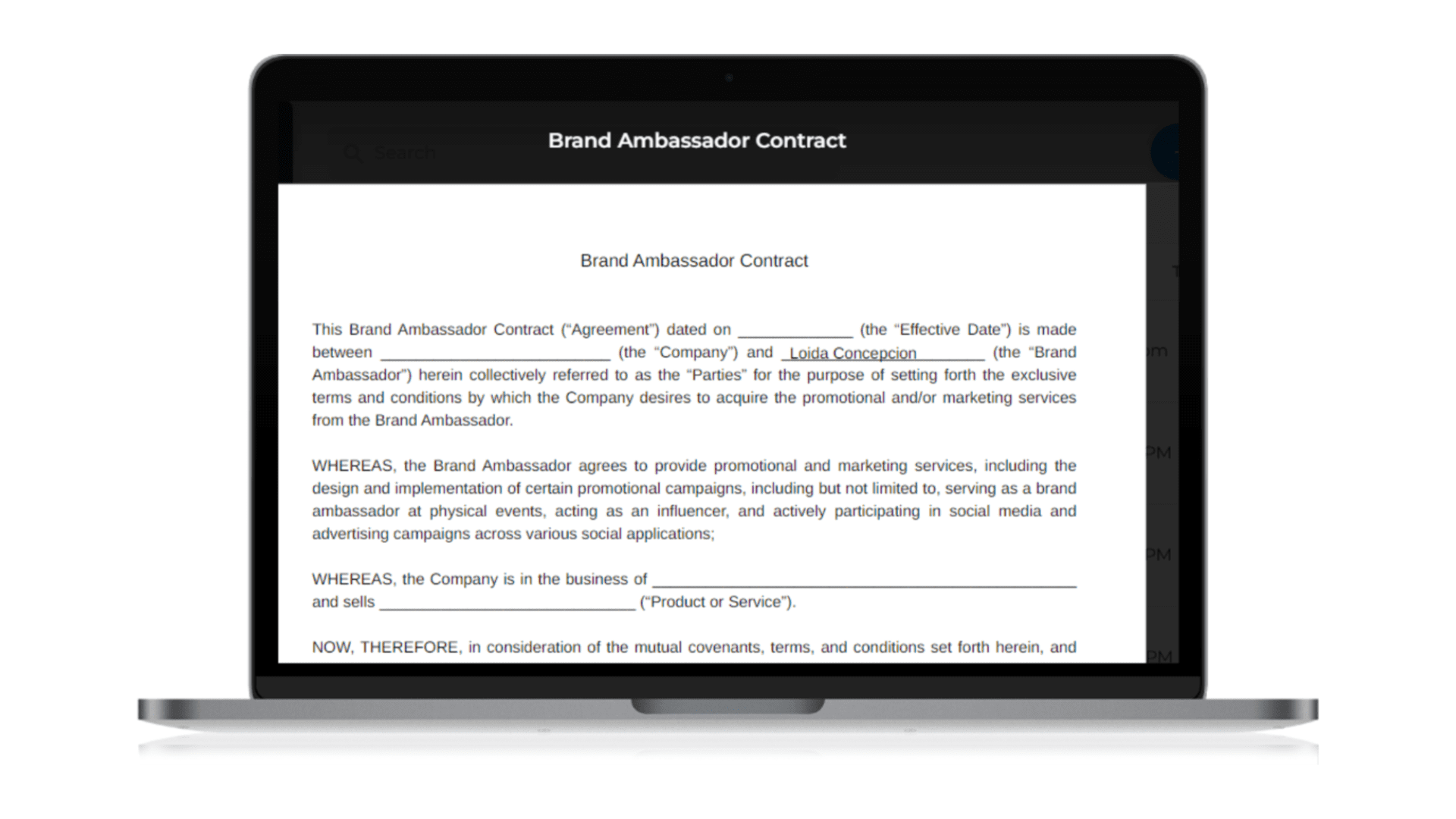 2. You can make changes to the document by clicking the three dots beside the file name. You have the option to do the following: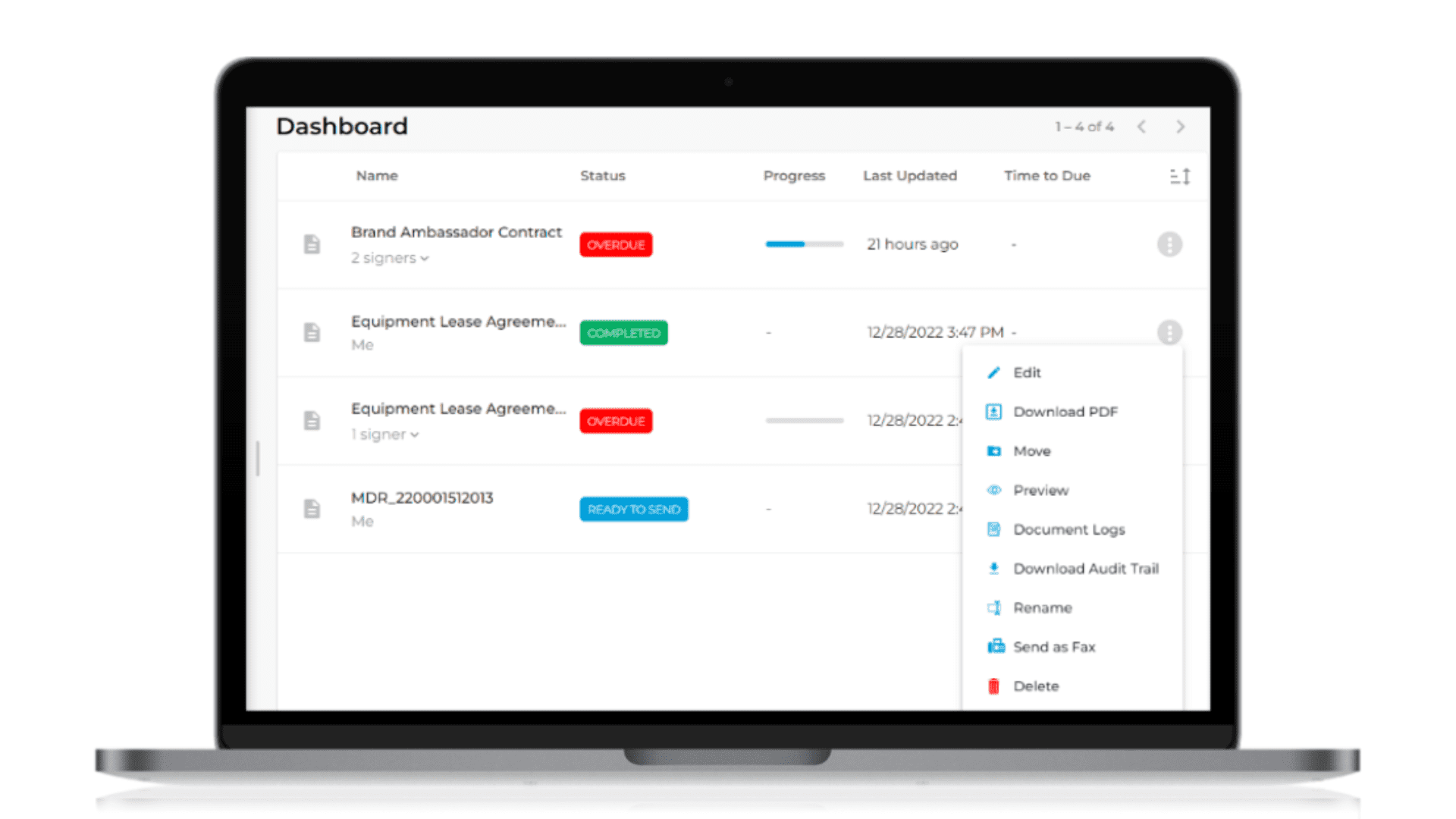 Edit: This enables you to go back and make changes to the documents.
Download PDF: Get a copy of the document as a PDF file.
Move: Relocate the document to a different folder.
Preview: This allows you to see what the signed form would look like.
Document logs: This lets you view the document's signature progress and activity.
Download audit trail: Aside from getting a copy of the audit trail, clicking this option lets you see all changes made in the document.
Rename: Change the file name of the document.
Send as fax: You must sync your account with iFax to enable this feature. You can only send your document as a fax once it is complete.
Delete: This lets you remove the document from your account.
3. Click the completed document name. You'll see tabs with the signer's details, document analytics, audit trail, and document preview. You also have the option to share, edit, or delete the document.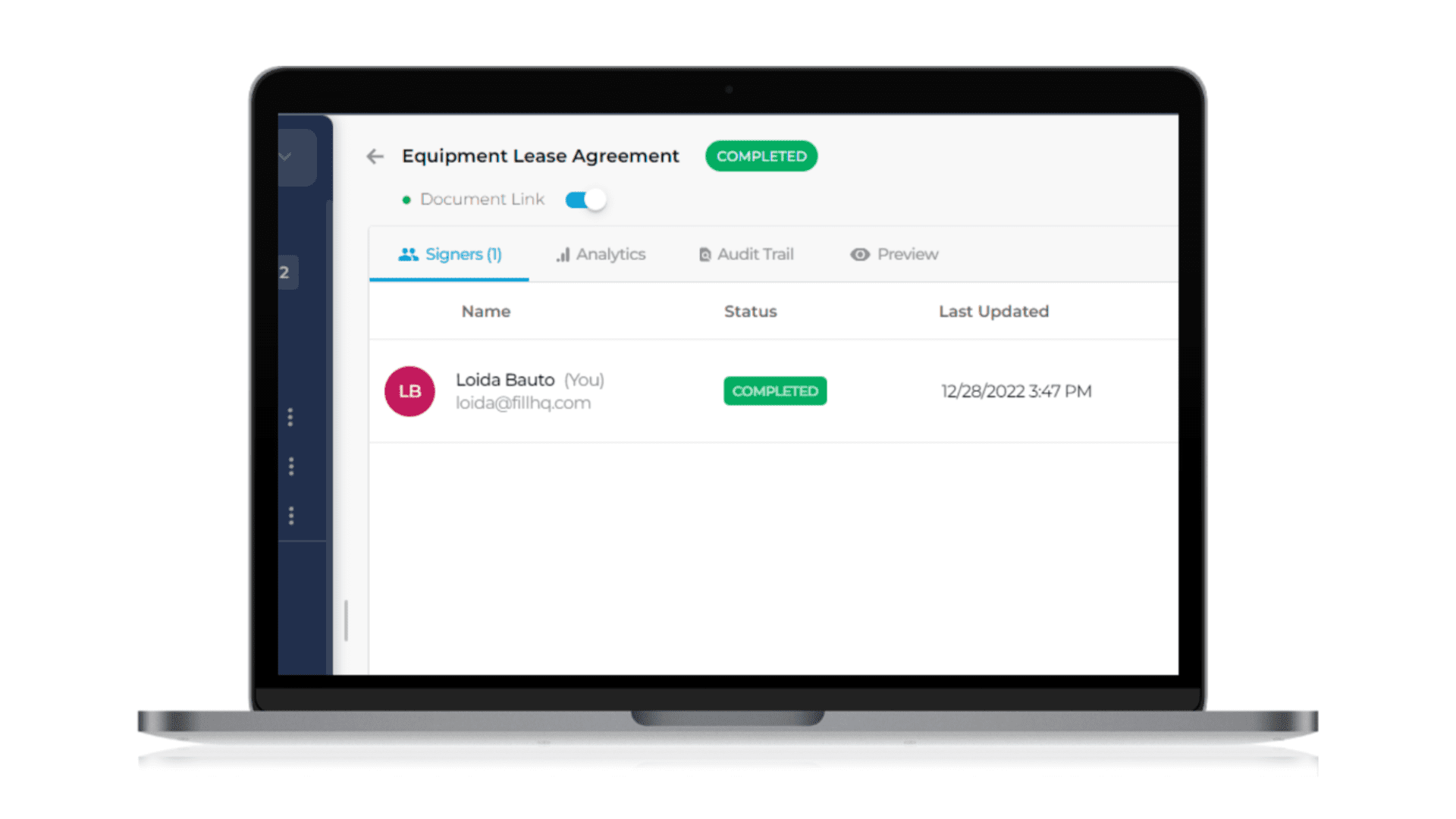 Signers: View the document's status when it was signed and last updated by clicking the Signers tab.
Analytics: Get insights into your contract analytics, such as its completion rate and time, by accessing this tab.
Audit Trail: View a copy of the audit report showing all changes done to your document by clicking the Audit Trail tab.
Preview: View a copy of your completed document as it appears to signers by accessing the Preview tab.
To share signed documents, click the share button. A new window will open with a link that you can copy. You can also add or edit the people who have access to the link, or change the settings for the link.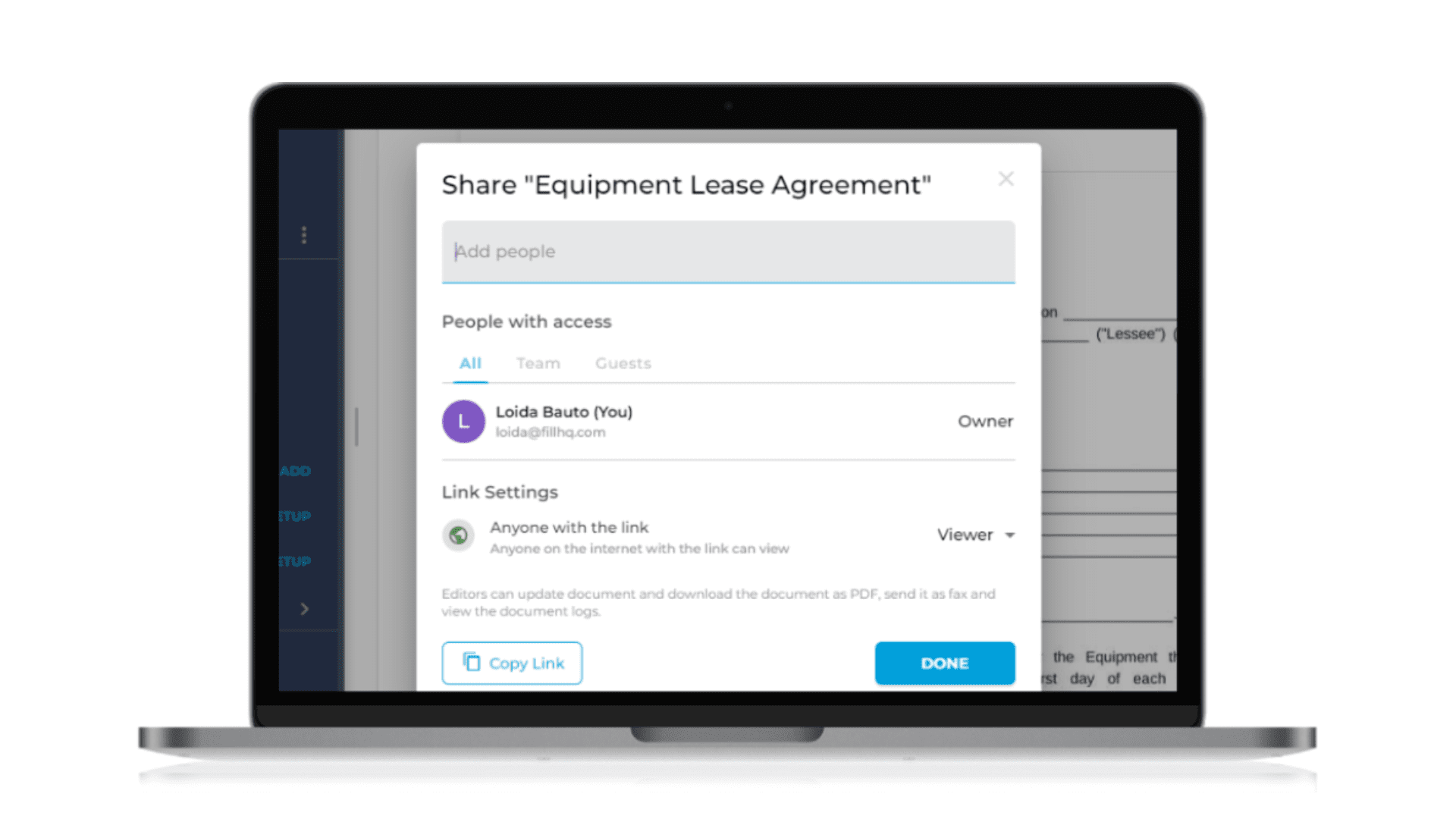 Inbox
All your signature requests from other users and collaborators appear in the inbox. This section is similar to the dashboard, showing that only documents sent to you by others are available here.
The options when you click the three dots beside the document are the same except the Send as fax option. You can also manage the documents in this section, and you can choose to view their progress and analytics.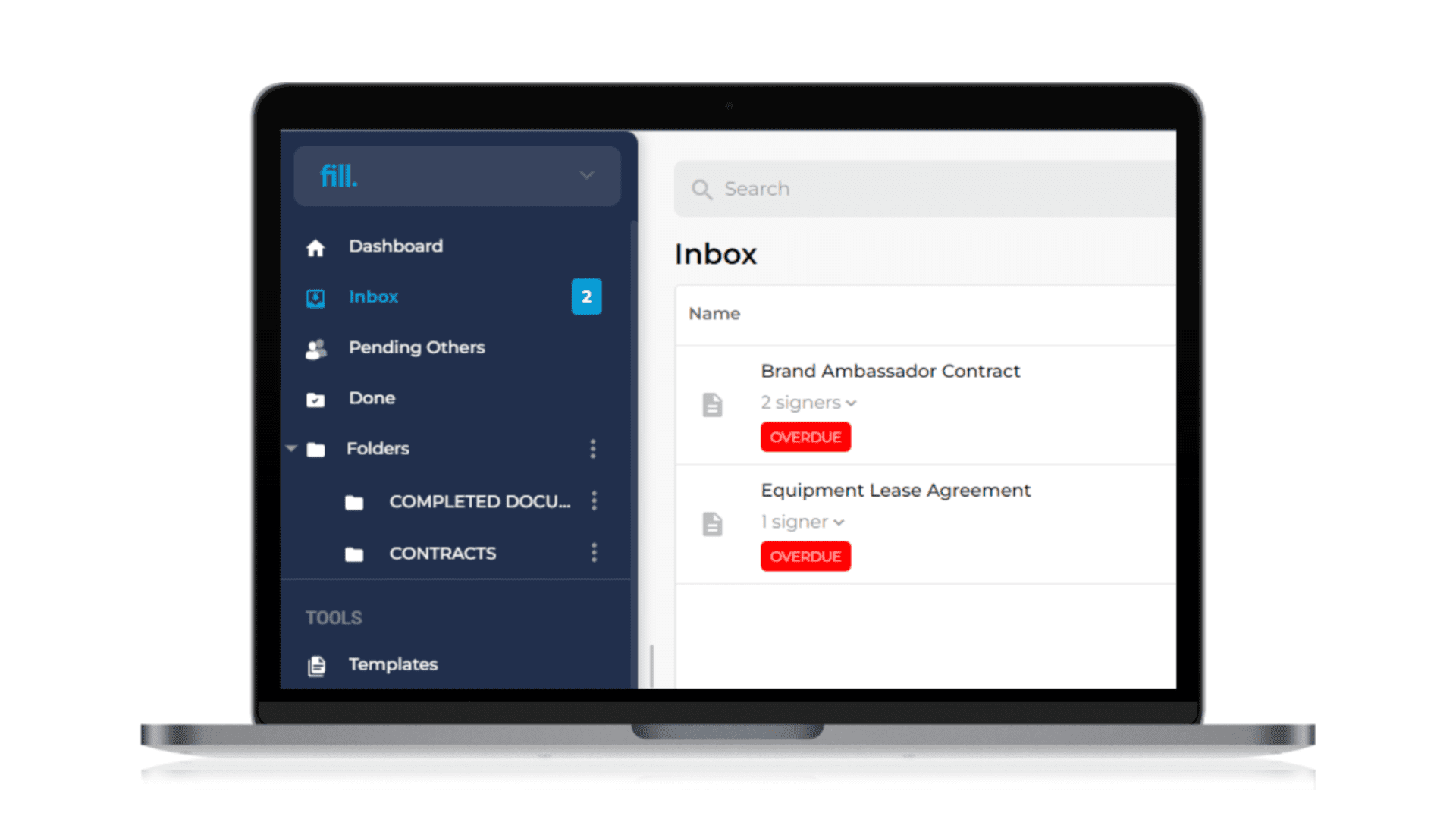 Pending others
To view incomplete documents, open the Pending Others section. Here, you will view documents awaiting signature from you or a signer.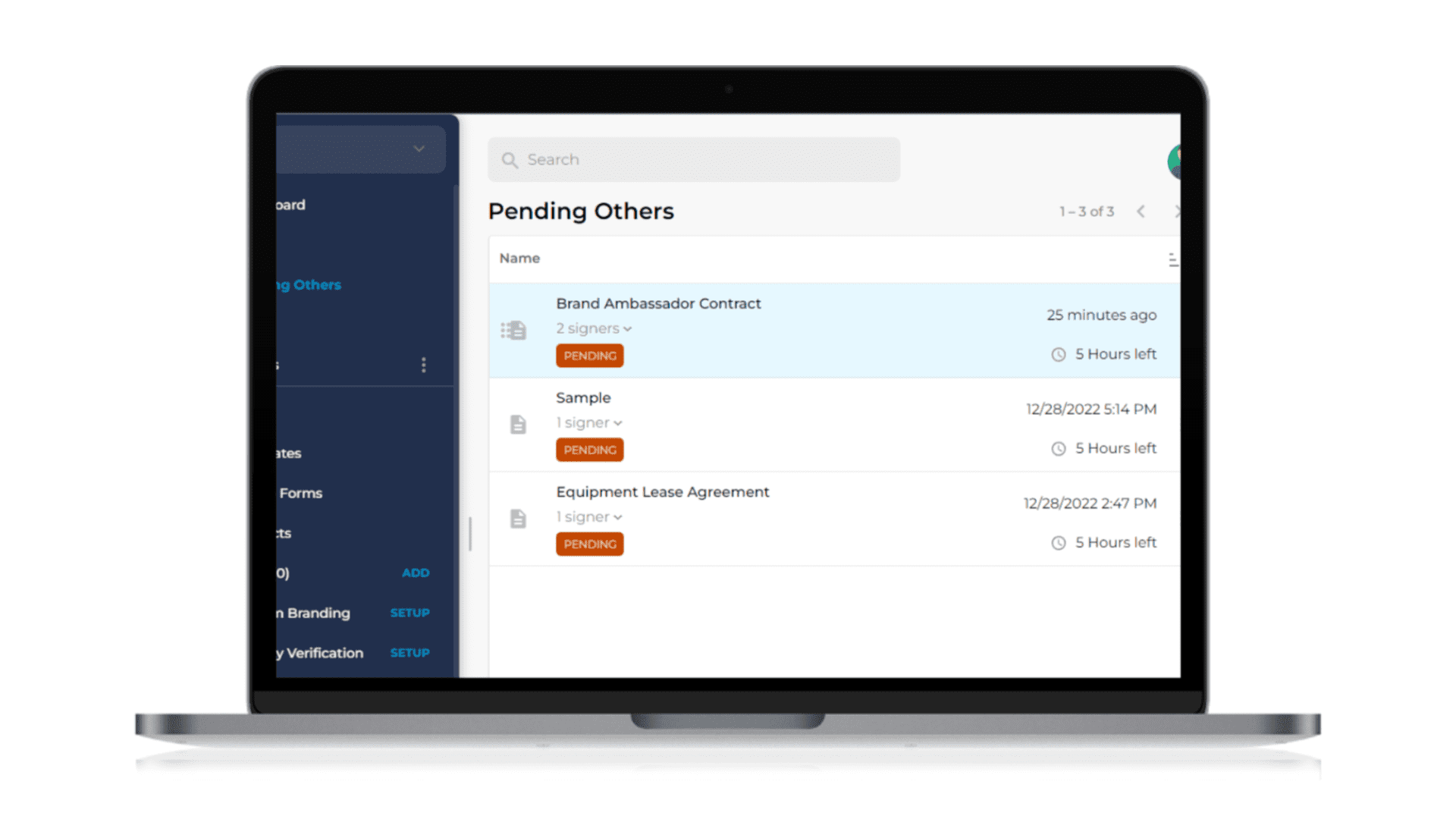 You can manage the incomplete documents in this section as well. The view is also much the same as the dashboard. The only difference is the option to Send as fax is not available because it only applies to complete documents.
Done
Below the dashboard, you'll find the Done section. This is where all signed documents are automatically stored.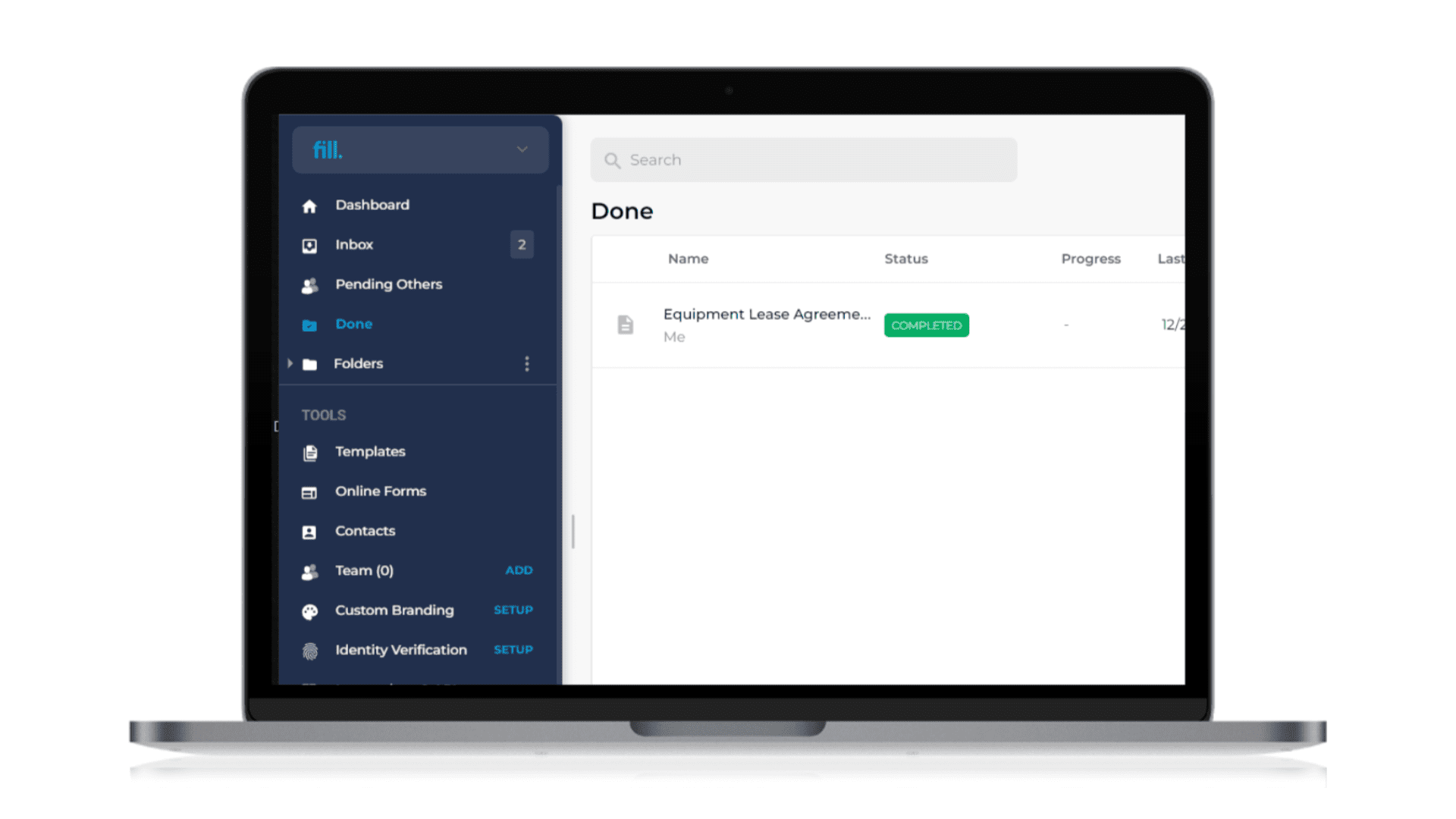 Folders
You can also view and manage your documents in the Folders section. Here, you'll find all the folders you have created. Only once you have created a folder and moved the file inside of it can you view the signed documents you have stored there.
To move a document to a folder,
Click the three dots beside the document name on your dashboard.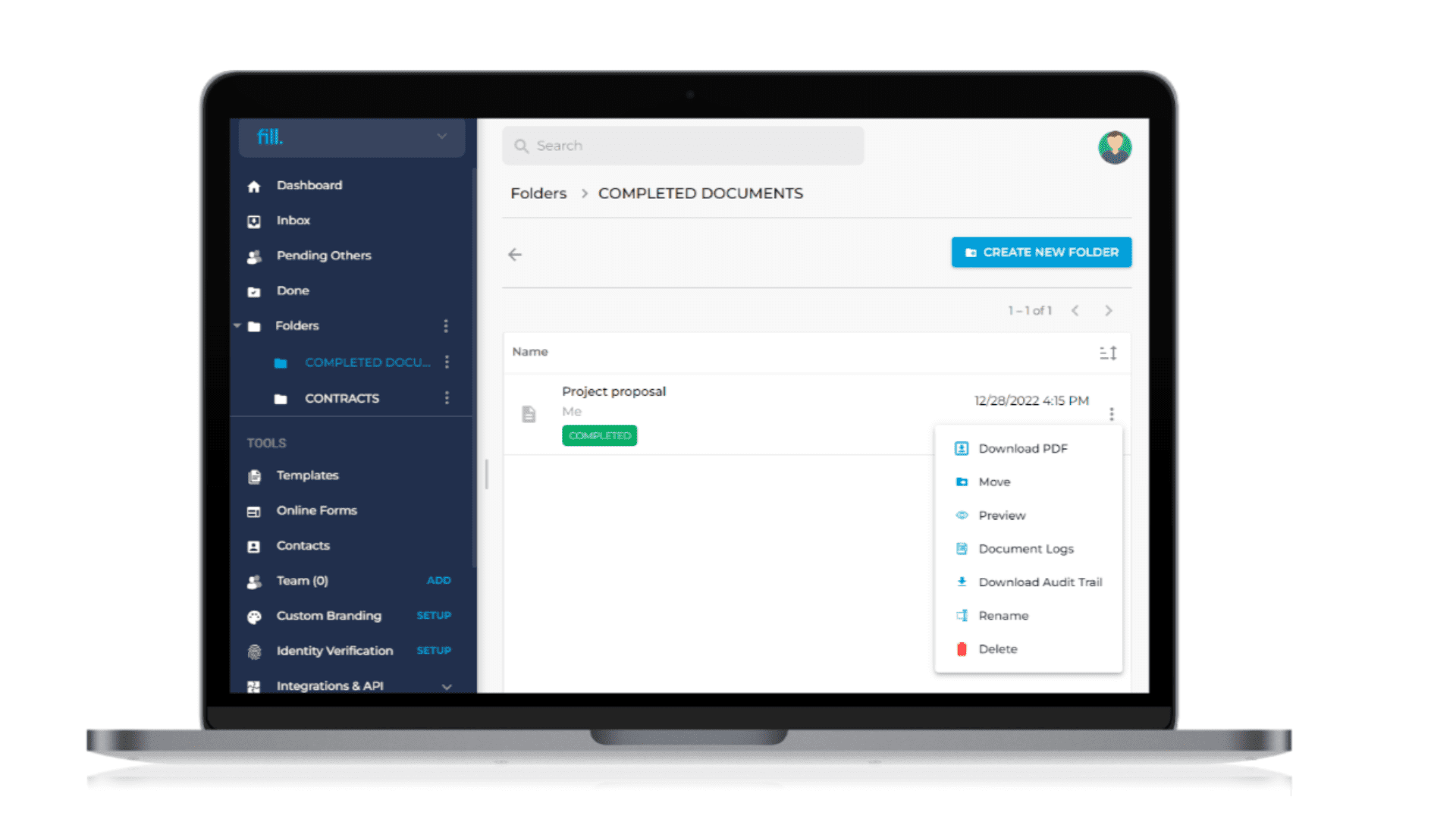 Then choose the move option. A window will pop out, asking you to create or select a folder you want to put the file. Click the desired folder or create a new folder by clicking the blue folder icon at the bottom of the window.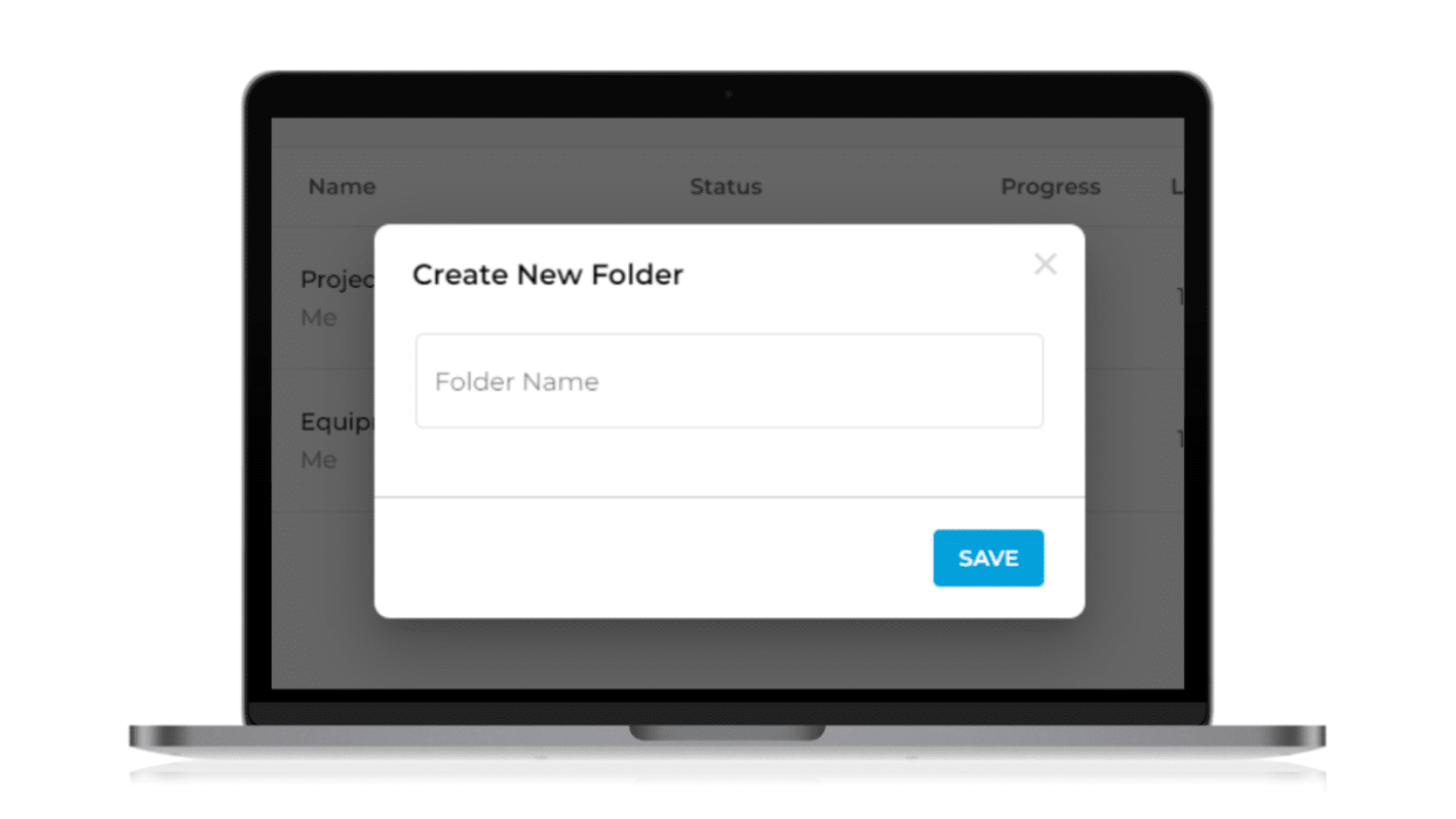 After selecting the desired folder, click Move here.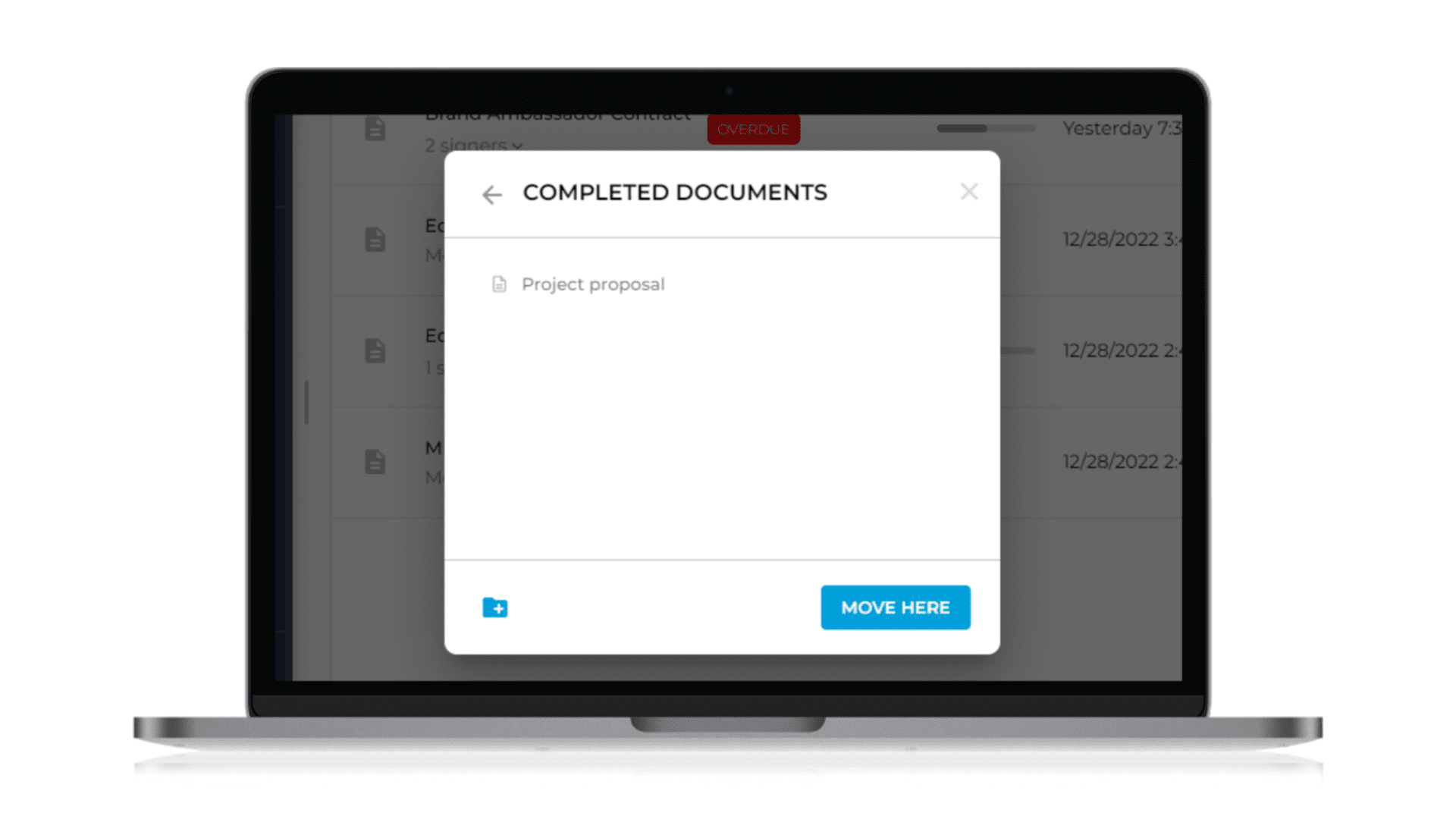 You can now view your completed documents in the folder.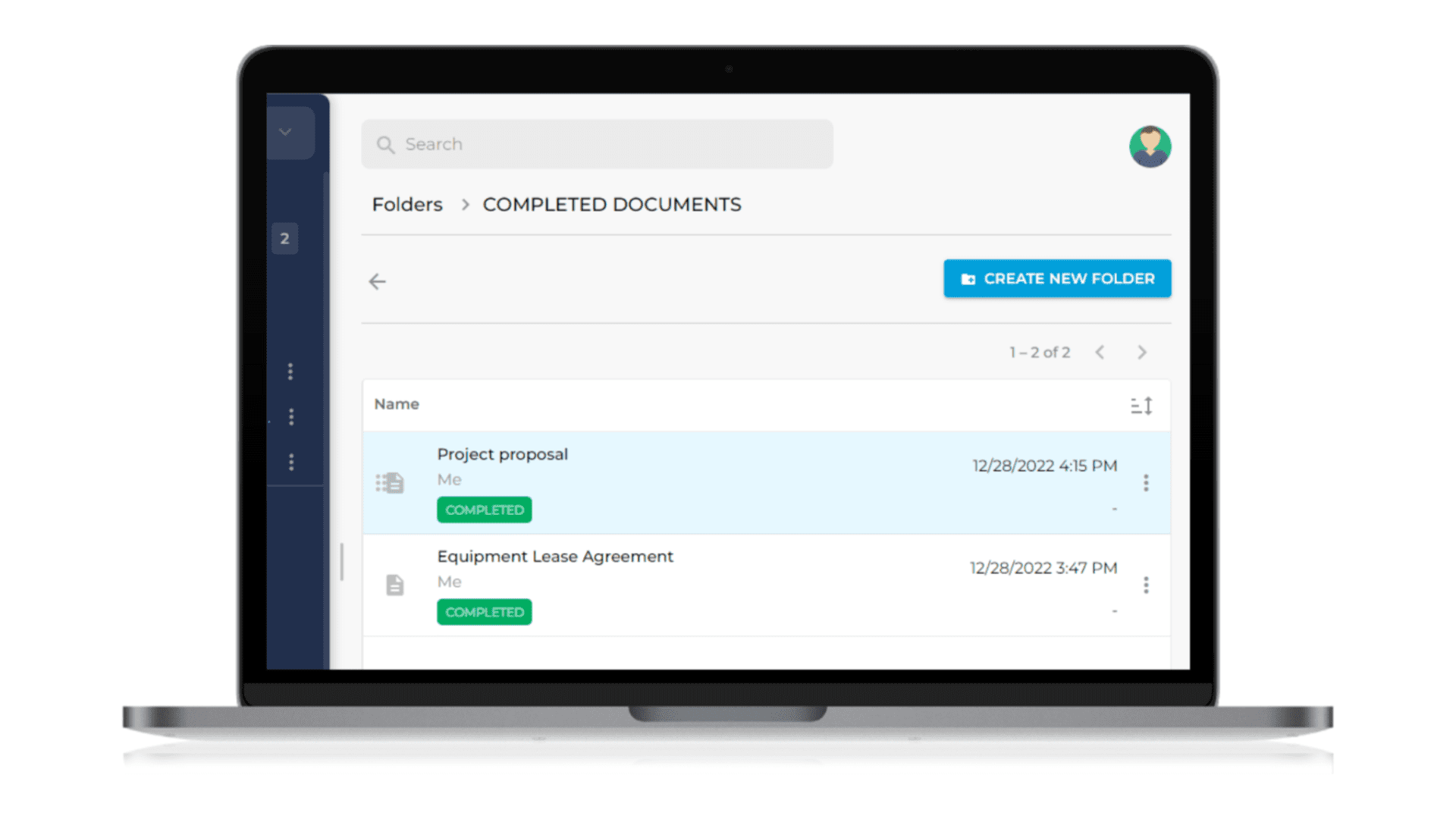 If you want to create another folder inside a folder, just click on the Create new folder. A pop out window will appear for naming the folder. After naming the folder, click Save.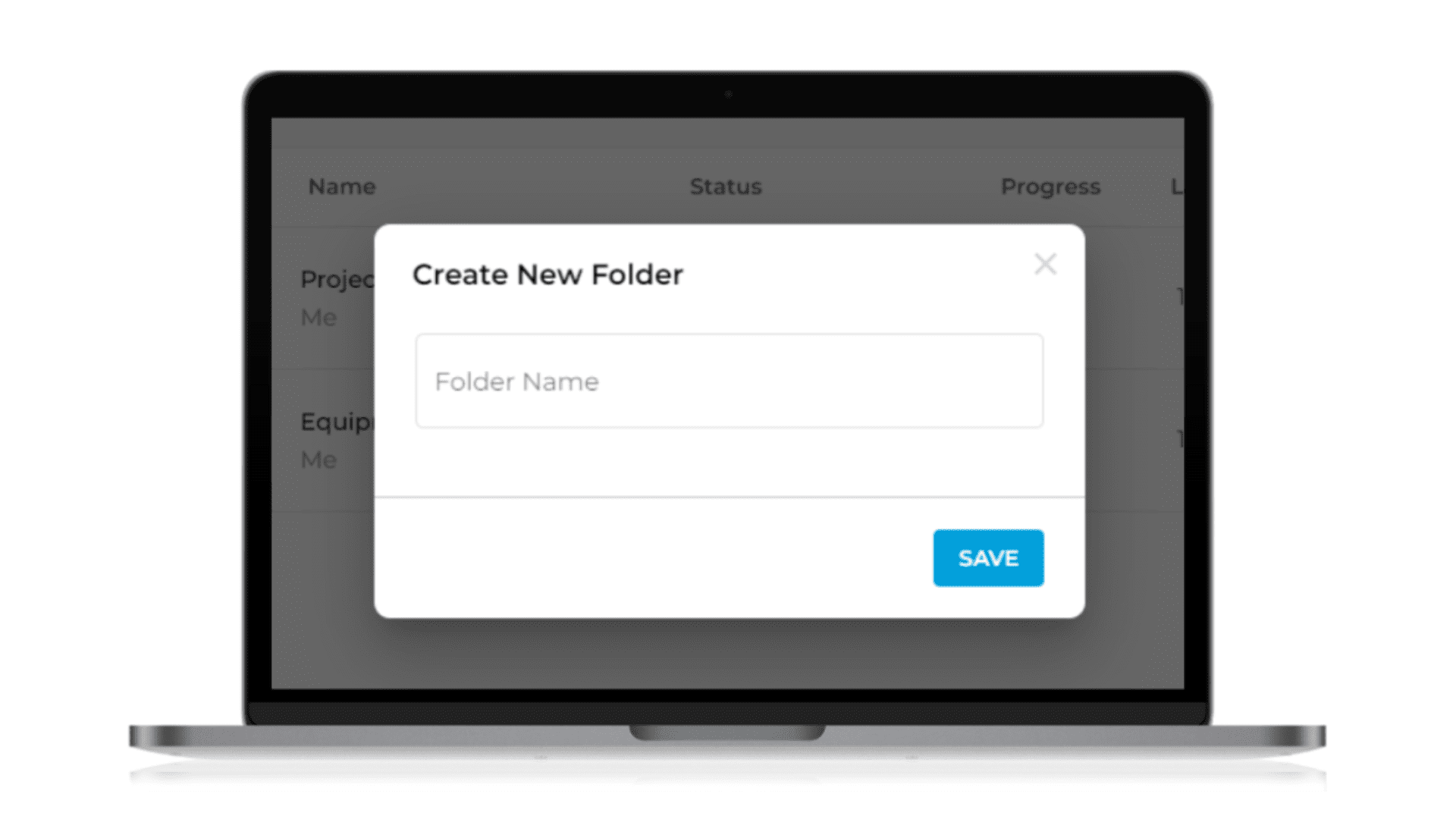 Best Practices for Protecting Signed Documents
Use a secure platform
When sending and storing documents, choose a cloud-based document management system with high-end encryption and user identity verification. Using a secure file-sharing service protects your documents from unauthorized access or tampering.
Set access permissions
It's essential to check and set the correct access permissions for each document. Make sure you regularly double-check who can view and modify the document. Some document management platforms will let you assign permissions according to roles or limit privileges for external users.
Protect documents with a digital signature
Digital signatures are designed to provide extra security for your signed documents. They use encryption to validate and protect documents from unauthorized changes. By using digital signatures, you can also eliminate the need for printing, signing, scanning, and mailing documents.
Review and update your security measures
Make sure that your security measures are up to date. Regularly review and update them with the latest security protocols. Additionally, use password protection or two-factor authentication to protect your documents.
Use an audit trail to track changes made to signed documents
Using an audit trail will help you keep track of all changes made to a document throughout the signature process. This way, you can identify any unauthorized changes to your documents and take the necessary steps to fix any issues.
Managing Signed Documents Is Easy With Fill
Fill makes managing signed documents more organized and secure. You can view your signed documents on the dashboard, move them to a folder, download them as PDFs, get a copy of audit trails, and easily share them with others.
When you want a solution to manage your contracts, all you need to do is sign up for Fill to get started.