Incorporating branding into your document workflows gives you an extra edge. Not only does it help improve brand authority, but it also increases customer loyalty. With Fill, you can apply document customization effortlessly. There's no need to go to great lengths to customize your client signup forms and invoice requests.
Here's how our nifty document signing tool can help establish brand consistency.
Why Customize Documents to Fit Your Brand?
People are more likely to trust a company or business with a consistent brand image. With custom branding, you can incorporate some of your company's brand elements into your marketing tools. This way, it will be easier for customers to recognize your brand beyond the product or service you're offering.
For example, when sending an online form via Fill, you won't have to spend extra time and effort introducing your business. One quick look at your logo and custom message will be enough for customers to know who you are and what you do.
Document customization allows you to personalize forms and agreements in ways that can help create a more impactful experience for your recipients. It also increases your chances of closing deals as signatories are more likely to respond to requests coming from familiar brands.
Here's how to tailor eSignature requests and document deliveries using our online signing tool.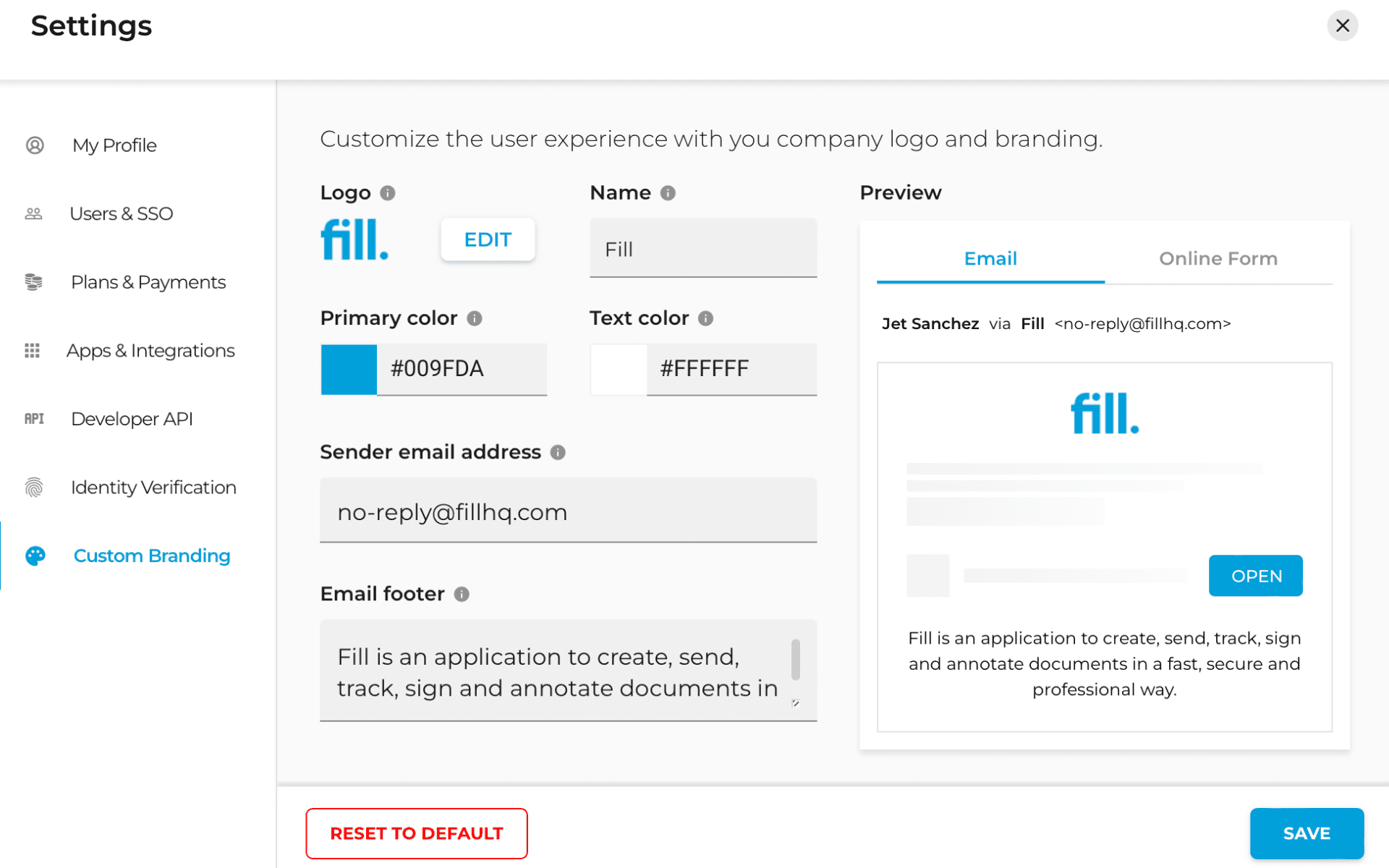 Setting Up Custom Branding via Account Settings
Go to the Fill website and log in to your account.
From the web dashboard, go to Tools > Custom Branding.
Update the custom branding options to fit your brand guidelines.
To change the logo, click Edit.
Upload your business logo in PNG or JPG format. Keep the logo size to at least 320 x 90 pixels for the best possible outcome.
Adjust and crop the logo as necessary. Click Save.
Update the rest of the required fields, including the name, sender email address, primary color, and text color.
Change the default email footer with a company slogan or tagline.
Preview the changes made, then click Save when done.
Setting Up a Custom Theme for Online Forms
Fill provides multiple ways to customize forms, including the option to change or update themes. To do so, you will need to:
Go to Tools > Online Forms.
Click Create Form > New.
Name your form, then click Next.
Drag and drop the fields from the left menu into the blank document.
After adding all the required fields, click the palette icon to change or update the theme.
You can customize the theme font, background color, and image to fit your branding.
Click the toggle button to make your changes public.
Click Save to confirm. That's it.
To share the customized form, simply copy and share its link via email or instant messaging. You can also include the link in another document or publish it on social platforms like Twitter, Linkedin, and Facebook.
3 Tips to Ensure Brand Consistency for Your Business
1. Create clear brand guidelines
Your brand guidelines should include everything from fonts to logos and color schemes. Be as detailed as possible. You should also ensure that everyone on your team has immediate and easy access to your brand portal. It's a place where you can store and track your digital assets like logos, videos, and design files.
2. Use the same visual elements
Aside from showcasing your company logo across all marketing channels, it would also help if you practice uniformity when applying color schemes. Take Google, for example. It's easier for users to identify all its products by simply looking at the icons. You won't have to take a second look to know that Drive, Gmail, and Meet are all part of Google's suite of productivity tools.
3. Use the right tools
It's easier to remain consistent with your branding if you have tools that can help simplify the organization and management of your brand assets. Having these tools at your disposal saves time and energy, allowing you to focus on other tasks that can help bolster customer engagements and business relations.
Make Your Business Stand Out With Fill
With Fill, you can request signatories to sign forms and agreements while knowing more about your brand. So take advantage of this opportunity to better promote your business to potential customers and clients.
Our intuitive tool can help you deliver a better customer experience by staying consistent with your brand messaging at every touch point. It reassures your clients that you are trustworthy enough for them to do business with you.
Create a Fill account today and see how easy it is to customize documents to include a catchy tagline or logo.